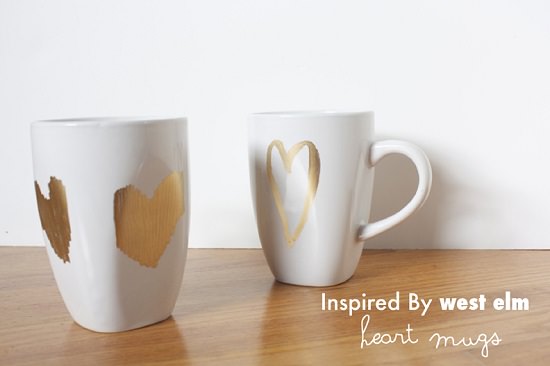 First off, let's just say I have a crush on west elm. I LOVE everything, want everything and am always drooling over a handful of lovely products! Unfortunately, we don't live near one. Which is probably a good thing – or we would be in trouble. BIG trouble. I guess I could do all my ordering online, but I like being able to see things in person and love on them a little first.
Since Valentine's Day is fast approaching, I decided to introduce a little DIY centered on the day of love. I am totally inspired by west elm's heart mugs! They are so modern, feminine and playful.I thought it would be fun to make my own version of them. Obviously, they aren't as cute. So let's just get that out of the way. The point is, it's fun to challenge yourself and to make things by hand. It's stretches you creatively and you almost always feel gratification when you finish a project.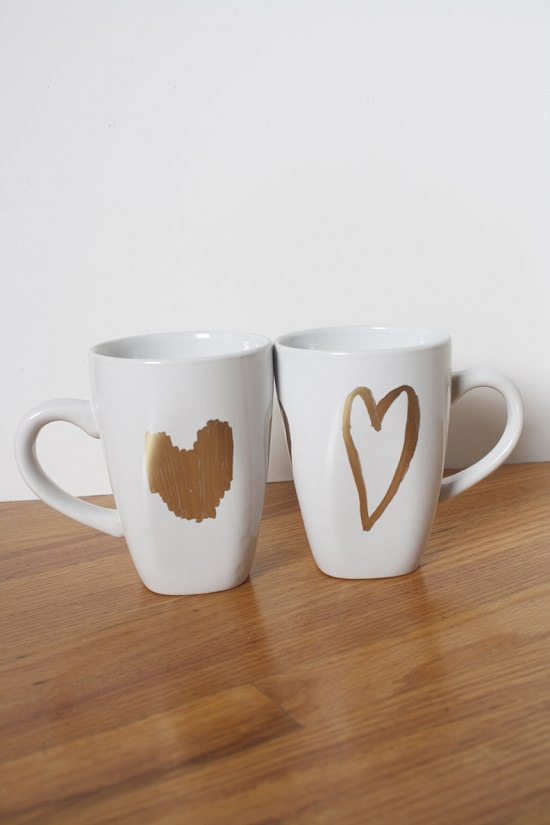 What you will need
Porcelain Mug (I got mine from the dollar store)
Some west elm inspiration!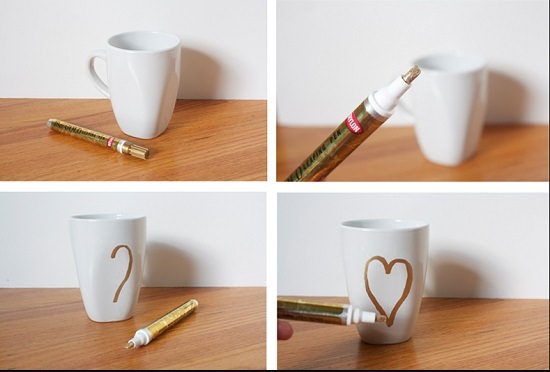 For the first mug, I created a single heart. I made the lines a little thicker than that of west elm's original mug. Also, don't be afraid if it's not perfect. Handmade things aren't suppose to be "perfect", they are supposed to be fun! For the second mug, I tried to create a Ikat-like design (much like this one), in the shape of a heart. I simply drew one line top to bottom starting at the center. I worked my way upward shortening the length of the line until I could see the heart shape begin to take form. Repeat with the other side of the heart. Be sure to follow the instructions on the pen before you begin.
I love how it turned out! It's not perfect, but I have that warm-fuzzy feeling knowing that I created these on my own. Just keep in mind, when using the gold leaf pen, your design will wipe away when wet. If you want your design to stay on, apply a glaze over your hearts to ensure it won't come off. I'm thinking this little DIY would be great for little planters as well! Can't you just see a green touch looking so cute?!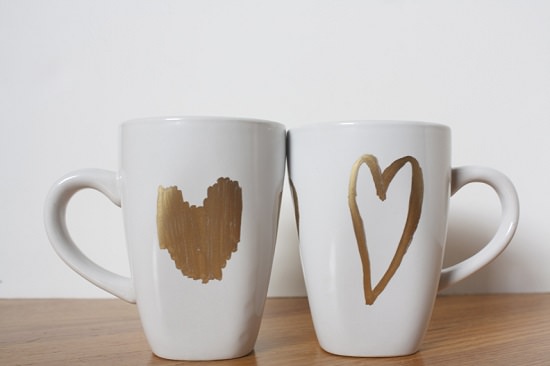 What do you think about these mugs? Is this something you might try for the holidays?