Well friends, the day is here! I am so beyond excited to share with you our master bedroom reveal! Never have we ever had a space to ourselves that has been this beautiful. I feel so very lucky indeed! Say hello to our new modern, but vintage-inspired get-away!
So, way back when we first started taking this project on, I was SO inspired by this space by Schoolhouse Electric. It was everything I wanted in our new room: brass light fixtures, grey upholstered bed, playful patterns and pops of graphic black and whites. But with our own twist of course! Thanks to Wayfair, our dream makeover came true!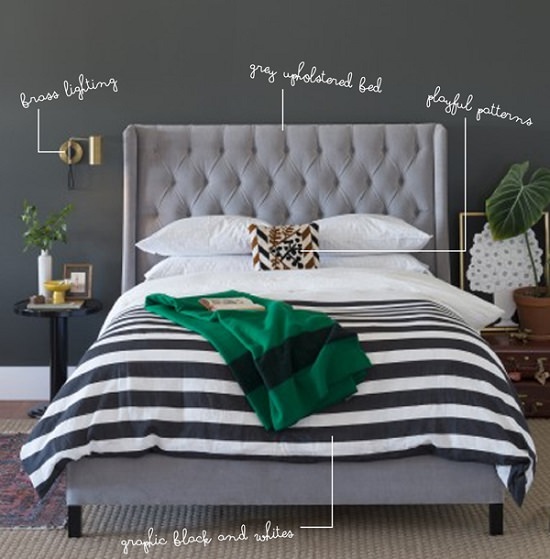 We started with repainting our walls a bold and classic black, which we painted 3/4's of the way up so the room didn't feel smaller than it already was! I sewed curtains (yes, I sewed them!) with some amazing fabric I found at Ikea, which already improved the room substantially! I even sewed a matching pillow with the extra fabric…hey, why not?!
Then the really fun part! We got to move in all our new pieces and style the space, which is my favorite of any makeover. Says everybody, I'm sure. Since we sold all our bedroom furniture before we moved, we really had absolutely nothing. I can't tell you how nice it is to sleep on a REAL bed again! The mattress on the floor was just not working out all too well.
I absolutely love the color palette we used for this space: black, white, light grey and pops of blue. It's calming, soothing and perfect for resting one's head. The warm woods from the dresser, and vintage paint-by-numbers above the bed go perfectly with the brass light fixtures. The grey upholstered bed is truly the star of the room. It grabs your attention and instantly makes you feel like you are in a hotel room. It also helps tone down all the black, but not steal the attention. The floating night stands are handmade by very talented husband – don't worry, a DIY will be coming soon for that! It's nice to have all that free space on the floor!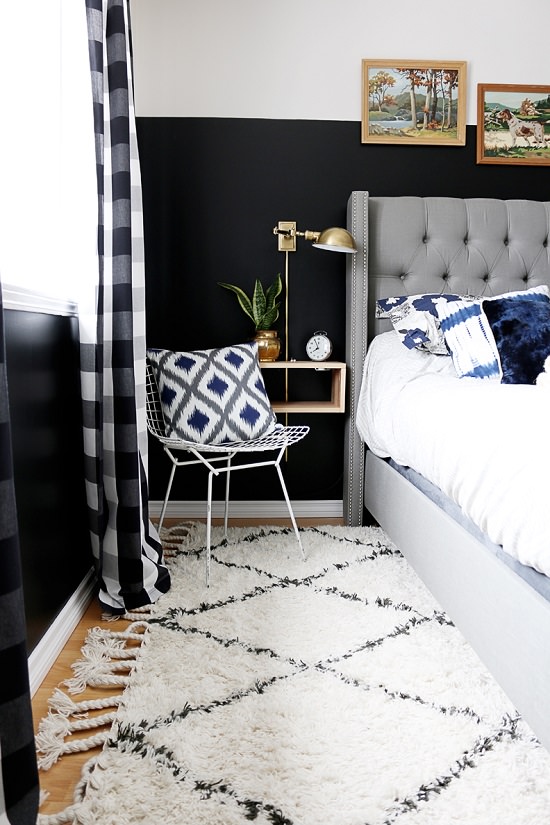 I love the different textures and patterns we have that help the room feel inviting and playful. Having a big area rug helps the entire space feel warm and cozy, which is what every bedroom should really feel like. It needs to scream "peaceful sleep" after those really long days! And let's not forget, bringing in plants brings life to the space so it doesn't seem too stuffy and stiff. Just don't forget to water them!
And just in case, here is a list of the items we used for our space: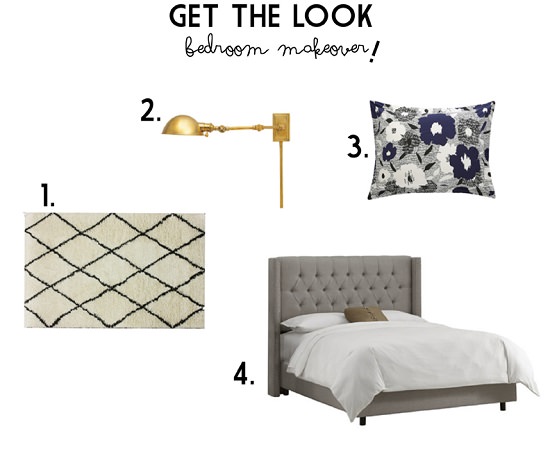 1. Rug 2. Brass Swing Arm Wall Lamp 3. Shams 4. Bed
So what do you think?!!! Lastly, a fun little video for your viewing pleasure! Look forward to hearing your thoughts on our little makeover!