Fill your outdoor space with love and warmth by taking inspiration from these outdoor valentines day decorations!
If you want to make the upcoming Valentine's day memorable and full of festive spirit, try out these amazing Outdoor Valentines Day Decorations.
Outdoor Valentines Day Decorations
1. Monochromatic Valentine Porch Decor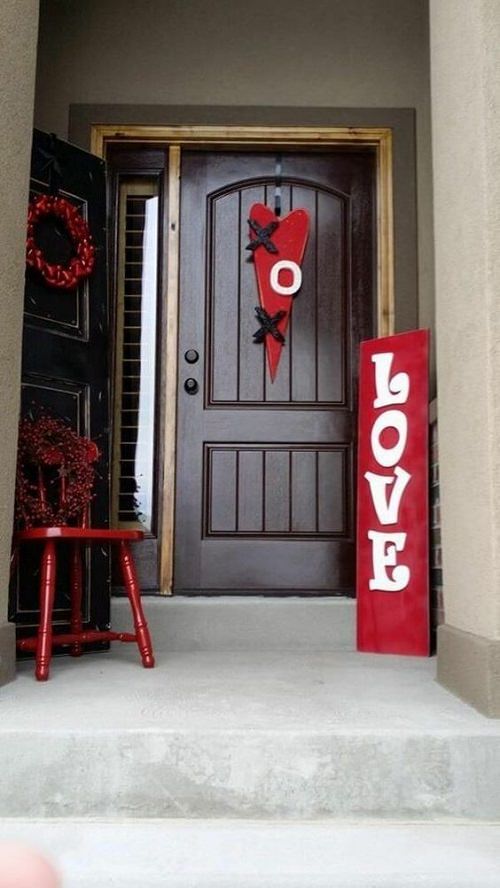 Featuring a red chair, a berry wreath, a red-hued 'Love' wood sign, a heart-shaped wreath, and a hanging 'xox' sign, this monochromatic valentine porch decor is an eye-catchy display.
2. Heart Grapevine Wreath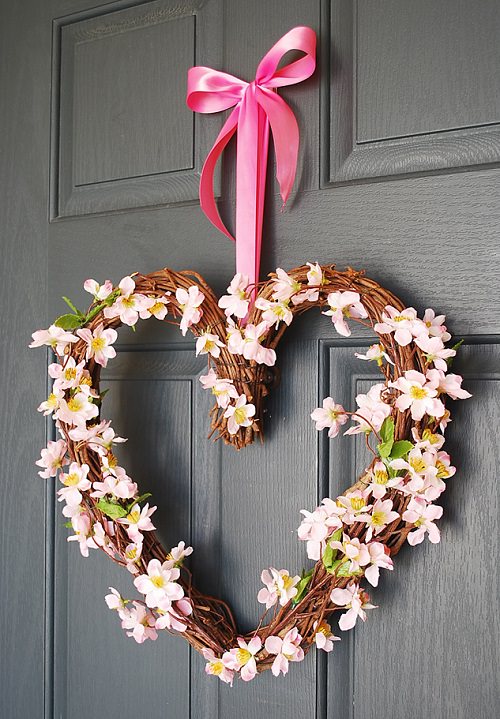 Celebrate Valentine's day by hanging a heart-shaped grapevine wreath on the porch door. Grab grapevine, faux flowers, and a pink ribbon for this DIY.
3. A Cozy Parisian Flair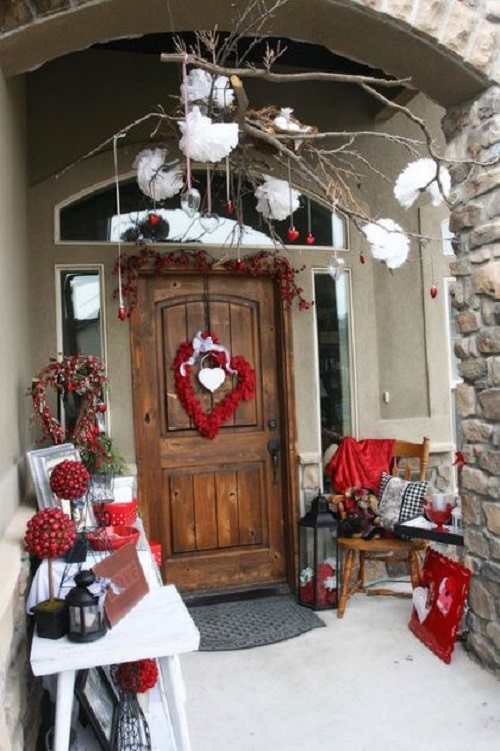 This Valentine's day, deck up your porch with wreaths, a red bulletin board, red berry topiaries, a plaid throw pillow, and a red blanket.
4. Winter Scene Valentine's Decor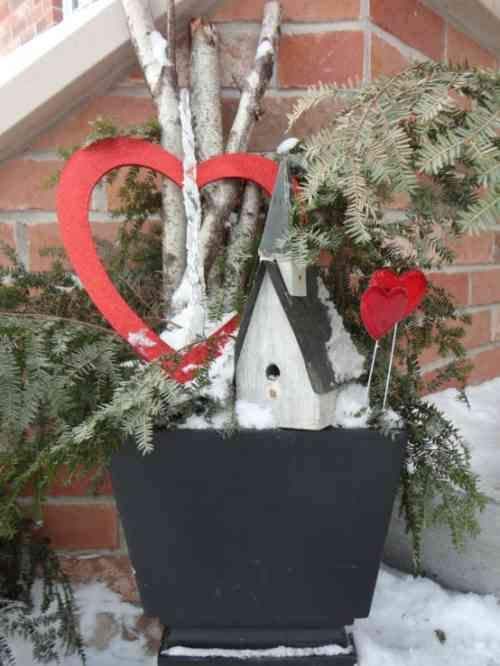 Transform your bland outside planter into a mesmerizing Valentine's winter scene with a mini wood house, snow, heart sticks, and a heart-shaped cut-out.
5. Valentine Mailbox Decor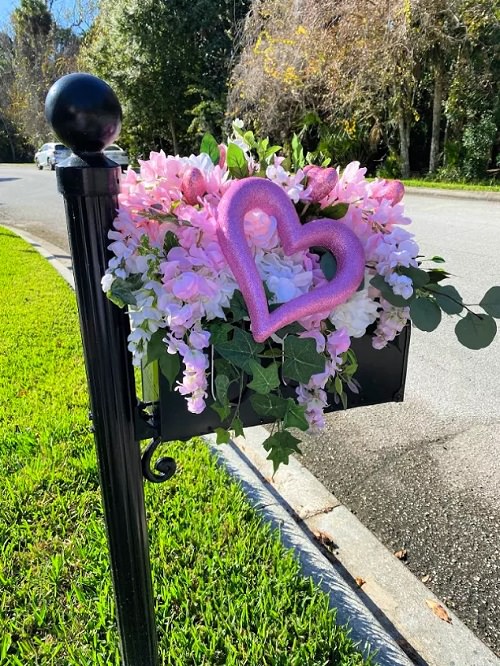 Give your outside mailbox a chic Valentine's day touch using glittery styrofoam hearts and flowers. The tutorial is here.
6. Glowing Heart & Cushions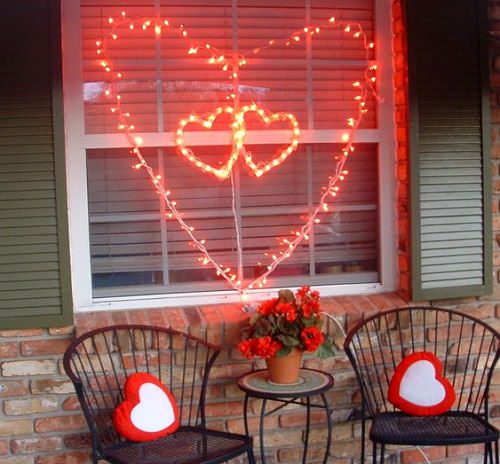 Make a heart on the window with red string lights, hang two glowing hearts, and put a pair of heart-shaped cushions on the chair to bring festive vibes.
7. Tree Heart Installation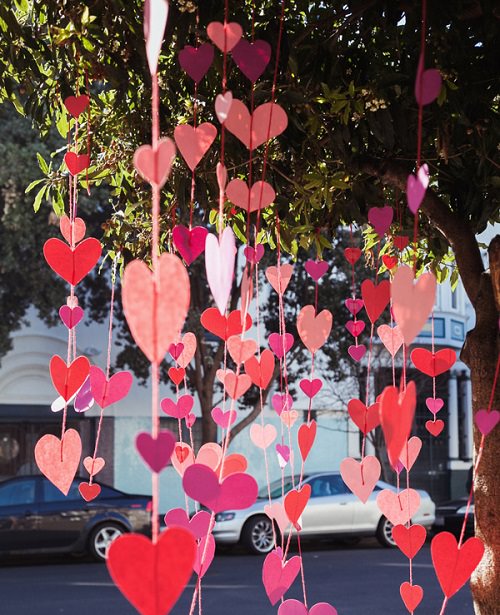 DIY this tree heart installation to add a romantic touch outdoors. You can even write something on the hearts to express your love.
8. Valentine's Day Garden Heart Attack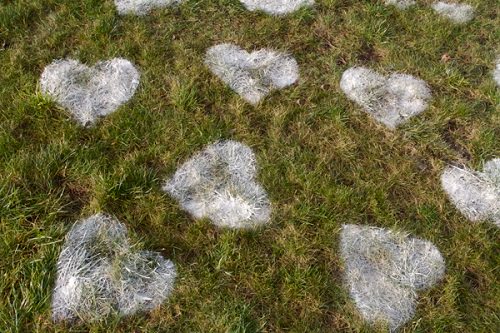 If you're looking for a super economical and unique Valentine's day decor for your outdoor space, this article fits the bill.
9. Outdoor Decoration With Hearts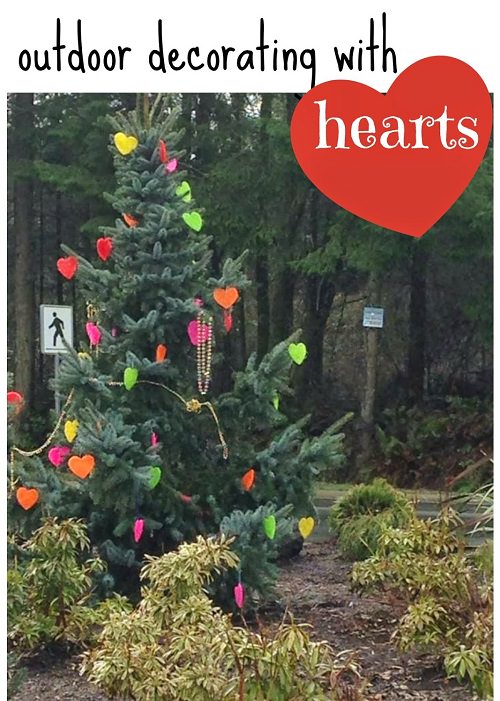 This 14th of February, beautify your yard by embellishing a tree with tiny colorful hearts to bring some festive fun. The details are here.
10. Love Wood Sign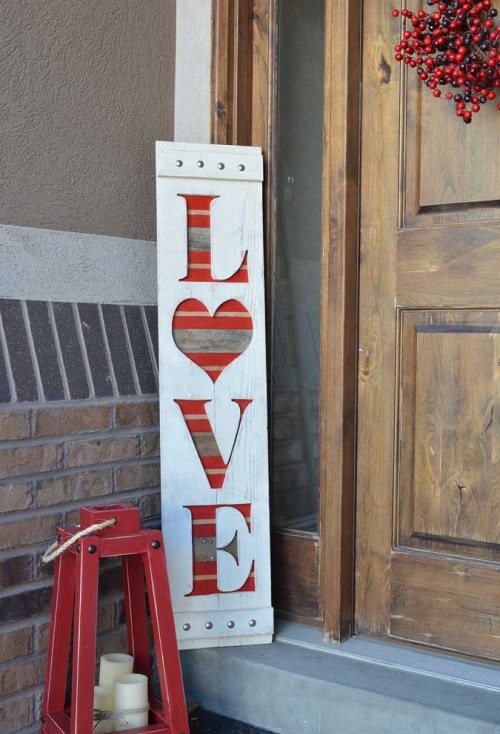 Build a cute love sign out of scrap wood and other supplies to fill your outdoor space with Valentine's day spirit. Read more here.
11. DIY Valentine's Day Topiary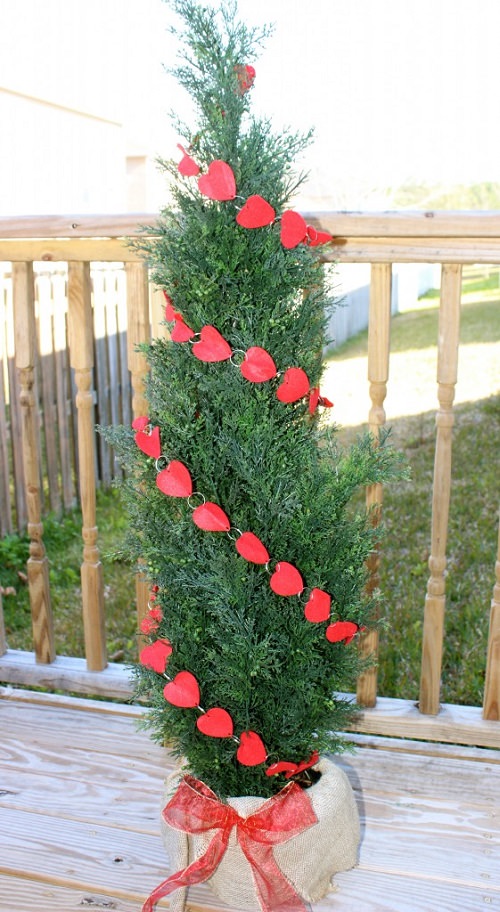 Recreate this lovely topiary with an artificial cedar tree, ribbon, and felt heart garland to add a holiday flair to your porch or patio.
12. Giant Valentine's Day Lollipop Hearts!
Check out this video to DIY giant Valentine's day lollipop hearts to amp up the romantic ambiance outdoors.
13. Outdoor Window Box Valentine's Decor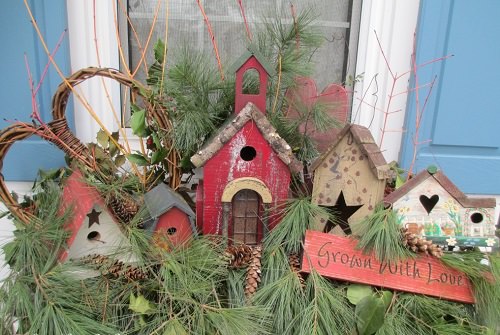 Turn a window box into Valentine's day focal point by ornamenting it with greenery, birdhouses, pine cones, a heart grapevine wreath, and a 'Grown with Love' sign.
14. Lighted Candy Cane Decor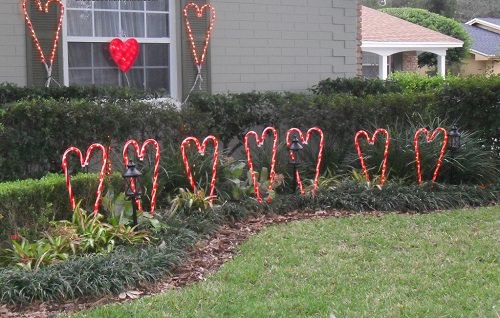 Besides being a staple in Christmas decorations, candy canes can also make your Valentine's decor stand out. Head over to this article to know more.
15. Valentine's Trail Sign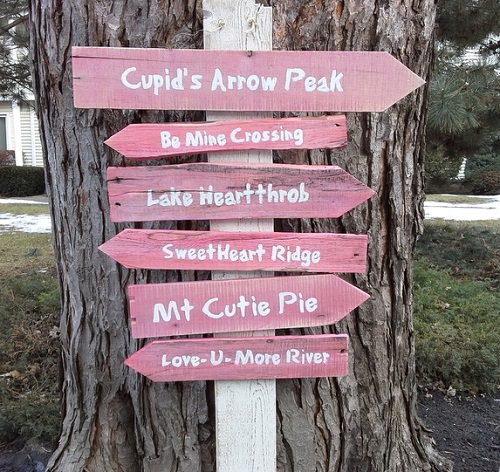 Gather pallet wood slats, chalk, table saw, and a dye mixture to put together this creative trail sign engraved with catchy Valentine's day expressions.
16. Heart of Wooden Sticks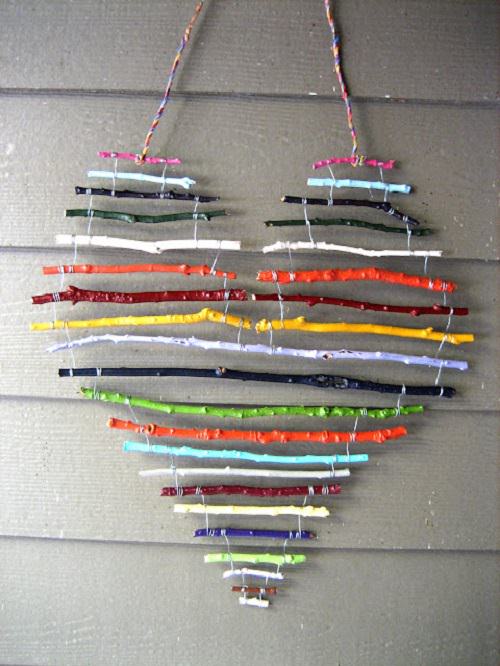 Embellish your space with this display-worthy, heart-shaped specimen to get into the festive mood. For this DIY, attach painted sticks with thin metal wires, and that's it.
17. Nandina Berries Heart Wreath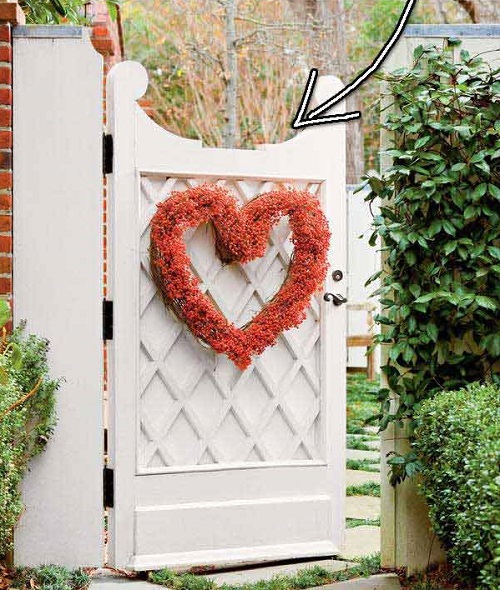 Perfect as a garden gate and front door Valentine's day decor, this nandina berries heart-shaped wreath will attract a lot of eyeballs.
18. Valentine's Day Heart Sticks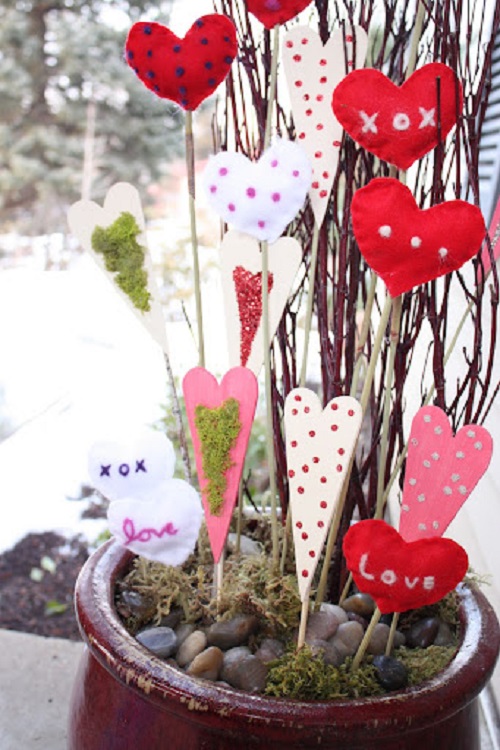 Add festive cheer by jazzing up your outdoor planter with these cute heart sticks. It's one of the best outdoor valentines day decorations on this list.
19. Valentine Front Porch Decor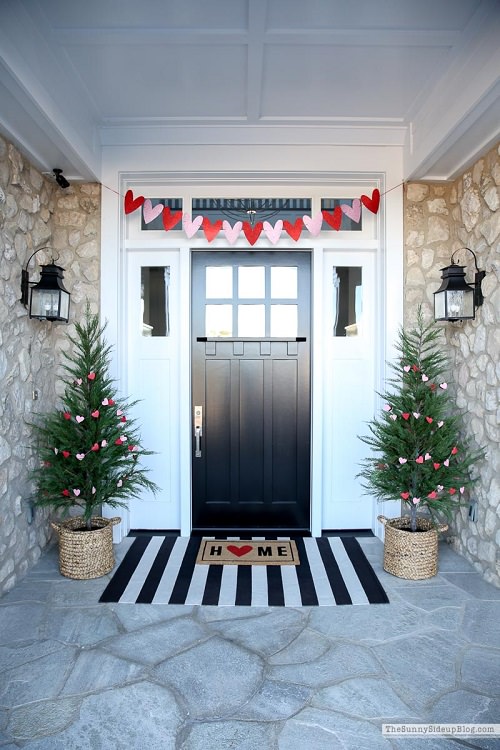 Praise Valentine's day by decking up your front porch with faux Cyprus planters, heart-string bunting banners, a home mat, and a glitter heart banner.
20. Dollar Tree Valentine's Day Outdoor Decor
Watch the video to imitate this charming, color-popping festive decor to cherish the 14th of February.
21. DIY Valentines Day Front Porch on a Budget
Don't let the tight budget dampen your holiday spirit because all you need is $12 to decorate your front porch.
22. Valentine's Fence Wreath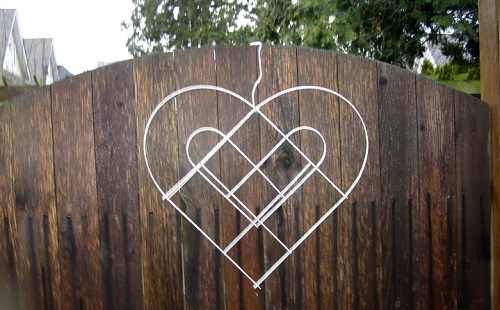 Not a fan of the traditional Valentine's wreath? Build this unusual wreath from a wire fencing net and this DIY. It's perfect for the garden fence or barn door.
23. Valentine's Day Wind Chimes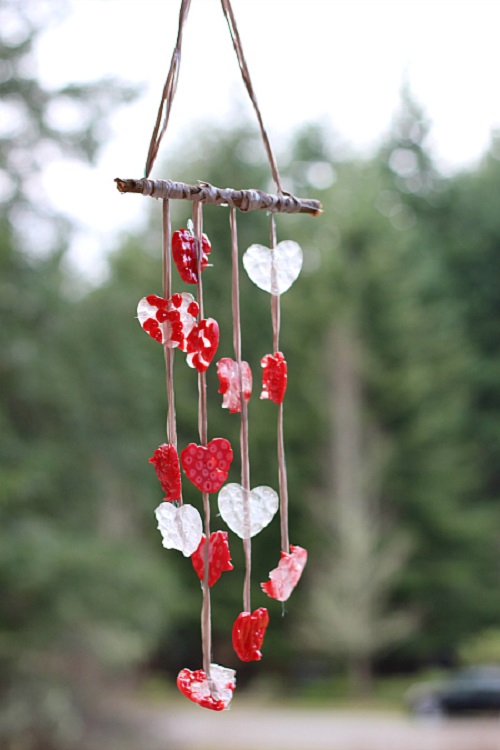 This stunning wind chime is a great way to decorate your outdoor space for the upcoming Valentine's day. It's a quite simple and kid-friendly project.
24. Lighted Valentine's Day Topiary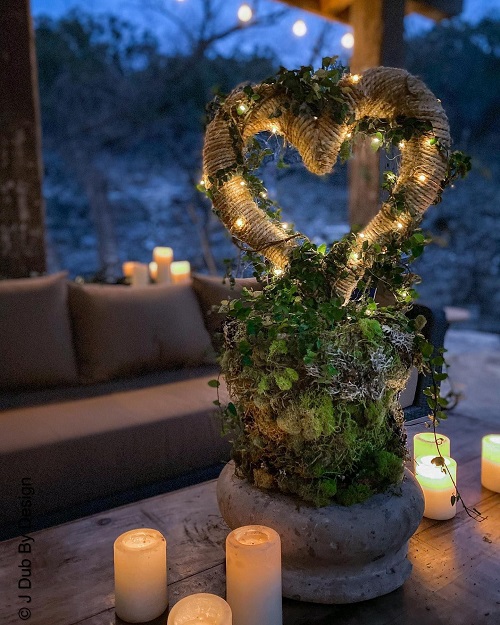 Cast a romantic glow on your porch or patio with this lighted heart-shaped topiary. Go one step ahead and add some candles to complete the look.
25. Gold and Pink Lanterns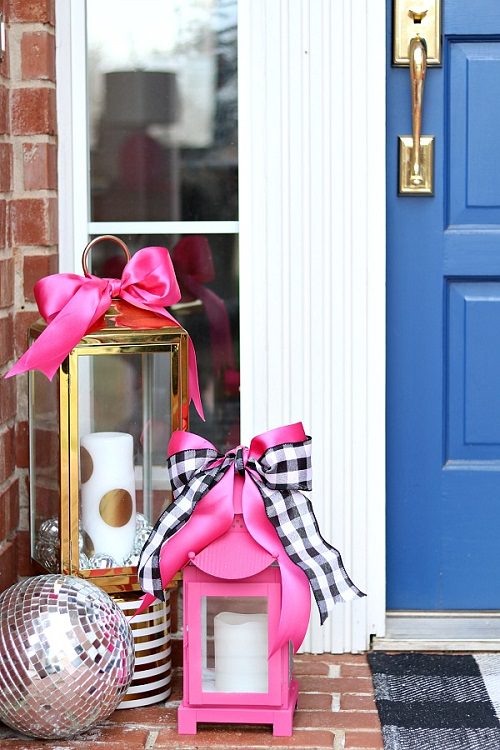 Adorned with pink and checked bow ties, these pink and gold lanterns are timeless festive decor. Either place them on the porch, patio, side steps, or yard.
26. Rose Decorated Hanging Lanterns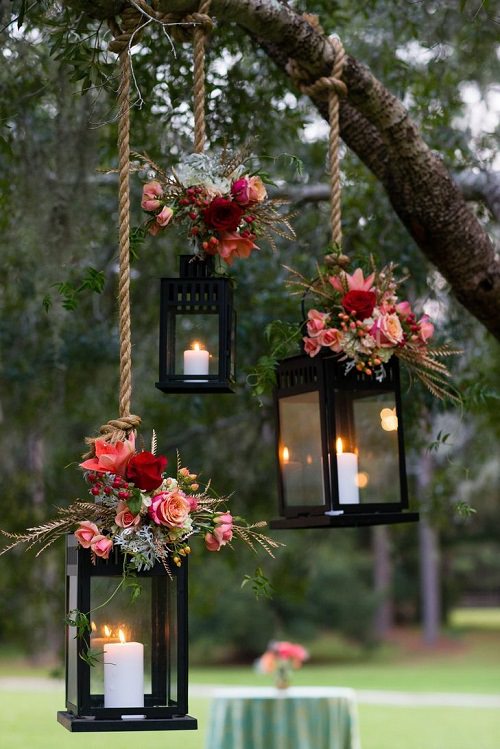 Suspend a couple of rose-decorated lighted lanterns from the yard tree using ropes to spread love in the atmosphere.
27. Outdoor Valentines Day Table Decor With Flowers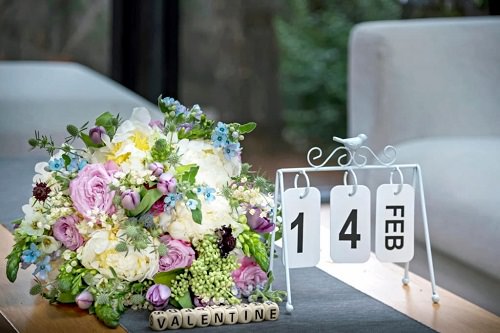 Arrange a flower bouquet on the outdoor table to add a quick Valentine's day touch. It's super-economical and romantic as well.
28. Valentines Ladder With Red Ruffled Burlap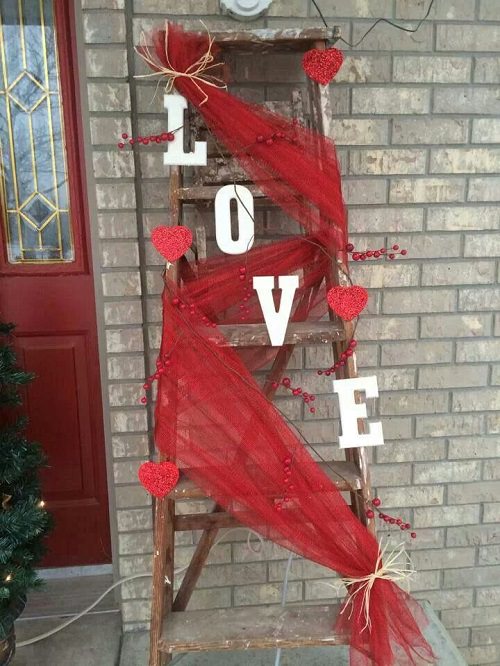 Instead of throwing your old ladder, use it to brighten up your porch, patio, backyard, or front door this Valentine's day. Prettify the ladder with red burlap, string lights, and L-O-V-E letters.