Breathe life into your holiday décor with these enchanting Poinsettia Arrangements Ideas and celebrate the season in style!
Poinsettias are synonymous with holiday cheer. Whether you prefer a traditional approach or something more avant-garde, these Poinsettia Arrangements Ideas will help you find the perfect style for your space.
Read the Flowers that Start with B here
---
Poinsettia Arrangements Ideas
1. Classic Poinsettia Centerpiece
Place multiple potted poinsettias in the center of your dining table, surrounded by a few candles. It's a simple yet impactful way to transform your dining space into the heart of the holiday celebration.
2. Poinsettia Garland
Create a festive atmosphere in your home by hanging a bright poinsettia garland from the stair railing or mantel. It will bring joy and warmth into the entire house. Not only it adds a touch of nature indoors, but its cascading beauty also evokes cherished memories of Christmas.
3. Poinsettia Basket Arrangements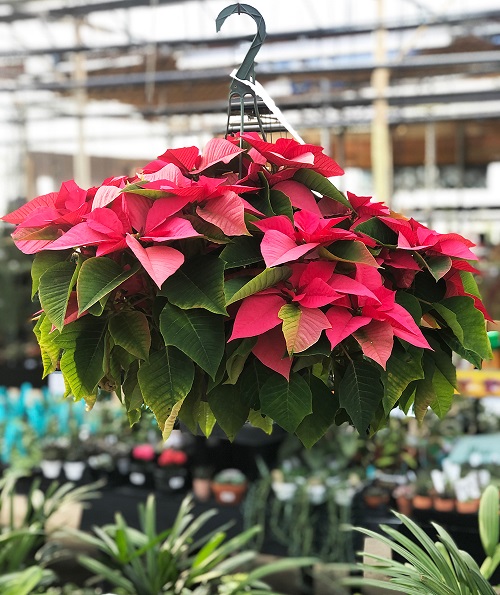 Hang vibrant poinsettias in baskets from the ceiling or on plant stands to achieve a vertical garden look. This offers a unique way to display poinsettias, bringing them up to eye level and making them a talking point in your decor.
4. Poinsettia Vase on Dresser
Add a refreshing holiday touch to your bedroom by displaying poinsettias in pots on the dresser. This charming arrangement brings nature's beauty indoors and serves as a delightful focal point in the room.
5. Terrarium Display
Place a small poinsettia inside a large glass terrarium with green moss. The lush green moss provides a soft bed, complementing the poinsettia's vibrant red hues. This arrangement is an enchanting decorative piece for any room.
6. Poinsettia on the Dinning Table
If you are looking for a minimalist decoration idea, place a pot of gorgeous poinsettia in the center of the dining table. As guests gather around the table, they'll be greeted by this symbol of holiday cheer, turning ordinary meals into memorable occasions.
7. Floating Poinsettias
Float poinsettia bracts in a water bowl to create a captivating centerpiece that merges elegance with simplicity. When placed under soft lighting or accompanied by floating candles, the visual is a sight to behold.
8. Poinsettia Wreath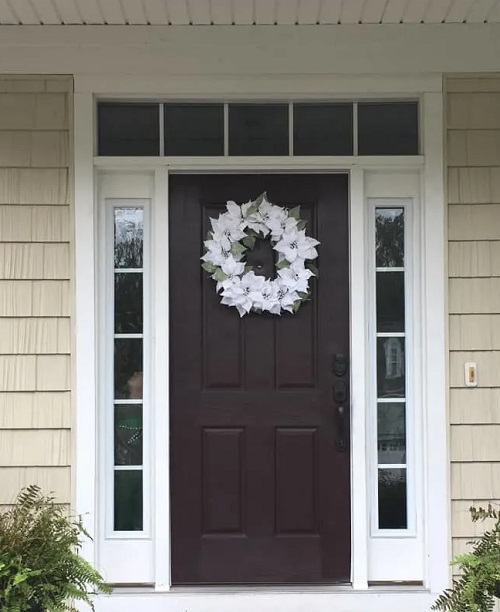 Hang a stunning wreath adorned with poinsettia blooms on your door or wall. This festive and classic decoration welcomes guests with the charm of Christmas and adds a touch of elegance to your home's exterior.
9. Poinsettia and Pine Cone Display
By combining the vibrant red hues of poinsettias with the rustic charm of pine cones, this display captures the essence of the season. This arrangement will surely captivate your guests and loved ones.
10. Poinsettia Chandelier
If you want a lovely and unexpected center point in your dining room, hang miniature poinsettia plants from a chandelier or other ceiling light. Your guests will be impressed by this striking arrangement at holiday gatherings and dinner parties.
11. Crate Display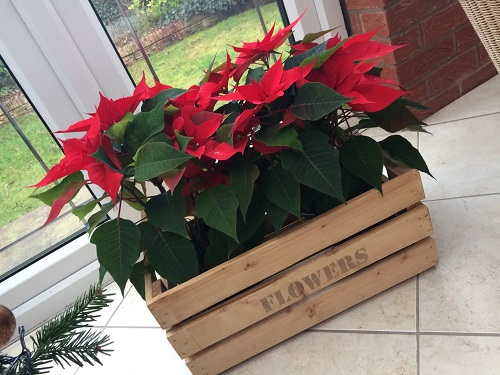 For those who appreciate a vintage or rustic look, placing varied sizes of poinsettias inside a wooden crate. This can be a centerpiece or an addition to any nook or corner of your home.
12. Poinsettia and Berries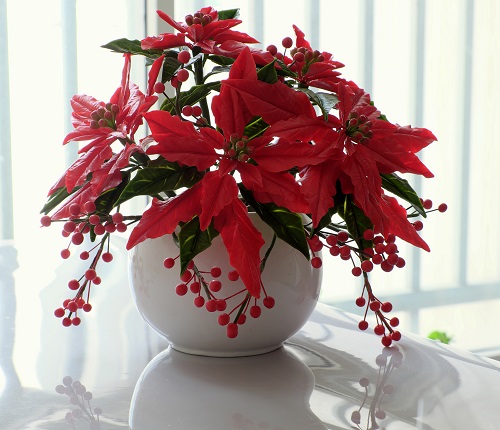 Combine poinsettias with holly or mistletoe in a vase for an enchanting display. The vibrant poinsettias, contrasting green foliage, and attractive berries make for a lively holiday arrangement.
13. Window Sill
Line your bedroom window sill with small potted poinsettias. In this way, you not only have a delightful view from inside but also add a festive touch that can be appreciated from the outdoors.
14. Poinsettia and Amaryllis Duo
Combine the beauty of poinsettias and amaryllis in a show-stopping arrangement. This striking duo infuses your space with vibrant colors and majestic blooms, creating a captivating centerpiece that captures the spirit of the holiday season.
15. Poinsettia in Geometric Pot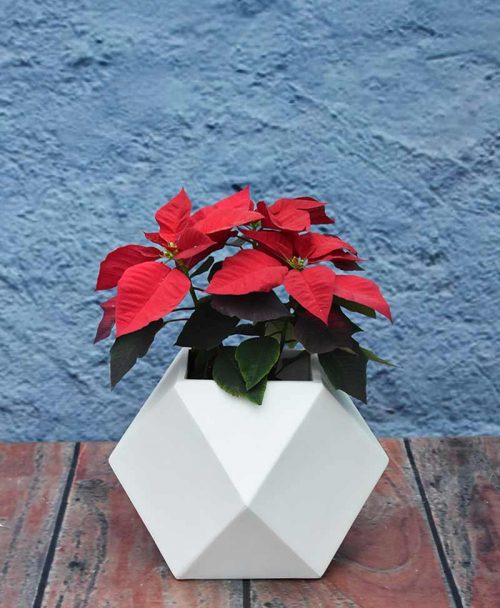 A striking poinsettia in a geometric pot is what you need to give your space a clean, modern look. Ideal for contemporary spaces, this arrangement creates a captivating visual contrast.
16. Outdoor Entrance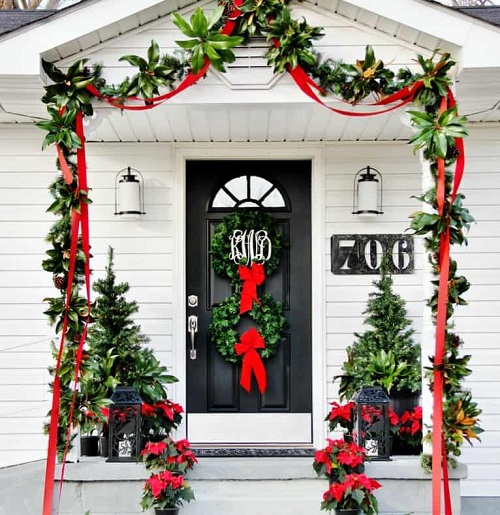 Create a heartwarming welcome for your guests by lining your home's entrance with radiant poinsettias. The bright red foliage against the backdrop of your home will surely set the mood for festive celebrations.
17. Poinsettia with Ribbon Accents
Incorporating ribbons into your poinsettia flower arrangements adds a layer of texture and color. The ribbons can match the room's decor or contrast with the poinsettia, offering a unique and tailored look to your holiday decoration.
18. Poinsettia on Staircases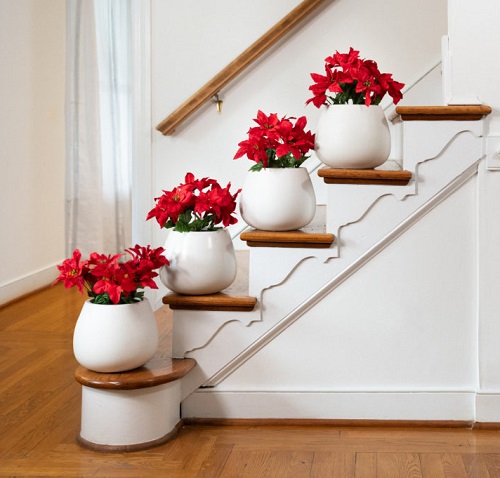 Placing poinsettias on every other step or along the banister is one of the best Christmas poinsettia arrangements ideas. This decoration adds a touch of grandeur and holiday spirit to any home.
19. Kitchen Island
Spice up your cooking space by adorning the kitchen island with a poinsettia centerpiece. It ensures the holiday spirit is felt even in the midst of cooking and meal prep.
20. Poinsettia Table Runner
Use a table runner decorated with poinsettia blossoms to create an eye-catching centerpiece. It not only enhances your dining experience but also becomes a topic of admiration among guests.
21. Poinsettia in Bathroom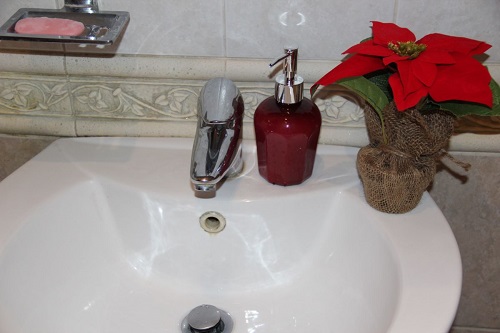 Place a small poinsettia anywhere in the bathroom for an unexpected pop of color. It's an excellent bathroom decoration idea for those with a green thumb or who adore poinsettia a lot.
22. Outdoor Window Box
For a traditional and striking outdoor display, fill a window box with a combination of poinsettias, pine branches, and holly. This not only brightens the exterior of your home but also provides holiday cheer to passersby.
23. Dreamy Bed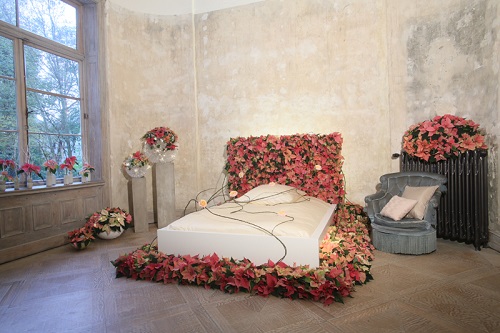 For those seeking an unconventional bedroom decor idea, a bed adorned with poinsettias is the perfect option. This decoration adds a luxurious and festive touch, turning your sleeping space into a magical place.
24. Poinsettia Napkin Rings
Give your dining setup a quick festive update using silk poinsettia bracts as napkin rings. This will surely add a splash of holiday color to your meals. Either use real or faux poinsettia for this purpose.
25. Vanity Beauty
Beautify your personal grooming space by placing a poinsettia on your vanity. This natural touch elevates the aesthetics and instills a refreshing, festive mood as you start your day.
Read the Best White Flowers with Yellow Centre here