Elevate your interior aesthetics with these amazing Pothos Decor Ideas that bring you closer to nature without stretching your finances!
From homes to office cubicles, the demand for indoor plants is ever-increasing, and pothos are a popular choice among gardeners. Why? They're low-maintenance, aesthetically pleasing, and purify the air. Get ready to be inspired by this list of Pothos Decor Ideas that are simple to execute and budget-friendly.
Read the Captivating Poinsettia Arrangements Ideas here
---
Pothos Decor Ideas
1. Hanging Pothos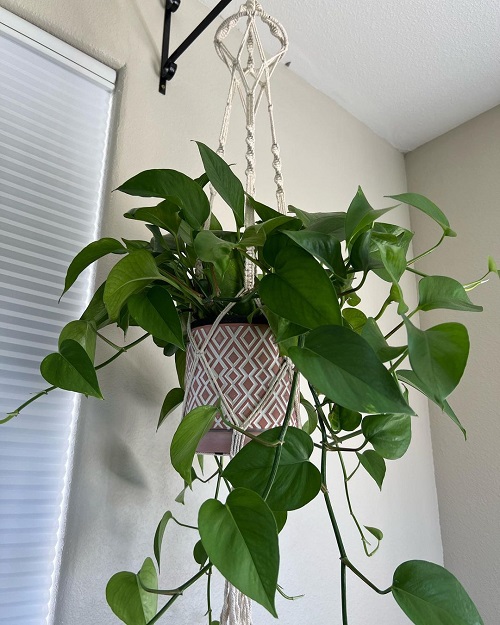 Elevate the aesthetic appeal of your space by hanging pothos from a wall hook. This easy setup is perfect for homes and offices alike. You only need a sturdy hook, a hanging planter, and your pothos plant. Hanging pothos near windows can also maximize their light exposure, which benefits their growth.
2. Floating Shelf Display
Line a floating shelf with multiple pothos plants to create an eye-grabbing display. This idea adds a green touch to the interior without occupying floor space. You can also use different planters to create a visually pleasing sequence, adding depth and dimension to your living area.
3. Bathroom Sanctuary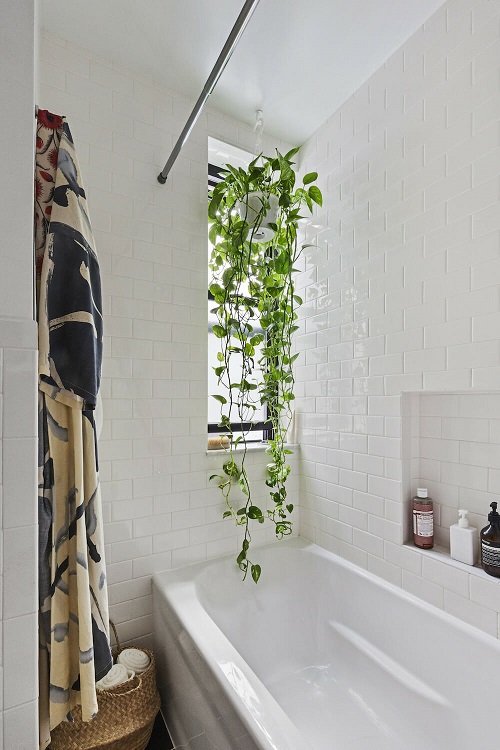 Amp up the look and feel of your bathroom with a green touch by hanging a potted pothos from the ceiling. The humidity from the shower will help the plant thrive, making your bathroom an oasis of natural beauty.
4. Open Closet Display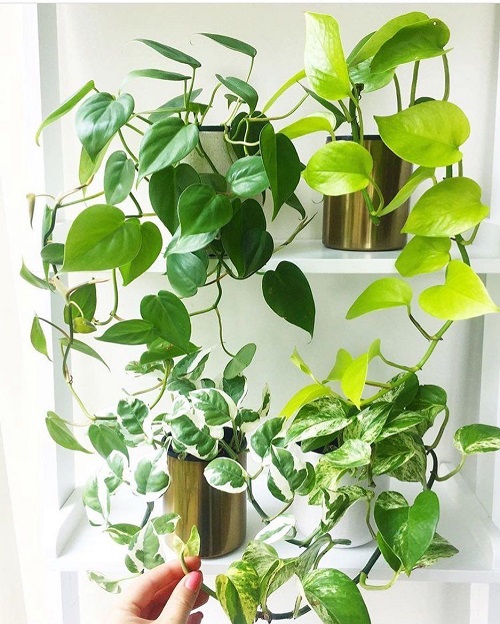 If you have an open closet or wardrobe, place a few pothos pots on the upper shelves. They add a natural element to your clothing storage area. This setup makes the open closet a cohesive part of your home decor.
5. Window Sill Decor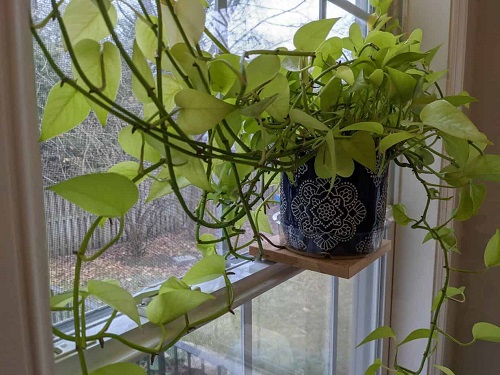 Place small pots of pothos on a window sill to enjoy the cascading leaves. This method is ideal for kitchen or bathroom windows, providing a natural, serene touch to the space.
6. Kitchen Cabinet Top Pothos Display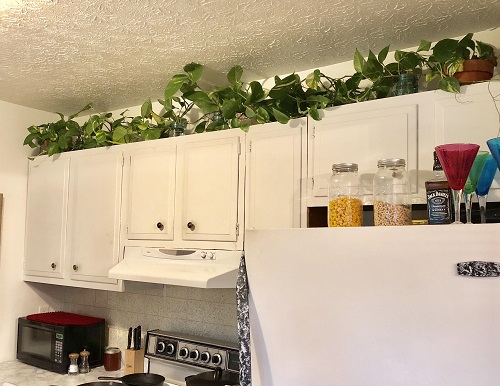 The empty space on the top of kitchen cabinets is an excellent spot to display pothos. The height allows the vines to cascade naturally, providing a dramatic touch to your kitchen decor. It's also a great way to utilize often-wasted space.
7. Tension Rod Pothos Display
Install a tension rod in a window frame and hang small pothos plants using S-hooks. This setup is an elegant alternative to traditional window treatments, letting you enjoy the greenery and the outdoor view.
8. Pothos Table Centerpiece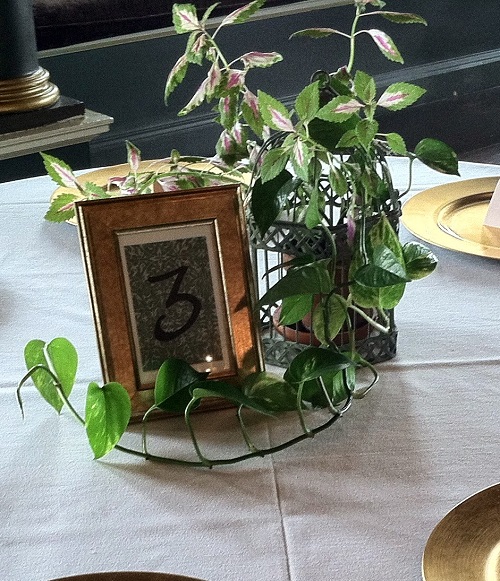 Create an eye-grabbing table centerpiece with a beautiful pothos arrangement in a colorful or textured pot. Place it on the dining table or office desk. It not only enhances aesthetics but also improves indoor air quality.
9. Ladder Pothos Display
Transform an old ladder into a vertical garden by hanging pothos plants on each step. Being simple and affordable, this brilliant arrangement is a notable mention in this list of pothos decor ideas.
10. Coffee Table Decor
A potted pothos plant on a coffee table is an excellent conversation starter. Select a decorative pot to match your living room theme. The cascading leaves add a whimsical touch, subtly drawing attention to this decoration piece.
11. Open Shelf Styling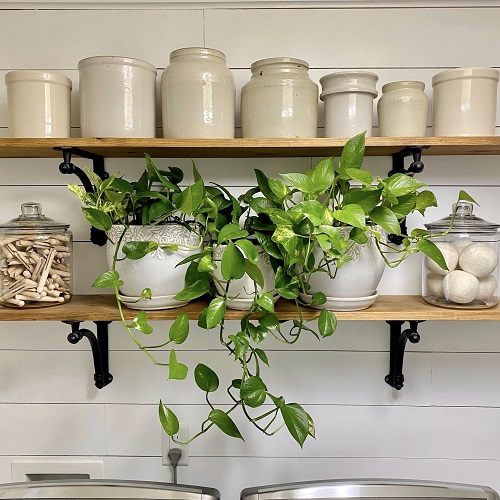 Beautify open shelves by incorporating pothos among the glass and ceramic jars. This decorative strategy is an excellent way to add life to your living room or kitchen, making the area inviting and vibrant.
12. Staircase Garland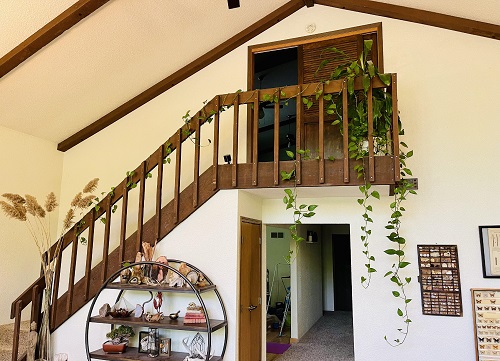 Twine the vines of pothos around the staircase railing for a unique display. This natural garland adds greenery to the stairs in a unique way. It not only enhances the staircase but can also act as a natural handrail.
13. Armoire Pothos Home Decor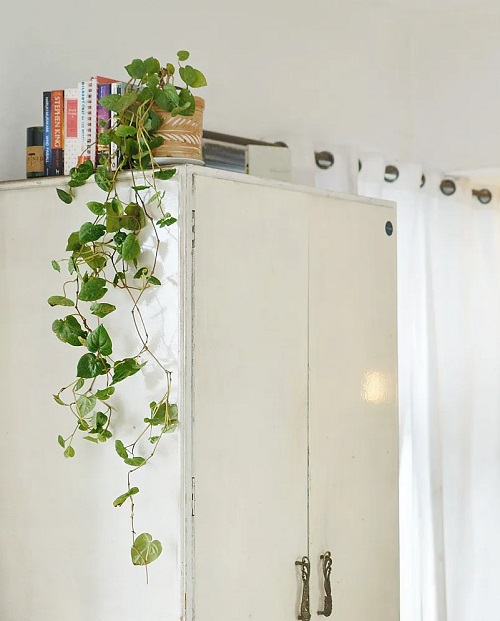 Beautify the top of an armoire or wardrobe with a potted pothos plant decor. The cascading vines bring depth and texture to the room, attracting everyone's attention. It's the most simple yet attractive decoration idea.
14. Trailing Pothos on a Mini Plant Stand
Looking for a simple and easy home decor idea? Grab a pothos plant and a mini plant stand to create a lush focal point. It not only beautifies the space but also purifies indoor air.
15. Mantel Display
Liven up your fireplace mantel with the beautiful pothos. Place the potted plants on each end or arrange them in a row for a symmetrical look. The green leaves create a striking contrast against the white walls.
16. Kitchen Island Decor
Make your kitchen island stand out by adding a potted pothos. Pair this plant with some fruit bowls or glass domes for added charm. Among the pothos decor ideas, this arrangement is aesthetically pleasing and practical.
17. Hanging Glass Pothos Terrarium
Show off pothos in a hanging glass terrarium for a modern, minimalistic look. This is a unique way to display your favorite plant. It works well in office settings or contemporary homes. A terrarium can also act as an educational piece, demonstrating the plant's ecosystem in a closed environment.
18. Bathroom Ledge Display
Transform a dull bathroom ledge into a dynamic display by adding a potted pothos. This plant thrives in humid conditions, making it an ideal choice for a bathroom environment. By adding pothos, you can create a spa-like atmosphere inside the bathroom.
19. Bookshelf Pothos Display
Place a potted pothos on the top shelf of your bookcase, letting its trailing vines cascade downward. This arrangement creates a visual effect similar to a green waterfall, enhancing your book collection.
20. Balcony Railing Decor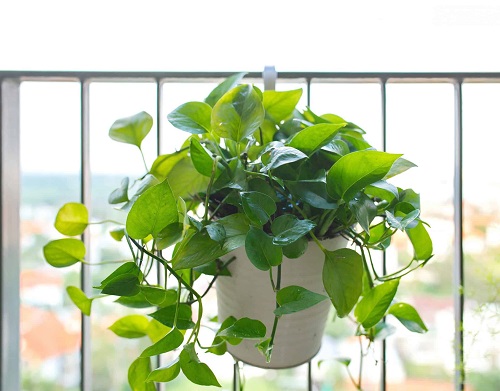 Want to elevate the look and feel of your balcony? Simply hang a potted pothos from the railing. The cascading vines will provide a lush, green backdrop, making your balcony feel like a mini garden.
21. DIY Wire Grid Panel
Use a wire grid panel to create a vertical garden in your living space. Attach small pots to the grid using S-hooks. You can also use the wire grid panel as a unique room divider for privacy and aesthetic appeal. The versatility of this setup makes it an excellent addition to these pothos decor ideas.
22. Pothos Chandelier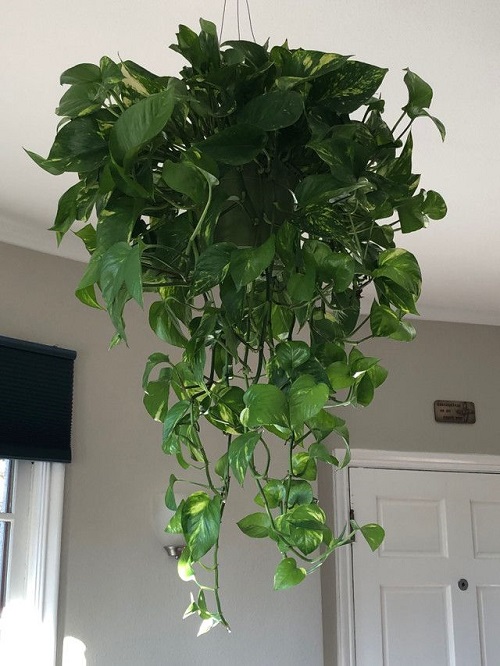 Design a pothos chandelier by hanging multiple small pots in a circular pattern from the ceiling. It's a stylish and vibrant addition to a dining or living area. This setup brings a sense of extravagance without being too opulent.
23. Indoor Trellis Pothos Wall Decor

A wall trellis is an excellent means to showcase pothos' beauty indoors. Besides supporting the fast-growing pothos vines, it's also a decorative wall art piece. Opt for a wooden or metal trellis that complements your interior design.
24. Above-the-Fridge Spot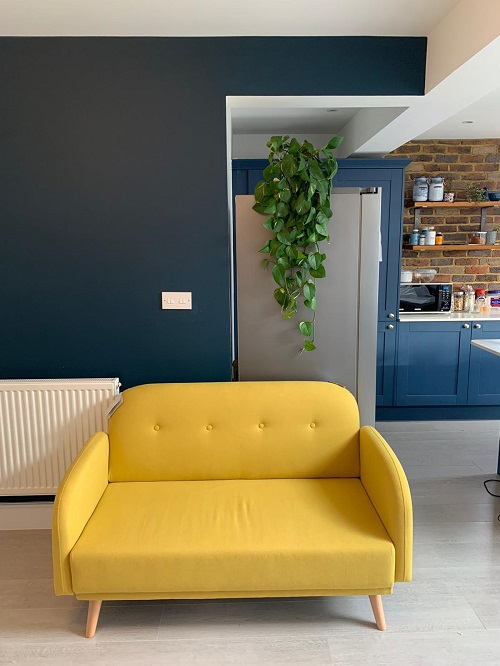 The space above your fridge is often unused. Use a pot of pothos to fill the gap and make your kitchen lively. It's also a clever way to bring greenery to less-spacious homes without sacrificing valuable counter space.
25. DIY Macramé Hanger
A macrame hanger gives the pothos plant and the space a bohemian look. This hanger is not only aesthetically appealing but also lets you play with heights and layers when decorating with pothos plants. It's an inexpensive and enjoyable way to elevate your home decor.
26. Console Table Pothos Display
Give your entryway a stunning focal point by decorating the console table with a pothos plant. Using a console table to display pothos makes an immediate statement to anyone who enters your home. It sets the tone for the rest of your space and offers a natural, relaxing vibe right from the entrance.
27. Indoor Archway
Create an archway of pothos by strategically placing planters at the corners of a doorway. Among the various pothos decor ideas, this setup transforms a simple doorway into a nature-inspired passage. Besides its aesthetic appeal, this arrangement adds a bit of whimsy and fantasy to everyday life.
Explore the Awesome Wrapped Potted Plant Centerpieces here