Revamping old objects to make something new out of them is a skill that we all must have! Here is an idea for revamping geometric side tables that'll inspire you to do the same.
Revamping old objects into new objects is an art that everyone should learn to do. Having a wooden side table might be boring for you if it's not coming to any use because it does not look that good! It's might also be an eyesore, so it's been long enough to give this little guy new purpose and meaning. Alas, your Geometric Side Table!
Materials Required:
Thrifted Side Table
Contact Paper
Scissors

Directions of use:
1. First you have to clean the surface of your side table.
2. Now measure the paper and cut your contact paper carefully according to your requirement. Don't forget to cut the paper for each side of the table in one go.
3. With the help of glue, Carefully apply the contact paper to your side of a table surface.
4. One after the other apply glue and contact paper to other sides as well. Repeat until all sides are complete!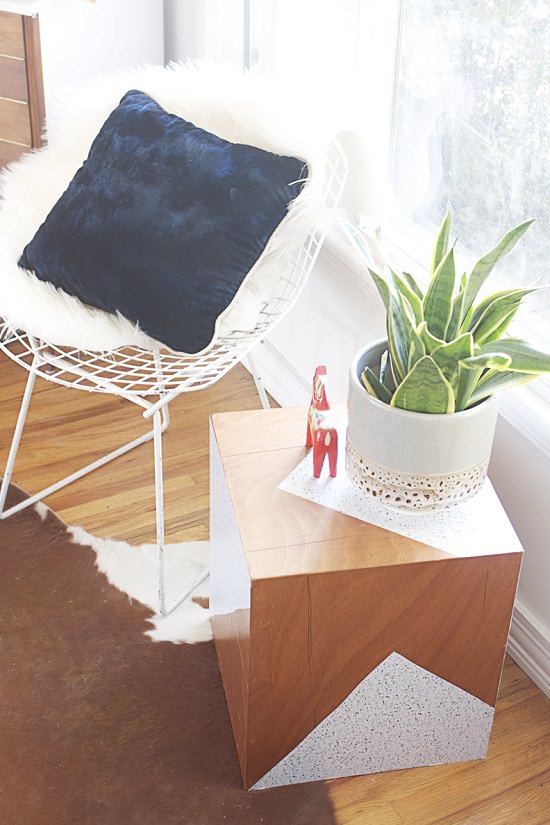 Contact paper is such an easy and affordable way to revamp furniture pieces. Do you agree with the prior statement? If yes then try this out kindly. It's also equally as easy to remove if you grow tired of the color or layout! The geometric design is the perfect way to give your side table that new and fresh look!
I loved this final piece a lot. What you have to say about it revamping structure. Is it looking trending and easy to do at your end? Is it creating something in your mind that you should also try this out kind of thing? I would like to know from you that Are you fans of contact paper or do you just go straight to paint?