Revamp any old furniture and turn as good as new! Here is our own personal experience with revamping an old desk.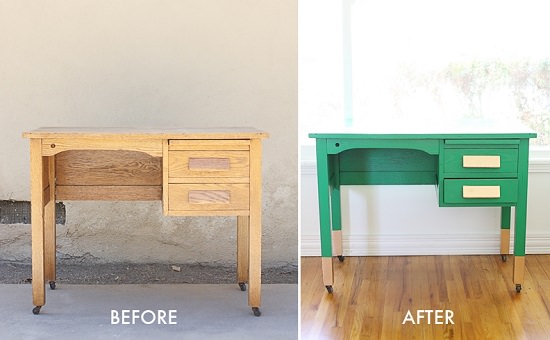 This weekend, I had a lot of fun giving an old piece of furniture a fresh and modern look! I've been trying to sell this desk before we moved for a couple of weeks, but I just wasn't getting a whole lot of interest.
A few years ago I bought it for my studio space to work from. Soon after, we got the placement of Holden and Violet and the room quickly became a nursery and the desk collected nothing but dust. It's an arts and craft design, with your typical light oak finish – something I'm really not digging as of late.
I personally would want something a bit more trendy if I were on the market for a new desk. I used this as my inspiration and have been a long time fan of campaign furniture! I ALMOST bought this desk to revamp, but just couldn't justify it when I still had my old one sitting around. Even after all my IG friends voted yes on my new find (sorry guys…). I decided to take the plunge and paint the old one green with some gold accents because gold just makes everything that much better!
I sanded down the desk, wiped it clean and painted the entire piece (I used three cans of spray paint). After the desk dried completely, I taped the legs and drawer handles and painted them gold using liquid gold leaf paint. It dries pretty quickly. For extra protection, I recommend spraying your piece of furniture with clear enamel. I removed the tape and voila!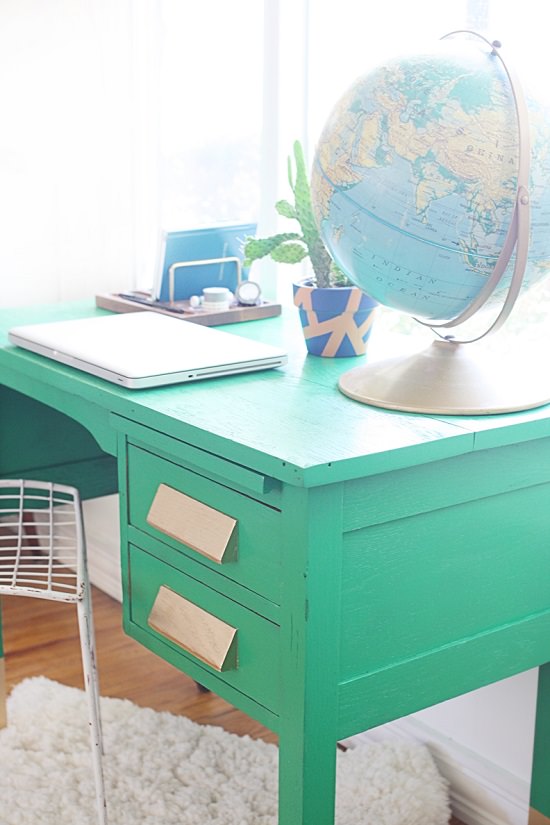 Now that it's revamped, I'm wondering….should I sell it or keep it? I love the color combination and can really see it in our new home and in our new studio space! I guess I can always recreate something like this again. All in all, I'm so happy with how it turned out!