Try these clever, space-saving Small Bathroom Towel Storage Ideas to organize towels in less spacious bathrooms!
Organizing towels aesthetically in a compact bathroom is challenging. Fortunately, we have some nifty Small Bathroom Towel Storage Ideas to help you out.
Small Bathroom Towel Storage Ideas
1. Above-The-Door Open Cupboard

If your bathroom has unused space between the ceiling and door, install a customized open cupboard to corral the towels. Read more here.
2. DIY Industrial Pipe Shelves

This storage idea lets you organize towels in a less spacious bathroom and gives a rustic, farmhouse-inspired look.
3. Bathroom Door Mounted Towel Bars

Installing metal towel rods on the backside of a door is one of the best economical towel organization ideas.
4. Wood Towel Rack

Utilize the vertical space of your bathroom wall with this floating wooden towel rack to organize heaps of towels.
5. Wall Hanging Baskets

Hang one or two baskets on the bathroom wall using screws to arrange towels and save precious floor space. The details are here.
6. Use Wicker Baskets

Instead of suspending the baskets, place a wicker basket on the floor to manage your assortment of clean towels.
7. Over the Door Approach

Use an over-the-door towel rack to tuck towels out of sight. It lets you dry towels and store clean ones.
8. DIY Towel Ring

Once you gather all the supplies, putting together this towel ring is pretty easy. It's one of the best towel organization ideas on this list.
9. DIY Floating Towel Rack

Take advantage of the vertical space over the flush toilet tank to tidy up towels using this floating towel rack.
10. Bicycle Basket Towel Holder

Repurpose an old bicycle basket to organize towels and other toiletries. Go one step ahead and change its look with spray paint.
11. Set Up a Ladder

Placing a ladder near the bathtub offers a spot to dry wet towels or hang clean ones. It's one of the most excellent small bathroom towel storage ideas that you must try.
12. Bathroom Vanity Storage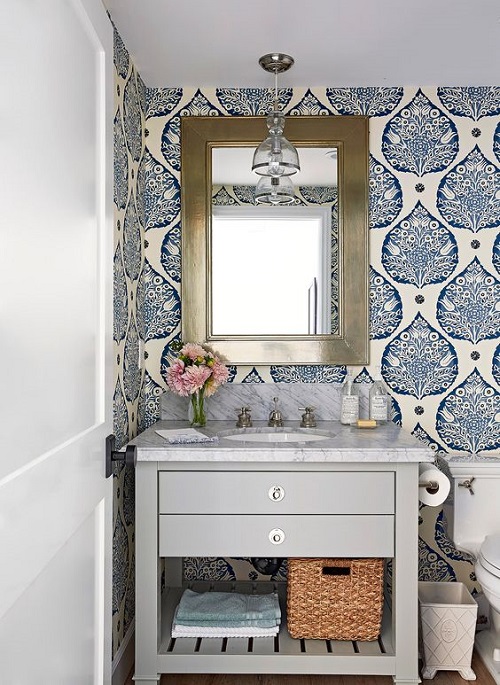 If you happen to have a bathroom vanity with a narrow shelf, use it to store hand, face, or bath towels. You can also add a basket to keep other stuff.
13. DIY Wooden Crates Open Cubbies

For this towel storage idea, paint some wooden crates, stack them on the bathroom floor, and connect them with hot glue or screws.
14. Floating Towel Organizer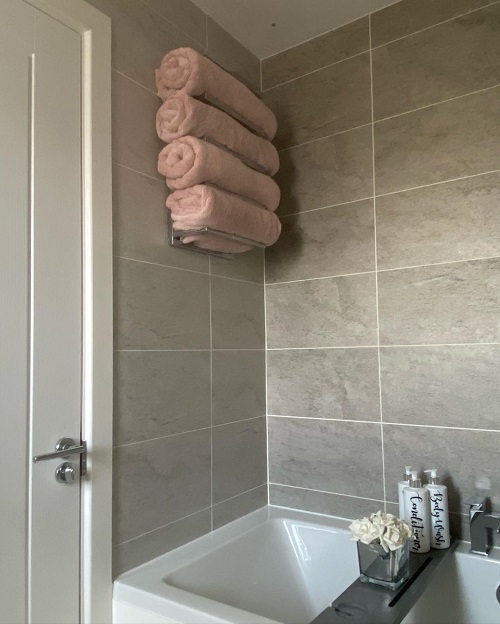 Make every inch count of your bathroom wall space by installing a floating towel organizer. Simply hang five square-edged towel rods with 7 inches gap between each rod on the wall.
15. Wine Rack for Towel Storage

Repurposing an old accordion-style wine rack to keep hand towels organized is a genius storage idea for less spacious bathrooms.
16. Reclaimed Wood Corner Shelves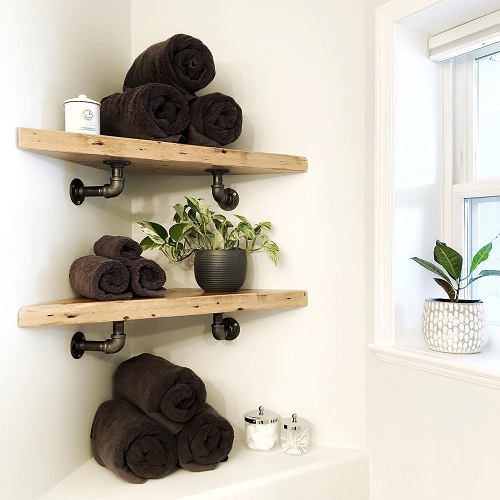 If your bathroom has a little corner nook, install custom wooden shelves with pewter pipe brackets to get the much-needed storage space for towels.
17. DIY Rustic Iron Towel Rack and Shelf
Instead of dealing with untidy heaps of towels, DIY this rustic towel rack and suspend it on the desired bathroom wall.
18. DIY Bathroom Towel Rack
Watch this video tutorial to make a multipurpose towel rack for a bathroom that is tight on floor space.
19. Storage Baskets Beneath the Sink

Make the most out of the space beneath the floating bathroom sink to store towels using a couple of wicker baskets.
20. DIY Tiny Towel Slot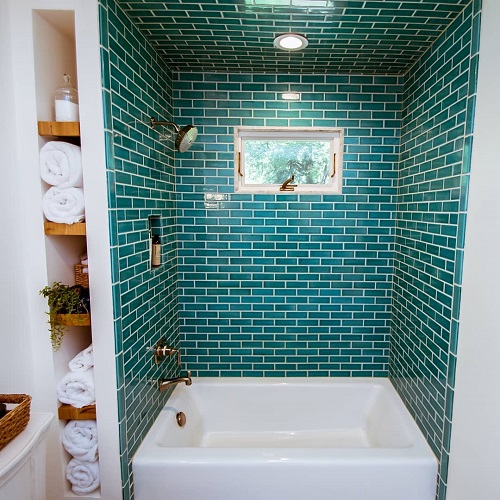 Modifying nooks and crannies is a clever way to get ample towel storage space. In this hack, floating wooden shelves are installed in the tall, narrow space beside the shower.
21. Ladder with Wire Baskets

Attach wire baskets on ladder rungs to maximize towel storage space in a small bathroom. This hack lets you manage all sizes of towels pretty easily.
22. Use a Double Curtain Rod

Installing a double curtain rod in the bathroom holds the shower curtain and gives you quick access to towels.
23. A Wooden Stool

A wooden stool is an instant solution to solve all your towel woes. It's a temporary solution but serves the purpose.
24. Floating Wood and Rope Ladder Towel Rack

This floating ladder towel rack handles multiple towels with ease and gives your bathroom space an earthy touch too. All you need is jute rope and tree branches to DIY this rack.
25. Choose Multi-Rail Towel Storage

Invest in a three-arm Ikea towel holder to keep hand and bath towels handy – a smart solution for a compact bathroom.
26. Display Towels in a Bowl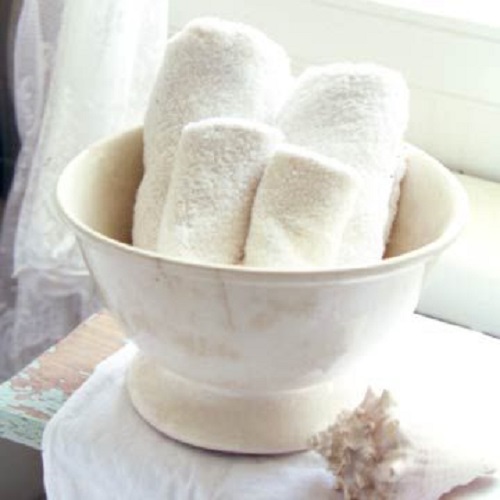 Introduce a large ceramic bowl to hold towels and add a touch of spa luxury to the bathroom. You can swap the ceramic bowl with a wooden one.
27. Hang Towels Over a Radiator Rail

Take a towel rack, hook it over the top of the bathroom radiator, and you're done. This storage idea reduces the towel's drying time as well.
28. All-Purpose Wooden Chair

This Ikea RAGRUND towel rack chair offers plenty of space to stack wet and clean towels.
29. Wire Mesh Baskets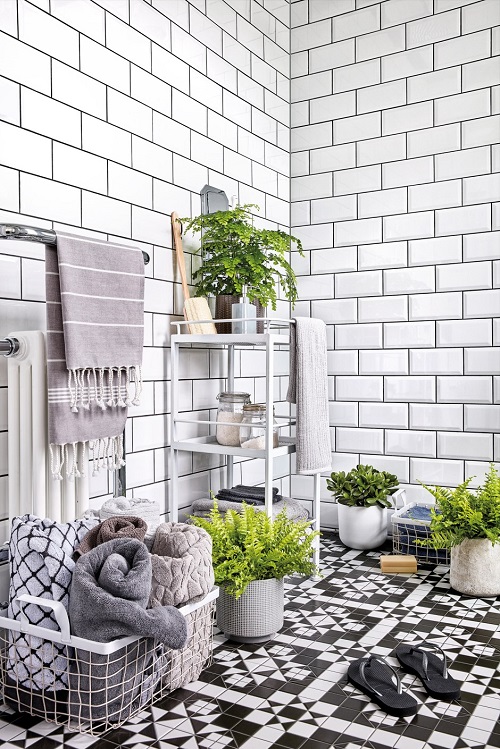 Wire mesh basket is an ideal towel storage option for compact bathrooms, and not to mention, it ensures your towels remain dry and fresh every time.
30. DIY Peg Towel Rack
Give your bathroom a little makeover by DIYing a peg towel rack – a classic towel organization solution for small bathrooms.