Here are some brilliant and affordable small kitchen organization ideas that'll make your life way easier!
If you're having difficulty managing a less spacious kitchen, read this article to find some Small Kitchen Organization Ideas below.
Small Kitchen Organization Ideas
1. Pull-Out Pot Rack and Lid Organizer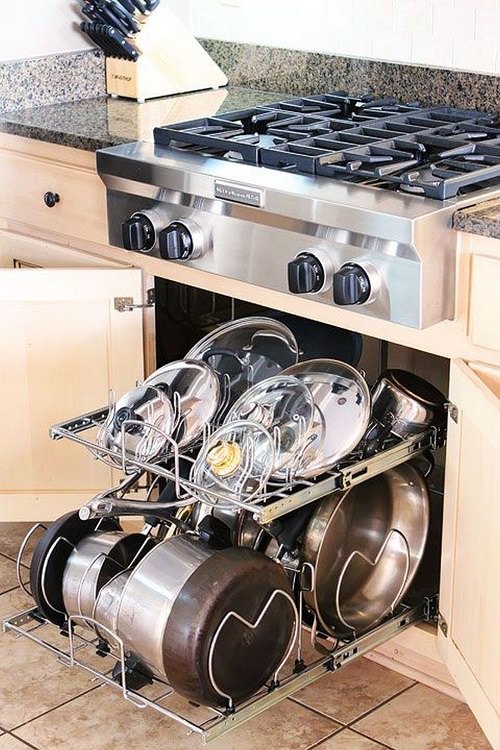 Swap the shelves of a kitchen cupboard with this pull-out rack system to organize lids, pots, and pans.
2. Ikea Kallax Kitchen Island Hack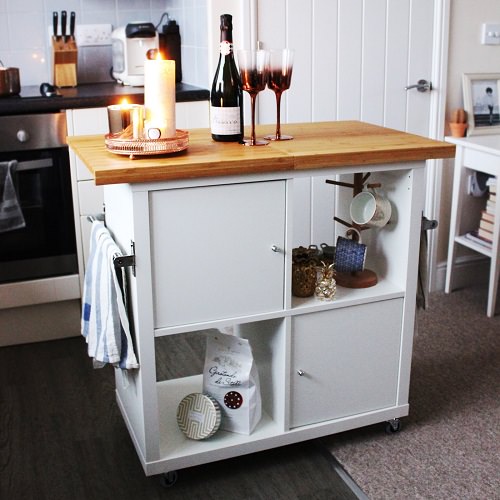 With a little bit of creativity and DIYing skills, you can easily DIY a kitchen island for your tiny kitchen to corral cups, wine bottles, and other stuff.
3. Pegboard for Pots and Pans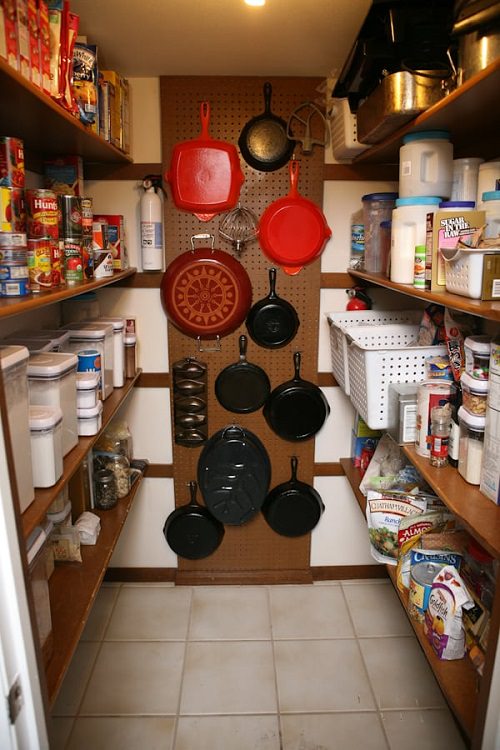 Install a pegboard on the pantry or kitchen wall to manage aprons, oven mitts, pots, pans, and other cookware.
4. DIY Pull Out Pantry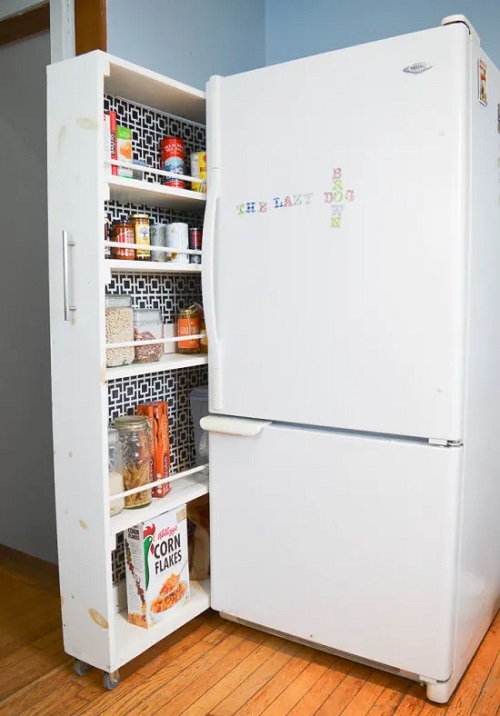 If you want a pantry for your less spacious kitchen to organize spices and other eatables, DIY this pull-out pantry that can be installed beside your refrigerator.
5. Cooking Utensils Storage Rack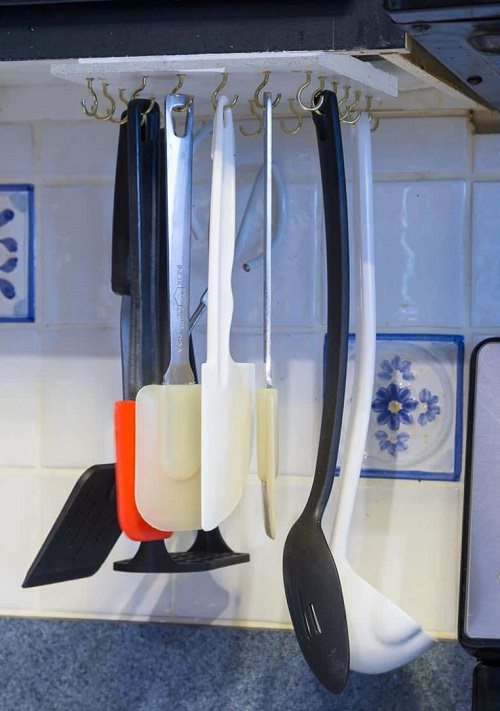 Hanging a rotating rack under the cupboard is a clever idea to save precious drawer space, and it gives easy access to cooking utensils.
6. Trash Bag Rolls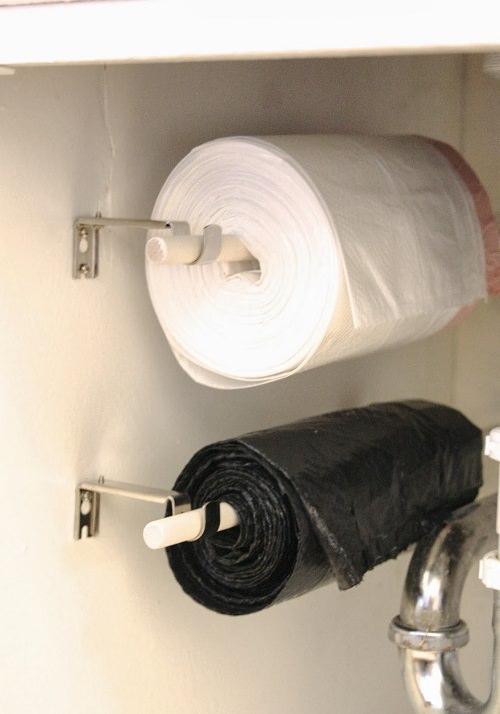 To store trash bag rolls, attach two curtain rod holders and metal rods inside the kitchen sink base cabinet. This idea gives you quick access to garbage bags.
7. DIY Bamboo Stick Kitchen Organizer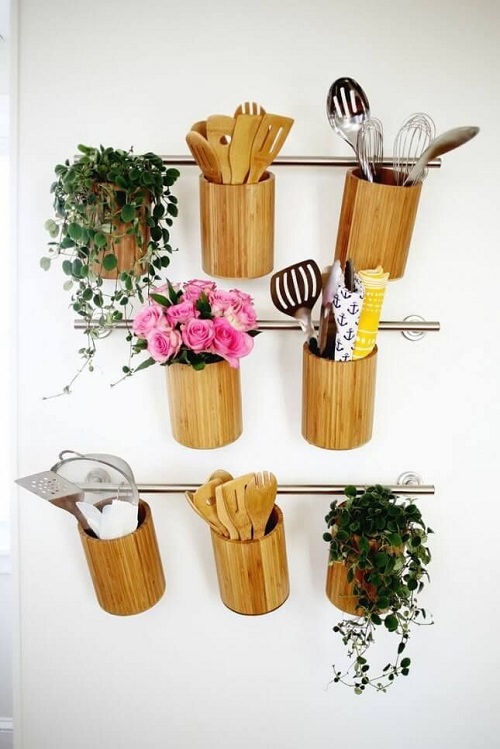 Mount multiple shower rods on the kitchen wall and hang bamboo holders to store spatulas, tongs, spoons, brushes, and other supplies in place. Get the details here!
8. Hanging Fruits and Vegetable Organizer with Baskets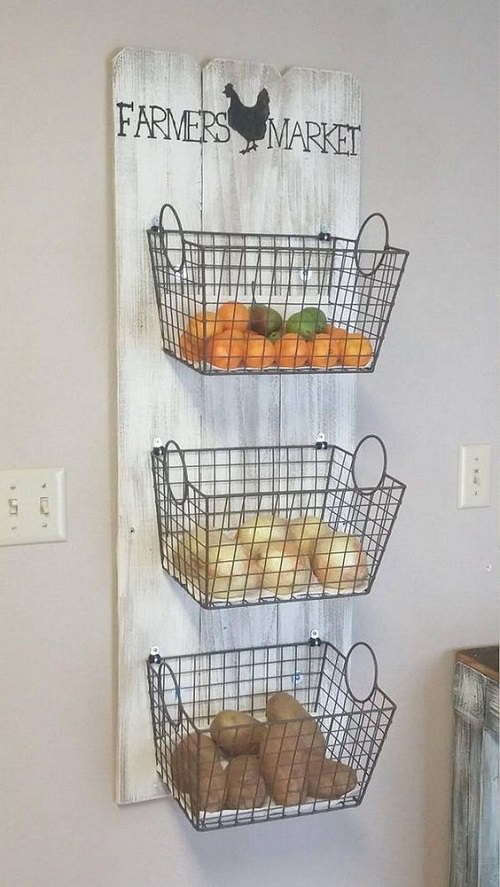 Another clever small kitchen organization idea, in which wire baskets are attached on reclaimed wood using screws to organize fruits and veges.
9. Wooden Side Shelf Refrigerator Rack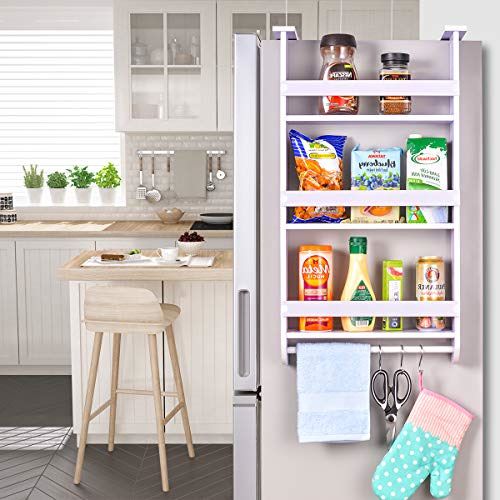 Hang a wooden side shelf from the refrigerator to manage kitchen supplies. It's one of the best small kitchen organization ideas.
10. Under Cupboard Cutting Board and Dishtowel Holder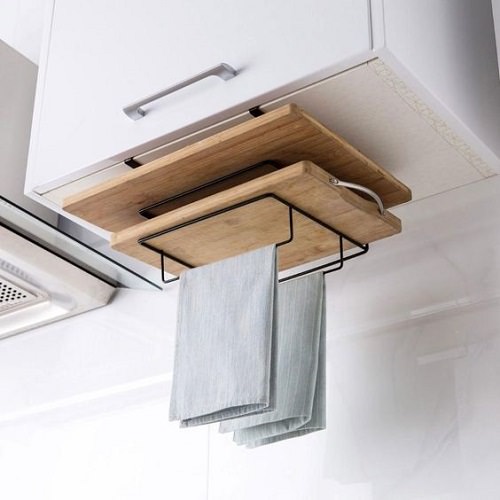 Optimize your tiny kitchen space by suspending this nifty organizer under the cupboard to manage cutting boards and dish towels.
11. DIY Vertical Dish Drainer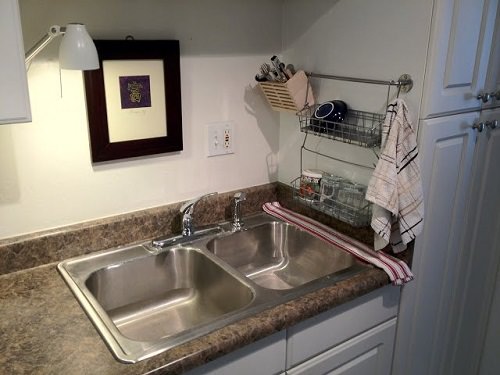 Instead of making the counter space messy with the wet dishes, install a vertical dish drainer. Read more here.
12. Over-the-Sink Pine Shelf & Self-Draining Dish Rack
Watch this video to make an over-the-sink, self-draining dish rack to organize the wet dishes efficiently in a tiny kitchen.
13. DIY 2 Tier Lazy Susan
This hack is an excellent option to organize spices, seasonings, and sauces in a kitchen with a limited storage area.
14. DIY 60 Cent Tea Tin
A tea tin is an inexpensive way to organize all your tea bags in a single tidy place. The tutorial is here.
15. Under the Shelf Hanging Basket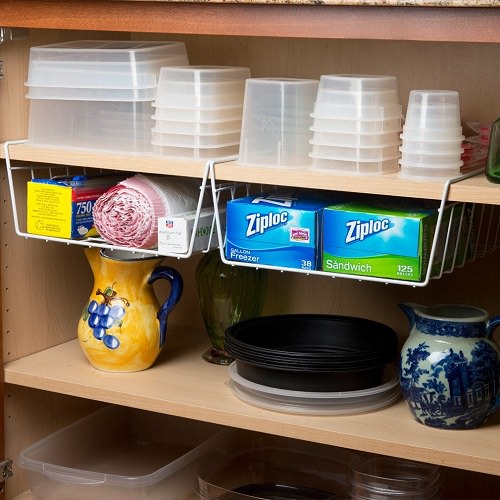 Create extra space in your small kitchen by suspending wire baskets under the cupboard shelf. The best part, you can get unlimited space using this kitchen hack.
16. Wine Glass Storage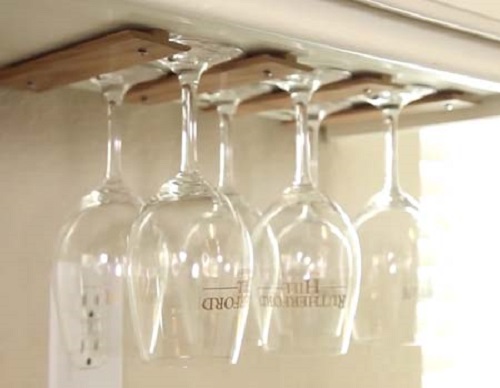 This space-saving wine glass organizer lets you show off chic and organize stemware in a limited kitchen space.
17. Magazine Holder as Kitchen Organizer
A magazine holder is an excellent tool for a less-spacious kitchen owner to store candy molds, aluminum foil, plastic wrap, and parchment paper.
18. A Towel Rack for Pan Lids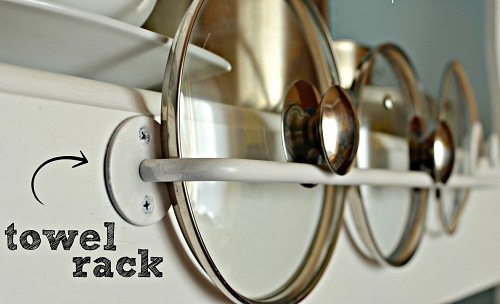 Secure a towel rack inside or next to a cabinet or large drawer to organize pots and pans lids.
19. Organize Cutting Boards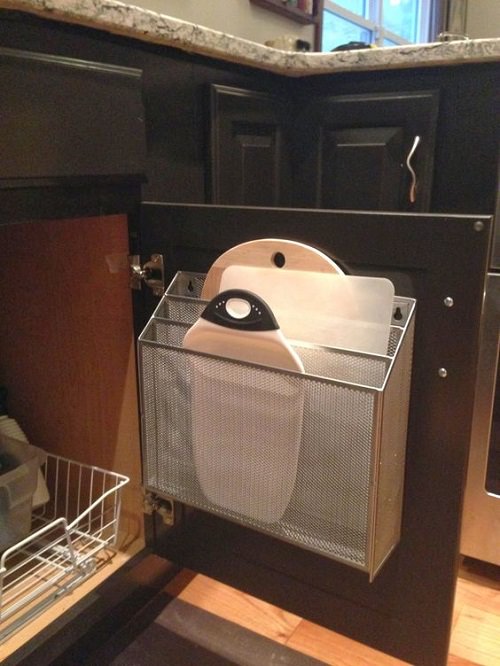 Attach a wire basket using screws on the back of a cabinet door to keep your cutting boards tidy and organized. It's one of the best small kitchen organization ideas on this list.
20. Magnetic Spice Jars

To organize your collection of spices in a small kitchen, grab some magnetic jars, fill them with spices, and stick them on the refrigerator door.
21. Test Tube Spice Rack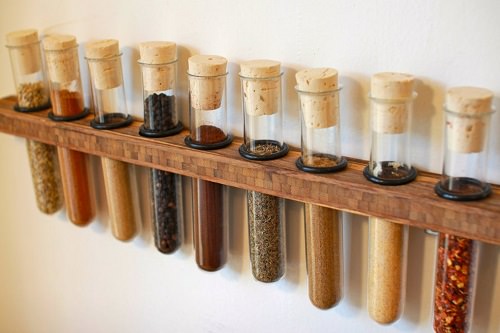 Who knows test tubes can also be used as spice organizers. This project is small space-friendly and amps up the kitchen look as well.
22. Cookie Cutter Organizer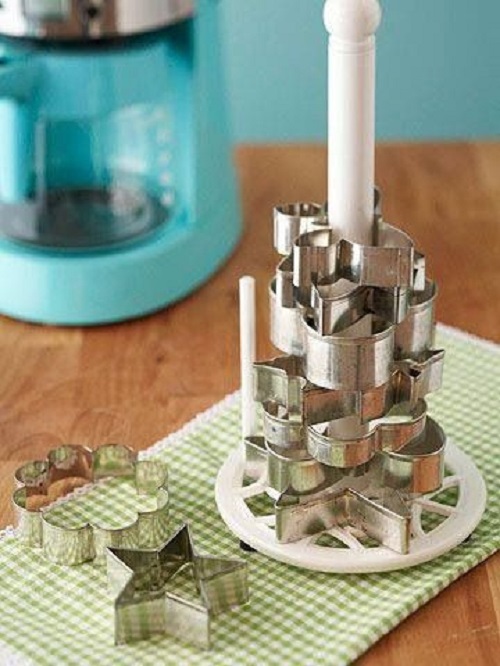 To keep your cookie cutters neatly organized in a single place, you only need a paper towel rack. It's an excellent organization hack for small kitchens.
23. Seasoning Station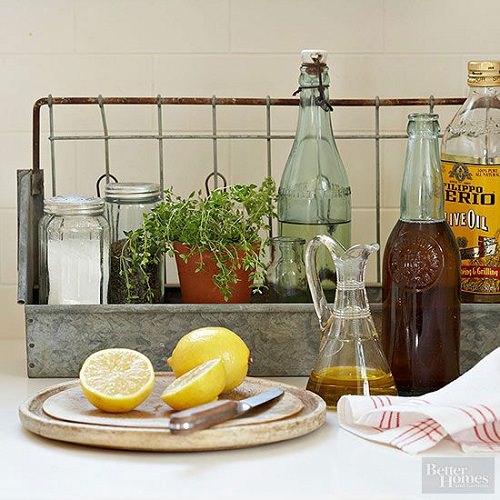 Don't know how to manage fresh herbs, jars of spices, and oils in a mini kitchen? Simply take an old metal caddy or milk crate and use it as a seasoning station.
24. Island Oasis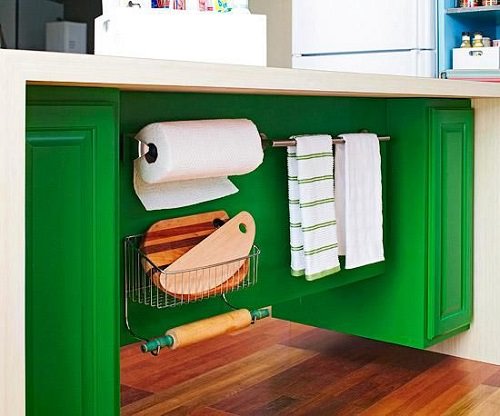 Utilizing the unused shallow space of a kitchen island is another genius organization hack. Mount metal bars and a wire bin to arrange rolling pins, microfiber cloths, and hand towels.
25. Use Command Hooks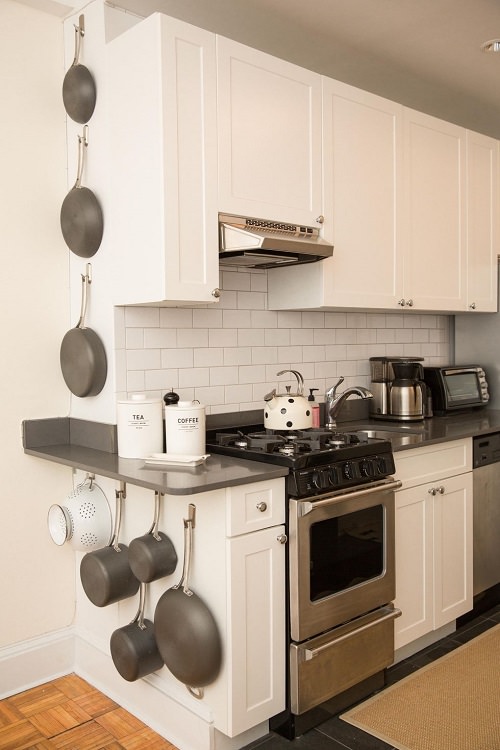 Use command hooks to take advantage of the kitchen vertical wall space to store cooking utensils.
26. Store Lids in a CD Holder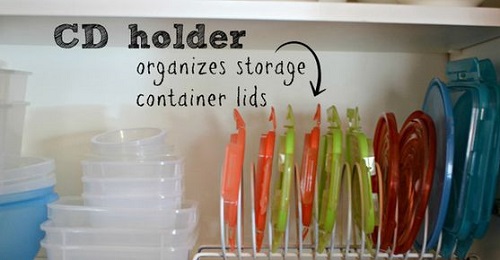 Repurpose the outdated cd holder to corral storage container plastic lids in a compact space.
27. Bronze Stackable Expandable Shelf Organizer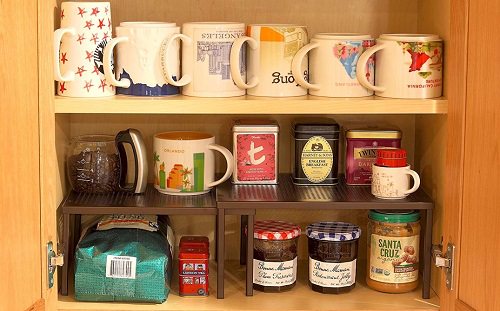 Introduce bronze stackable shelf organizers in the cupboard to maximize the available space.
28. Basket Full of Herbs and Cooking Utensils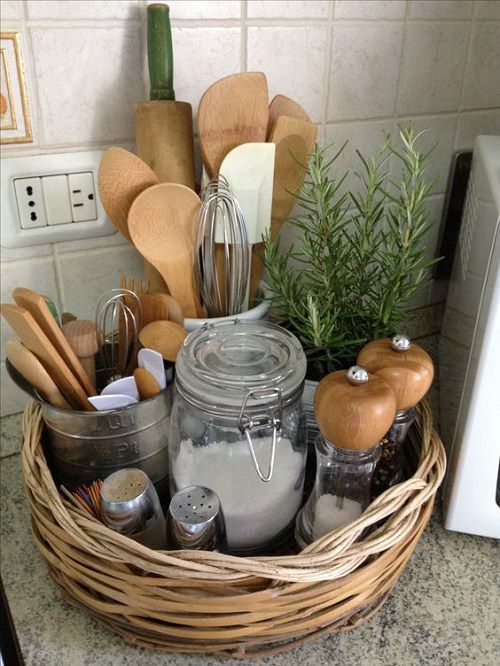 Add a basket in your tiny kitchen to organize cooking utensils, fresh herbs, and condiments. You can use this hack to store pans, oven mitts, and other kitchen supplies.
29. A Hanging Space for Squirt Bottle Cleaners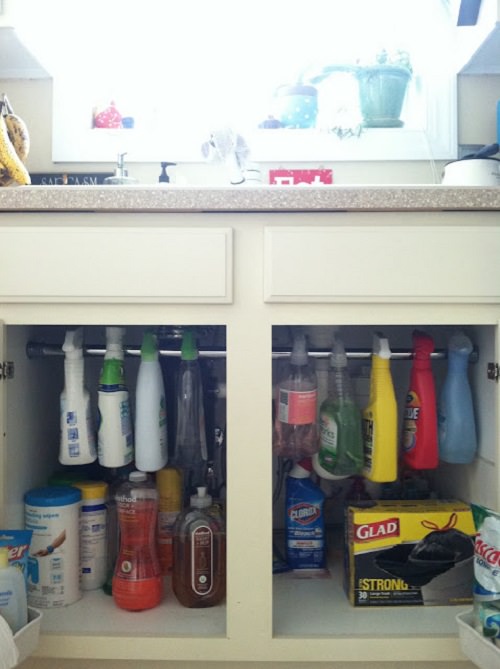 Prevent the kitchen cleaning supplies from getting jumbled by mounting a high-duty tension rod inside the lower cabinet.
30. DIY Coffee Pod Organizer

Organizing coffee pods is tricky, especially in tiny kitchens. To solve this issue, all you need is a DIY coffee pod organizer and a little cabinet space.
31. Hanging Fruit Basket
Keep the fruits fresh and nutrient-packed by storing them in open hanging baskets to fit in a limited kitchen space.
32. In-Shelf Hanger for Mugs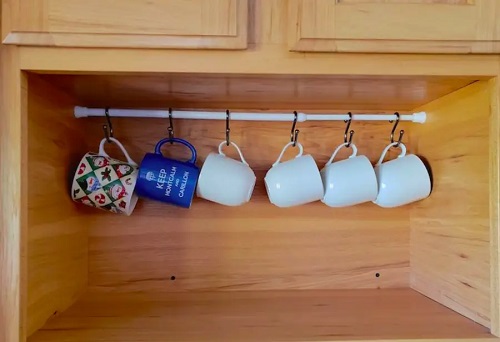 Install a tension rod and some s-hooks in your cabinet shelf to prop the ceramics, making more space for the other crockeries below.
33. Under the Shelf Mug Storage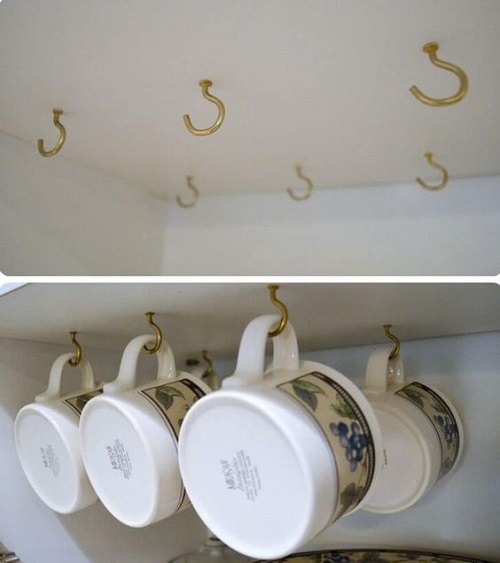 If you don't have a tension rod, simply fix the s-hooks underneath the shelves to corral coffee mugs.
34. Metal Beverage Organizer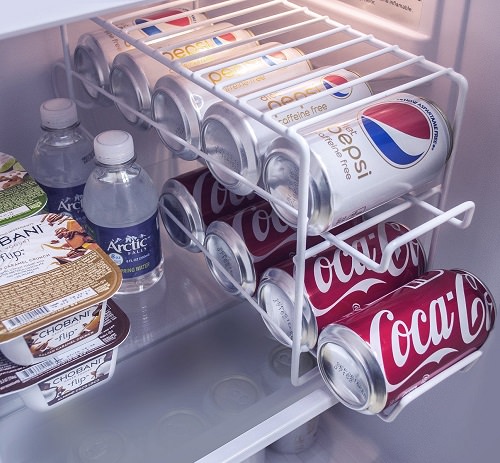 Store all the canned goodies in one place and give your tiny kitchen an organized look with this metal beverage organizer.
35. Portable Pantry Cart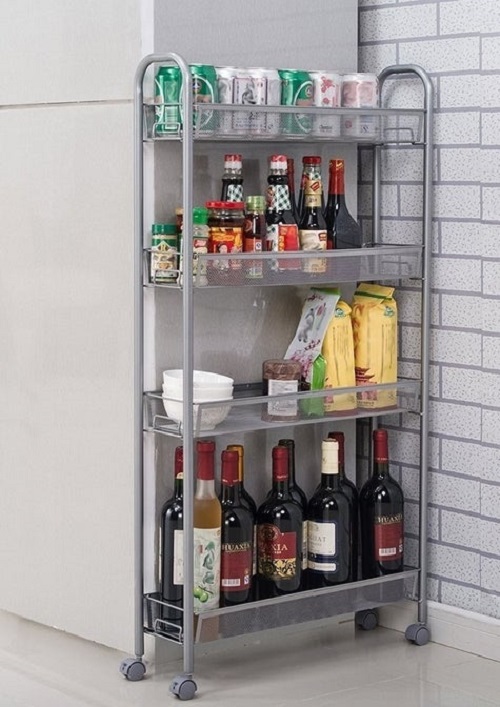 A portable pantry cart is the easiest way to save space and keep the sauce bottles, bread, and dairy items handy at the same time.
36. Cabinet Shelf Organizer

Install cabinet organizers in your kitchen shelves to store the crockeries, utensils, and spice jars in place.
37. Wall Mounted Baskets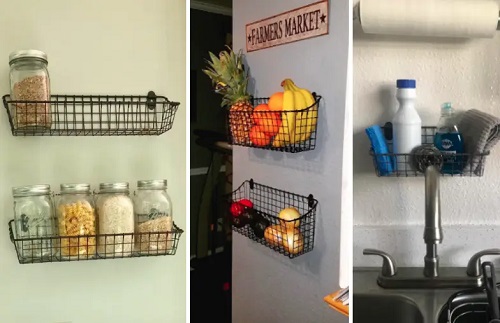 Mount a metal basket to your kitchen wall where you can store fruits, vegetables, grocery jars, and other goodies at an arm's distance.
38. Over the Cabinet Holder
Install an over-the-cabinet-door organizer to add some extended space to small-sized kitchens. Use this product to store cutting boards, cleaners, and cooking sprays.
39. Magnetic Shelf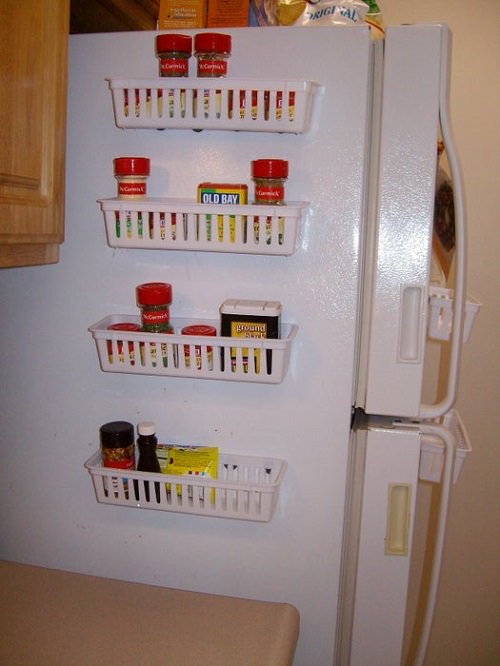 A magnetic shelf is a creative idea to store the most-used kitchen appliances handy. You can easily install this on your fridge door for extra space.
40. Rustic Crate Drawers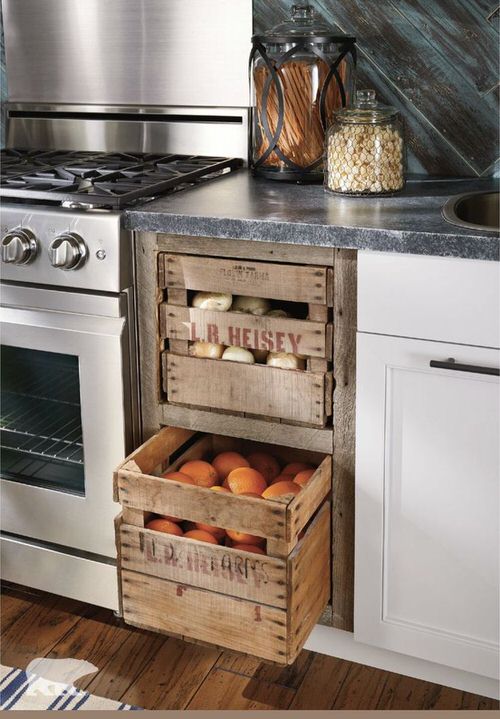 These crates will add a countryside appeal to your kitchen and provide good storage space for fruits, vegetables, and less-used utensils.
41. Utensil Hanger with Hooks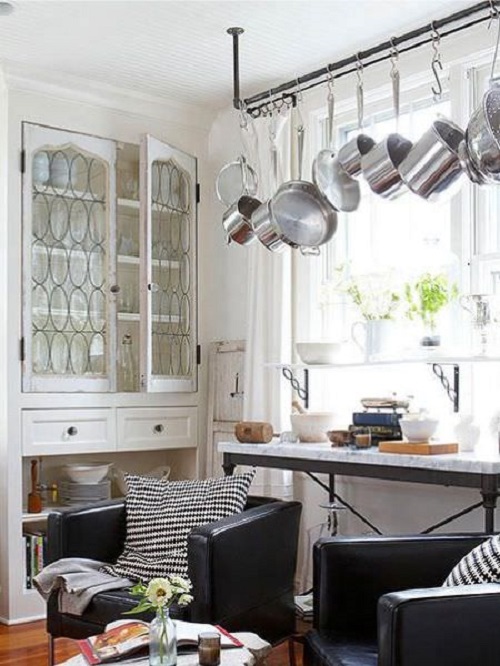 Suspend a tension rod with hooks to hang pans, woks, and pots to give an organized look to your kitchen, besides saving considerable space.
42. Introduce Glass Storage Items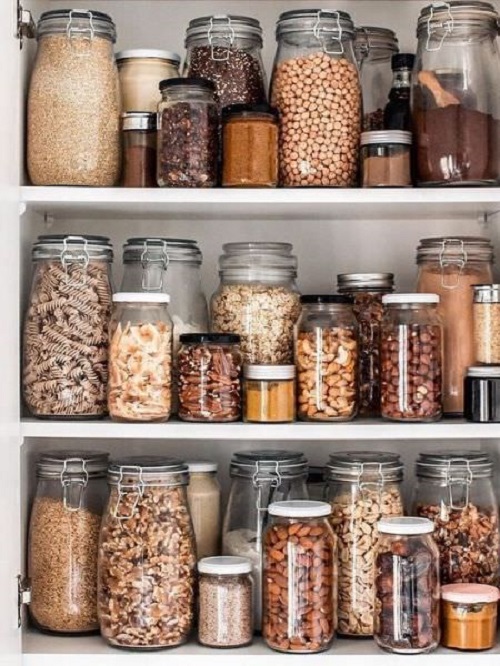 Ditch the regular plastic jars and store your daily groceries in multi-sized glass jars to minimize the awful effects of plastic on our health.
43. Vertical Lid Organizer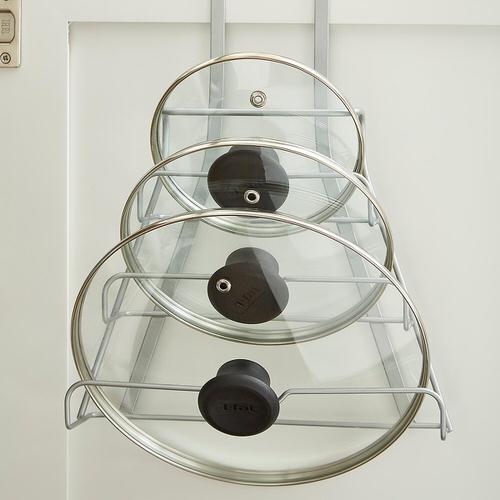 Get a vertical lid organizer that can easily be mounted on the wall or at a kitchen countertop corner to store the fussy lids in place.
44. Under the Cabinet Wine Rack

This wine rack is the perfect storage solution for those who want to organize bottles of wine in a small kitchen!
45. Pots and Pans Standing Rack

Are you looking for something that gives you quick access to pans and organizes them as well? This vertical standing rack fits the bill.