Read this exclusive list of staircase wall decor ideas to make your bland living space stylish and highlighted!
Take your stairway decor game to the next level by taking inspiration from these chic Staircase Wall Decor Ideas!
Staircase Wall Decor Ideas
1. Children's Gallery Wall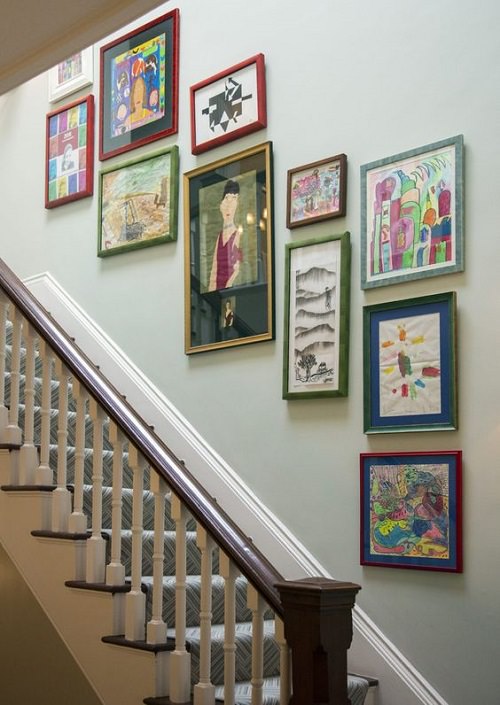 Say goodbye to the boring staircase wall by accessorizing it with your children's handmade sketches and paintings.
2. Small Faux Stag Heads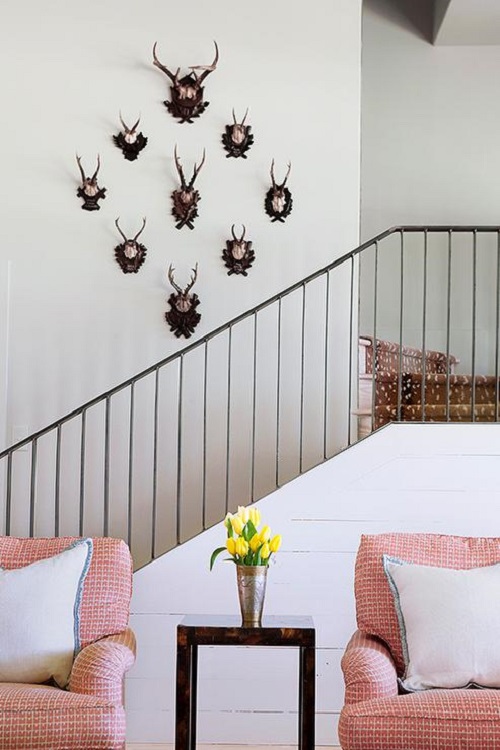 Dress up the stair wall with a collection of small faux stag heads to add visual variety and personality to the space.
3. Display Abstract Art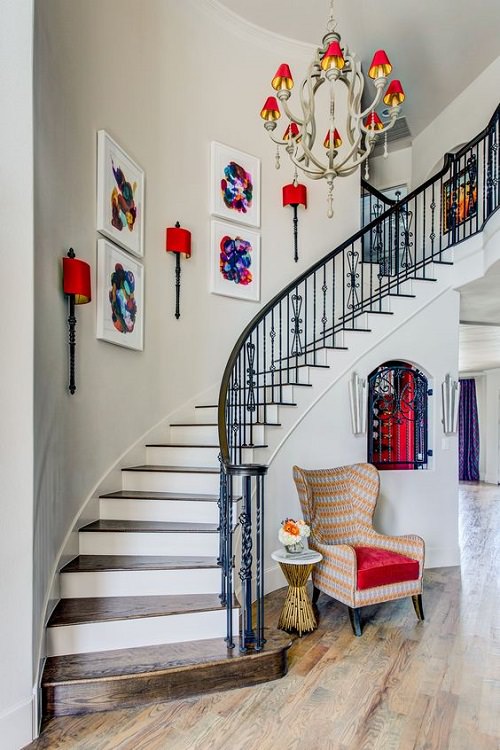 If you happen to have an ultra-white staircase wall, upgrade its look with abstract art portraits. It's one of the best staircase wall decor ideas on this list.
4. American Flags on the Wall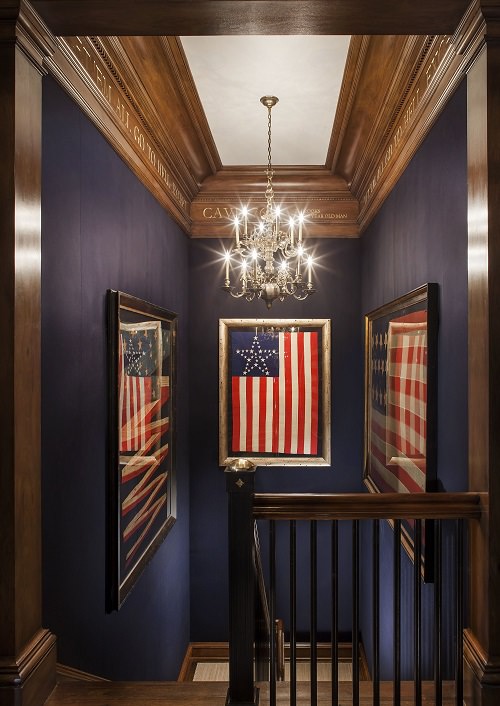 Why wait for the Fourth of July, when you can celebrate patriotism every day by placing framed flags on the staircase wall.
5. Zen-Inspired Staircase Wall Decor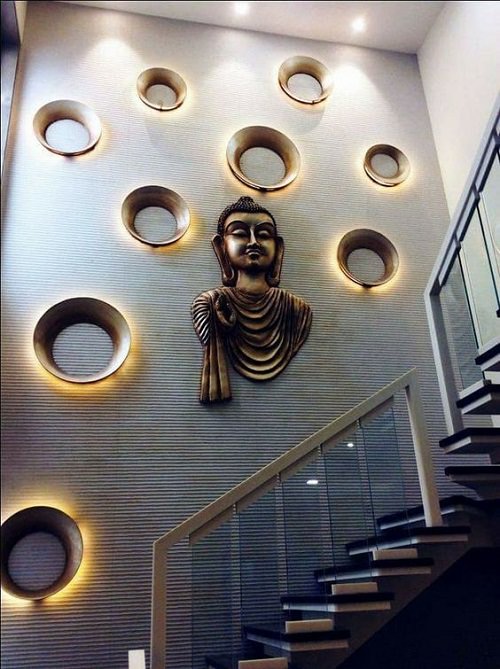 The ambient lighting, textured wall, and the Buddha figurine in the center make for a cozy and inviting staircase wall.
6. Mirrors, Mirrors, and Mirrors!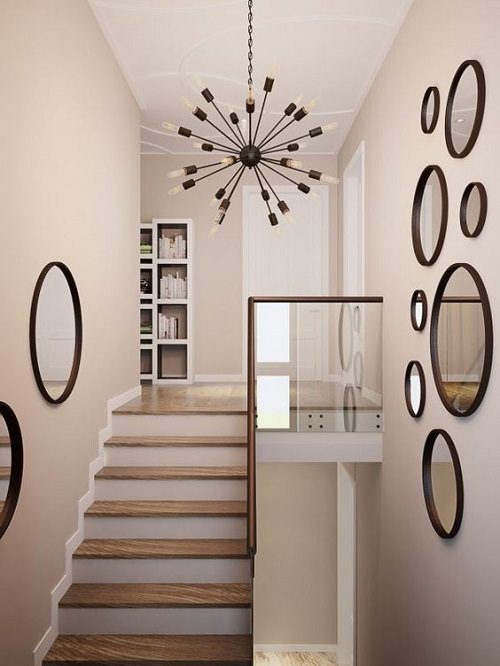 Installing different-sized, round mirrors is the quickest way to make your staircase wall attractive on a budget.
7. Pallet Staircase Wall Decor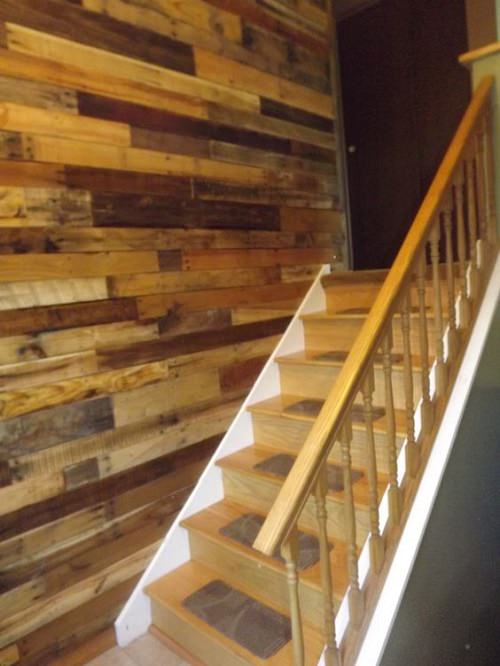 Challenge your inner DIYer to modify the wall beside the staircase with wooden pallets. It's a time-consuming project but worth the effort.
8. Romantic Staircase Wall decor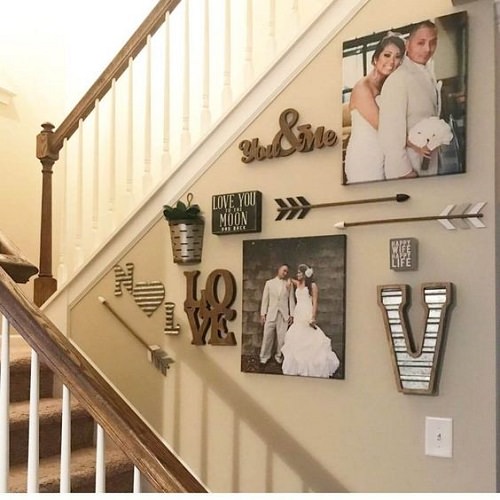 Personalize your stair wall with wedding photographs, a 'Love' sign, cupid arrows, and other romantic decorations.
9. Cottage Staircase Gallery Wall
To make your staircase wall cozy, stylish, and appealing, grab a cow print, house of belonging sign, and an old wall clock. Read more here.
10. A Family Photo Gallery Wall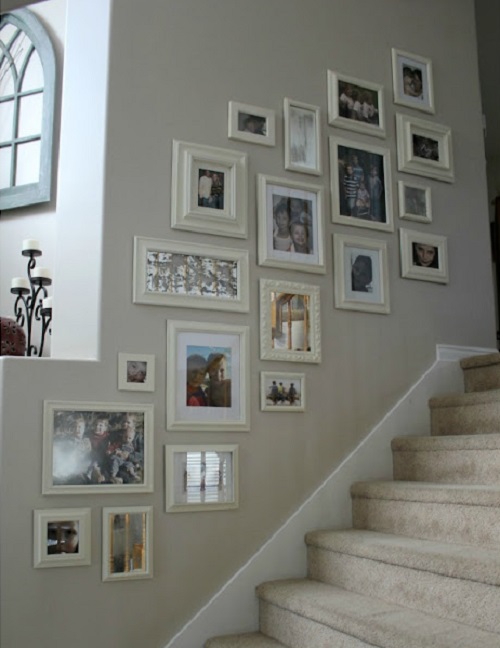 Elevate the drab look of your stair wall with family photos and acid-washed mirrors. The details are here.
11. Scrabble Wall Stairs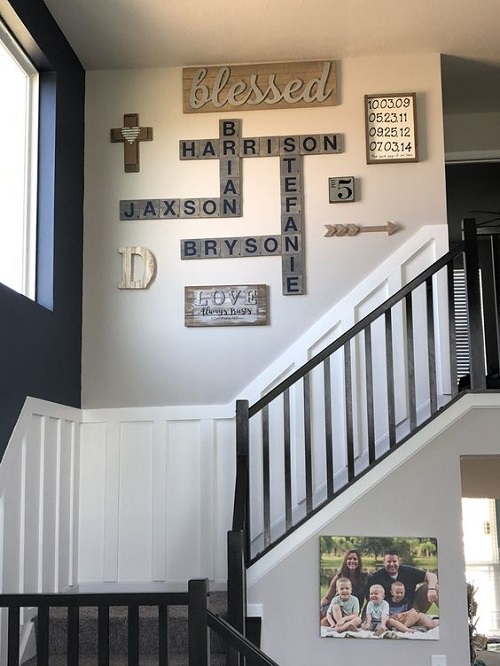 Beautify the staircase with your favorite words, phrases, or quotes made from scrabble tiles. Further, add a wooden 'blessed' and 'love' sign to complete the look.
12. Out-Of-The-Box Wall Decor Idea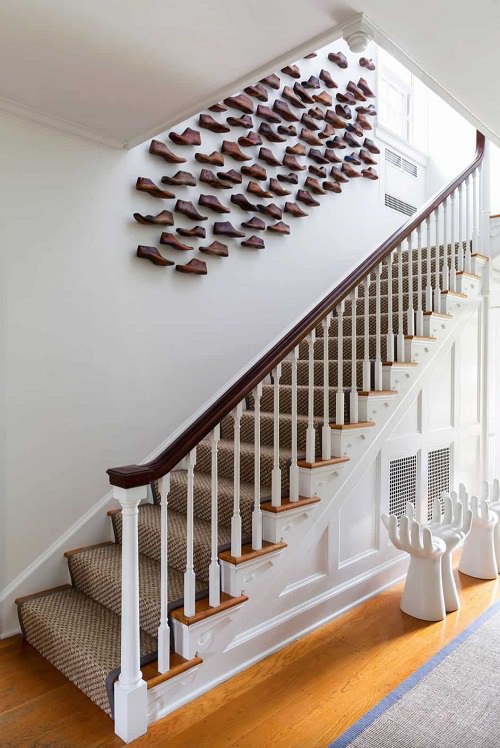 All you need is a dozen old shoes to turn your staircase wall into a focal point. You can swap the shoes with high heel sandals as well.
13. Introduce Built-in Shelves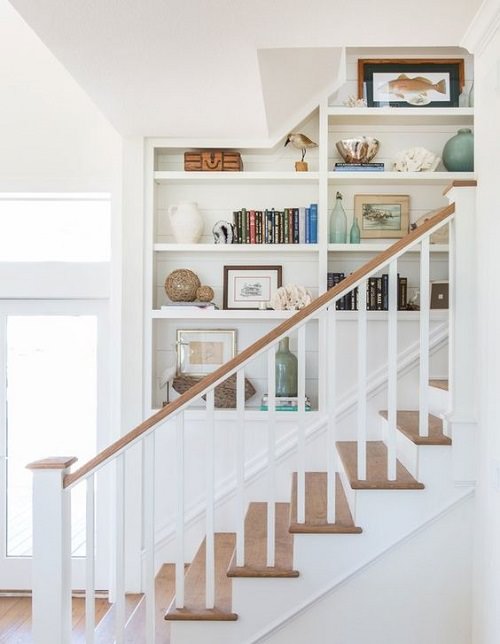 Install built-in shelves in the staircase wall to display vintage books, sun-bleached coral figures, framed nautical prints, and other decoratives.
14. Use Existing Collection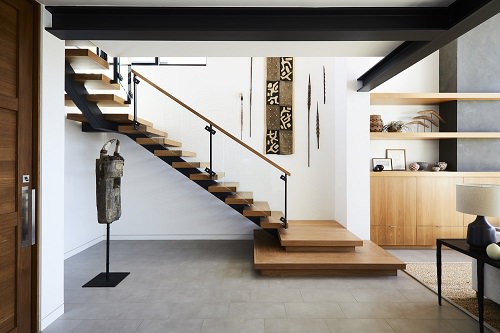 Hang your long-forgotten travel treasures and family heirlooms to make the staircase wall interesting, full of texture and charm.
15. Modern Mix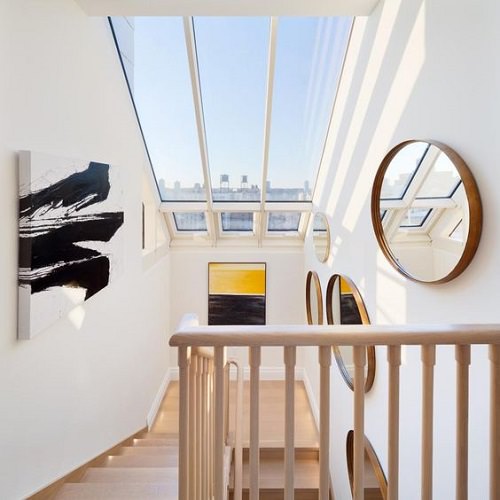 Make your stair wall a conversation starter with an oversized black-and-white painting, a sunny seascape print, and circle mirrors.
16. Try Vintage Candle Holders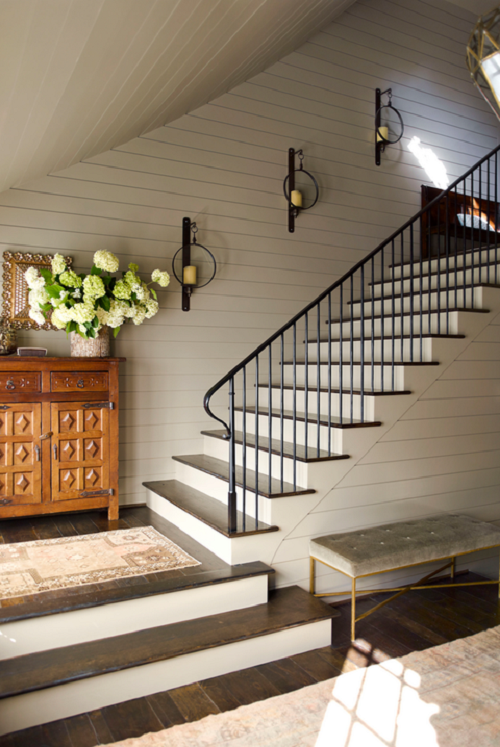 Are you looking for a minimalistic staircase wall decor idea? Look no further, and install vintage candle holders.
17. Old Shutters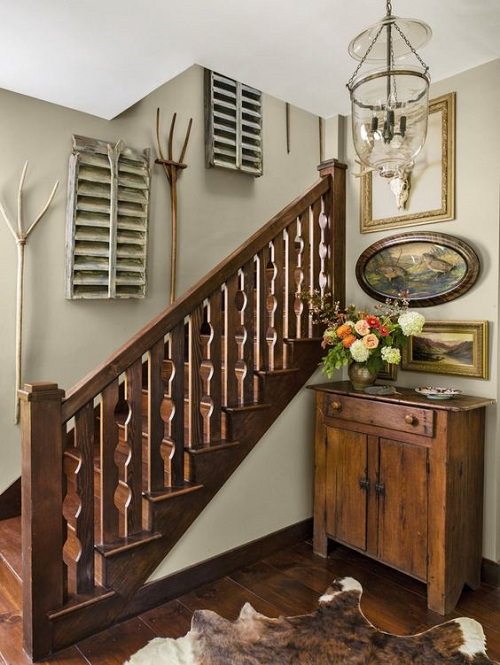 Suspend distressed shutters and antique wooden rakes on the empty stair wall to get a rustic touch.
18. Use Floral Wallpaper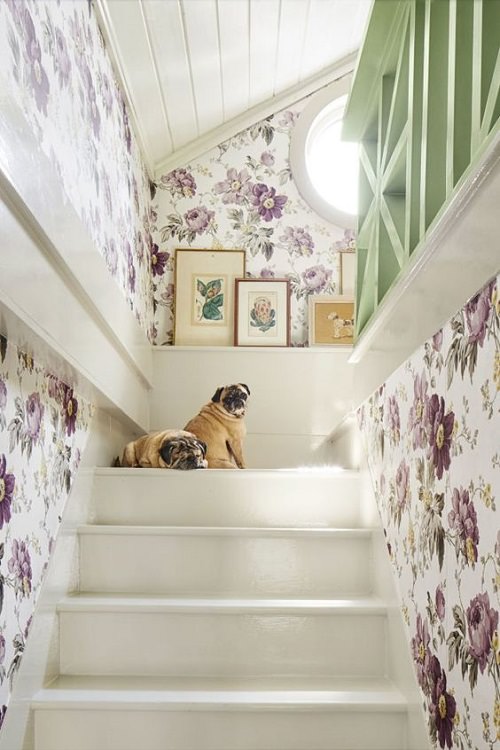 Amp up the wow factor of your bland staircase wall with floral wallpaper. Sometimes a simple change gives stunning results.
19. Pawfect Portraits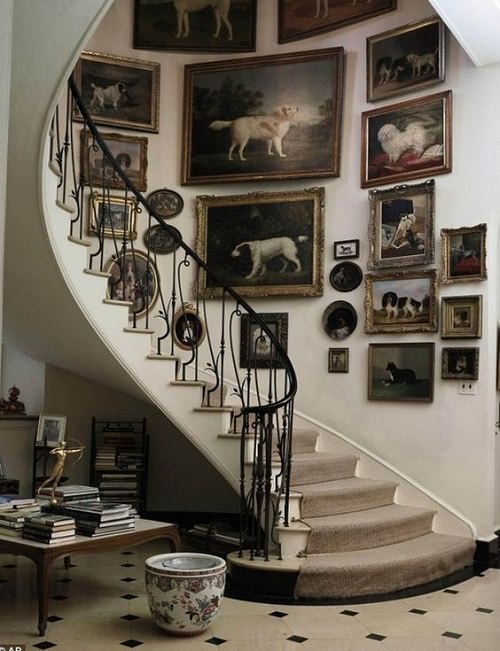 Show love towards your little furry friend by ornamenting the stair wall with your pooch portraits.
20. Choose Sculptural Objects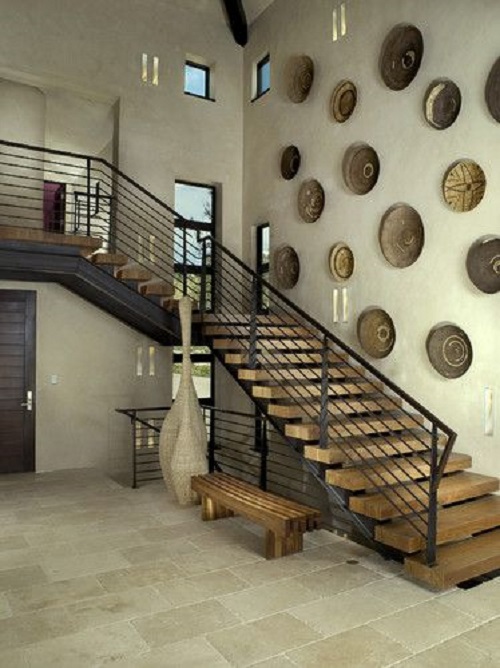 Always opt for wall-hanging sculptural decoratives to create a welcoming and captivating display on your staircase wall.