Here is a list of easy-to-make Succulent Christmas Tree Ideas to jazz up your holiday decor with nature's touch!
Besides the regular Christmas trees, consider opting for these charming Succulent Christmas Tree Ideas, perfect as a festive centerpiece and tabletop decor for less spacious dwellings.
---
Succulent Christmas Tree Ideas
1. DIY Succulent Christmas Tree Centerpiece
A gorgeous centerpiece for the holiday table, this Christmas succulent tree is eye candy for greenery-loving people.
2. Dollar Store Succulent Christmas Tree

Turn a cheap tinsel tree into a miniature succulent Christmas tree using moss and succulents, a perfect mix of summer and winter elements.
3. Hens and Chicks Christmas Tree

Create this Pinterest-worthy hens and chicks Christmas tree, topped with a cute little red cardinal to beautify your home this festive season.
4. Zebra Haworthia Succulent Christmas Tree
If you are into succulents, you'll surely love this zebra Haworthia Christmas tree as a tabletop or centerpiece display.
5. DIY Succulent Topiary Christmas Tree

Topiary Christmas tree, made up of several succulent cuttings, is an excellent home decor and an adorable gift.
6. Succulent Christmas Tree on a Wooden Platform

Use succulent clippings, green oasis cones, and wooden platforms to shape these pretty succulent Christmas trees.
7. Succulent Christmas Tree with Star and Winter Berries
All you need is succulent cuttings, moss, wire, pins, winter berries, and a golden star topper to make this pretty succulent Christmas tree.
8. Faux Succulent Christmas Tree
Check out this video to DIY a Christmas tree out of faux succulents, perfect for busy gardeners.
9. Spiral Succulent Christmas Tree
This spiral succulent Christmas tree adorned with baubles, berries, and sparkling stars is an eye-pleasing display.
10. Easy Succulent Christmas Tree

Embrace your green thumb by DIYing this Christmas tree using floral foam and succulent stems, ideal for displaying on the dining table and kitchen countertops.
11. DIY Adorable Succulent Christmas Tree
Here's the video tutorial to make a glowing succulent Christmas tree decorated with ornaments and string lights for an added appeal.
12. Succulent Christmas Tree Wall Hanging
Perfect for a less spacious home, this succulent Christmas tree wall hanging is the best way to spread the perfect holiday vibes.
13. Living Succulent Christmas Tree

Head over to ehow to create this display-worthy, living succulent Christmas tree that remains fresh all season long.
14. Giant Succulent Tree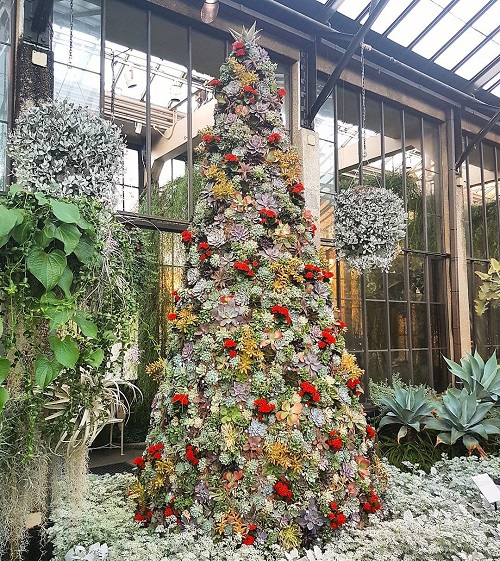 Bigger the Better! Introduce this super-sized succulent Christmas tree in the garden to make your festive decor stand out in the neighborhood.
15. Colorful Succulent Christmas Tree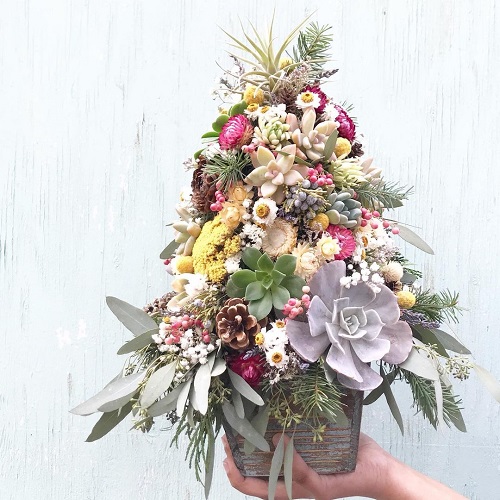 Give an instant makeover to your regular succulent Christmas tree using colorful flowers to mimic this bright and trendy decor.
16. Simple Succulent Christmas Tree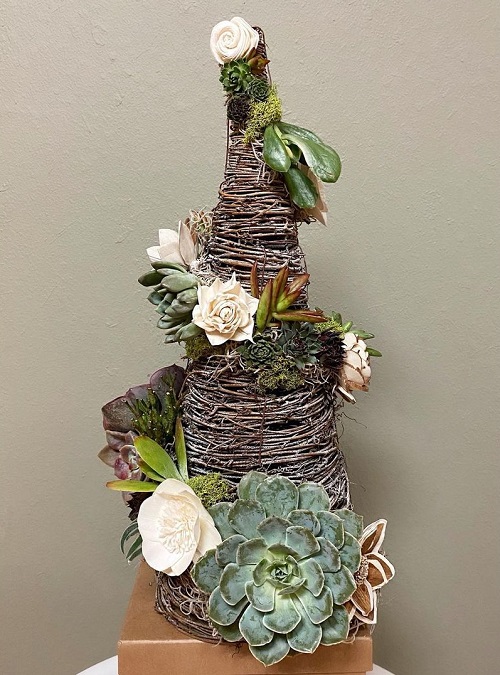 Don't have mini succulents at your disposal? No worries, make this simple succulent tree to fill your home with Christmas cheer on a budget.
17. Mini Succulent Christmas Tree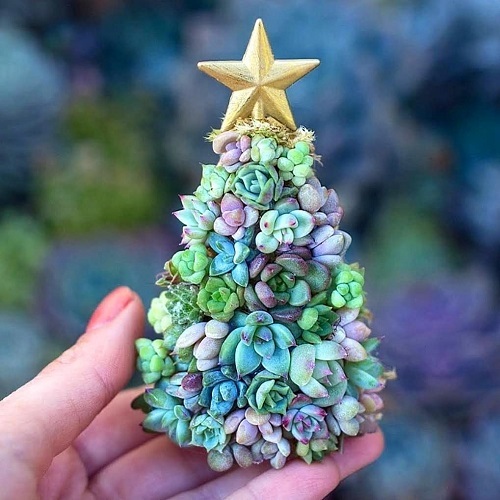 Impress your guests with your creativity and DIYing skills by making this compact succulent Christmas tree, topped with a star ornament.
18. Rudolph Succulent Christmas Tree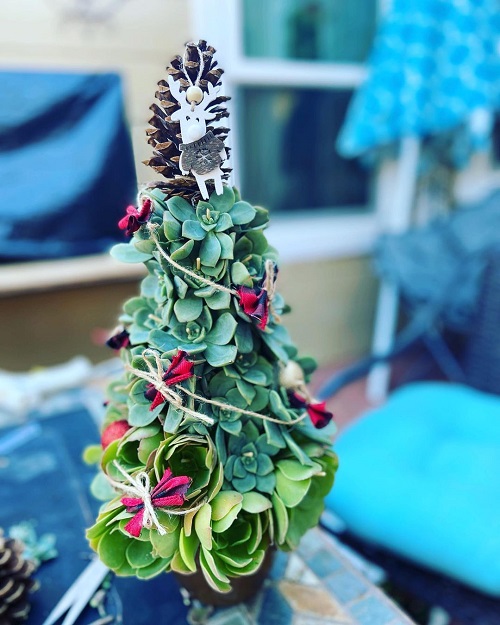 This Christmas, spice up your home decor with this cutesy succulent tree featuring a white miniature Rudolph figurine and pine cone.
19. Magical Succulent Tree
Show off your decor skills by DIYing this eye-catchy Christmas tree out of succulents, faux flowers, berries, and a black magician's hat.
20. Echeveria Christmas Tree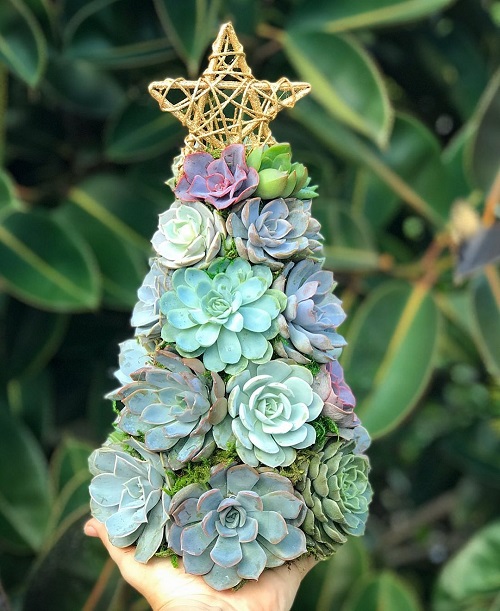 Bundled with nearly 25 Echeverias and a golden star, this Christmas tree will be a darling addition to your home and office space.
21. Snowflake Succulent Christmas Tree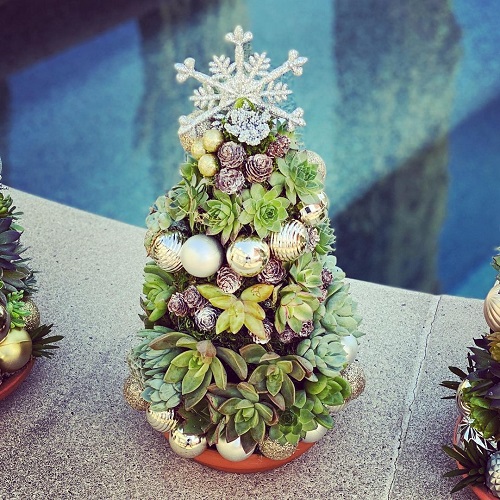 Making this gorgeous Christmas tree is quite easy with succulents of your choice, floral foam, snowflake, and baubles.
22. Succulent Sedum Christmas Trees Trio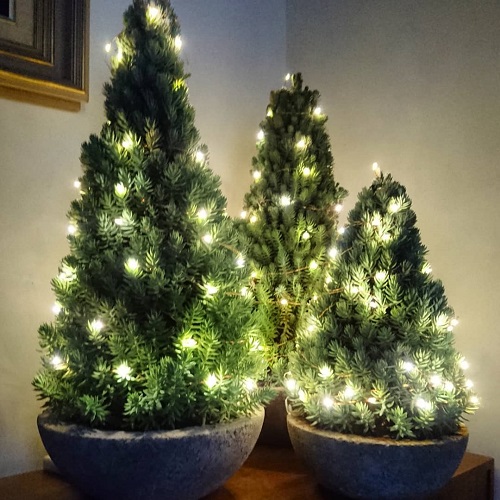 Prettify your living room decor with this illuminated trio of succulent Christmas trees for a merry look.
23. Towering Christmas Tree of Succulents
Place this lovely towering tree of succulents strategically in your home or on the porch to induce mirthful vibes. Use fairy lights or ornaments for an added charm.
24. Clay Succulent Christmas Tree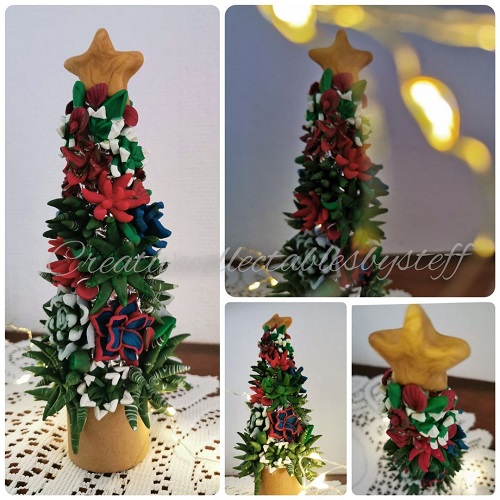 Running out of authentic and faux succulents? Make the most out of your clay crafting skills to build a Christmas tree from polymer clay and a cardboard cylinder.
25. Gold and Green Christmas Tree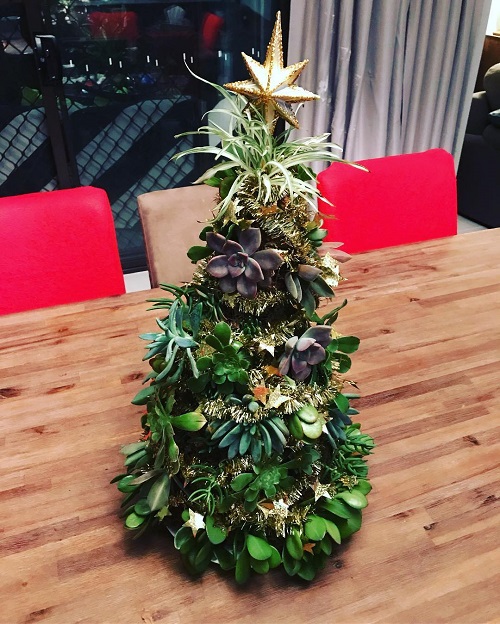 A succulent Christmas tree decked up with a golden star tinsel garland and star topper is a lit holiday home decor.
26. Christmas Tree of Succulents, Presents, and Ornaments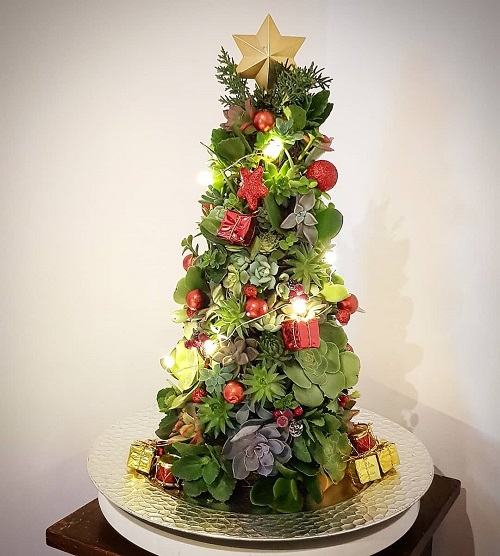 Bring nature indoors by adorning your home with this festive Christmas tree made from succulents, tiny presents, fairy light, and ornaments.
27. Wonderful Succulent Christmas Tree

Take a willow cone, line it with moss, stuff the center, and lastly, plant the succulents on the moss to build this wonderful Christmas tree.
28. Chic Succulent Christmas Tree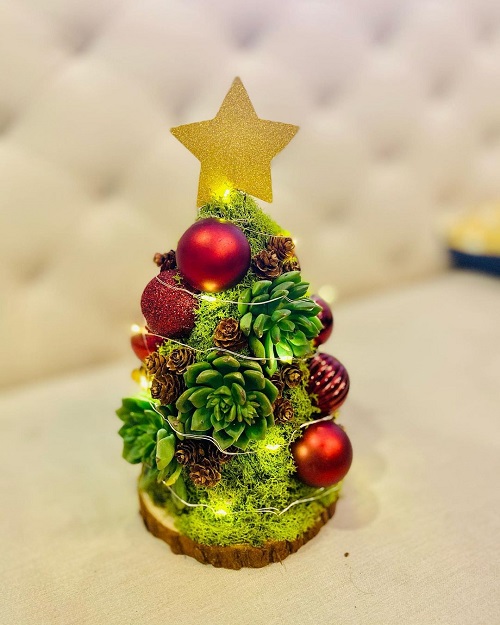 Bring the beauty of succulents to your study table or office desk with this chic little succulent Christmas tree full of ornaments and string lights.
29. Jingling Christmas Tree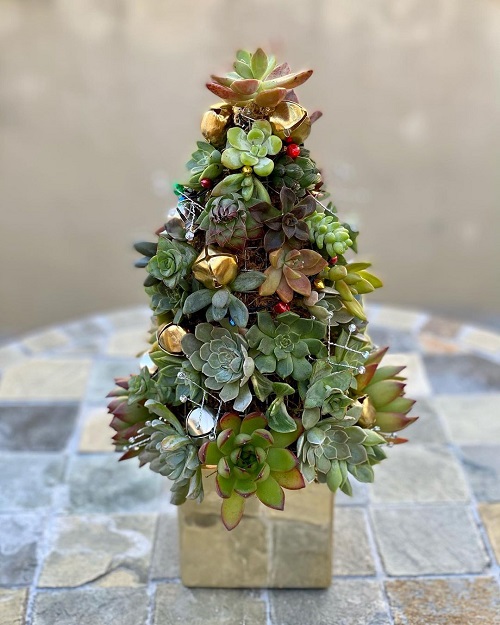 Add a little jingling to your abode with this Christmas tree created from adorable succulents and jingle bells.
30. Silver Christmas Succulent Tree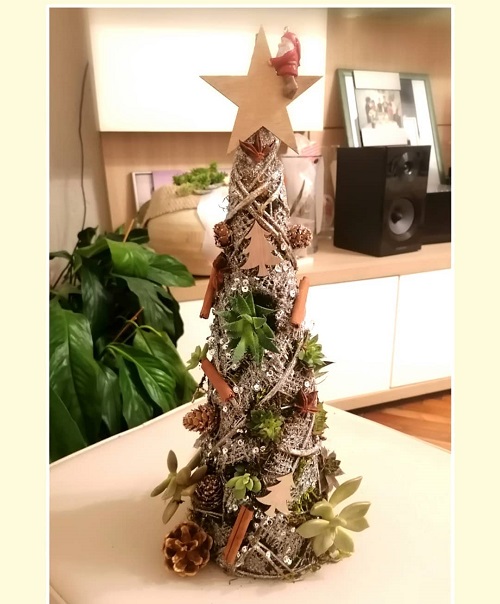 Gift your loved ones this elegant succulent Christmas tree that never goes out of style. It's one of the best succulent Christmas tree ideas on this list!
31. Succulent Christmas Tree with Wooden Blocks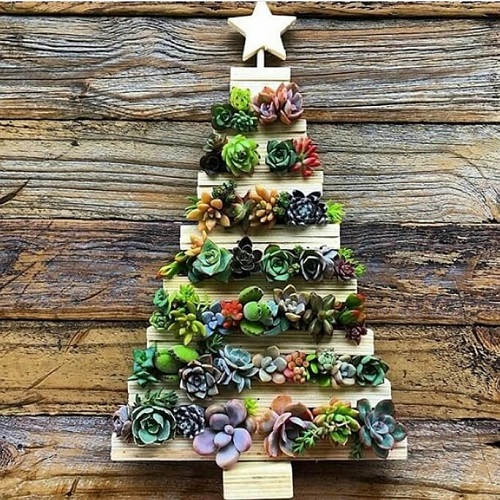 Use this eye-catchy Christmas tree made up of wooden blocks and succulents for a cool holiday arrangement.
32. Tin Tub Succulent Christmas Tree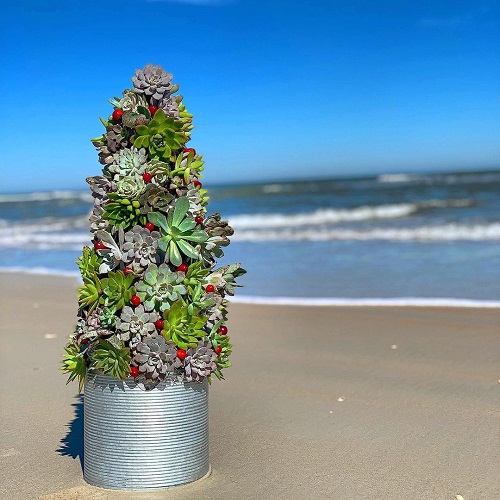 Grab real or faux succulents, artificial berries, and a tin tub to mimic this beauty for your home decor.