Check out this list of Trees With Purple Flowers to transform your garden into a floral paradise. Read on to learn about the diverse species!
Want to add a pop of color to your garden? Then Trees with Purple Flowers should be at the top of your list. These unique flora not only offer shade and structure but also bring a magical touch with their vibrant blossoms.
Check Out the Stunning Trees with White Leaves here
---
Trees with Purple Flowers
1. Texas Mountain Laurel
Botanical Name: Sophora secundiflora
Native to the southwestern United States, the Texas Mountain Laurel is admired for its purple wisteria-like flowers. This evergreen is highly drought-resistant, making it an ideal choice for xeriscaping and arid climates.
2. Eastern Redbud
Botanical Name: Cercis canadensis
Eastern redbud attracts attention with its purple-pink, pea-shaped flowers. This North American native is a versatile flowering tree that thrives in various soil types and conditions.
3. Chaste Tree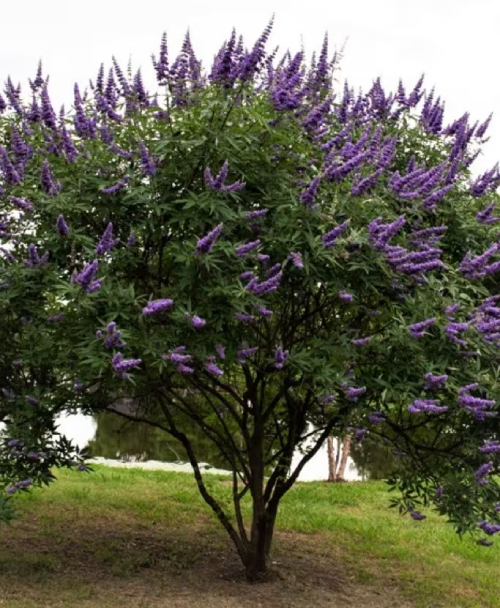 Botanical Name: Vitex agnus-castus
Endemic to Europe and Asia, the chaste tree produces clusters of purple/lavender blooms in the summer. This deciduous tree can reach a height of 20 feet. Furthermore, chaste tree attracts bees, butterflies, and birds.
4. Crape Myrtle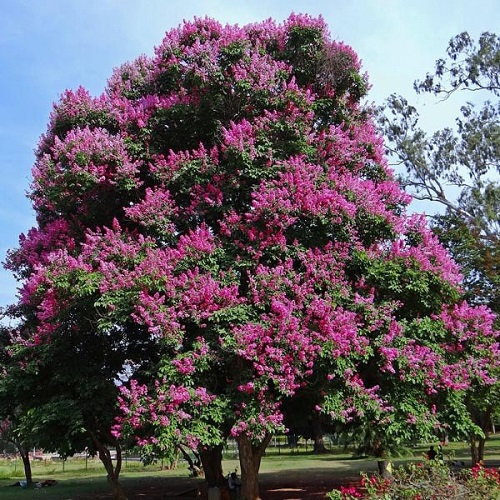 Botanical Name: Lagerstroemia indica
The crape myrtle features showy, long-lasting blooms that appear from late spring until autumn. This adaptable deciduous tree can be grown as a shrub or pruned into a single-trunk tree.
5. Saucer Magnolia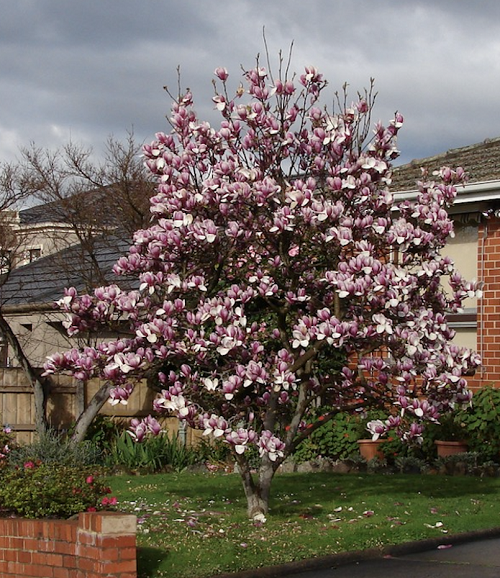 Botanical Name: Magnolia x soulangeana
Popular for its stunning tulip-shaped flowers, saucer magnolia is a small, deciduous tree perfect for smaller gardens. The blooms blend shades of purple, pink, and white, offering an eye-catching appearance. It thrives in well-drained, acidic soils.
6. Purple Robe Black Locust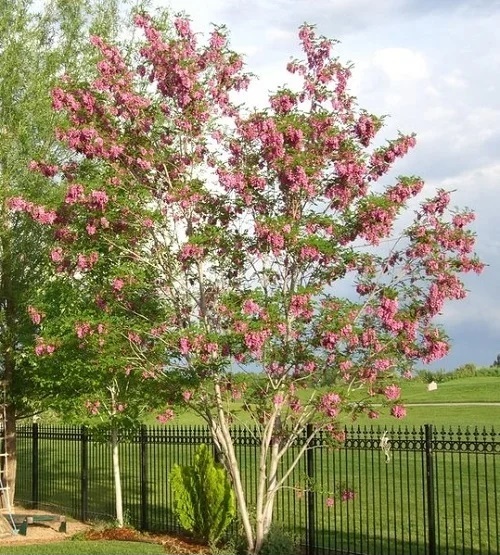 Botanical Name: Robinia pseudoacacia 'Purple Robe'
Purple robe black locust elevates gardens with a rich display of lavender-colored flowers and green, pinnate foliage. As an added advantage, this tree is highly tolerant of urban pollution and a wide range of soil types.
7. Jacaranda
Botanical Name: Jacaranda mimosifolia
The Jacaranda is famous for its striking trumpet-shaped, lavender-blue blooms. Its feathery, fern-like leaves make this tree a picturesque option for street planting or as a standalone specimen.
8. Empress Tree
Botanical Name: Paulownia tomentosa
The empress tree produces foxglove-like, purple/lavender blooms in spring. This Chinese deciduous tree is popular among gardeners for its ornamental qualities and ability to tolerate various soil types.
9. Princess Flower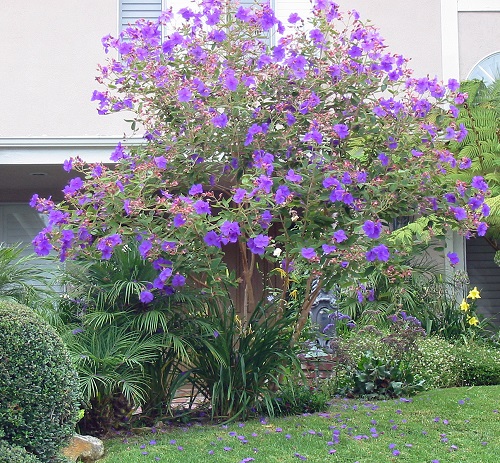 Botanical Name: Tibouchina urvilleana
A tropical beauty, the Princess Flower offers stunning deep purple blossoms. This evergreen shrub or small ornamental tree can grow up to 10-20 feet. It's a drought-tolerant variety that admires well-drained soil and full sun.
10. Jane Magnolia Tree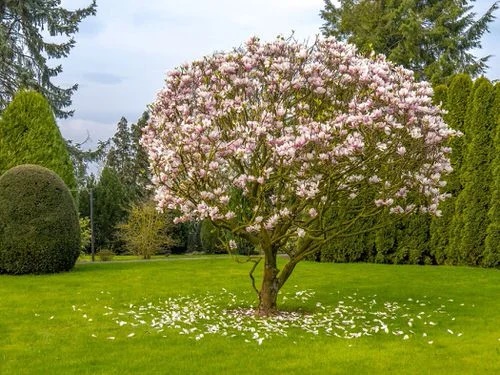 Botanical Name: Magnolia 'Jane'
Distinguished by its fragrant, goblet-shaped blooms, the Jane magnolia tree can be a striking focal point in any garden. This compact, low-maintenance tree enjoys partial to full sun and well-drained soil for best growth.
Find Out the Trees with Heart-Shaped Leaves here
11. Purple Orchid Tree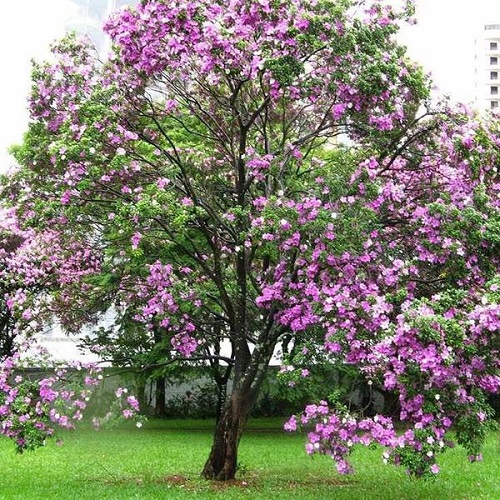 Botanical Name: Bauhinia purpurea
Native to Southeast Asia, the purple orchid tree is cherished for its orchid-like, purple blooms. It's a deciduous tree highly tolerant to varying soil types and conditions, including drought.
12. Purple Covey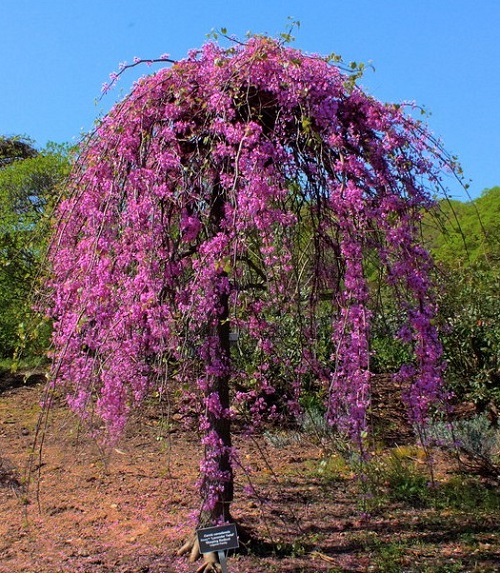 Botanical Name: Cercis canadensis 'Covey'
This is a dwarf redbud variety, popular for its weeping branches and pea-like rose-purple blossoms in early spring. It's a perfect focal point in small gardens and an interesting alternative to larger redbud species.
13. Desert Willow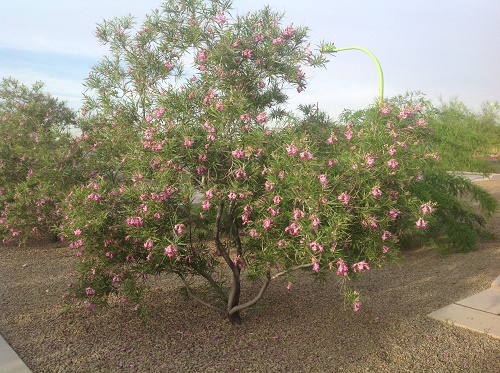 Botanical Name: Chilopsis linearis
Desert willow is a deciduous shrub or multi-trunked small tree native to Southwest America. This drought-tolerant variety produces fragrant trumpet-shaped, pink, lavender, or white blossoms.
15. Purple Lily Magnolia
Botanical Name: Magnolia liliflora
This charming tree produces lily-like, deep purple flowers that are not only visually stunning but also fragrant. It fits well in urban gardens and admires well-drained, slightly acidic soil.
16. Hong Kong Orchid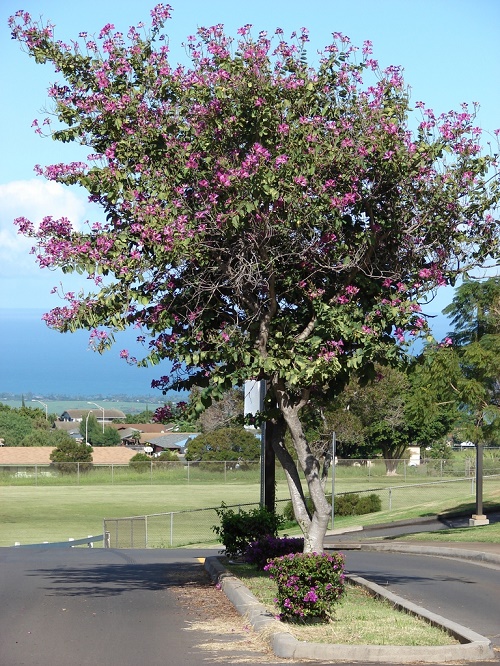 Botanical Name: Bauhinia Blakeana
Hong Kong orchids display orchid-like blooms in striking shades of pink and purple. These evergreen trees with purple flowers can reach up to 40 feet tall. One of its most distinguishing features is the twin-lobed, butterfly-shaped leaves.
17. Lilac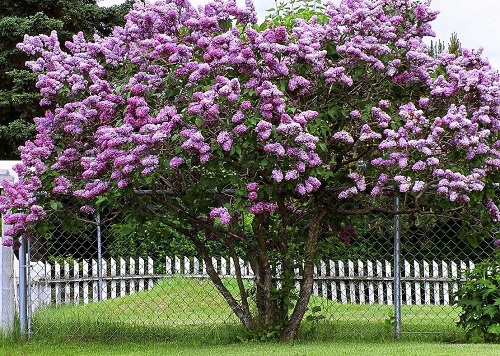 Botanical Name: Syringa vulgaris
Lilac offers highly fragrant, purple, or lilac-colored flowers in the spring, thus a centerpiece in many gardens. Its dark green to almost bluish-green foliage adds to its charm.
18. Ironwood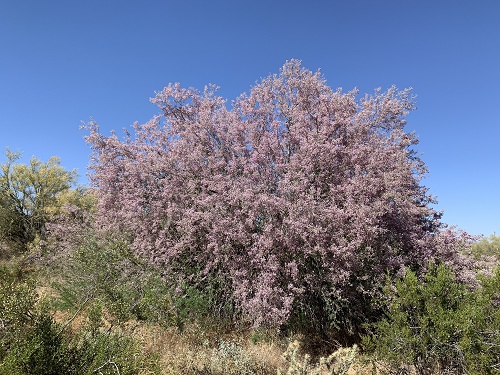 Botanical Name: Olneya tesota
Endemic to the deserts of the southwestern United States, Ironwoods boasts pea-like, pale pink to purple blooms. These trees with purple flowers are also renowned for their incredibly hard, dense wood.
19. Pride of India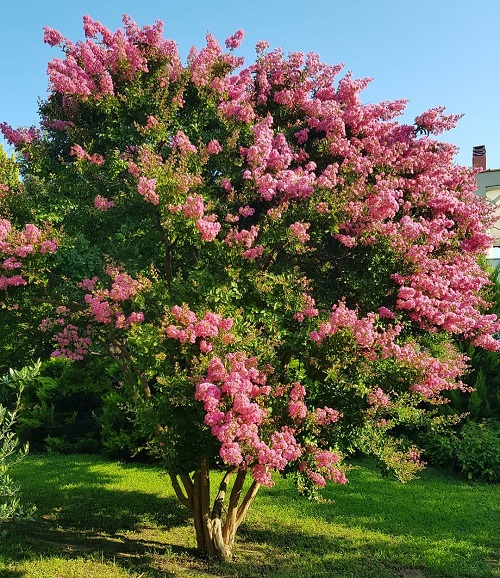 Botanical Name: Lagerstroemia speciosa
The Pride of India is an imposing deciduous tree admired for its large, purple-to-pink blooms. Favored for its shade and ornamental beauty, it thrives in humid, tropical climates and prefers rich, well-drained soil.
Here are the Majestic Trees With Pink Leaves