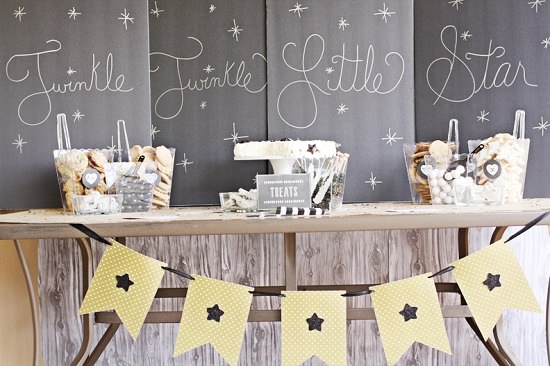 This weekend, we celebrated our little man's FIRST birthday! I feel this year has flown by so quickly! What a blessing he is to our family! For his first birthday (and party for that matter….poor sweet babe never had a baby shower), we wanted it to be very special! He was the little star for the day and how appropriate to have the theme "Twinkle Twinkle Little Star"!
Last week, I shared my Party Planning Details! I think it turned out great and I know he loved all the treats! We picked gold, black and white as our color palette. Of course,  stars on all the decorations and some party food! TheBlackboard Perfection Party Decor from Minted was a great choice for this theme! It truly made everything flow nicely and fall perfectly in sync! I even used black foam board for the back drop, which went nicely with the black board party decor.
We decided that milk and cookies would be a great treat for all the kids! My mom was amazing and baked NINE dozen cookies for our little man's special day! We had peanut butter, chocolate chip and s'mores! Yum! We also enjoyed the tasty star chocolate cake and star sugar cookies that were made by others as well! So nice not having to worry about all the food preparations and they all did such a beautiful job! My amazing hubby was also a huge help! Thank you everyone! Of course, every party should have little treats with goodie bags to fill, so I kept the candies black and white to help the table look even prettier!
The decorations are always my favorite part! I love seeing it come together and the theme fall into place! We hung shiny gold stars on the pergola. Every time the sun hit them, it would send sparkles shooting everywhere. It was really a starry night-like effect! We had a giant gold "1" balloon and a gold star, which all the kids loved, naturally! We also had "star dust" sprinkled on all the tables (fancy word for confetti)! I also made some really cute glittered star card holders for the sips and treats signs – it was just such a fun little theme to play around with.
Most of all, the kids had fun playing and eating all the treats! It was a beautiful day as we celebrated a very special little boy! I am so thankful for the people in his life that love him and show him just how special he really is, he sure deserves it!
Thanks for reading along friends and putting up with all the pictures! Have you thrown any fun parties lately?