Are you looking for lovely Wrapped Potted Plant Centerpieces and Gift Ideas for your home and loved ones? This article is for you!
Here are the best Wrapped Potted Plant Centerpieces and Gift Ideas to make parties and celebrations more special. These ideas are an amazing way to show gratitude to your loved ones.
Find out some quirky DIY head planters here
---
Wrapped Potted Plant Centerpieces and Gift Ideas
1. Burlap Wrapped Pot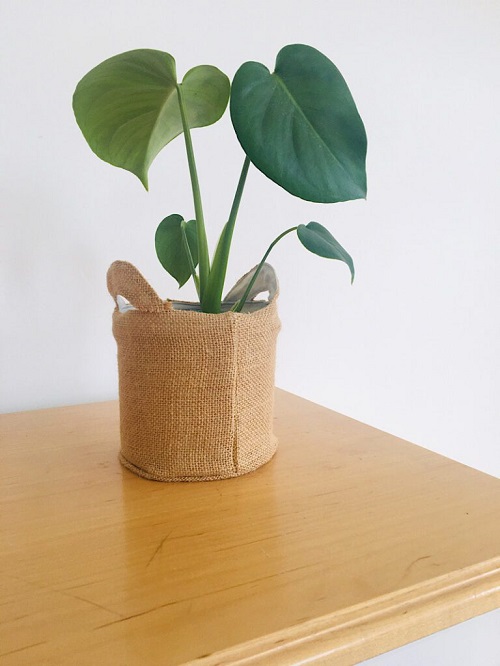 Fully lined with a white or cream fabric, these small plant totes are reversible. Click here to know more.
2. DIY Leather Planter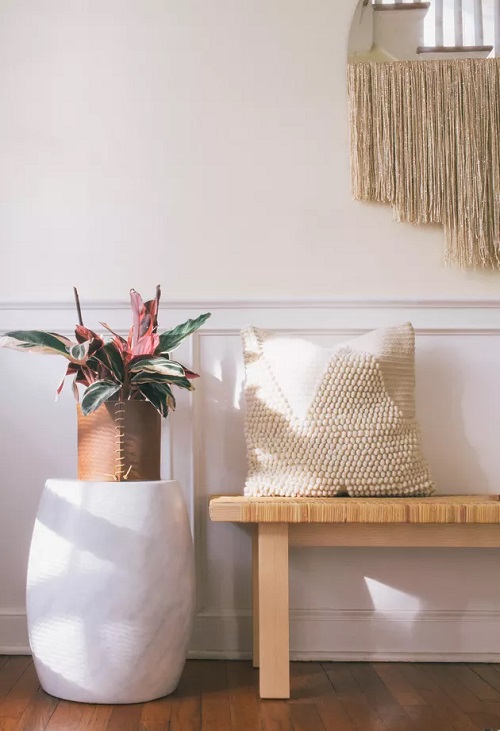 Create this leather cover for the planter to add a crafty vibe to your space. It's super easy to make and looks pretty aesthetic. Check this out for more details.
3. Mosaic Flower Pots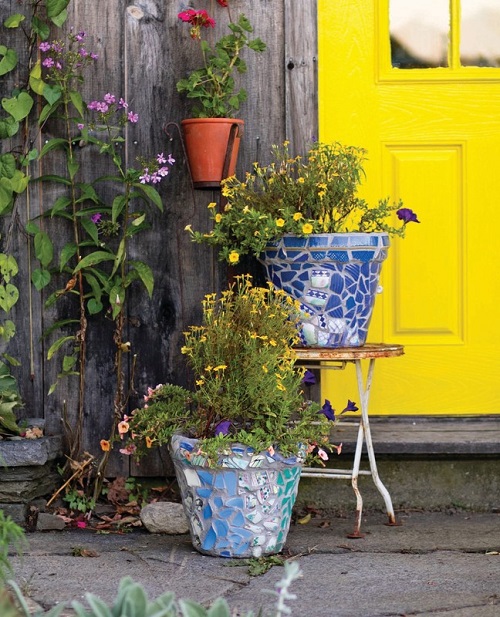 Get crafty and make mosaic-covered flower pots. They are great centerpieces for outdoor and indoor settings.
4. Pom Pom Wrapped Planter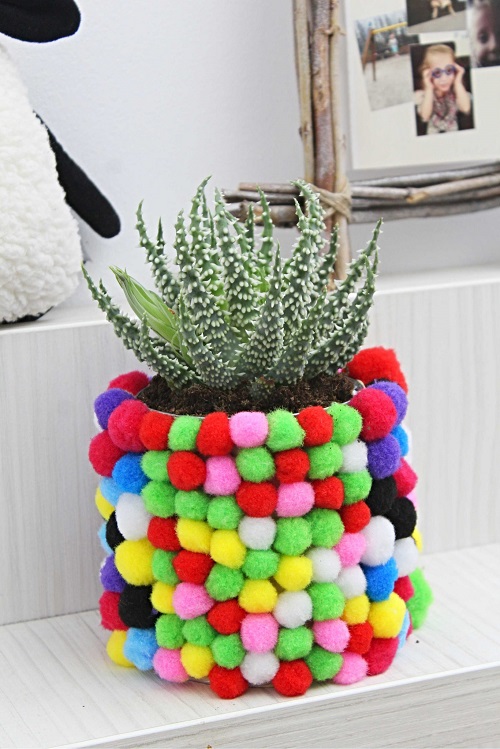 Add a pop of color to your green plants with pom poms. It's an excellent table centerpiece and a wonderful gift too.
5. Paper Bag Planter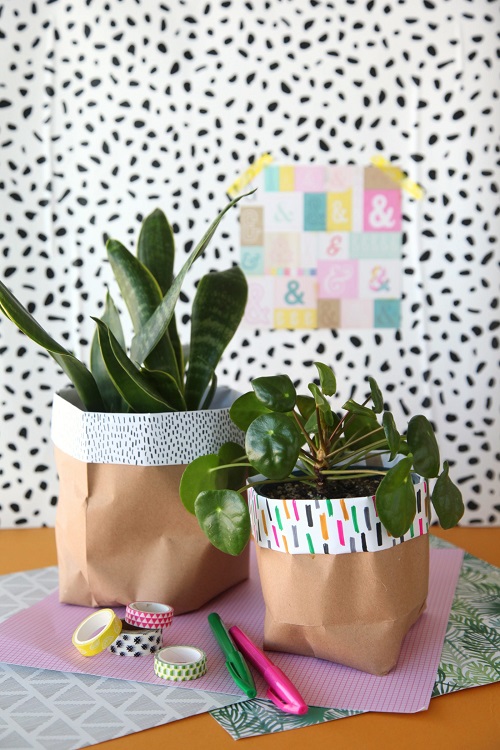 Before throwing away those empty paper bags, check out this idea that transforms them into functional and display-worthy planters.
6. Fabric Wrapped Planters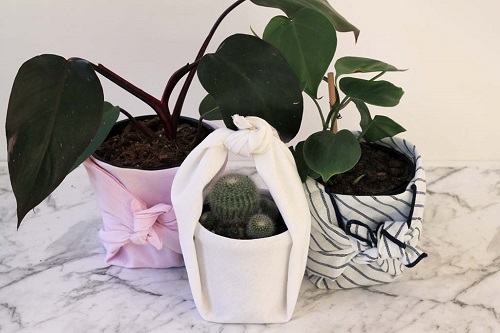 Use the Japanese cloth wrapping method to wrap your planters in cute towels for the center table. Read the details here.
7. Jute Rope Planter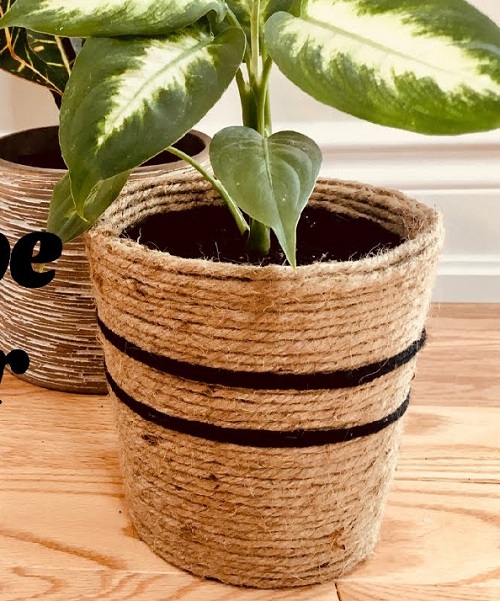 Give a woody look to your plants by wrapping jute rope around the planter. Check this out to know more.
8. Pineapple Centerpiece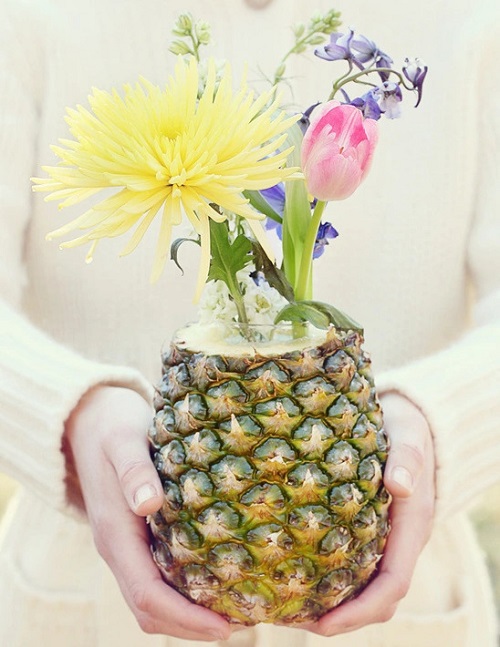 You need basic items and creativity to create this budget-friendly yet pretty pineapple bouquet centerpiece. Hop to this article for more info.
9. Moss Covered Pots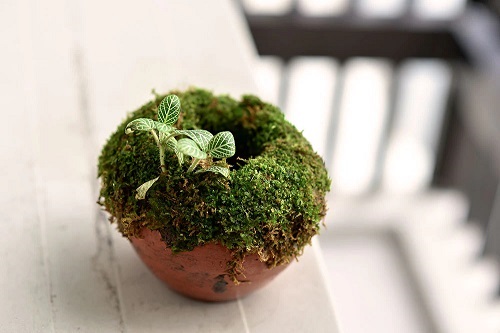 Grow moss on a small pot for a woodland vibe. It's one of the most amazing wrapped potted plant centerpieces and gift ideas. Get the details here.
10. Clothespin Planter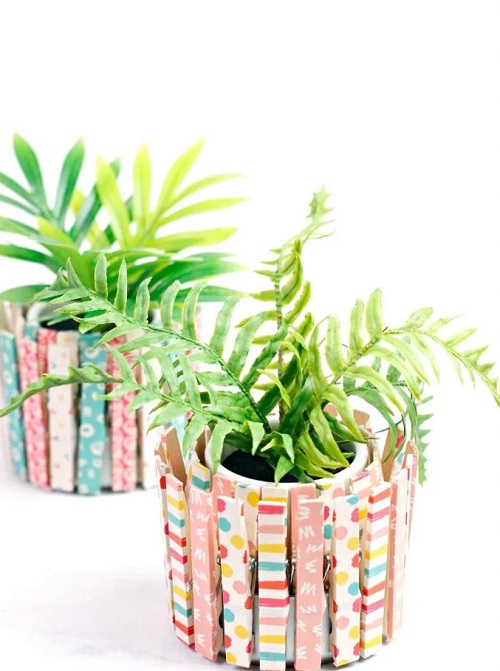 Upcycle clothespins by turning them into a colorful planter using washi tapes. These pots make the most amazing wrapped potted plant centerpieces and gift ideas. The DIY is here.
11. Yarn-Wrapped Pot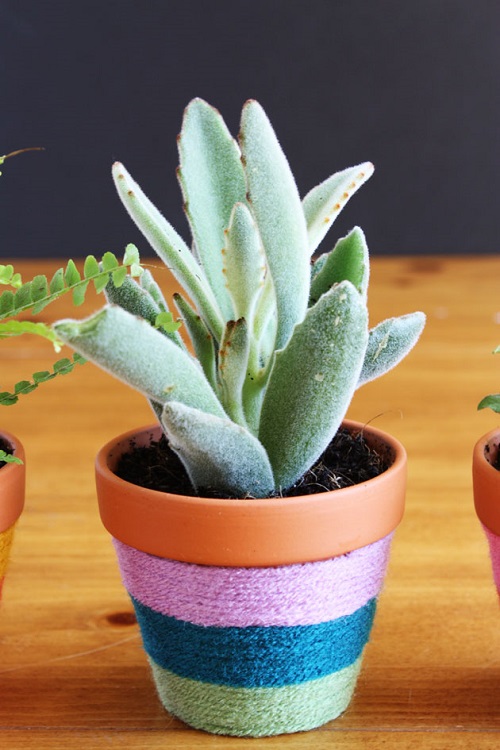 Take out those colorful yarn balls and use them to style your pots. Check out this article.
12. Hemp-Cord Planter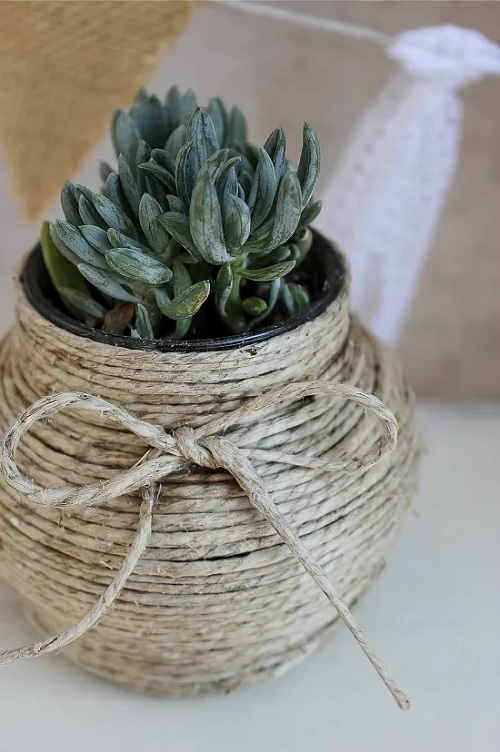 Take any jar, wrap a hemp cord around it, and your elegant planter is ready. Learn more about this craft here.
13. Decorate Pots With Lace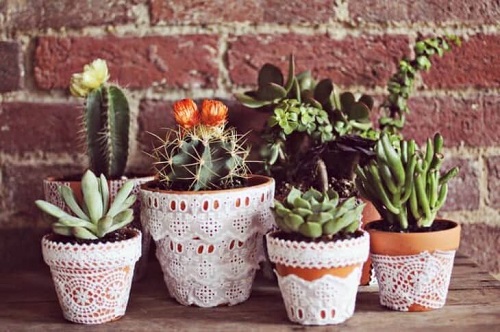 Turn your ordinary pot into a classic beauty by wrapping some lace around it. For more information, click here.
14. Tulle-Wrapped Pot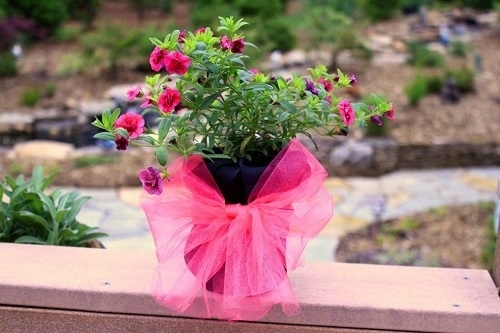 Tie a tulle in bow-shape around a pot to create a gift-wrapped centerpiece. Take inspiration from this article.
15. Fringed Planter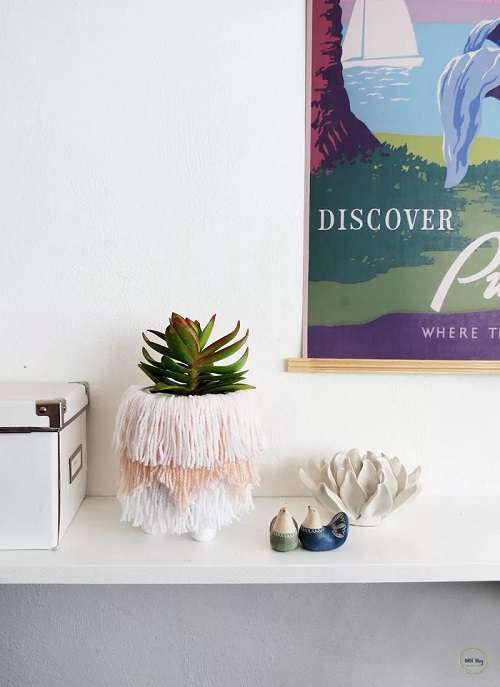 Make this beautiful fringed planter using some yarn and glue. Click here to know more.
16.
Floral Candelabra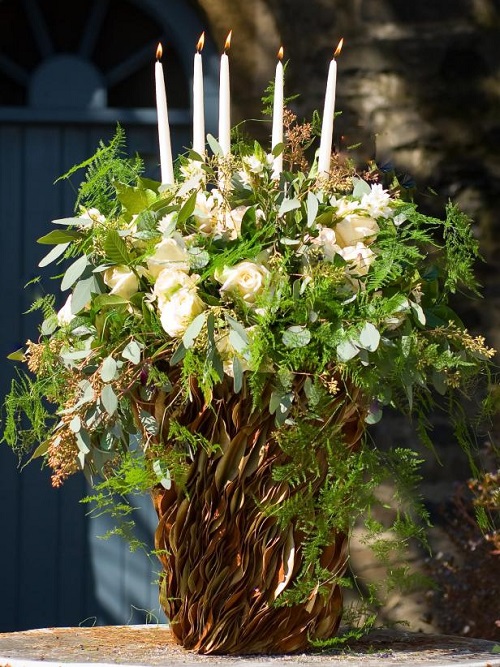 Make an attractive candelabra using a simple plastic basket and fresh-cut flowers. Get the details here.
17. Popsicle-Wrapped Flower Pot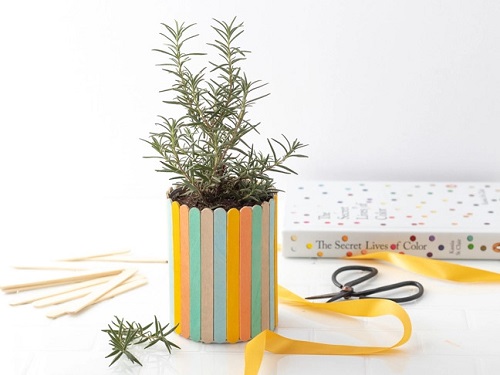 Save those wooden popsicle sticks to decorate your boring planter. For more details, click here.
18. Twig-Covered Flower Pot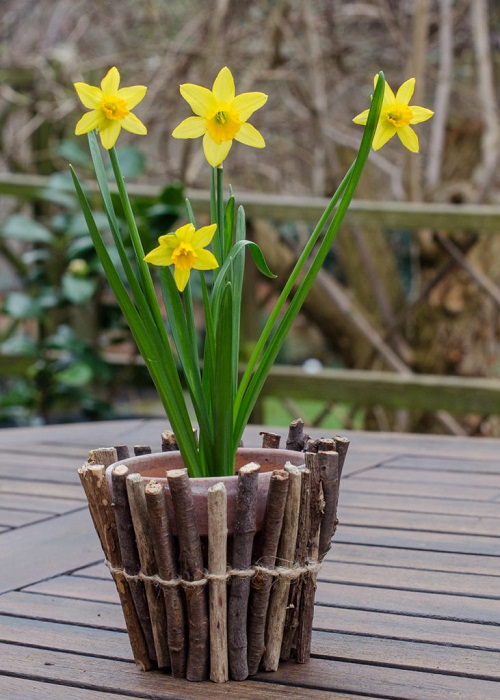 Amp up the look and feel of your plain old potted plant with lots of twigs and this tutorial.
19. Wrap a Flower Pot with Painter's Paper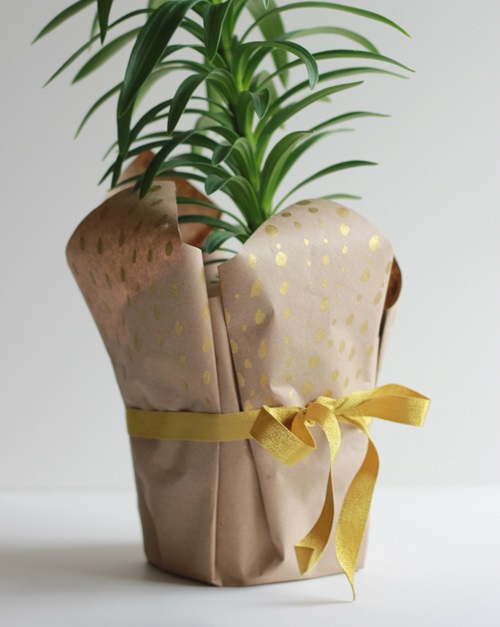 Grab painter's paper, gold paint pen, and ribbon to make your potted plant more beautiful. Learn more here.
20. Tea Towel Wrapped Planter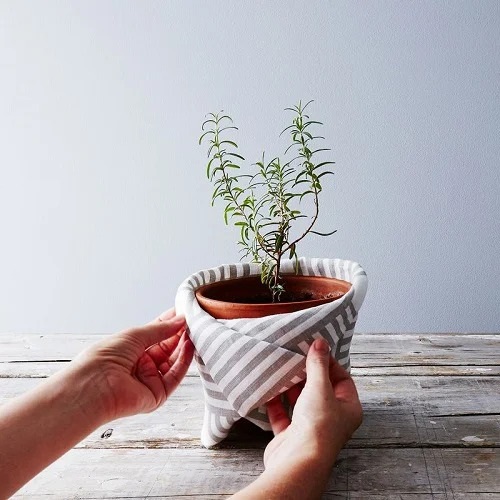 Cover your planter with a tea towel to create an instant table centerpiece. It's also great for gifting purposes.
Read some amazing DIY ice cream cone planters here
21. Fabric Wrapped Poinsettia Centerpiece Idea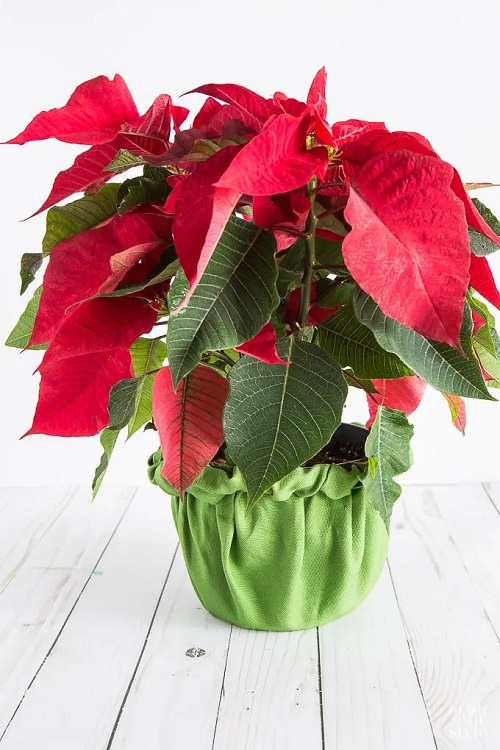 Wrap your poinsettia pot with a loverly fabric to enhance the aesthetic appeal of your Christmas decor. Get the how-to here.
22. Tissue Wrapped Flower Pot
Flower pots adorned with non-woven tissue papers make fantastic wrapped potted plant centerpieces and gift ideas.
23. Last Minute Plant Gift Wrap Idea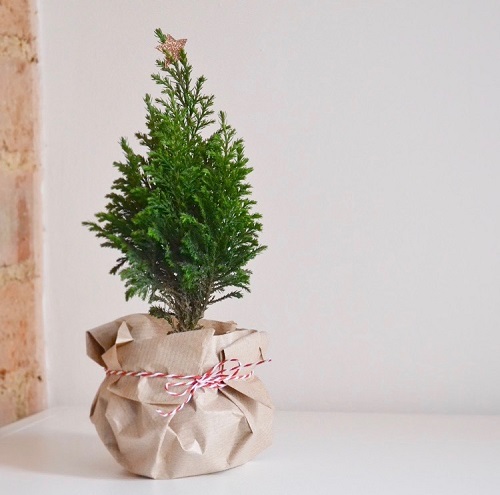 If you don't know how to gift wrap a mini Christmas tree, check out this step-by-step tutorial.
24. Potted Poinsettias in Decorate Boxes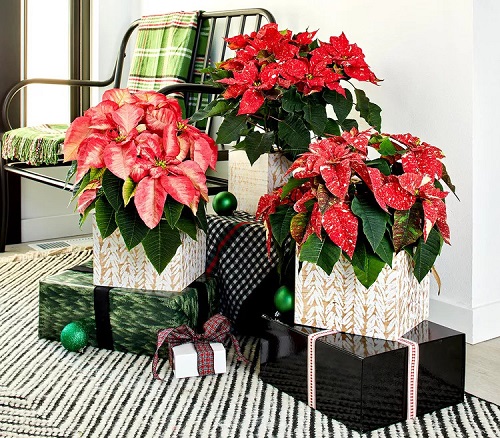 To recreate this eye-grabbing festive plant display, put the pots of red poinsettias inside decorative boxes. Use gifts and ball ornaments to complete the look.
25. Wrapped Snapdragons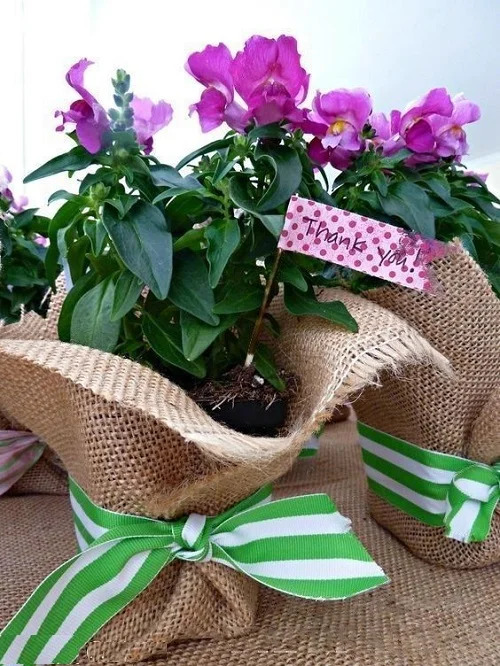 Learn how to create wrapped snapdragons using burlap, rubber bands, potted plants, wide grosgrain ribbon, and this article.
26. Rustic & Natural Wedding Centerpiece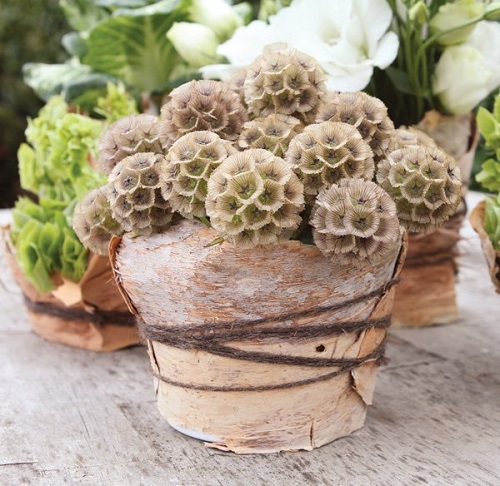 The neutral color palette, combined with the natural element of bark, gives this centerpiece an earthy and warm feeling.
27. Spring Moss Covered Pots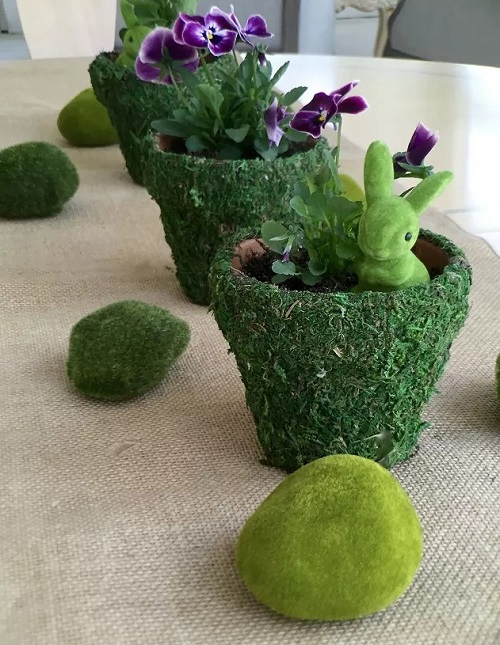 Add some spring beauty to your table with these moss-covered potted plants.
28. Kokedama Wrapped With Twine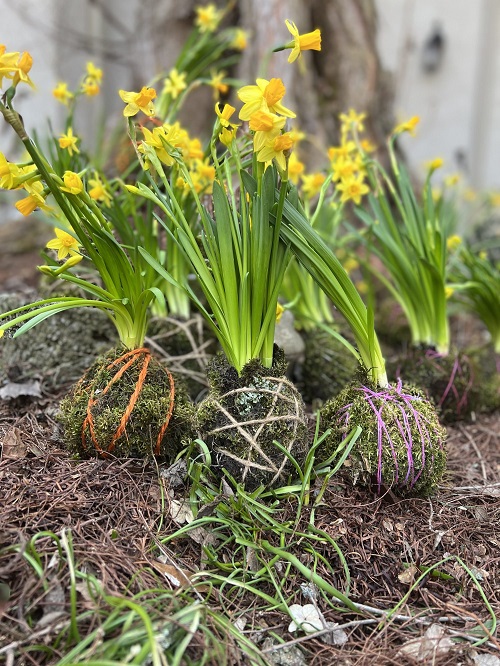 These twine-wrapped kokedama balls are an excellent way to showcase greenery indoors and outdoors. Not to mention they are easy to make.
29. DIY Planter With Photos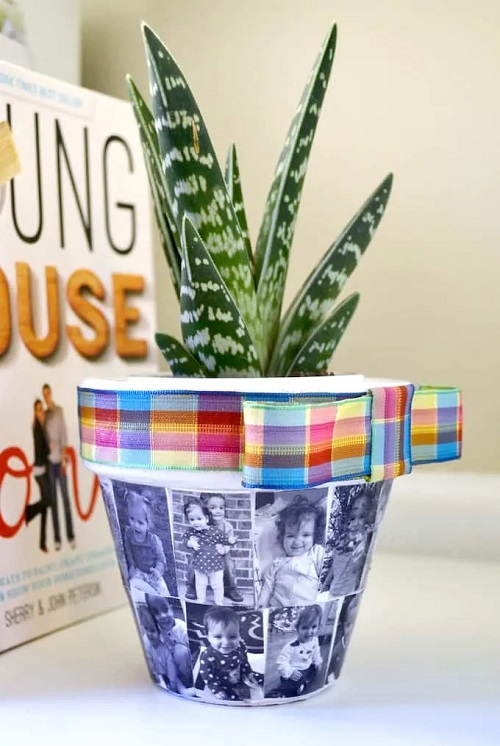 Highlighted with toddlers' photos and a ribbon, this gorgeous pot is a great Mother's Day gift and a perfect table centerpiece.
30. Sea Shells Planter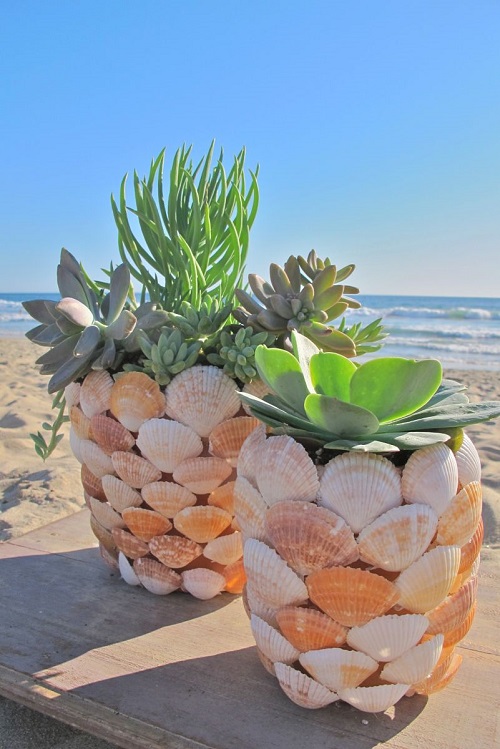 Give your garden some beachy vibes by wrapping the planters with lots of seashells. The instructions are here.
31. Knitted Plant Pot Cover
If knitting is your domain, knit a chic cover for your potted plants using this detailed tutorial.
32. Planter With Pebbles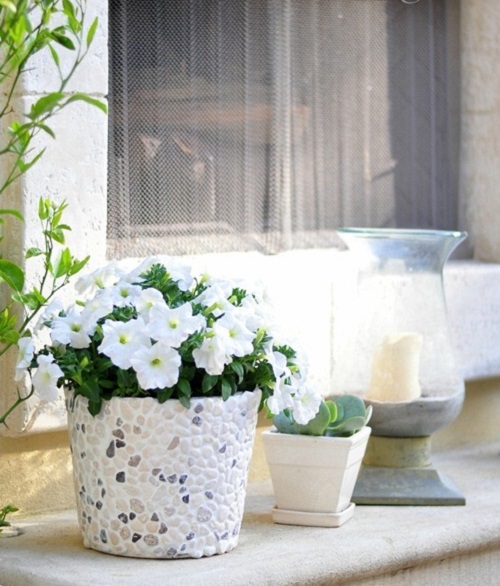 Use river rock pebbles to give a coastal-inspired texture to your potted plant. Learn the how-to here.
33. Bottle Vases with Garden Tulips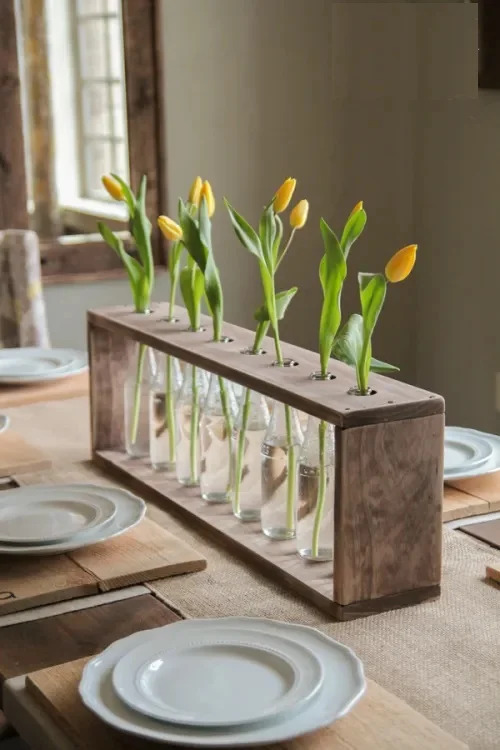 Recreate this eye-catching, display-worthy centerpiece for your dining table with this idea.
34. Baloon Cement Planter with Baby Tears Plant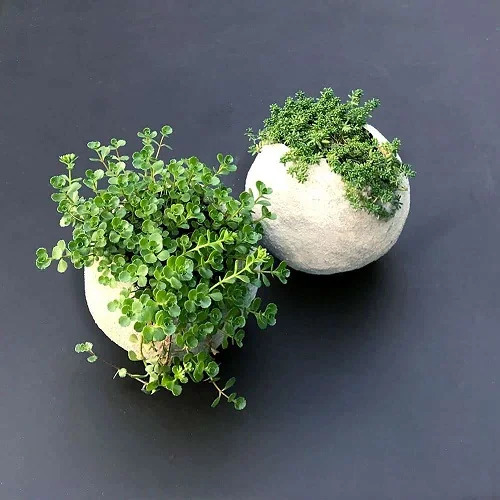 These baby tears plants in peculiar cement planters are the best gifts for plant-loving people.
35. Small Wrapped Kentia Palm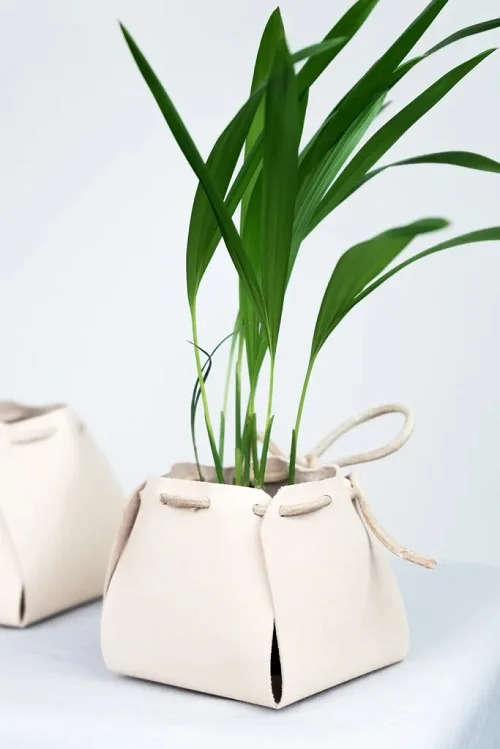 Give your coffee table a gorgeous focal point with this leather-wrapped kentia palm. Learn more here.
36. Devil's Ivy in Paper Wraps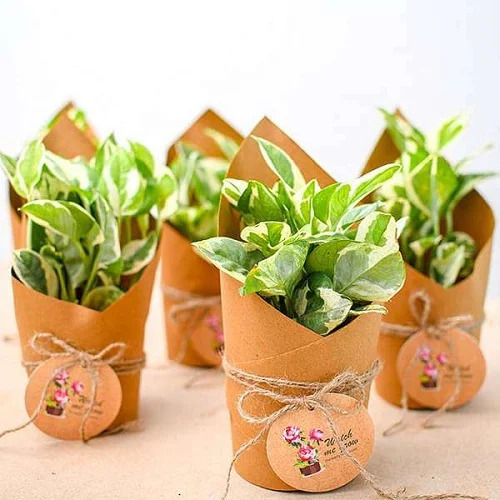 Gather a bunch of devil's ivy stems, paper wraps, tags, and twine to craft these amazing beauties.
37. White Pumpkin Centerpieces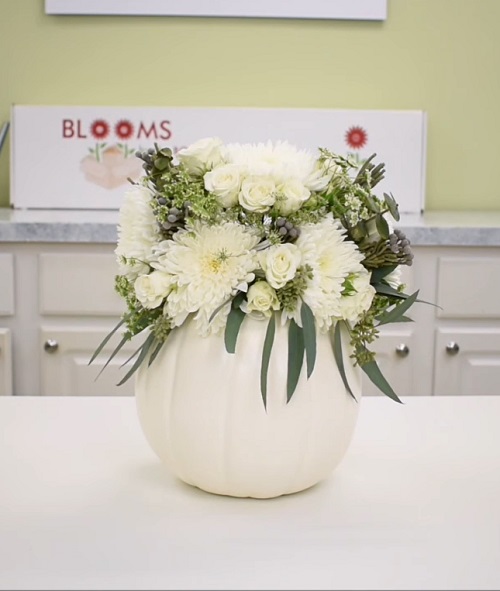 Take a white faux pumpkin from the nearby store and put some flowers to create a wonderful table centerpiece.
38. Scrapbook Paper Wrapped Pot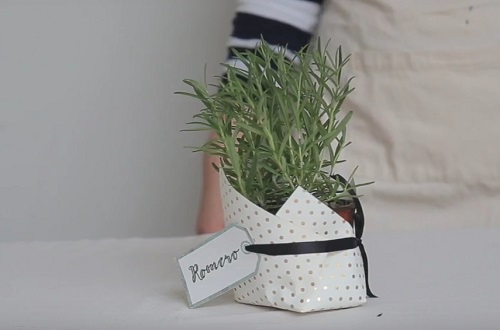 To turn a potted plant into a special gift, learn how to wrap the planter with scrapbook paper in this instructable.
39. Succulent Bouquet in Wooden Box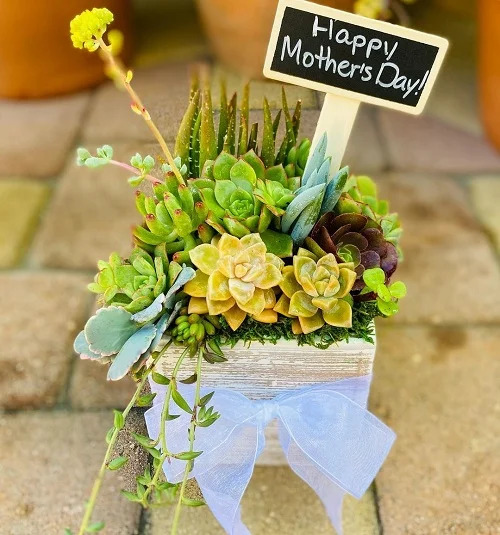 Succulent in a small wooden container, decorated with a tiny 'Happy Mother's Day sign' and ribbon looks fabulous.
40. Painted Mason Jars with Baby's Breath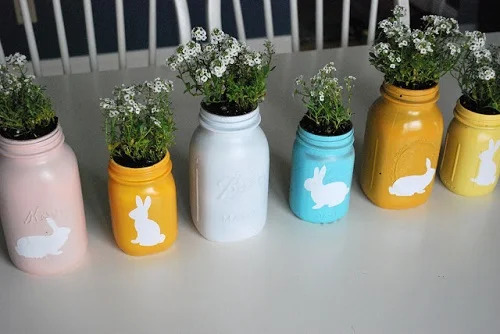 Look at this step-by-step tutorial to create painted mason jars featuring bunnies and baby's breath.
Here are the best DIY rectangular indoor planters