Before tossing out your old or mismatched socks, read on these frugal, and interesting old socks uses that'll surely surprise you!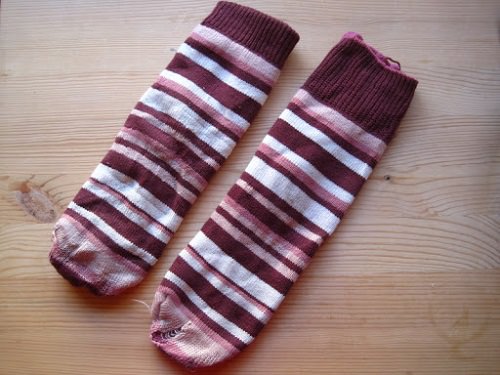 Below are some odd old socks uses in which you can reuse your worn out or mismatched old socks.
1. Clean Shutters and Blind Slats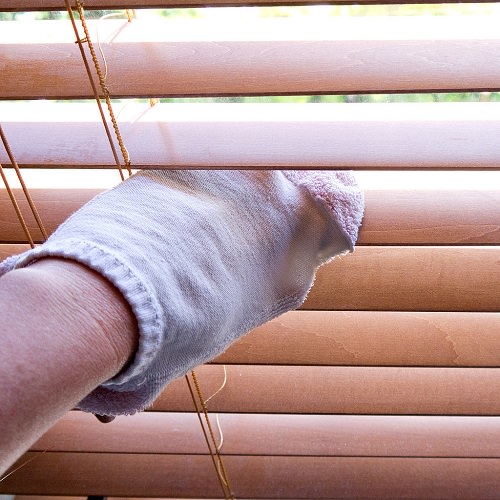 Old socks are an excellent way to clean the dusty window shutters and blind slats. All you have to do is to put a sock on your hand and then gently move your hand between the slats.
2. Polish Your Car
A large old, soft sock is a perfect hack for buffing or applying a coat of wax on your favorite car.
3. To Protect Stored Breakables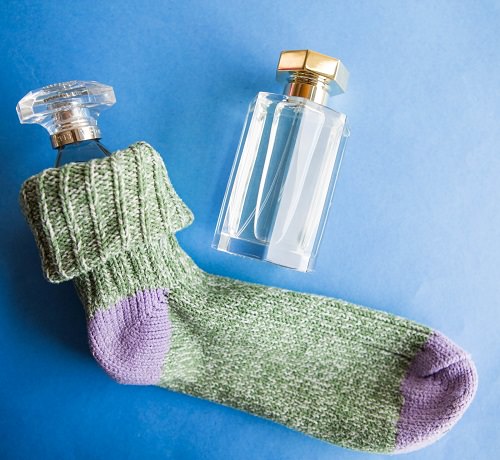 Prevent breaking and chipping of your fragile, valuable vase or bobblehead collection with the help of the old socks. Simply slip the breakables items into the socks.
4. Delicates Wash Bag
The washing machine often damages the lingerie and other delicate fabrics. That's why put them into socks and tie the end before putting them into the washer.
5. For Small Stuffed Animals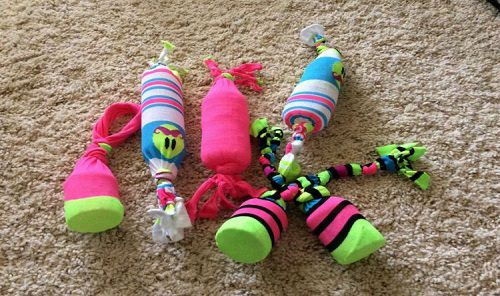 Decorative items like small stuffed animals are more prone to get lost in all the clutter in your kid's playroom. Therefore, protect your kid's stuffed animals by slipping them into socks and tie the end.
5. Cover Shoes Smell From Clothing
Carrying your child's favorite old shoes with luggage is not a good idea. Cover each one with an adult-sized sock before throwing them in the bags to protect the rest of the clothes from the smell.
6. White Board & Chalk Board Eraser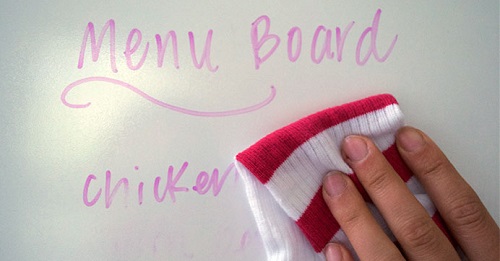 Old socks are a fantastic and cost-effective alternative in comparison to the board eraser. Take an old sock and wipe the whiteboard or chalkboard whenever you make mistakes.
7. Sock Puppets
Making sock puppets is a fun-filled activity. All you need is an old sock, marker, glue, and a pair of goggle eyes. Follow this step-by-step article that will show you three ways to create a sock puppet.
8. Dust & Cleaning Rags
Use your old socks in place of rags to dust & clean ceiling fans, baseboards, furniture, and other appliances. Simply put a sock over your hand & you are good to go for quick cleaning tasks.
9. Remove Clothes Wrinkles
If your clothes get all wrinkled in the dryer, don't worry then, old socks come to the rescue. Throw one or two old damp socks into the dryer with the load and run for a couple of minutes to see the magic.
10. Protect Floors From Scratches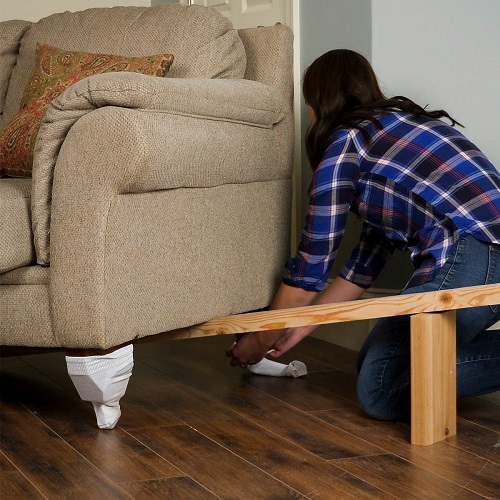 While changing the furniture location, if you are worried about the floor scraping, then you are in the right place. For this, cover each leg of your furniture with old socks before moving them from one place to another.
11. Homemade Shoe Deodorizer
Don't have time to clean your stinky shoes, then try a pair of old socks and baking soda. Put 1-2 tbsp of baking soda into the sock toe and tie it with a knot. Then, place it into the shoe toe and wait for overnight to remove the foul odor.
12. Ice Pack Cover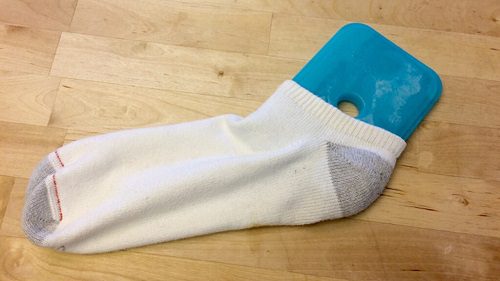 Holding an ice pack cover is a bit difficult with a washcloth or other fabric. Instead, slip the ice pack into the socks for better grip while applying on the problematic body part.
13. Homemade Microwaveable Heating Pad
To make a homemade heating pad, take an old natural fiber sock, and fill it with rice. Then, put this in the microwave for 2-3 minutes, and you are ready to go.
14. DIY Cat Toy

Cat loves to play with toys. Make one for your lovely kitty using an old sock. For this, fill polyfill and a small pinch of catnip into the sock toe, then tie it off properly.
15. Pull Toy For Dogs
Instead of throwing your old socks, make a bunch of homemade pull toys for your dog. Follow this instructive article to DIY several cute and unique toys.
16. Polish & Buff Shoes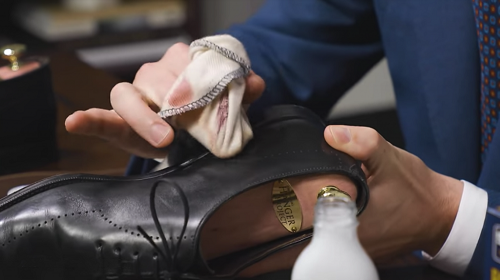 You can polish and buff your favorite shoes using a pair of old socks. All you have to do is apply the polish on your shoes using a sock, then buff them after with another one.
17. Protect Golf Clubs
If you are concerned about the scratches that can happen to your golf clubs head during transit. No worries cover their heads with socks, and that will protect them from scratches.
18. Store Golf or Tennis Balls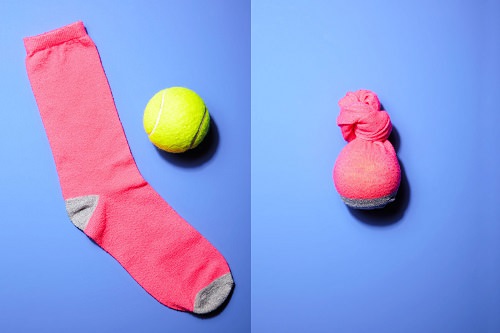 Don't know where to store your golf and tennis balls around the house; old socks are the solution. Store the golf or tennis balls into the socks and store them into the garage or wherever you like for easy access.
19. Preventative Moth Balls
While using mothballs, it's vital to put them far away from the reach of children due to its toxicity. For this, put them inside an old sock and hang from the ceiling of your closet.
20. Keep Game Pieces Together
Manage your game pieces of monopoly, chess, Yahtzee, carrom, and many more with the help of some old socks. In this way, you never lose them again.
21. Glasses Holder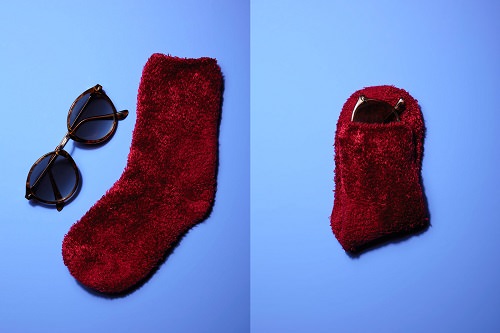 If you misplace your safety goggles or glasses often, then old sock is a savior. Keep them organized by putting the glasses into the socks and hang in the tool shed. This hack also helps you to keep the dust or residue off from glasses.
22. Keep Car Windows From Fogging
It sounds weird, but old socks and cat litter can prevent the car windows from fogging. To do this quick hack, fill a sock with silica cat litter and tie a knot. Then, wrap it with another sock to make it secure. Next, put it on the rear or front window ledge to do the magic.
23. Knee Pads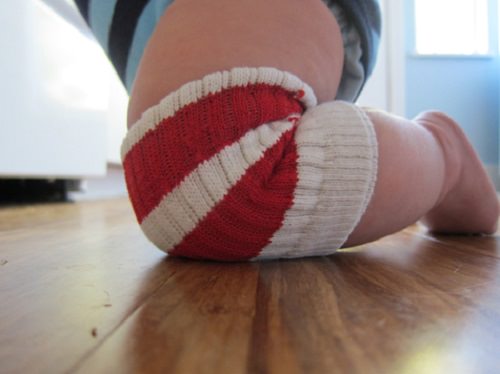 DIY knee pads for your toddler or yourself using an old pair of socks. Follow this step-by-step article to know the detailed how-to for amazing knee pads.
24. Ice-proof Windshield Wipers
Frozen windshield wipers are a common problem for those who are living in cold weather areas. To counter this problem, cover the windshield wipers with your old tube socks. However, make sure to take off the socks from wipers before going to drive.
25. DIY Soap Pouch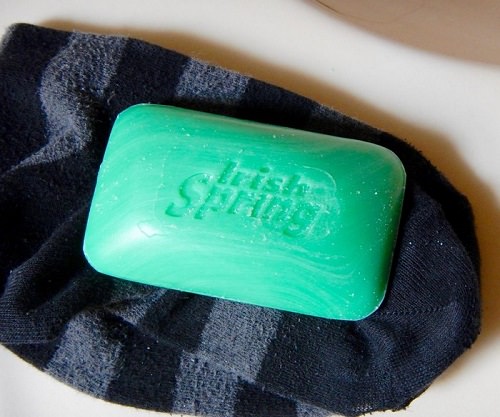 Soap pouches make the soap less slippery, lather better, and last longer. With the help of an old sock, you can DIY your soap pouch at home. Just place the bar into the sock and use it as desired.
26. Bird Feeder
Instead of buying bird feeders, make one on your own using an old clean sock. First, trim the sock to create a long tube. Then, sew the one open end and add a sufficient amount of bird seeds into it. After that, sew the open side properly. Next, hang the bird feeder on a tree with a hook and string.
27. DIY Dryer Balls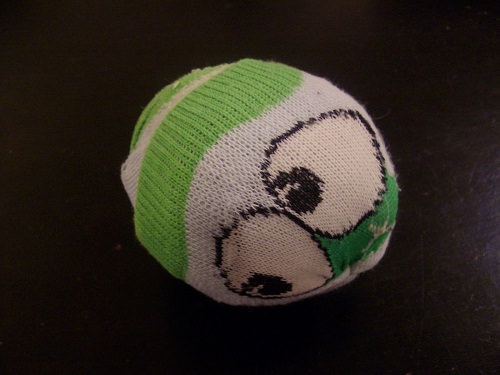 Why bother to buy expensive fabric softeners and dryer sheets, when you can DIY dryer balls at your home. Made with old socks and tennis balls, these dryer balls help a lot by boosting the drying process. Place tennis balls inside the socks to do the trick.
28. Decorate Pots & Vases
Use your different colors and patterns of old socks to decorate the pots & vases. To do this hack, trim the bottom of the socks, then use the leftover tube to cover skinny pots and vases.
29. Avoid Paint Stains on Shoes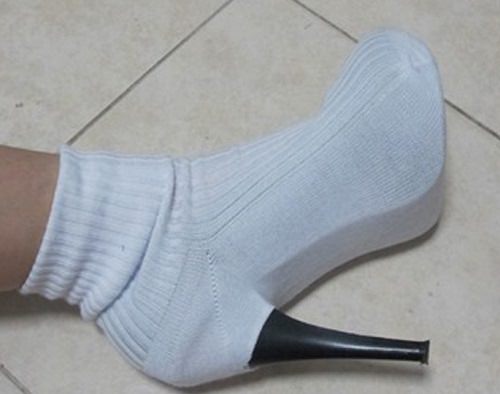 If you are a painter by profession, then you know how much your favorite shoes are at risk of getting stained. Don't worry, cover your shoes with old socks and do your job without any concerns.
30. To Clean up Errant Paint
A pair of old socks is handy for those who wish to paint the trim. You can use a sock on your non-dominant hand to pick up the drips instead of using a cloth or paper towel as it's more absorbent.
31. Level a Wobbling Table
Table wobbles either due to uneven legs or the floor aren't flat. To counteract this problem, cover the problematic leg with an old sock. If the issue persists, put more socks.
32. DIY Potpourri Holder
Potpourri is a mix of dried petals & spices, used to scent a room. Do not limit your potpourri to a bowl; make a holder instead, with the help of an old sock. Add potpourri in the sock and close the end with a ribbon or rubber band. After that, put it wherever you want.
33. Homemade Washable Swiffer Wetjet Pads
Ditch the expensive disposable Swiffer wet jet pads, make reusable pads at home with some old socks. All you have to do is follow this article to know the tutorial.
34. Ponytail Bands and Sock Buns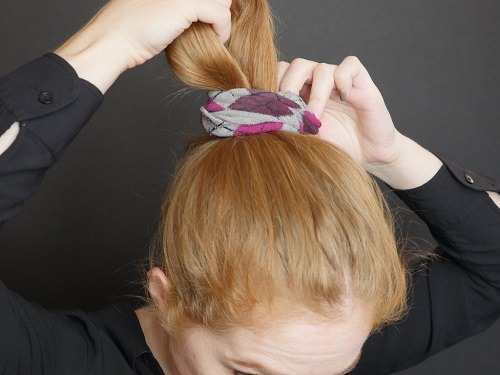 Women love to try different hairstyles. Thanks to a pair of old socks, you can now do a bun hairstyle easily. Check out this article to know how to use socks for buns and handy ponytail bands.
35. Aromatherapy Sock Neck Warmer Pillow
Instead of using expensive store-bought aromatherapy neck pillow, make one for yourself using old socks. All you need is an essential oil, rice, glue, and a pair of old mid-calf socks for this DIY.
36. Homemade Stress Ball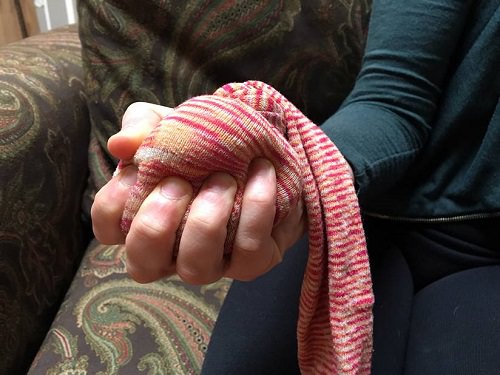 Don't know what to gift your near and dear ones, then try this homemade stress ball. Put a play dough in a sandwich bag and place it inside an old clean sock. Secure the open end properly with a ribbon, and don't forget to use a gift tag.
37. Dog Sweater
Making tiny sweaters for your little pooch is another unique way to use old socks. This hack needs necessary cutting and sewing skills with a large old clean sock. Watch this instructional video for more help.
38. Leg Warmers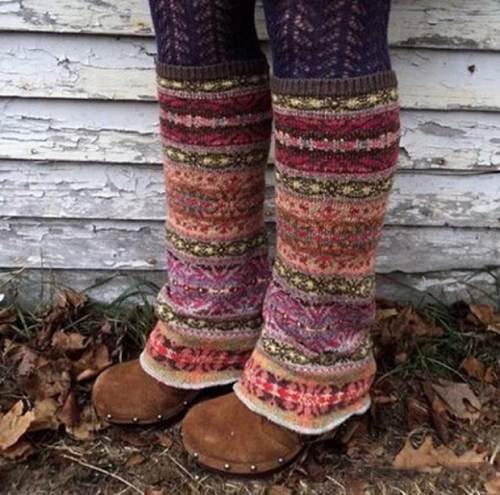 Thanks to old socks, you can make your very own leg warmers. Take a tube sock and trim its toe section. Your leg warmers are ready to make you feel cozy and warm.
39. LuvSock For Male Iguana
In the breeding season, male iguanas become aggressive. Calm them down by making a luvsock toy. Follow this descriptive tutorial to know how to make this fantastic toy for your male iguana.
40. Elbow Patches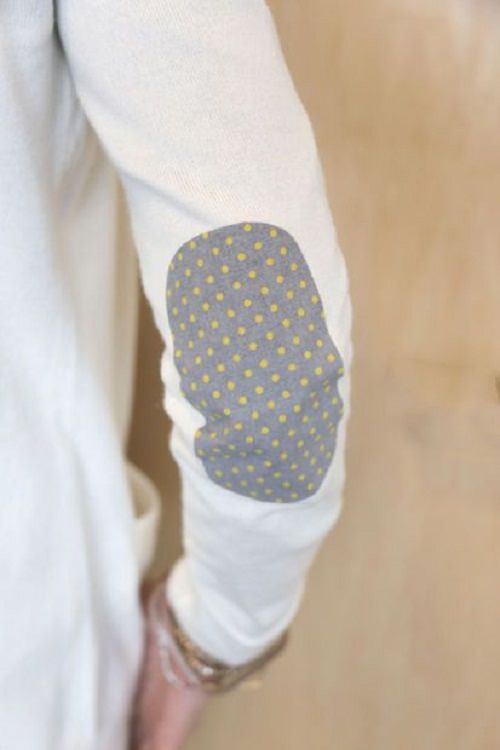 Bring your old sweaters back in style and fashion by adding some elbow patches. All you need is a little bit of hand sewing skills and old socks. However, make sure to cut the socks into even shapes.
41. Arm Warmers
Reuse your old socks as perfect arm warmers. Take the inspiration from this instructive step-by-step tutorial to make funky and cozy arm warmers.
42. Sock Snowman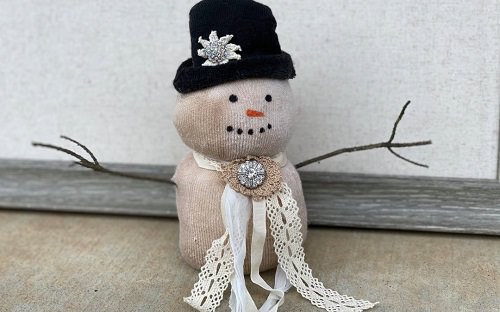 Transform the old mismatched socks into a snowman for Christmas decorations. Head on this detailed article to master the art of making a sock snowman.
43. Homemade Sock Scarf
Take a couple of different colored old socks and simply trim them into tubes. Then, sew all of them together correctly. To give them a funky look, you can sew a couple of pompoms at the end of the scarf.
44. No-Sew Ear Warmer
This quick life hack not only gives you a trendy look all winter long but also makes your ear warm as well. For this, you only need an old long soccer sock. But if you have a standard size sock, then sew two socks together.
45. Warmer Mittens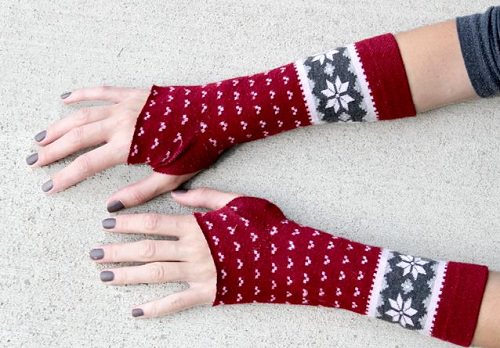 To get an extra layer of warmth, wear old clean socks on both of your hands before using the mittens. Try this hack, and you will never regret it.
46. DIY Sock Wreath
Transform your old or damaged socks into lovely decorative wreaths, for trying this DIY sock wreath idea, head on this instructive tutorial for more info.
47. Wrap Wine Bottles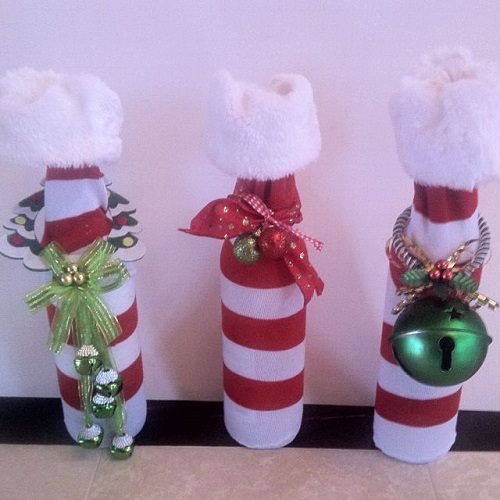 Give a funky look to the wine bottles with a little help from old winter pattern socks. Cover the bottle with a sock and secure it with a ribbon from the top. Now, gift it to your near and dear ones.
48. Reusable Baby Wipes
Make your own cost-effective reusable baby wipes at home, thanks to the versatile socks. Take a pair, cut them into the size of rags, and you are good to go.
49. DIY Draft Stoppers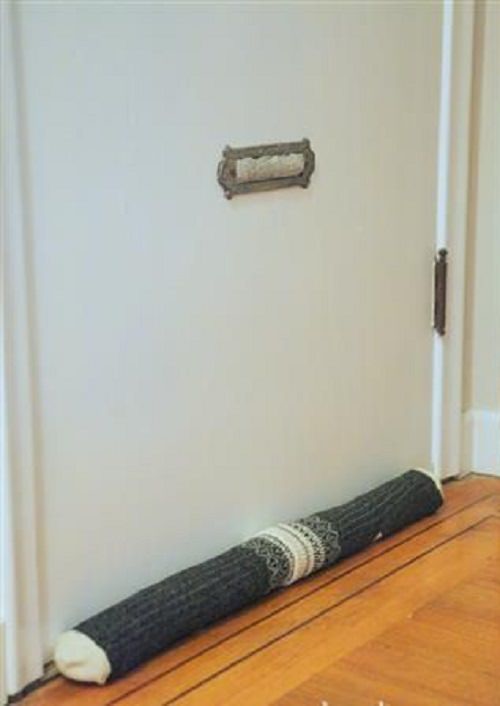 Unwanted drafts coming from under the doors or window sills are the reason why your home turns chilly. Counter this issue by making homemade draft stoppers with old socks and a few things. Check out this detailed article to learn about the hack.
50. Baby Sock Rattle
Instead of throwing your baby's old socks, reuse them to make an adorable sock rattle for your little one. Read on this informative article to know more about this fun craft project.
51. Sock Monkey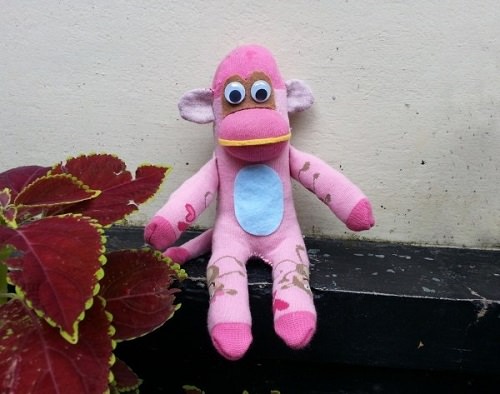 Your children are going to love this cute sock monkey toy. With a pair of old socks, scissors, and stuffing, you can make one for your little ones easily. See the full instructions here.
52. DIY Chia Pet
Don't bother to buy the costly chia pet, when you make them easily at home. DIY your chia pet using old socks, seeds, and a handful of dirt. Take inspiration from this tutorial.
53. Pin Cushion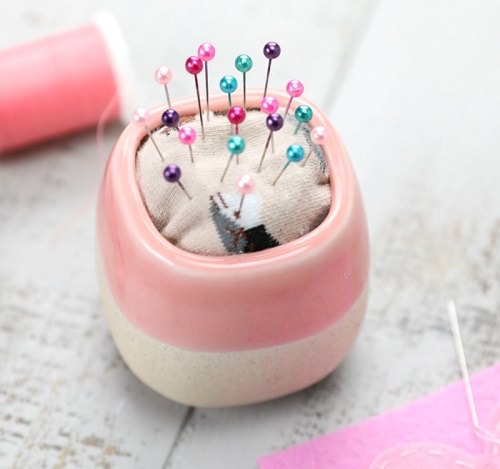 Arrange your pins or needles by making a custom pin cushion. With the help of an old sock and a couple of other things, you can prepare it right away. Head on this article to know how to make one instantly.
54. Hacky Sack
If you are a hacky sack fan, then create your training equipment using an old sock and uncooked rice. Check out the step-by-step instructive article for more info.
55. DIY Sock Workout Armband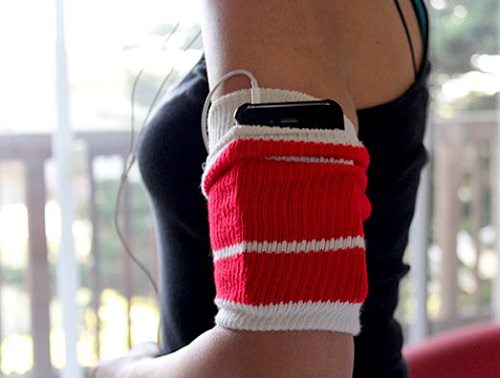 Convert the old tube socks into a very comfy armband that holds your phone during the workout sessions. Look out this tutorial to make one for yourself.
56. Wrist Rests
Working on a laptop for a more extended period causes a lot of problems, especially for your wrists. Avoid the risks using wrist rests made up out of old socks. Here is the complete DIY.
57. As a Weapon
Reuse the old socks to make a weapon for your self-protection. This hack comes in handy when the situation becomes quite messy. Fill a sock with coins, nut, bolts, and other heavy metal objects. Whenever you are in danger, just swing it and call the cops.
58. DIY Barbie Doll Clothes
Kids love to play with barbie dolls & their clothes. Make handmade barbie doll clothes at home using old socks that your little one is going to love. Watch this video for the tutorial.
59. Sock Animals
You can make a variety of animal toys from your old mismatched socks. Read on this article to make different kinds of sock animals for your kids and yourself.
60. Sock Santa Claus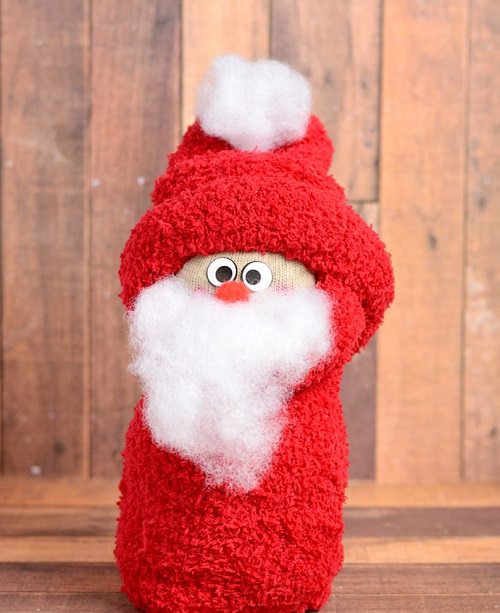 Santa is a very important figurine in Christmas decorations. All you have to do is watch this DIY video to make a Santa Claus from old socks.
61. Can Koozie
Make your custom can koozie with an old sock to safely hold the cold or warm pop cans, coffee mugs, and beverages. For this hack, take a sock and cut its foot part. Then, wrap the desired drink properly.
62. Vacuum Lost Small Items
Finding a lost item in a shaggy rug or under the furniture is a cumbersome task, especially if its a small one. Try this sock hack to do this job quickly and hassle-free.
63. Jump Rope
Making jump rope out of the old socks is one of the easiest sock hacks. However, you will need a bunch of socks for this task. First, cut the feet of the socks and sew them together, until you have a long jump rope.
64. Foot & Back Roller
Transform your old waste socks into a handy foot and back roller. Simply, place 4-5 balls inside the socks and secure with a knot.
65. Cover Bottles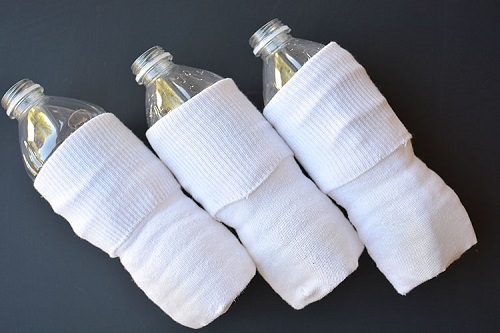 Sometimes, bottles in the kitchen become sticky or unwantedly coated with grime. Prevent them from getting gross with the help of an old pair of socks to cover the bottles.
66. Cell Phone Sock Case
A cell phone case protects your device and gives a funky look as well. Create your own using a sock and a little bit of sewing and this video.
67. Dry Hands Cover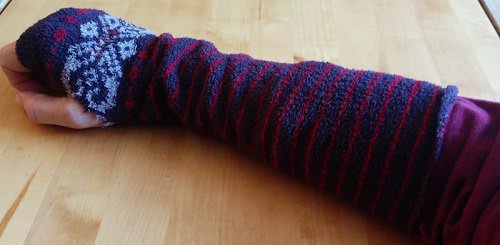 People with dehydrated hands can get benefit by applying lotion overnight. But to keep the lotion intact for the whole night, put on an old sock on your hand.
68. Spigot Insulator/Protector
Protect the outdoor spigot during the winter season using the old socks. Cover the spigot with multiple socks and secure appropriately with twine.
69. Protect Doorknobs & Faucets
While painting the walls, precautions are necessary to prevent the paint drip from falling on the doorknobs & faucets. For this, old socks are an on-the-go solution that can do the trick.
70. DIY Bean Bags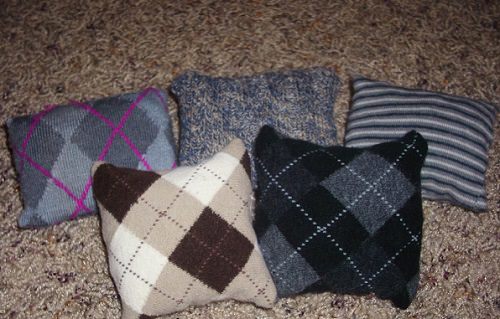 Making cute bean bags from worn-out socks is an excellent idea. Old socks, sewing machine, card stock, and scissors are required to create one.  Read on this informative article to know the how-to.
71. As a Sponge
In comparison to the above hacks, this one is pretty simple, as you don't need to do sewing or anything else. Keep 1 or 2 old socks with your motorbike or bicycle to wipe when they get wet due to rainwater.
72. Hobby Horse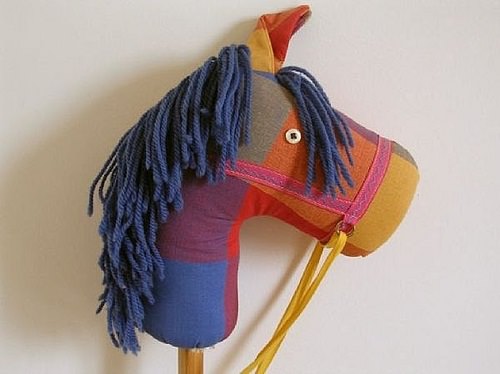 Kids love to play with the hobby horse, but no need to purchase one when you can make it easily at home using this tutorial. All you need is some worn-out socks and sewing skills.
73. Cute Coin Purse
Turn the old baby socks into cute and functional coin purses. The best part is that you can personalize it using different colored and printed socks. Head on this detailed article for more info.
74. Sock Ball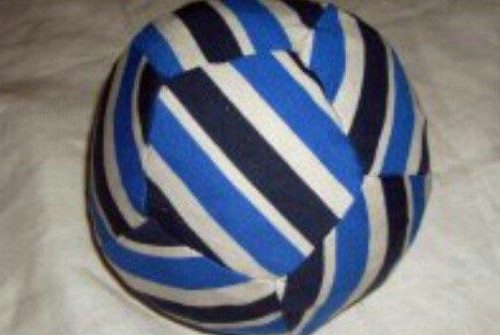 Surprise your kid on this birthday by gifting him or her a homemade sock ball. Check out this instructive tutorial to make one for your little one.
75. Easy Sock Doggie Scarf
Just like humans, dogs also need warmth during the winter season. Make a scarf for your little furry friend by following this easy DIY.
76. Stocking Ornaments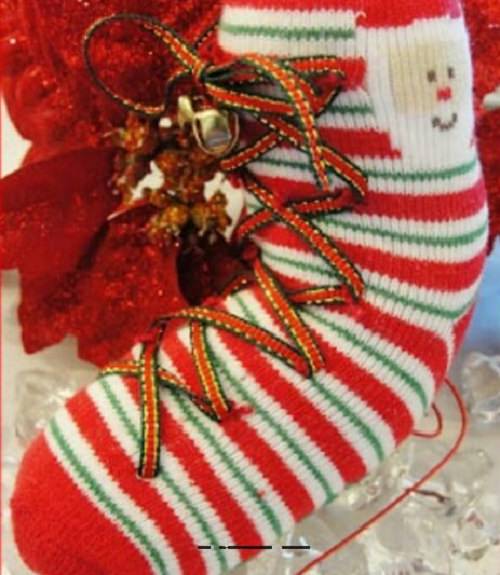 This Christmas, reuse your old socks into beautifully crafted stocking ornaments with a couple of stitches and stuffing. Take inspiration from this well-detailed article.
77. DIY Sock Pumpkins
Give your house a seasonal lift during fall and winter by decorating it with sock pumpkins. Go through this tutorial to learn how to make pumpkins using worn-out socks.
78. Jewelry Case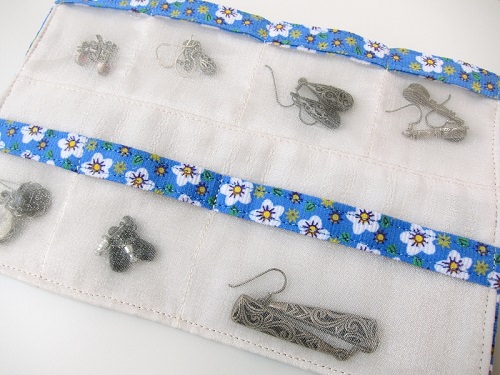 Rather than buying a jewelry case, use your old socks to create a beautiful one. For this, cut a sock into half from the heel part, and then stitch the leftover tube's open-end properly. This case organizes your jewelry and probably works against thieves as well.
79. Manages Wrapping Paper Rolls
Old socks are the perfect means to manage a bunch of wrapping papers. Simply trim the cuff portion of your sock and place it on the wrapping paper rolls to do the trick.
80. Organize Cords
A sock is an excellent handy solution to organize the messy cords. To do this hack, trim the cuff part from a sock and use it to hold the loose electrical cords.
81. Guide Your Plants
With a sock and scissor, you can guide your growing plants, especially vine ones. Simply trim the socks into strips to tie the plants to the stakes.
82. Fix a Squeaky Bed
If you are annoyed by the squeaking sound of your bed, then use old mismatched socks to solve this issue. Head on this DIY to know how to do this hack.
83. Umbrella Holder
Turn your worn-out sock into an umbrella holder. This hack not only manages your wet umbrella but also keep your car dry as well.
84. Hair Tie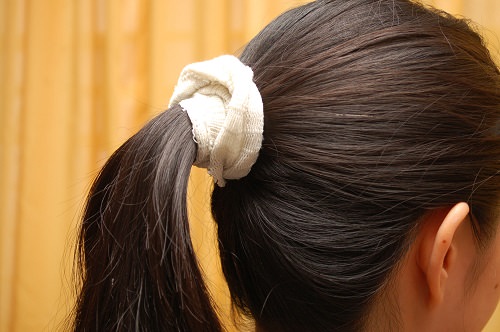 Are you out of scrunchies? Then, take a used sock and trim its cuff. After that, use it as a scrunchie to tie your lovely hair.
85. Overnight Curls
Without waking up early in the morning, you can curl your hair overnight with the help of a pair of old socks. All you have to do is follow this DIY.
86. Pan Handle Cover
Putting old socks over the handle of saucepan not only protects your hand from heat but also stops the handle from getting sticky.
87. Open Stubborn Jars
If you're not able to open the tight cap of the jars, then you can use old socks. Use a worn-out sock as a grip to open it without any hassle.
88. DIY No-Sew Fingerless Gloves
Watch this instructional video to make your fingerless gloves using a pair of old mismatched socks. The best part is that you can modify the gloves as you desire.
89. Sleep Mask
For preparing a sleep mask, you will require socks, a strip of elastic, and flat backing fabric. Read this article to know the full how-to.
90. Boot Stands
While storing the tall boots in the closet, they often fall over. Counter this problem by adding newspapers into two tall socks. Then, place them into the boots.
91. Make Shoes Last Longer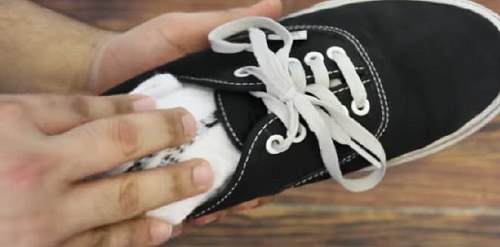 Retain the shape and look of your shoes longer, using a couple of socks. Place a sock inside another one and make a ball. Repeat this procedure to create another one. Then, put the balls inside the shoes when you are not wearing them.
92. DIY Boot Topper
If you don't want to knit, crochet, or spend bucks for boot toppers, then you can make your own using socks in a flash. Look at its full tutorial here.
93. Clean Houseplants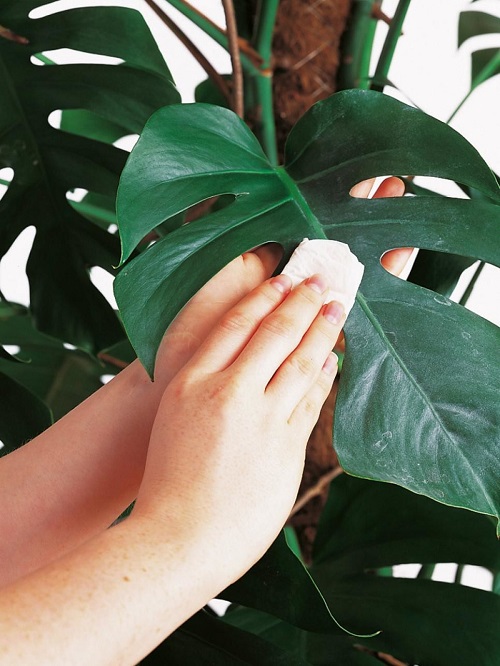 Make a dusting mitt for your favorite houseplants. All you have to do is wear a sock on your hand and dampen it to eliminate dust & debris from the houseplants.
94. Braided Bath Mat
Take your crafty-ness to a whole new level by making braided bath mat from a bunch of socks. It's one of the most amazing old socks uses.
95. Stop Shedding
Socks are the on-the-go solution to remove excess hair from your pets during the shedding season. First, put on a damp sock over your hand and groom your pets gently.
96. DIY Pet Bed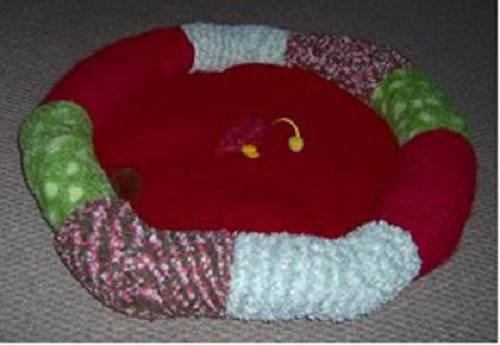 Use your crafting skills to make cute and useful tiny pet bed with worn-out fluffy socks. Follow this tutorial for more details. This bed is perfect for both kitties and small dogs.
97. Hamster Sleeping Bag
After crafting beds and toys for your dogs or cats, don't forget your adorable hamster. Make a sleeping bag for the little one with the help of this DIY video.
98. Prolong Cold Water
During hiking or a day trip on sunny days, if you wish to keep the water bottle chilled longer, then use socks. Cover the water botter with an old sock to do the trick.
99. Handmade Indoor Snowballs
Why wait for the winter season to do the snowball fight? Make a lot of stuffed snowballs at home with the help of socks, some stuffing material, and threads. Details are here.
100. DIY Baby Socks
Nothing is more joyful than involving yourself in parenting activities, especially if you're a new parent. Craft socks for your little one, you only require an old adult sock. Go through this DIY for more info.
Conclusion
After reading the above numerous old socks uses, you'll get to know how much they are useful in our daily chores. Besides, if you are a fan of crochet, then check out this article. Leave your valuable suggestions and queries in the comments section below.