DIY Gold Painted Vases to give your home a modern touch. It is such a simple DIY to brighten up any part of your home in no time!
All of these DIY Gold painted vases are very easy to recreate and require only basic supplies.
1. DIY Gold Striped Vases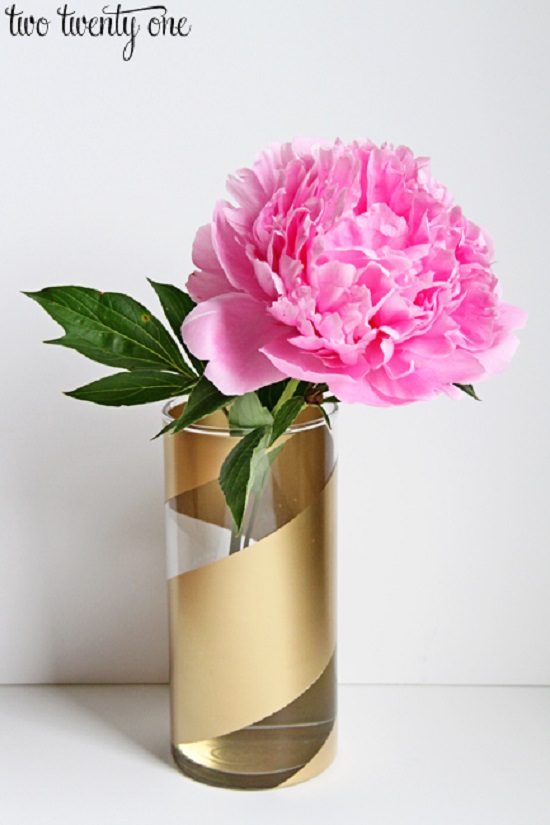 Supplies
Frog Tape
Washi Tape
Metallic Spray Paint
Dollar store vases upcycled with some gold spray paint make nice hostess gifts and offer a subtle way to display seasonal, homegrown blooms. Find the DIY here.
2. DIY Gold Dipped Vase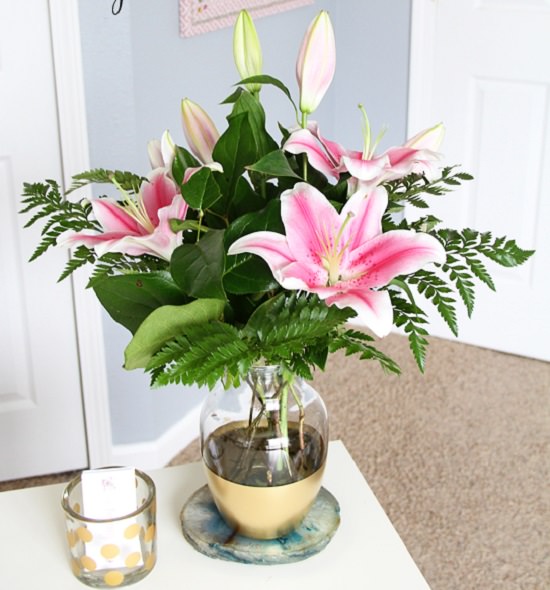 Supplies
Frog Tape
Washi Tape
Metallic Spray Paint
If you're tired of looking at your old, drab vase every time you sit at the table, consider sprucing them up under ten minutes with an ageless, gold-dipped style. This DIY will give you inspiration.
3. DIY Gold Painted Vases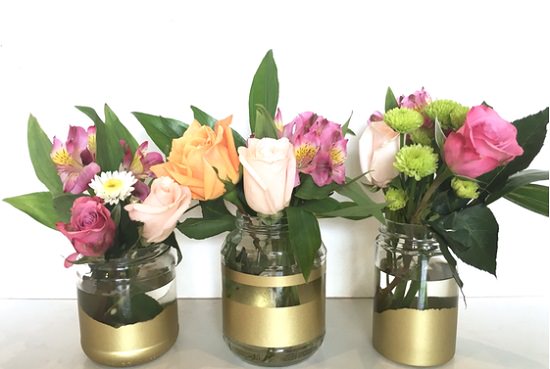 Supplies
Empty glass jars (pasta sauce, peanut butter, mustard, etc.)
Goo gone
Painters tape
Gold spray paint
Sometimes it's the little things that make a big impact. Take these gold-textured bud vases for example. Get the instructions here.
4. DIY Gold Painted Vases with Mason Jars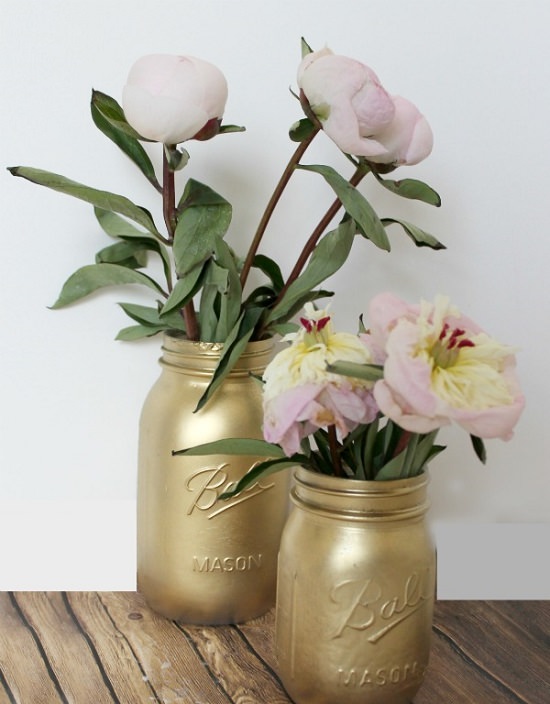 Supplies
Mason jars
Primer
Krylon Short Cuts craft spray paint in Gold Leaf
Dripping with golden goodness, these mason jars, with their warm, toasty finish are just what your room needs to glam up on cold winters.  Get the details here.
5. DIY Wedding Centerpieces: Gilded Gold Vases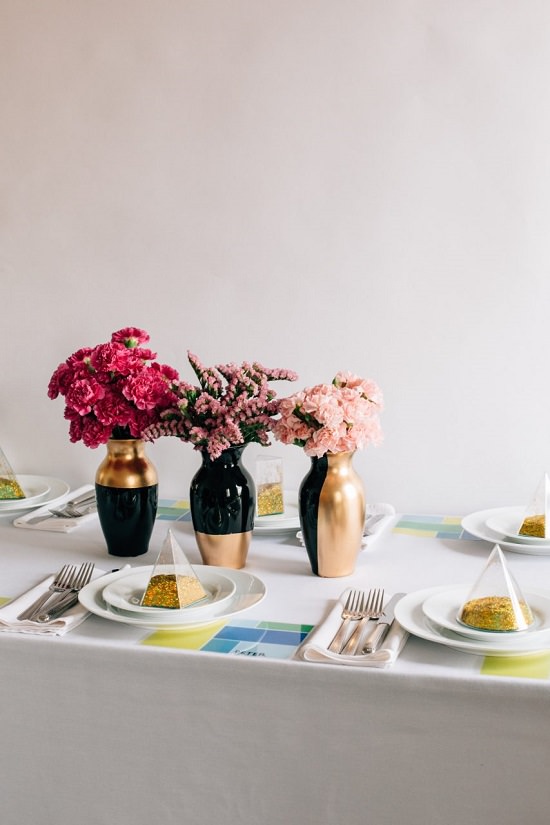 Supplies
Black, ceramic vases
Gold gilding paint
Paint Brush
Narrow painter's tape
Turpentine 
Hot Pink Carnations 
Light Pink or Peach Carnations 
Pink Statice 
Convert basic ceramic vases into a hip and modern piece of art with gold dipping paint. Combine that with carnations to create a charming centerpiece decoration fit for wedding tables. Find the instructions here for these DIY gold painted vases.
6. DIY Gold Painted Succulent Vases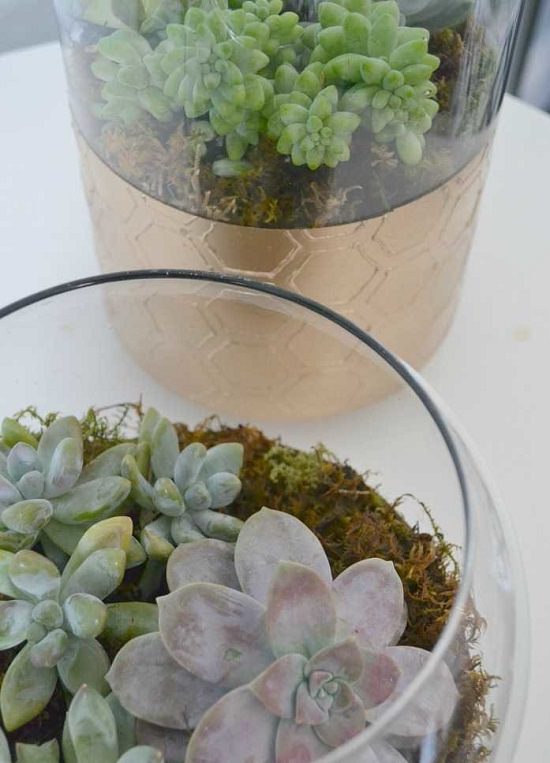 Supplies
Glass Vases
Sharpie
Glass Paint
Stencil
Spray Paint
Nothing like gold paint to complement the earthy tones of succulents. Plus, this DIY shows you a way to create textured vases within 5 minutes and minimal supplies.
7. DIY Gold Spray Painted Wine Bottles Vases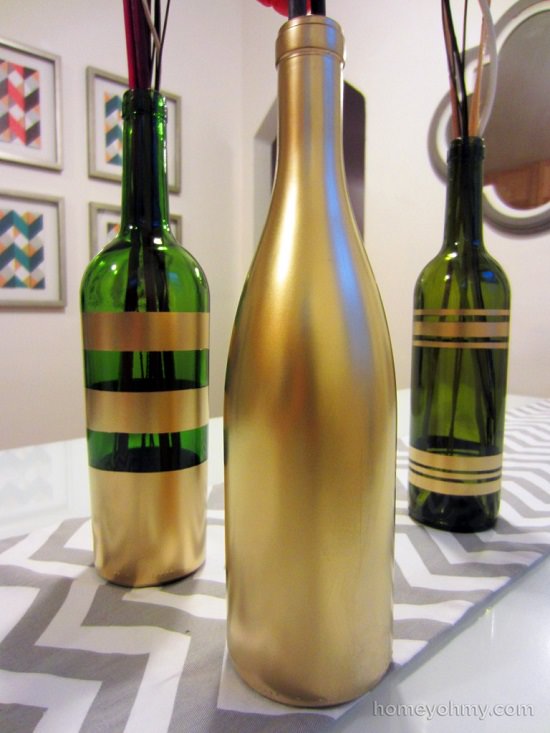 Supplies
Gold Spray Paint
Glass Bottle
Painters Tape
Floral wreaths and pumpkin trees are all fine, but when you want a fall decor that is easy to carry and looks great everywhere, these gold-textured wine bottles are the way to go. Here's the DIY.
8. Faux Concrete Gold Splatter DIY Vase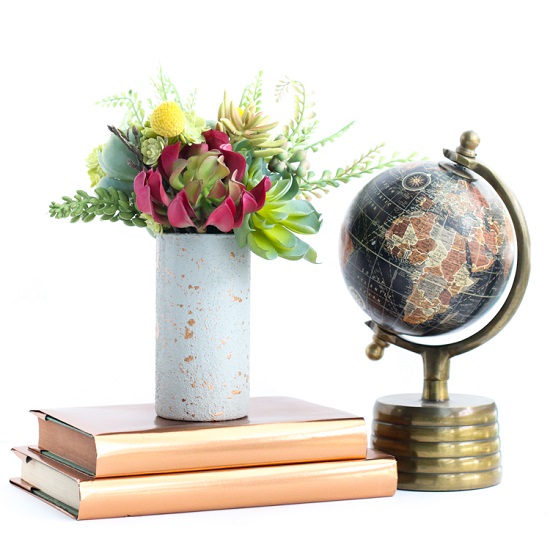 Supplies
Faux Concrete Paint Effect
Glass Vase
Liquid Gold Leaf Paint
Paint Brush
Faux Succulents / Vase Filler of Your Choice
Why spend money on faux concrete vases when you can get the same look with your ordinary glass jars and splattered gold leaf paint. Find the instructions here.
9. DIY Gold Honey Bear Vases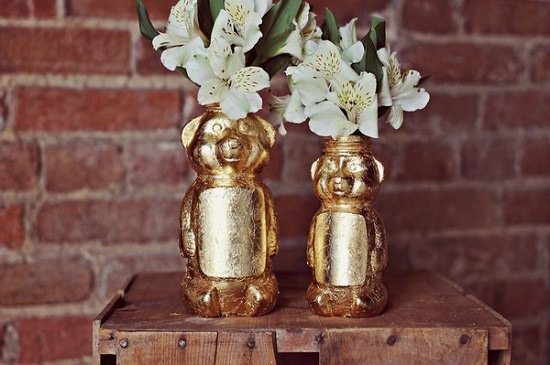 Supplies
Adhere Sheets
Honey Bottles
Gold Leaf Starter Kit
Foam Brush and Paint Brush
Sure, spray paint is magic, but for a more textured finish, consider gold leafing, like this DIYer did for giving a captivating touch to cute gummy bears.
10. Gilded Gold Glass Bud Vases
Supplies
Rust-Oleum American Accents Ultra Cover 2x
Spray Paint Metallic Bright Gold
Tombow Mono Removable Adhesive
Newspaper
All you need is a can of gold spray paint and a few newspapers to modify regular glass vases into a chic display-worthy piece. Find more details here.
11. Gold Polka Dot DIY Vase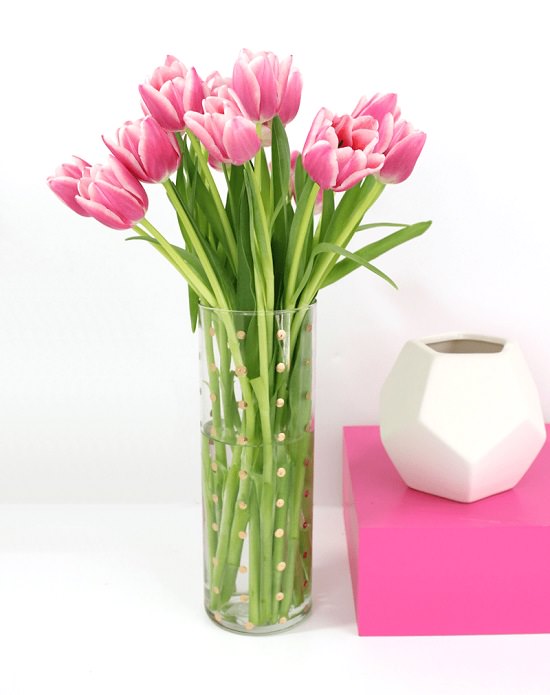 Supplies
Round glass vase
Liquid Gold paint
Q-tips cotton swabs
Graph Paper
Washi Tape
Scissors
A Marker
Sticky Tack
Embellish an old glass jar with evenly spaced gold polka dots like this DIYer did for a minimalist table decoration that complements, rather than overpowering the beauty of the flowers.
12. The Easiest DIY Painted Gold Leaf Vase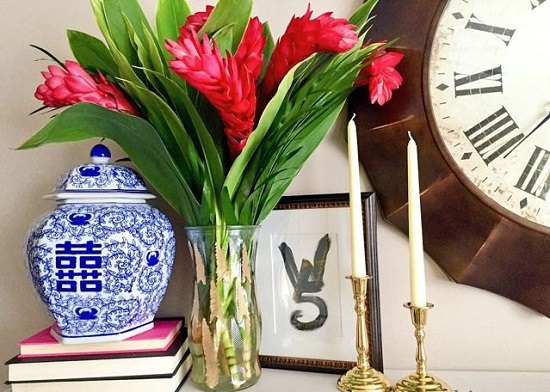 Supplies
Glass Vase
Gold Spray Paint
Flowers
Marker
This three-minute DIY is ridiculously easy to replicate and shows you how to stylize your mantel with some gold leaf, and old vase and some lush tropical flowers.
13. DIY Gold & Glitter Wedding Vases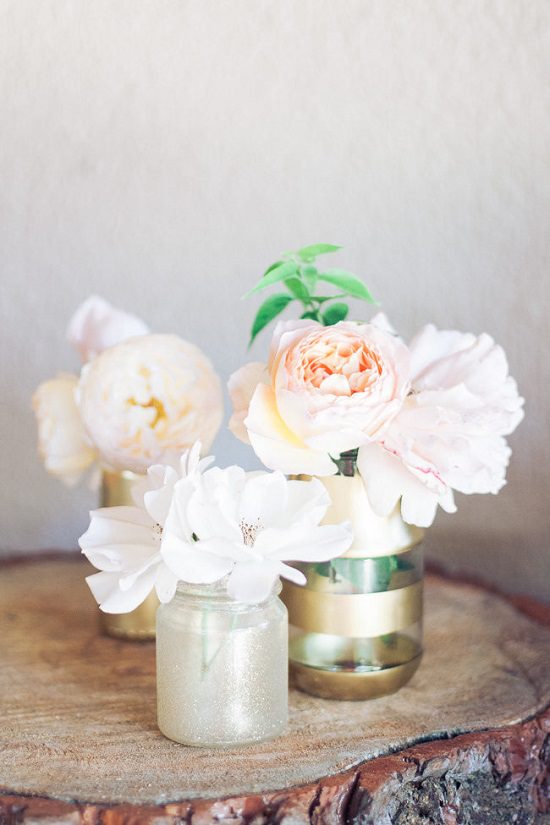 Supplies
Bottles and Jars
Metallic Gold spray
Glitter Spray Paint
Newspaper
Gloves
With gold and glitter, wonders never cease, like in this DIY, they come together to convert an ordinary bunch of bottles and jars into cute, bling vases for tabletop decoration.
14. DIY Gilded Bud Vase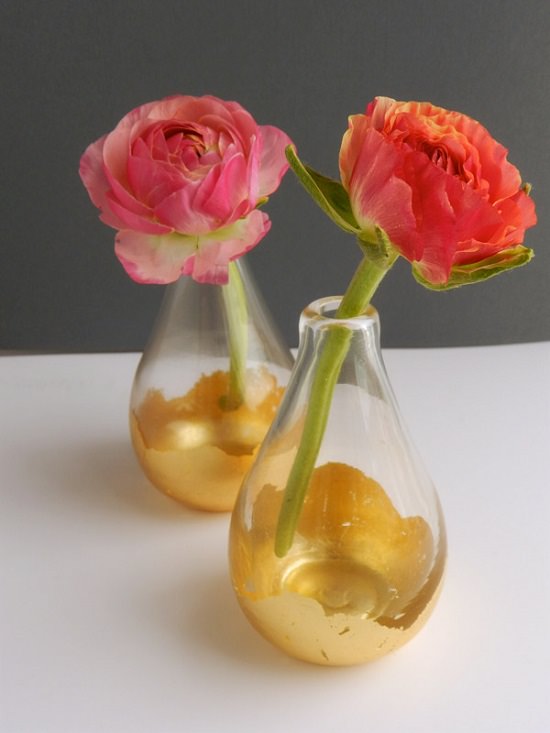 Supplies
Glass Bud Vase
Gold Leaf
Metal Leaf Adhesive Size
Metal Leaf Sray Sealer
Two Soft Paint Brushes
If you have a few favorite vases lying around that are impossible to part with, consider giving them a quick facelift with this easy gold leaf DIY.