Adding a stairway to a small home is an arduous task. Solve the issue with these creative Staircase Ideas For Small Spaces!
If your less-spacious abode doesn't let you install a stairway, this list of ingenious, space-saving Staircase Ideas for Small Spaces is for you.
Find out some staircase space decorating ideas here
---
Staircase Ideas For Small Spaces
1. DIY CNC Spiral Staircase
Make your home stand out from the rest of your neighborhood by decking it up with this unique and attractive CNC spiral staircase. DIY is here.
2. Clever Stairs For Small Spaces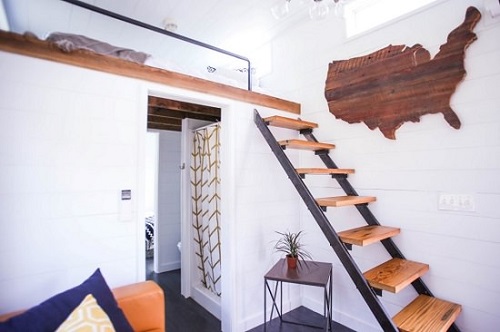 A beautiful open staircase design with space underneath looks visually appealing. If extra storage is not a concern, it's one of the best open staircase ideas for small spaces.
3. Ribbon Staircase Idea
Built with a 10mm sheet of steel folded and lacquered, this beautiful ribbon stairway is simple, unusual, and super sturdy. Not to mention, it adds a quirky and unique look to your home.
4. Floating Black Staircase
A black floating, space-saving stairway that lets the light pass through the openings is one of the excellent staircase designs for small spaces.
5. Zig-Zag Pine Box Stairs
Arrange pine boxes in a zig-zag pattern to build this work-of-art stairway. It's an economical, space-saving solution.
6. Retro Spiral Stairs
Add a retro touch to your small duplex by installing this super adorable and space-saver 60s-looking spiral staircase.
7. Thin Spiral Staircase Idea
This black-colored spiral stairway magnifies the other dark elements of the house and consumes almost little to no space. It's one of the amazing staircase ideas for small spaces.
8. Staircase with Storage
In this idea, each step is designed as a drawer to store all sorts of things, and the best part is that it works as a fully functional stairway.
9. Wooden Bookshelf Staircase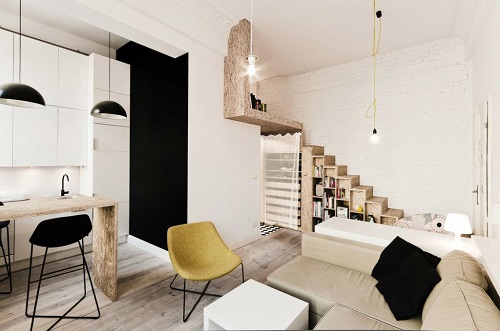 If you own an apartment equipped with a sleeping loft, this customized wood bookshelf that doubles as a staircase offers extra space and leads you to the loft easily.
10. Wireframe Staircase Idea
Takes up less space, this wireframe stairway is suitable for any room decor, thanks to its versatile neutral form.
11. Mezzanine Lighting Stairway
Looks inconspicuous and compact, this mezzanine staircase is an ideal solution for a tiny room. Plus, lighting gives the space an elegant touch.
12. Compact Staircase Designs
A neat and well-thought-out design that serves as a stairway, bookshelves, and a side table. Not to mention, every inch of its space is utilized correctly.
13. Wooden Spiral Staircase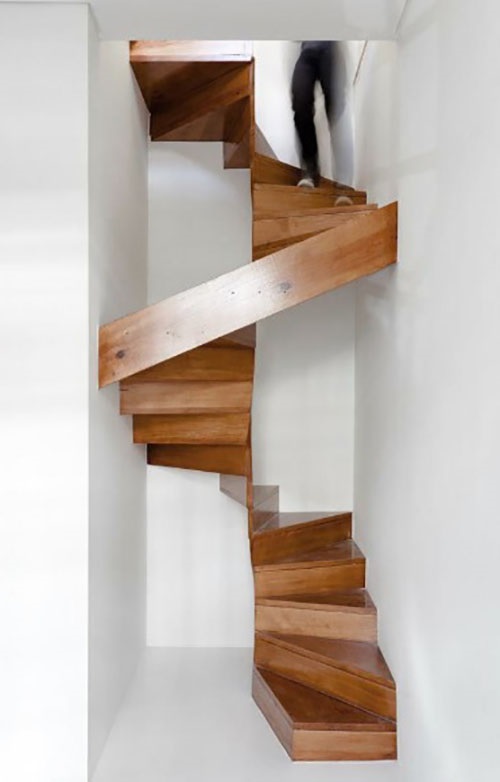 This wooden spiral staircase looks solid and full of character. Most importantly, it's sturdy and fits in a small corner with ease.
14. Skeletal Staircase Design
Another modern, space-friendly stairway design, in which steps are attached to a single base rather than building a whole frame.
15. Vintage Steep Staircase Idea
Another one of the fantastic staircase designs for small spaces equipped with a few drawers and storage underneath. It's ideal for a small beach house.
16. DIY Folding Stairs

Assemble this retractable staircase using plywood, hinges, pistons, tools, and woodworking skills. It lets you save the most space possible.
17. Black Alternating Tread Stairs
An industrial-looking, black-colored stairway with alternating treads works like a charm in a less-spaced apartment.
18. Floating Staircase Idea
A floating stairway attached to the wall consumes almost zero room space. It's one of the brilliant staircase ideas for small spaces on this list.
19. Modern Alternating-Tread Staircase
This stairway, with an unusual design, barely takes up your precious square footage. Furthermore, you can stack your books or use the under space to store anything you like.
20. Winding Staircase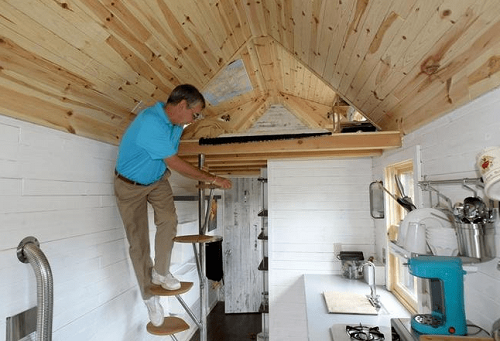 A fun and unique element like this guitar-shaped staircase can completely transform a small house.
22. Loft Modular Alternative Tread Stairway

The industrial-themed loft stairway in this video is perfect for apartments with less floor space.
23. Super Vertical Staircase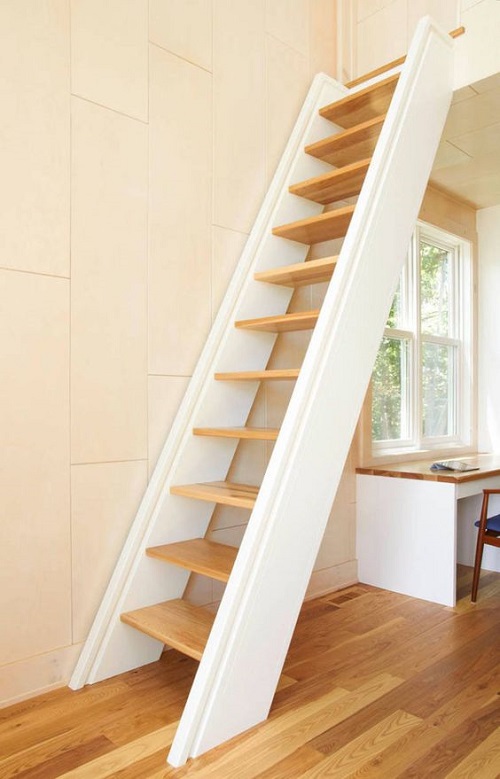 This compact and minimalistic vertical stairway with a wooden texture makes it a must-have for compact spaces.
24. Red Spiral Staircase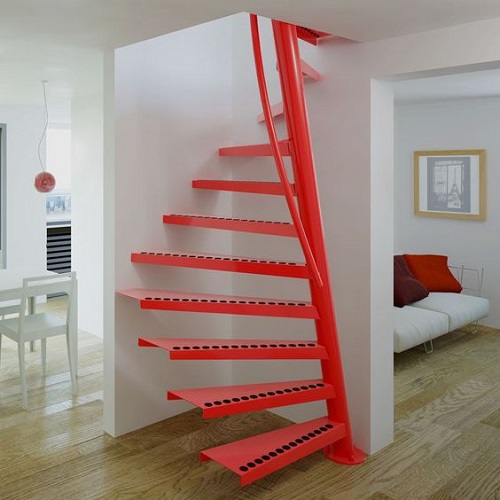 This striking spiral staircase adds drama and character to the living area while hardly occupying any space.
25. Interlocking Small Space Stairs Design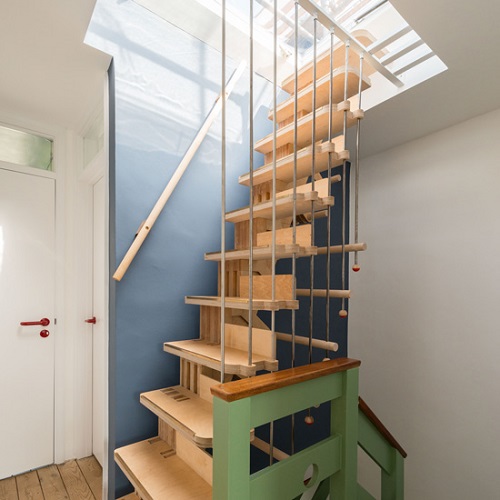 Here is another one of the best staircase ideas for small spaces featuring interlocked birch plywood, birch dowels, and steel rods.
26. Staggered Wooden Stairs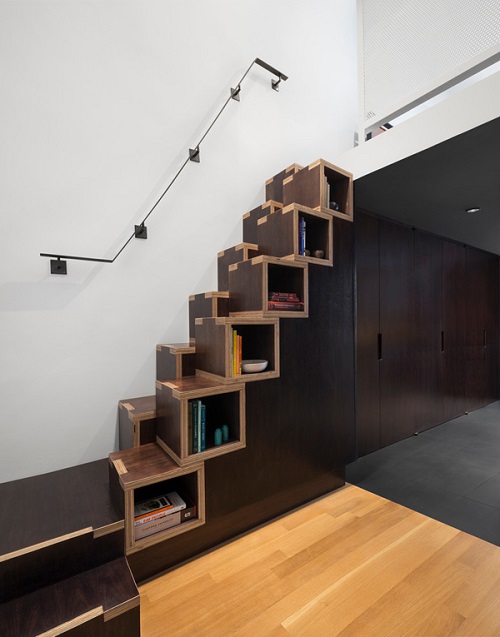 Thanks to the cubby-like shape, this staggered wooden stairway consumes less space and lets you organize other stuff.
27. Paddle Staircase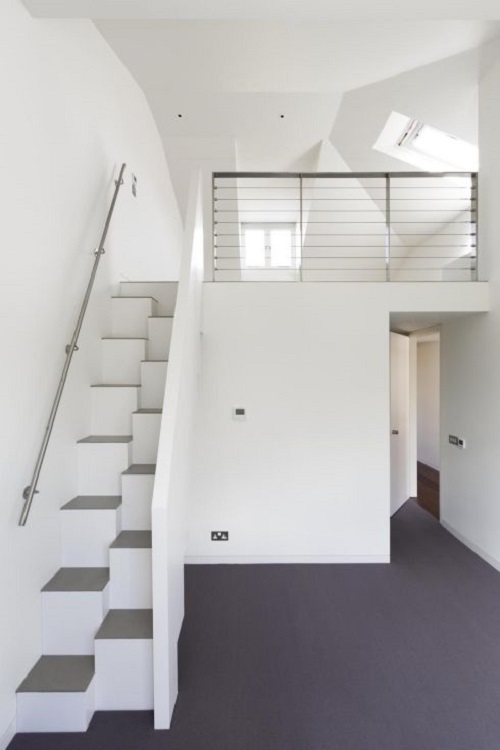 Save your precious floor space with this paddle staircase featuring tile-topped treads for color and texture. It's one of the fantastic staircase ideas for small spaces.
28. Red Steel Staircase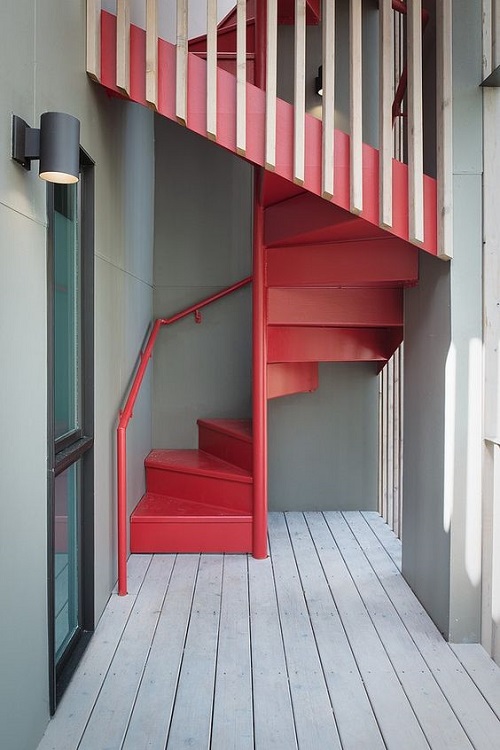 This red steel stairway adds a pop of color and serves the purpose quite well in a less spacious residence.
29. Upholstered Stairs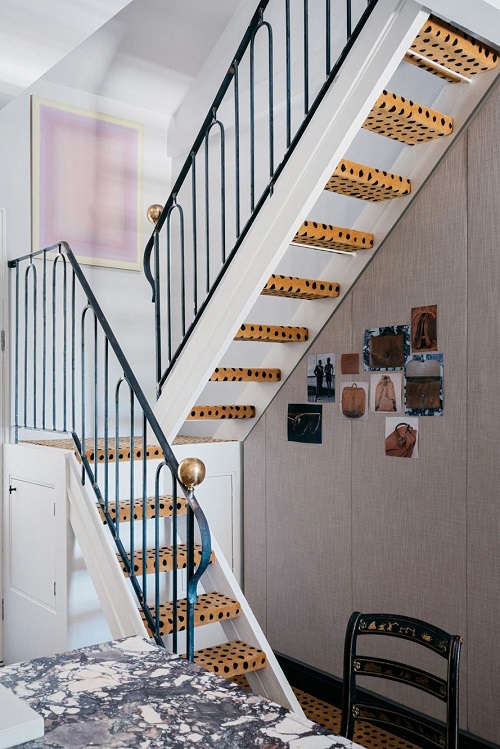 The gold baluster ornaments and the upholstered stair steps make this space-saving staircase modern and safe to climb.
30. Floating Red Stairway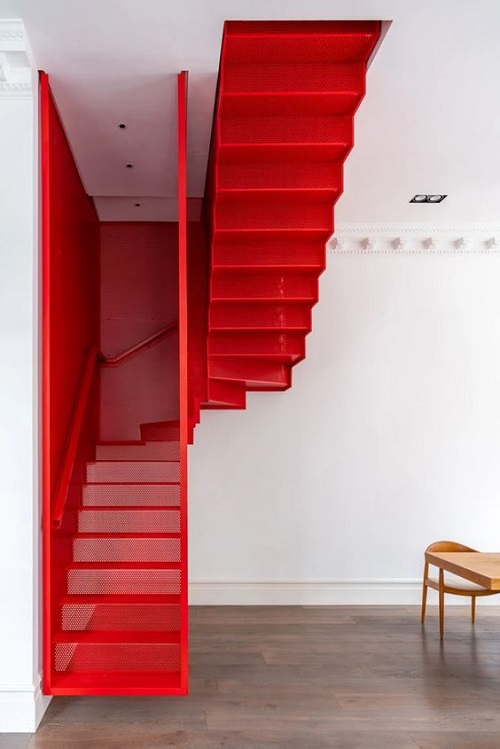 Give your home interior an aesthetic and functional boost by installing this antique corkscrew spiral stairway.
32. Perforated Staircase
Elevate the look and feel of your less spacious apartment with this blue perforated stairway. You can make this beauty either with plywood or any other wood.
33. Walnut Treads Levitating Staircase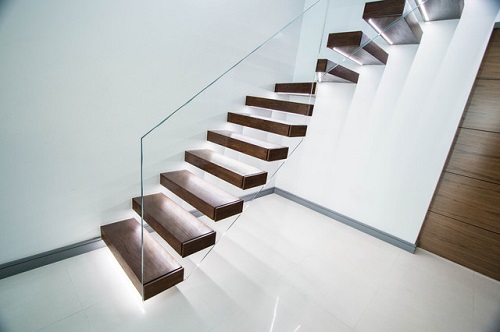 Featuring LED lights, this floating stairway has walnut treads and a glass panel. It's one of the most amazing staircase ideas for small spaces.
34. Tiny Home Staircase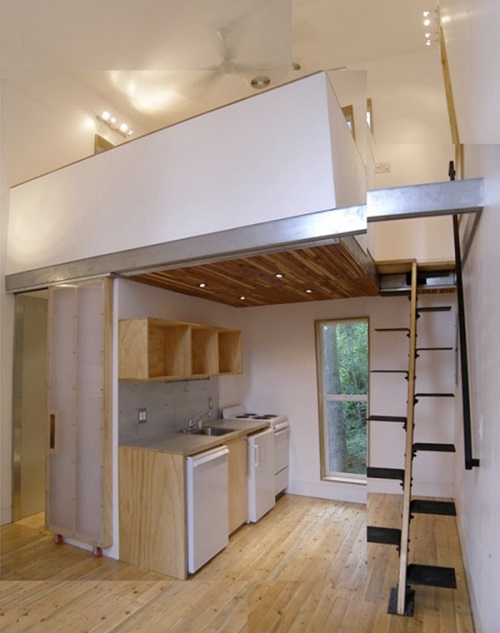 Made from wood and metal steps, this compact stairway is designed for tiny homes to reach lofts.
35. Double-Duty Spiral Staircase Design

Swap your existing staircase with this spiral one that unwinds with a single button. It saves space and gives multiple storage options.
36. Staircase with Wooden Handrail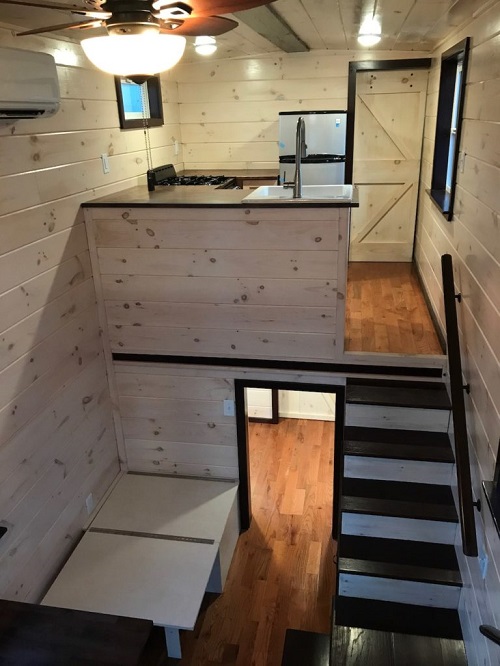 Inspired by the tansu chests reinforced with steel and plywood, this custom Japanese-style staircase is equipped with drawers and cabinets.
41. Skateboards Staircase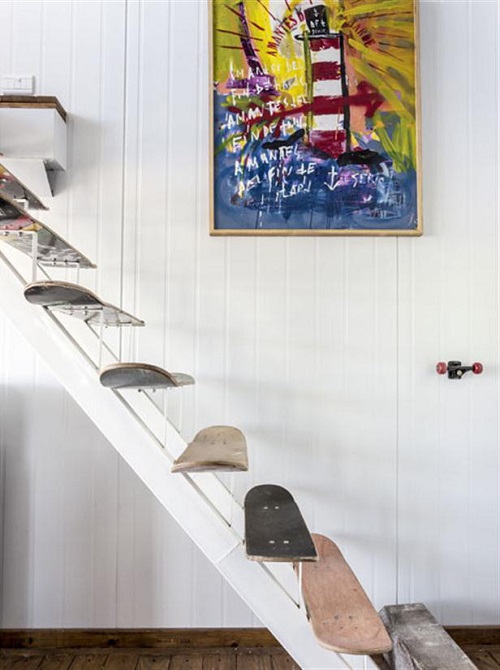 Give your home a focal point by putting together a stairway with skateboards and aluminum or wooden beams.
42. Staircase for Ultra Tiny Home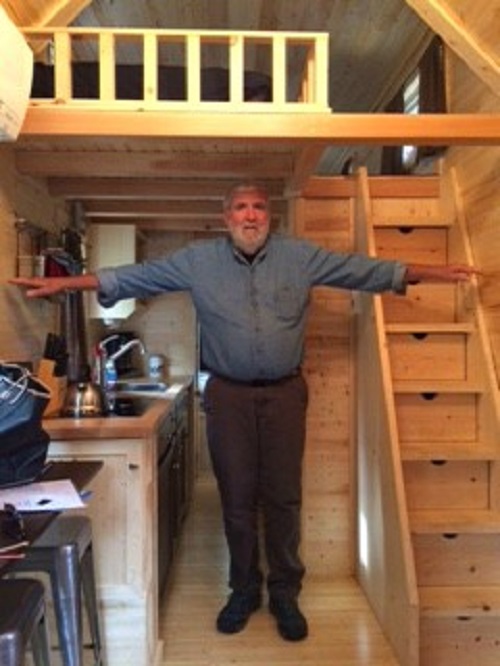 This staircase also doubles up as a shoe rack is ideal for the tiniest homes with tight floor space and a very low ceiling.
43. Dovetailed Staircase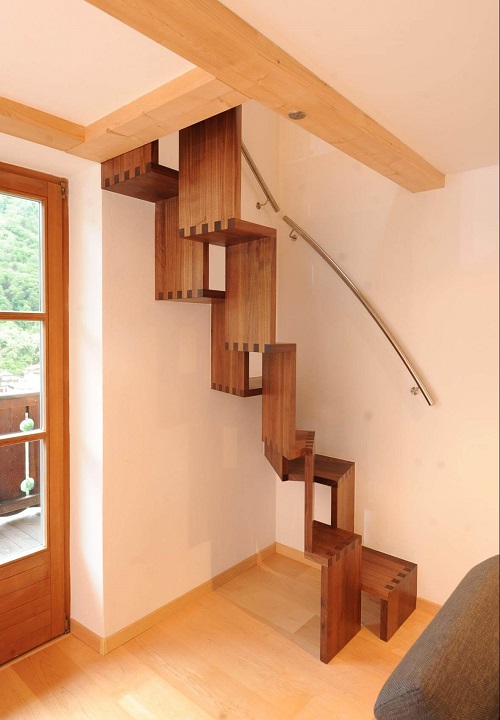 A compact, staggered stairway assembled by the dovetail method, makes it sturdy, and the handrail stops you from tumbling down. It's one of the great staircase ideas for small spaces.
44. Elegant Spiraling Staircase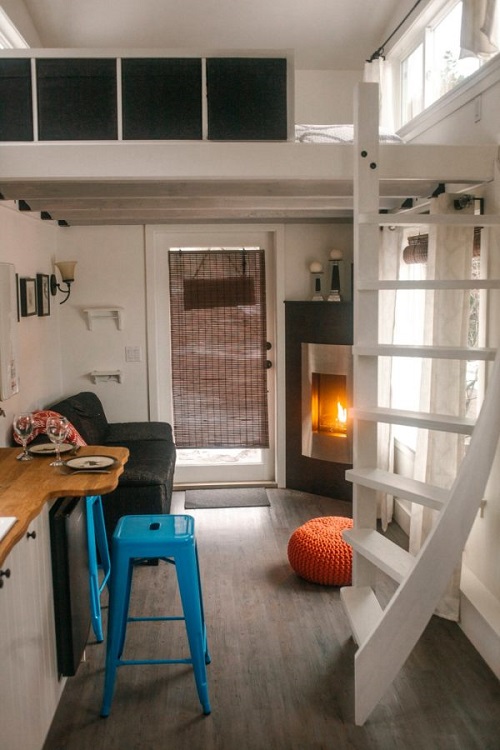 Here's the DIY that'll help you make an elegant, white-hued spiraling stairway to reach the loft of your tiny dwelling.
45. Retractable Welded Aluminum Staircase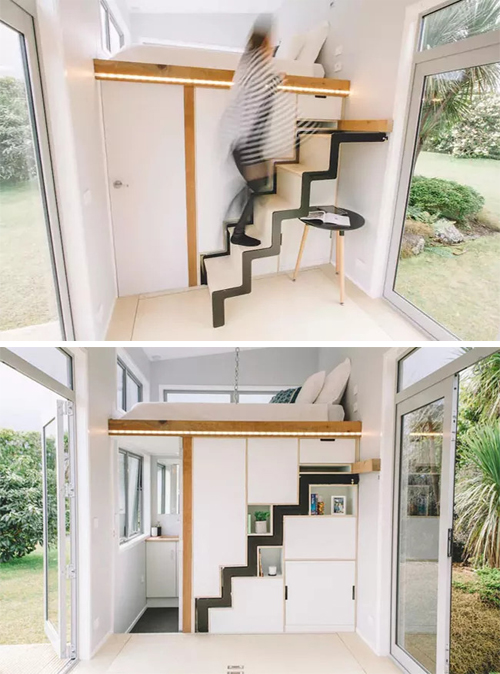 This retractable staircase interleaves into the wall, thus becoming an outstanding space-saving solution for super tiny homes.
46. Tree Trunk Staircase Idea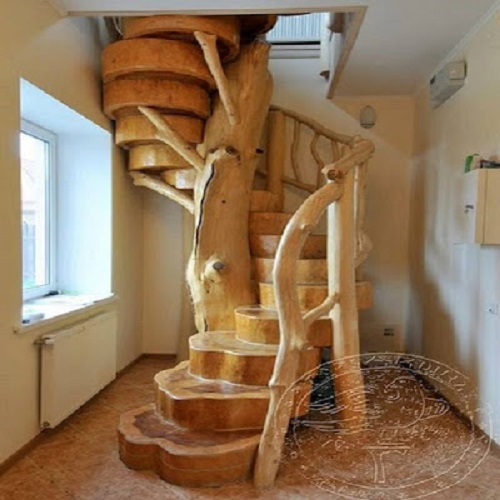 If you love everything earthy, hire a professional to build this sculptural tree trunk stairway, perfect for dwellings with less horizontal space.
47. Staircase with Natural Touch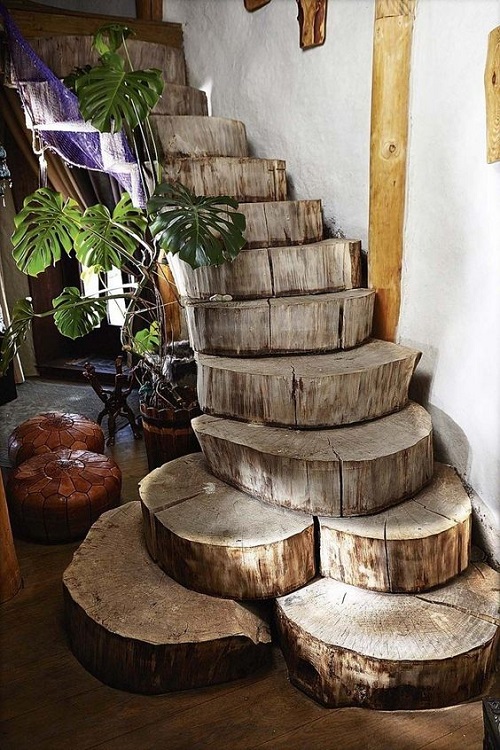 Bring nature indoors by installing this staircase made from wooden logs. Add planters to amp up the wow factor.
48. Double Helix Circular Staircase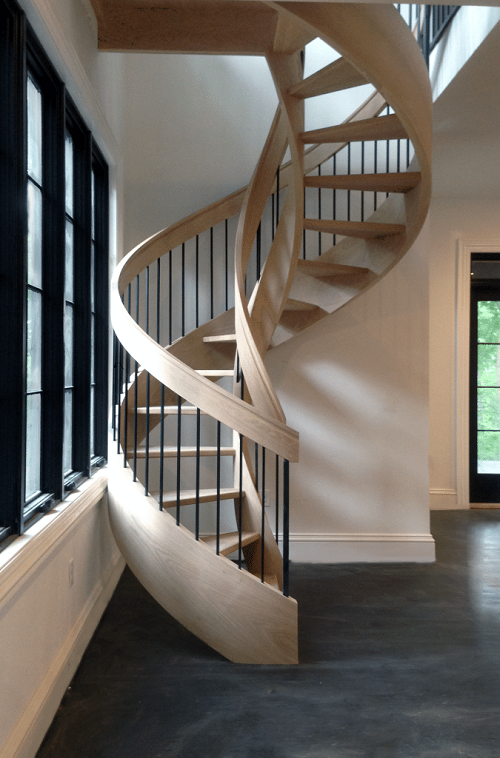 This curvy double helix circular stairway featuring a handrail, stringers, treads, and iron balusters has a small footprint and a gorgeous look.
49. Helical Space Saver Staircase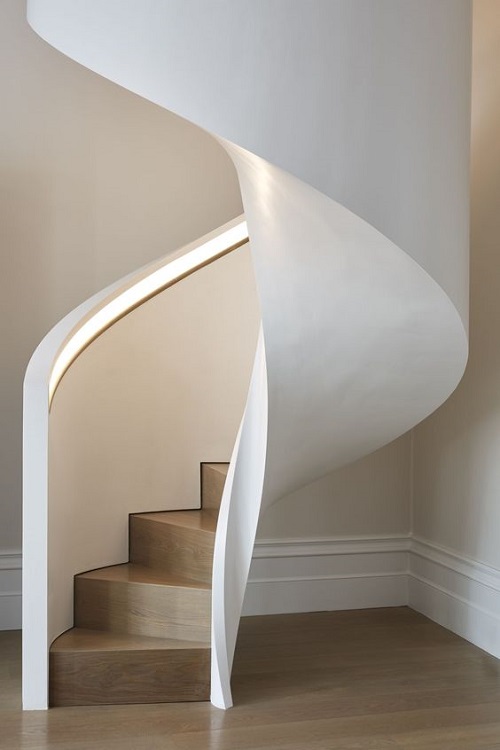 This slim helical stairway is highlighted with LED lighting and a recessed oak handrail. It uses oak treads and risers with a sculptural soffit.
50. Minimalist Staircase

Did you spot the staircase in this tiny residence? As the stairs are made from the same material as the wall, the stairway is almost unnoticeable.
51. DIY Wooden Staircase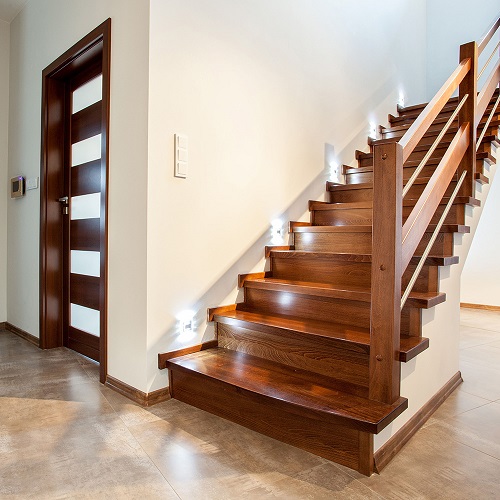 This wooden stairway will dramatically amp up the look and feel of your less-spacious home. Get the tutorial here.
52. Eye-Catching Golden Spiral Staircase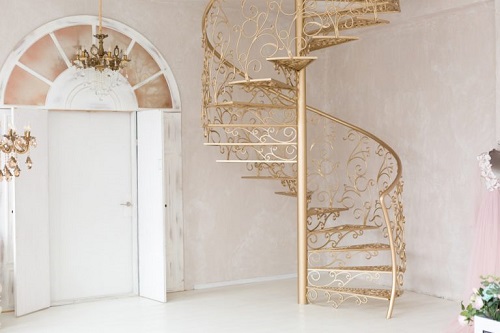 This eye-catching gold-hued spiral stairway is best for apartments where space is at a premium. It's one of the fantastic staircase ideas for small spaces.
Here are some staircase wall decor ideas