Adding a staircase to a small apartment is an arduous task, that's why unique and creative solutions are needed. Here're some staircase ideas for a small space!
1. DIY CNC Spiral Staircase
Make your home stand out from the rest of your neighborhood by decking it up with this unique and attractive CNC spiral staircase. DIY is here.
2. Stairs For Tiny Spaces
A beautiful open staircase with a room underneath looks visually appealing and spacious. If a bit of extra storage is not a concern, then this idea is for you.
3. Ribbon Staircase Idea
Build with a 10mm sheet of steel folded and lacquered, this beautiful ribbon staircase is simple, unusual, and super sturdy. Not to mention, it adds a quirky and unique look to your home.
4. Floating Black Staircase
A black floating staircase that doesn't use much space and lets the light pass through the openings is one of the best staircase ideas for a small space.
5. Zig-Zag Pine Box Stairs
Arrange pine boxes arranged in a zig-zag pattern to build these amazing and work-of-art stairs. It's an economical, space-saving solution for compact space.
6. Retro Spiral Stairs
Add a retro touch to your small duplex by installing this super adorable and space-saver 60s-looking spiral staircase.
7. Thin Spiral Staircase Idea
This black colored spiral staircase magnifies the other dark elements of the house and consumes almost little to no space.
8. Staircase with Storage
In this idea, each step is designed as a drawer to store all sorts of things, and the best part, it works as a fully functional staircase as well.
9. Wooden Bookshelf Staircase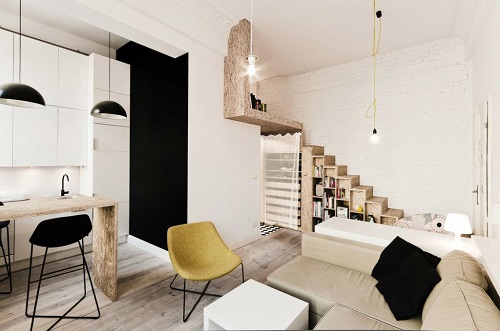 If you own an apartment equipped with a sleeping loft, this customized wood bookshelf that doubles as a staircase offers extra space and leads you to the loft easily.
10. Wireframe Staircase Idea
Takes up less space, this wireframe staircase is suitable for any room decor, thanks to its versatile neutral form.
11. Mezzanine Lighting Staircase
Looks inconspicuous and compact, this mezzanine staircase is an ideal solution for a tiny room, plus lighting gives the space an elegant touch.
12. Compact Staircase Design
A really neat and well thought out design that serves as a staircase, bookshelves, and a side table too. Not to mention, every inch of its space is utilized correctly.
13. Wooden Spiral Staircase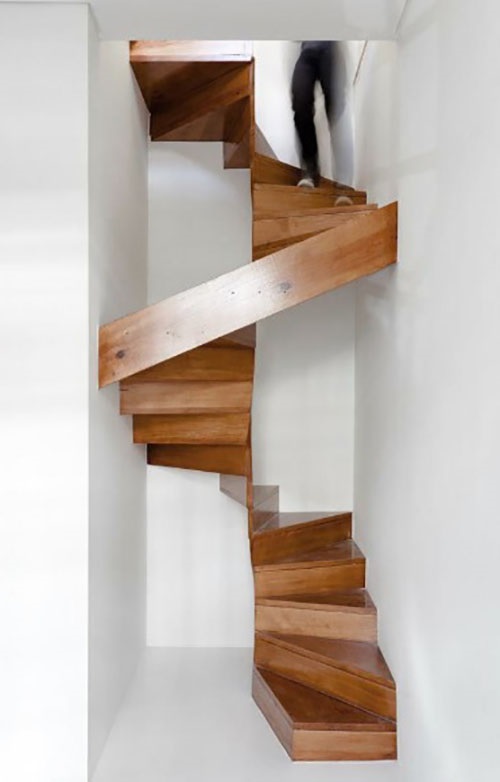 This wooden spiral staircase looks solid and full of character. Most importantly, it's sturdy and fits in a small corner with ease.
14. Skeletal Staircase Design
Another modern, space-friendly staircase design in which steps are attached to a single base, rather than building a whole frame.
15. Vintage Steep Staircase Idea
Ideal for a small beach house, this vintage-looking steep staircase is equipped with a few drawers and small storage underneath.
16. DIY Foldable Compact Staircase
Assemble this retractable staircase using plywood, hinges, pistons, tools, and some serious woodworking skills. It lets you save the most space possible.
17. Black Alternating Tread Stairs
An industrial-looking, black colored staircase with alternating treads works like a charm in a less spaced apartment.
18. Floating Staircase Idea
A floating staircase attached to the wall consumes almost zero space of a room. This is the best staircase idea for a small space on this list.
19. Modern Alternating-Tread Staircase
This staircase with an unusual design is a minimalist, ultra space-saving solution that barely takes up your precious square footage. Furthermore, you can stack your books or use the under space to store anything you like.
20. Winding Staircase
Being a tiny house owner, using a staircase inside the space is unimaginable. With this fantastic winding staircase idea, you can do all the necessary chores seamlessly.