Check out these eye-catching Staircase Space Decorating Ideas to make your home interior highlighted on a budget!
If you are looking for easy and affordable options to spruce up your stairway appearance, look at some Staircase Space Decorating Ideas listed below!
Find out staircase ideas for small space apartments here
---
Staircase Space Decorating Ideas
1. Peel and Stick Wallpaper for Stair Risers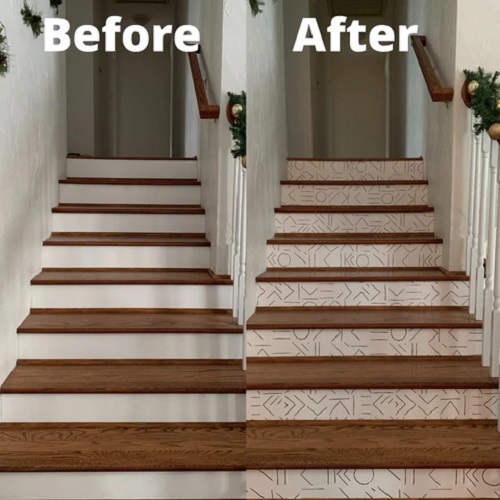 Installing peel and stick wallpapers on the stair risers is an easy way to elevate the staircase look. The details are here.
2. Plants, Plants, and Plants!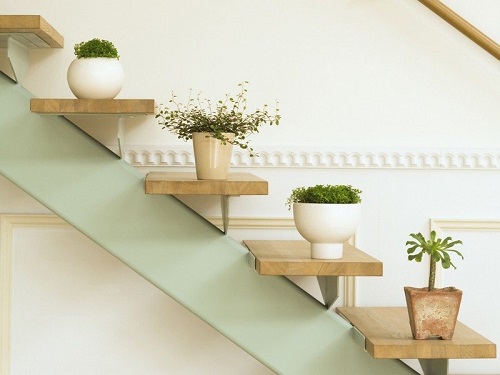 Place some planters on the staircase to add character and visual interest. People with a green thumb will love this decor idea.
3. Mosaic Stair Risers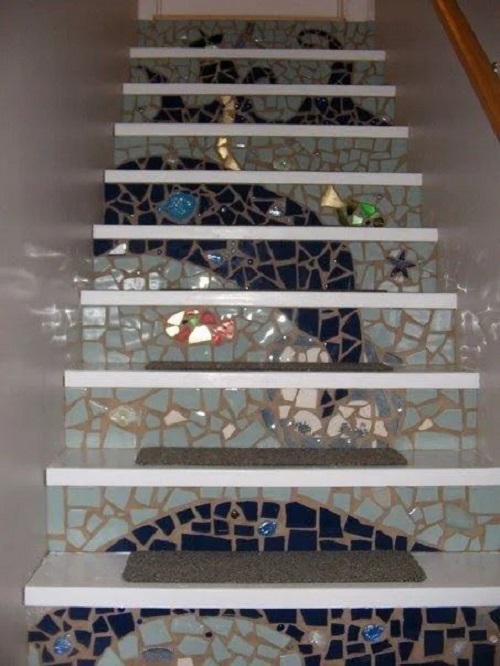 Follow this instructable to turn your stairs into a conversation piece using the mosaic technique. It's one of the best staircase space decorating ideas on this list.
4. DIY Rope Stair Railing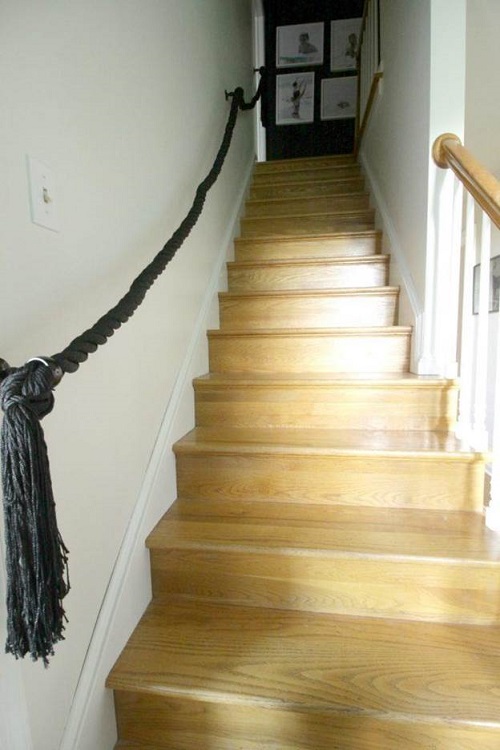 Bring the coastal vibe indoors by DIYing this rope railing for your staircase. The instructions are here.
5. Out-of-The-Box Staircase Wall Decor Idea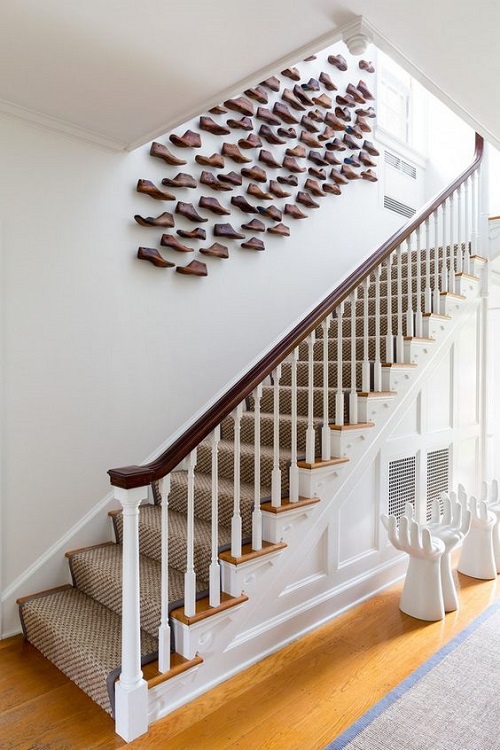 Give style and attention to the lonely staircase by attaching a dozen shoes or sandals to the wall.
6. DIY Chevron Stairs
If you love everything chevron, this unique staircase is perfect for you. The details are here.
7. Halloween Staircase Decor Idea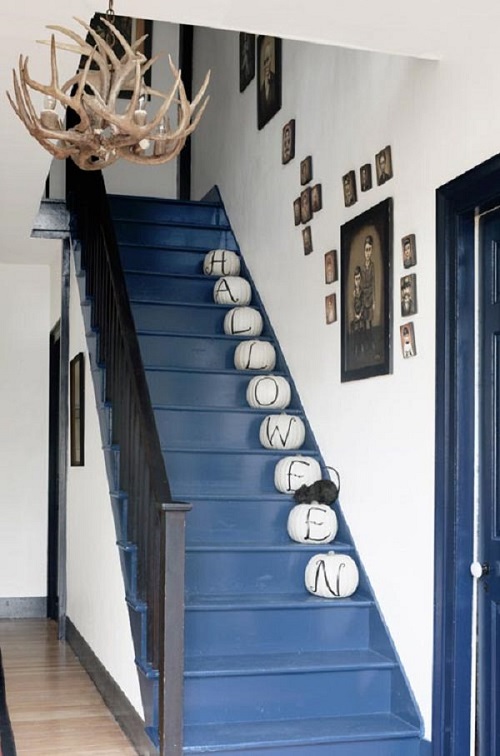 Looking for a last-minute Halloween decor idea for your stairway? Simply line up a few white pumpkins on the steps and write Halloween on them. Include a black rat toy for added spookiness.
8. Art Display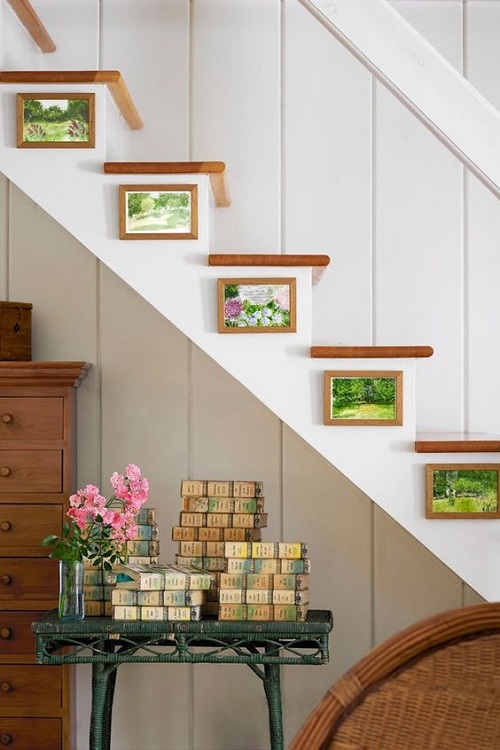 Displaying beautiful art on the staircase stringer is an easy and quick way to add some charm to the space.
9. Paint the Staircase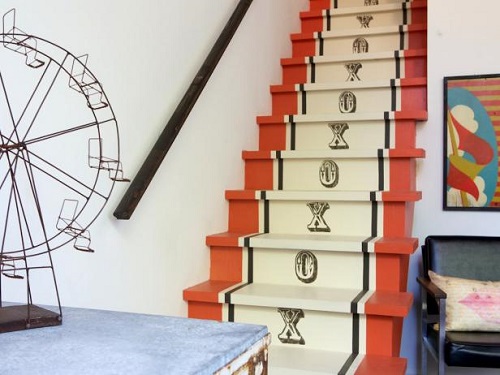 Learn how to decorate a wooden staircase with paint and a fun 'X-O' pattern using this tutorial.
10. Chandelier and Mirror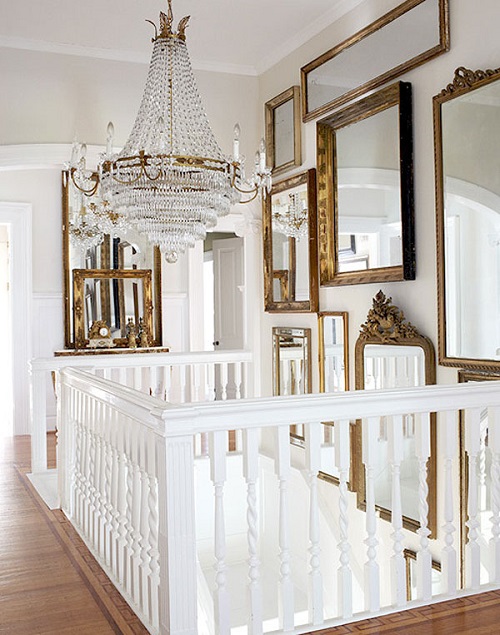 Adorn your drab staircase space with a lovely chandelier and a few gold-painted mirrors for a luxe look.
11. "Presents" Christmas Staircase Decoration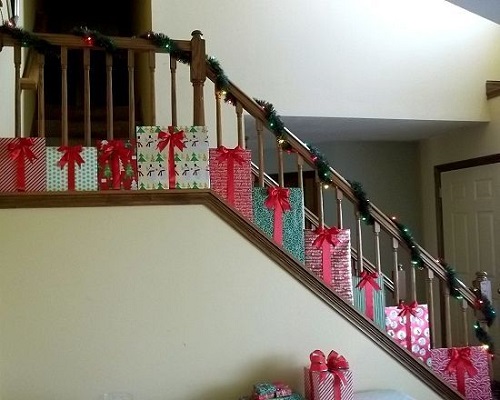 This Christmas, prettify your staircase with lots of presents and an evergreen garland. Read this article to know more.
12. Dog Portraits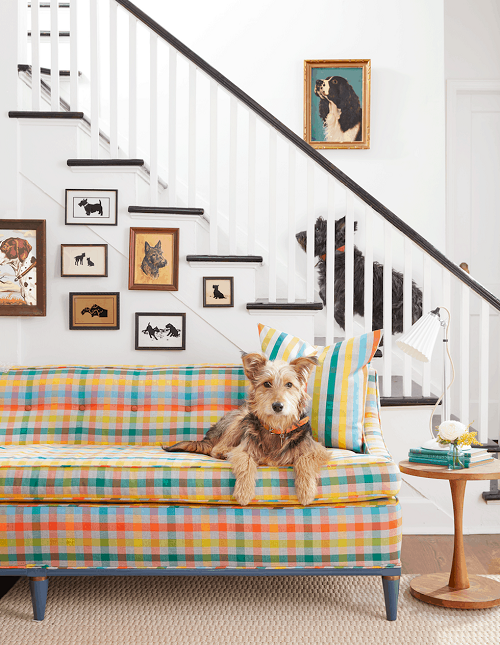 Embellish the staircase space with canine silhouettes and portraits to show love for your four-legged friend.
13. Washi Tape Decorated Stairs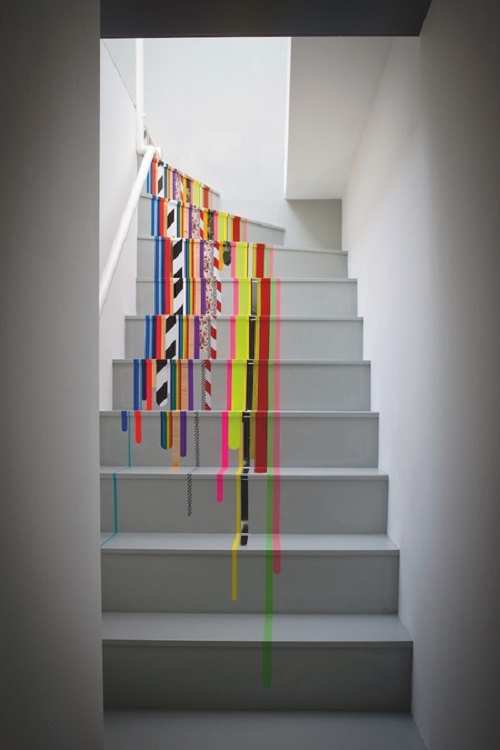 Mimic this spilled paint look on your stairway with washi tape from this tutorial.
14. Farmhouse Stairs Decoration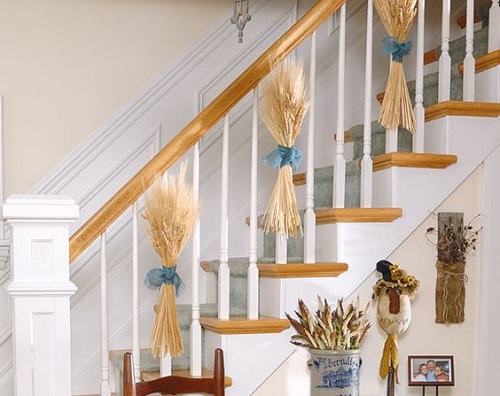 Attach dried wheat bundles on the stairway banisters with a colorful ribbon to get instant farmhouse appeal.
15. Vintage Candle Holders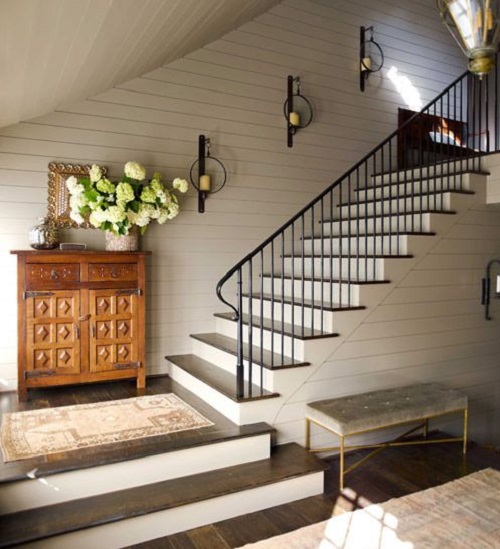 Hang a couple of old candle holders on the staircase wall for a vintage touch.
16. DIY Stair Runner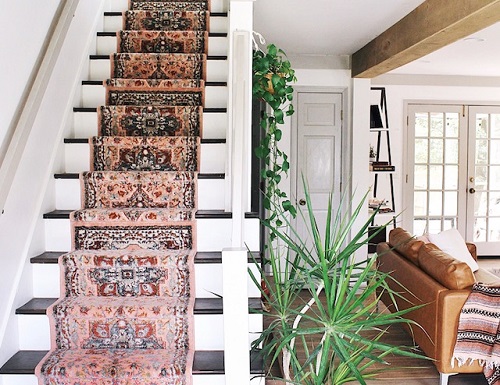 DIY this chic stair runner to turn your staircase into a stylish focal point. Hop on to this tutorial to know more.
17. Display American Flag
Fill the place with patriotic vibes by hanging framed American flags on the stairway wall.
18. A Gold-Painted Metal Planter and Modern Wall Art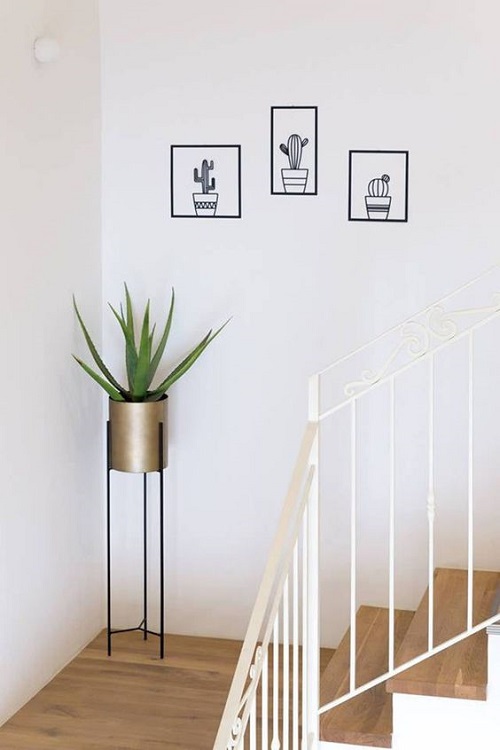 Introduce a gold-painted succulent planter and modern wall art to take your staircase decor game to the next level.
19. Introduce Lanterns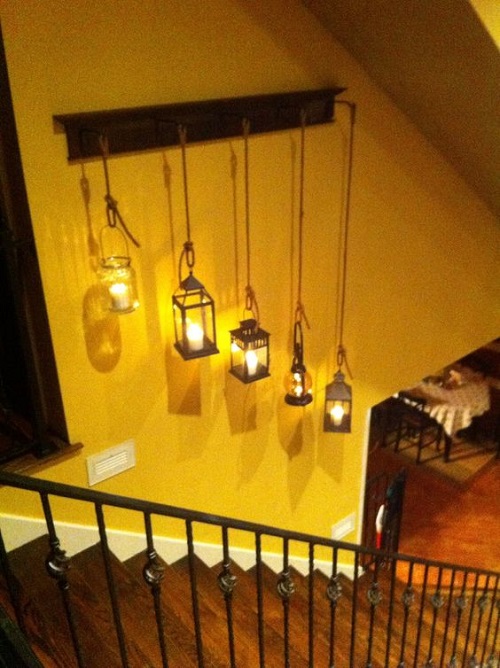 All you need is jute rope, 4" plant hooks, lanterns, and old window molding to recreate this beautiful stairway wall display.
20. Jack o' Lantern Stairway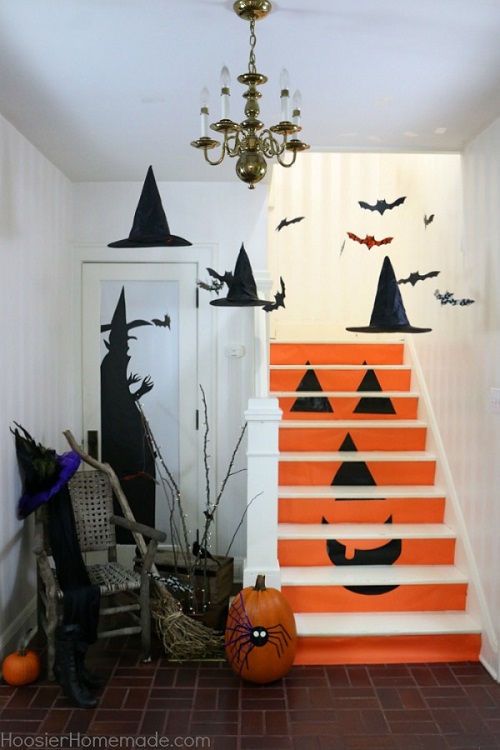 The jack o' lantern steps, pumpkins, bats, and witch hats make a spooktacular Halloween staircase decor. Read more here.
21. Stair Decal Easy Makeover
Check out this video to decorate your dull staircase with a beautiful decal. The best part, there are endless decal options to choose from.
22. Wow With Wallpaper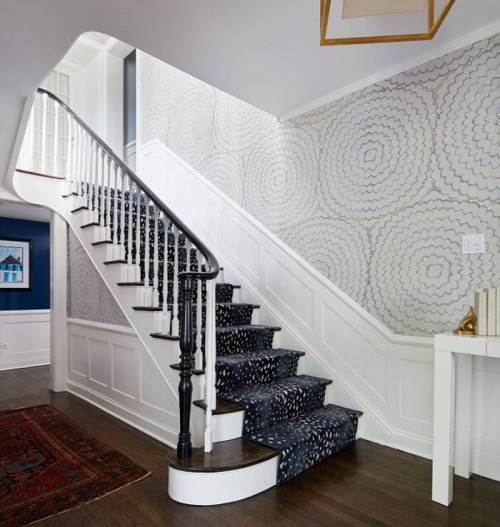 Liven up your staircase wall with swirling patterned, silver, and blue wallpaper that complements the white chair rail quite well.
23. A Round Mirror with Potted Plants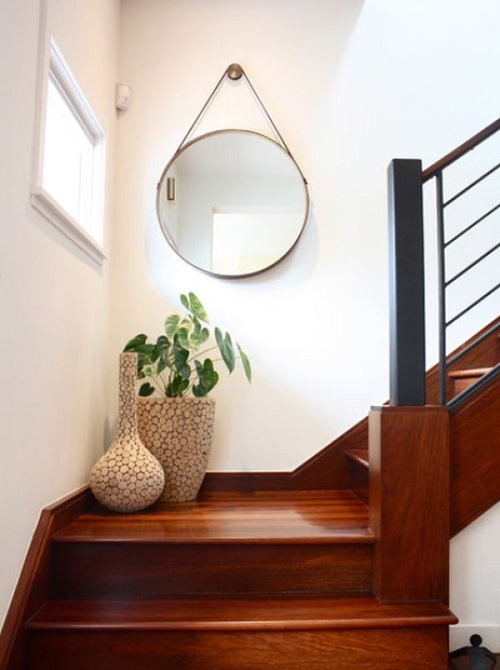 Use a large round mirror and two stylish potted plants to transform the staircase landing area into an attractive spot.
24. Canoe Wall Art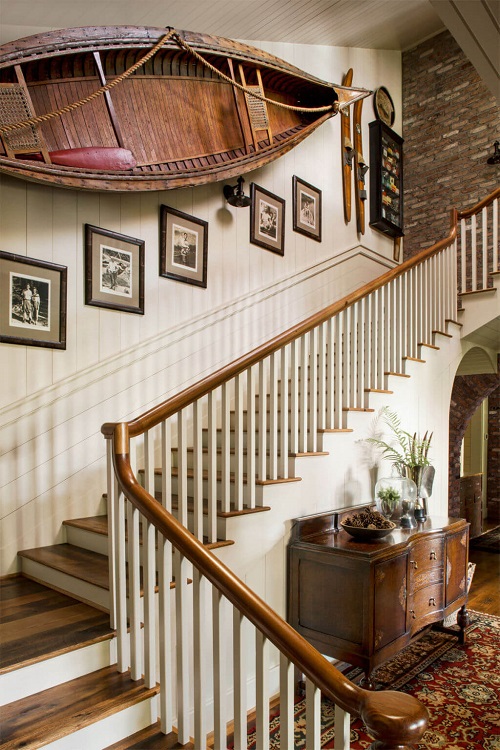 The statement-making canoe boat, vintage skis, and black-and-white family photos make this staircase more appealing.
25. Family Photo Gallery Wall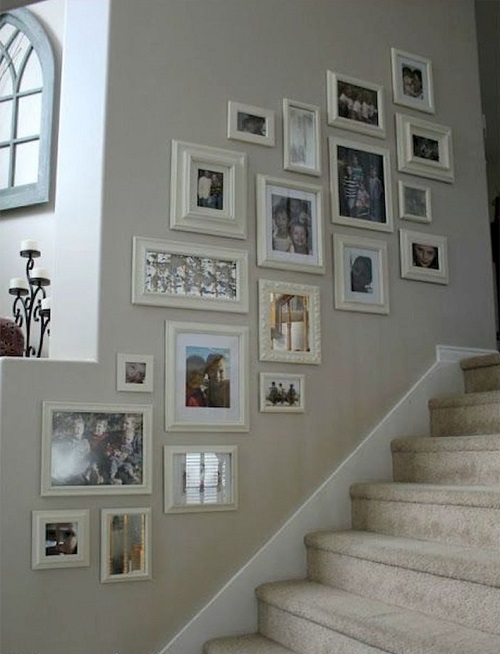 Add a wow factor to your boring stairway wall by converting it into a family photo gallery. The details are here.
Check out some staircase wall decor ideas here