Liven up your bland living space decor by DIYing this cute Modern Triangle Mobile hanging using this article!
I've been trying to use up a lot of the craft supplies I have piling up in the closet. I feel so guilty about getting new stuff when I know how much isn't being used at home. I had some great scrap paper leftover from a DIY I did during the Christmas holidays, so I decided to use the leftover paper to make Modern Triangle Mobile.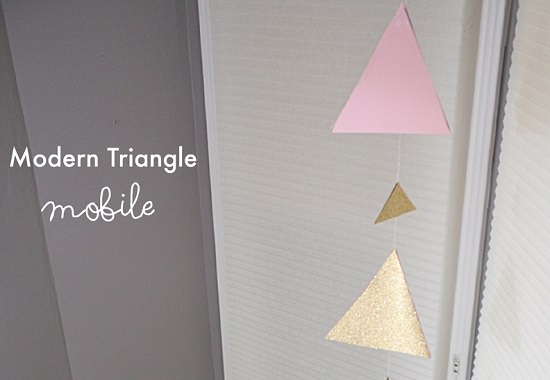 Modern Triangle Mobile
I decided to make something a little out there! I am loving the geometric fad I see going around lately! Specifically, triangles. I just bought my little girl the most adorable leggings from Target with triangles on them! I also whipped up some pretty fun triangle pillows last week as well! This fabulous shape is everywhere! I put together a fun little triangle mobile just to have as a conversational piece in the home. I might even hang it in our little girls' room since it is very girly!
What you will need
Various colors of scrap paper
Scissors
Twine
Tape
Cut your scrap paper into triangles. You will be using three pieces per section to create a 3D mobile. Tape your 3 pieces together to shape a triangle. Repeat with as many triangles as you would like on your mobile. It can be as big or as little as you would like! Take your twine and pull through the tops of all the triangles so they begin to stack above one another. You can tape the twine at the very top of the inside of each triangle to prevent them from sliding and staying in place. I created little gold triangles as well to add in between! The scrap paper I bought had a sticky backing, so I just cut a triangle and placed the twine in between them both so they would stick together. Once you are done, hang it where ever you would like! This is just a little something different you can create with all that scrap paper hanging around the house!
Ok, so I know this is totally weird! What do you think? I just thought it was fun to create something a little unusual and not be afraid if it turns out horribly ugly or pretty cool. DIYs should be fun no matter what you do! You can make something totally random or completely on purpose. As long as you are being creative and having fun doing it! Let your imagination run free once in a while!