Rosemary has so many uses in the kitchen but did you ever thought of using it in other ways? Here are 21 unconventional household uses for rosemary. You'll start to love this aromatic herb even more!
What Is Rosemary?
Rosemary is a small perennial plant of the mint family. Local to the Mediterranean, it has needle-shaped foliage with different colored blooms. It's used for culinary, cosmetics, and medicinal purposes. Rosemary essential oil, which is touted to have numerous therapeutic properties, is also obtained from the rosemary plant.
Without any further ado, let's find out the multitude of household uses for rosemary below.
Household Uses for Rosemary
1. Air Freshener
Enriched with a strong herbal aroma, rosemary is an excellent herb to remove those pungent odors from your house. All you need is water, rosemary essential oil, a spray bottle, and a sprig of fresh rosemary to make a handy air freshener spray. Check out this tutorial to make one for yourself.
2. Wreath
Kill two birds with one stone by creating rosemary wreaths and Christmas trees that not only spruce up your home decor but also fill your house with its fresh aromatic scent. Place them strategically throughout your home in this upcoming holiday season.
3. Bath Salt

Bath salt offers a long list of health benefits, and not to mention, the homemade one is inexpensive too. So why not create your own aromatic bath salt? Rosemary is used in bath salt because of its subtle scent that makes you relax and smell fresh. Go through this DIY to create rosemary bath salts.
4. Clothes Dryer Sachets
No need to waste your money on store-bought dryer sachets when you can make a lot of them at home inexpensively. These rosemary-infused small sachets give a wonderful smell to your freshly washed clothes. Just take a look at this detailed step-by-step tutorial.
5. Lemon Rosemary Potpourri
Make your place smell citrusy and good by preparing this lemon rosemary potpourri. With the citrusy scent of lemon and the distinct aroma of rosemary, this potpourri works like a charm. Sliced lemons, sprigs of rosemary, water, and this tutorial is all you need to make it.
6. Glorious Granita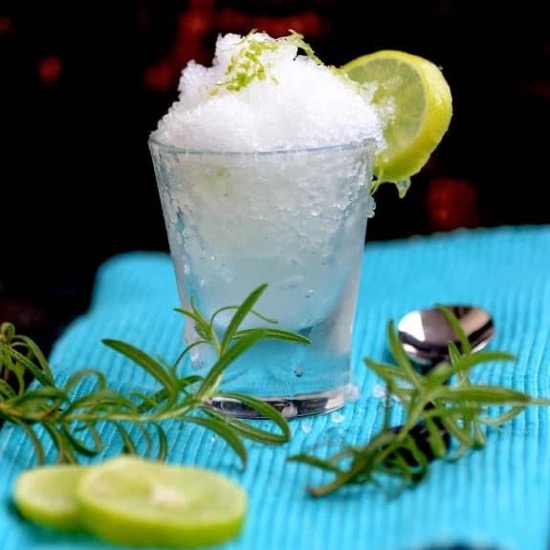 Looking for an easy to make granita recipe? Look no further, as we present to you the most delightful lemon and rosemary granita. It could be a fantastic icy treat for your family and friends on a hot summery day.
7. Rosemary Body Lotion
People living in cold climates are prone to rough, dry skin. Combat this issue by DIYing rosemary body lotion that makes your skin soft, supple and also gives a healthy, even glow. Furthermore, rosemary essential oil has antimicrobial and antiseptic properties as well.
8. Rosemary Pesto
With pronounced lemon-pine flavor, a bitter and somewhat astringent taste, rosemary is a go-to ingredient to make a flavorful pesto. Adding fresh leaves of thyme will enhance the pesto's overall zest to a whole new level of awesomeness.
9. All-Purpose Cleaner
Rosemary has different uses, but this list is incomplete without mentioning its cleaning and disinfection abilities. It's all possible because of rosemary's antifungal, antibacterial, and antiseptic properties. Rather than buying one, DIY your own using this tutorial. This cleaning solution is not suitable for granite, marble, and other porous stone surfaces.
10. Natural Deodorant
Give up your chemical-filled deodorants and try this homemade natural rosemary deodorant. Made with coconut oil, lemongrass, and rosemary essential oils, this cheap and non-toxic deo works like a charm. Take inspiration from this detailed DIY.
11. Rosemary Jelly

Fond of jelly? Try this quite and flavorful jelly recipe, infused with the goodness and savory flavor of rosemary. Make this homemade rosemary jelly with minced rosemary, apple cider vinegar, water, sugar, and fruit pectin.
12. Fresh Rosemary Lemonade
Make your traditional lemonade look more delicious with rosemary. Before serving lemonade, garnish with fresh rosemary leaves to complete the look. Follow this link to learn this amazing recipe.
13. Rosemary Honey
To prepare rosemary honey, add 1 cup of honey and 5 fresh rosemary sprigs in a small pot. Place it on the stovetop and simmer it for about 3-5 minutes. Take it off the heat and let it steep for around 30-35 minutes. Once it's done, toss out rosemary sprigs and empty honey into a container. Voila, your rosemary honey is ready to apply on toast and as a sweetener in tea or other drinks.
14. As a Tincture
A tincture is an extract made by soaking different parts of one or more plants in vinegar or alcohol for a specific time period. Made with rosemary flowers and leaves, this tincture offers numerous therapeutic benefits. It's inexpensive and easily preparable.
15. Mosquito Repellent
Since it's highly fragrant, mosquitoes can't stand the strong, pungent scent of rosemary. Add 1 cup of dried rosemary with a quart of water into a pot. Put it on the stove and boil it for 25-30 minutes. Next, pour a quart of cool water into another container and strain the rosemary water into it. Empty the blend into squirt bottles and apply it to your skin to repel mosquitoes for good.
16. Rosemary Facial Toner
Cleanse your facial skin and shrink the appearance of pores by trying this rosemary infused facial toner. Make one at home with this super do-able DIY.
17. Rosemary Hair Rinse
If you are looking for a homemade hair rinse having hair growth benefits, rosemary is your best bet. Grab a pot, add one quart of water, and 3-4 rosemary sprigs into it. Boil it on medium heat for 20-25 minutes and then turn off the heat to let it cool down. Next, strain the liquid and store it in an airtight container. After the shower, apply the liquid all over your scalp and leave it for air dry. Reapply it daily up to 1-2 months for positive results.
18. Herbal Mouthwash
Ditch store-bought chemical-filled mouthwash by making one at home using the versatile rosemary. Being antibacterial and soothing to sore gums, this herb is a boon for your oral-related problems. Rosemary herbal mouthwash is here.
19. Rosemary Butter
To liven up your cooked meals, look no further than this delightful rosemary butter. Use fresh homegrown rosemary sprigs for optimum results. You can slather it on bread, meat, and crackers. This is one of the best households uses for rosemary on this list.
20. As Skewers
Don't have a long piece of wood or metal handy to hold pieces of food while grilling? No worries, try rosemary stems as skewers instead. As a bonus, its stems infuse rosemary flavor into the food and makes the grill smoke smell amazing.
21. Rosemary Salt
Elevate the flavor of your simple dishes to new heights with just a sprinkle of easy-to-make rosemary and lemon sea salt. You only need three ingredients and this DIY.
Final Thoughts
After learning the multitude of household uses for rosemary, you'll value this amazing herb even more. Go one step ahead and grow rosemary in pots to get its fresh supply all year round. Enjoy!