A clothespin is not only limited to basic laundry chores. It's super cheap and has multiple uses around the house. Check out some thrifty clothespin uses below!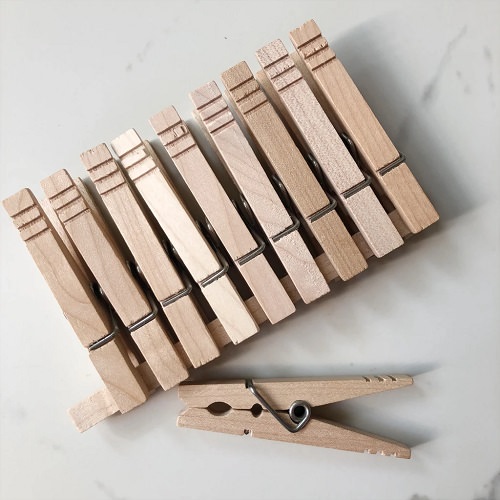 Read on the below interesting and surprising clothespin uses that can simplify your life for sure.
1. Laundry Stain Reminder
Clothespins are an excellent laundry stain reminder. If you don't want to forget about a stained cloth that needs special attention, then clip a clothespin to it before throwing it into the washer.
2. DIY Clothespin Mirror
Make your own custom homemade mirror with a couple of wooden clothespins, mirror, glue, and ribbon. The tutorial is here.
3. Hold Tablecloth on Picnic Table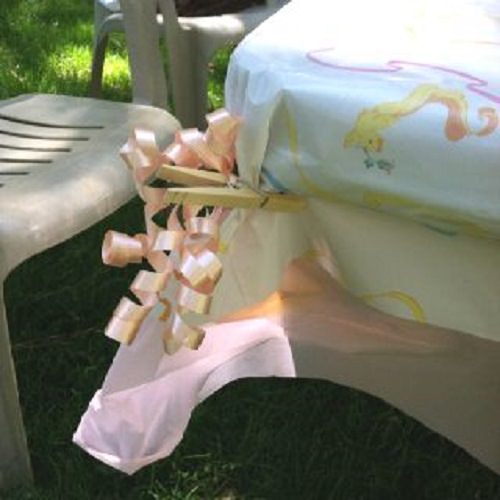 One of the worst things that often happens in a picnic is when the wind blows the tablecloth. To counter this issue, clip all the sides of the tablecloth together under the picnic table using clothespins.
4. Dirty Duds Bag Holder
Instead of putting your kid sloppy clothes into the diaper bag. Store them into a plastic zipper bag and clip it to the diaper bag handle. This hack helps you to remember those dirty clothes need washing and prevents the bag from the foul odor.
5. Sorting & Holding Similar Paperwork
Clothespins are an on-the-go solution to sort and manage similar paperwork while making preparations for filing. Try this hack, and you will never regret it.
6. Homemade Clothespin Chandelier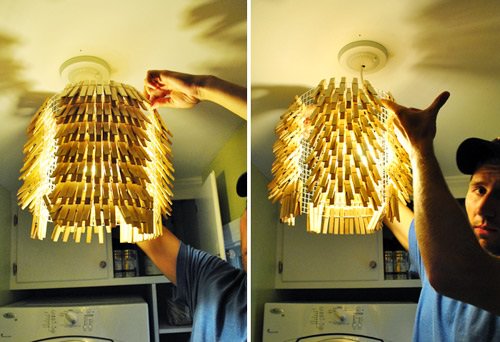 A brand new chandelier costs a lot of bucks. Don't worry, create a beautiful chandelier at home without making a big hole in your pocket. For this clothespin hack, follow this DIY.
7. Ensures Privacy
Clothespins are quite handy while traveling. If you rent a hotel room having drapes that don't quite stretch. All you need to do is pull the edges together and clip them with clothespins to ensure privacy.
8. Organizes Cords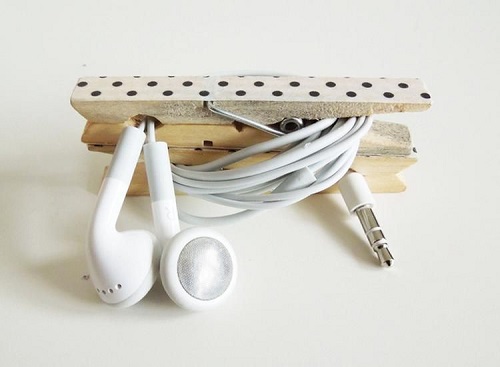 Don't know how to organize your earphones cords properly, then try a pair of clothespins. All you have to do is follow this simple hack to organize your cords and cables.
9. Make Handy Holders
Create handy holders for your gloves and scarves using a couple of clothespins. For this, use a glue gun to attach a few clothespins in a row to a closet or cupboard wall.
10. DIY Clothespin Photo Display
Showcase your beautiful photos and postcard with this DIY clothespin display frame. Take inspiration from this article to create one for yourself.
11. Seal Snacks Bags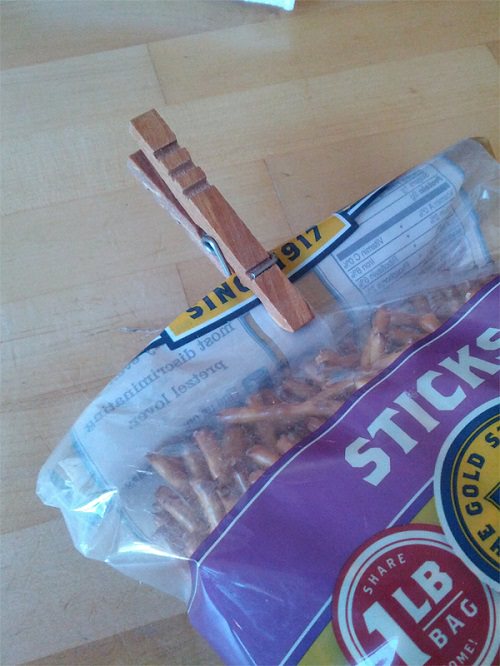 Keep your snacks fresh with the help of versatile clothespins. After eating the chips and cookies, seal their bags using clothespins to prevent them from air and moisture.
12. Gardening Aid
If you want to bend down your lovely young apple tree branches, then it can be easily done through a couple of clothespins. Read this article for more information.
13. DIY Clothespin Planter
Instead of buying planters, make a teeny tiny planter using a bunch of clothespins. Head on to this instructive video to know the full how-to of this gardening hack.
14. Secure Plastic Garbage Bag
It's quite irritating when you toss out something into the trash can, and garbage bag slips down. Prevent this issue by clipping the bag on the sides of the trash can to hold it tightly.
15. Hang Skirts & Ties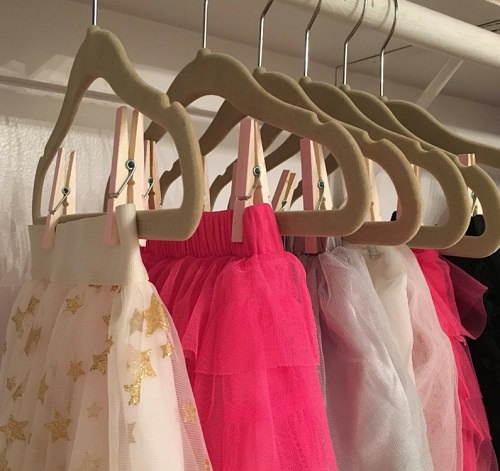 Organize your messy wardrobe with some clothespins. Hang the skirts, ties, and other clothes over a wire hanger and clip them with a pair of clothespins.
16. DIY Homemade Trivet
Another unique way to use clothespins is by making homemade trivet. Check out this instructive video for more information on DIYing a homemade trivet.
17. Cookbook Page Holder
While cooking a dish, keeping a cookbook page from flipping over is always an issue. Hold down the cookbook page using a clothespin.
18. Handy Recipe Card Holder

Amidst all cooking ingredients, it's quite challenging to keep your recipe card visible. To solve this issue, you will need clothespins and a few other things. The complete DIY of this recipe card holder is here.
19. Organizes Thread/Yarn
It's important to organize the threads, yarns, or any other strings carefully. Without their proper storage, they become tangled and could be of no use. Check out this instructive article for cheap storage idea using clothespins.
20. Secure Parchment Paper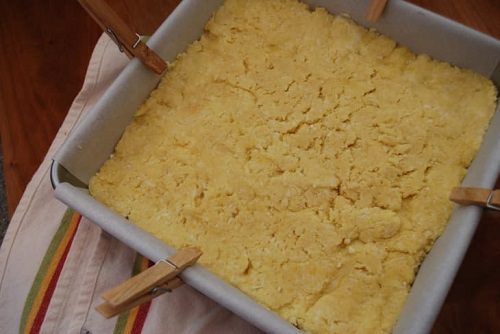 Keeping parchment paper intact in an empty baking pan is quite challenging. It often pops out, even after you being creased or greased. But don't worry, clothespin comes to the rescue.
21. Blocks Sunlight
If you don't have enough budget for blackout curtains, then all you need is blankets or towels and clothespins. This hack can easily block the sunlight from coming in. Put the blankets over the window and hold them with clothespins.
22. Pot Lid Holder
While cooking dishes, the water often spills if the pot remains closed. Stop this mess by attaching a clothespin to the edge of the lid. This creates a sufficient gap between the lid and pot, thereby allowing steam to pass & prevent the spills from happening.
23. DIY Clothespin Magnets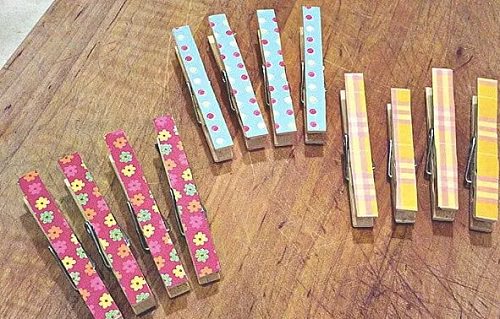 No need to use store-bought fridge magnets, when it's quite easy to make one at home. All you need is a clothespin, magnetic tape strips, double-faced tape, and this DIY.
24. Don't Lose Your Dryer Sheets
While using a washing machine, dryer sheets often get lost in the piles of clothes. To prevent this situation, clip a clothespin to the dryer sheets.
25. DIY Storage Shelf
Craft your own storage shelf with clothespins, wood plank, the top section of door molding, and wood glue. Head on to this step-by-step tutorial to make this unique and fantastic storage shelf.
26. Keep Fingers From Getting Burned
Get a little bit of more safety for your fingers from getting burned while using matchsticks with spring-type clothespins. Put a matchstick into the clothespin to light the charcoal or candles. This trick helps a lot, especially when you're igniting the fireworks.
27. Clothespin Candle Holder
This clothespin candle holder is not only useful for house decor but can be an adorable gift as well. Follow this great idea to create a stylish nautical-themed candle holder out of a few clothespins.
28. Toothpaste Squeezer
Squeeze the last bits of toothpaste from the toothpaste tube by using a clothespin. Try this hack with this article.
29. Homemade Mini Foosball Table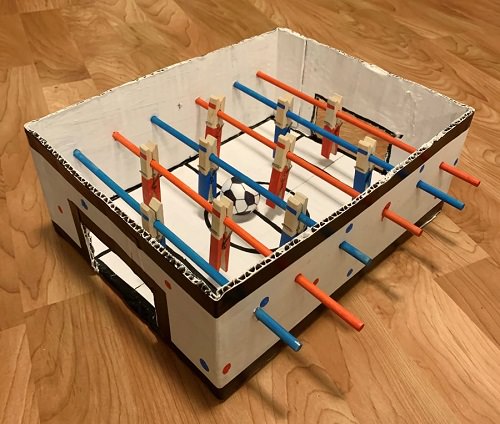 Not every kid can play foosball because of its typical size. Make your little ones happy by crafting its mini version with clothespins and a few other things. Check out this tutorial to know more.
30. Holds Nail While Hammering
While hammering a nail, protecting your fingers from getting crushed is crucial. With the little help of clothespin, you can do it without doing any damage. Check out this step-by-step DIY to know the trick.
31. DIY Clothespin Lampshade
Freshen up the appearance of your home decor by making a clothespin lampshade. Learn more about this innovative idea from this video.
32. Keep Blankets in Place on a Stroller
If the stroller's sunshade doesn't block sun and wind, then clothespins are your best bet. Clip a blanket using clothespins to the stroller's sunshade to do the trick.
33. Clothespin Snowman
On this Christmas, decorate your house with this cute clothespin snowman. It's a fun craft to do with your little ones. The DIY is here.
34. Painting With Clothespin
Letting kids finger paint is a fun-filled activity, but it also creates a lot of mess. That's why, instead of using fingers for painting, try this clothespin and cotton ball hack to prevent messy situations.
35. DIY Chair Phone Stand
No need to hold your cell phone for watching videos on a long flight. Simply assemble your chair phone stand and put it on the tray table. Go through this clothespin hack to make this useful collapsible stand.
36. Clothespin Air Freshener
You can make an inexpensive car or home air freshener using a wooden clothespin and essential oil. Refer to this article to learn more.
37. Toothbrush Holder
If you are a newbie DIYer, then making a toothbrush holder is an ideal craft, to begin with. Take a clothespin & clip it to the neck area of the toothbrush and stick the pin on a horizontal surface near your sink. Your toothbrush holder is ready in a flash.
38. DIY Clothespin Bracelet
Give your wrist a funky look by making a bracelet with the metal springs of the wooden clothespins. Check out this tutorial to make one for yourself.
39. Cheap-and-Easy Foam Brushes
Rather than buying foam brushes, make a lot of them using foam and clothespins. For this, trim the foam into 1/4 inch thick. Then, fold into two and hold it with a clothespin.
40. DIY Super-Cute Napkin Holder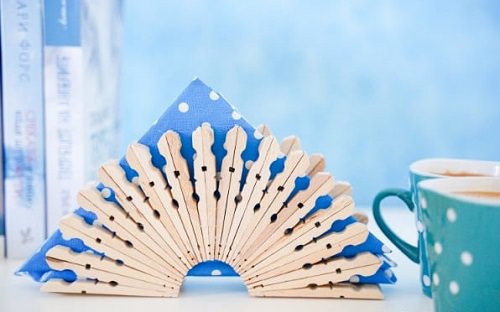 DIY your own napkin holder with a couple of clothespins and wood glue. Go through this video to make one, and the best part is that you can gift it as well.
41. Christmas Clothespin Wreath
Take your craftiness to a new level by creating a cute Christmas wreath using clothespins. Take inspiration from this article to make one.
42. Stylish Miniature Doll Furniture
Gift your little one a homemade stylish miniature doll furniture set. It includes a chair, a round table, and a bed. The best part is they are made up of wooden clothespins and hot glue.
43. Mini Clothespin Rocking Chair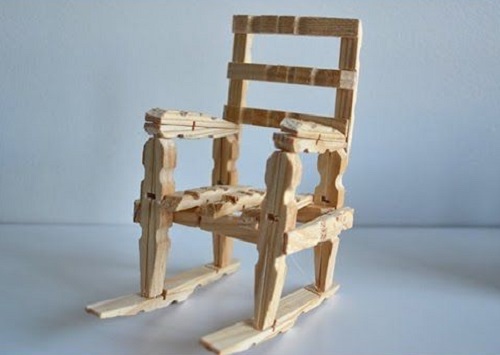 If you want to make a mini rocking chair for doll or decor purposes, then this DIY video is for you. Even a newbie DIYer can do this craft easily.
44. Pen/Pencil Holder
Before buying a pen/pencil holder, why not try to make one yourself. All you need is some clothespins, a tuna can, and spray paint for this craft.
45. Clothespin Chopsticks
Eating with chopsticks requires practice and a lot of time. However, with the help of clothespin, you can use them without any hassle.
46. Tea Bag Holder
Organize your tea bags in a fun and colorful way with this quick clothespin craft. This tea bag holder can be prepared in just 15 minutes.
47. Make Clothespin Bunnies
Decorate your Easter table with these adorable little clothespin bunnies. This craft is the best way to showcase your DIY skills.
48. Clothespin Cookies
It sounds weird, but clothespins are used to make cookies, filled with creamy, buttery icing. Try these delicious cookies by referring to this article.
49. Kitchen Towel Rack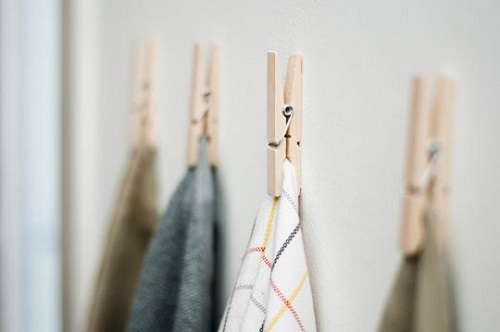 Here is another excellent way to use the versatile clothespins in the kitchen as a towel rack. For this, stick a piece of double-faced tape to the back of each wooden clothespins and attach them on the kitchen wall.
50. Peek-a-boo Clothespin Eggs
Kids are going to love these adorable eggs with a surprising little chick inside. Indulge your little ones in this simple and fun-filled craft this easter. DIY is here.
51. Mail Organizer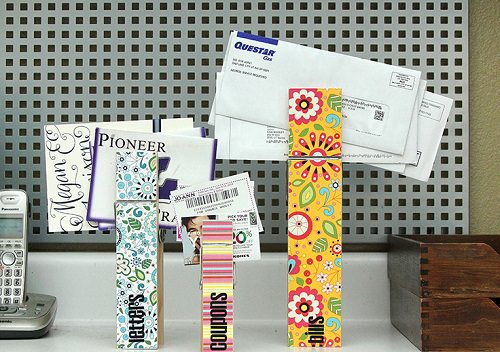 Sorting out new and old mails from huge piles is a cumbersome task. Solve this issue with these mail organizers that are made up of wooden clothespins.
52. Clothespin Snowflakes
This Christmas, enhance the look and appeal of your home decor with these low-cost snowflakes craft. To complete this craft, follow this instructive article.
53. Spoon Holder
Stop the spoon from sliding into the sauce with a clothespin. Simply clip the clothespin on the spoon handle, and it'll do the trick for sure.
54. Clothespin Plant Marker
If you often forget the name of your favorite plants, then clothespins are the ideal solution. Thanks to this DIY, you can make the plant marker in a flash.
55. DIY Apron
Don't have an apron, no worries, you can make it instantly. Take a dish towel & place it around your waist. Then, clip it on your pants with clothespins.
56. Under the Sink Organization
Transform your unorganized sink cabinet's into an efficient tea towel and rubber gloves holder. Stick hot glue to the back of clothespins and attach it inside the cabinet door.
57. Place Card Holder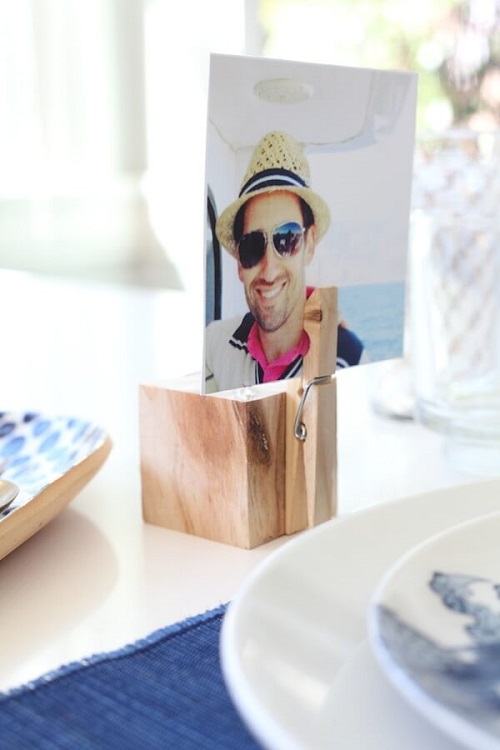 While hosting a special party, place card holders are must for proper seat arrangements. Instead of spending money, make a lot of fancy place card holders with this clothespin hack.
58. Hold Christmas Lightings
If you are fond of indoor decorations with string lights, then you know how hard it is to put them in one place. With a little bit of support from clothespins, you can secure your masterpiece easily.
59. DIY Bib
Things always turn out messy while dealing with babies, especially during feeding time. To prevent such a situation, make an instant bib with a napkin and clothespin. Place the napkin on the top of their shirt and clip it with a clothespin.
Conclusion
After reading the above article, we hope these clothespin uses will make a significant difference in your daily life chores. Don't forget to share this amazing article with your near and dear ones.