Whether you want your porch theme scary, funny, or minimalistic, we have you covered! Check out these amazing Halloween porch ideas.
Halloween Porch Ideas
1. Lighted Pumpkin Topiary
Made with faux pumpkins, dowel rod, brown plastic planter, and Christmas strand lights, this pumpkin topiary will be a unique addition to your porch this Halloween season.
2. Skulls on Stairs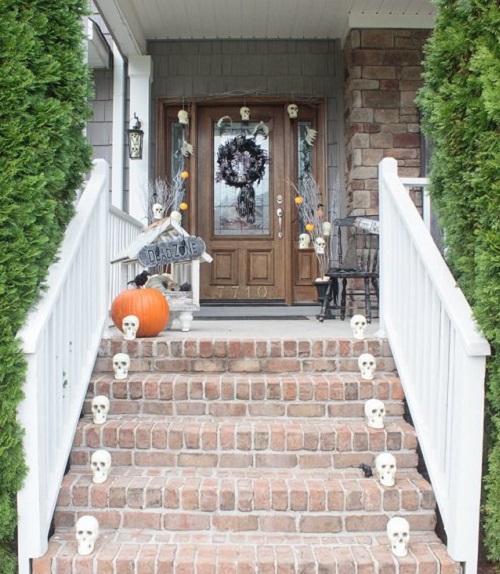 Line up your porch stairs with a couple of ominous skulls that are illuminated with battery-powered tealight candles. Adding pumpkin and crow will amp up the scary ambiance.
3. Wicked-Witch Inspired Vibe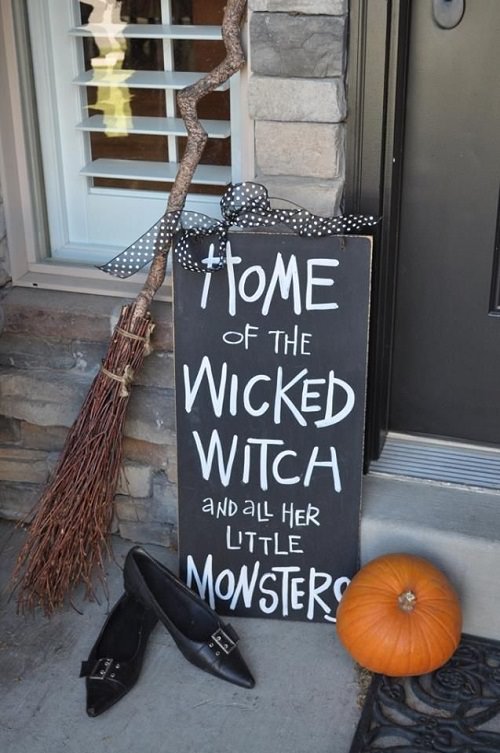 Adorned with a magical broom, hand-painted vintage signboard, and a couple of black shoes is an eerie porch decor to try. It doesn't require many resources and yet looks fancy!
4. Lantern Pumpkins
Cast a spooky glow on the front walk or porch steps with these painted lantern pumpkins. Details are here.
5. Spooky Hanging Paper Lanterns
Turn the monotonous paper lanterns into an uncanny Halloween porch decor with this easy DIY. They are adorable during the day and eerier at night.
6. Scary Crow Wreath
Hang this weird crow wreath on the porch wall or door with black lace to celebrate the Halloween spirit. Add some creepy cardboard crows for a scary touch.
7. Raven Inspired Halloween Porch
Make your porch's entrance ghastly and dramatic with these scattered ravens perching on the long branches secured with fishing lines.
8. Pumpkin Halloween Greeting
To imitate this idea, gather a bunch of pumpkins on the porch and carve your greetings on them using a drill with a half-inch bit to welcome the trick-or-treaters.
9. Floating Witch Hat Luminaries
Light up your porch with these mysterious floating witch hat luminaries that are hanged from the ceiling using a fishing line.
10. DIY Halloween Window Spiderweb
This eerie Halloween spiderweb is the super economical way to adorn your porch window this upcoming festive season. Gather black yarn, tape, and a scissor, to redo this DIY.
11. Paper Jack-O-Lanterns
Fill up your porch with Halloween vibes by decorating it with this easy to DIY show-stopping paper jack-o-lanterns. Customize them as you want and hang them strategically.
12. Tied-Up Skeleton Greeter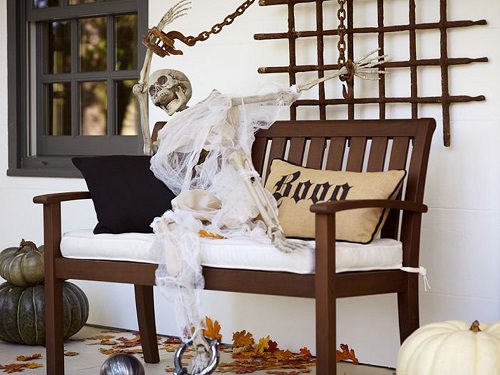 Greet your guest and trick-or-treaters by placing a life-sized skeleton on the porch bench that will definitely hesitate them from knocking on your door.
13. Giant Spiderweb
Craft an oversize spider web with a clothesline, ceiling hooks, and this DIY for a hair-raising experience. Adding a bunch of other big or small spiders will enhance the spookiness to another level.
14. Minimalistic Front Porch Decor Idea
If you don't want to overdo your Halloween porch decor, this idea is perfect for you. Place a bucket with dried branches and a few pumpkins near your doorstep and you're done!
15. A Halloween Tree
Give your porch a spooky twist by embellishing it with a Halloween tree. Put the dead tree into a pot, fill soil or straw, and decorate with creepy stuff. Complete the decor by putting a black witch hat to its base and a magical broom next to the door.
16. Wicked Witch with Candy Bowl
When the little trick-or-treaters reach the witch's bowl for candy, this eerie animatronic suddenly jumps a little bit and fills horror in the air with its hair-raising cackling sound. You can buy this animatronic from here.
17. Tomato Cage Ghost
Spice up your porch Halloween decor with this bewitching tomato cage ghost. Placing it around the door sets the mood for the spooky celebration instantly.
18. Milk Jug Skulls
Ensure a spine-chilling experience by decorating your porch with these frightful skulls. Since this DIY uses milk jugs, you can make numerous skulls while generating zero-waste.
19. DIY Bloody Candles
Take some white candles and run red wax on them to create bloody candles. It will fit perfectly well with a vampire theme porch decor.
20. Hocus Pocus Halloween Front Porch Decor
Decorate your front porch with this hocus pocus inspired Halloween themed decor, which is inexpensive and will attract a lot of eyeballs.
21. Cute and Spooky Halloween Porch Decor
This festive season, make your porch funky without any gore, using this cute and little bit spooky Halloween decor. It's worth trying and complements the festive vibe too.
22. Wooden Jack O' Lanterns
Sinister-looking wooden jack-o'-lanterns will be a great addition to your Halloween porch decor. Place them strategically around the porch to startle your visitors.
23. The Creepy-Crawly Home
Give your porch a scare-boost with these creepy-crawly web hanging critters. Imitate this decor by tearing some holes in white sheets to create a faux web and attach some spiders. Reduce the porch lights and add a scary face pumpkin for a more chilling effect.
24. Skulls with Shiny Scary Eyes
Shiny pink fabrics draped over a string of lights and adding a skull motif on the top of it will make for an excellent scary and lovable porch decor. It looks appealing during the day and ominous at night.
25. Witch in the Urn
Made with the silver plastic garden urn, mannequin legs, and black shoes, this witch urn will add a supernatural touch to your porch decor. Put a crow on the urn to complete the look.
26. Scary Glowing Glass Luminaries
Add a spooky glare to your porch with an assortment of these glowing glass luminaries. Paint a bunch of old mason jars in different colors and scary faces, and light them up with candles, that's all!
27. Black Cat O'Lanterns
Welcome the Halloween spirit by decorating your porch with this petrifying trio of black cat o' lanterns. Details are here.
28. Spiders & Bats Invasion
If you are looking for a simple yet statement Halloween porch decor, then these bats and spider invasion idea fits your bill. Take a look at this DIY, and you'll love how it turns out!
29. DIY Halloween Sidelight Signs
Make your lonely porch a center of attraction by decorating it with Halloween sidelight signs. Adorn the rest of the place with hand-carved pumpkins to show off your carving skills.
30. Tin Can Luminaries
Add an eerie glow to your porch steps with this tin can luminaries. They look pretty awesome and will please the eyes of your guests and trick-or-treaters alike.
31. An Uncanny Welcome
Hang this creepy and unwelcoming 'Welcome' picture frames on your door or porch wall for the sake of Halloween spirit. All you need is a large picture frame, yarns, and an assortment of tiny plastic crawlers.
32. The Great Halloween Countdown
This Halloween countdown sign will be a perfect way to drum up your excitement for the entire festive season. Just remember to update the number every day!
33. Bats Invasion
Frighten your visitors with a bunch of fascinating paper bats that swirl over their heads. Stick them from your porch ceiling to resemble bats invasion.
34. Hanging Bat Chandelier
Boost the spooky factor of your porch by creating this hanging bat chandelier. It will look amazing with the above bat invasion decor.
35. Foam Head Form Muslin Ghost
Gear up your porch with these two foam head cheesecloth ghosts that are ready to welcome the trick-or-treaters. It's an easy craft project and a fun one for kids to get involved in.
36. Filigree Pumpkins
If you want to decorate your porch entrance with monochrome color schemes, then choose fall blooms matching the same color as pumpkins. Amp up the overall look by spreading dried leaves around them.
37. Scary Tombstone Halloween Porch
Arrange a few white pumpkins, tombstones, ravens, a pumpkin head scarecrow, and a lighted twig gate in the front porch to get a true cemetery appeal. However, do note that this decor is not for fainthearted people.
38. Flaming Tiki Torch Skulls!
Way up your Halloween game this year by decking up your porch with ominous-looking tiki torch skulls. Place them on the steps or the entryway to terrify your visitors.
39. Spooky Halloween Directional Sign
Guide the trick-or-treaters towards the ghoulish places by embellishing your porch entryway with this customizable scary Halloween directional sign.
40. Mummies Guarding The Front Door
Don't let your festive spirit down due to a small porch. Instead, make it a haunted manor by embellishing it with mummies, a glowing-eyed skull, a lighted leafless tree with bats, and few pumpkins. Add a smiling ghost wreath on the door for added fun.
41. Living Dead Flower Bouquet
Make your porch decor terrifying and unsettling with this living dead flower bouquet. This gives your guests the feeling that someone is watching over. Simply purchase some dark fake flowers, stick some eyeballs into it using hot glue, and that's all.
42. Witch Jar Lighting
Give an ominous glow to your porch by hanging these witch jar lighting that makes you feel witches' presence. You can also use it with other Halloween porch decor themes.
43. DIY Ghost Decor
Decorate your front porch with a couple of spooky phantoms that attract many people to admire your creativity. Read more here.
44. Ping Pong Ball Ghost Lights
Grab some ping pong balls, a small strand of plain white Christmas lights, LED, mod podge, permanent marker, cheesecloth, and start making this simple DIY for your porch.
45. A Jack-O-Lantern Festival
Fill up your porch entrance with Halloween thrills by placing intricately carved glowing pumpkins on every step and tall corn stalks with a hand-waving skeleton. Learn how to carve a pumpkin here.
46. Front Porch Mummies
Transform the leftover wooden boards into cute mummies for your front porch decoration. This is a less scary and more cheery Halloween porch idea. Check out this DIY to find out more.
47. Ghosts in a Graveyard
Make your front porch talk of the town with spine-tingling ghosts in a graveyard decor. Nothing will be more gruesome than tombstones, crows, and flying ghosts.
48. Halloween Milk Jug Lanterns
Create an eye-catchy display by adorning your front porch with this bunch of glowing milk jug lanterns. Simply arrange them along your walkway or next to the front door.
49. DIY Mummy Door For Halloween
Wrap your front door with white crepe paper, draw eyes and mouth using poster boards to complete this whimsical and wicked mummy porch display. Read more here.
50. DIY Skull Candle Holder
This statement-making skull candle holder is suitable for indoor, outdoor, and porch Halloween decor. Plastic skulls, terra cotta saucers, and hot glue are all that you need for this DIY.
51. Giant Spiders Takeover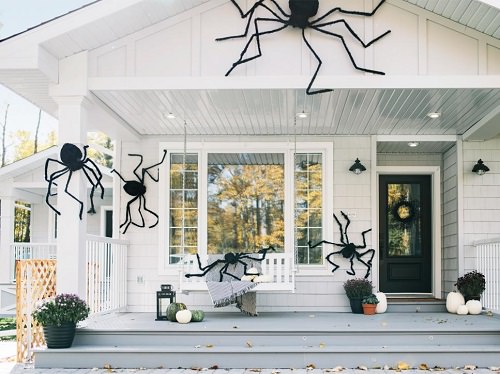 Imitate this creepy takeover by grabbing a few giant spiders and secure them to the porch using slim finishing nails. This decor is simple and minimalistic but leaves an everlasting impression.
52. Simply Creepy Front Porch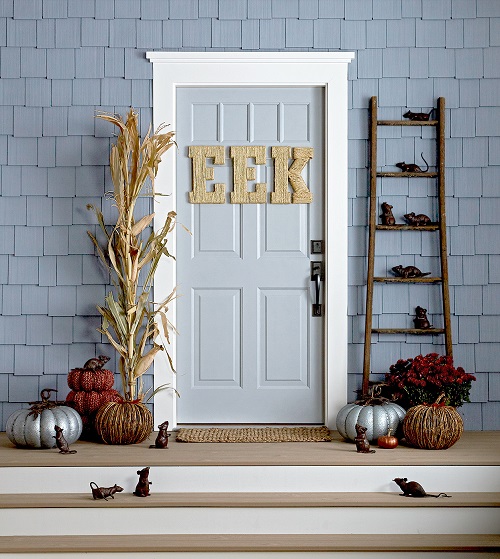 Embellish your porch with this simple and frightful Halloween theme decor. Arrange plastic rats around the door and on a ladder to fake infestation. Cover the letter frames with a hemp rope to create a message for the door. Finish the look by putting a corn stalk with a few painted pumpkins next to the door.
53. Monstrous Mums Porch Decor
This Halloween, gussy up your mum planters into a black cat, bright-eyed toothy monster, and friendly ghost mum-ster. Arrange them in the porch to petrify trick-or-treaters and passersby alike.
54. Trick-or-Treat Greeter
If you want a cheery, not eerie porch decor, then this bandana clad scarecrow with its slanted smile is only for you. As a bonus, it's a snowman too. Details are here.
55. Easy Halloween Monster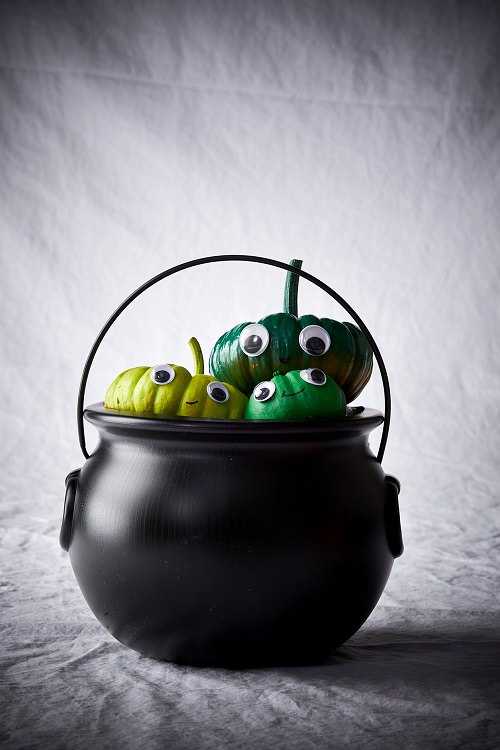 Group a trio of cute pumpkin monsters in a black cauldron to amp up your Halloween porch decor. Your kids are going to love this idea. For this decor, paint pumpkins with green and yellow color. Stick googly eyes on them and add smiles with a black paint pen.
56. Dracula Pumpkin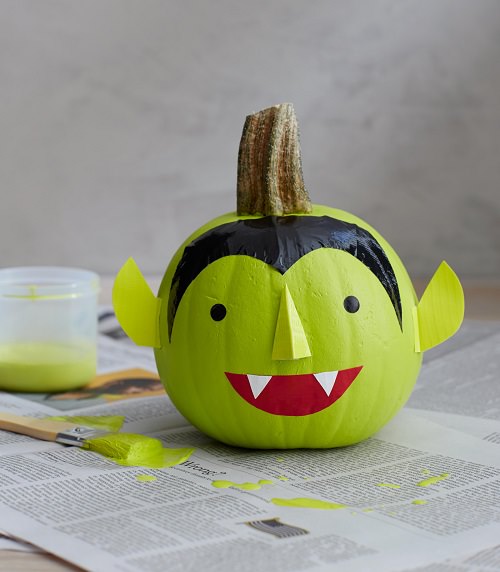 Give your porch a funky and scary touch at the same time with this Dracula pumpkin. This will be a fun project to do with your kids. First, spray paint a pumpkin in lime green. Make nose and ears with cardstock. Lastly, use black tape for hair and eyes.
57. Spooky Swarm of Bats
Bring movement, interest, and dimension to your plain front porch with a swarm of scary, screaming bats. Learn how to imitate this decor at HGTV.
58. Hanging Alien Planter
Transform your lovely Boston fern into a hovering, multi-eyed alien with this easy, inexpensive tutorial. It will be a great last-minute add-on decor for this Halloween season.
59. Pumpkin Gumball Machine
With a little patience, effort, and gumballs, you can create this colorful pumpkin gumball machine. Put a raven next to it, lay down a hay bale, and two pumpkins to complete the look. Do note that the gumballs are not edible because of the glue.
60. Mummy Wreath
This monochromatic mummy wreath amps up your porch decor, and its googly eyes will spook out little trick-or-treaters too. Check out the idea here.
61. Glittering Halloween Witch Door Decor
Convert your plain door into a bewitching festival art with this glittery witch cutout. Make it more delightful by adding some twinkling styrofoam stars and a moon.
62. Jack O'Lantern Stacked Archway
Adorable during the day and frightening at night, this jack-o-lantern stacked archway will surely create a spine-chilling experience. Although this DIY consumes a lot of your time, the results are quite pleasing.
63. Crying Scary Child
Grab a child's life-sized skeleton, put on some clothing, wig, and that's all. Terrify trick-or-treaters by placing it near the front porch to resemble a crying ghost girl.
64. Spooky Porch Ghoul Decor
Deck up your porch steps with this super creepy realistic ghoul to scare people all round the year. Follow this DIY to make one for you this Halloween.
65. Tea Light Witch Decor
Made with green flameless tea lights, craft rhinestones, candles, and some basic craft supplies, this cute DIY tea light witch decor will definitely complement your Halloween decor. Hang them on the porch with ribbon.
66. Black Lace Candle Holders
Don't like the intricate, time-consuming Halloween projects, then this quick and easy beautiful black lace candle holders decor idea is only for you. Arrange them on the porch for an instant glow.
67. Fiendish Skull Wreath
If you're still looking for a jaw-dropping and eerie Halloween porch idea, then try this breathtaking fiendish skull wreath to scare your neighbors to the core. Hardcore Halloween fans are going to adore this decor idea.
68. Googly Eye Door
Take some googly eyes, stick them on your front door using restickable dots, add a spider web frame and pumpkin, and that's all. This is one of the best last-minute Halloween porch ideas.
69. Nevermore Halloween Wreath
Add a wicked touch to your front door and porch with this nevermore Halloween wreath. With some leftover fabric, a foam wreath, black silk flower, feathers, floral picks, and a raven, you can make this decor easily.
70. Ghost Bride Porch Decor
With a standing fan, sheer fabric, spiders, and a pumpkin head, your moving Halloween bride ghost is ready to haunt the guests and the little trick-or-treaters.
71. Punchy Cyclops Wreath
This Halloween, avoid scary stuff and opt for something a bit sillier like this yarn wrapped monster wreath for your front door. Hang this quirky cyclops on the door to invite trick-or-treaters with a one-eyed wink.
72. DIY Spiderweb Doormat
Add a creepy touch to your boring doormat with this amazing Halloween craft. All you need is a black semi-circle doormat, white fabric paint, a thin bristle paintbrush, and a little critter to create a dreadful decor.
73. Laser Pumpkin
Pump up your pumpkin game this by decorating your porch with this laser throwing pumpkin. This is an excellent addition for porch, indoor, and outdoor Halloween parties.
74. Black And White Skull Combo
Paint a couple of plastic skulls with black and white colors. Stick them on a thick rope one by one, and hang it to the porch for an ominous look.
75. Bloody Footprints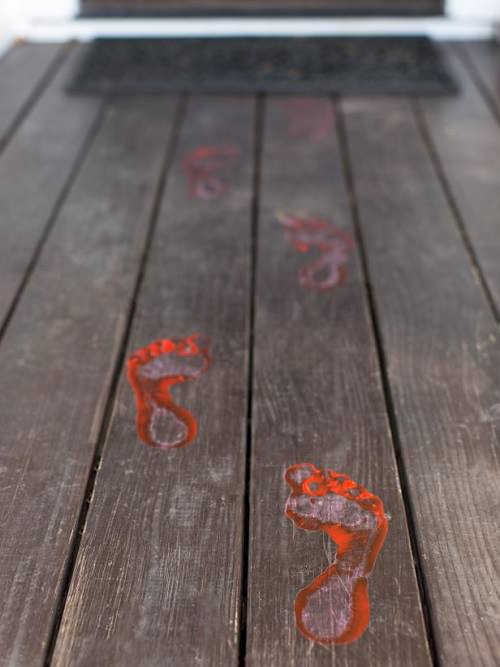 Put your feet in washable paint and walk from your steps to your front door. This easy yet effective porch decor will not only look great but scare the guests who weren't expecting to see blood feets alongside theirs!
76. Halloween Spider Wreath
Turn your mediocre door into an eerie display by hanging this uncanny spider wreath. Prepare one for yourself with this creeptastic tutorial.
77. Hanging Mummy Ghost
A scary and unwelcoming hanging mummy ghost is a perfect Halloween porch decor. All it takes is a foam head, cheesecloth, and brown ink to recreate this spine-tingling ghost.
78. Black Skull Wreath
Getting bored with conventional festive decoration? Try this ominous-looking black skull wreath, which goes perfectly well with any Halloween porch decor idea. Grab some styrofoam mini skulls, ribbon, and a few other supplies for this DIY.
79. Frankenstein Pumpkin
For this Halloween porch decor, you don't have to be a pumpkin carving expert. Just take a pumpkin and follow this simple tutorial to give it a haunting Frankenstein look.
80. DIY Boo Witch Doormat
If you are looking for a simple, fun, and kid-friendly Halloween porch decor, then give a shot to this boo witch doormat. Your kids are going to love this idea.
81. Faux Iron Witch Cauldron
This bewitching faux iron witch cauldron will be a great addition to your creepy witch-themed porch decor. It'll fill your porch with a complete Halloween vibe.
82. Painted Ghost Gourds
Turn your boring gourds into ghastly ones by spraying them with a few coats of white spray paint. Display them on your porch steps for a spooktacular effect.
83. Miniature Fairy Graveyard with Moon
Recreate this cute and funny miniature graveyard using a couple of gravestones, skeletons, a teeny-tiny moon, and this doable tutorial. However, the fairy graveyard becomes spookier at night when the sun goes down.
84. Scary Suit with Spider And Faux Web
Decorating the front porch with a headless figure holding his head is super creepy and interesting. Go ahead and try out this decor.
85. Faux Dripping Candelabra
Try this faux dripping candelabra to add a haunting and terrifying touch to your porch. Fabricated from PVC pipes, styrofoam, and hot glue, these artificial candles resemble, as they have been burning all night. You can paint them red to resemble a bloody candle.