Are you looking for some easy-to-build and super affordable support structure for peas? Check out this list of DIY Pea Trellis Ideas!
Trellis is a vital gardening tool for peas' better growth. It also keeps this climbing plant off the ground, thus minimizing the possibility of disease and pest attacks. If you want to make one at home, check out these DIY Pea Trellis Ideas.
Here are some DIY garden stake ideas
---
DIY Pea Trellis Ideas
1. Pea Trellis Arch DIY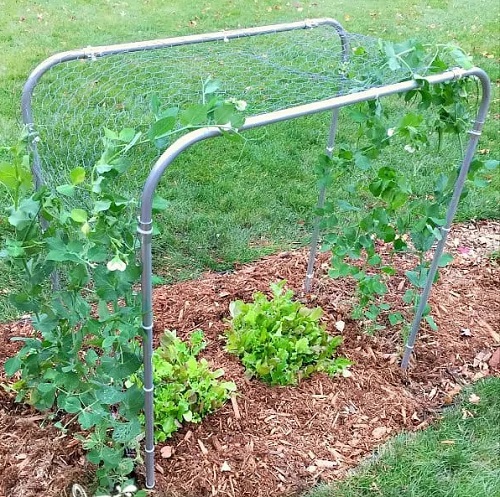 This pea trellis arch is easy to build and only requires a few tools. Read these instructions to make one for yourself.
2. Bamboo Poles Pea Trellis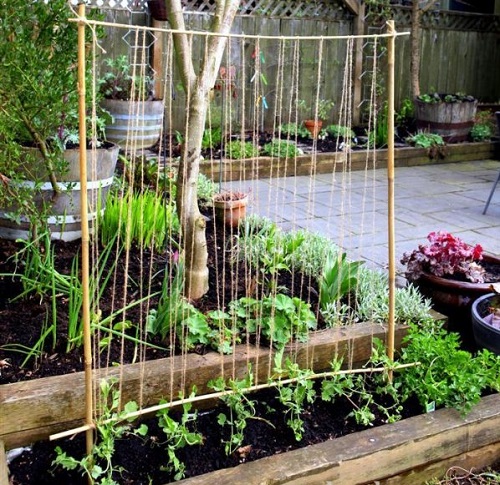 Here's the detailed tutorial to create a pea trellis out of bamboo poles and a spool of garden twine.
3. Mini DIY Sugar Snap Pea Trellis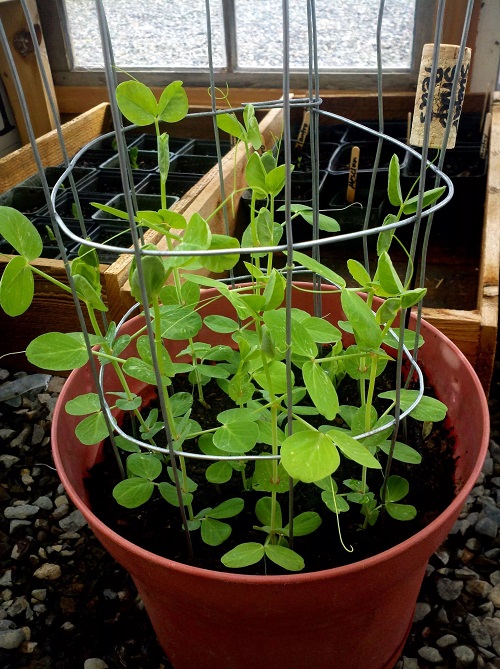 Are you looking for a mini pea trellis for your pot? This project is the right choice for you.
4. Wood and Jute String Pea Trellis DIY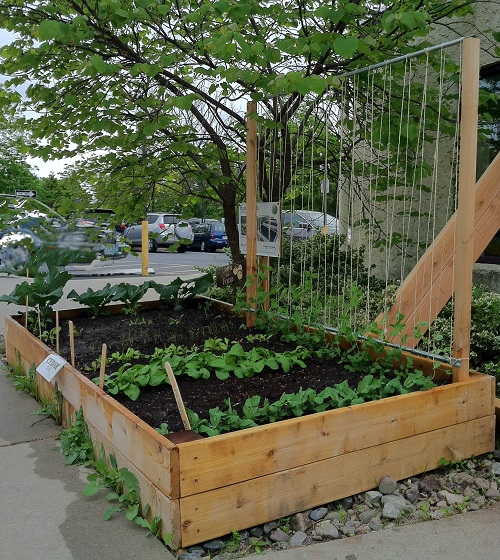 This article teaches the easiest way to make a sturdy pea trellis using wooden stakes, string, and other supplies.
5. Hula Hoop Pea Trellis
Learn how to use hula hoops to make a DIY pea trellis for your garden in this video tutorial.
6. Recycled Peas Trellis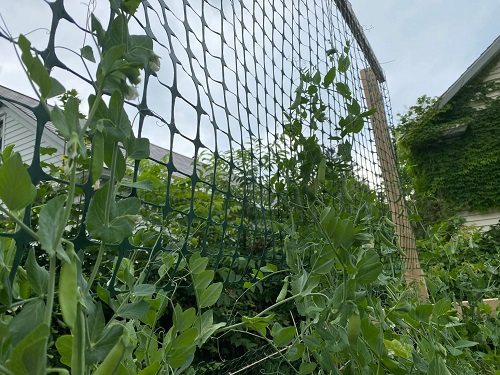 Construction fencing, wooden posts, and decking screws are all you need to create this one.
7. Easy DIY Pea Trellis
Check out this video tutorial to build a quick and easy garden trellis from bamboo canes and chicken wire.
8. Woven Bamboo Trellis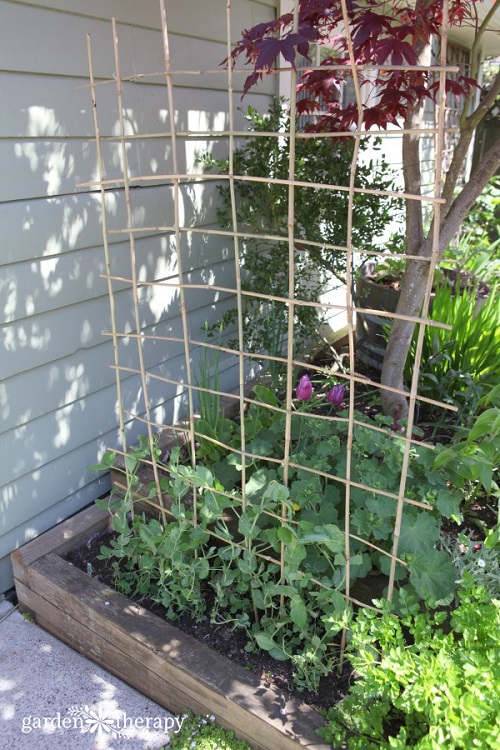 This garden trellis tutorial shows how to easily make a trellis with only one piece of material.
9. Repurpose Crutches Into A Pea Trellis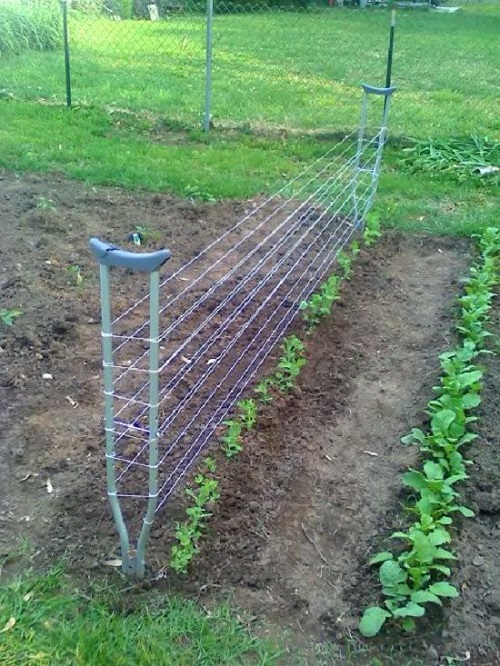 Instead of spending your hard-earned money on a store-bought trellis, build one by repurposing old pair of crutches. Read more here.
10. PVC Pipe and Cotton Twine Garden Trellis
In this video tutorial, the DIYer builds an affordable pea trellis from PVC pipe and cotton twine in less than 10 minutes.
11. Recycled Tire Pea Trellis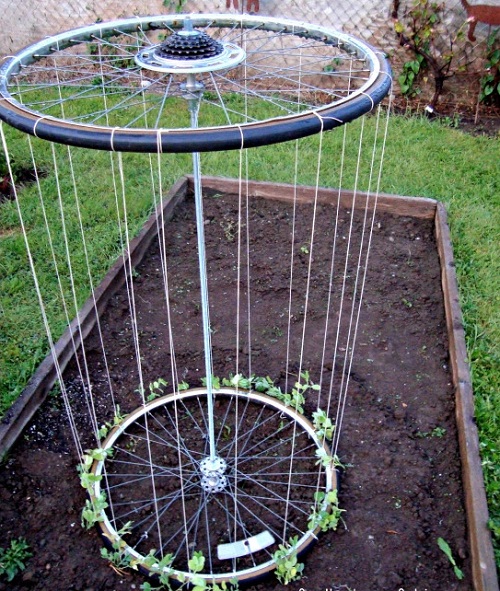 Transform old bicycle tires into an elegant and functional trellis using this tutorial. It's one of the best DIY pea trellis ideas on this list.
12. Patio Umbrella Pea Trellis Idea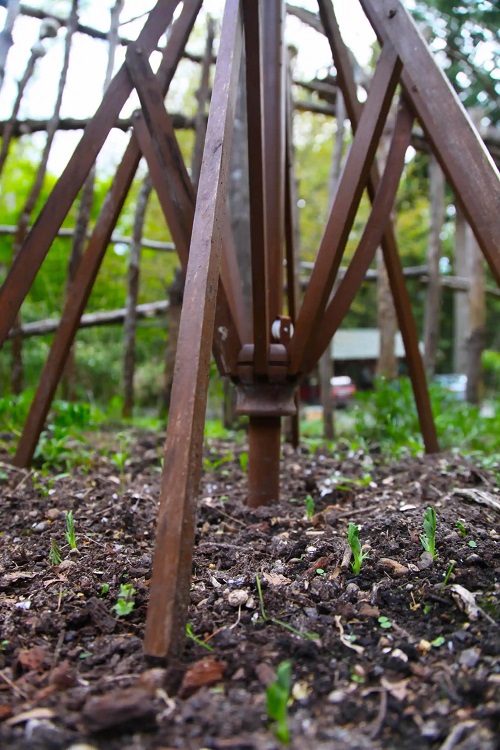 Give your broken patio umbrella a new life by converting it into a trellis for peas. The details are here.
13. DIY Pea Trellis Fort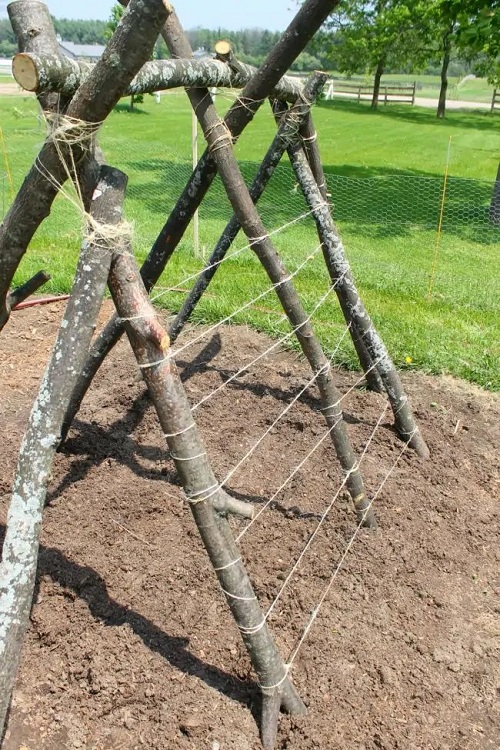 Gather long, strong sticks and twine to create this sturdy trellis, no hardware is required. It's an easy, beginner-friendly project.
14. Pea Trellis From Old Baby Crib Rails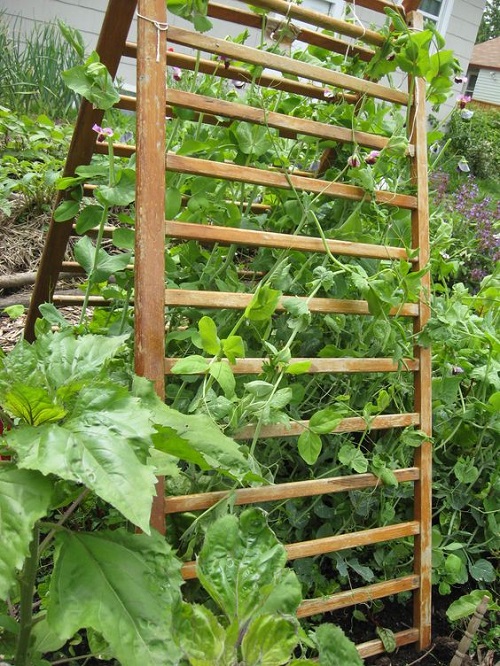 You only need a set of old baby crib rails to grow peas or other vining vegetables in less spacious gardens.
15. DIY Teepee Trellis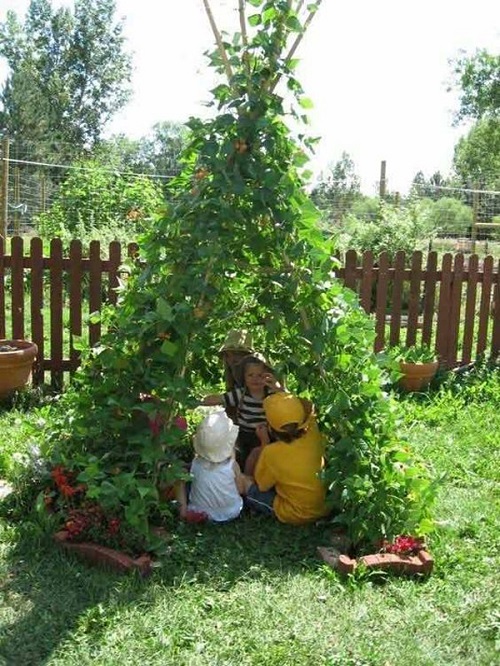 Follow this step-by-step tutorial to build a cost-effective teepee trellis – an eye-catching addition to the garden.
16. $20 Pea Trellis
If you have a tight budget but still want a pea trellis, this video tutorial is only for you.
17. Pea Trellis for Raised Beds
Simple and low cost, this raised bed pea trellis can be installed and removed easily.
18. DIY Pea Trellis
All you need are wooden stakes and twine to put together a trellis in less than 10 minutes and $10.
19. 5 Minute Pea Trellis with Twine and T-Posts
Watch this YouTube tutorial to prepare a trellis using metal t-posts, twine, and a little patience.
20. $5 Wooden Trellis DIY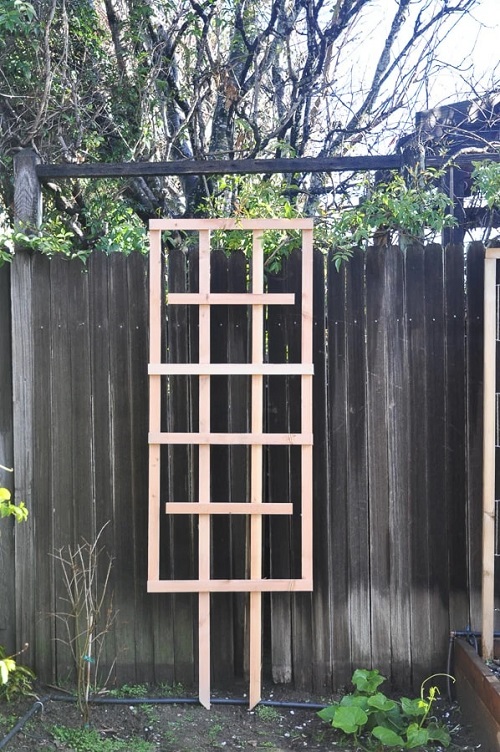 This trellis idea is inexpensive and lets you customize the size as needed. Read the details here.
21. Garden Trellis for Sweet Peas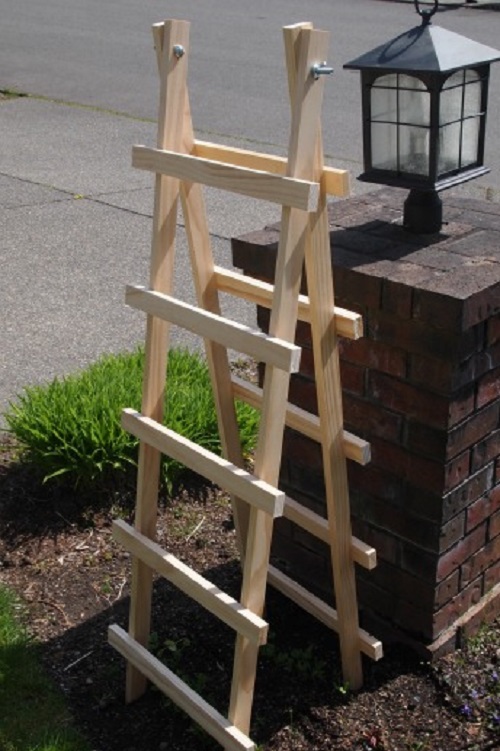 Introduce this well-built trellis in your garden to give your sweet peas a sturdy structure to climb. Get the instructions here.
22. Easy DIY Wooden Garden Obelisk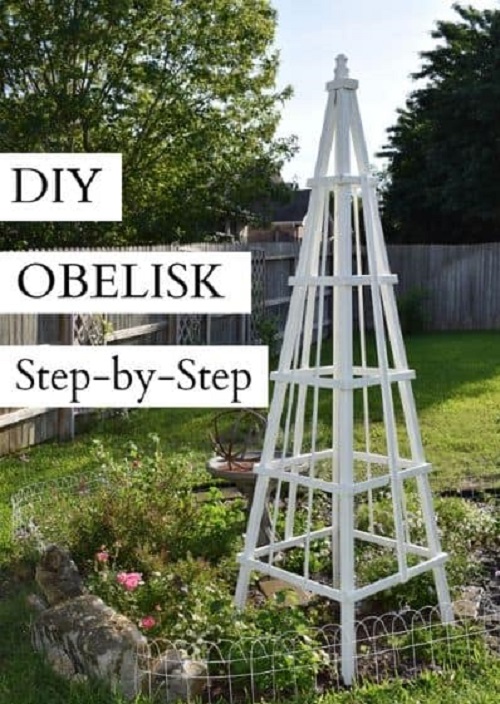 An eye-catching statement piece, this garden obelisk helps you grow peas vertically. Click here for the free plan.
23. DIY Ladder Peas Trellis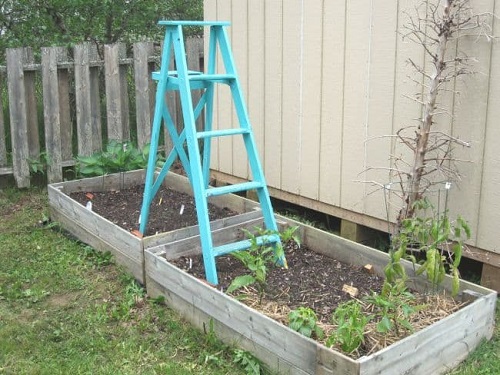 Grab an old wooden ladder and reuse it as a garden trellis. It's one of the most amazing DIY pea trellis ideas.
24. DIY A-Frame Trellis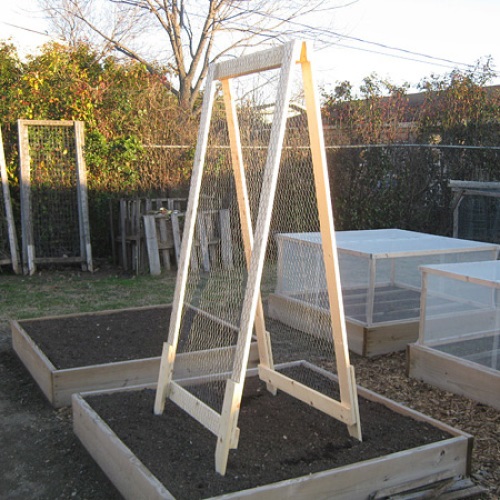 With some plywood, hardware cloth, fasteners, and basic tools, you can DIY an a-frame trellis to support peas and other climbing veggies.
25. Old Window Turned Pea Trellis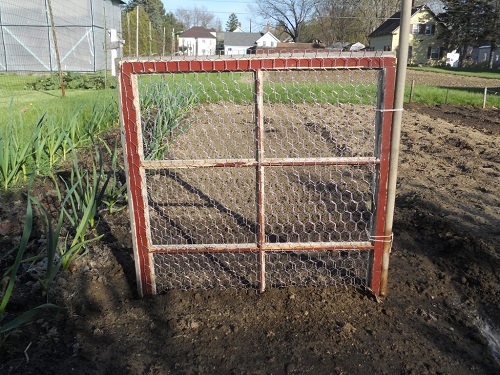 This article shows how to turn an old window frame into a pea trellis using chicken wire.
Find out some fantastic DIY wire sculpture ideas for the garden here