Explore this exclusive list of Last Minute Christmas Crafts and uplift your living space with holiday vibes!
Whether you want quick-to-make holiday decorations or like to keep your kids busy, these Last Minute Christmas Crafts are for you.
Here are some Christmas Door Hanging Ideas
---
Last Minute Christmas Crafts for Kids and Adults
1. Ladder Christmas Tree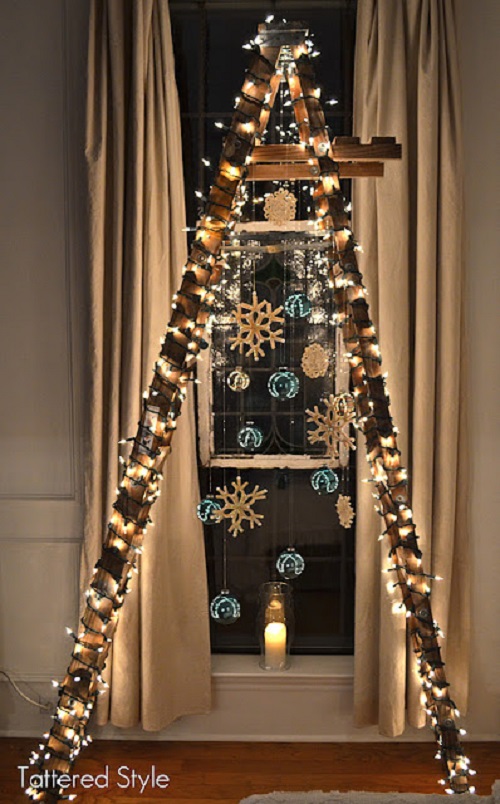 Grab a ladder, string lights, glass votive candles, a capiz shell star, vintage balls, and snowflake ornaments to recreate this ladder Christmas tree.
2. DIY Snowy Mason Jars
Create faux snow-covered mason jar luminaries for the holiday season using this tutorial. These are perfect for decorating your mantle, dining table, or front porch.
3. Tea Light Snowman Ornaments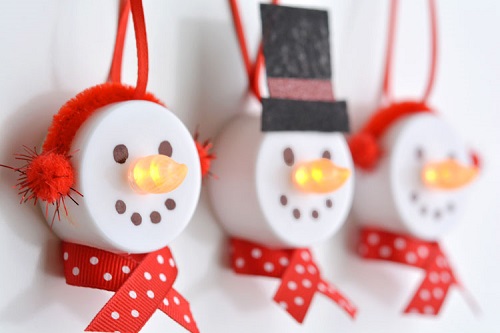 These adorable tea-light snowman ornaments are easy and quick to make. When you turn on the tea light, the "flame" becomes a snowman's carrot nose.
4. DIY Christmas Ornament Topiary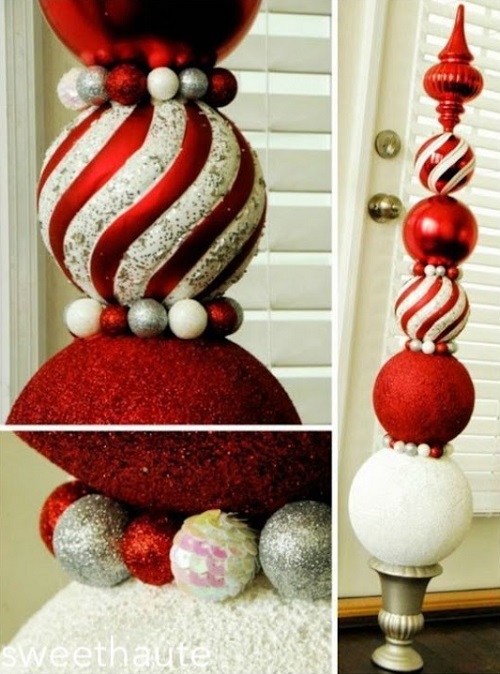 Complete your holiday decor with this colorful and cheery Christmas ornament topiary. Get the details here.
5. Popsicle Stick Snowflake Ornaments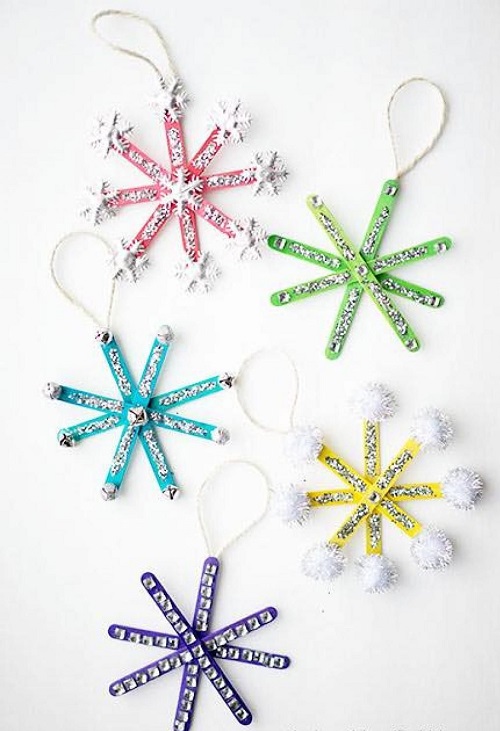 If you're looking for a fun craft this Christmas season, try these glittery snowflakes made with craft sticks. Read more here.
6. Terracotta Snowman Christmas Crafts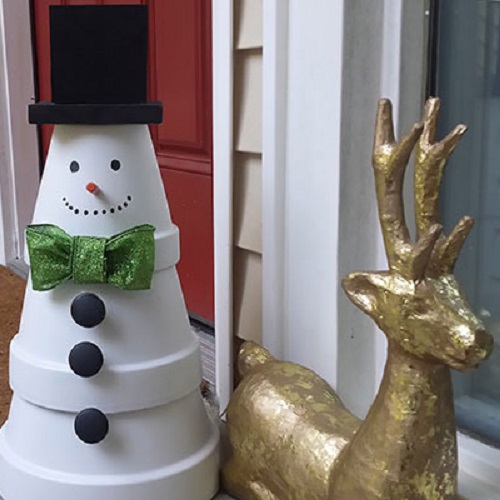 Whether your home is blessed with temperate winters or graced with blankets of snow, nothing signals the holiday spirit like a bright and cheerful snowman. Make one using terracotta planters and this tutorial.
7. Pom Pom Gnome Ornaments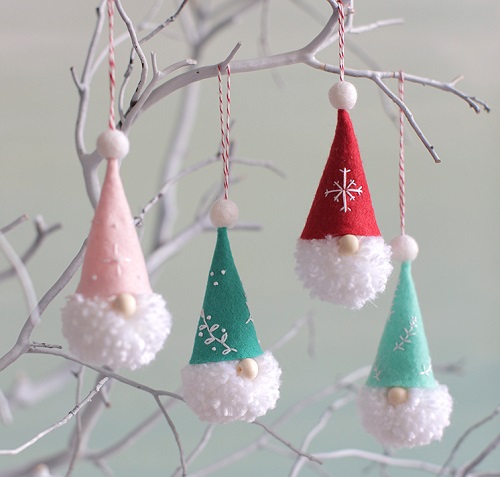 In this article, the DIYer makes adorable pom-pom gnome ornaments. It's one of the best last minute Christmas crafts.
8. Christmas Village Stocking Hanger Box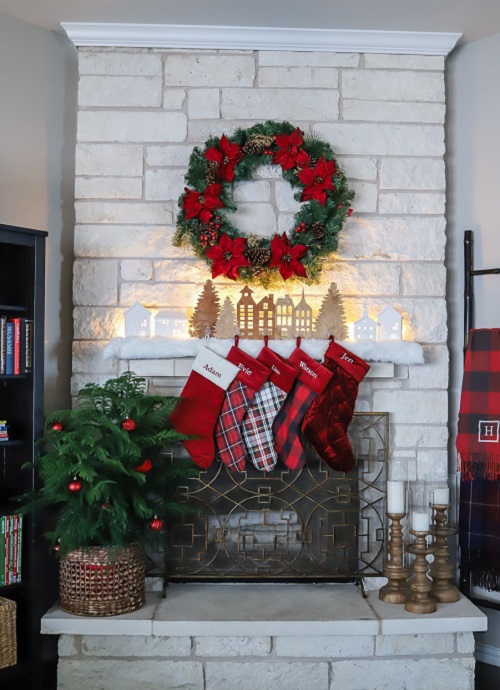 Give your fireplace mantel a festive makeover with this illuminated Christmas village stocking hanger box. The DIY is here.
9. Pinecone Elves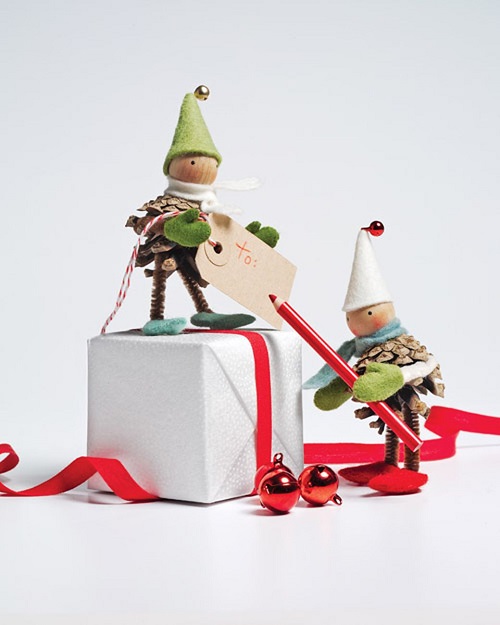 All you need are pinecones, pipe cleaners, and other simple supplies to make these cute elves figurines. They can be used as decorations on a mantel, under a tree, or atop presents.
10. Candy Cane Reindeer Craft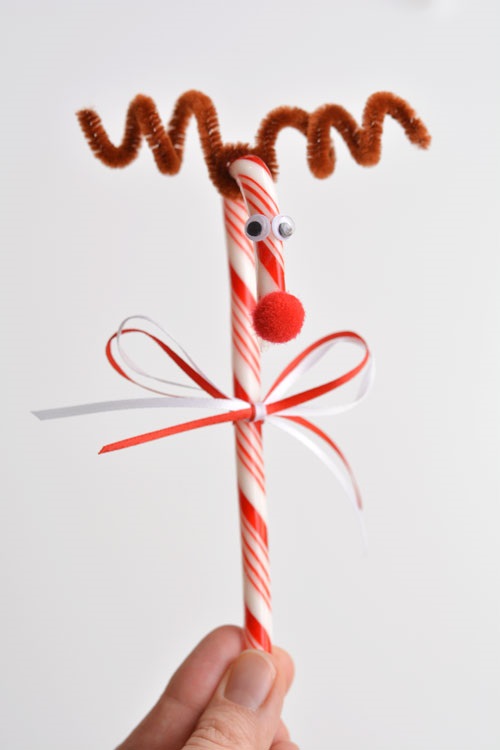 Here's the easy-to-understand tutorial to craft adorable reindeer with a candy cane and other supplies. Put them in a simple glass or vase, and they make an adorable centerpiece.
11. Yarn Snowman
Craft this goofy snowman out of yarn and fill your space with festive vibes. Take inspiration from this article.
12. Tin Can Snowmen Craft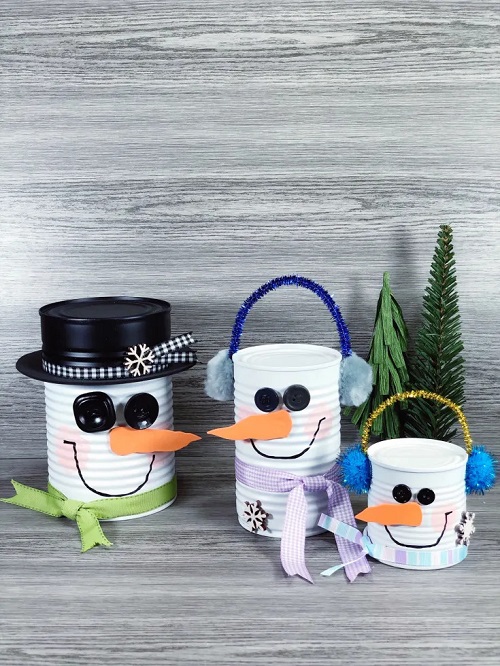 These tin-can snowmen are quick and easy to create with kids. It's a wonderful way to spend time with your children while making the perfect decoration for winter.
13. DIY Mini Snow Globe Ornament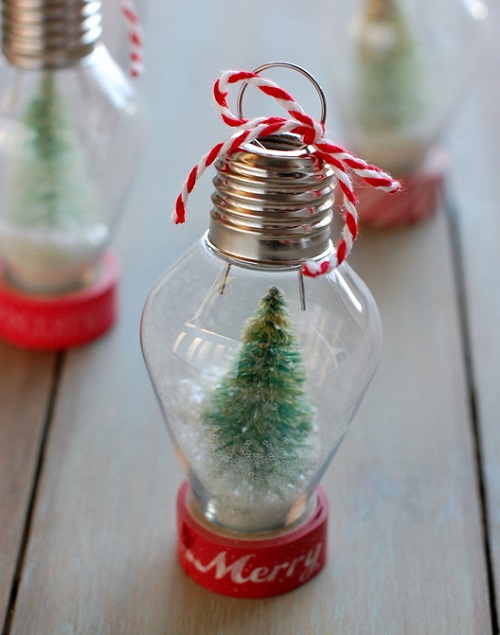 Learn how to make a mini snow globe ornament for your Xmas tree in this step-by-step tutorial.
14. Starry DIY Snow Globe Ring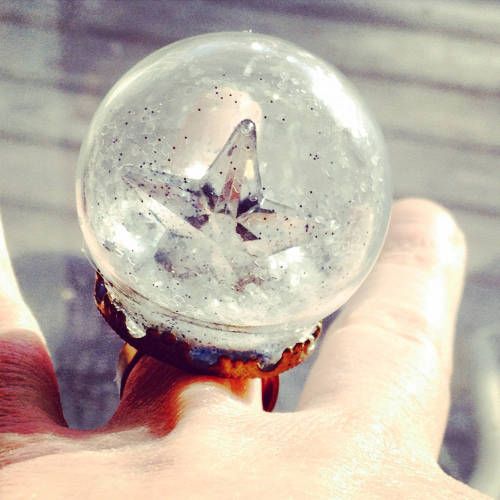 This fun, starry snow globe ring is not only a great conversation piece but also makes for a brilliant Christmas gift idea. It's one of the wonderful last minute Christmas crafts.
15. A Family Portrait Snow Globe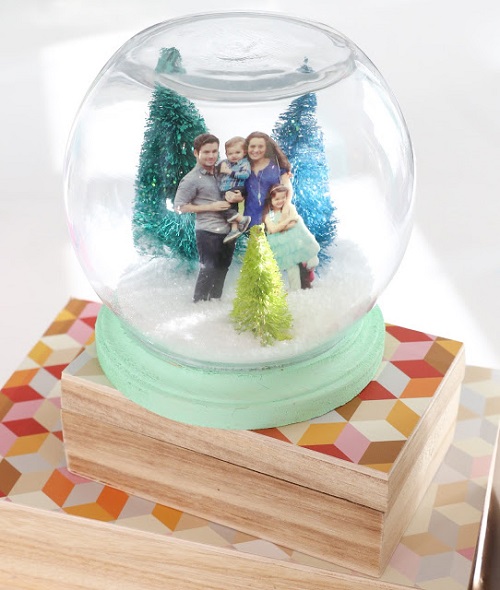 If you want to add a personalized touch to a snow globe, check out this detailed article.
16. CD Christmas Tree Ornaments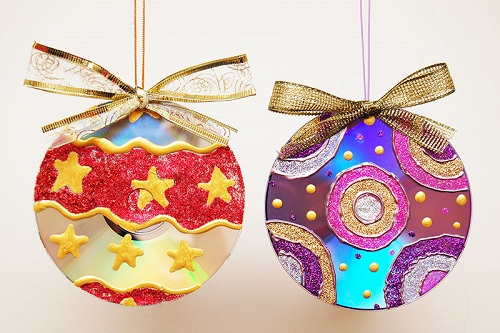 Transform your old CDs into dazzling Christmas tree ornaments with the help of these instructions.
17. DIY JOY Holiday Letter Decor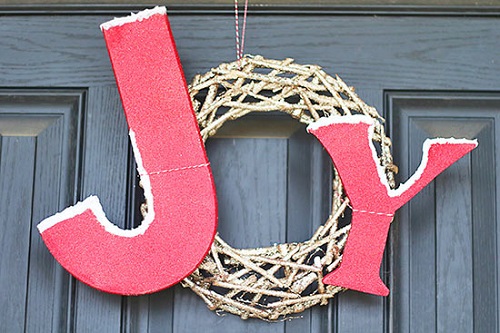 Craft a faux snow-covered Joy sign to get into the festive mode. Here is how to make your own.
18. Pinecone Snowman Ornaments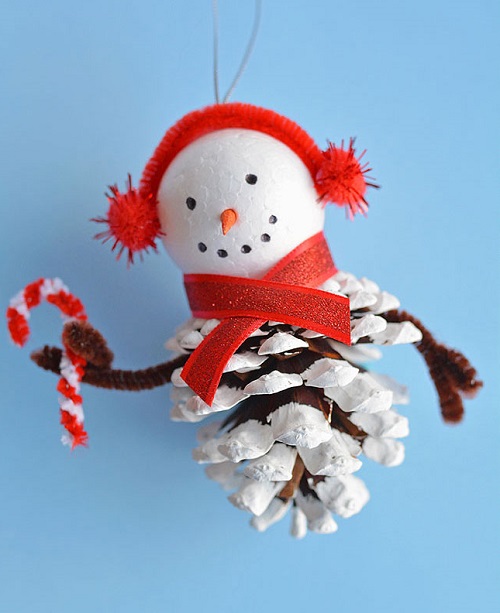 This pinecone snowman ornament is cute and super fun to make. With a pinecone and some simple dollar-store craft supplies, you can put together a snowman in no time.
19. DIY Holiday Pinecone Garland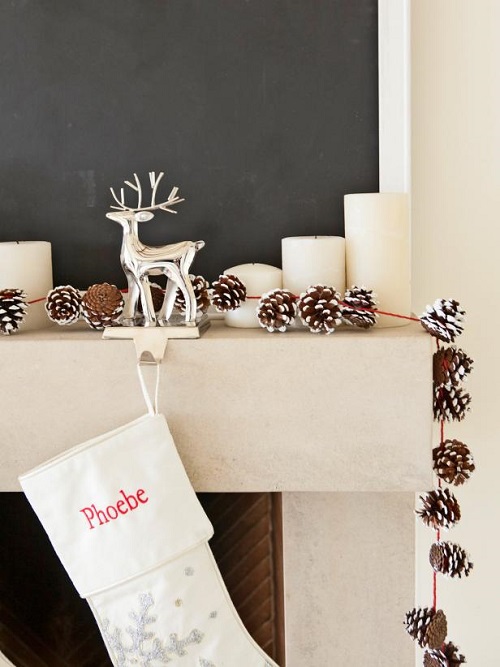 Stylishly bring the outdoors in by creating a garland made of small pinecones and red yarn. Drape it over the mantel, Christmas tree, or down the length of the dining table for an understated festive touch.
20. No-Sew Sock Snowman Craft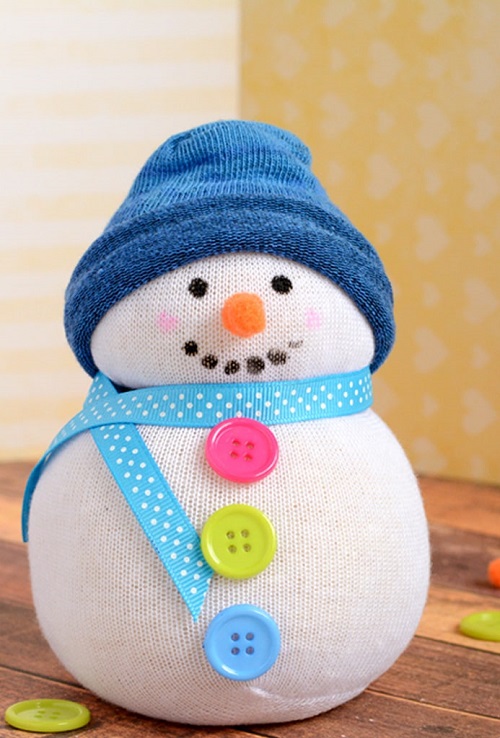 Whether you want a cute DIY gift or a unique door stopper, this no-sew sock snowman craft is certainly something to try.
21. Cutest Mason Jar Lid Wreath Ornaments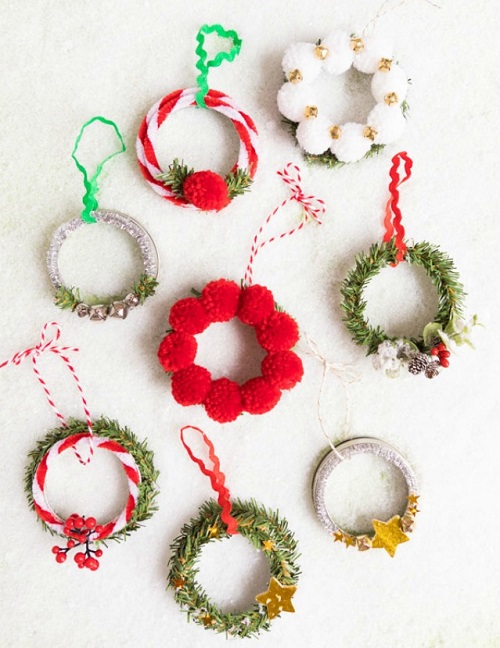 Show off your crafting skills by converting mason jar lids into mini wreath ornaments for the Christmas tree.
22. Handmade Star Wire Ornament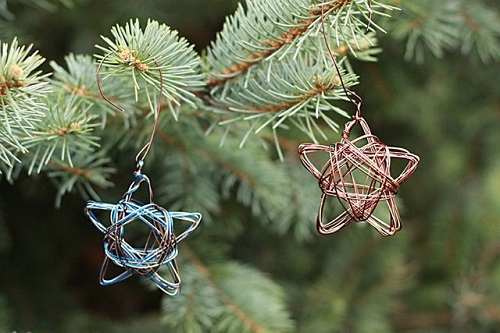 Amp up the look and feel of your Xmas tree with these unique handmade star wire ornaments. Get the instructions here.
23. Burlap Reindeer Ornament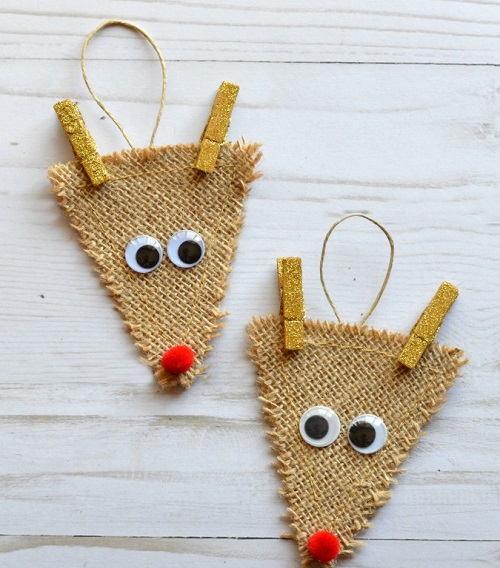 To copy these adorable burlap reindeer ornaments, go through this helpful tutorial. They are quick and easy to set up with just a few craft supplies and glue.
24. Let it Snow – Scrabble Tile Ornament
Make a "Let It Snow" scrabble tile ornament from scrabble tiles and snow texture paint. It's one of the most amazing last minute Christmas crafts for kids and adults.
25. Kid-Friendly Christmas Wreath Craft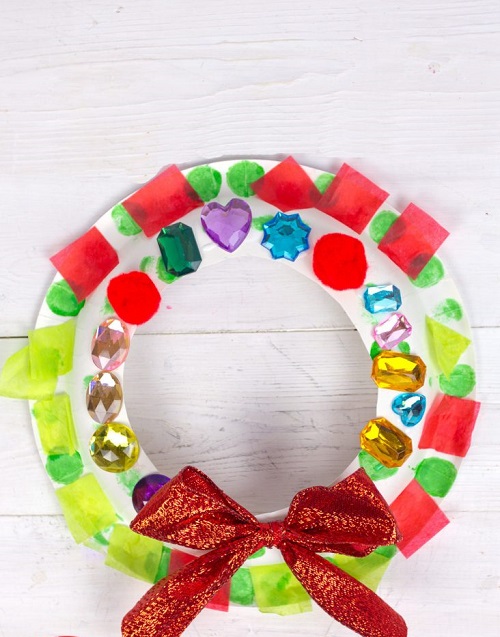 Affordable, festive, and kid-friendly, this holiday wreath craft is an excellent way to keep your kids occupied.
26. Toilet Paper Roll Reindeer Craft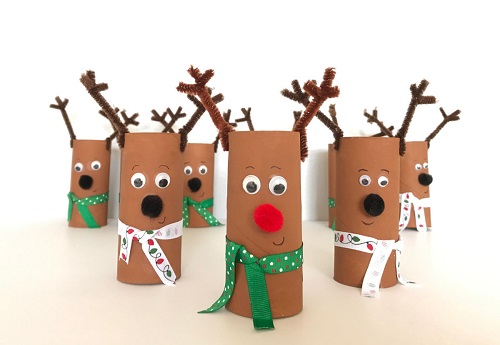 Rather than tossing out empty toilet paper rolls, reuse them to create lovely reindeers. Hop to this article for more info.
27. Cupcake Liner Handmade Ornaments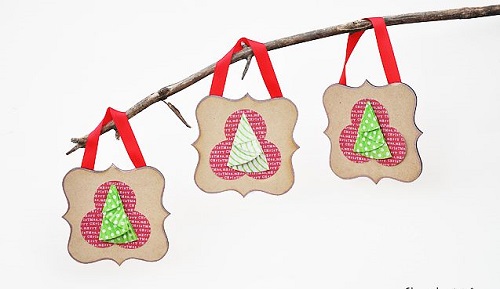 Instead of purchasing Christmas tree ornaments, make attractive ones at home with this instructive tutorial.
28. Fabulous Toilet Paper Rolls Wreath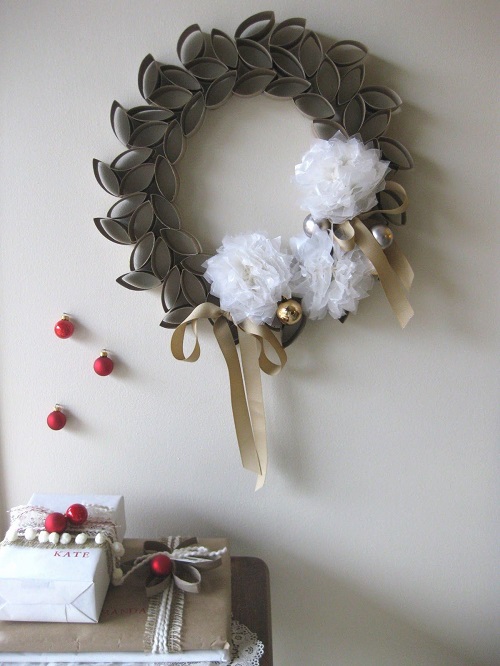 Do you want a quick and easy DIY wreath for Christmas? Check out this fun toilet paper roll version!
29. Cupcake Liner Christmas Trees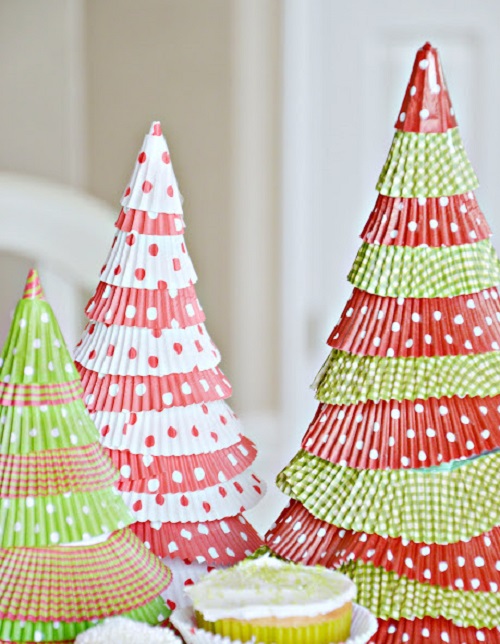 Made from cardstock and lots of cupcake liners, these festive Christmas trees are great additions to mantels and tables.
30. Mason Jar Pinecone Tree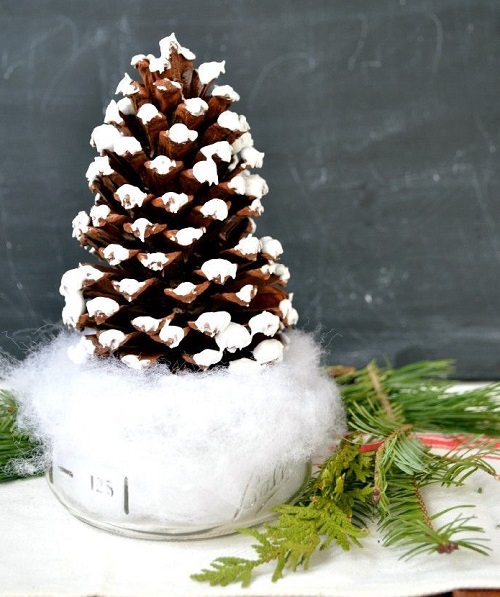 Celebrate the holiday season by adorning your space with this mini mason jar pinecone tree.
31. Star Topper Christmas Craft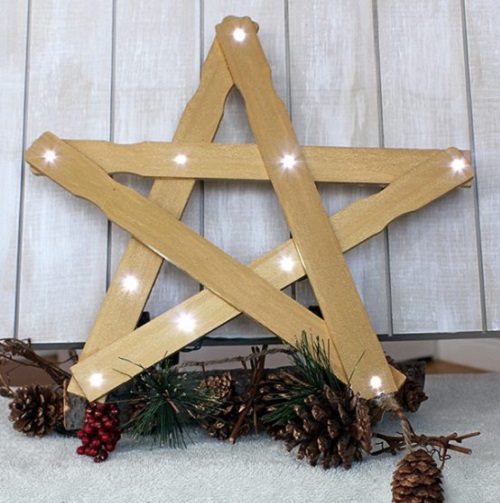 With paint, a string of lights, glue, and paint-stirring sticks, anyone can easily recreate this wonderful holiday decoration.
32. Holiday Character Candy Pots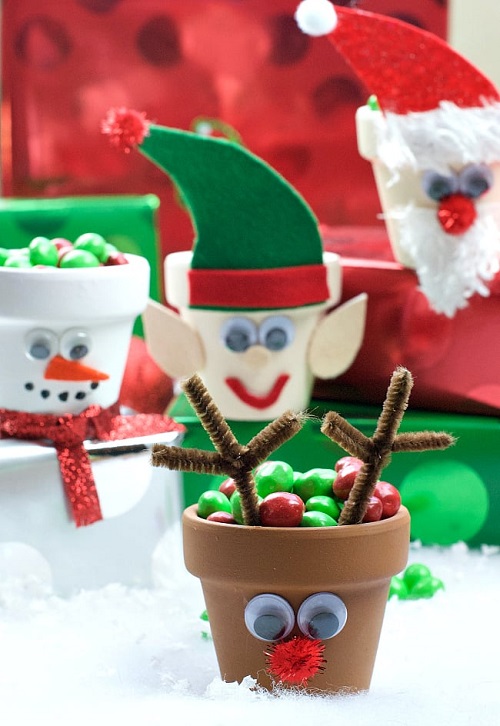 Looking for a fun and simple Christmas kid's craft? These little holiday character pots are easy to make and turn out cute. Your kids will love this project.
33. Christmas Window Popsicle Stick Ornaments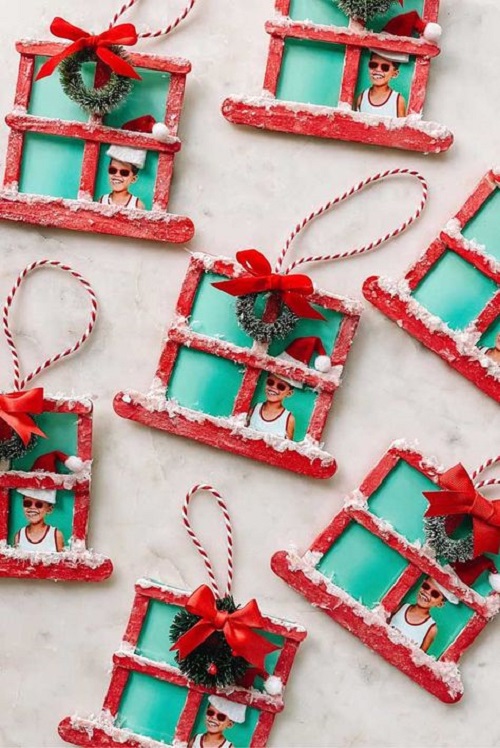 Spice up the appearance of your Xmas tree with these personalized window-shaped popsicle stick ornaments. It's one of the awesome last minute Christmas crafts.
34. Cinnamon Stick Christmas Tree Ornament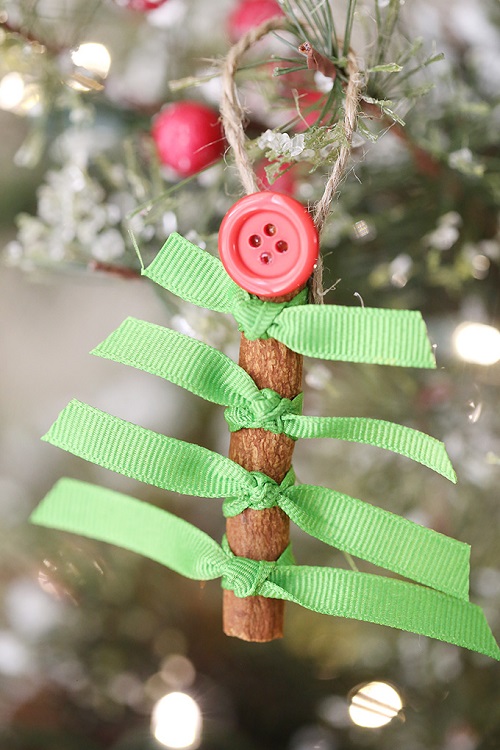 This handmade ornament not only looks super cute on your Christmas tree, but it also smells amazing. Read more here.
35. Puzzle Piece Ornaments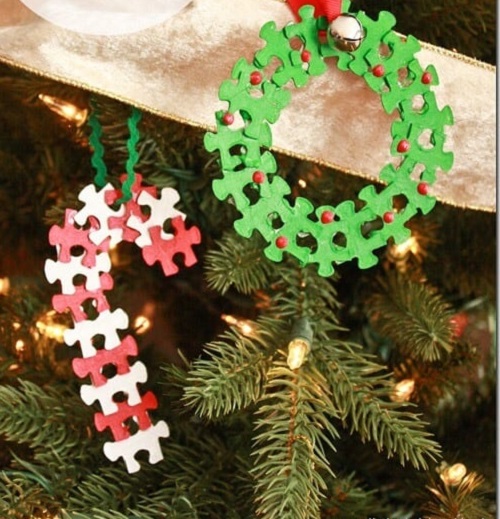 This DIYer explains how she turns puzzle pieces into candy cane and wreath ornaments in this tutorial.
36. Easy Christmas Tree Ornament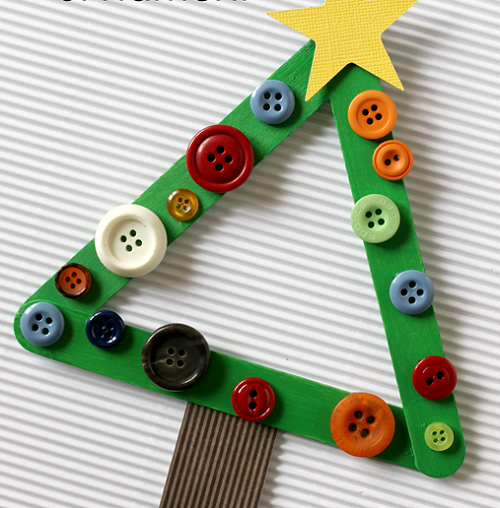 Spruce up your kids' crafting skills by including them in this Christmas tree ornament project.
37. DIY Pinecone Gnomes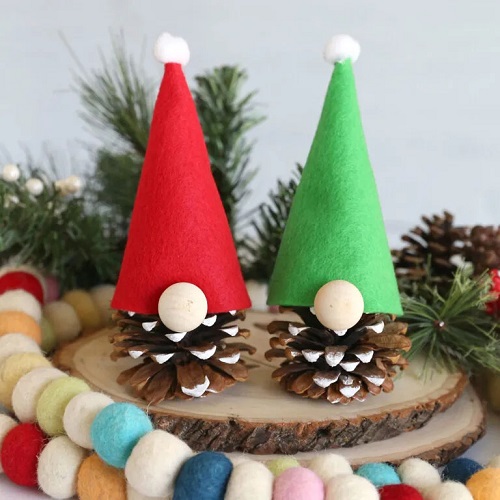 Take your holiday table decor to the next level with these adorable pinecone gnomes.
38. Clothespin Christmas Characters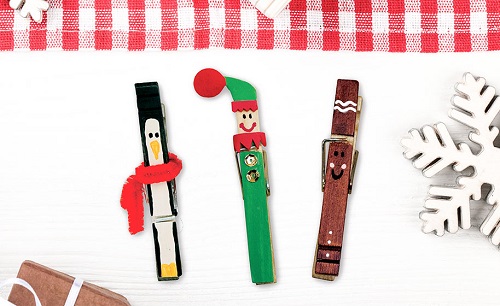 Transform the plain old clothespins into sweet winter and Christmas characters. Get detailed instructions from here.
39. 3D Paper Snowman Ornaments
Have a look at this article featuring 3D paper snowman ornaments made out of card stocks and white ribbon. It's a cute craft to do with kids.
40. Holiday Door Hanger Under $5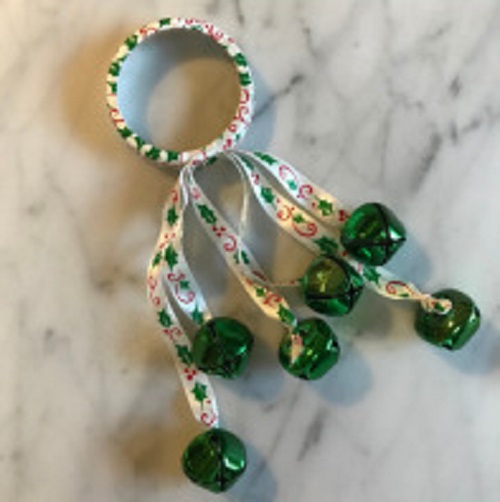 This jingle bell door hanger is fun to make and costs only $5. It also doubles up as a nice holiday gift.
41. Tissue Paper Christmas Trees
Bring home the holiday joy with these cute tissue paper Christmas trees. It's an excellent craft for kids and adults alike.
42. DIY Popsicle Stick Reindeer Ornament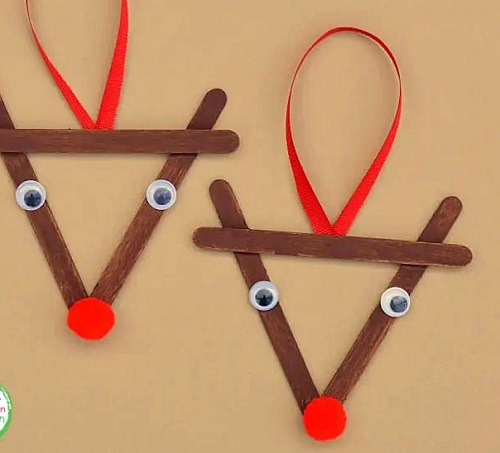 Embellish your tree with this adorable 'Rudolph the Reindeer' inspired popsicle stick ornament. Kids will surely adore this craft idea.
43. DIY Pasta/Macaroni Christmas Tree Crafts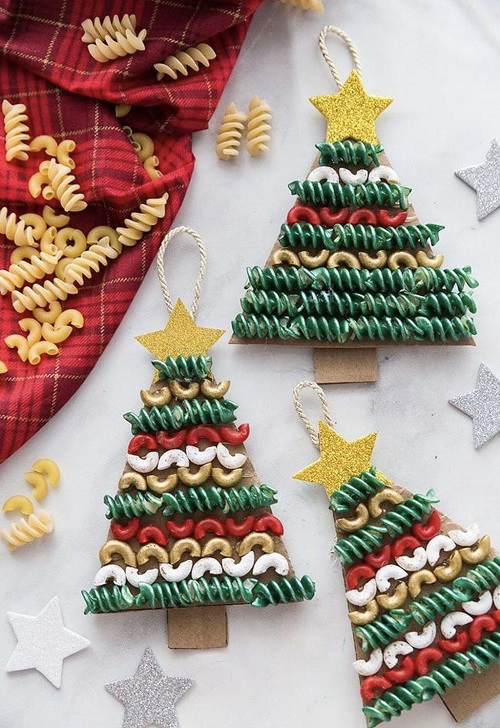 This craft are perfect for preschoolers, but kids of all ages will love it too. You can even add glitter for a little sparkle. It's one of the cute last minute Christmas crafts.
44. Colorful Christmas Rhinestone Ornaments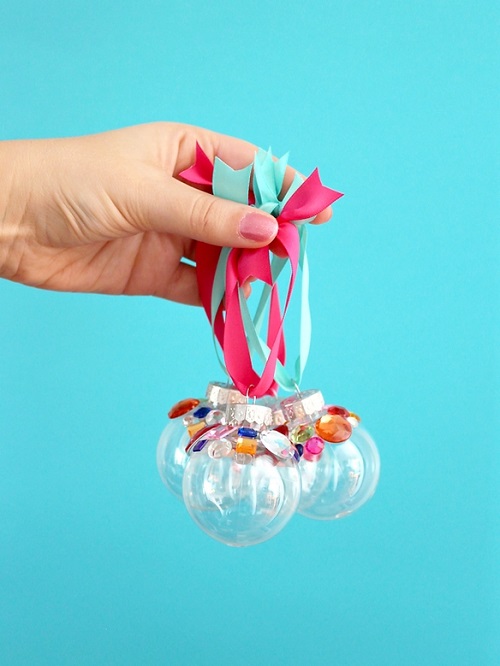 For a pop of color and festive cheer, make these multicolored rhinestone ornaments. The details are here.
45. Lacing Ornaments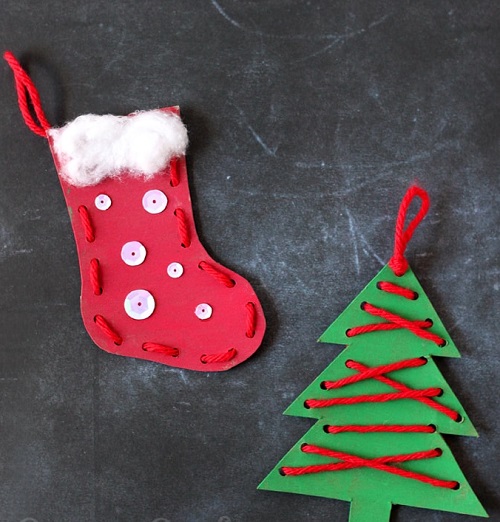 If you want simple Christmas crafts for kids, these lacing ornaments would be a great one.
46. Chocolate Centerpiece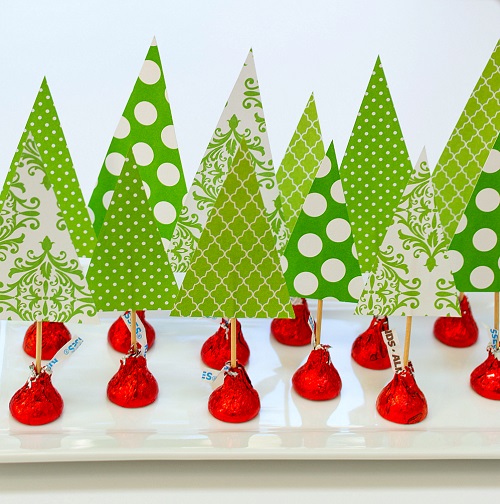 Hershey Kisses, topped with scrapbook paper trees, make a delicious holiday table centerpiece.
47. Paper Doilies Christmas Ornament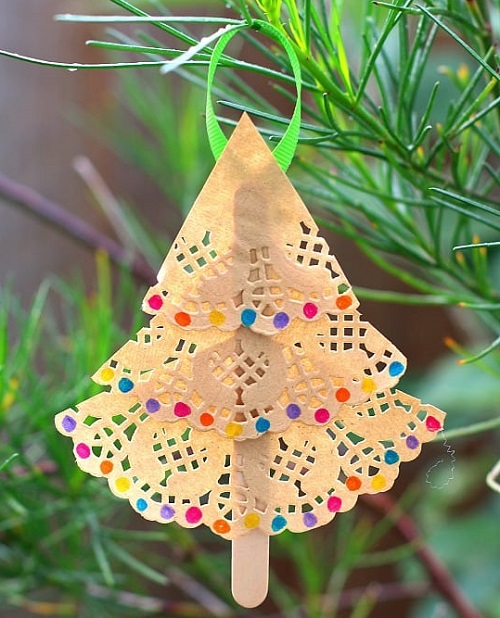 This paper doily ornament craft can be completed in just one sitting, making it a great last-minute Christmas project.
48. Paper Plate Christmas Masks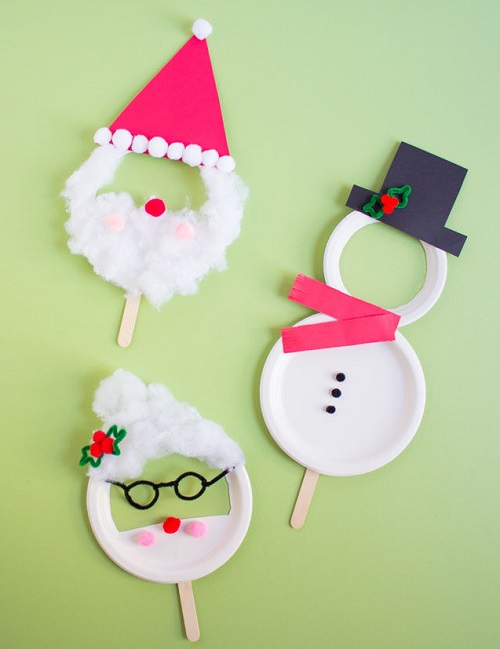 Follow this tutorial to create sweet and silly snowman, Santa Claus, and Mrs. Claus masks.
49. Paper Plate Whirligig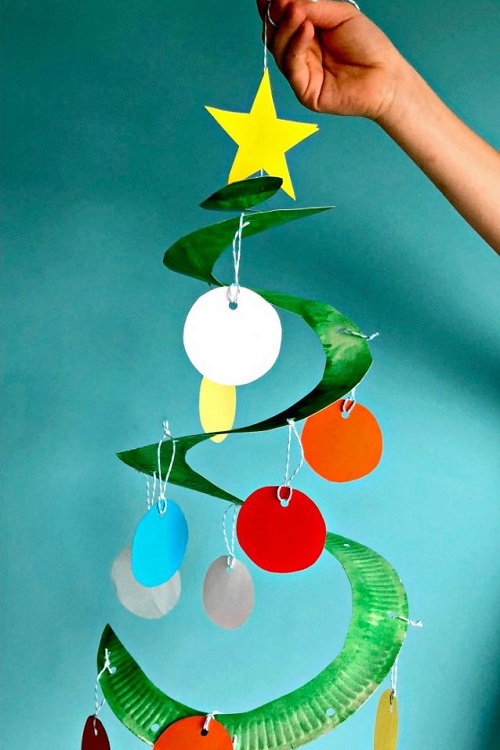 Bored of the regular Christmas tree? Consider making this unique paper plate whirligig.
50. Accordion Christmas Trees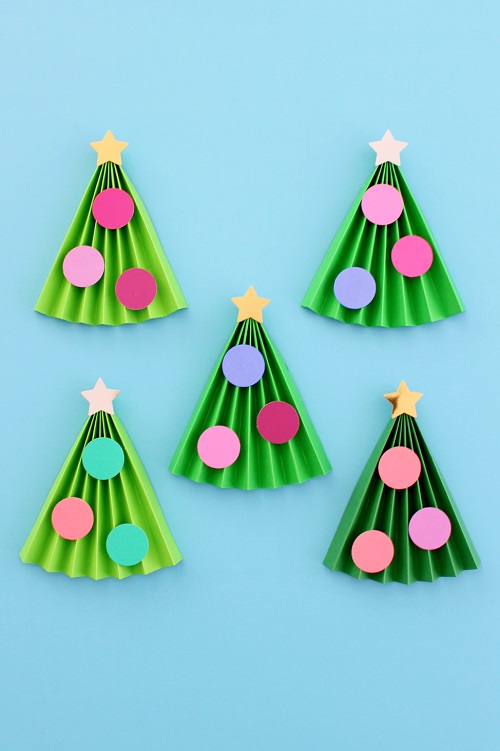 Accordion-styled folded green craft paper adorned with colorful paper cutouts, and a star makes a festive Xmas tree. It's one of the fantastic last minute Christmas crafts for kids.
Find out some creative Christmas ideas with fish bowls here