Transform the bland walls of your house with these beautiful Wall Hanging Plant Decor Ideas and awestruck the guests with your creativity!
Take inspiration from these creative Wall Hanging Plant Decor Ideas to spice up your living space with a dash of greenery. They are ideal for less spacious homes and easy-to-copy.
Here are some attention-grabbing indoor plant wall decor ideas
---
Wall Hanging Plant Decor Ideas
1. Wall Hanging Driftwood Air Plant Holder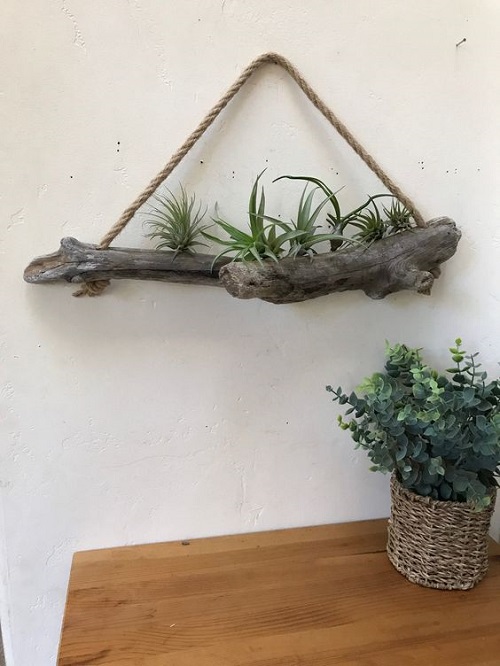 All you need is driftwood, air plants, a drill, rope, and a nail to re-create this air plant display on your wall.
2. Mini Wooden Box Wall Hanging Planter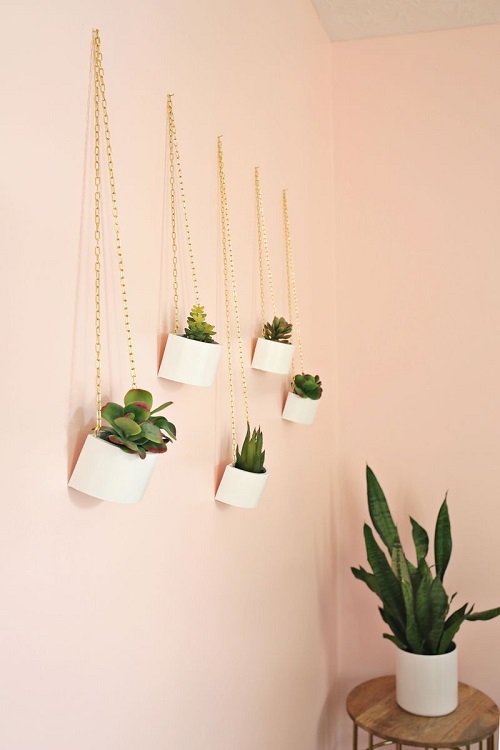 Bring greenery indoors by making these wooden box hanging planters to showcase faux succulents in style. The details are here.
3. DIY Upcycled Plant Hangers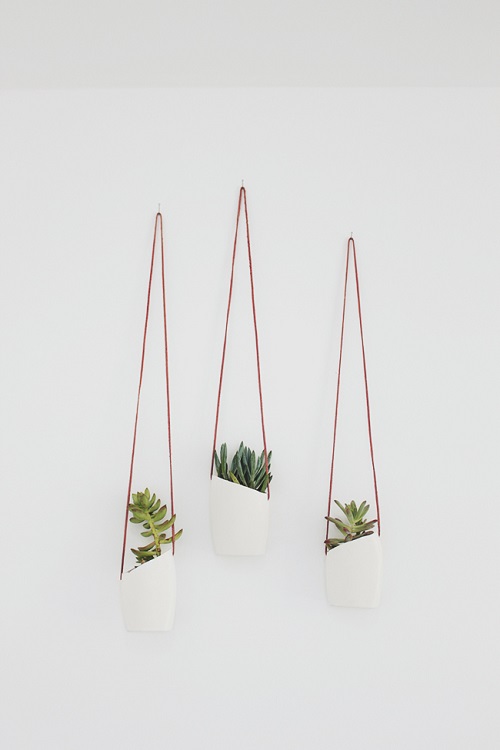 How about using empty moisturizing lotion bottles to create stylish hanging planters for succulents or airplants like these! They brighten up your monotonous wall quickly.
4. Plywood Planter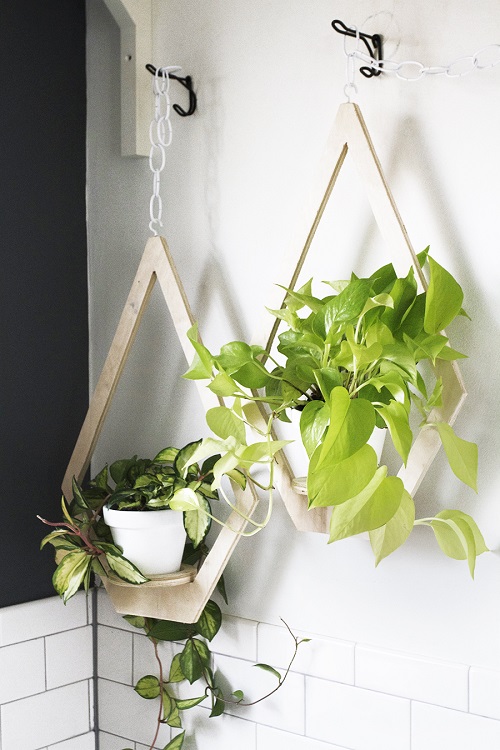 To put together these simple, diamond-shaped planters, go through this step-by-step tutorial. It's one of the best wall hanging plant decor ideas.
5. Creative Plant Hanger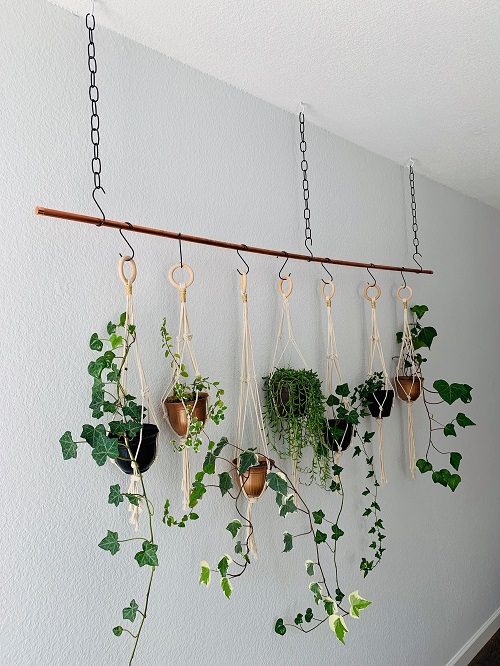 Create this statement piece for your dull living room wall to hang different planters of your choice. The details are here.
6. Tree Branch Plants Holder
Grab a tree branch, glass jars, jute rope, screw hooks, and pothos to create this stylish wall decor. Watch the video to know more.
7. DIY Macrame Plant Wall Hanging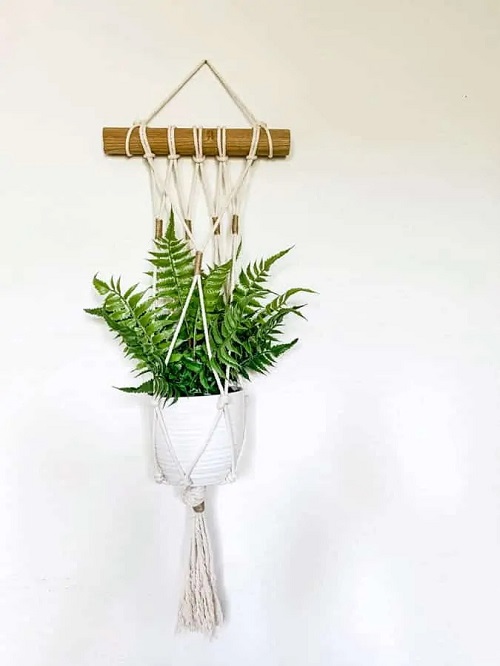 Create this trendy boho wall hanging to boost the aesthetic appeal of your living space. It's a perfect project for a macrame beginner. Read more here.
8. DIY Wall Hanging Terrariums
Perfect for displaying real or faux air plants, these wall-hanging terrariums add character and charm to the space.
9. Pouches for Fake Plants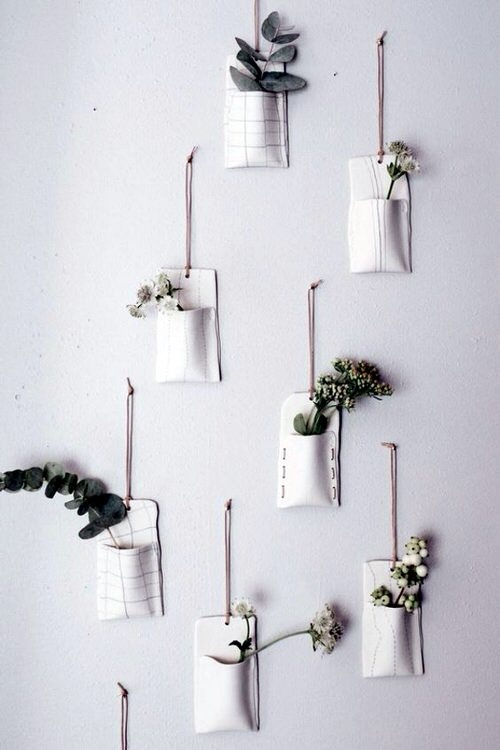 Hang pouches with faux plants or air plants on the wall using jute twine and nails for an interesting look.
10. Peg Board Hanging Planter DIY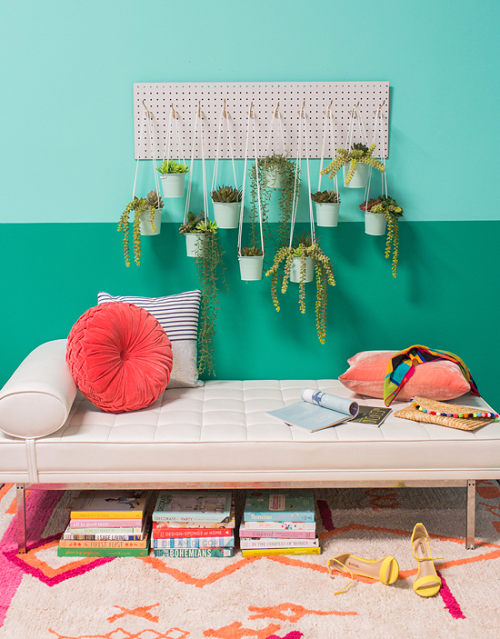 This versatile peg board hanging planter lets you add as many plants as you want! The details are here.
11. Cheap Hanging Planters With Jute Rope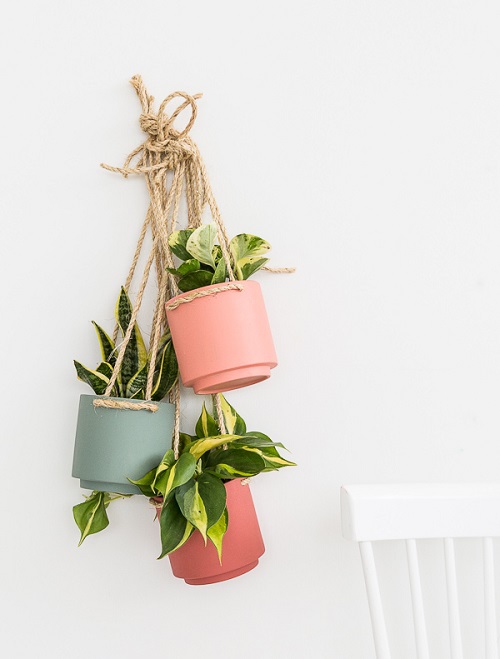 If you want a super affordable yet chic wall hanging plant decorative, this tutorial is for you.
12. DIY Hanging Shelf Garden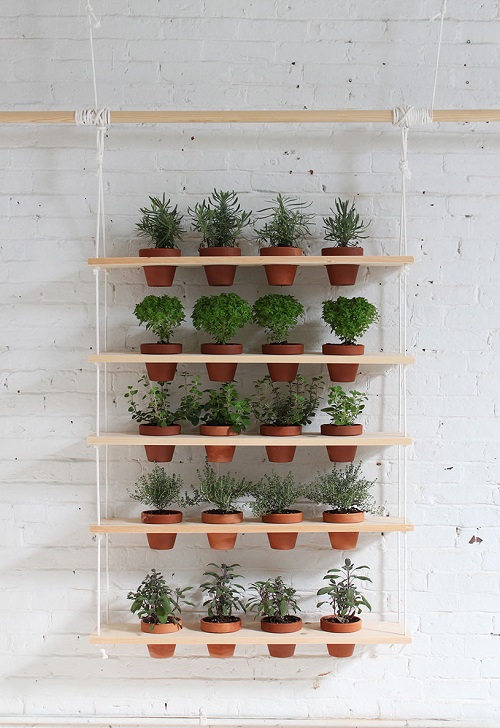 Made from pine boards, terracotta pots, rope, zip ties, and tools, this hanging shelf garden is an easy-to-make project.
13. Wall Hanging Water Garden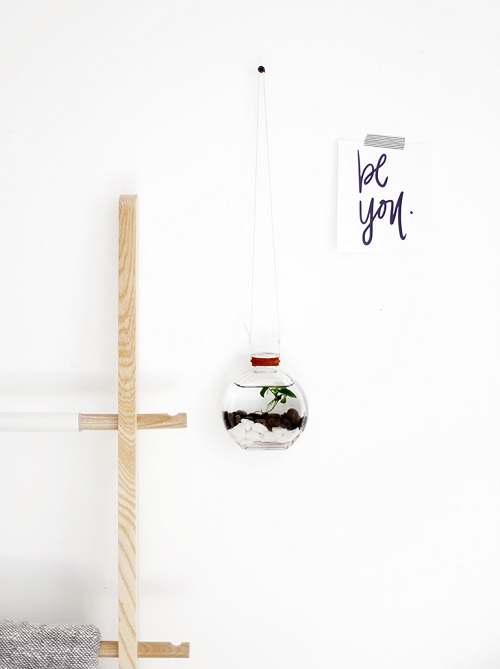 Follow this tutorial to DIY a dangling mini water garden to add pizzazz indoors. This idea is inexpensive and beginner-friendly.
14. Mason Jar Air Plant Display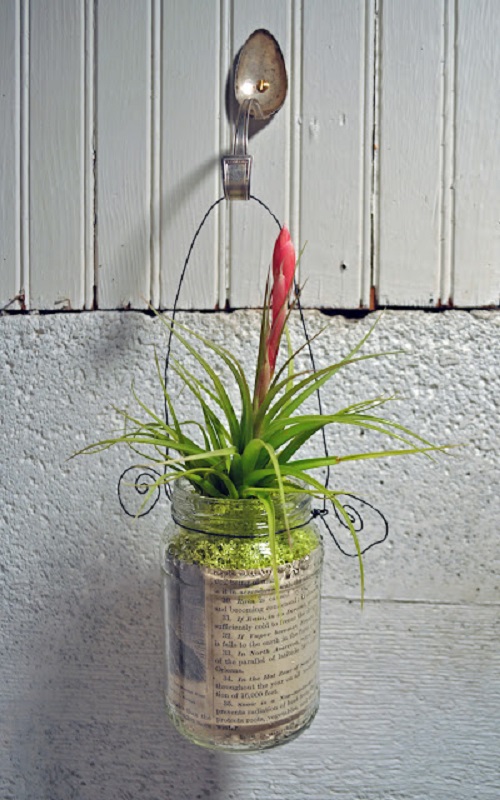 Repurposes a glass jar and an old spoon to create a whimsical hanging planter that gives a unique look to the wall.
15. DIY Blocks and Beads Planter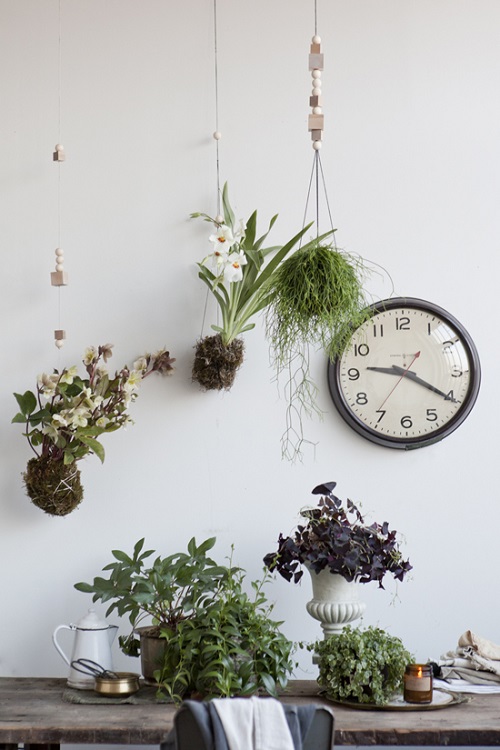 Consider making these blocks and beads planters to spice up your wall – a modern twist on kokedamas. The details are here.
16. Suspended Ball Planters
Check out this video tutorial to create ball planters out of plastic bottles and jute rope. It looks fantastic on the wall.
17. Hanging Wooden Planters Idea
With a little creativity, plastic bottles, and twigs, you can easily craft this tiered hanging planter for a gorgeous display.
18. DIY Hanging Leather Planter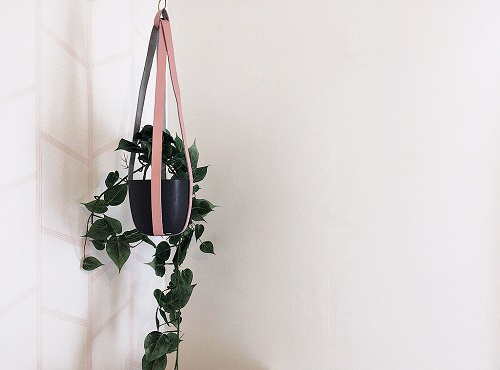 Adorned with a beautiful vining plant, this simple dangling leather planter is a fantastic way to add life and energy to a room.
19. DIY Hanging Tiered Rain Gutter Planter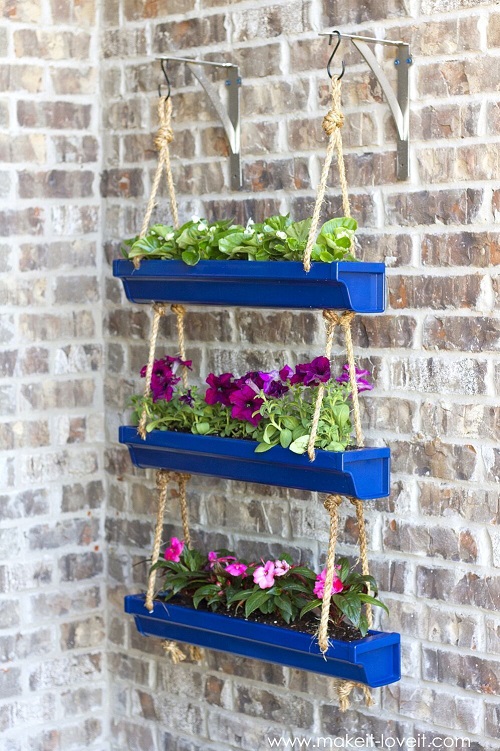 Decorate your boring wall with this blue-colored, three-tiered planter for an amazing look. Get the how-to here.
20. Wandering Jew Plant Wall Hanging
https://www.youtube.com/watch?v=nzJ8GQLlnAo&ab_channel=C4UShaijuMalluMedia
Watch this YouTube tutorial to make an adorable wall-hanging, featuring the wandering jew plant.
21. Plants in Hanging Jute Basket
Put your creative hat on and reuse an empty plastic container to grow plants of your choice on the wall.
22. Hanging Macrame Planters from Broomstick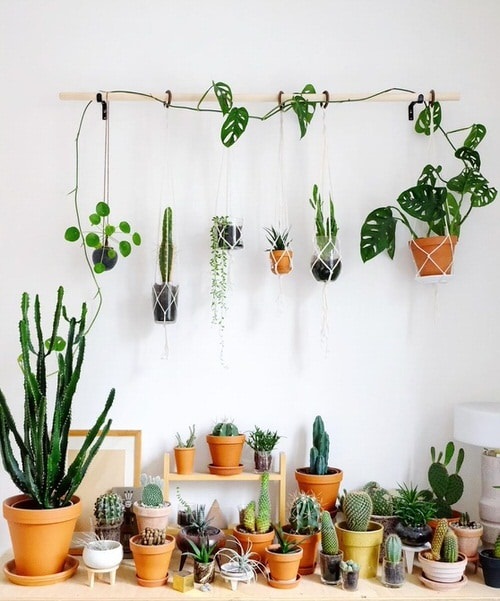 Install a broomstick on the wall and adorn it with lots of plants to make an enchanting display. The details are here.
23. Wall Hanging Planter DIY
Rope, glass bottles, cylindrical-shaped cardboard, a paper cutter, and a glue gun are what you need to complete this project.
24. Nautilus Themed Tillandsia Mobiles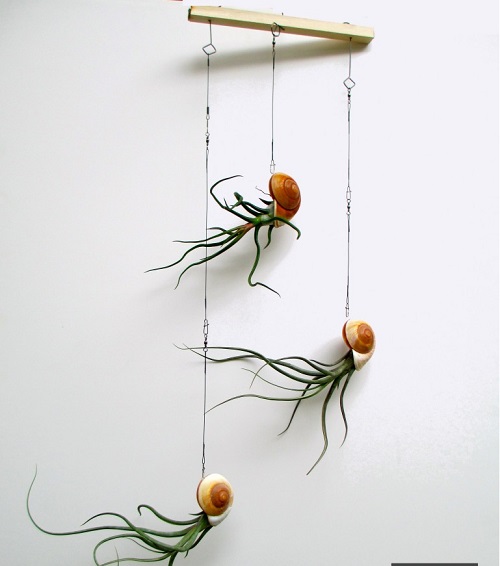 Show off your DIYing skills by making this trendy air plant decorative. It's one of the most fantastic wall hanging plant decor ideas on this list.
25. Mason Jar Planters Wall Decor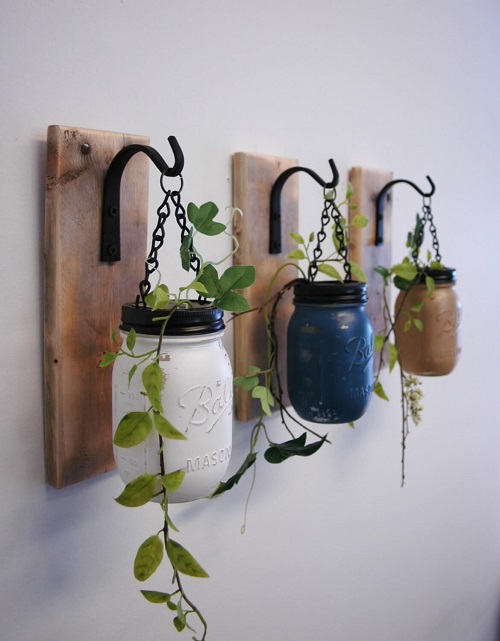 Beautify your boring bedroom wall by displaying gorgeous plants in these painted mason jar planters. Gather lantern hooks, wooden boards, metal chains, and mason jars for this idea.
26. Clay Air Plant Holder DIY
Give your air plants a stylish nook to nestle in with these polymer clay hanging planters.
27. PVC Vertical Garden
This video shows how to make an amazing indoor vertical garden using old PVC pipes and nylon rope.
28. Branches and Plastic Bottles Wall Planter
You can create this eye-catching, hanging-tiered planter by watching this detailed video tutorial.
29. Suspended Bamboo Planter
These bamboo stalk planters are great options to showcase ornamental plants on the wall.
30. Chic Vertical Garden
Take a look at this video to make a stunning wall-hanging plant decor that'll surely attract a lot of eyeballs.
31. Dream Catcher Plants Wall Hanging Decor Ideas
If you want to make something quick and easy, this dream catcher plant hanger for beginners is a great place to start.
32. Air Plant Hangers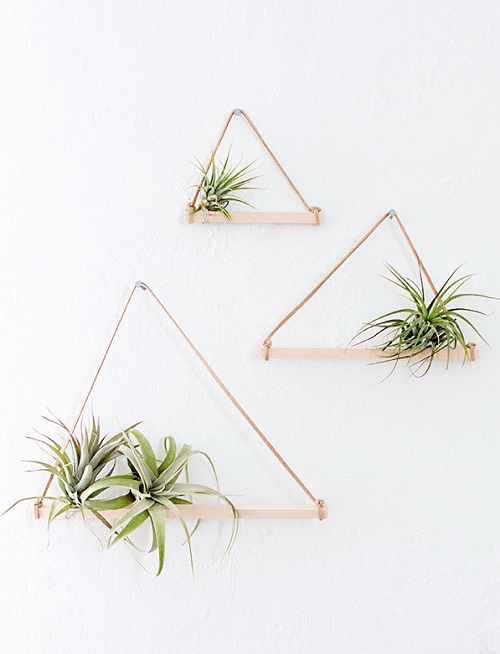 This air plant hanger makes an excellent wall decor. Go through this tutorial to learn more.
33. Birch Hanging Air Plant Holder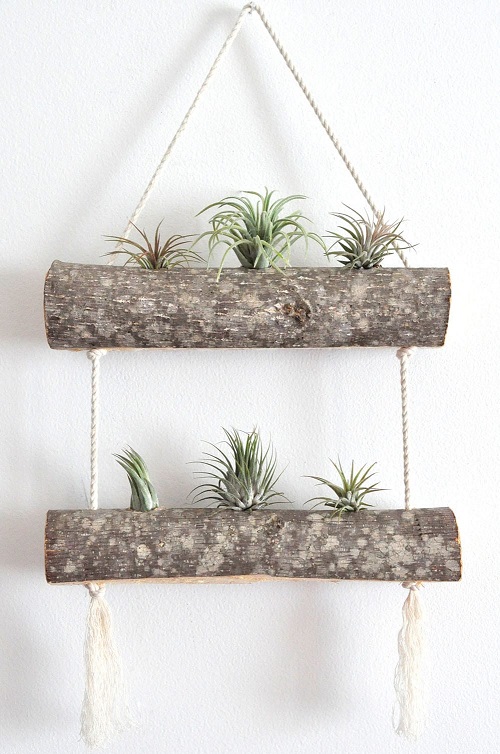 Try this dangling birch air plant holder adorned with epiphytes to enhance your home's aesthetic appeal. Read more here.
34. Air Plant Wall Hanging Decor Ideas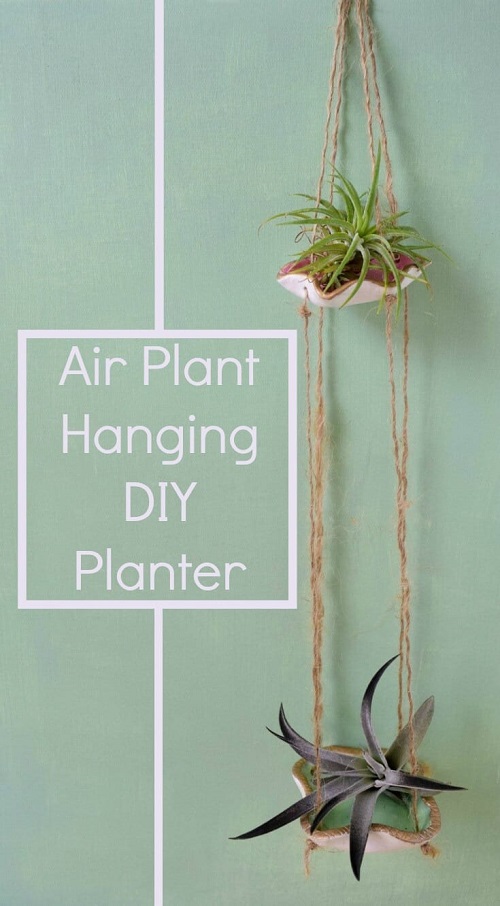 This kid-friendly, plant decor idea is perfect for inviting mother nature indoors. Learn more here.
35. Display Air Plants in Brass Holder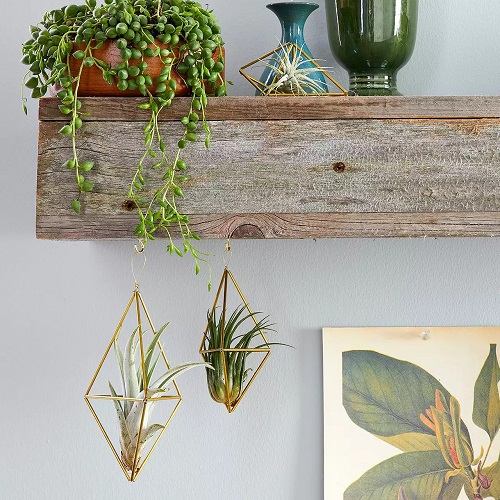 DIY this attention-grabbing, air plant holder to show off your epiphytes in modern geometric style.
36. Metal Bucket Planter Wall Hanging Decor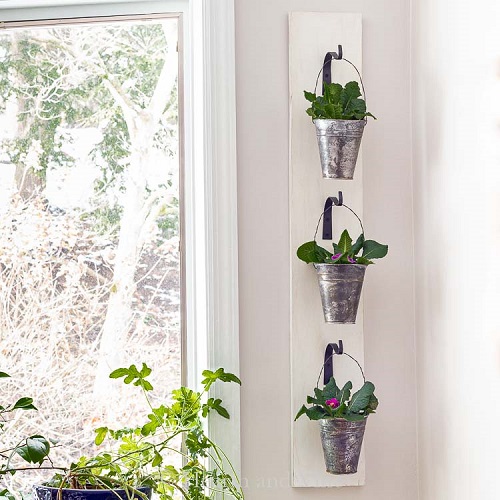 This beautiful DIY indoor wall planter is easy to recreate. Fill it with small plants and fresh or artificial flowers for a casual farmhouse look.
37. DIY Paper Mache Plant Pod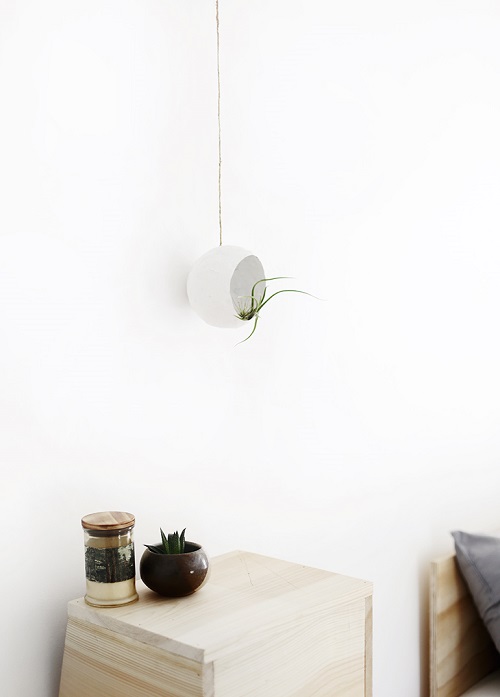 This paper mache air plant pod is one of the most minimal yet appealing wall hanging plant decor ideas. Read more here.
38. DIY Plastic Bottles Planter for Wall Hanging
Give your plants an attractive planter using a couple of plastic bottles, spray paint, and this video tutorial.
39. Brass Ring Hanging Planter DIY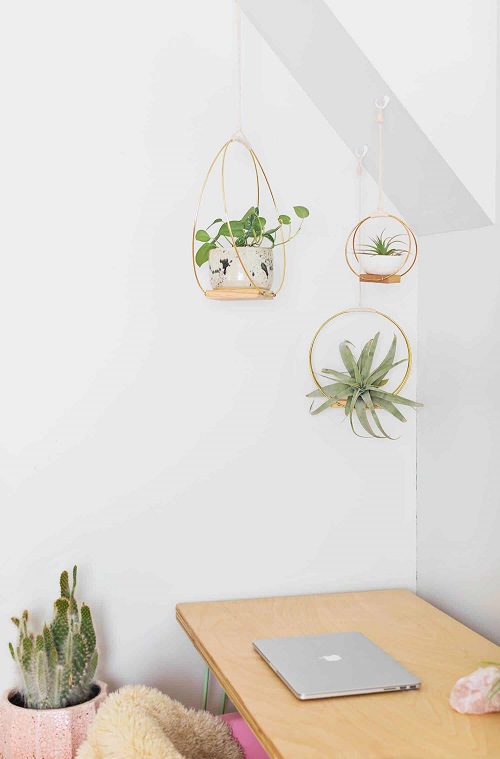 This brass ring hanging planter is perfect for larger air plants or trailing succulents because you don't have to take them down for watering as often.
40. Old Candle Lanterns as Hanging Planters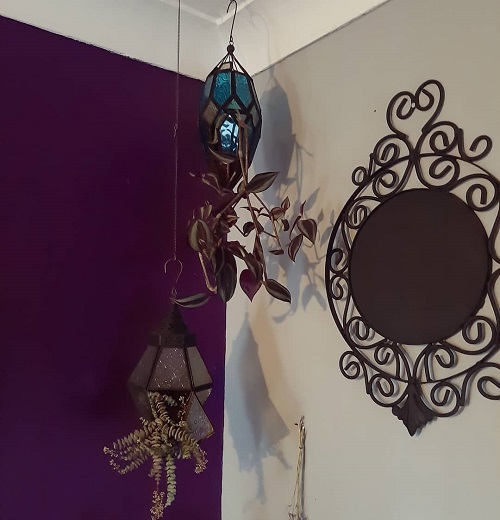 Turn some old candle lanterns into hanging planters. Just remove the candle holder, line the inside with some compost bag, and then fill it with plant babies.
Find out some unique air plant holders here