Here are the most stunning Indoor Plant Wall Decor Ideas for you to add some tropical flair and greenery to your house!
Want to flaunt your green thumb, but the limited floor space in your apartment stops you? Try these outstanding Indoor Plant Wall Decor Ideas. You can also use faux plants instead of real ones.
Have a look at some cool indoor plants in plastic bottle ideas here
---
Indoor Plant Wall Decor Ideas
1. Wall Mounted Plant Shelves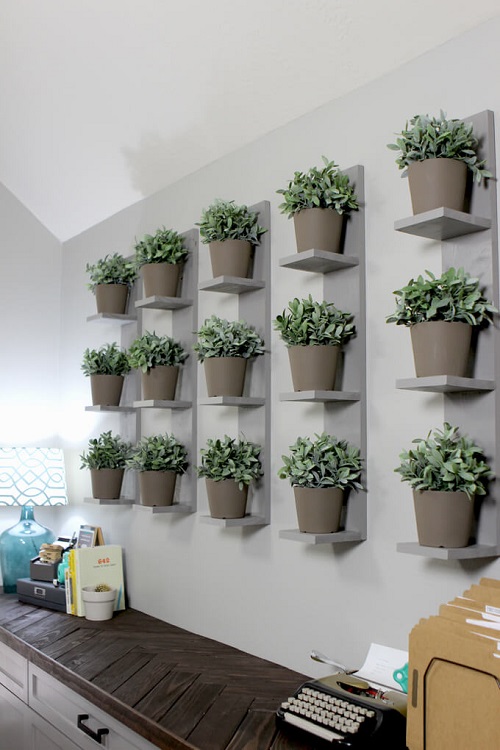 Build these plant shelves to create an eye-catching green accent indoor plant wall. Read more here.
2. Plant Pockets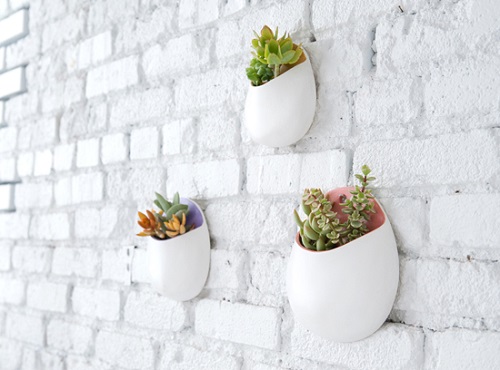 Made with air-dry clay, these white plant pockets ornamented with succulents add personality and character to any wall. Best plant wall decor idea for succulent lovers!
3. Wall-Mounted Pentagon Succulents Boxes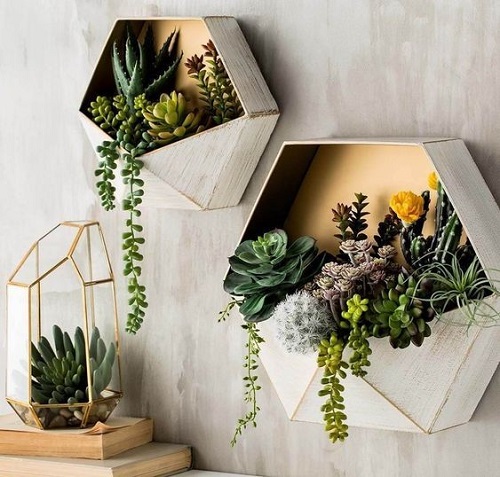 These pentagon-shaped wooden boxes are ideal for creating an indoor plant wall.
4. Wooden Ladders with Pots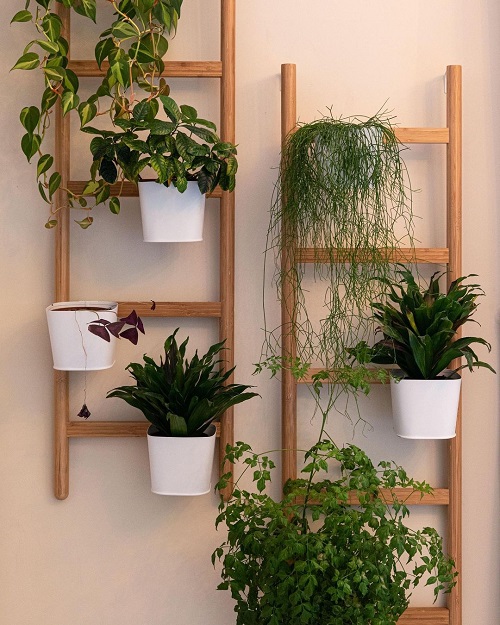 Hanging wooden ladders on the wall is a great way to add greenery indoors while staying space-efficient.
5. Wall Hanging Driftwood Air Plant Holder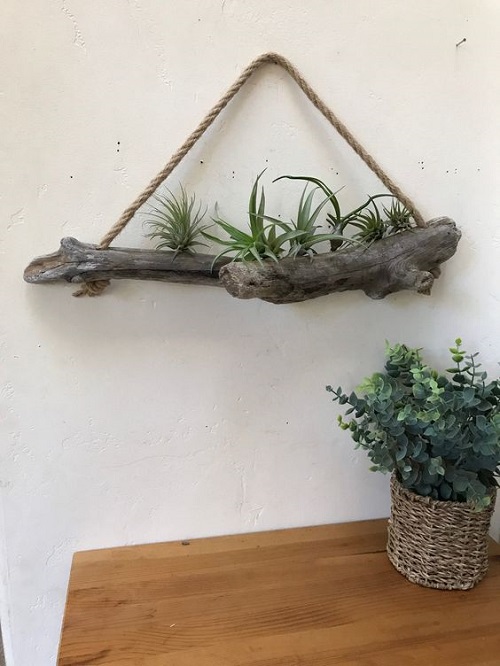 To bring earthy vibes indoors, hang driftwood on the wall using rope to showcase air plants in style to execute this gorgeous plant wall decor.
6. Living Dreamcatcher

Give your bedroom wall an attractive focal point by combining moss and air plants with the DIY dreamcatcher. This an excellent plant wall decor you must try!
7. Wood and Leather Trellis Plant Wall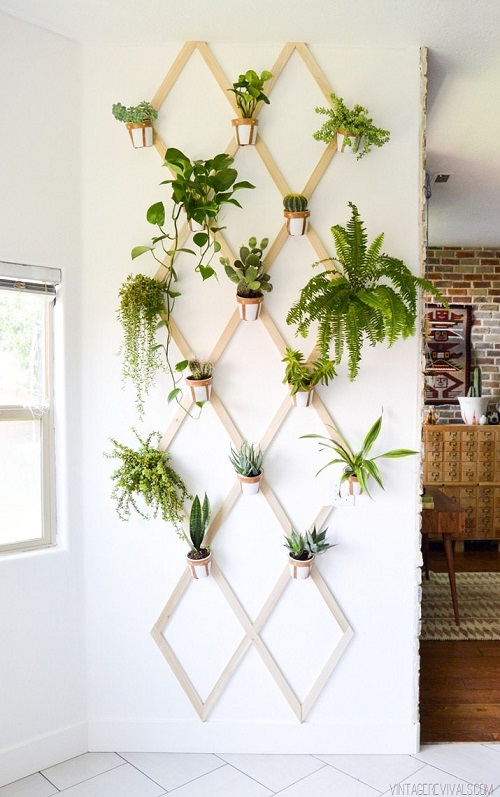 Recreate this modern trellis specimen to give your dull wall a timeless look. Hop to this article to learn more about this indoor plant wall idea.
8. Stick Glass Jars and Vases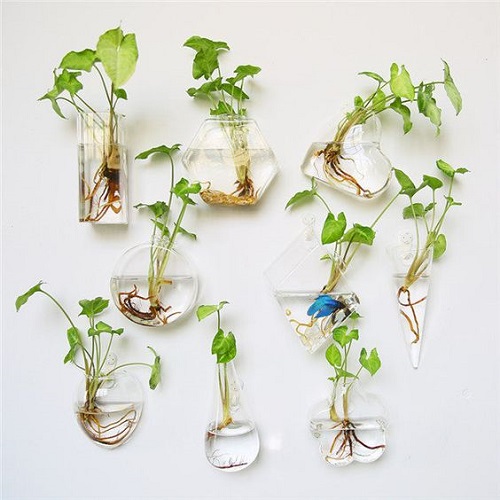 Cling glass jars and vases on the wall using hot glue to grow pothos and other water-based plants to complete this indoor plant wall idea.
9. Mini Wooden Box Wall Hanging Planter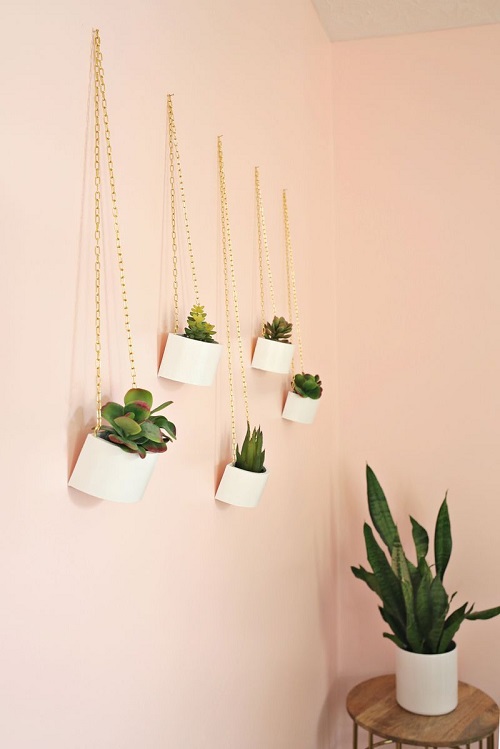 Learn how to transform small round wooden jewelry boxes into stunning wall-hanging plant holders in this article. This is a fantastic plant wall decor idea!
10. Upcycled Plant Hangers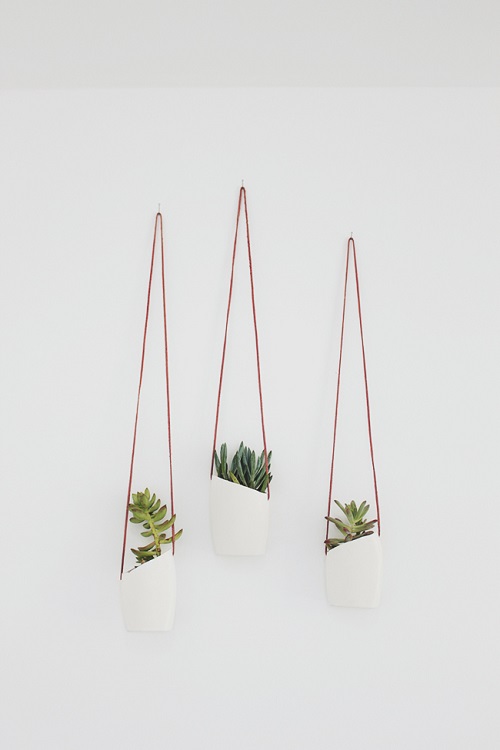 Turn empty lotion bottles into simple hanging planters to liven up any boring corner into an indoor plant wall. Read more here.
11. Wall-Mounted Plywood Planter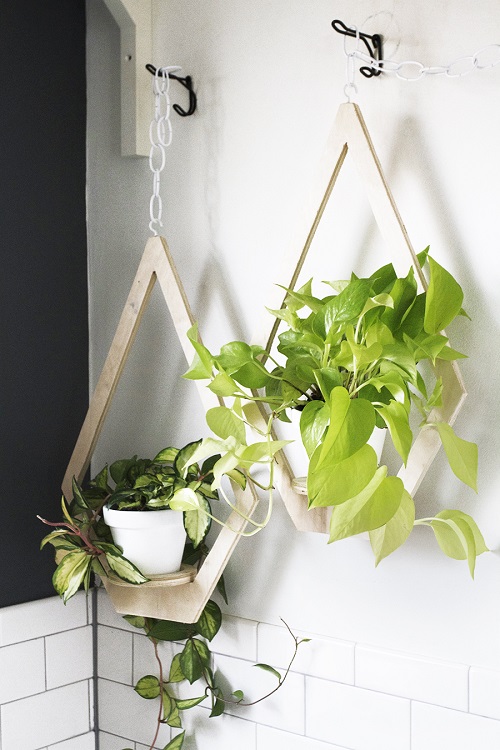 Put your creativity hat on and follow this step-by-step tutorial to build awesome hanging plywood planters. Paint them to complete the look of this indoor plant wall.
12. Steel Mesh Plant Holder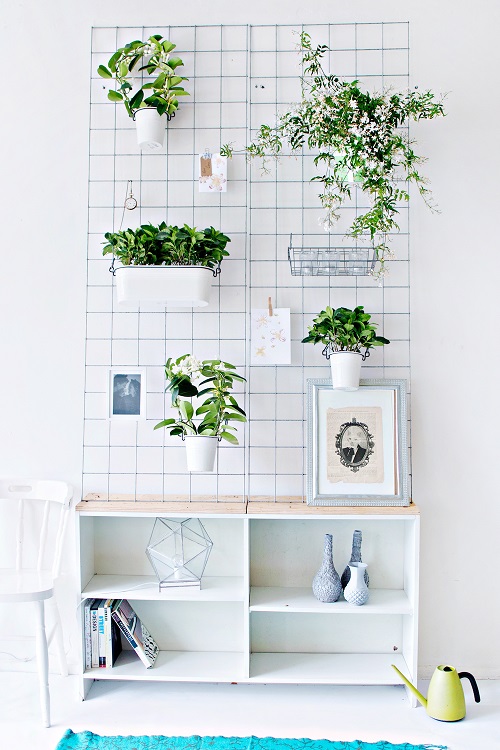 A steel mesh adorned with different planters makes an elegant plant wall decor. Get the instructions here.
13. A Living Wall Art!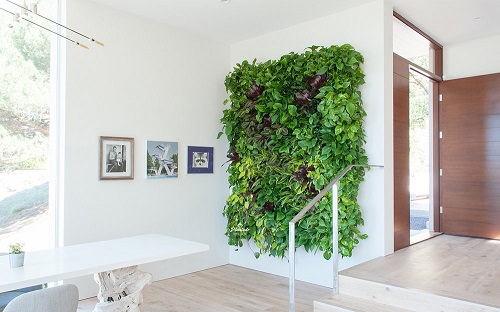 Check out this detailed tutorial to make indoor plant wall decor with a few simple steps.
14. Stylish Plant Hanger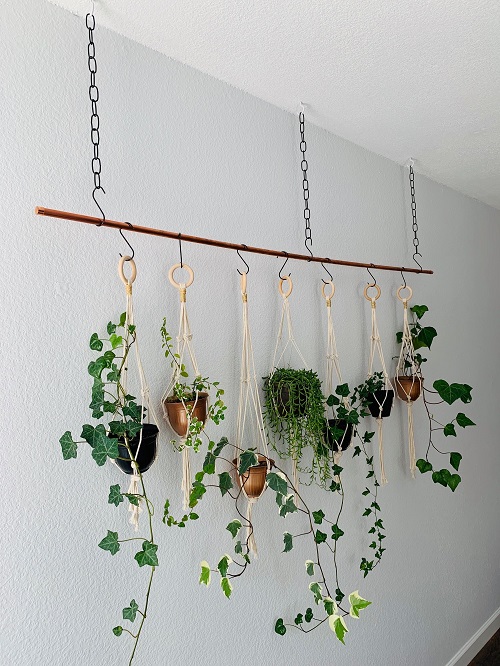 Improve your home's visual appeal and air quality by hanging macrame planters from this stylish plant hanger. The details of this indoor plant wall idea are here.
15. Wooden Pallet Frame with Tubular Pots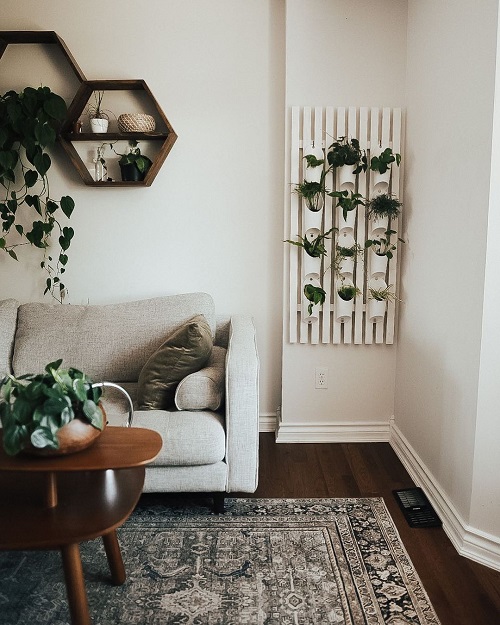 You need a wooden pallet frame, paint, adhesive hooks, nails, plastic tubular pots, and plants to make this farmhouse-themed plant wall decor.
16. A Mini Jungle on the Wall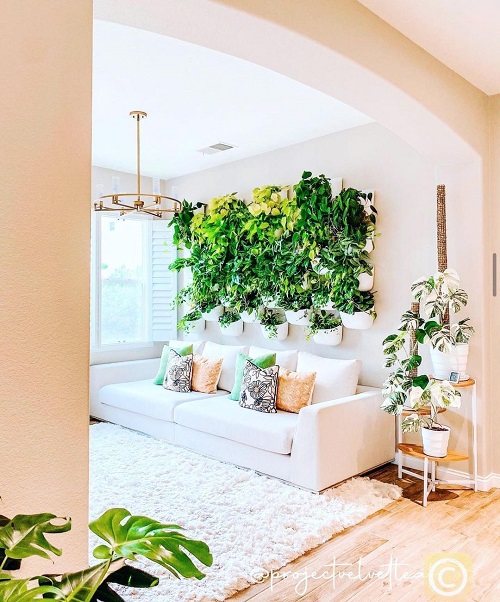 Make your home interior stand out by creating a mini lush jungle on the wall using white pots, different plants, potting soil, and nails or screws.
17. Faux Succulents in Black Rings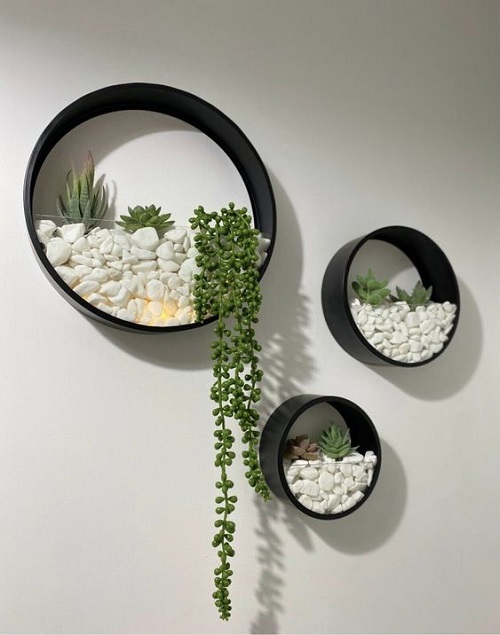 Featuring white pebbles and pretty faux succulents, these black-colored rings will surely attract a lot of eyeballs. If your house has neutral walls, this plant wall decor is a must-try!
18. Curtain Rods Plant Hanger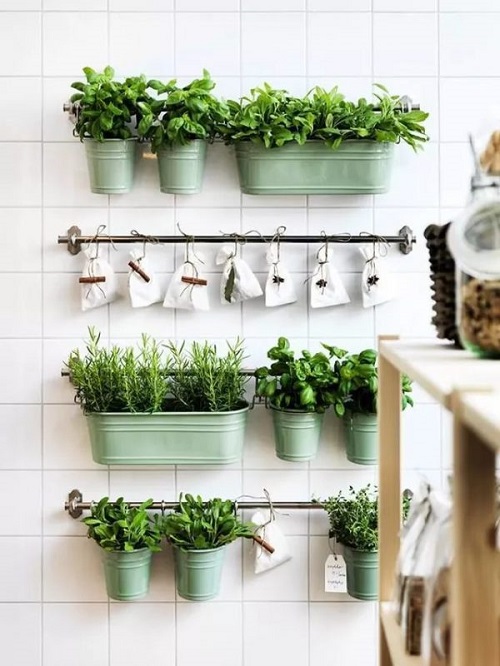 Install curtain rods to grow herbs and plants of your choice. You only need curtain rods, s-hooks, buckets, and screws to complete this plant wall decor.
19. Tree Branch Indoor Plants Holder

Watch this video to build a chic country-style hanging plant holder using a tree branch, glass jars, jute rope, screw hooks, and pothos. One of the most creative indoor plant wall ideas on this list!
20. Trailing Plants on Staircase Wall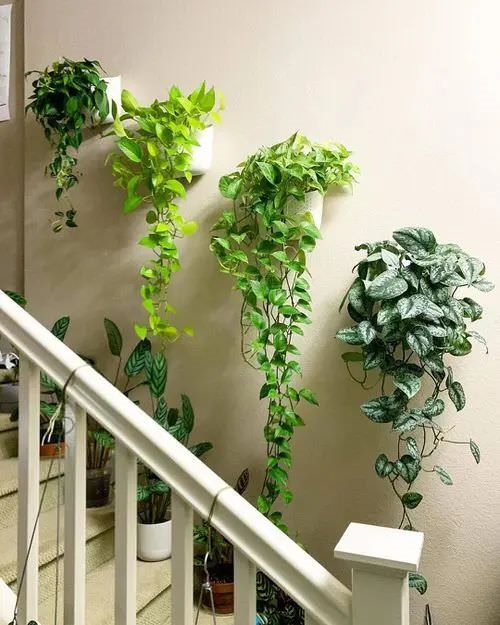 Want to beautify the space around your staircase without splurging a lot? Simply mount a few white planters with ornamental plants on the wall using screws. You must definitely execute this indoor plant wall idea!
Find out some unique indoor garden under stairs ideas
21. Rustic Metal Hanging Planters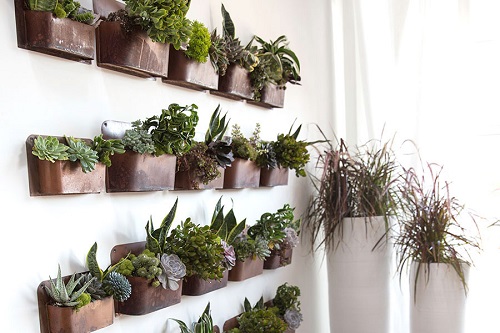 If a rustic theme suits your style, mount vintage-looking metal planters on the living room wall to flaunt succulents' beauty. The aptest indoor plant wall idea for succulent lovers!
22. Air Plants Wall Display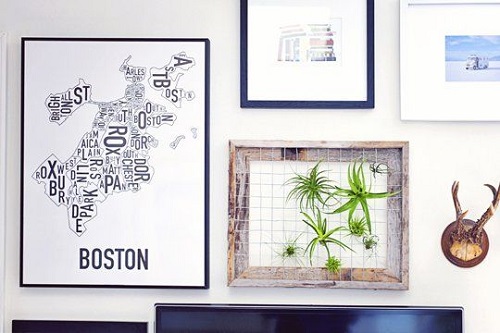 Grab a wooden frame, picture wire, air plants, drill, and measuring tape to put together this unique air plants wall decor.
23. Copper Wire Air Plants Wall Display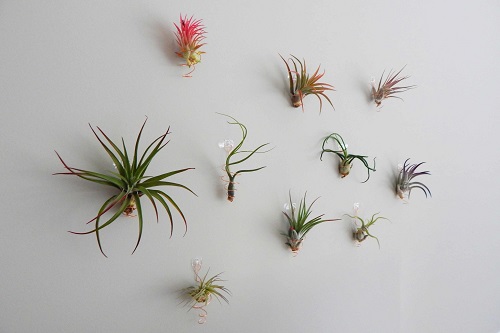 Create this minimalistic living wall with air plants, small adhesive hooks, and copper wire to beautify your home interior. Read more about this indoor plant wall idea here.
24. Plants on Wooden Blocks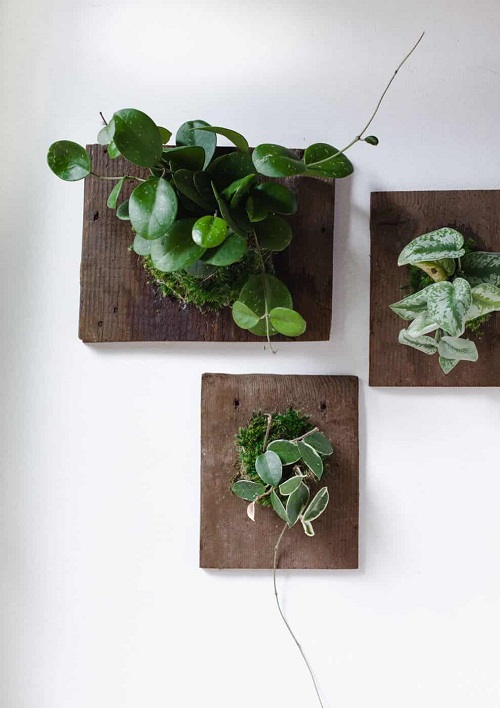 This quirky living wall art gives your space the much-needed charm with natural flair. Get the instructions for this unique plant wall decor here.
25. A Lush Faux Living Wall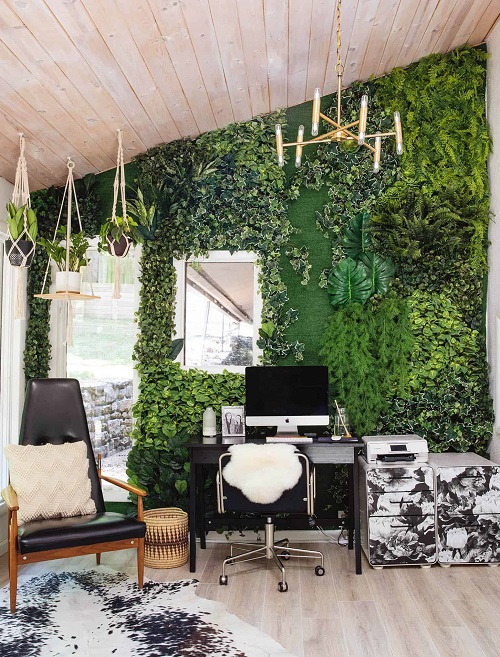 If you lack a green thumb but want to decorate your home with greenery, this lush faux plant wall decor is for you.
26. White Wall and White Pots!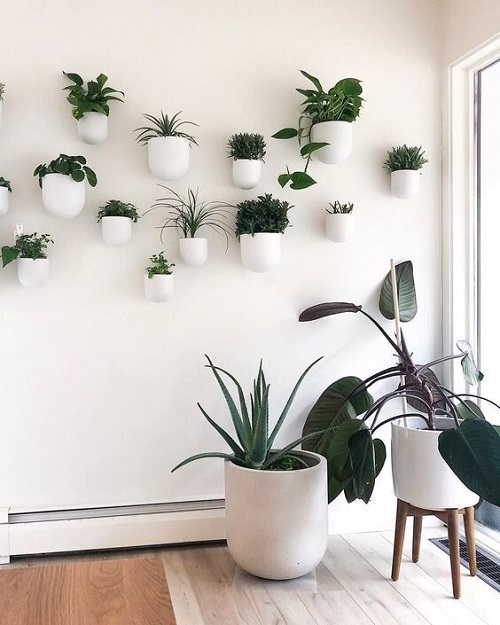 If you have a room with a white wall, affix white planters on it for a captivating look. Put some ceramic planters on the floor for an added charm. One of the classiest indoor plant wall ideas on this list!
27. Ivy on the Wall!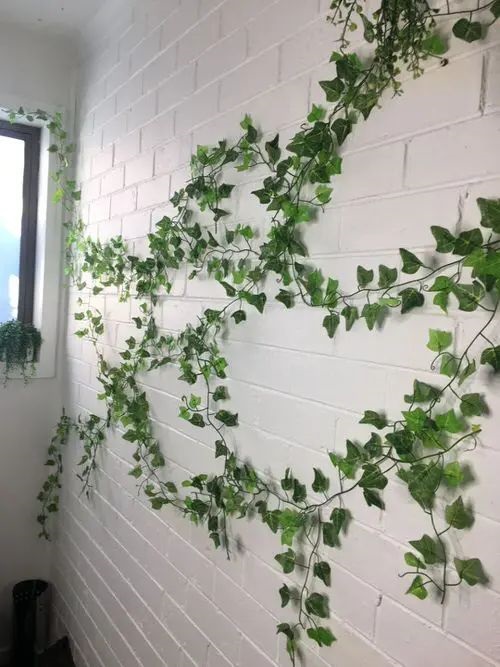 With small adhesive hooks and a little creativity, you can easily make an ivy trail on the wall for an appealing visual. You can use faux ivy as well for this indoor plant wall idea.
28. Wooden Frames for Small and Vining Plants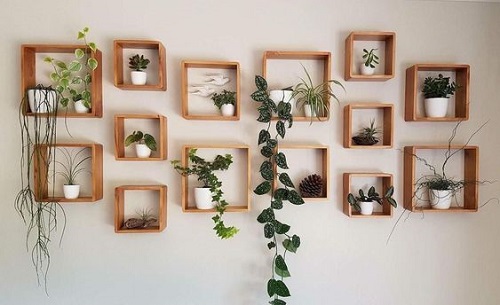 Fix square-shaped wooden frames on an empty wall to showcase small vining plants. A classy plant wall decor, you can't miss!
29. Terracotta Potted Indoor Plant Wall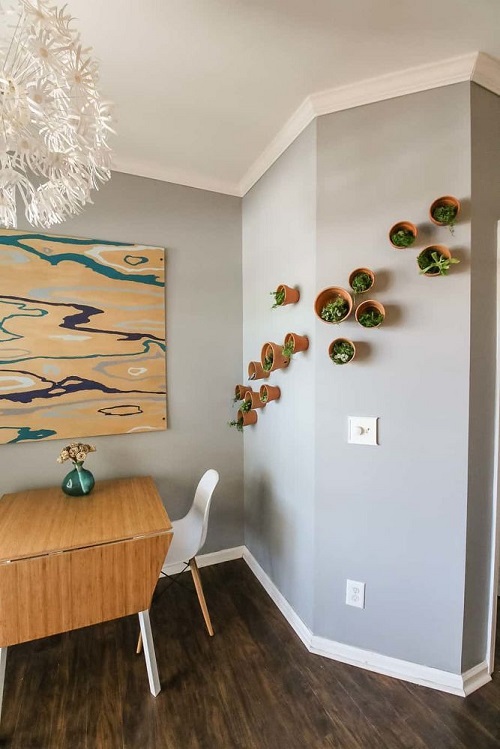 Grab a couple of terracotta pots and air plants to create a plant wall decor in your living room or workspace. Check out this article to know more.
30. Concrete Living Wall Planters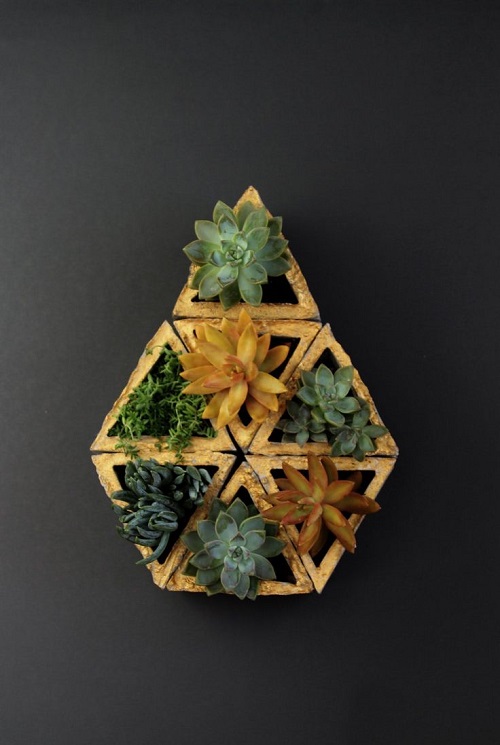 These concrete living wall planters are the best way to accessorize your home/office space with a touch of nature in a modern and stylish way. One of the creative indoor plant wall ideas you must try!
31. DIY Fence Board Green Wall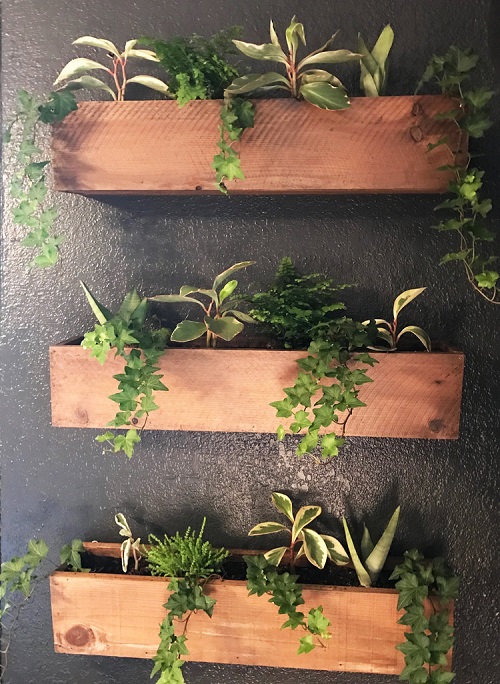 Show off your creativity by DIYing these hanging boxes from reclaimed fence boards to create a living plant wall decor.
32. Go with Mini Baskets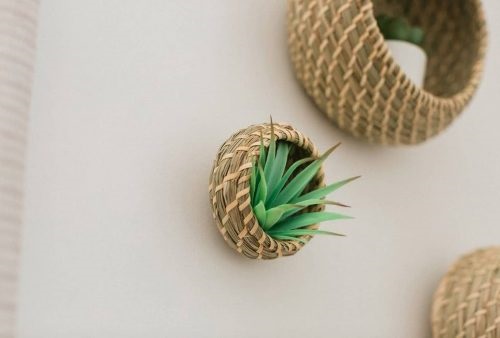 Affix mini baskets on an empty wall to show off air plants of your choice. It's one of the most amazing indoor plant wall ideas.
33. Wall of Staghorn Fern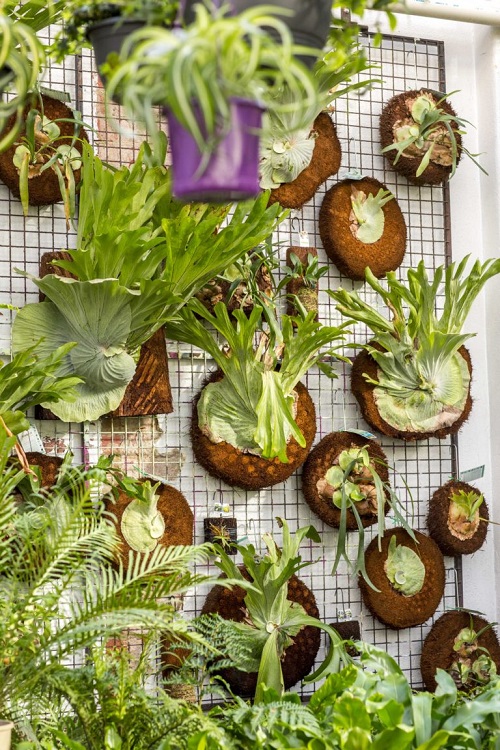 If you love your interiors quirky and creative, try this indoor plant wall decor idea with Staghorn Ferns stumped all across the wall. You may complement the decor with other houseplants as well.
34. Houseplants in Mini Geometric Planters

This is one of the best Indoor Plant Wall Ideas that showcases mini succulents in pretty geometric planters on the wall. This is best displayed on one of the living room walls to flaunt your love for plants!
35. Mesh of Houseplants along the Staircase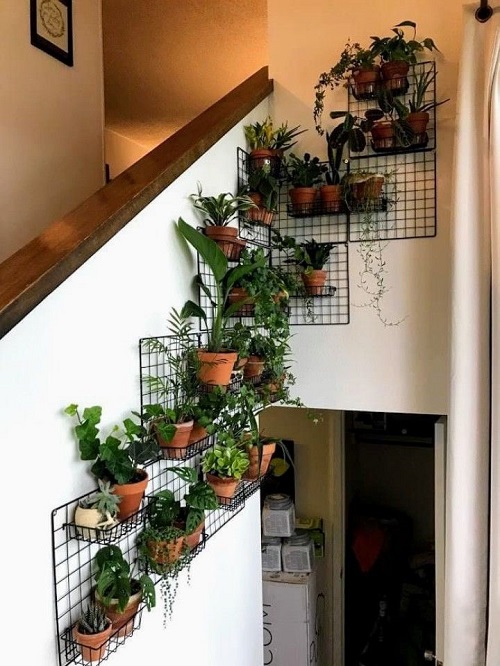 Light the dull corners along the staircase with a mesh of potted houseplants covering the area. You can also add vining specimens that grow with minimal effort to this plant wall decor. Learn more here.
36. Houseplant Bed in Wooden Boards on the Wall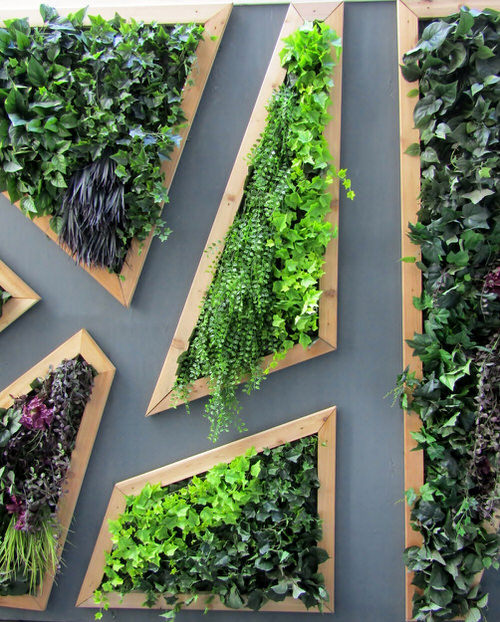 Give your interiors a classy touch with this plant wall decor that utilizes lush foliage as a trick to uplift the wall.
37. Vining Plants on the Wall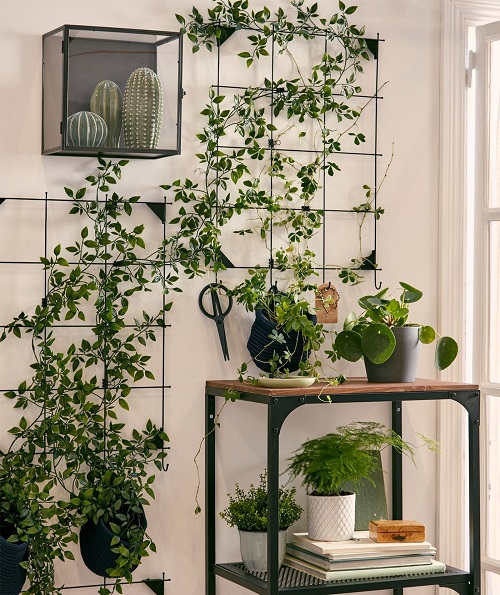 You can also use IKEA racks to execute a gorgeous plant wall decor idea. Attach them to the wall and let the vines trail across your room.
38. Large Foliage Plants Around the Living

Large foliage plants create a statement without much effort. You can display them on the stool near the wall or a vertical mesh against your living room wall. Adding a few hanging potted varieties will complement the plant wall decor really well.