Browse this exclusive list of the best DIY Vinyl Record Storage Ideas to display your coveted music library in style!
Are you a phonograph record hoarder? Then check out these creative DIY Vinyl Record Storage Ideas to keep your collection safe while showcasing it proudly.
Learn how to clean vinyl records with windex here
---
Creative DIY Vinyl Record Storage Ideas
1. DIY Vinyl Record Storage Crate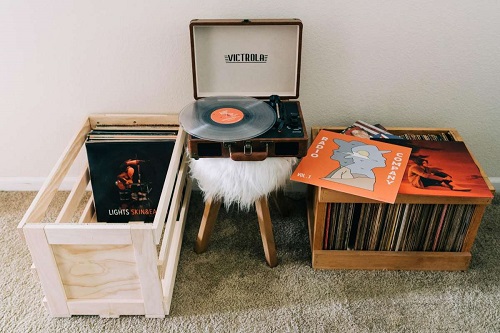 Check out this tutorial to build a wooden storage crate for vinyl records. Adjust its size as needed.
2. DIY Vinyl Record Media Cabinet With Storage
Watch this video tutorial to create a media cabinet having tons of room for storing vinyl records.
3. DIY Vinyl Record Ledge Shelves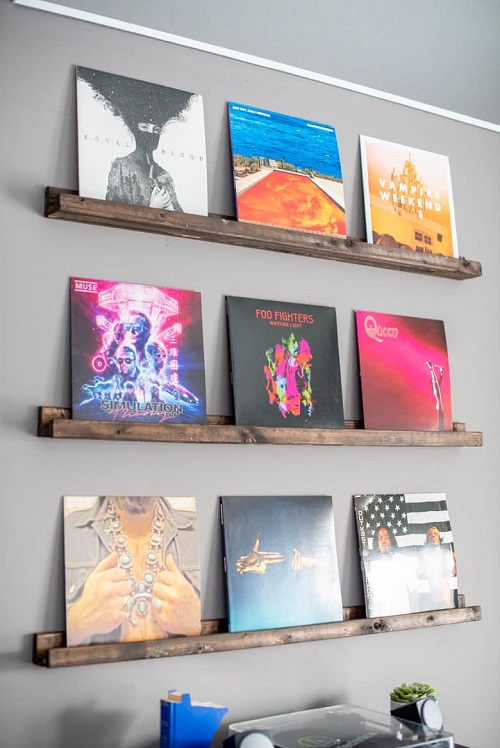 Show off your music collection with these budget-friendly ledge shelves. It's one of the best DIY vinyl record storage ideas.
4. Use Vinyl Record Frames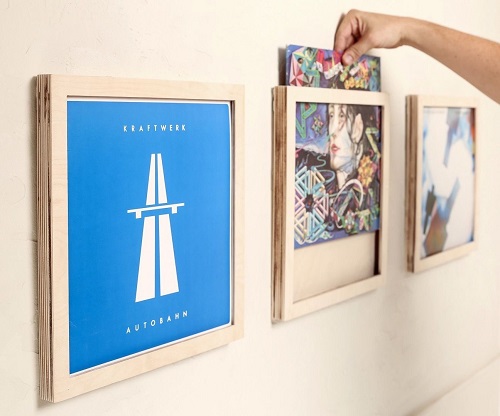 Make these record frames to display your favorite cover art while keeping quick access through a slot at the top.
5. Vinyl Record Wall Storage Racks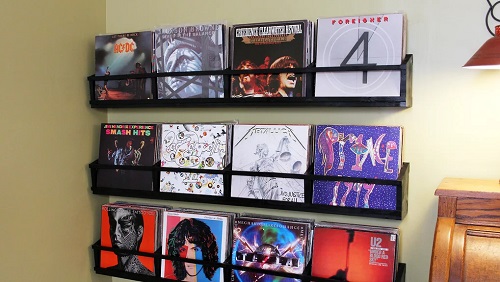 Organize your album collection easily with these wall racks. Follow this instructable to learn more.
6. DIY Floating Vinyl Record Shelves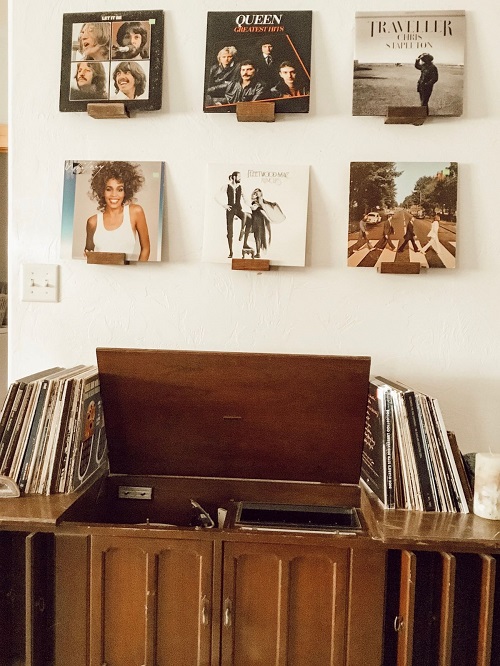 Beautify your monotonous wall with floating shelves that lets you organize music records with style. The details are here.
7. Modern Angled Vinyl Record Shelf DIY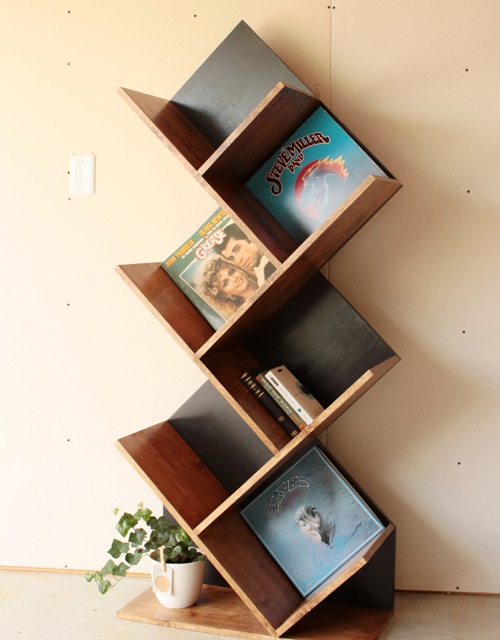 Learn how to build this modern angled DIY vinyl record shelf from a single sheet of plywood in this step-by-step tutorial.
8. Concrete Record Holder
You'll need access to a 3D printer, concrete, and some acrylic paint to complete this amazing project.
9. Record Tabletop Display Stand
Look at this visual tutorial to assemble a tabletop stand for displaying your favorite record.
10. Vinyl Record Shelf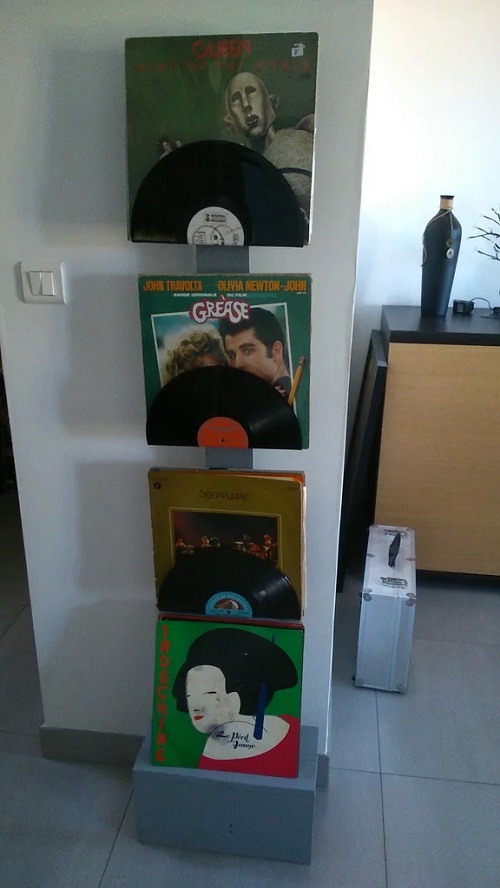 Grab a board pallet, screw, equerre metal, painting, and sandpaper to build this shelf for less than $5. The instructions are here.
11. Ikea Record Storage Bench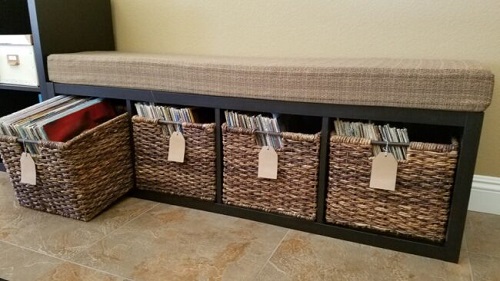 This storage solution uses Ikea stuff and sturdy woven baskets. Get the details here.
12. Try Jute Baskets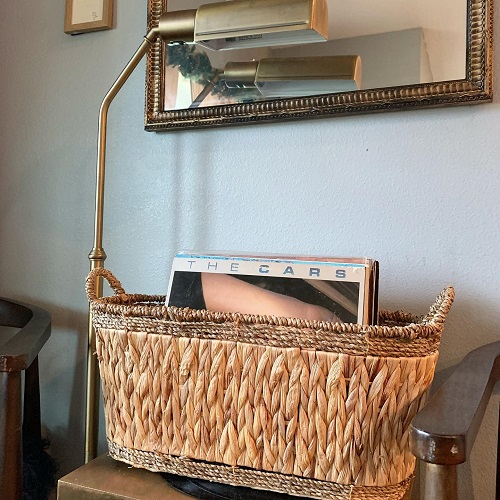 You only need a jute basket to keep your extensive collection of music records organized.
13. Crown Molding Record Shelves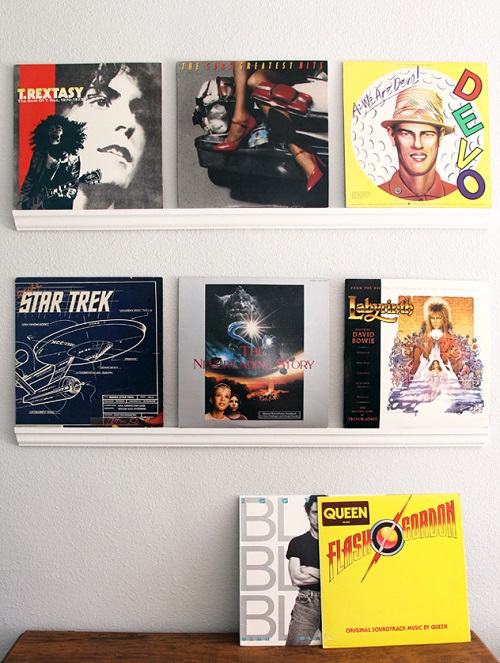 Hang some shallow decorative moldings on the wall using nails, and your record storage solution is ready.
14. DIY Pallet Record Shelf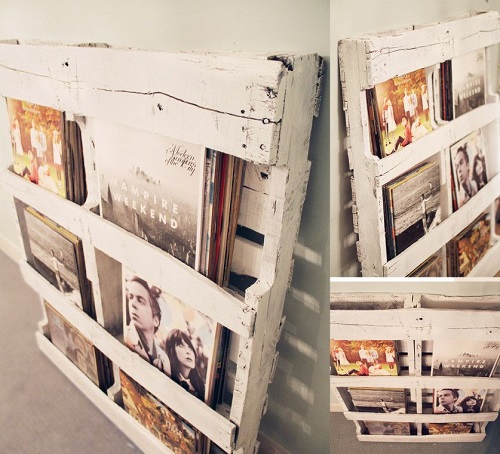 Recreate this pallet record shelf and fill your living area with rustic vibes. The details are here.
15. Use Plastic Milk Crates
A plain old plastic milk crate is enough to manage your vinyl and other music albums. Watch this video for more info.
16. Store-Like Vinyl Record Storage Cabinet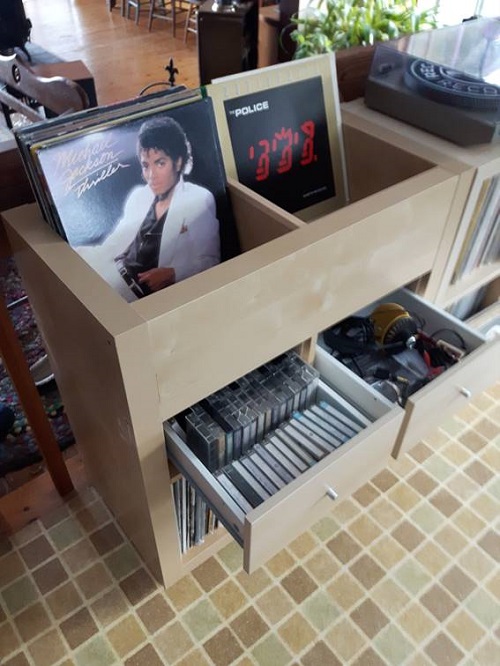 Elegant and inexpensive, this vinyl storage cabinet is a time-consuming project but worth the effort. It lets you display records on top, with covers facing forward. Click here to learn more.
Here are some DIY cabinet door ideas
17. DIY Vinyl Record Display Shelf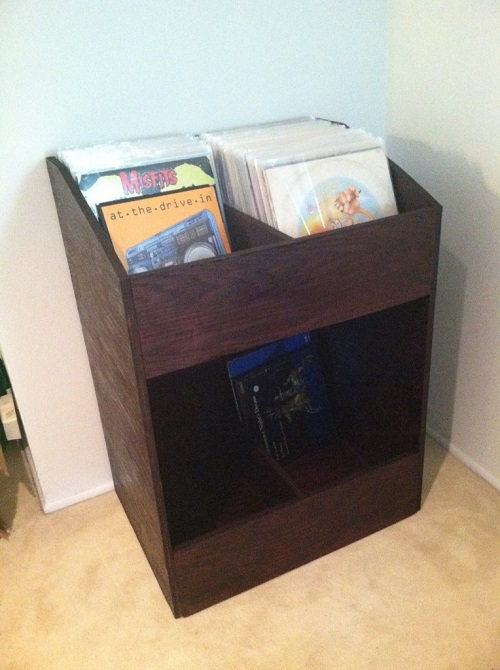 Follow this free plan to build a wooden bin from a single sheet of 4×8 plywood. It's one of the most amazing DIY vinyl record storage ideas.
18. Vintage Bamboo Vinyl Holder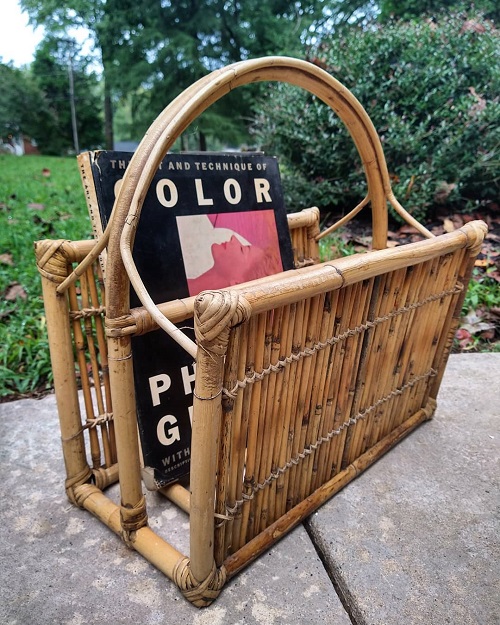 This unique bamboo basket is a great way to store music albums. It's also an excellent book and magazine holder.
19. DIY Vinyl Record Storage Idea
This classy record storage idea is what you need to try this weekend. Its timeless look amp up the visual appeal as well.
20. DIY Minimal Record Shelf
Copy this shelf idea to keep your vast collection of vinyl records tidy and organized. This project needs woodworking skills and patience.
21. Record Display Box Idea
All you need is this wooden display box to store music records for quick and easy access. It's made from oak veneered MDF.
22. Unique Record Storage Idea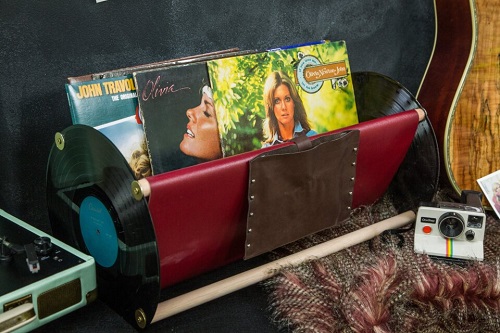 This blog has a fun and stylish means of stowing records without taking up much space. Find the details here.
23. Wooden Record Storage Solution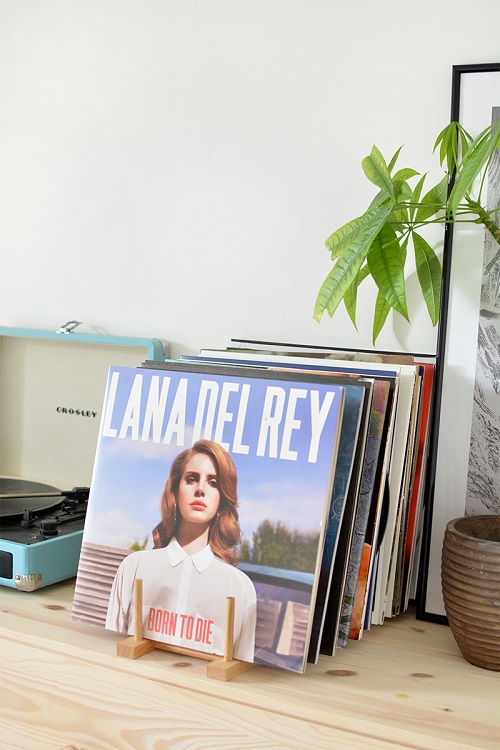 This elegant vinyl storage solution also doubles up as a magazine holder and kitchen dish rack. It's great for less-spacious homes.
24. DIY Vinyl Storage Idea
Keep your vinyl albums organized with this simple, stackable, and sturdy furniture. It's one of the easiest DIY vinyl storage ideas on this list.
25. Consider Wooden Frame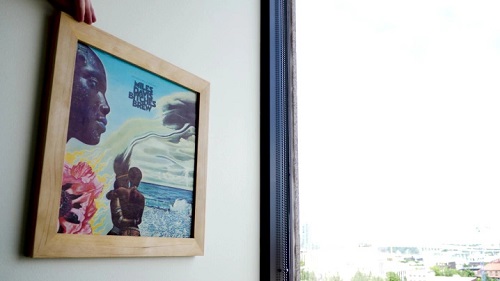 No need to hide those iconic album covers in a milk crate. Give them the spotlight they deserve in a sleek wood frame on the wall. Check out this idea.
26. DIY Record Storage Case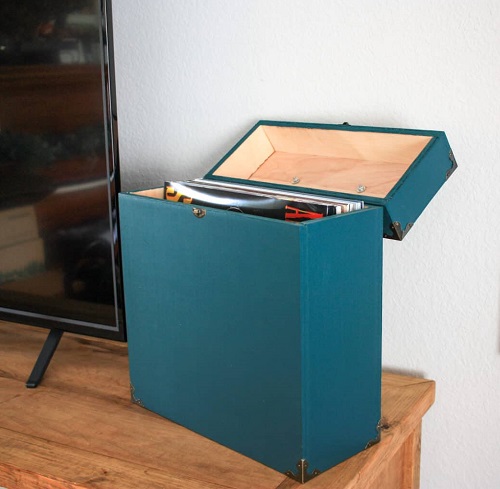 Build this DIY record storage case to hold your newfound love of music albums.
27. Vinyl Storage Furniture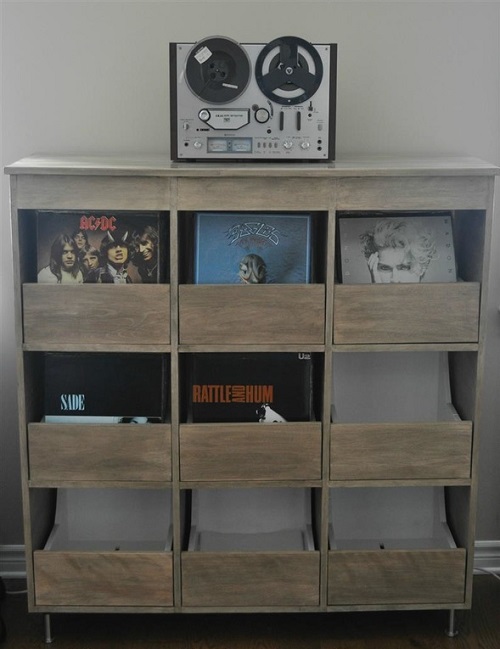 Want to create a setup where you could flip through the albums like at the record shops? This project is for you.
28. DIY Albums Organizer Box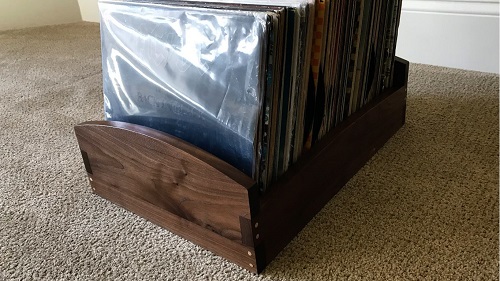 Demonstrate your woodworking skills by creating this vinyl record organizer box. Get the details here.
Here are the best DIY craft vinyl storage ideas