Vinyl sheets, when left unattended, can get wrinkled and damaged. Solve this problem with these cheap and easy to create DIY craft vinyl storage ideas!
1. Craft Vinyl Storage Tower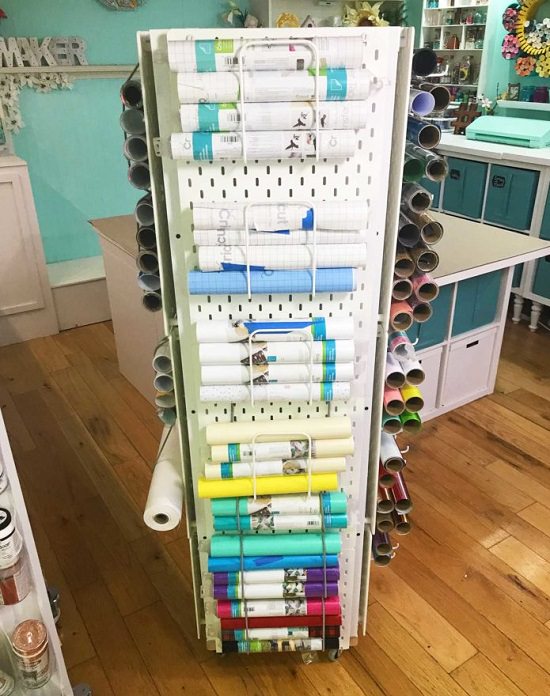 Make space to store as much as 300 vinyl rolls in a storage tower with this cost-effective and practical DIY idea here.
2. Vinyl Storage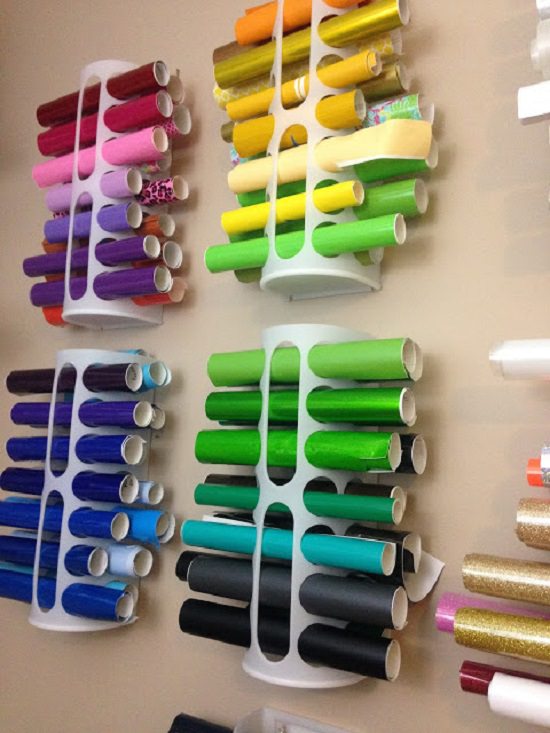 If you can spare a wall in your craft room, your vinyl storing problem is solved already with this hanging rolled-up vinyl storage! Get the idea here.
3. Wooden Tower Vinyl Storage DIY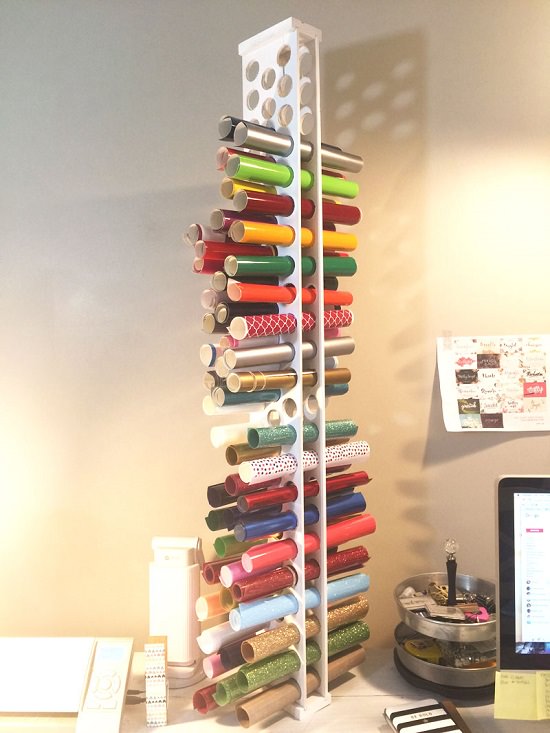 Build a wooden tower out of some underlying wood scraps to put them into keeping your vinyl sorted effectively. Find the DIY here.
4. Basket Vinyl Roll Storage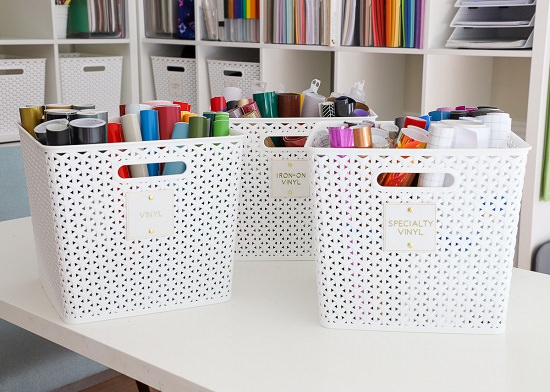 Sort your vinyl sheets in baskets of three as this DIYer has categorized her sheets into simple vinyl, specialty vinyl, and iron-on vinyl!
5. DIY Vinyl Storage Rack for Rolls and Sheets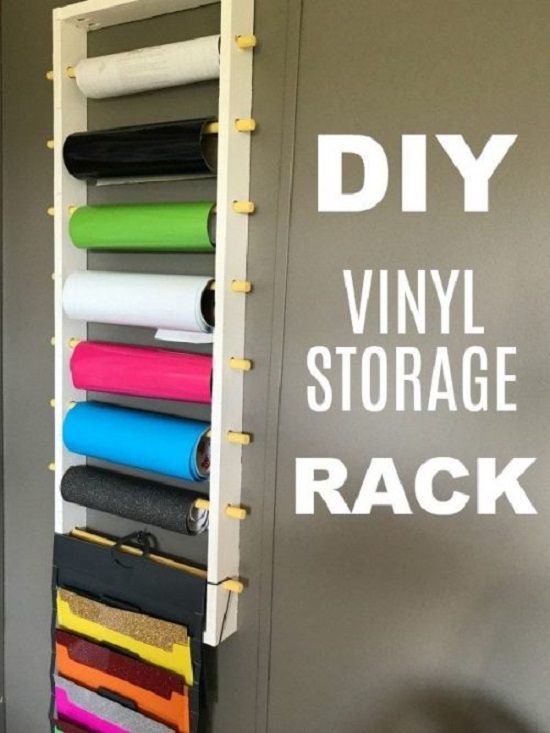 Whether sheets or rolls, this DIY vinyl storage idea makes space for all types without taking much room in your craft area. Daily Dose Of Idea has the instructions for you to understand.
6. PVC Pipe Storage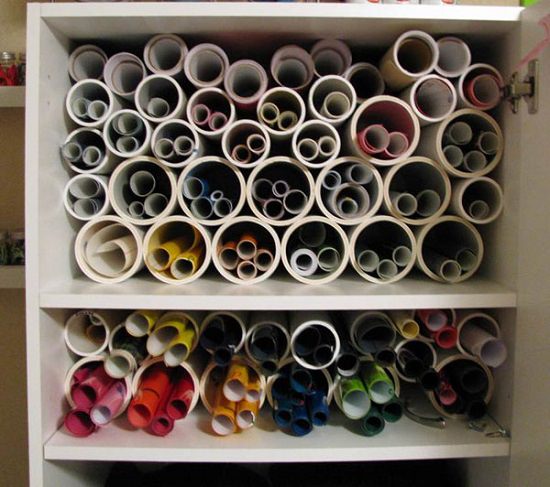 Keep your vinyl from getting wrinkled and damage by storing them in PVC pipe rolls as this DIYer. This is an economical idea that can be done within one day!
7. DIY Vinyl Storage Crate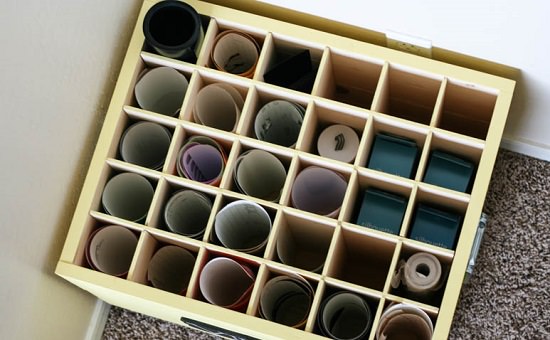 Construct this basic crate in a day to solve your vinyl storing problem without having to spend much on expensive racks and hangers. Find the instructions here.
8. Plastic Rack Vinyl Storage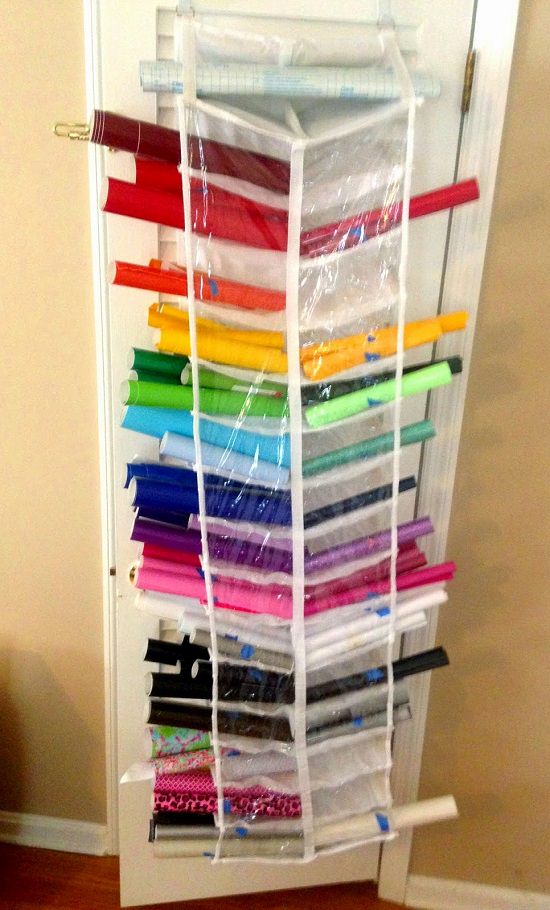 If you have got no more space to build a vinyl storing hanger or crate, this over the door plastic storage has got your back! Buy a cheap shoe organizer, and you're good to go.
9. DIY Wall Hanger Vinyl Storage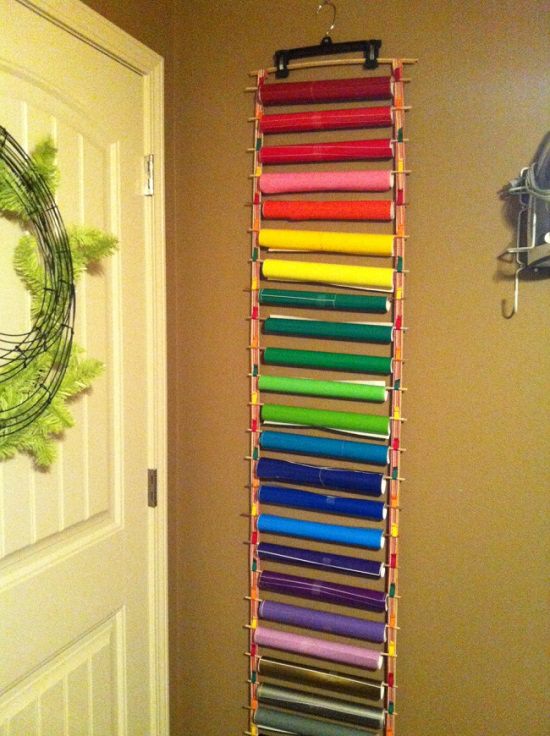 For this DIY, you'll need headband holders, a hanger, and some dowel rods to create this cost-effective storage solution for your vinyl sheets!
10. Basket Stand Vinyl Storage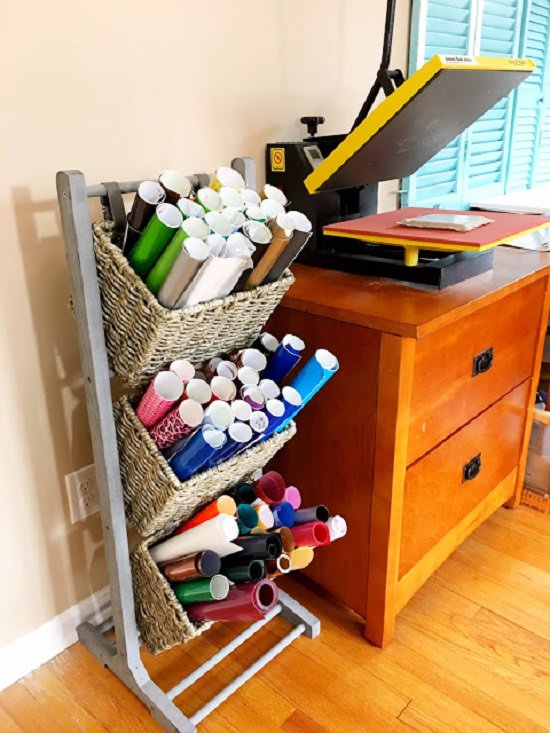 Stack up to three or more baskets (as per your requirements) to store your vinyl in a way that they become easily accessible without cluttering your room. Click here.
11. Storage Using Shower Caddies for Vinyl
Learn how to use old or new shower caddies to arrange for a cheap and functional storage solution to manage your vinyl sheets. Watch the video to learn more about the DIY.
12. Making a Vinyl Roll Storage
Spray paint a few toilet paper rolls; glue them to ribbons as in the above video, and there you have it, your vinyl roll storage from scratch. This is possibly the cheapest and easiest to execute DIY from all the DIY craft vinyl storage ideas on this list!
13. Vinyl Roll Holder Made From PVC
Use some PVC pipes and t-connectors to build a roll holder and protect your vinyl sheets or gift-wrapping sheets from getting wrinkled. Refer to the video to know the directions.