Are you looking for lush, colorful flowering plants that add a tropical flair to your home and gardens? Grow these Best Hawaiian Flowers!
 Hawaiian blossoms are well-known for their bright color and pleasing aroma. Check out these Best Hawaiian Flowers to turn your dull space into a lovely tropical paradise with a burst of vivid hues.
Here are some beautiful orange flowering houseplants 
---
Best Hawaiian Flowers
1. Red Ginger
Botanical Name- Alpinia purpurata
This ornamental plant is valued for its striking red floral bracts and white blooms. It loves moist and fertile soil with good drainage.
2. Passion Fruit Flower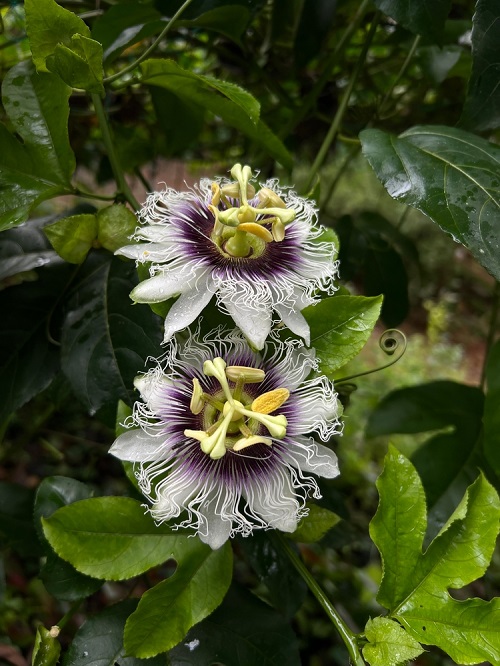 Botanical Name- Passiflora edulis
Prized for its attractive distinctly-shaped blooms and edible fruits, this passion flower variety favors a well-drained potting mix and full to partial shade.
3. Kahili Ginger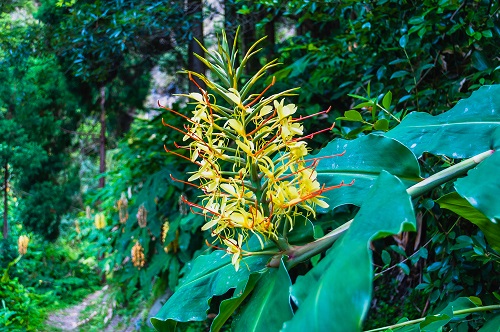 Botanical Name- Hedychium gardnerianum
Brighten up your home or garden with picture-perfect yellow blossoms of kahili ginger. It's one of the best Hawaiian flowers to choose from.
4. King Protea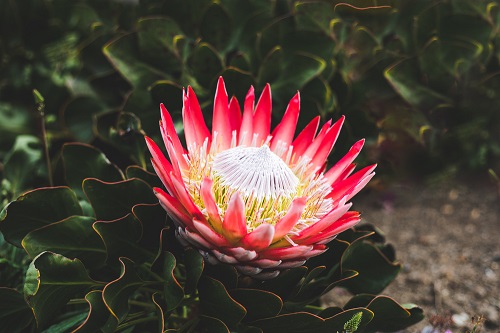 Botanical Name- Protea cynaroides
Grow king protea to make your garden stand out in the neighborhood. It offers artichoke-like blooms with multicolored floral bracts.
5. Anthurium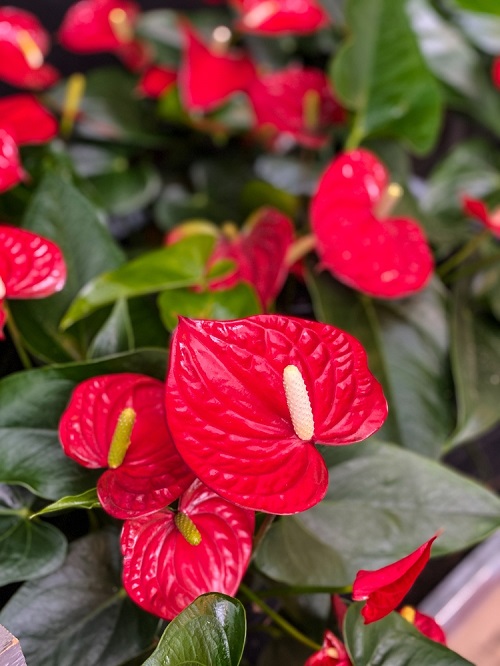 Botanical Name- Anthurium andraeanum
Adds colorful, cheery vibes indoors with the showy heart-shaped flowers of anthuriums. Water this plant regularly but avoid overwatering.
6. White Frangipani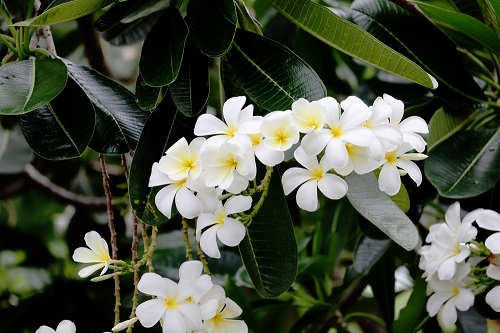 Botanical Name- Plumeria alba
Plumeria is admired for its highly aromatic, five-petaled flowers and evergreen leaves. Grow this beauty outdoors for a terrific display.
7. Naupaka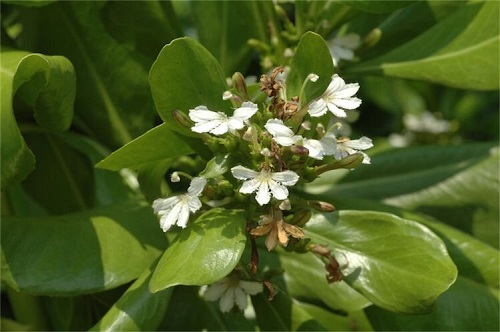 Botanical Name- Scaevola taccada
Also known as half flower, this drought-tolerant plant showcases aromatic, white blossoms that look identical to a fan.
8. Ohia Lehua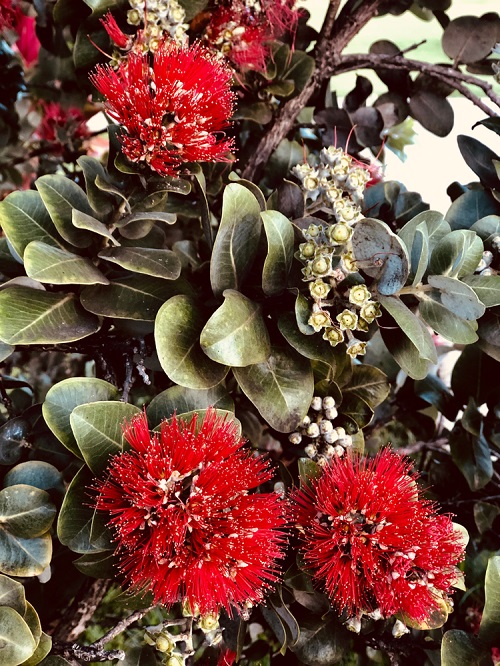 Botanical Name- Metrosideros polymorpha
Ohia lehua shows off eye-catching flowers with bright red stamens. This plant does best in boggy or basalt soil and high humidity.
9. Birds of Paradise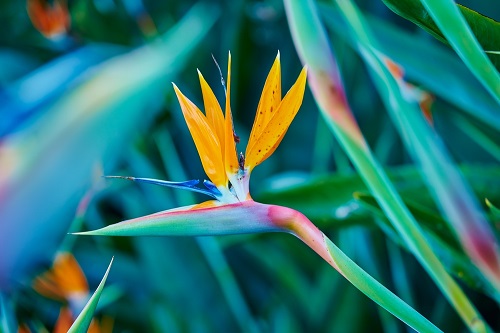 Botanical Name- Strelitzia reginae
Ideal for indoors and outdoors, the bird of paradise has long, leathery foliage with stunning blooms on the boat-like bract.
10. Ilima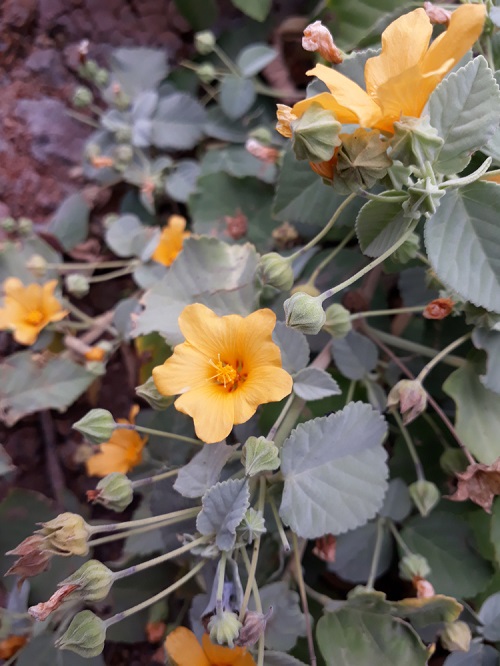 Botanical Name- Sida fallax
This herbaceous flowering plant produces a gorgeous display of five-petalled blooms in yellow to orange hue. It blooms throughout the year.
11. Pikake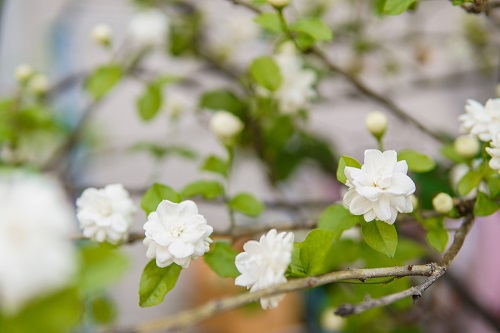 Botanical Name- Jasminum sambac
The cream or chalk-white blossoms of pikake make it one of the best Hawaiian flowers on this list.
12. Hawaiian Hibiscus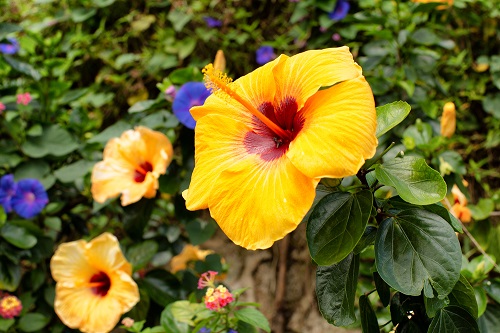 Botanical Name- Hibiscus brackenridgei
Highlighted by lovely yellow-colored flowers with a maroon center, Hawaiian hibiscus is the state flower of Hawaii.
13. Lobster Claw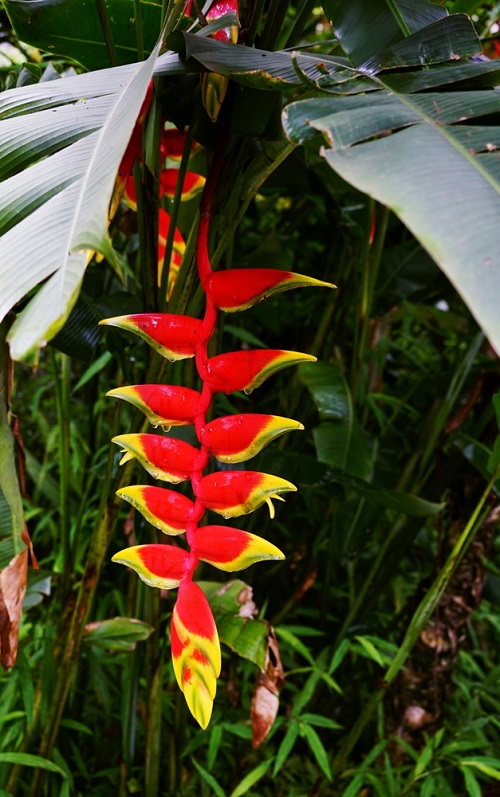 Botanical Name- Heliconia rostrata
Grow lobster claw to enhance the visual interest of your garden. It produces banana-like leathery leaves and tiny flowers covered by bright multicolored bracts.
14. Nānū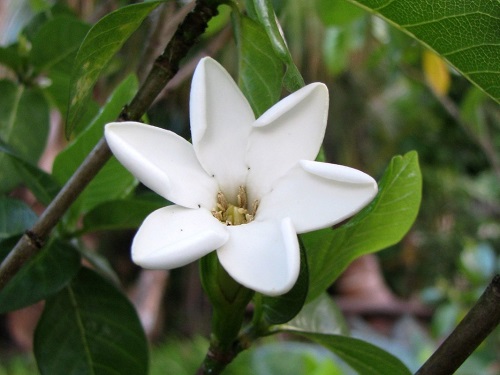 Botanical Name- Gardenia brighamii
Native to Hawaii, the gardenia brighamii plant features shiny dark green foliage and white blooms with six lobes.
15. Oahu Riverhemp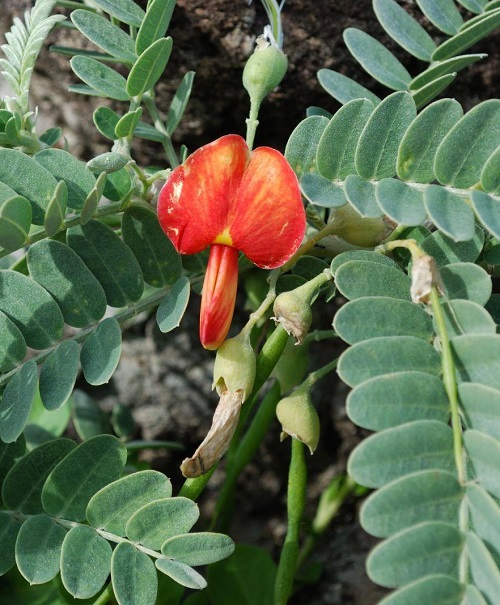 Botanical Name- Sesbania tomentosa
Loved by gardeners for its unique appearance, the Ohau riverhamp flower is a sight to behold.
16. Hawaiian Red Cranesbill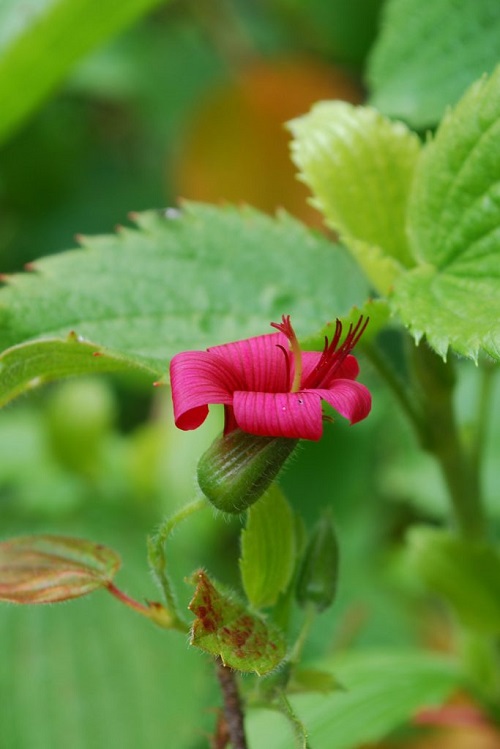 Botanical Name- Geranium arboreum
Indigenous to Hawaii, this endangered geranium species offers attention-grabby red or magenta flowers.
17. Pua ʻala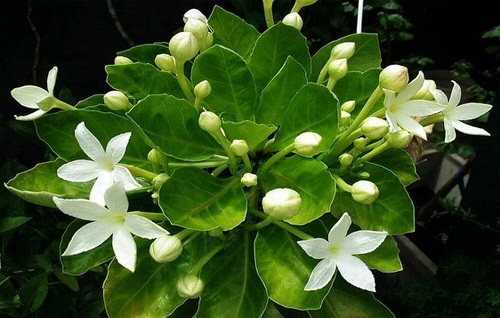 Botanical Name- Brighamia rockii
The trumpet-shaped white blossoms and oval leaves make this flowering plant a stunning green specimen.
18. Cosmosflower Beggarticks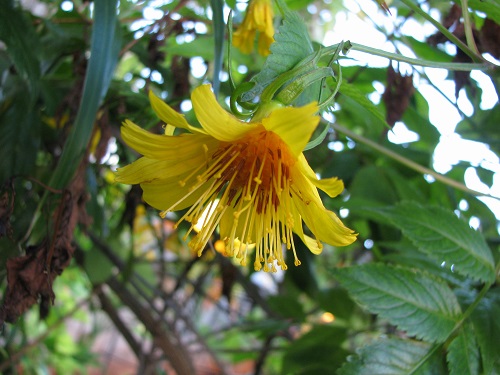 Botanical Name- Bidens cosmoides
Cosmosflower beggarticks is local to the island of Kauaʻi in Hawaii. It bears large spectacular yellow flowers with bell-shaped daisy-like petals.
19. Māmane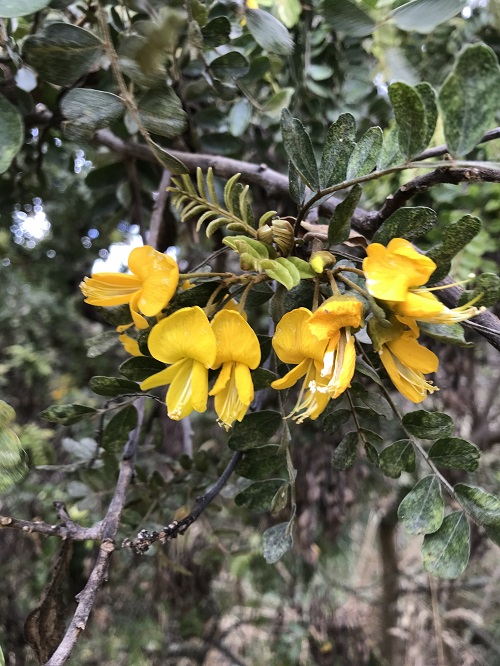 Botanical Name- Sophora chrysophylla
Sophora chrysophylla is a flowering plant with a cluster of yellow blossoms. It produces lovely flowers in winter and spring.
20. Kanawao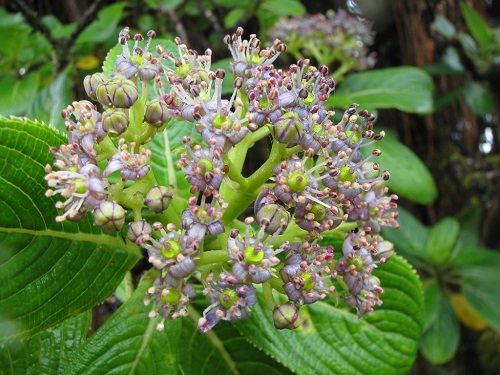 Botanical Name- Broussaisia arguta
Belongs to the hydrangea family, the perennial kanawao plant rewards you with finely-serrated leaves and flowers with curled petals.
21. False 'ohe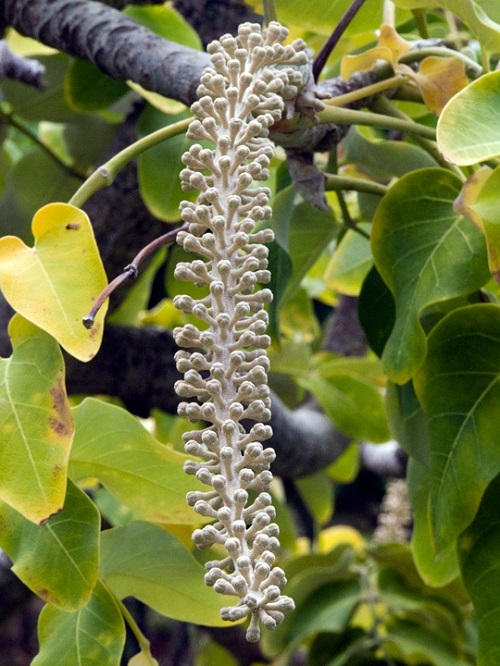 Botanical Name- Polyscias racemosa
The small, pale yellow blooms hanging on a stout, hanging stalk make this Hawaiian plant an ideal focal point for the garden.
22. Hawaii Palm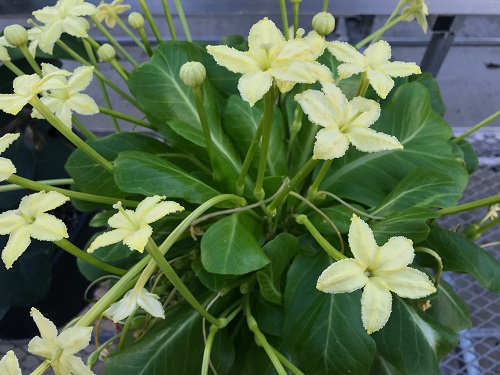 Botanical Name- Brighamia insignia
Liven up your living room with the fragrant yellowish flowers and magnificent green leaves of Hawaii palm. Avoid keeping this plant in bright sunlight.
Find out some beautiful flowers that look like roses here