Transform the look and vibe of your dull cooking space with these chic and creative Kitchen Wall Decor Ideas DIY!
Got a blank wall in your kitchen and are unsure how to make it more lively and interesting? Check out these creative DIY Kitchen Wall Decor Ideas to transform your cooking space from drab to amazing.
Find out some rental kitchen makeover ideas here
---
Kitchen Wall Decor Ideas DIY
1. DIY Planter Box Picture Frame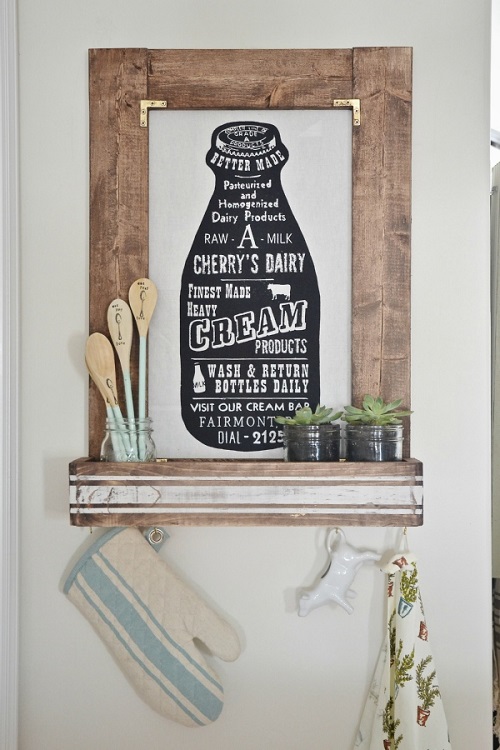 Adorn your bland kitchen wall with this attractive planter box picture frame to showcase tiny succulent planters and other decoratives.
2. House-Shaped Shelf DIY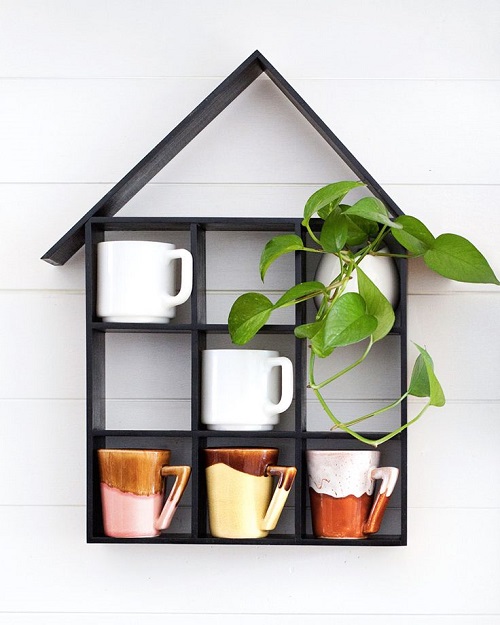 This house-shaped shelf is the perfect way to add functionality and pizzazz to the kitchen interior. Get the details here.
3. DIY Metal Kitchen Letter Sign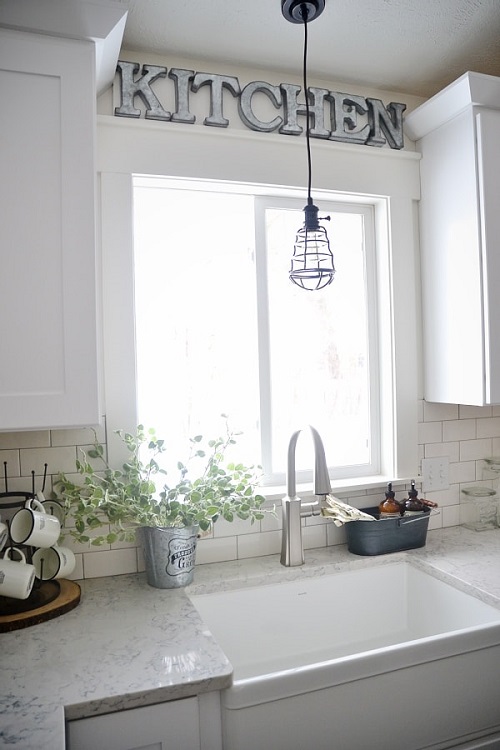 Deck up your cooking space with this metal 'Kitchen' letter sign that complements the overall decor. Click here to learn more.
4. Kitchen Wall Spoon Display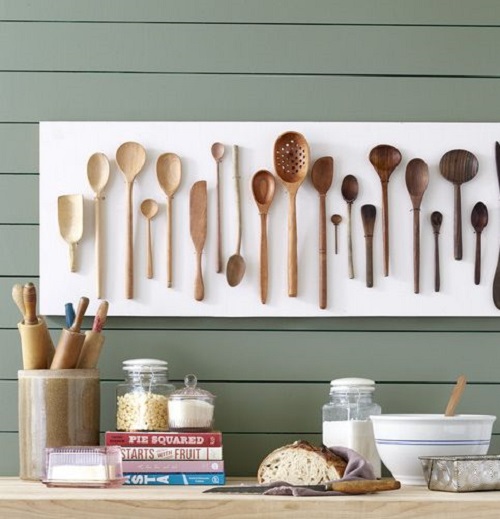 Wooden spoons come in many sizes, shapes, and colors, making them the perfect ombre kitchen art. Read the details here.
5. Framed Vintage Silverware Artwork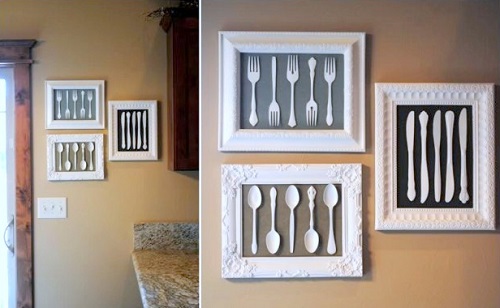 Give your cooking space a shabby chic feel by making this vintage silverware artwork. Hop to this article for the instructions.
6. Vintage Grocery Hanging Scale Clock
Are you looking for a decorative piece that goes well with the vintage farmhouse-style kitchen? Consider using an antique hanging scale clock like this.
7. DIY Light-up Café Sign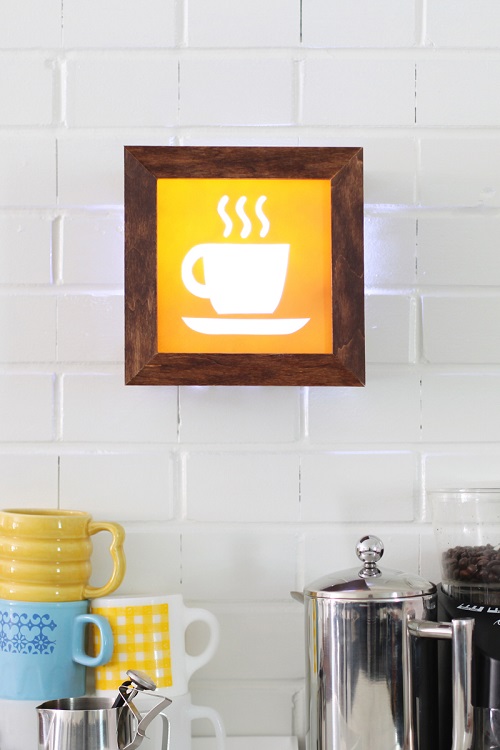 Here's the small shadow box café sign project that's affordable and easy to make in a single afternoon. It's one of the most amazing DIY kitchen wall decor ideas.
8. Pictures and Plant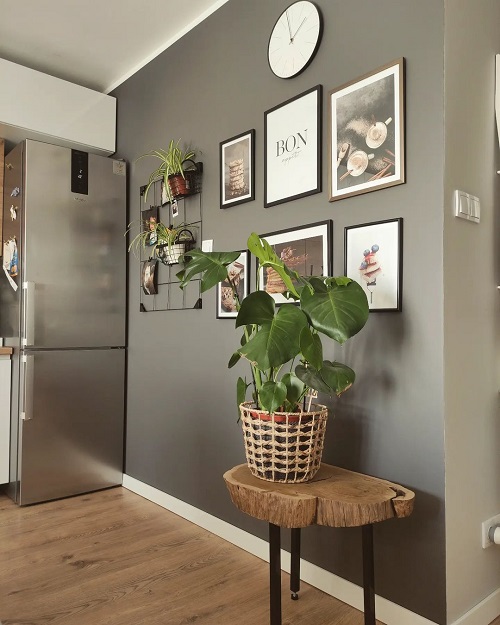 A couple of pictures and a hanging metal frame with tiny pots are enough to brighten up a dull kitchen space.
9. Colorful Kitchen Wall Art With Fake Fruits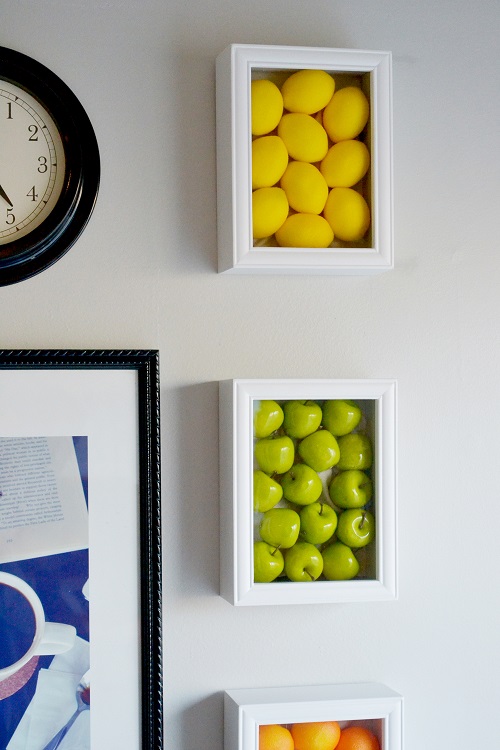 Mount a pair of shadowboxes loaded with faux fruits on the kitchen wall for a pop of color. It's a simple decor idea and doesn't cost much.
10. Giant Wooden "Eat" Kitchen Sign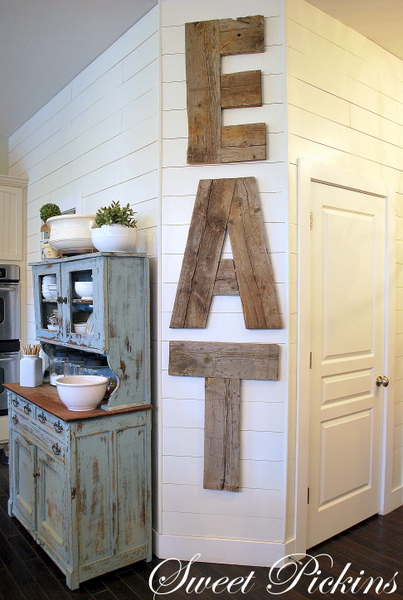 This giant wooden 'Eat' sign is a statement-making display piece. Make one for yourself using this detailed tutorial.
11. Oversized Cutlery Wall Art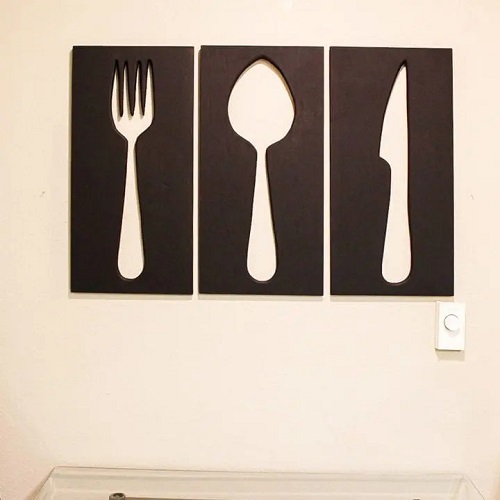 Looking for creative wall decor for your dining room or kitchen? This oversized cutlery wall art is only for you.
12. Unique Cardboard Fruit Wall Decor
Watch this video tutorial to create an attention-grabbing faux fruit wall artwork using cardboard and a few supplies.
13. DIY Colorful Kitchen Clock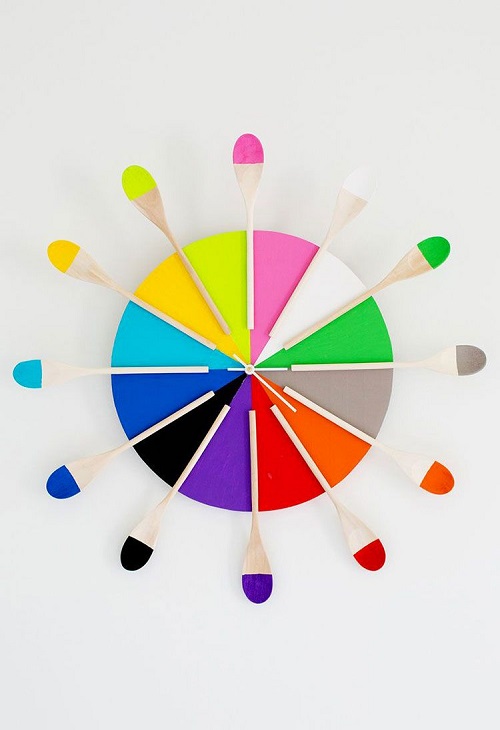 Follow this step-by-step tutorial to create a multicolored kitchen wall clock that will surely attract a lot of eyeballs.
14. Old Baking Pan Wall Art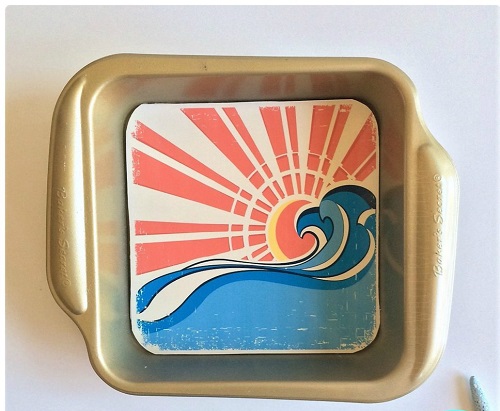 Do you have a scratched-up baking pan in your pantry? Instead of discarding it, transform it into chic wall art.
15. DIY Pizza Board Kitchen Wall Decor Idea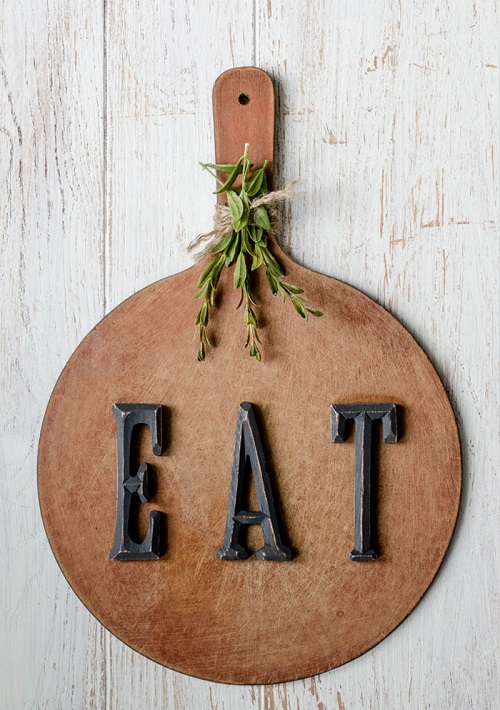 Beautify your cooking space with this stunning pizza board-turned wall decor that spells the word 'EAT.' Get detailed instructions here.
16. Easy DIY Kitchen Utensil Wall Art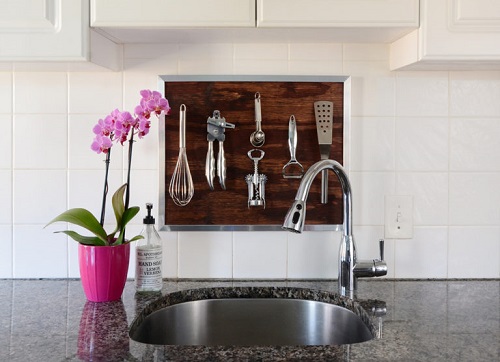 Why not make a functional piece of artwork that could store utensils on the wall? Check out this idea for the details.
17. Dip Painted Spoons Wall Art DIY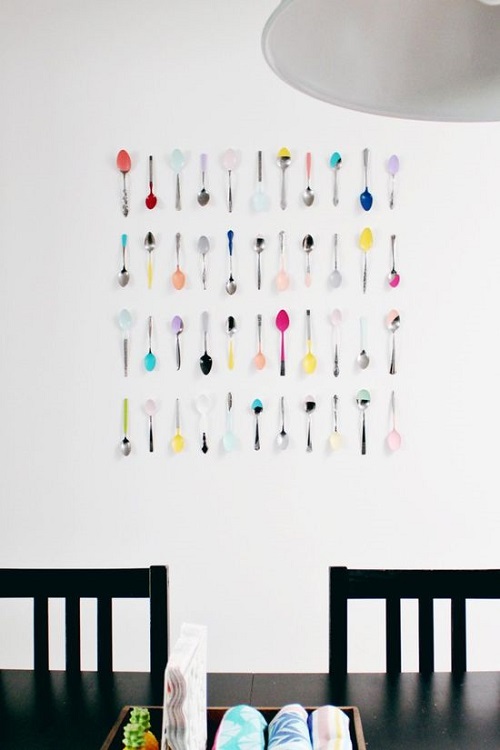 You only need a variety of spoons, paint, tape, command velcro strips, and scissors to complete this project. It's one of the best DIY kitchen wall decor ideas on this list.
18. DIY Faux Shibori Textile Art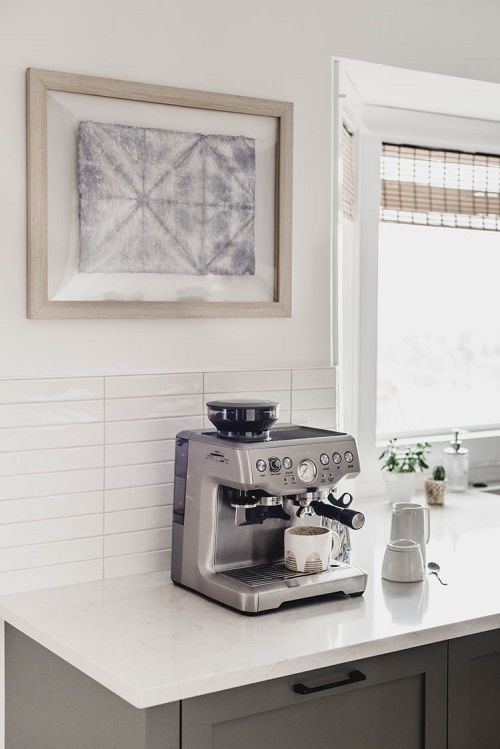 Put your creativity hat on and make this subtle yet full of texture faux shibori textile art using this article.
19. Mount a Mirror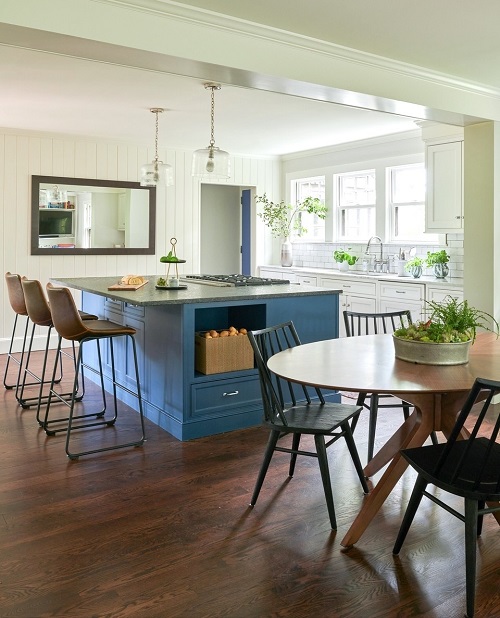 Mounting a large mirror in the kitchen is an excellent idea as it brings more sunlight and helps the space appear larger. Instead of a regular mirror, use a vintage one for an added charm.
20. Mount Cutting Boards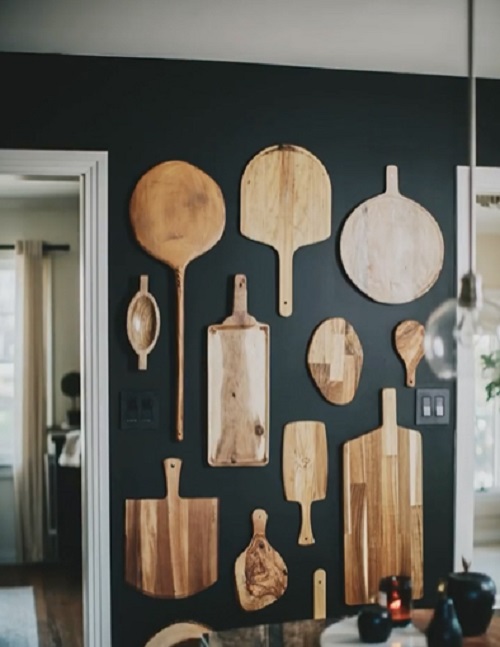 Outfit your monotonous kitchen wall with different-sized wooden cutting boards to create an attractive display.
21. Create Basket Wall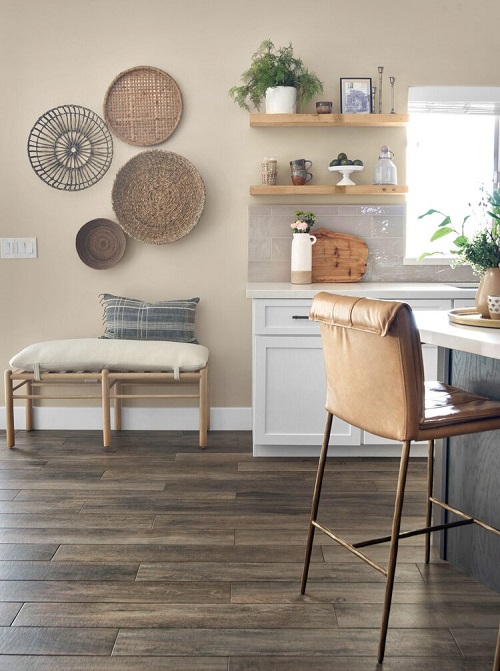 Handcrafted baskets create textural interest on an otherwise plain kitchen wall. Use a variety of baskets for a chic bohemian look.
22. DIY Chalkboard Menu Board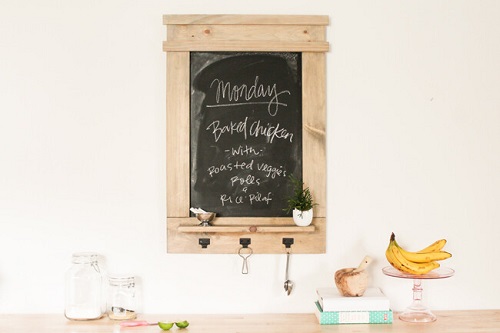 Housed in an attractive frame, this chalkboard menu board includes a small shelf for storing decorative and useful items.
23. Rustic Wine Rack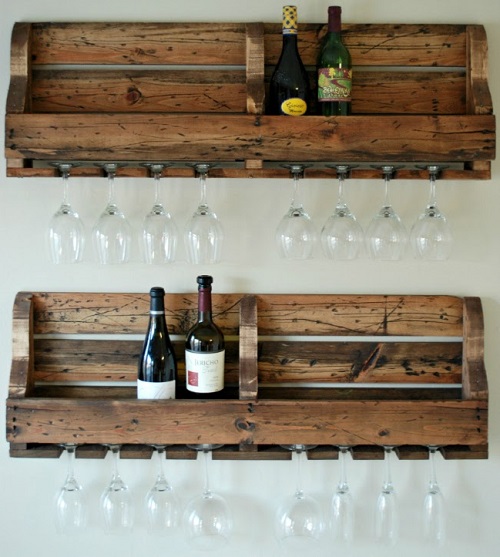 Pallets, screws, wood glue, white wood, tools, and other supplies are needed to build this rustic wine rack.
24. DIY Cork Art
Craft this Pinterest-worthy wall art out of wine corks, DIYing skills, and this helpful tutorial. It adds drama and character to the space.
25. DIY Kitchen Wall Decor Ideas
Mimic this beautiful and functional wall decorative piece that features hooks to hold kitchen towels.
26. Frame Recipes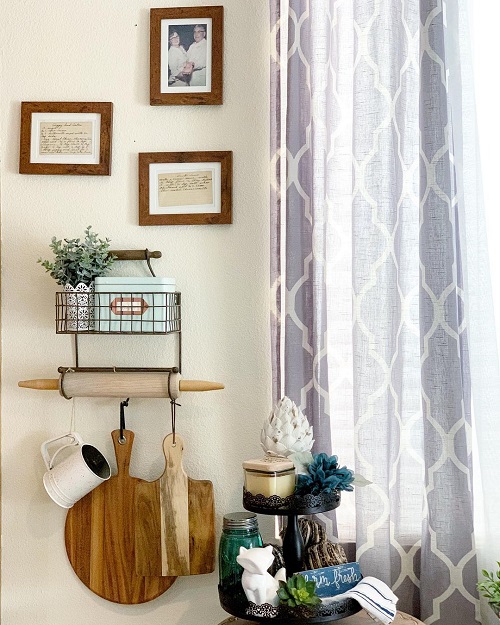 Frame your handwritten recipe cards and mount them on your kitchen wall for an interesting look.
27. Modern Kitchen Herb Garden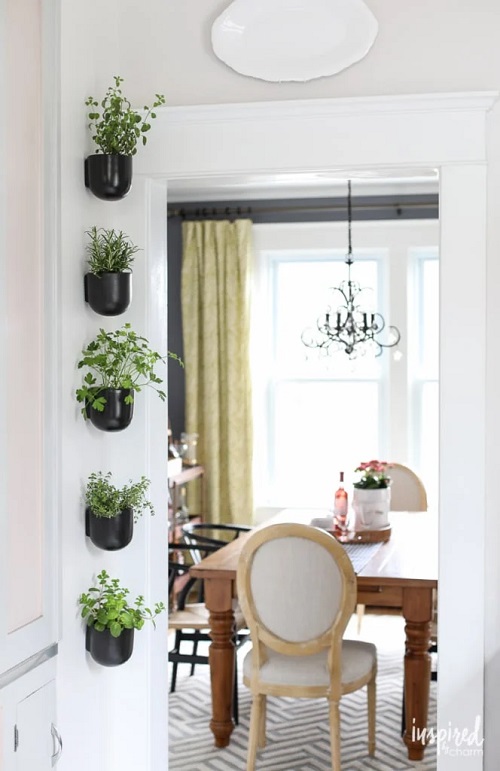 Bring a dash of greenery to your cooking room by creating this vertical herb garden. Besides supplying fresh herbs all year round, this garden also enhances the visual appeal. Click here to know more.
28. Air Dry Clay Kitchen Wall Hanging
Made from air-dry clay, this wall hanging is an excellent addition to any space. It's one of the easiest DIY kitchen wall decor ideas.
Here are some amazing things to make with clay