Clay is non-toxic, kid-friendly, and loved by all age groups. Explore this article to learn about numerous Things to Make With Clay!
Check out this list of Things to Make With Clay to plan a fun evening with your kids and create something out of the blue. Take inspiration from these useful and innovative ideas.
Learn how to make an ashtray out of clay here
---
Things to Make With Clay
1. Car Clock
Make an easy, working clock out of clay and toy cars for your little one. The best part is that it doesn't require baking, and your kids can detach the car anytime. Check out this article for the details.
2. DIY Stamped Bowls
Imitate this gorgeous stamped bowl by following this step-by-step tutorial. You won't require a kiln to do this simple yet beautiful project. It's one of the cool things to make out of clay.
3. Lovely Bead Necklaces
Customize little clay wooden bead necklaces for your kids and give them your love in yet another form. You can even DIY the necklaces to give away as gifts. Take inspiration from this DIY.
4. DIY Dinosaur Fossils
For crafting these realistic-looking dinosaur fossils, you will need salt dough clay, a tin can, parchment paper, small plastic dinosaurs, and other things. The tutorial is here.
5. DIY Alphabet Magnets
Help your little one in learning letters by crafting these easy and fun alphabet magnets. Refer to this DIY to know more.
6. Clay Flower Ring Bowls
Indulge your kids in the creative and fun-filled craft project of creating flower ring bowls. It's one of the easy modeling clay ideas.
7. DIY Medals
Appreciate your kids by awarding them with these colorful star medals for just being a good kid or when completing a charity. Head on to this DIY.
8. Rainbow Snake Pots
Find out how to make multicolored rainbow snake pots through this article. Additionally, you can plant air plants into the pots and teach your kids to care for them.
9. Geometric Clay Necklace
Show off your crafting skills by making a geometric necklace either for yourself or for your daughter or friends. The complete DIY is here.
10. Polymer Clay Bracelets
Customizing fun and appealing bracelets is quite easy with polymer clay. Check out this tutorial to make six different types of lovely bracelets.
11. Rainbow Fish
Spend quality time with your children by making this adorable rainbow fish craft, which they are going to love. Discover this craft here.
12. Handmade Diffuser Necklace
A clay diffuser necklace is all you need to calm your mind with the soothing fragrance of essential oils. Just pour 2-3 drops of your favorite essential oil on the necklace, and you are good to go.
13. DIY Mini Succulent Clay Planters
Transform your ordinary old pot into a unique textured succulent clay planter with the help of this easy step-by-step tutorial. These pots can boost your home decor if you color-coordinate them!
14. Moon Phase Wall Mobile
Learn how to make this soothing and natural moon phase wall mobile using air-dry clay. Take inspiration from The Merry Thought project.
15. DIY Monstera Leaf Keychain
To create an adorable and eye-catching monstera leaf keychain, you need air dry clay, acrylic paint, parchment paper, and this fantastic DIY. It's one of the easy things to make with clay.
16. Essential Oil Diffuser Keychains
Apart from a diffuser necklace, you can also try these cute and stylish keychain diffusers. Check out hello glow's ideas to learn more.
17. DIY Rainbow Crayon Holder Craft
Add some funky colors to your kid's art station with this rainbow crayon holder. Copy the beginner-friendly craft from this easy tutorial.
18. Geometric Colored Pencil Holder Idea
Give your crafting table or desk a modern touch with this geometric colored pencil holder. Try this project from Lines Across.
19. Painted Crayola Clay Pinch Pots
Tiny pinch pots are not only the best way to show off air plants but also an excellent project for kids and grown-ups to do together. The DIY is here.
20. Polymer Clay Flower Vase
Decorate your house with these beautiful polymer clay flower vases, which you can easily create with this tutorial.
21. DIY Textured Mug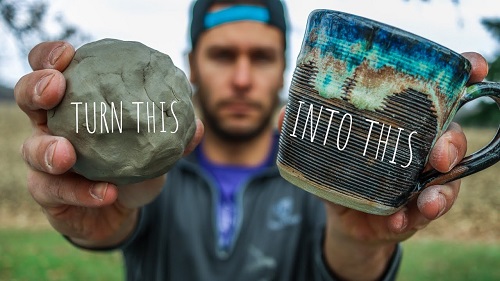 Find out how to make this beautiful and functional clay mug with this step-by-step instructive video. This can be a challenge to beginners!
22. DIY Embossed Paperweights
No need to buy a paperweight when you can customize one using clay. Read on this article to know the how-to.
23. Attractive Picture Frames
If you're short on picture frames, you can DIY a set with clay and a few other supplies. Head on to this DIY for the instructions.
24. Polymer Clay Toothbrush Holder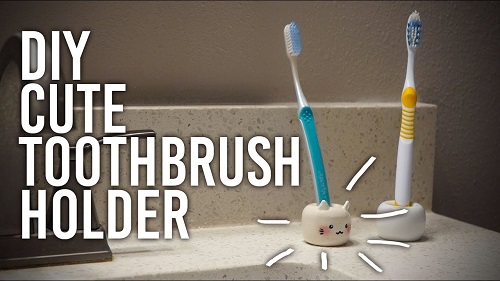 Instead of plastic toothbrush holders, you can create one at home using this visual tutorial.
25. 3D Wall Decor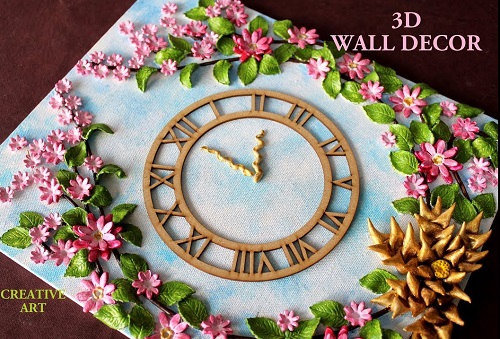 Enhance the look & appeal of your home with this easy and eye-catchy 3D clay wall decor. It can embellish any boring wall without having to invest much.
26. Handmade Clay Plate
A pleasant, quirky clay plate is all you need for special occasions like parties and holiday dinners, even better if it's handmade! Make a set of these plates and give your guests an opportunity to praise you.
27. DIY Soap Dish
Take your bathroom decor to a whole new level by adding some customized clay soap dishes. Besides holding your soap in place, these dishes are a great substitute for plastic soap dishes. Get the instructions here.
28. Play-Doh Easter Bunny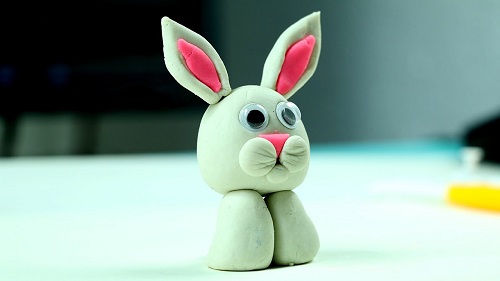 Any DIYer will love to make this funny play-doh easter bunny for their kids. Learn how to create one with this video.
29. DIY Votive
Put your creativity hat on and try this simple yet stunning votive holder made out of clay. It's a perfect home decor that adds a subtle candlelight glow to your room.
30. Clay Lanterns
Make this fancy and lovely lantern that looks nice even in daylight. Go through this DIY for inspiration.
31. Clay Minion Doll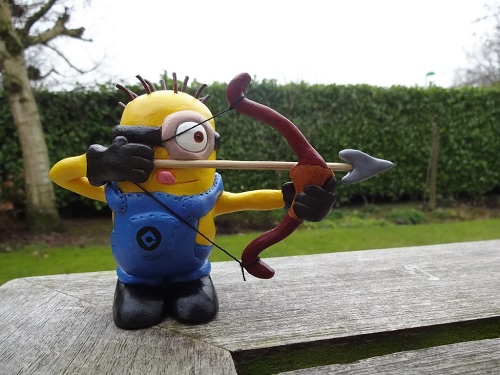 Show off your craftiness by making these cute little "Despicable Me" minions. All you've to do is follow this tutorial.
32. Clay Pendant Lamp
You will need air-dry clay and mini orange cones to make this pendant lamp. Click here to learn more.
Find out the best DIY ceiling light ideas here
33. Inexpensive Knobs
Jazz up your nightstand, dresser, or doors with these funky, inexpensive knobs. You can customize and color-coordinate them as per your need. Refer to this DIY to know the instructions.
34. Colorful Clay Animals Heads
Add a fun little touch to your home decor with these exciting, colorful animal heads. Personalize the size and color to suit the wall and your home decor theme. Follow this tutorial.
35. DIY Wind Chimes
The Bold Abode has come up with this brilliant design of wind chimes. Cut different shapes from air dry clay and hang them accordingly.
36. Bright Tipped Faux Antler
A faux antler will come in handy to store your rings or earrings in place. Check out this instructive article to learn the craft.
37. DIY Incense Holders
In case you use incense sticks as an air freshener, you probably know the mess that the ashes can create. Solve the problem with this incense stick holder.
38. Tea Bag Holders
DIY this teabag holder to keep your teabag from submerging into the cup. Read this tutorial.
39. DIY Stamped Clay Coasters
Gathering Beauty has shared this great idea of stamped clay coasters that looks high-end and luxe. These can be a great addition to a theme party or a gender-reveal party!
40. DIY Clay Egg Carton/Jewelry Holder
Craft this carton to store jewelry or to display your Easter eggs. Simple yet effective, it's one of the best clay project ideas.
41. Mini Pots
Hang mini planters on a wall in or outside of your home to catch everyone's attention! They are not just cute but a perfect home for an air plant. Refer to this craft.
43. DIY Clay Rose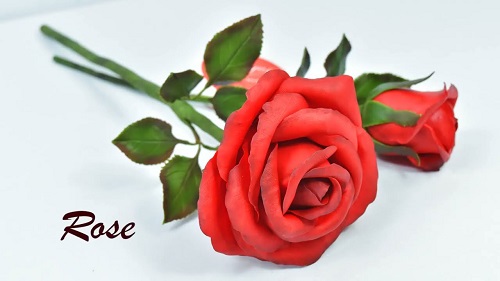 Find out how to make cool clay roses like real ones in no time with this video. You can use them as dining table decor.
44. Millefiori USB Flash Drive Jewel
If you want to give your friend or loved one a unique present, then this clay USB flash drive jewel is a wonderful option. Follow this tutorial for more information.
45. DIY Barrettes
These colorful barrettes are possibly the cutest craft you can do with your daughter. Ask about her preferences and what she would like as a barrette and customize this easy craft.
46. DIY Clay Rings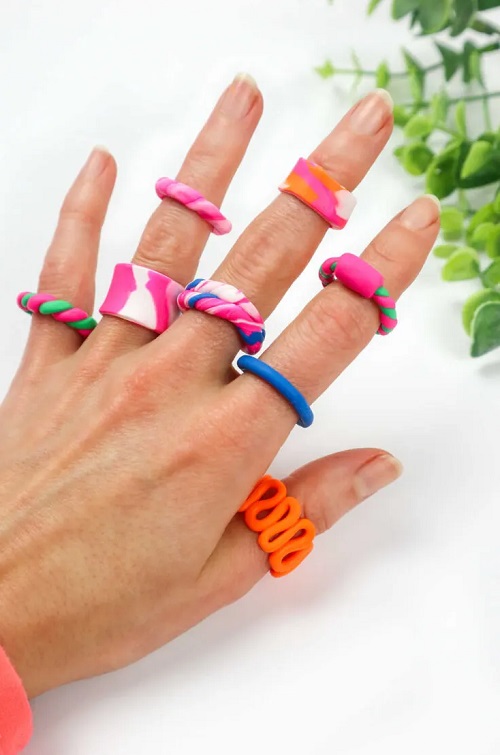 These easy-to-make clay rings are simple and cute. The detailed tutorial is here.
47. Deadpool Polymer Sculpture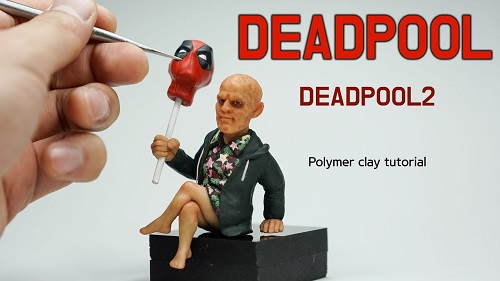 Sculpting movie characters is a memorable and fun-filled project. For instance, DIY Deadpool's face with the help of this tutorial.
48. DIY Thanos Sculpture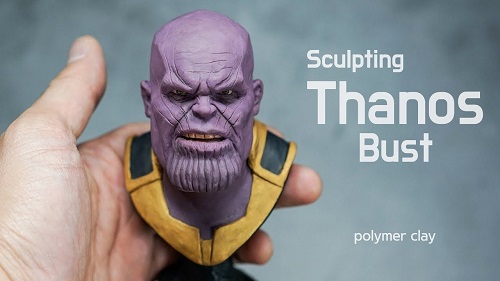 If you or any of your family members are an Avengers fan, you might not want to skip this DIY. Create Thano's face with this easy tutorial.
49. Sculpey Clay Halloween Pins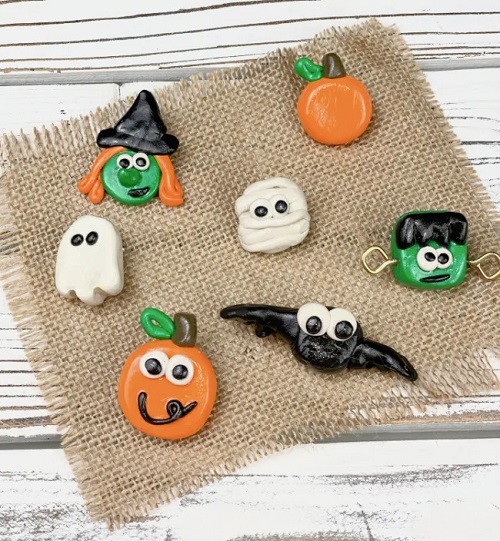 These clay Halloween pins are a fabulous way to accessorize for the spooky season. Go through this article for more info.
50. Batman Sculpture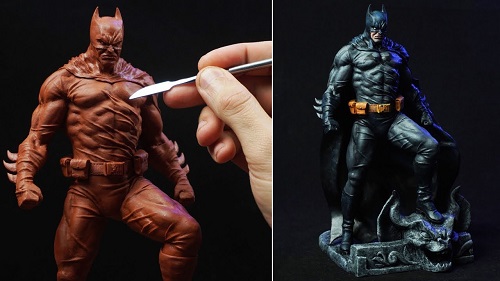 There's not a kid who's not a fan of batman these days, and this DIY can be a great way to give way to their fantasy. If not batman, you can even mend and customize the clay into your kid's favorite character.
51. DIY Marbled Clay Earrings
Learn how to create these nine unique and adorable earrings with this easy-to-understand tutorial.
52. Clay Slime Craft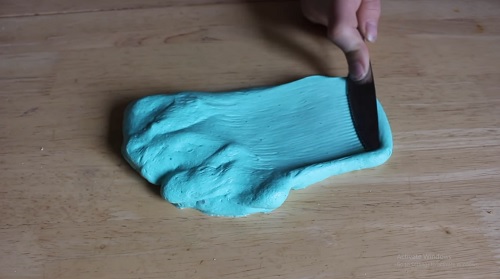 Slime is undoubtedly a crazy project to keep your kids engaged. Unlike the usual slime, this slime is made using clay, borax powder, white glue, and water.
53. Clay Copper Leaf Banner
Whether it's a birthday or a promotion party, banners come in handy to alleviate the decoration up a notch. Ditch the conventional banner DIY and create a shiny one with this tutorial.
54. Stunning Dragon Sculpture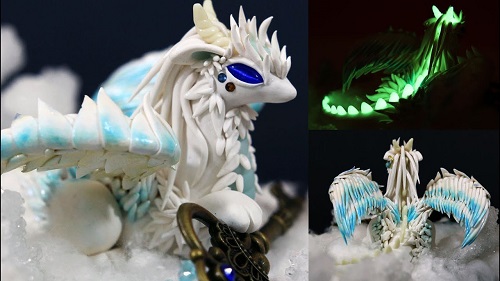 Transform a regular clay into a lovely dragon with some crafting skills and this visual tutorial. If you're a beginner, you might find this idea a bit difficult to execute, but with practice, you can complete this project.
55. DIY Succulent Pineapple Planter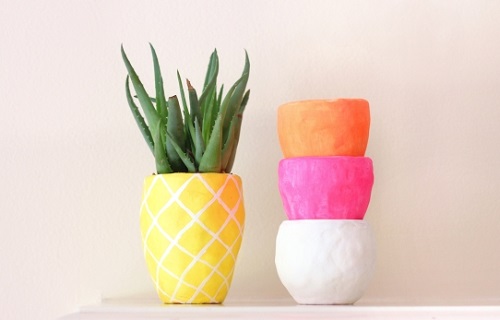 This pineapple planter is the perfect craft to do with your kids this weekend. Read the details here.
56. Homemade Faux Succulent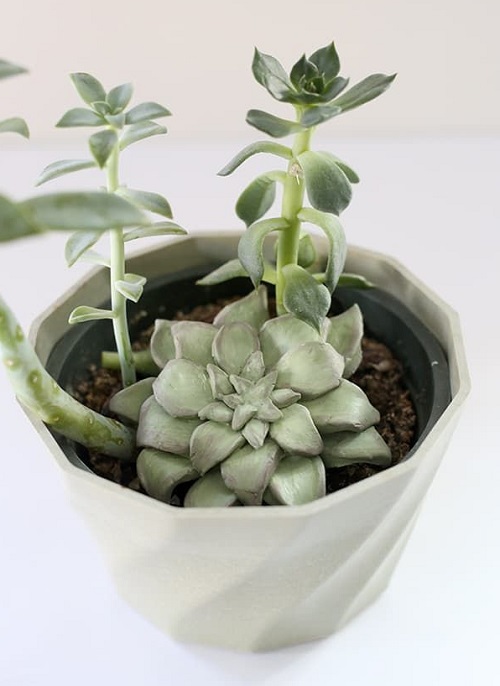 Craft your own little faux succulent out of air-dry clay. The best part is that you don't even need to water it!
57. DIY Ring Holder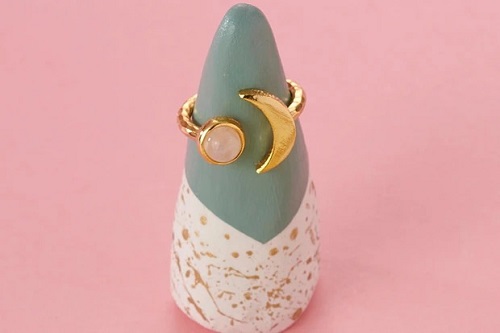 Keep your rings tidy in one place with this display-worthy handmade holder. It makes an excellent keepsake as well.
58. Picasso-Inspired Homemade Tree Ornaments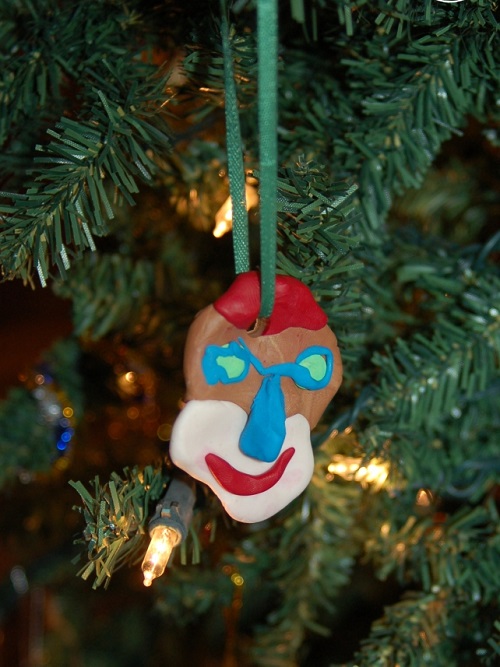 Toddlers, preschoolers, and elementary-aged children will enjoy making these Christmas ornaments.
59. Mini Swan Flower Vase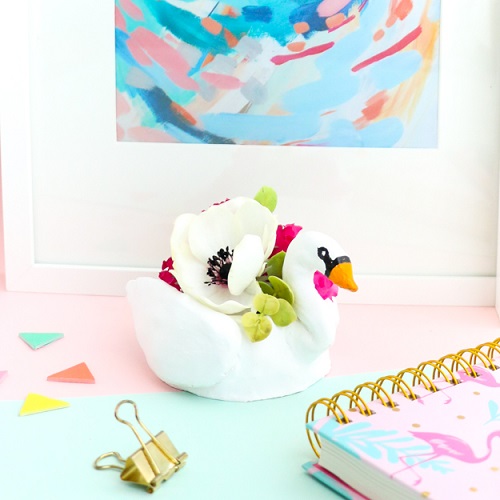 This mini swan is the best way to display lovely flowers in the living room. It also doubles up as a planter and a mini desk organizer.
60. DIY Rainbow Photo Holder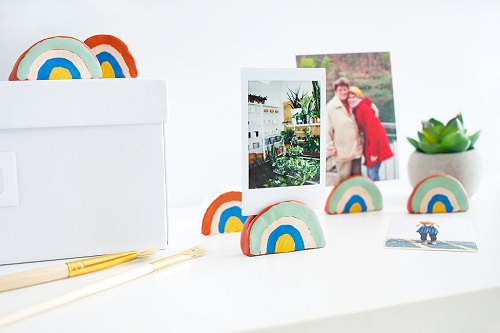 Showcase your favorite photographs in this DIY rainbow photo holder. Hop to this article for more info.
61. Cute Clay Penguins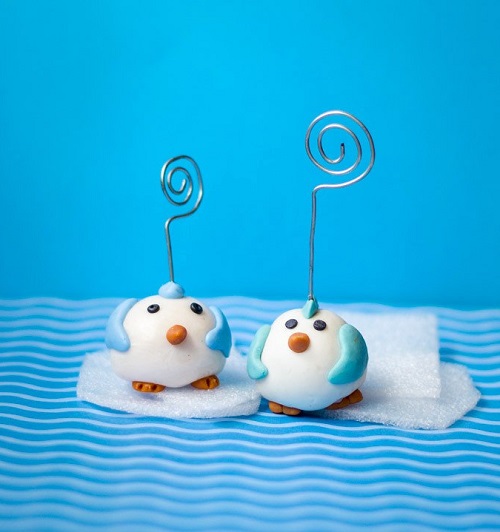 These cute penguins are great for holding notes, visiting cards, and photos. Take inspiration from this detailed tutorial.
62. DIY Christmas Ornaments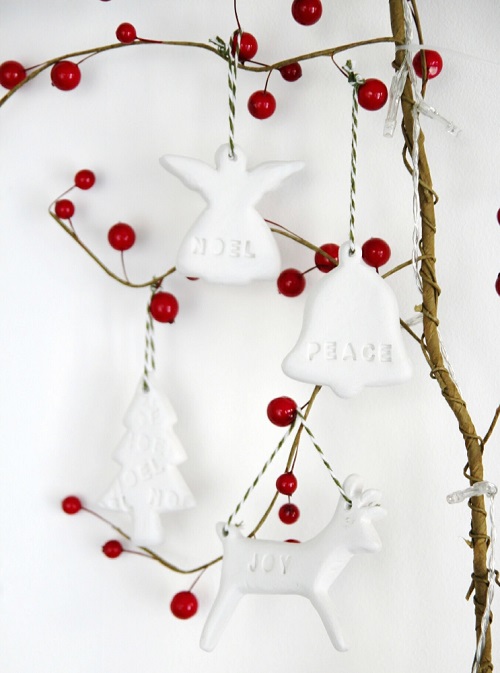 Instead of using regular Christmas ornaments for the tree, make festive ones at home using this helpful article.
63. Attractive Wall Hanging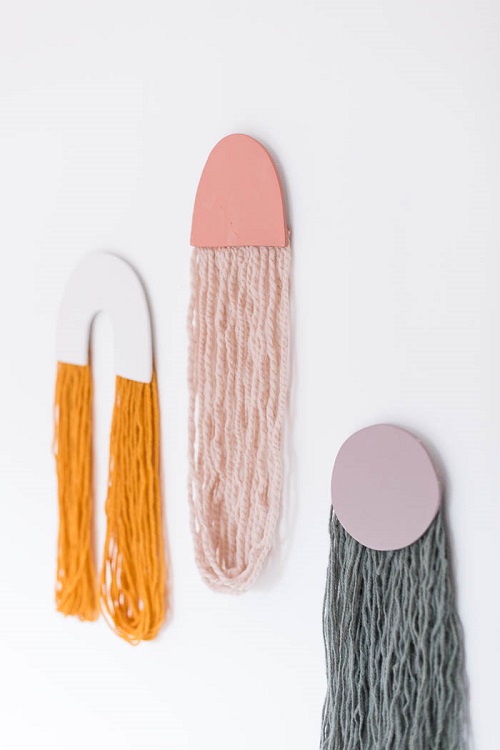 Spice up the look of your ugly wall with these eye-grabbing yarn wall hangings. It's easy to make and affordable too.
64. DIY Candle Holders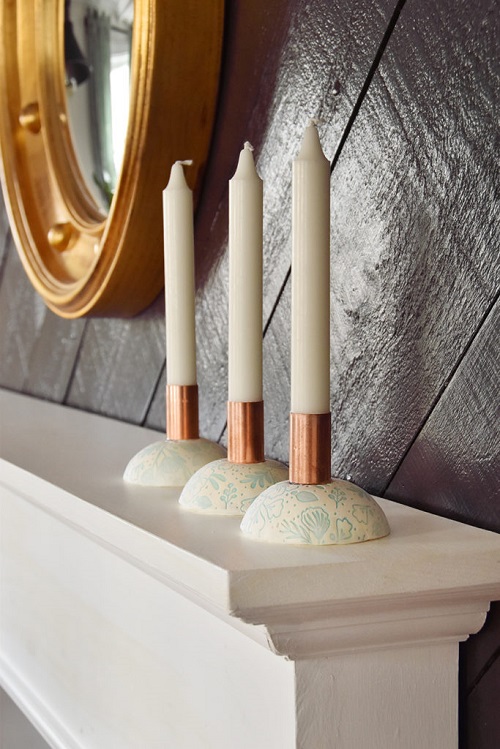 Replace your existing candle holders with these elegant ones. They look fantastic and make excellent gifts.
65. Napkin Rings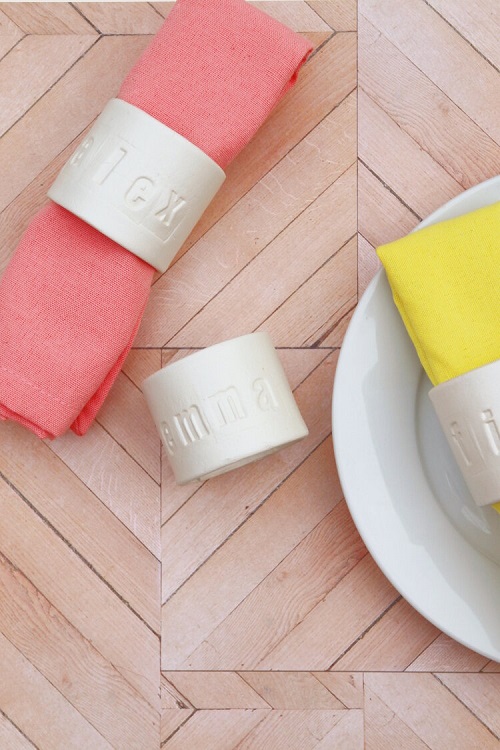 These fun, personalized napkin rings are the perfect way to add a unique handmade touch to any party.
66. DIY Skull Ashtray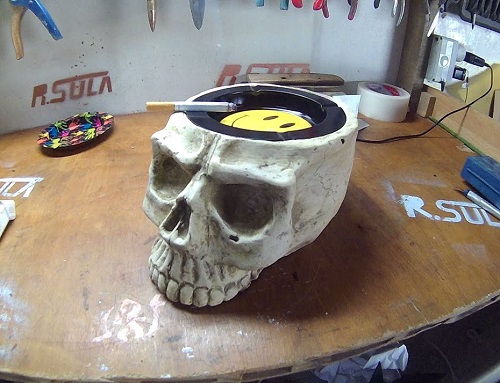 Here's the video tutorial to create a spooky ashtray out of clay. It's one of the best DIY clay crafts.
67. DIY Laughing Ash Tray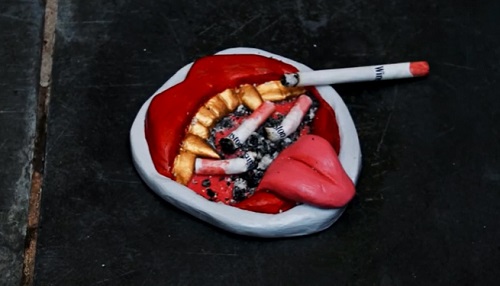 Display your creativity and crafting skills by making this peculiar laughing ashtray. Check out this video.
68. Rainbow Pin Idea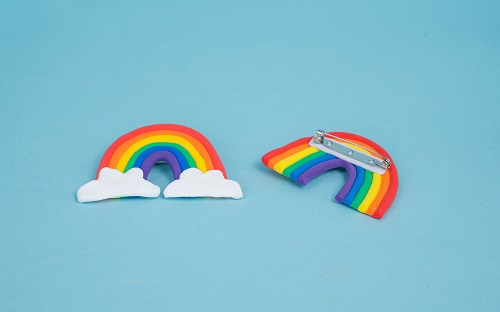 Bring a little color into your ensemble with these easy and fun rainbow pins. Hop to this article for more info.
69. Unicorn Magnets DIY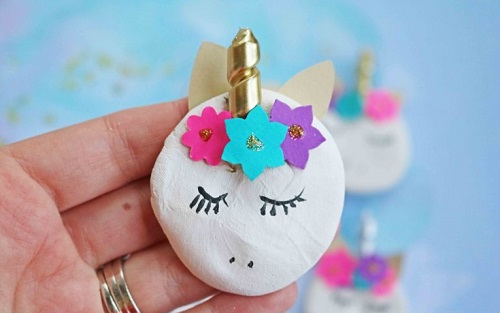 To recreate these fun unicorn magnets out of air-dry clay, read this step-by-step article.
70. DIY Tic-Tac-Toe Craft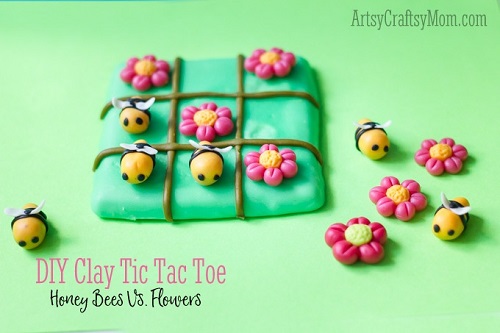 Craft this incredibly cute tic-tac-toe game for your kiddo with this easy-to-understand tutorial. It's excellent for gifting purposes too.
Here are some fantastic bead bracelet ideas