From timeless classics to modern masterpieces, discover the best Brick Fence Ideas to redefine your home's curb appeal!
Brick fences, known for durability and timeless charm, are a versatile option for homeowners looking for style and privacy. If you're on the lookout for Brick Fence Ideas to make your property more distinctive and secure, you're in the right place. Read on to get inspiration for your next fence-building project.
Read the Cinder Block Fence Ideas here
---
Brick Fence Ideas
1. Bricks and Wooden Fence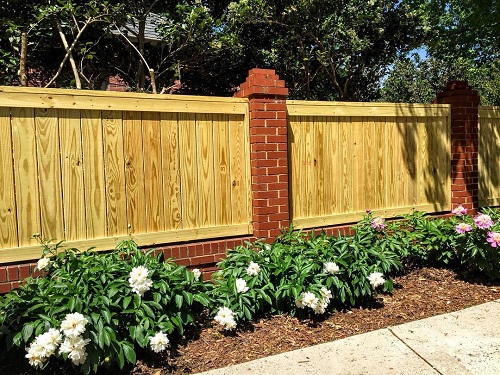 Improve the security, privacy, and visual appeal of your property with a brick fence with wood elements. This design combines the durability of brick with the warm, rustic charm of wooden details.
2. Brick Fence With Besser Blocks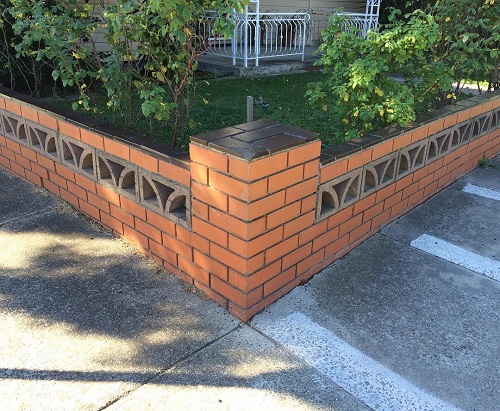 Bricks and besser blocks are great options for creating a sturdy, appealing, and long-lasting fence. It's a smart pick for those seeking a modern and low-maintenance fencing solution.
3. Brick Wall Fence With Glass Top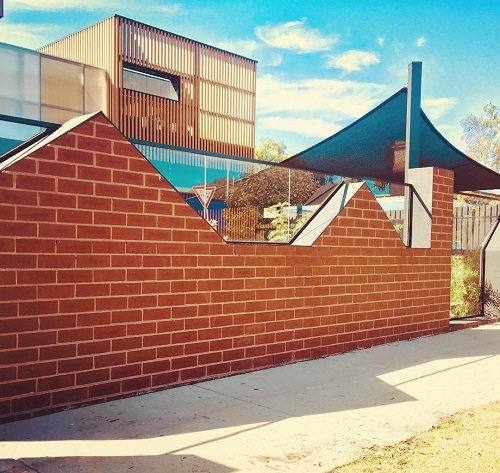 In this fencing setup, bricks provide privacy and durability, while the glass portion ensures visibility. It's the best way of adding a modern twist to any monotonous home exterior.
4. Front Yard Brick and Iron Fence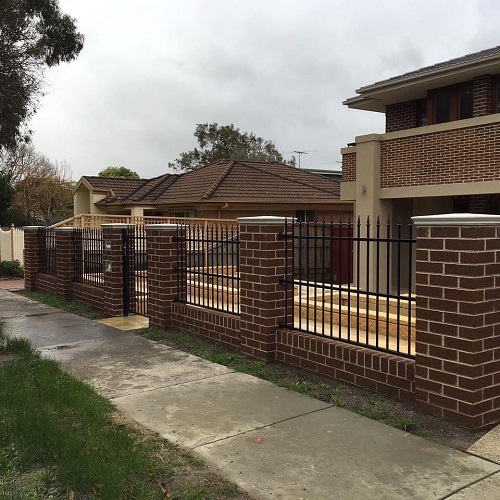 The combination of wrought iron and standard bricks are the ideal materials to create an appealing and secure boundary. It's perfect for those who want to elevate their outdoor spaces while maintaining safety and privacy.
5. Weathered Bricks Fence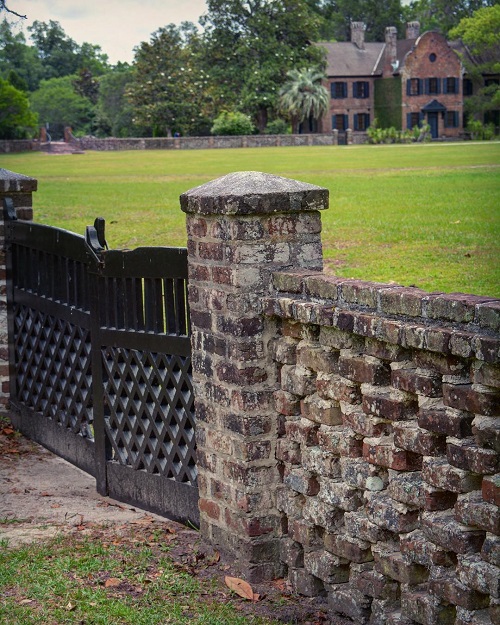 A weathered brick fence blends seamlessly with both traditional and contemporary landscapes. Its worn-out timeless appearance gives a rustic aesthetic. Furthermore, this robust and durable fencing can withstand harsh conditions.
6. Brick Privacy Fence With Horizontal Wooden Slats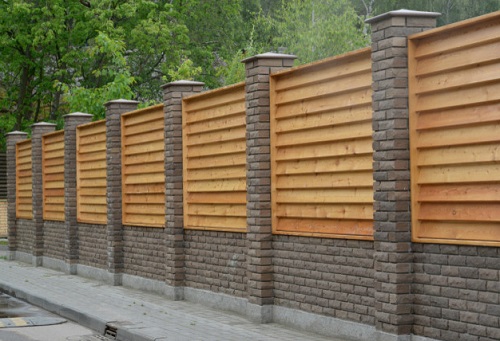 The base is constructed from durable bricks, providing a solid foundation. Above it, horizontal wooden slats are added between sturdy brick pillars for a striking contrast. This fusion offers enhanced privacy while also maintaining a pleasing aesthetic appeal.
7. Bricks and Corrugated Metal Sheets Fence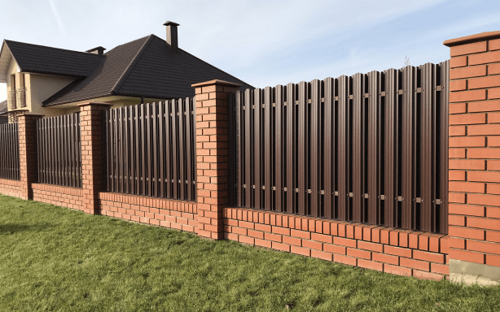 Featuring bricks and corrugated metal sheets, this fence is a unique blend of industrial aesthetics and classic design. The contrasting textures lend a visually striking look, offering a bold statement for any outdoor space. It's a low-maintenance, weather-resistant fence.
8. Brick Fence with Ferns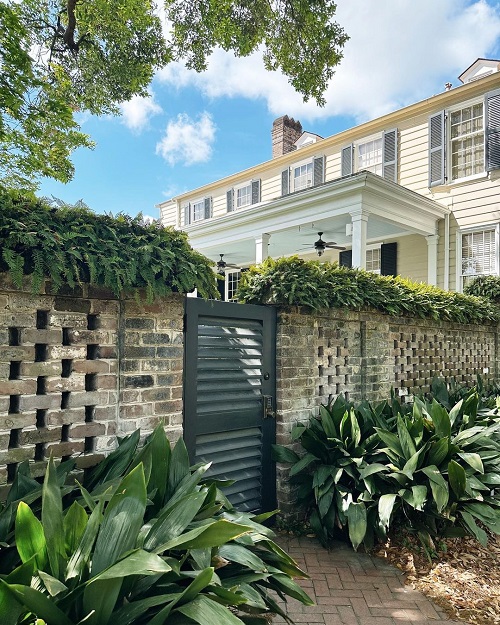 A mix of rugged beauty and lush greenery defines this fence design. Incorporating lots of ferns into a classic brick wall structure gives a balanced mix of urban and natural aesthetics. It's a fresh take on an old classic fencing option.
9. White Brick and Wood Fence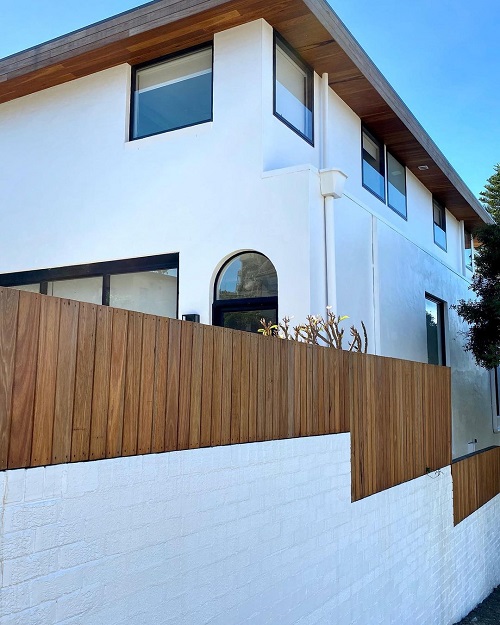 In this fencing design, the white-painted bricks and the rustic vertical wooden slats create a striking contrast. The wood's soft grain and brick's smooth surface add textural interest, making your fence an attractive feature. This fence offers a contemporary yet timeless look, perfectly suited for various architectural styles.
10. Red Brick Fence with Cobble Stones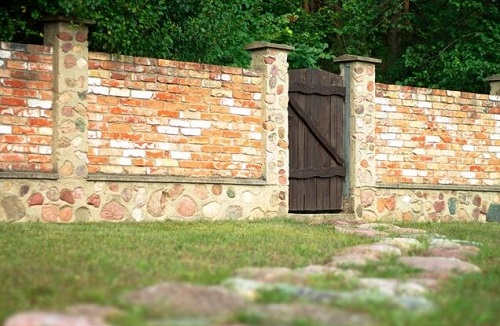 The combination of bricks and cobblestones makes this fence a must-have to get the old-worldly appeal. Its contrasting textures and colors offer a unique aesthetic that combines both elegance and durability.
11. Brick and Metal Fence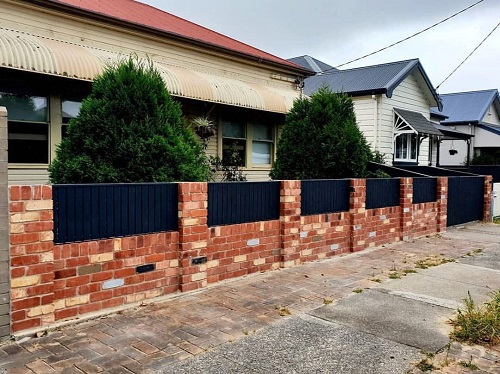 Make your property more appealing, safe, and secure by introducing a brick fence with black-hued metal panels. It's one of the best brick fence ideas on this list in terms of appearance and durability.
12. Brick Lattice Fence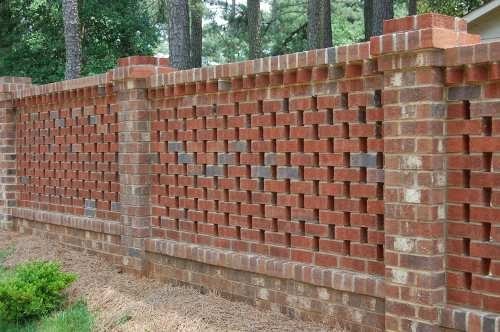 A lattice brick fence provides a perfect balance of privacy and visual permeability. Strong and durable, it also stands up well to the elements, offering longevity and low maintenance.
---
Important Points to Consider
Design Consistency: Ensure the fence design complements the architecture and style of the home and the surrounding landscape.
Maintenance: Brick requires minimal upkeep, but occasional cleaning or repainting might be necessary.
Privacy and Security: Consider the fence's height and design for privacy and security. A solid brick fence offers more privacy than one with gaps or iron detailing.
Cost: Bricks can be costly, especially for large fences. Plan your budget carefully, including costs for materials, labor, and potential maintenance.
Local Regulations: Check local building codes for height restrictions or other regulations before you start designing and building a brick fence.
Decoration: Consider decorative elements, like iron gates or greenery, to add visual interest to your brick fence.
---
Brick Fence Ideas: FAQs
1. How to Paint a Brick Fence?
Begin by cleaning the brick fence thoroughly with a stiff brush and soapy water. After drying, apply a primer specifically designed for masonry to protect the brick. Once the primer is dry, use a paintbrush to apply paint specially made for exterior brick. Work the paint into the brick's crevices and texture. Multiple coats may be needed for a smooth, even look. Ensure each coat is thoroughly dry before applying the next one.
Read the Best Fence Landscaping Ideas here