Learn How to Clean Garbage Disposal With Baking Soda and Vinegar inexpensively for a sparkling, odor-free sink!

Garbage disposal, also familiar as a waste disposal unit, garbage disposer, or garburator, is a wonderful device fitted below the kitchen sink. It grinds the food scraps into tiny pieces, so they move through the drain pipes quickly and won't clog them. A garburator simplifies a lot of kitchen cleanups, but what about its cleaning? Read on to learn How to Clean Garbage Disposal With Baking Soda and Vinegar?
Find out how to unclog toilet with baking soda and vinegar here
---
Why is Cleaning Garbage Disposal Necessary?
A dirty garbage disposal unit not only smells awful but is also a breeding place for bacteria and viruses. Therefore, cleaning the garburator every once in a while is vital to avoid the stinky scent and clogging issues.
---
How to Clean Garbage Disposal With Baking Soda and Vinegar?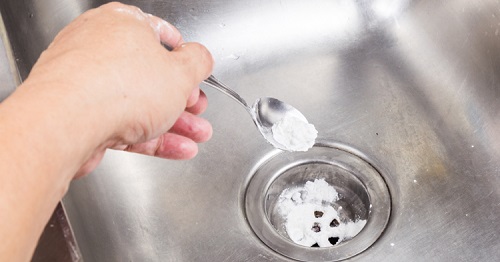 Restore the former glory of your stinky garbage disposal using the powerful combo of baking soda and vinegar. Their fizzing action not only dissolves gunk but eliminates the rancid smell as well.
Check out the below hack and make your grimy waste disposal unite spotless again.
Supplies
1/2 Cup of Baking Soda
1/2 Cup of White or Apple Cider Vinegar
Drain Stopper
Hot Water
Directions
Empty half a cup of each baking soda and white or apple cider vinegar into the disposal unit.
Then, close the drain opening with a drain stopper.
Let it sit for 5-10 minutes, allowing the mixture to do its work.
After that, take off the stopper, run the garbage disposal, and flush it with lukewarm water.
Once done, turn on the tap water for a couple of seconds.
Now, your garbage disposer is squeaky clean, odor-free, and ready to use.
But, if the unpleasant smell is still there, repeat this method.
Note: If you have a double basin sink, use baking soda and vinegar on both of them at the same time to get the optimum results.
---
Why Does Baking Soda and Vinegar Work?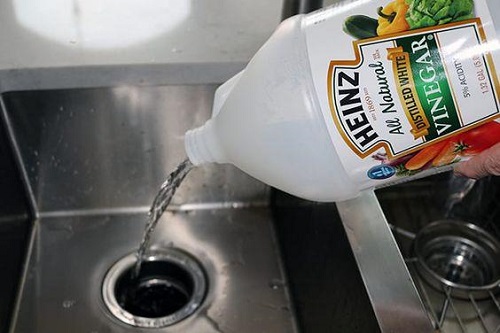 Baking soda (sodium bicarbonate) is a base, and vinegar is an acid. When combined, a chemical reaction (fizzing action) occurs that eliminates stubborn glops and greasy residues easily. That's why sodium bicarbonate and vinegar are popular among homeowners for numerous cleaning chores.
---
How Often to Clean Garbage Disposal?
Garburators clean themselves by grinding the food waste into small pieces and whisking them down the drain. But certain areas within the appliance don't receive the thorough cleaning they require. As a result, over time, garburators become dirty and emit an unpleasant smell. That's why cleaning them weekly with baking soda and vinegar is highly recommended.
Note- Don't toss onion skin, eggshells, animal bones, nuts, banana peels, and these stuff into the garburator, as they make the cleaning process tricky.
---
Tips to Keep Garbage Disposals Clean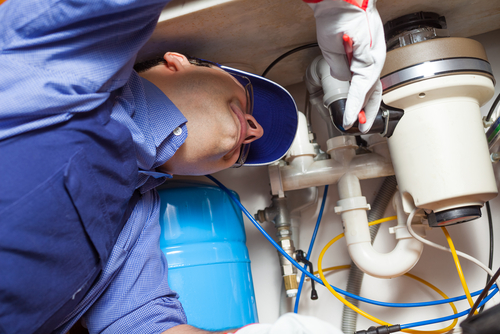 Follow the below tips to keep your garbage disposal clean and in crisp condition:
Avoid Hot Water: Always use cold water in the garbage disposal, as the hot one makes the food scrap stick to the blades.
Use disposal unit regularly: Run the disposal at least once daily to prevent rust and corrosion. If you have nothing to grind, put ice cubes in the unit. This cleans the garburator by removing the stuck-up waste.
Break up large items: Cut large food scraps into smaller pieces before putting them into the disposal to prevent clogs.
Regular maintenance: Inspect and wash your garbage disposal regularly to avoid unpleasant odors and clogs.
Never pour greasy stuff: Avoid pouring cooking grease and oil down the drain, as it makes the disposal unit clogged and dirty.
---
How to Clean Garbage Disposal With Baking Soda and Vinegar: Conclusion
Just like any other household device, the garbage disposal system needs some love and attention as well. So, grab baking soda and vinegar to make your grimy garbage disposal unit spotless now.
Learn how to clean car battery terminals with vinegar here