Lampshades can often lose their original shine if they are not cleaned regularly. One simple and effective way is to clean lamp shades with vinegar.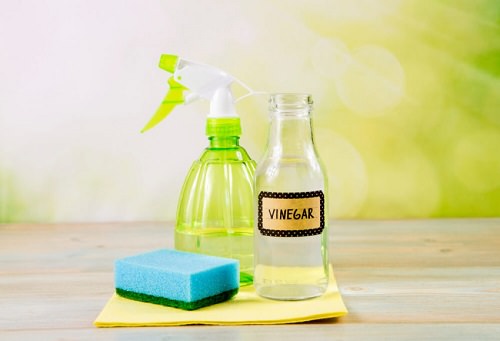 Lampshades have the power to give a completely new look to your rooms. They blend in perfectly with your decor and enhance it subtly. And this is why it is vital to clean the lampshades regularly. Read more on how to clean lamp shades with vinegar below.
Types Of Lampshades
The cleaning method for a lampshade depends upon the type of lampshade you have. Different types of fabric or materials need different types of cleaning attention. Therefore, it is safe to say that one single product cannot help in cleaning all kinds of lampshades.
Lampshades are available in several materials. Some of the most common ones are:
Fabric
Plastic
Glass
Paper/Parchment
Fiberglass
While paper/parchment lampshades are the most delicate to clean, plastic ones are a bit easier. Therefore, it is always better to read any manual or instructions that have come with the lampshade.
How To Clean Lamp Shades With Vinegar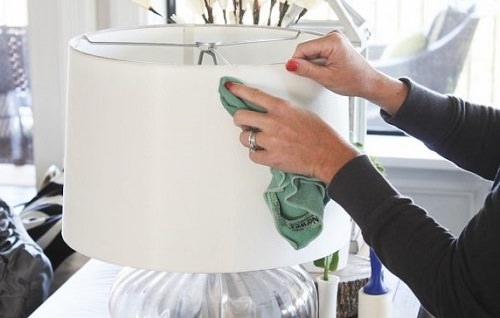 What You Need
Lint Roller/Micro-fiber Cloth
Dishwashing/Laundry Detergent
White Vinegar
Sponge
Soft Toothbrush
What To Do
Carefully remove the lampshade from the lamp and let it cool down.
Now using a lint roller or a micro-fiber cloth, gently wipe the lampshade to get rid of all the dry dust and grime.
Fill a deep basin or bathtub with warm water.
Add one teaspoon of liquid laundry detergent or dishwashing liquid to the water.
Now, add two-three tablespoons of white vinegar and mix well.
Grip your lampshade by its frame and gently dip it in the mixture.
In case the shade is more greasy than usual, let it soak for 10-15 minutes.
Gently wipe the lampshade with a sponge in a downward motion.
Now, drain the soapy water and refill the basin/tub with warm water.
Dip the lampshade in the clean water to get rid of the soaps.
Take a soft, clean towel and gently pat dry the lampshade.
Place the lampshade on a towel and leave it to air dry for a couple of hours.
And voila, your favorite lampshade will be as good as new. If you have a glass lampshade, you can even place it in the top rack of your dishwasher. And then, add white vinegar in the washer instead of the dishwashing liquid.