From wall-mounted organizers to custom-made solutions, these clever Nerf Gun Storage Ideas are easy to build!
Don't know how to corral your large collection of toy guns? You're at the right place. Organize them easily with these clever and affordable Nerf Gun Storage Ideas.
Check out the DIY craft vinyl storage ideas here
---
Nerf Gun Storage Ideas
1. DIY Nerf Gun Storage Wall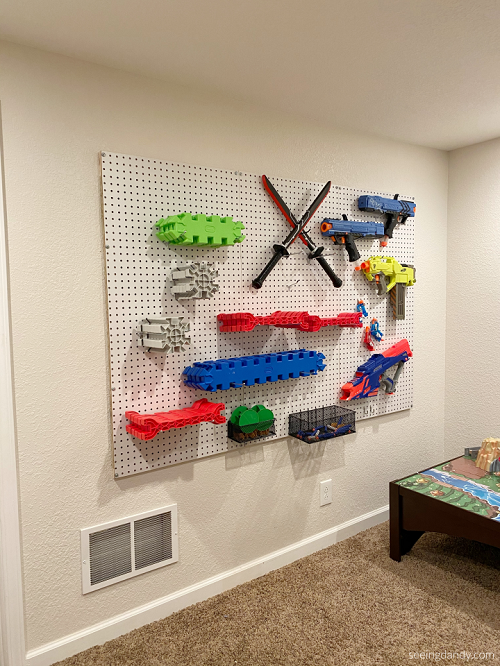 Built from pegboard, this wall is the perfect place to store all the Nerf guns and its accessories.
2. Wall-Mounted Nerf Gun Storage Shelf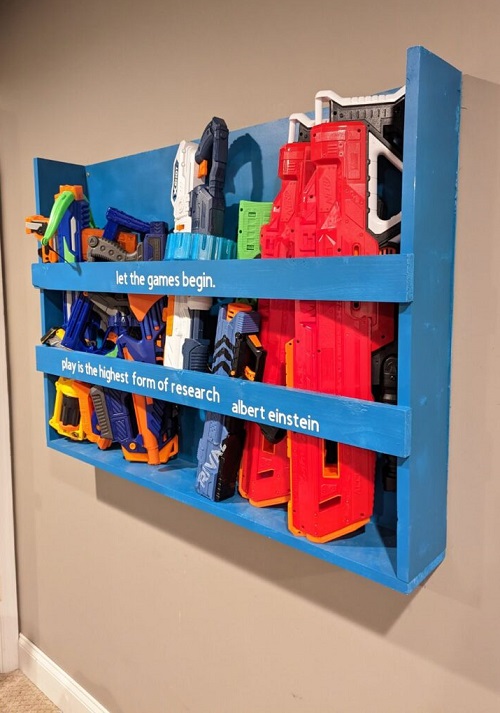 Keep all your Nerf gun organized and off the floor with this wall-mounted shelf. The construction process is here.
3. DIY Nerf Gun Storage Rack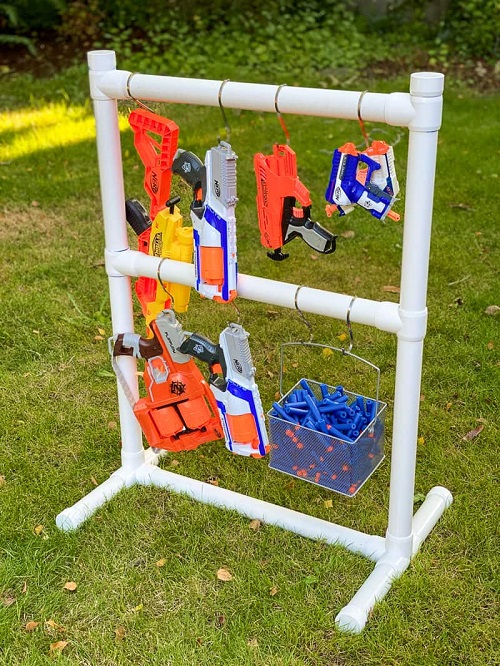 Tired of Nerf toys cluttering up the backyard? Make this easy DIY Nerf gun storage rack out of PVC pipe to hang them all in one place.
4. Wire Grid Nerf Gun Organizer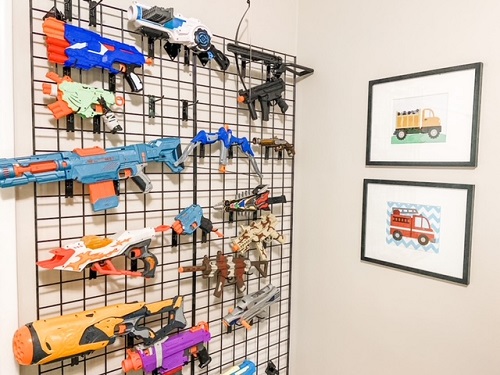 Featuring a wire grid panel and an ammo basket, this organizer provides easy access to Nerf guns.
5. Nerf Gun MDF Wall Mounted Rack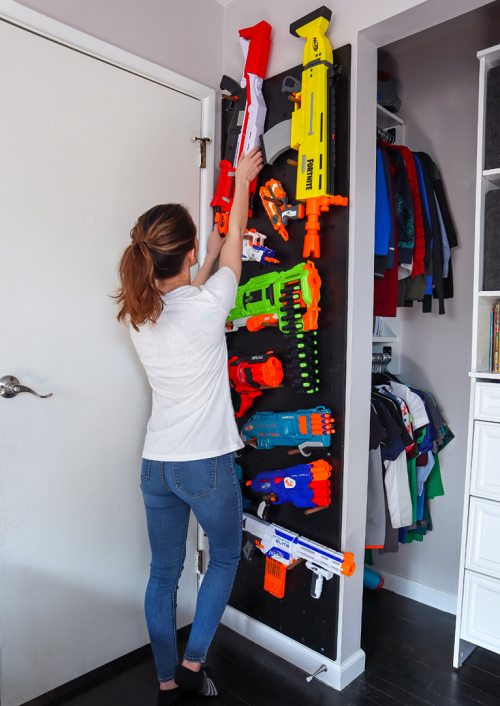 Display your collection of Nerf guns in style with this wall-mounted rack. The details are here.
6. Shoe Rack as Toy Storage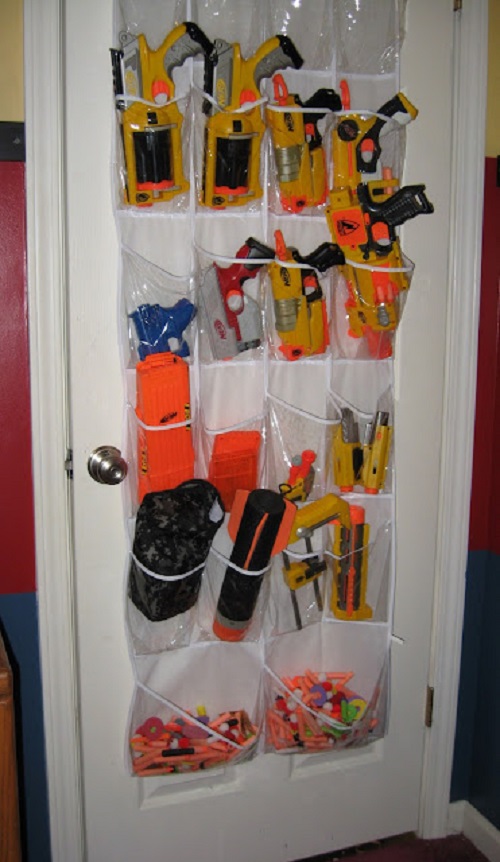 You only need a shoe rack to put all your Nerf guns in order. This idea is best for those who don't have enough wall and floor space to corral toys.
7. Use an Under the Bed Plastic Storage Bin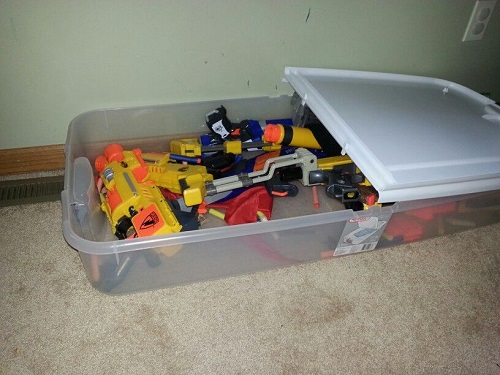 Manage your kiddo's Nerf gun collection with ease using an under-the-bed plastic storage bin.
8. Easy Nerf Gun Storage Idea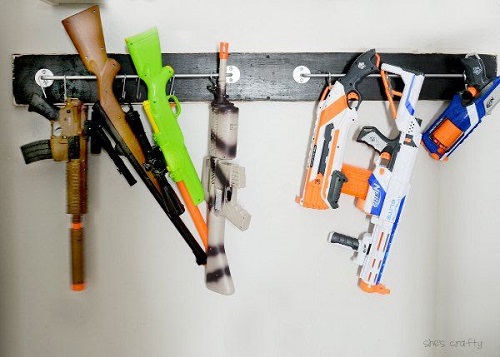 Designed to fit seamlessly in any room, this storage solution keeps your guns accessible and home clutter-free.
9. Try Fabric Boxes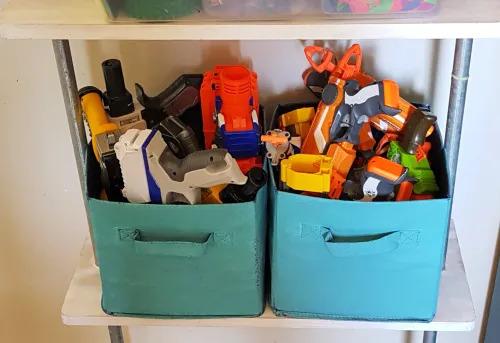 Make the most out of your old fabric boxes by converting them into a nifty toy organizer. It's one of the best Nerf gun storage ideas.
10. Repurpose Old Plastic Laundry Basket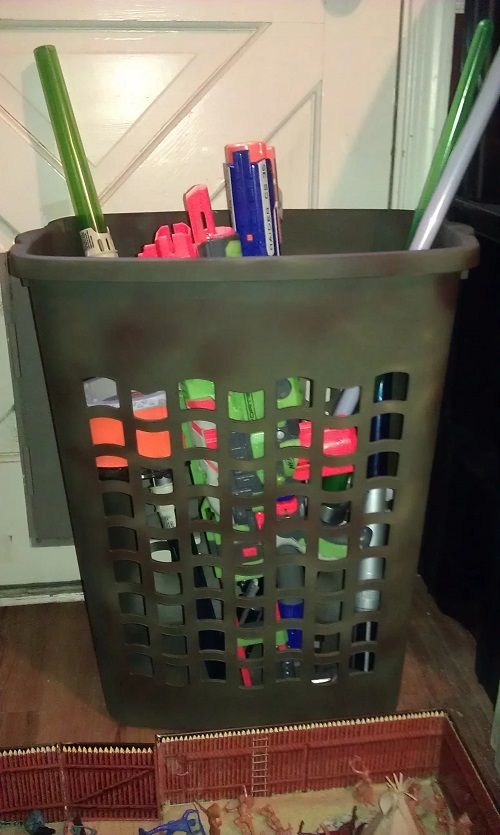 Modify your old laundry basket into a frugal toy organizer for stashing large Nerf guns.
11. Pvc Pipe Nerf Gun Holder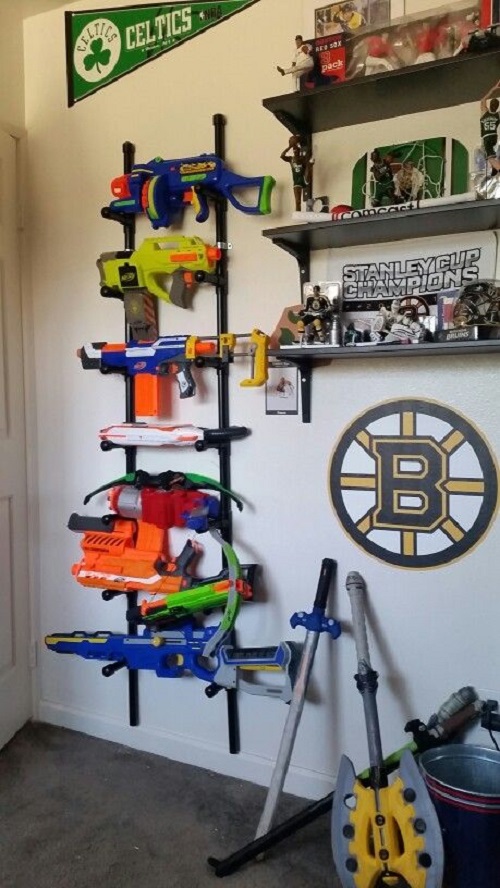 Organize your blaster collection like a pro with this simple and budget-friendly PVC Pipe Nerf gun holder. Read the details here.
12. Nerf Guns On A Towel Rack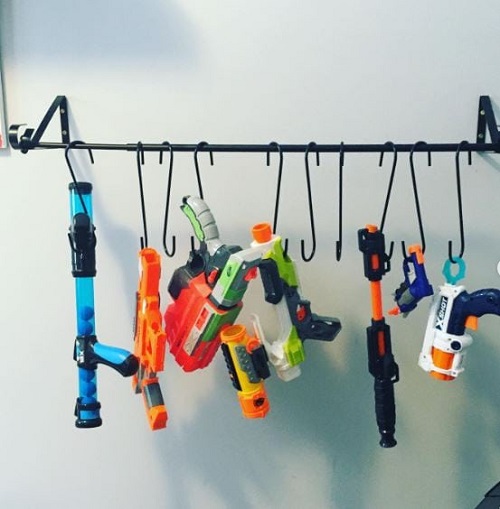 Grab some S hooks to transform a towel rack into a cheap and simple Nerf gun organizer.
13. Nerf Gun Cabinet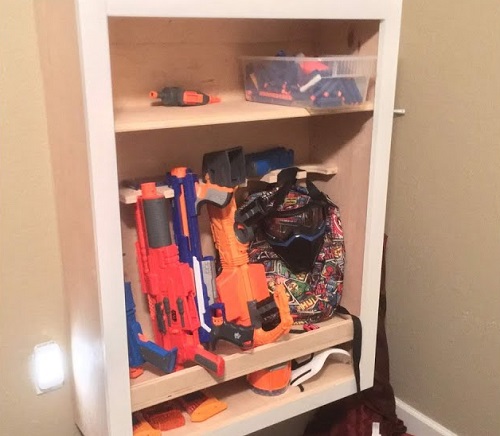 Need a place to store your Nerf blaster collection? This wooden cabinet is an excellent option.
14. Coat Rack Turned Nerf Gun Storage Solution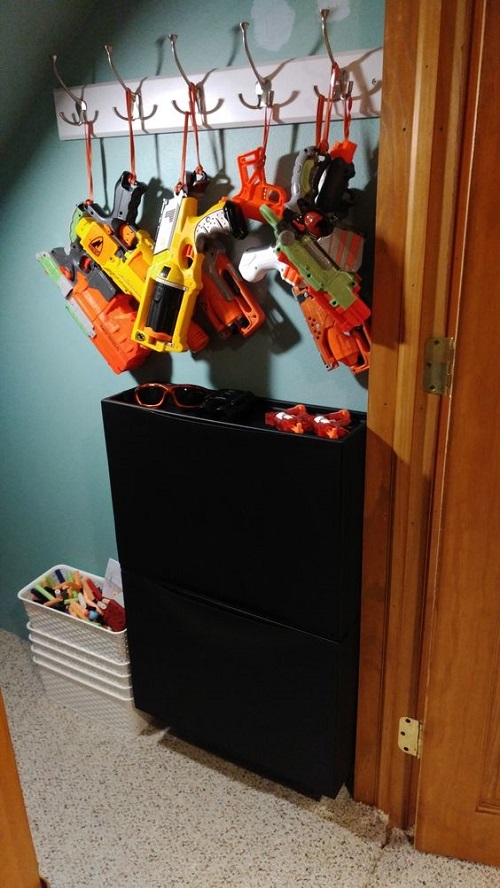 To copy this storage hack, adorn Nerf gun blasters with twine slings and hang them on the coat rack.
15. Metal Baskets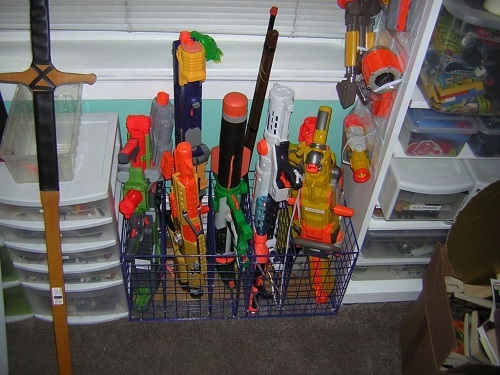 Do you have metal baskets handy? Utilize them to store your Nerf blasters. It's one of the best Nerf gun storage ideas on this list.
16. DIY Secret Nerf Storage Wall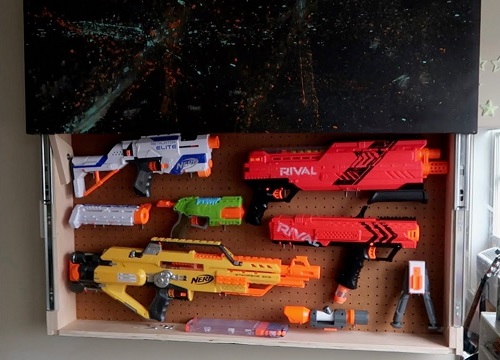 This secret Nerf storage wall is made out of plywood, pegboard, some 20-inch drawer slides, and an old painting.
17. Slatboard Nerf Storage
Take a slatboard, mount it on the wall using nails, and use some hooks to manage your Nerf gun blasters.
18. Rolling Nerf Foldout Storage Solution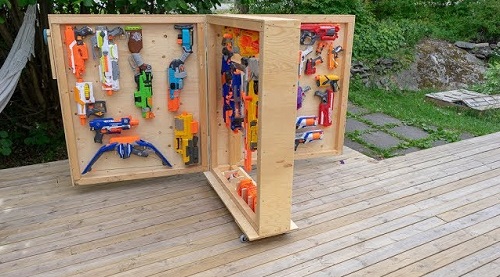 Conveniently roll your Nerf collection from room to room with this portable, sturdy, and foldable storage unit.
19. Plastic Buckets Toys Organizer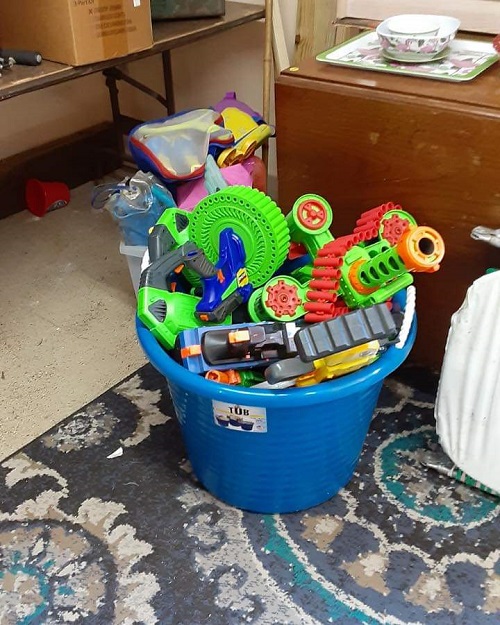 Here's another one of the best Nerf gun storage ideas in which a plastic bucket is used to store toy guns.
20. Wine Rack Turned Nerf Gun Organizer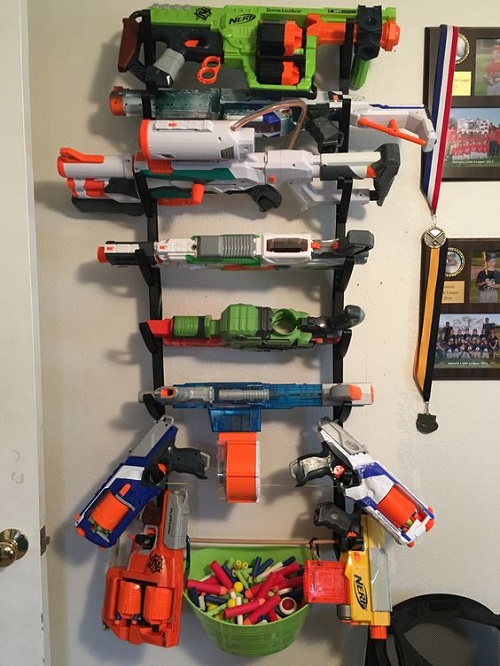 Converting an old wine rack into a blasters holder is a great recycling project. It's one of the great Nerf gun organizer ideas.
Here are the best DIY DVD storage ideas