Love collecting DVDs? Whether you have a few or too many of them, these DIY DVD organization ideas will keep them in order!
Decluttering your home is essential to keep it organized. If DVDs are making a mess in your home, this collection of easy DVD organization ideas will help you organize them while creating a beautiful display. Some ideas may require a bit of time and DIY skills, but the results are worth it.
1. DVDs Organizer In The Toilet Shelf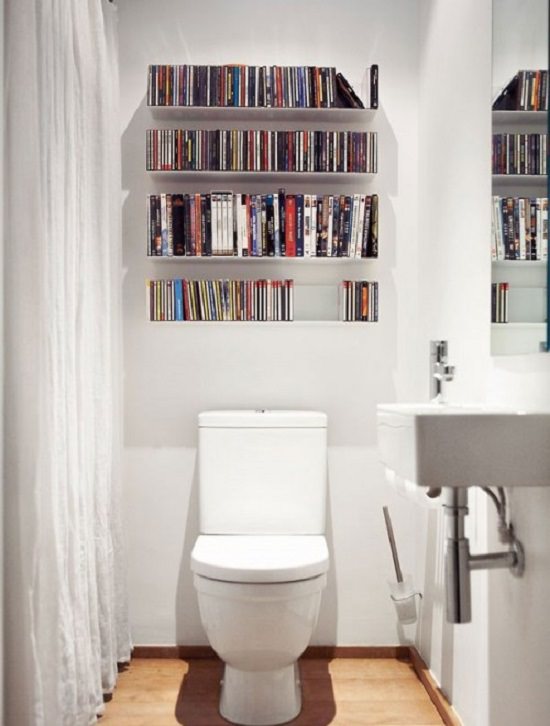 If the idea of DVD storage doesn't quite sit well with your living room decor, we suggest you relegate it to the shelving unit of your bathroom. Eccentric but clever. Here's the DIY.
2. DVDs Organizer Under The Bench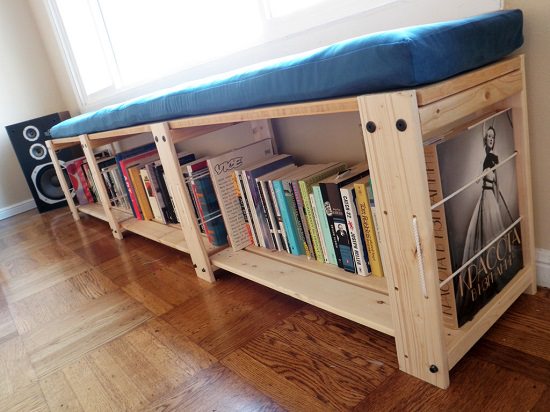 With some basic hardware and power tools, you can convert a shelving unit into a sturdy and symmetrical bookshelf bench perfect for DVD storage. Here's the DIY.
3. Recycled Shoe Boxes DVDs Organizer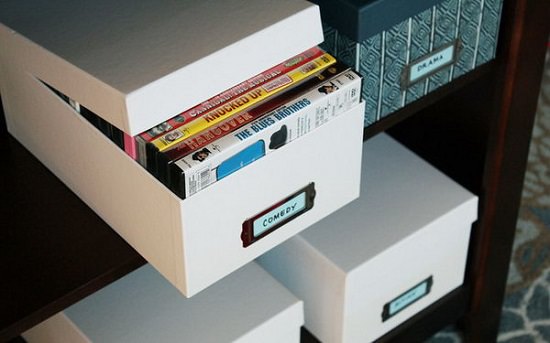 A great example of design meets organization, this DVD organizing hack is all about repurposing empty shoeboxes into media storage. Follow the DIY here.
4. Floating Shelves DVDs Organizer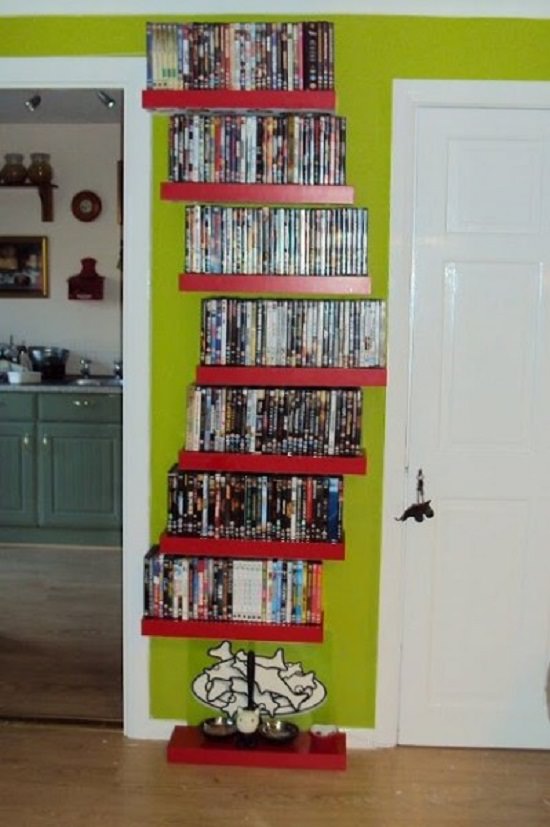 Repurposed from old Ikea tables, these floating shelves offer the perfect support for DVDs held in place with the help of acrylic bookends. Get all the details here.
5. Build A Basic Case Of Shelves DVDs Organizer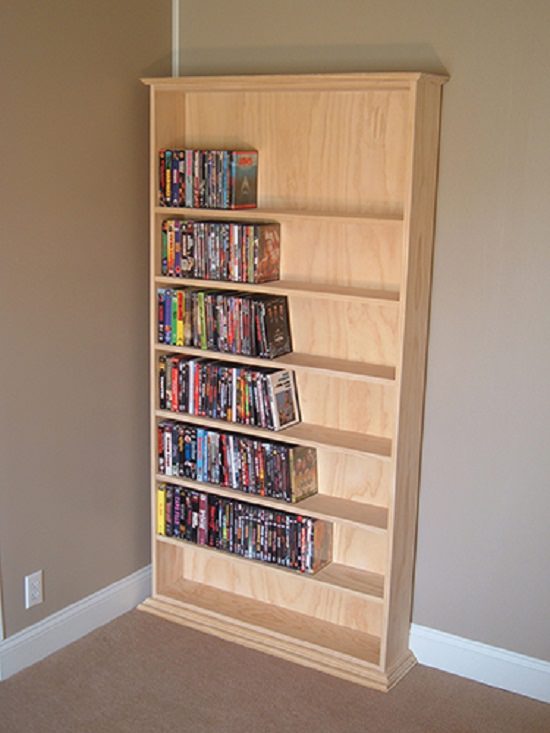 Made from pinewood, this basic DVD shelf has shelves joined together using self-taping screws to offer weatherproof protection of your media files. Here's the DIY.
6. DVD Organization Ideas – Organizer in a Basket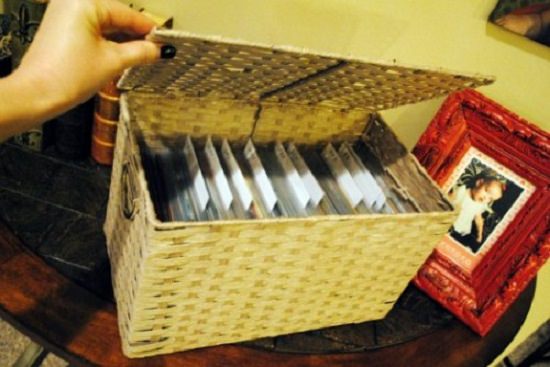 This DIYer claimed back oodles of shelf space from organizing her media inside individual DVD slips and keeping them contained within light cane baskets.
7. Under The Bed DVDs Organizer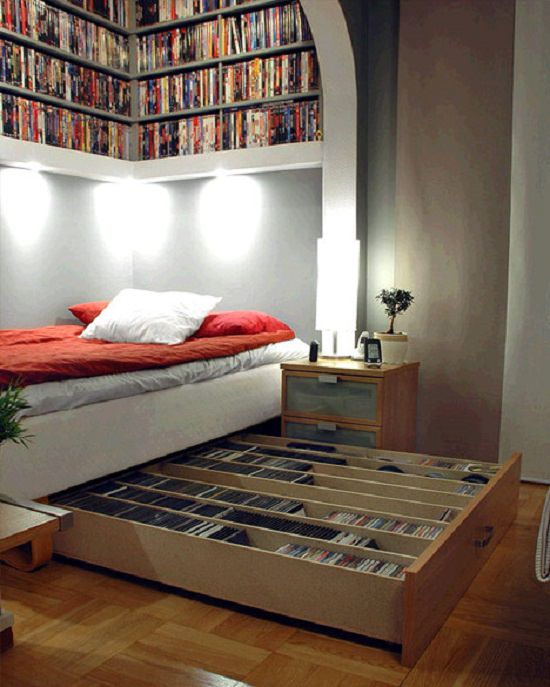 Keep your DVDs neatly tucked and well-preserved over the years with this fantastic under-the-bed storage solution. Here's the DIY.
8. Circular Cardboard Shadowbox DVDs Organizer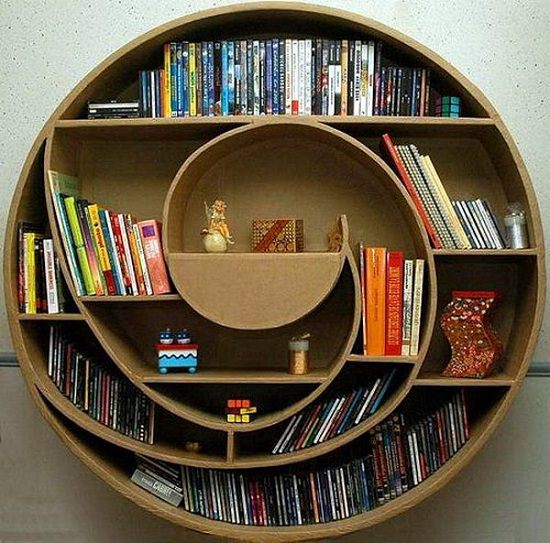 Your treasured DVDs are the perfect candidates for filling up something as special and unique as a circular shadow cardboard box. Get the visual tutorial here.
9. DVDs Organizer Rack DIY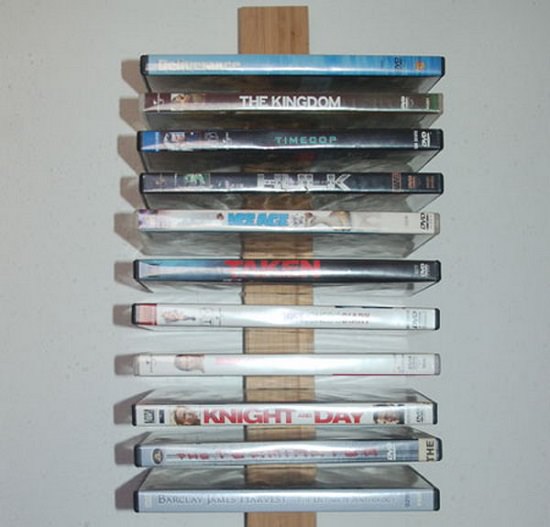 Besides being dirt-cheap, this timber board DVD rack has a super versatile design, meaning you can have it as big as you want. Get the DIY here.
10. Old Shutter DVDs Organizer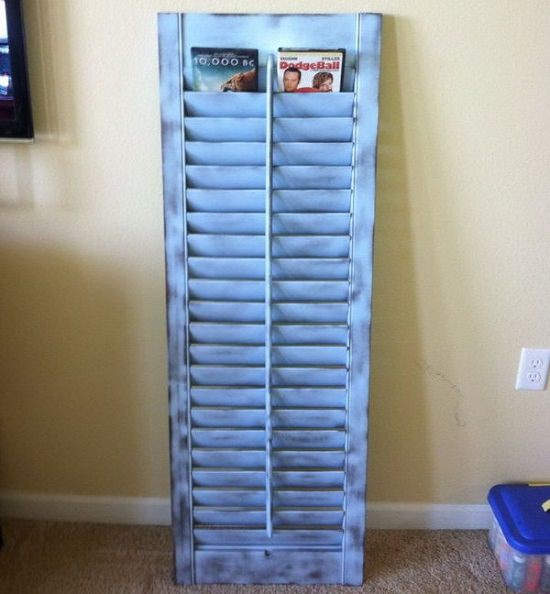 Repurpose an old shutter as your DVD organizer and infuse some vintage charm to your space in the process. Here's the DIY.
12. Easy DVD Organization
Condense your DVD collection in a tiny space using poly envelopes. Color-code different files for quick sorting. Get the DIY here.
13. Simple DIY CD & DVD Organization
This classic organization hack involves using Rubbermaid bins and plastic DVD slips that keeps your media files arranged in alphabetical order for easy access. Here's the full DIY.
14. Space Saving DVD Organization
Use up the empty space beneath the sink by using cane baskets for DVD storage. Here's the DIY.
15. DIY DVDs Organizer Cabinet
Double up cabinet storage by installing a raised rack behind the bookcase. Here's the DIY.
16. Quick Dollar Tree DIY DVD Organization
For a quick, grab-and-go DVD organizing solution, consider using spare bins. Find inspiration here.
17. DVD Organizer Rack Tower Shelf from Wood
What's best about this DVD organizer rack is that it comes at a dirt-cheap building cost and has a versatile design, meaning you can make it as big as you want. Here's the tutorial.
18. Wire Basket DVDs Organizer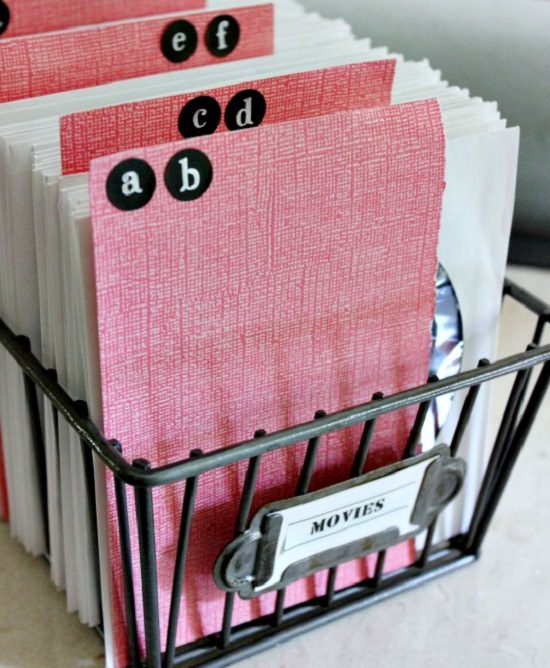 A wire basket offers a compact holder for your exhaustive DVD collection. Take up your organization a notch by making alphabetic dividers out of scrapbook paper cutouts and stickers. Here's the DIY.
19. Organize DVDs ABC Order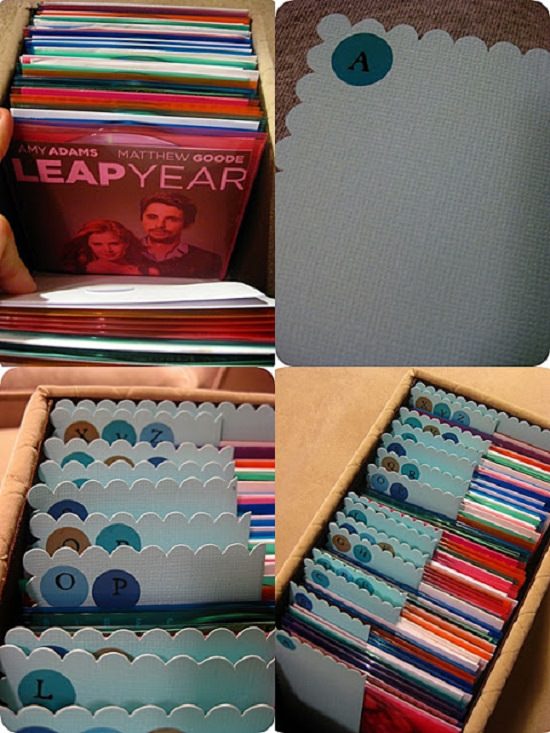 Recreate the same DIY as the above using a combination of letter stickers to make sorting and flipping through DVDs a breeze. Get the instructions here.
20. DVDs Organized Small Space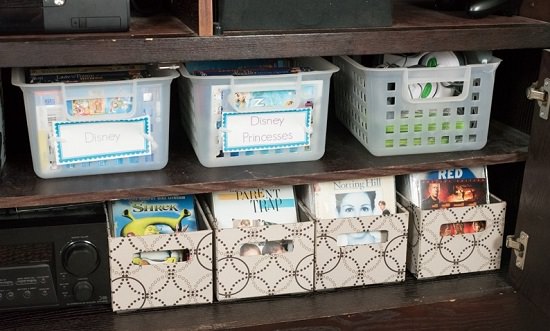 Sometimes segregating your DVD collection shelf wise makes sense; you can keep your favorite ones on the lower shelves for easy access and the privy ones on the top away from your kids. Here's the DIY.
21. DVD Organization Ideas – DVDs Organizer Boxes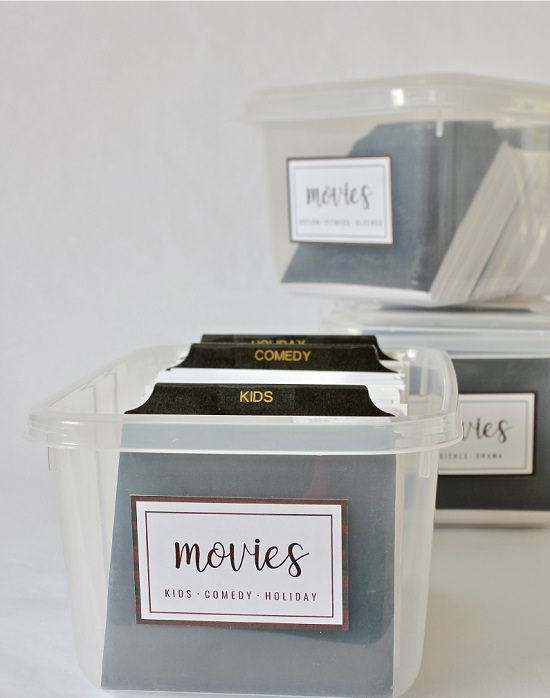 If you think about it, piling up DVDs according to their genre is really a sturdier upgrade to the common alphabetic arrangement. This especially works best for when you don't know what you're looking for. Get the DIY here.
22. Pipe DVDs Organizer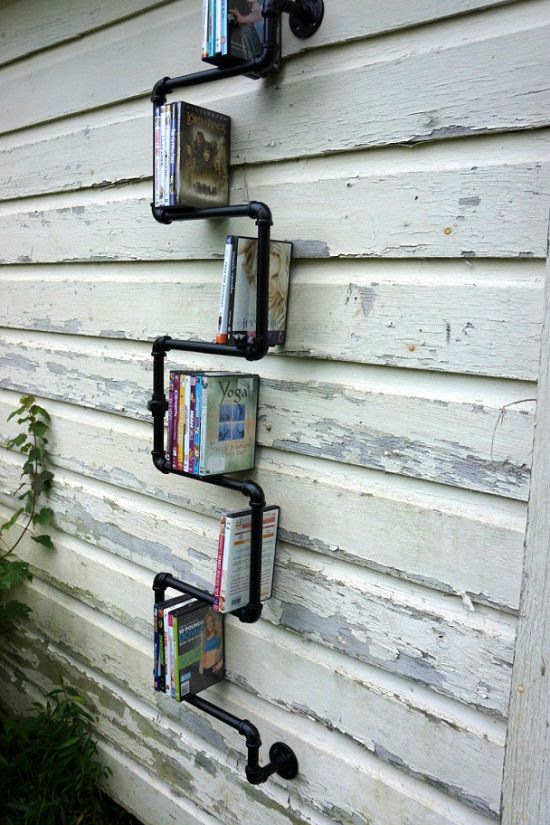 Bring utilitarian style to your den with this versatile multi-tiered storage center made from upcycled PVC pipes. Get the details here.