Show off your creativity by crafting these brilliant DIY Bedside Table Ideas and enjoy some extra storage space with ease!
Take inspiration from these creative Bedside Table Ideas to bring elegance, style, and functionality to your bedroom space.
Have a look at some unbelievable furniture makeover ideas here
---
Bedside Table Ideas
1. A Side Chair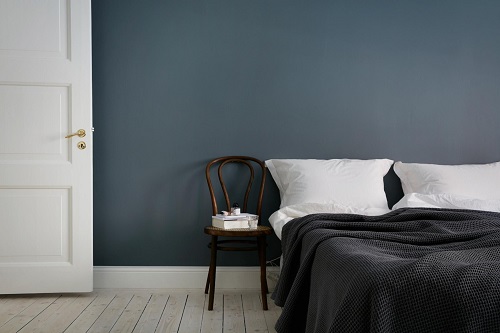 Give a vintage touch to your bedroom area by using an old chair as a bedside table.
2. DIY Nightstand With Hidden Drawer
Find out how to make a nightstand with a secret drawer compartment and epoxy inlay in this video tutorial.
3. Floating Nightstand DIY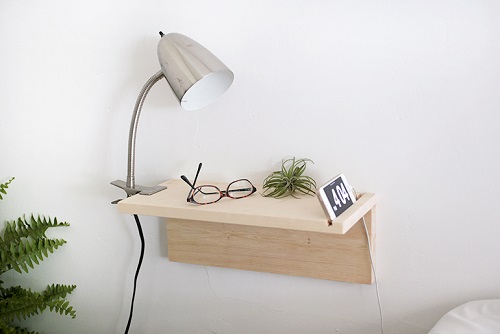 Gather pine boards, a miter box, measuring tape, glue, and other supplies to build this lovely floating nightstand.
4. Modern Two-Toned Bedside Table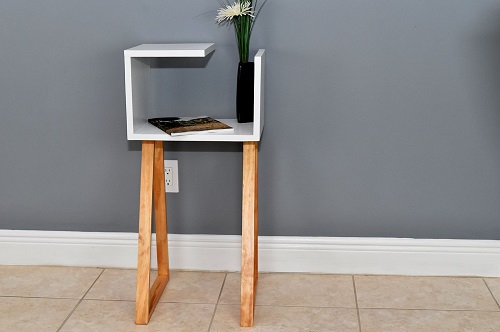 This step-by-step tutorial teaches how to build a modern two-toned nightstand. The design is geometric while the legs have a stained finish and the top portion is painted white.
5. DIY Suitcase Side Table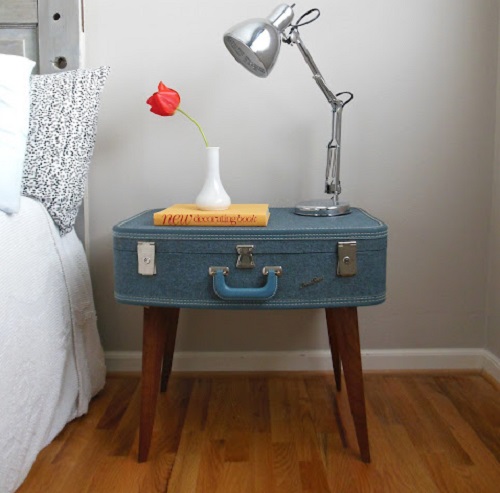 All you need is a suitcase, four mid-century legs, four wood screws, and post screws to complete this project.
6. Stepladder Bedside Table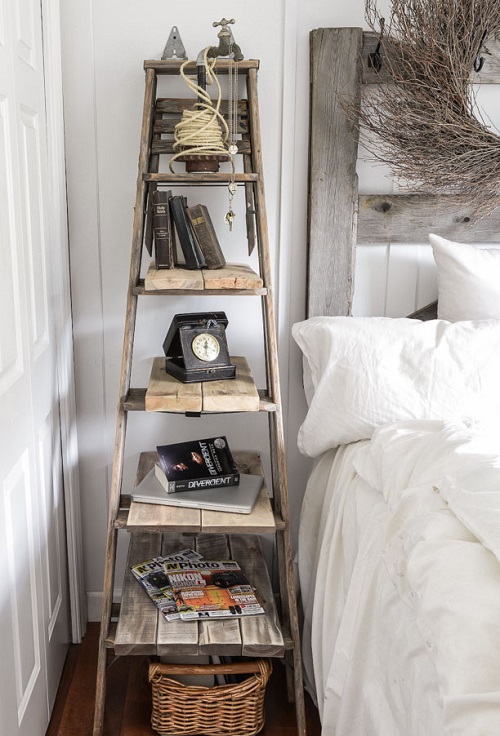 Who knows, a stepladder can be used instead of a regular bedside table to display books, magazines, a night lamp, and other stuff.
7. Cheese Box Nightstand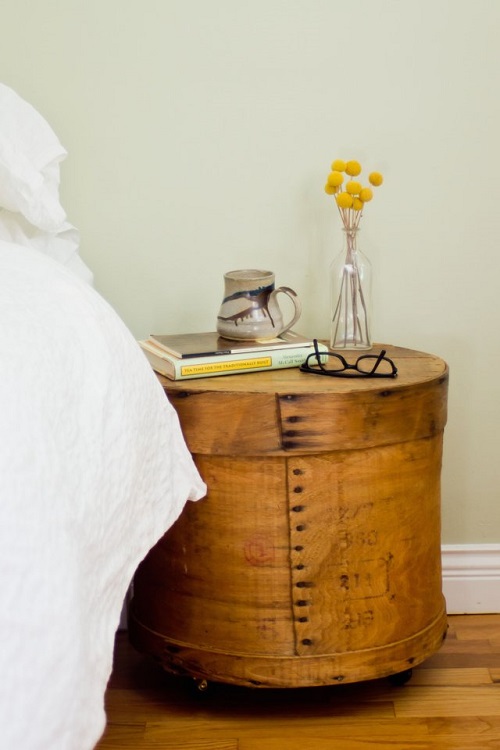 Attach casters below the cheese box to get an unusual nightstand that can spruce up your bedchamber's appearance in no time.
8. DIY $10 Floating Nightstand
If you don't want to give up your bedroom's floor space, this $10 floating nightstand is the best choice.
9. Bedside Table with X-Shaped Legs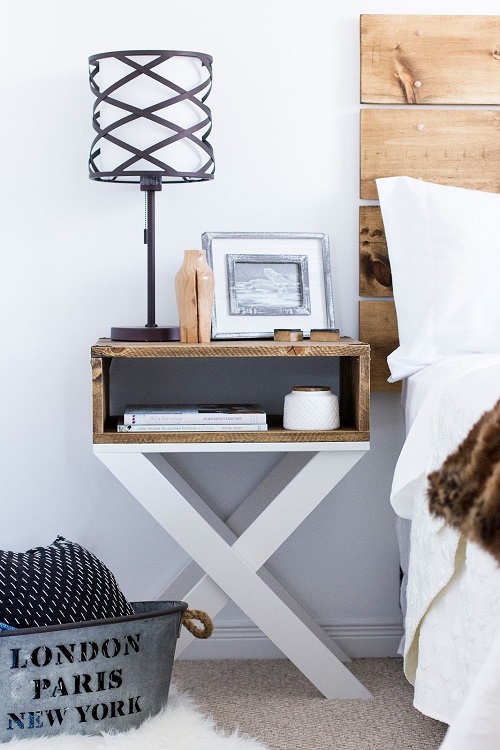 Here's the DIY to put together this full of charm bedside table featuring x-shaped legs.
10. Nightstand With Hairpin Legs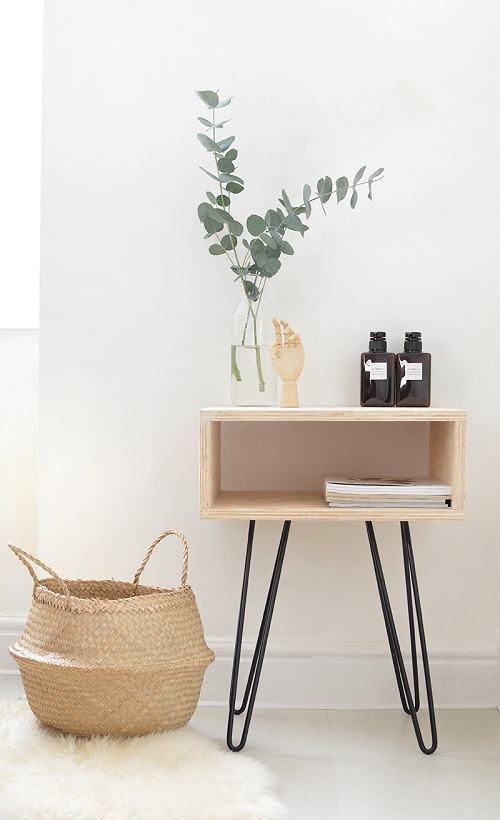 To give your bedroom a mid-century feel, DIY this nightstand equipped with hairpin legs. It's easy to build too. Read more here.
11. Cinder Blocks Nightstand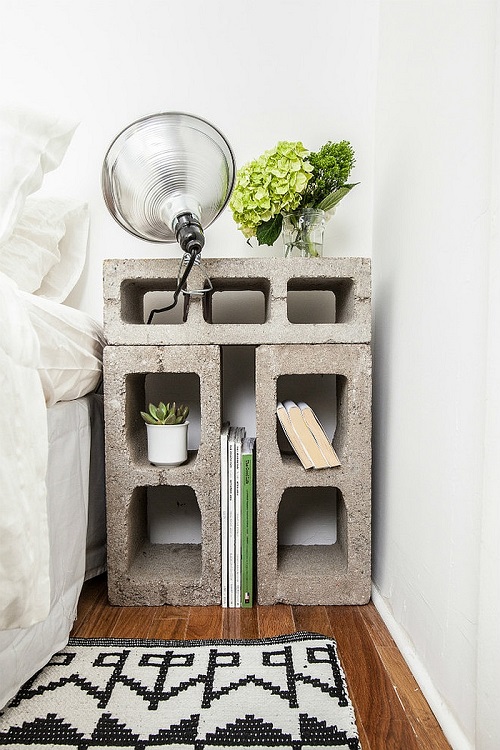 To build this industrial-style nightstand, you need three concrete cinder blocks to complete the structure. The best part is you can store tiny stuff inside the blocks.
12. Rustic Crate Nightstand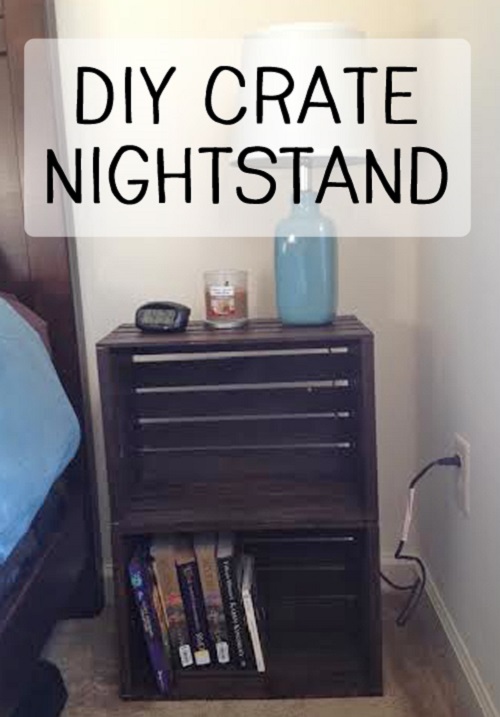 Rather than purchasing a bedside table, why not make one at home with wooden crates, wood stain, a paintbrush, and this DIY.
13. DIY Farmhouse Style Nightstand
Check out this video to assemble a farmhouse-style nightstand for your bedchamber.
14. Pallet Nightstand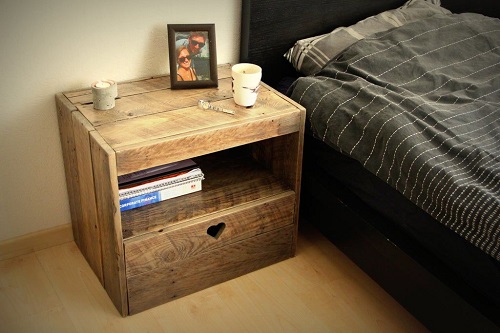 Hop to this instructable to convert a weathered big double pallet into a wonderful rustic nightstand.
15. Wooden Electrical Spool Bedside Table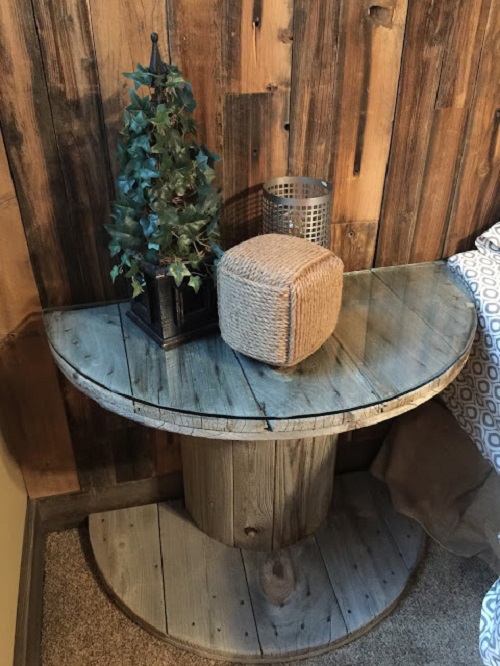 Spice up your bedchamber interior by turning a wooden electrical spool into an eye-catching bedside table.
16. Sliding Barn Door Bedside Table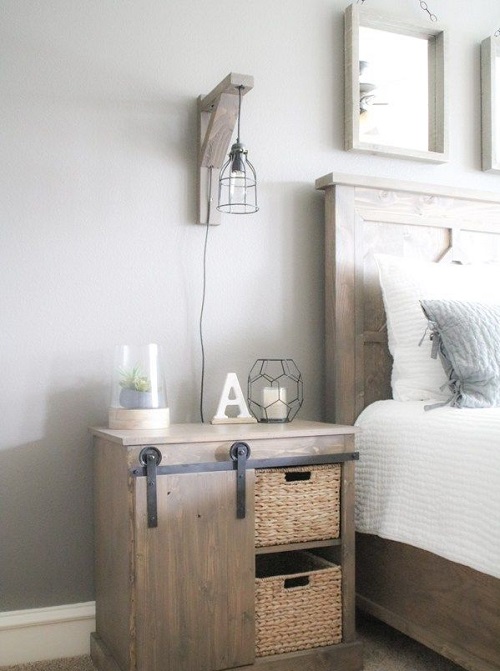 To make your bedside table stand out, adorn it with a sliding barn door. The instructions are here.
17. Barrel Turned Into Bedside Table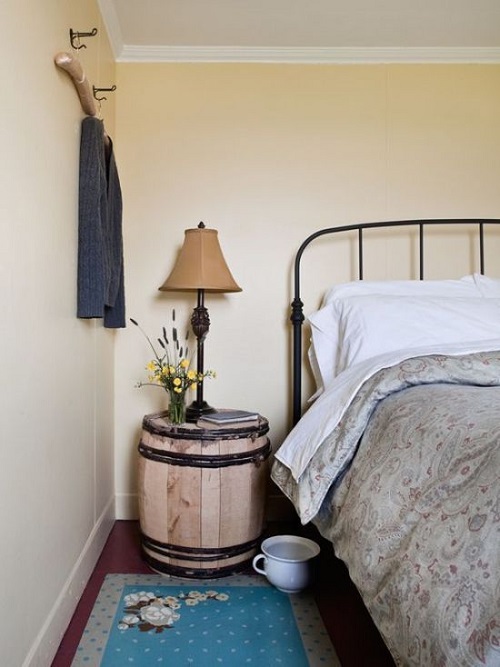 If you have an old wine barrel, repurpose it to get a one-of-a-kind bedside table.
18. Mid-Century Nightstand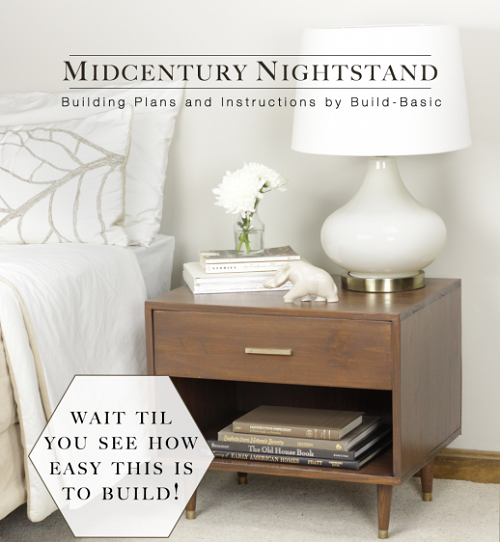 You only need 2-3 hours and $40 to recreate this gorgeous nightstand for yourself. Read more here.
19. Old Drum Nightstand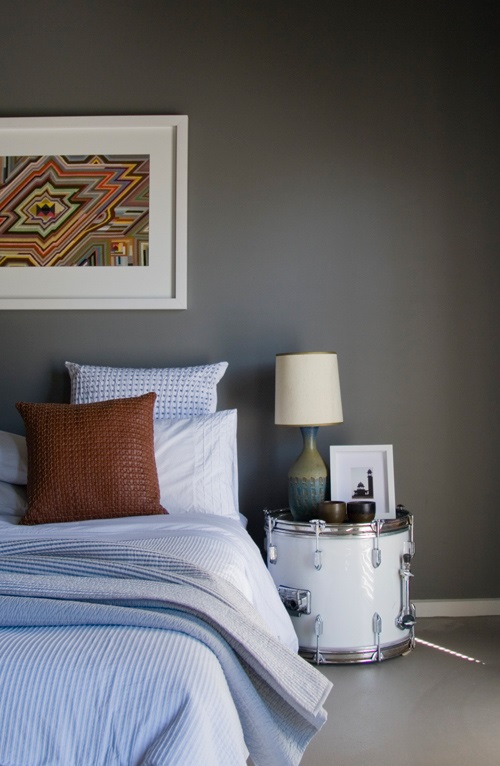 Give your old musical drum a new life by reusing it as a bedside table to add personality and a sense of uniqueness to your bedchamber.
20. Creative and Chic DIY Nightstand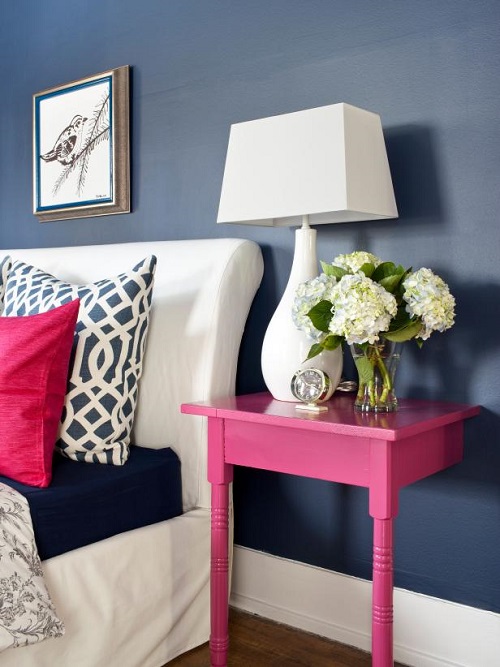 Turn an unused wooden table into a stylish and useful nightstand with these easy-to-follow instructions.
21. DIY Cardboard Box Bedside Table
Are you looking for an affordable yet fantastic bedside table? This cardboard box idea is for you.
22. Wine Boxes Bedside Table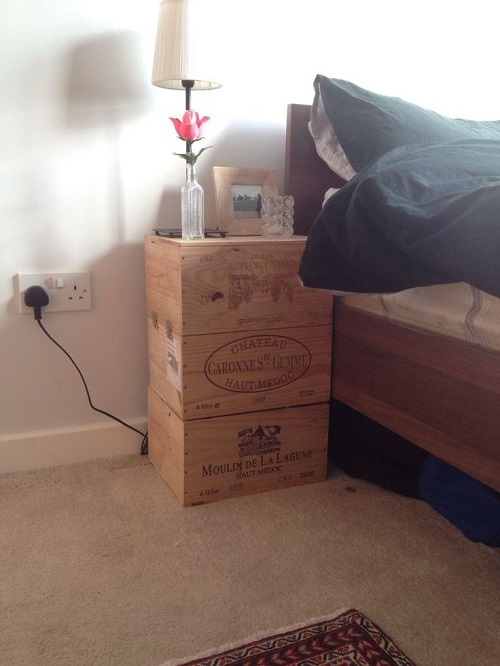 Make the most out of your empty wine crates by transforming them into a thrifty bedside table.
23. Rustic Square Bedside Table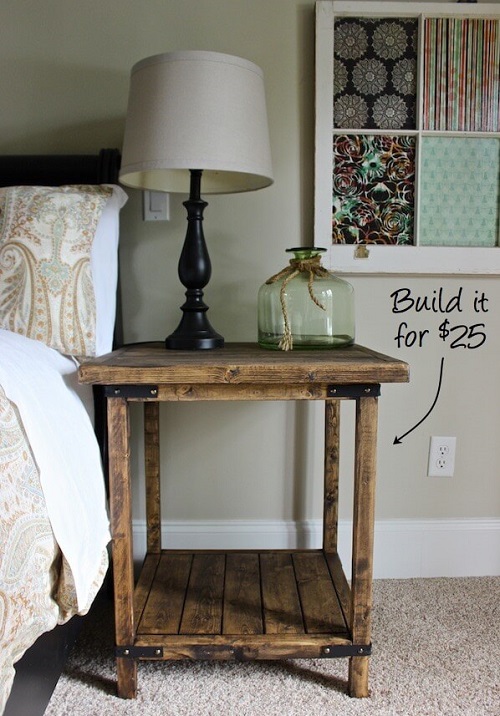 This rustic square bedside table is a perfect project to begin your DIY journey. It's beginner-friendly and costs only $25.
24. Bedside Table Made of Books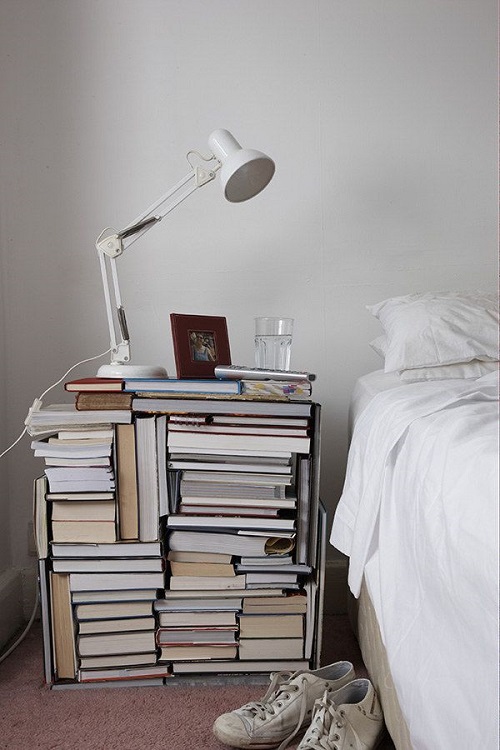 All you've to do is stack books on each other to get an inexpensive bedside table alternative.
25. Bar Cart Nightstand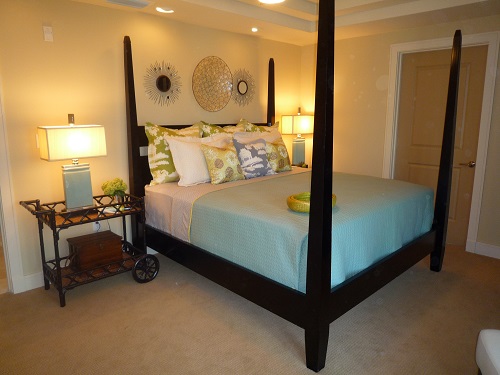 Grab an outdated bar cart, give it a nice coat of paint, and your nightstand is ready to serve its purpose.
26. Introduce Garden Stool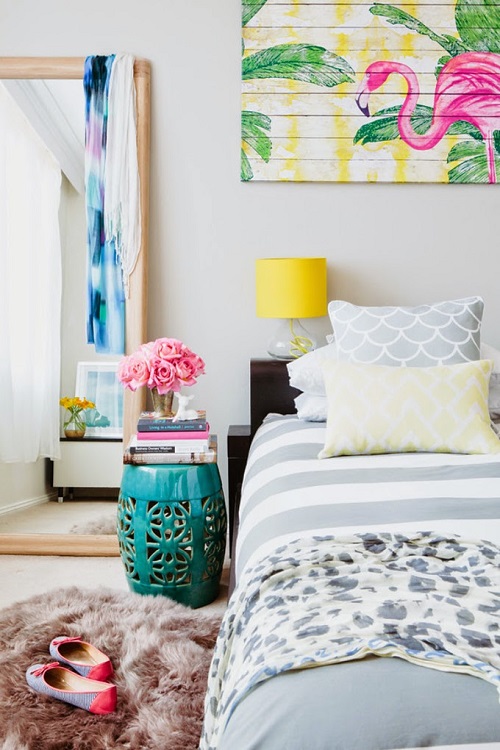 Liven up your bedchamber by introducing the barrel-shaped ceramic garden stool as a bedside table.
27. DIY Decoupaged Night Stand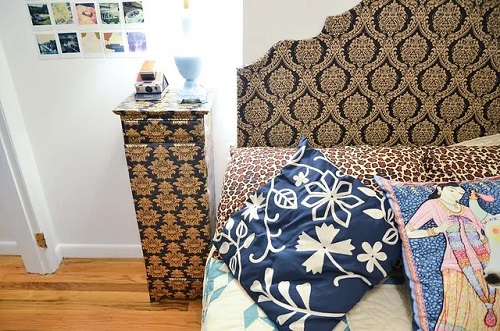 If you want to give your old nightstand a quick makeover with mod podge and a gift wrap, go through this article.
28. Bedside Table Made of Art Magazines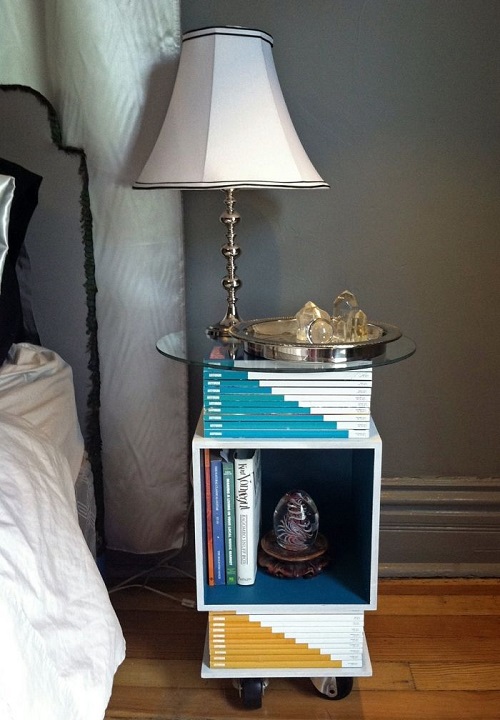 Made with art magazines and a wooden box, this modern bedside table is artsy and mesmerizing. Read more here.
29. Wicker Laundry Basket Nightstand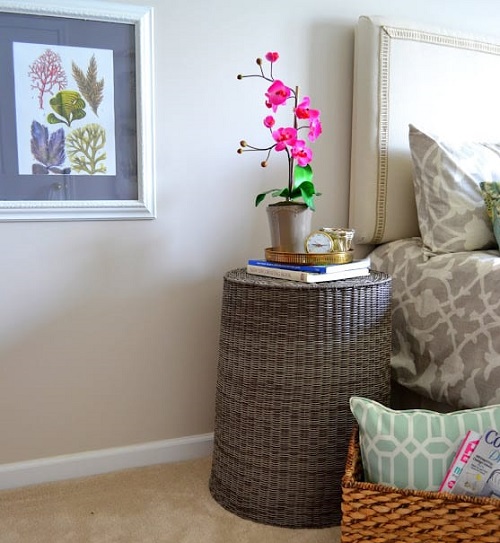 Grab a gray wicker laundry basket and turn it upside down to get a textured nightstand — perfect for a less spacious bedroom.
30. DIY Julia Nightstand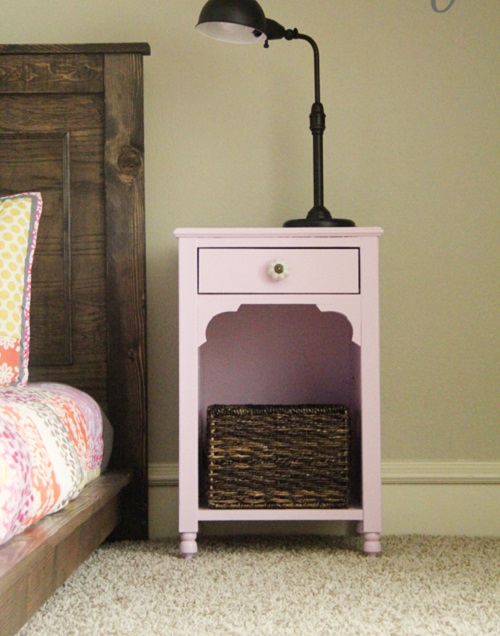 Get inspired by this tutorial and make a Julia nightstand to add character to your drab bedchamber.
31. DIY Mirrored Bedside Table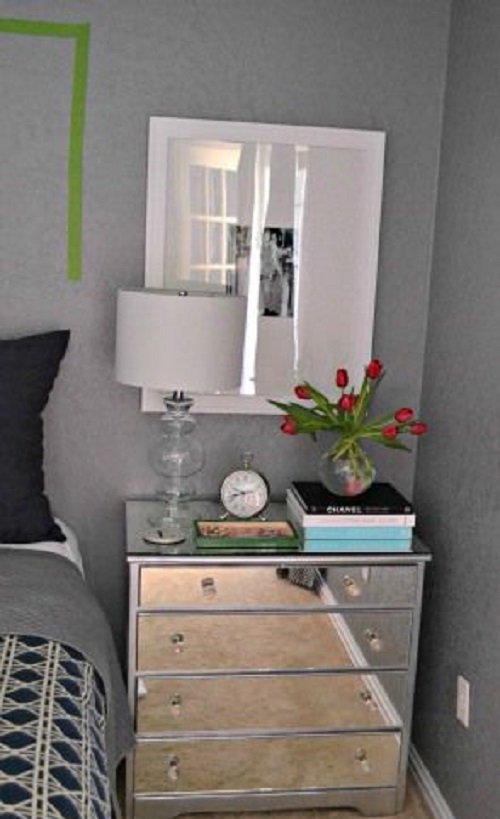 With some modifications, you can easily transform a small dresser into a glamorous mirrored bedside table.
32. Scrap Bedside Table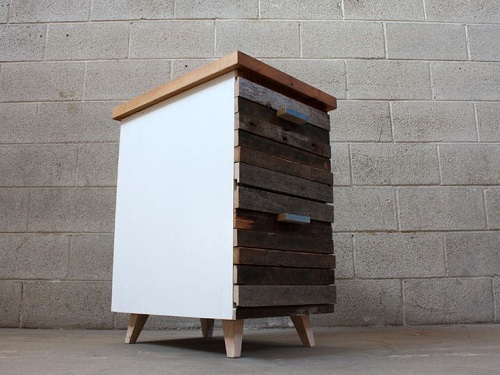 Made from an old bathroom cabinet, scrap drawer fronts, a laminated wood top, and pallet wood, this bedside companion is easy to build.
33. Try a Barstool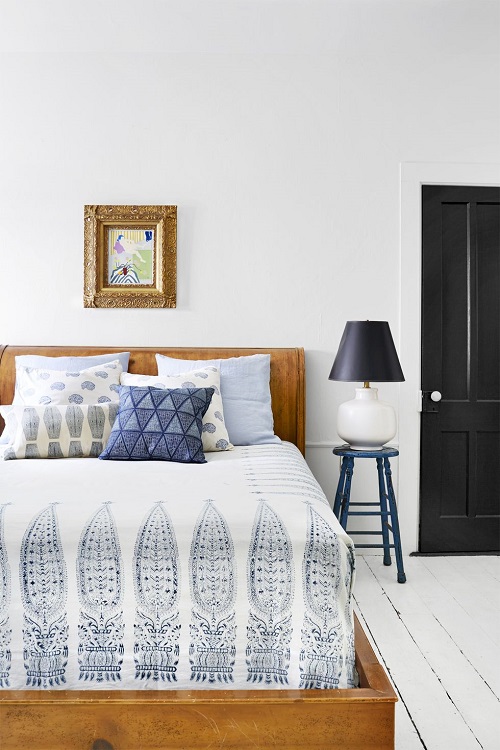 Don't know how to DIY? No worries, simply place a barstool beside your bed and use it as a bedside table.
34. DIY Collapsible Bunk Bed Bedside Table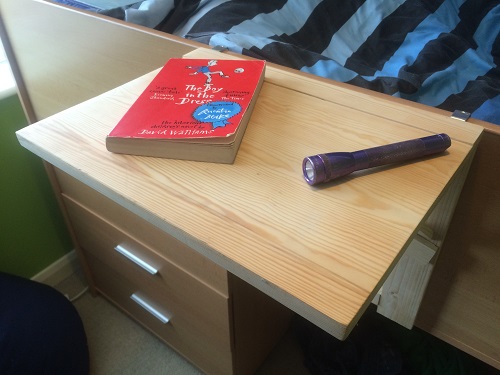 If you have a bunk or cabin bed in your home, installing a bedside table is not possible due to limited space. Solve the issue by making this collapsible bedside table.
35. Pedestal Bedside Table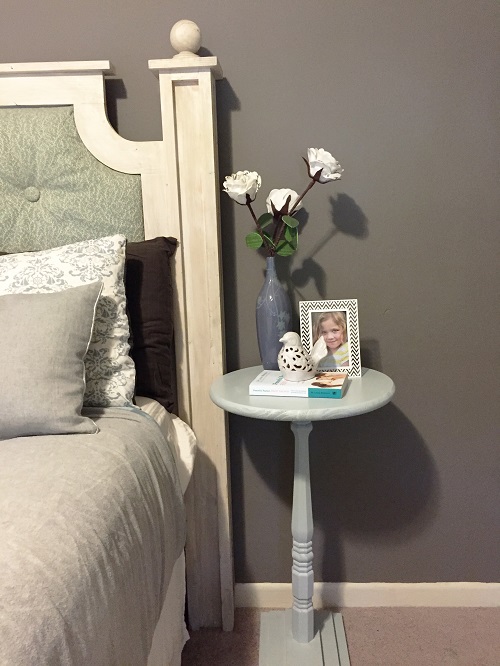 This pedestal nightstand also doubles up as a sofa side table. The details are here.
36. DIY Curved Nightstand/Bedside Table
Watch this video tutorial to recreate a stylish curved nightstand using wood glue, screws, plywood, and some tools.
37. Coffee Table as Bedside Table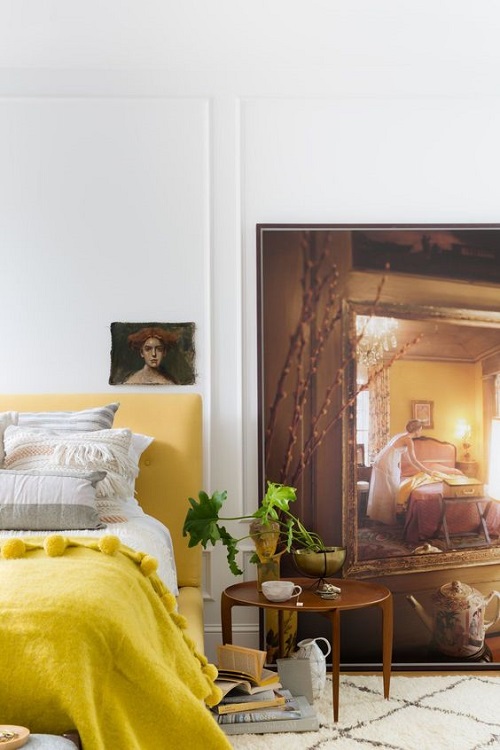 Utilizing a coffee table as a nightstand is a genius idea. It's one of the most brilliant bedside table alternatives on this list.
38. Build A Bookshelf Nightstand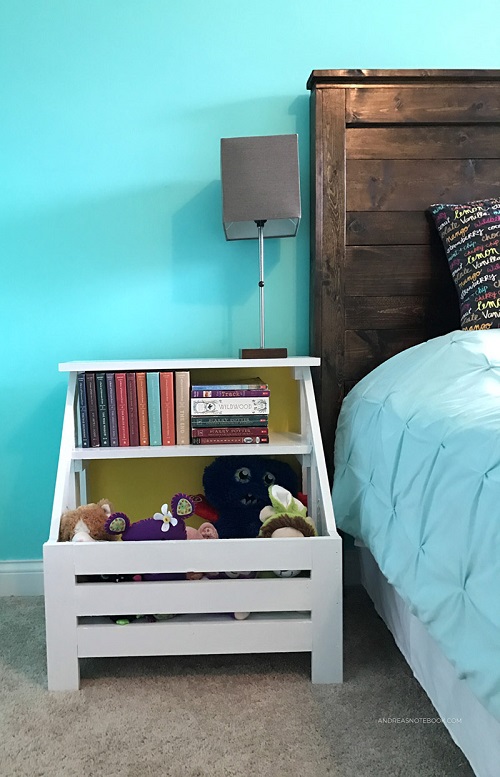 A bookshelf nightstand that lets you hold stuffed toys, books, and a night lamp is the perfect furniture for your kid's bedroom.
39. DIY Nightstand for Tiny Spaces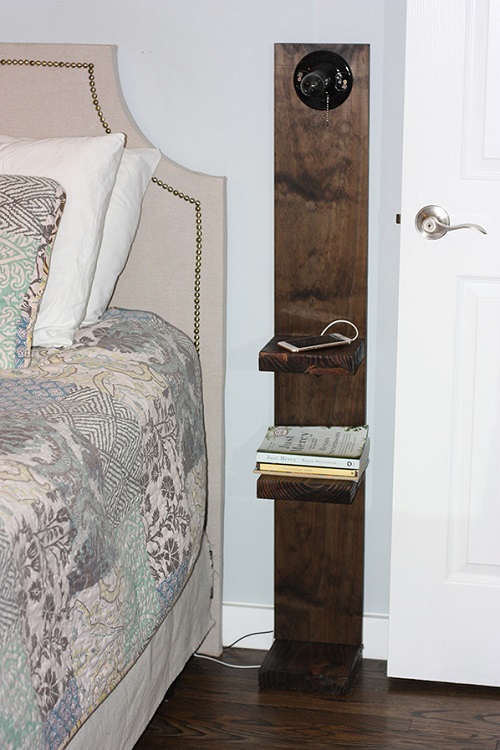 Do you need a nightstand that fits easily in your less spacious bedchamber? Consider making this nightstand for those hard-to-fill spaces.
40. Stacked Vintage Suitcase Nightstand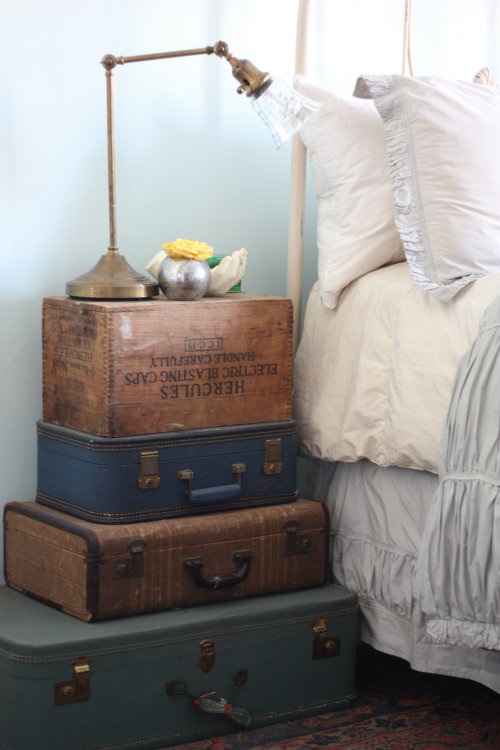 All you need are some vintage suitcases and a wooden crate to mimic this peculiar nightstand.
41. Nightstand with Built-in Wireless Charging
This DIY modern bedside table/nightstand features a hidden wireless charger and a cable management system in the back.
42. DIY Plywood Bedside Table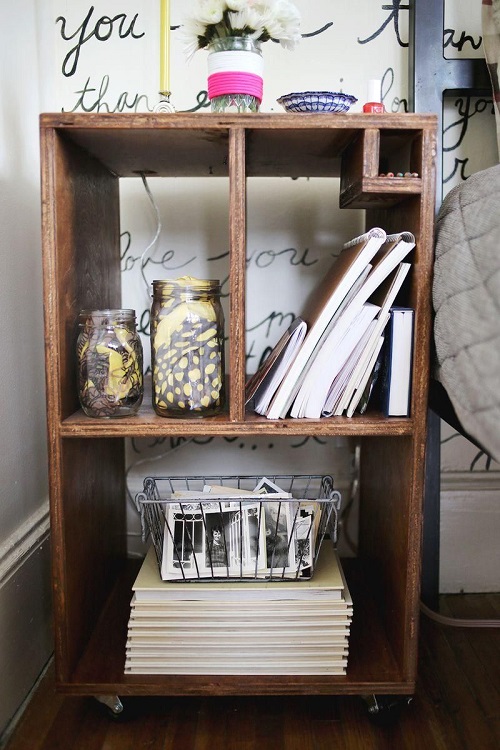 This blogger shows how you can build a perfect bedside table out of plywood. It's one of the most amazing bedside table ideas to take inspiration from.
Find out some creative DIY macrame headboard ideas here