Bust your feline's boredom with these fun DIY Cat Wheel Plans. They will keep your kitty healthy and entertained for hours!
Looking for a fun and creative way to keep your cat active and in shape? Look no further than these amazing DIY Cat Wheel Plans! These ideas will help you build a custom wheel that fits your space and your kitty's needs.
Check out the best cat door ideas here
---
DIY Cat Wheel Plans
1. Galvanized Steel Cat Exercise Wheel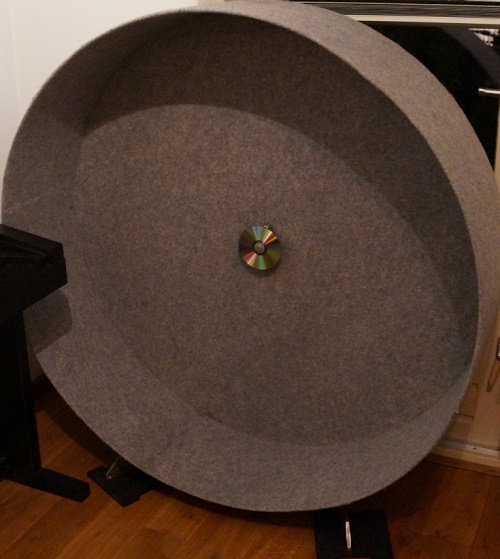 Follow this tutorial to build an amazing feline running wheel out of galvanized steel and DIYing skills.
2. Inexpensive Cat Exercise Wheel DIY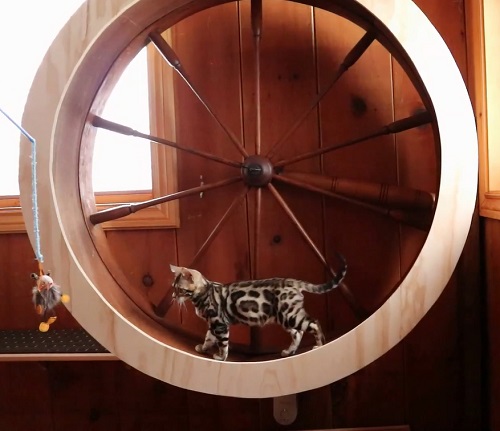 Take inspiration from this video to assemble a cheap yet attractive cat wheel in just 2 hours.
3. Carpeted Feline Exercise Wheel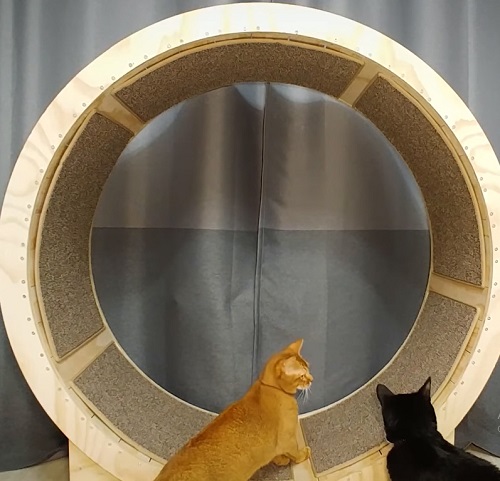 This running wheel not only keeps your fur baby entertained but is also a display-worthy piece. Get detailed instructions here.
4. Plywood Cat Wheel DIY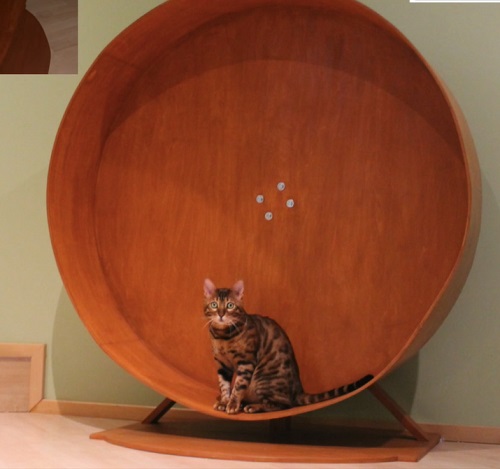 This adoptiversary, give your furball this budget-friendly, handmade exercise wheel made from plywood. Look at this visual tutorial.
5. Wooden Cat Exercise Wheel Device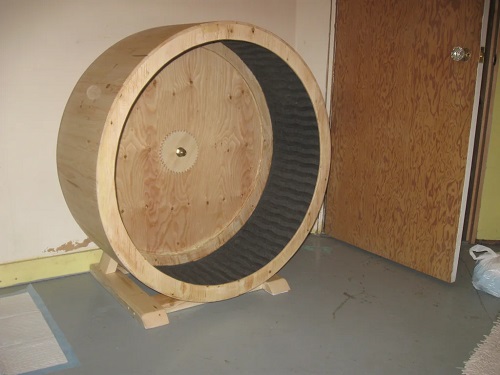 This project is time-consuming, but the end result is quite fantastic. You only need a few supplies and woodworking skills for this cat treadmill.
6. DIY Plastic Cat Wheel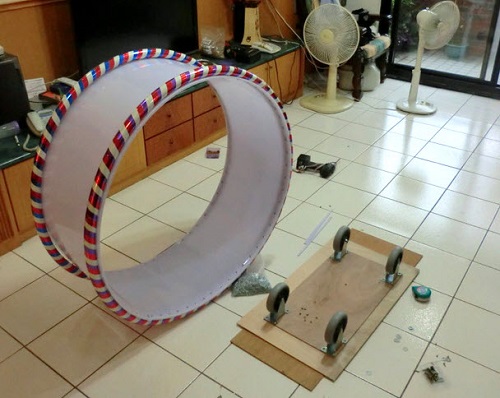 With a few simple materials and a bit of elbow grease, you can create this custom wheel that will entice your cat to run.
7. PVC and Cardboard Exercise Wheel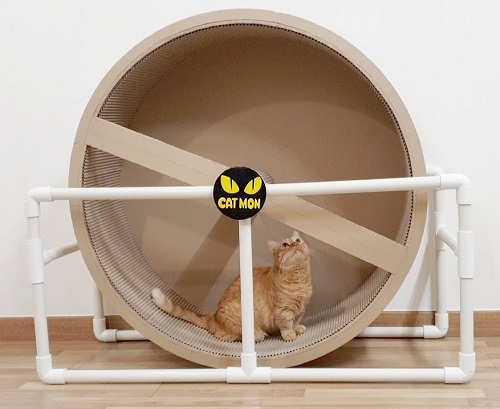 Check out this YouTube tutorial to put together a frugal cat exercise wheel out of PVC pipe and cardboard sheet.
8. DIY Cardboard Cat Wheel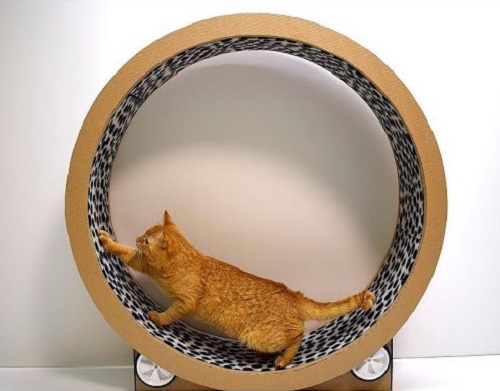 Give your furry friend the ultimate playtime experience with this DIY cardboard cat wheel. The DIY is here.
9. Under $50 Homemade DIY Cat Wheel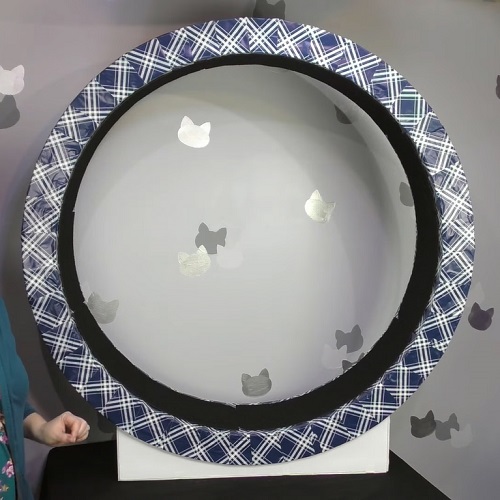 Here's how to build a DIY cat running wheel with open sides. You only need foam poster board, spray glue, caster wheels, duct tape, and a doormat.
10. Cat Hamster Wheel DIY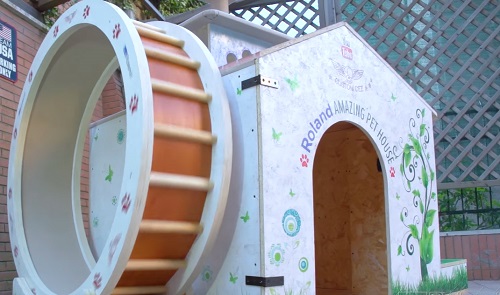 In this video, the DIYer builds an incredible hamster wheel for cats with a shelter and catwalk shelter. It's one of the most amazing cat wheel plans.
11. Corrugated Plastic Cat Wheel DIY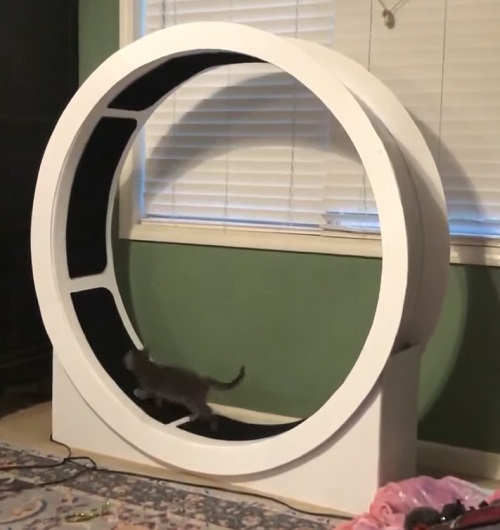 Are your felines bored with their toys? Upgrade their playtime with this cat running wheel. Get the instructions here.
Check out the outdoor cat house ideas here
12. Dollar Store Kitten Exercise Wheel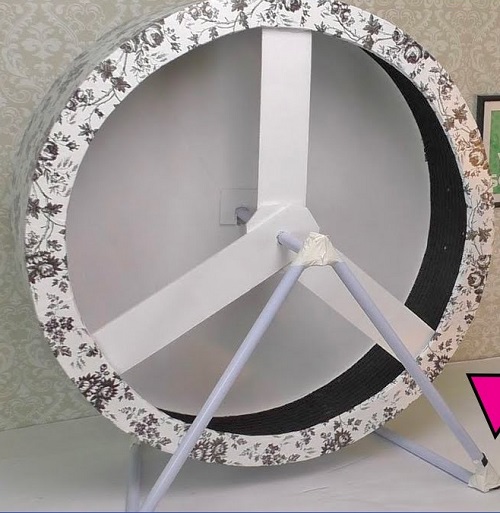 This handmade kitten exercise wheel is assembled from dollar-store items only. Hop to this article for the details.
13. Cat Treadmill Wheel DIY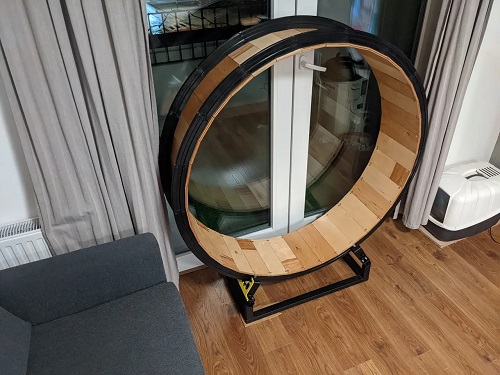 If you ever wanted to build an oversized hamster wheel that will fit a cat – here is everything you need.
14. DIY Wood and Hardboard Cat Wheel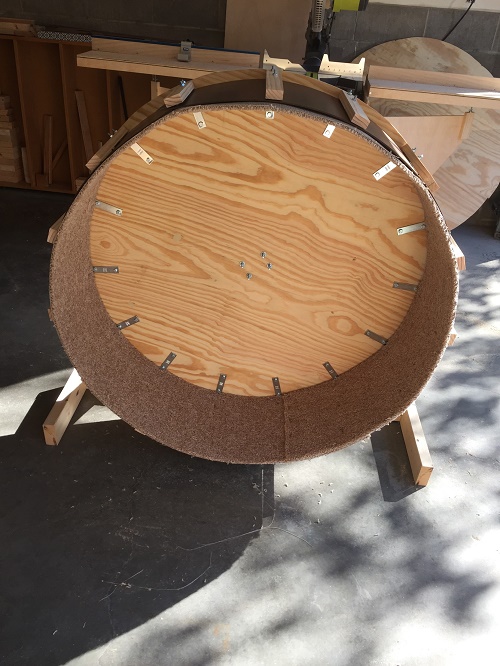 Crafted from durable wood and hardboard, this exercise wheel is adorned with a cozy piece of carpet for ultimate comfort. This cat wheel promises endless playtime and excitement. The instructions are explained in this article.
15. Giant Hamster Cat Wheel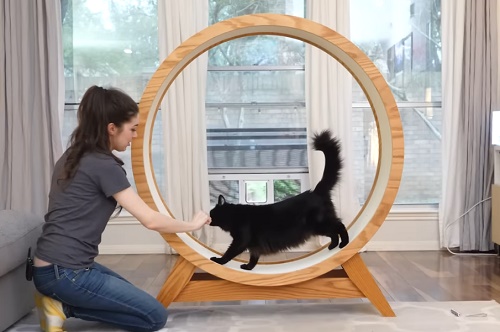 Featuring plush carpet tiles and premium wood, this giant hamster cat wheel gives your furry companion a regal experience. If you want to build one for your kitty, check out this tutorial.
16. Modern Cat Wheel DIY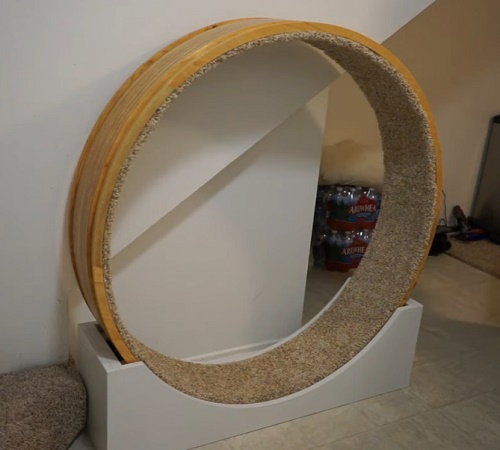 Made from birch plywood and high-quality carpet, this amazing cat wheel runs smoothly without wobbling and provides sufficient traction. Learn how to make one using this step-by-step video how-to.
17. DIY Cat Exercise Wheel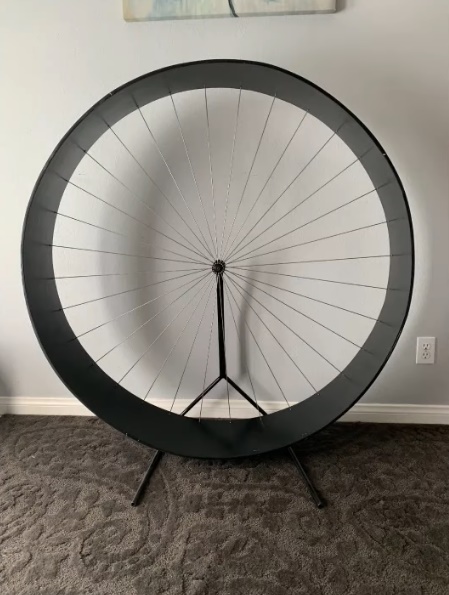 Designed with both aesthetic appeal and functionality in mind, this unique cat wheel features a sleek black paint finish. It's equipped with a hub and spokes for smooth and effortless rotation. Watch this video for more info.
18. Homemade Cat Exercise Wheel DIY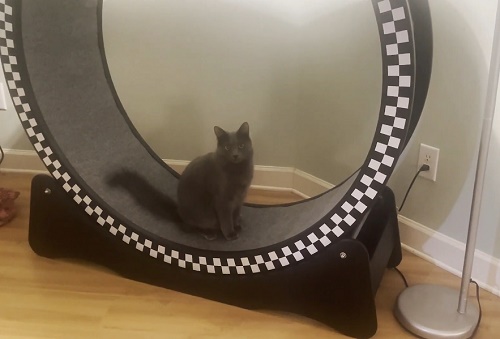 Crafted with plywood, this homemade cat wheel gives your cat a safe and reliable platform to enjoy endlessly. With its large diameter and sturdy construction, this cat wheel accommodates felines of all sizes.
19. Illuminated Cat Wheel Idea
The illuminated cat wheel is a fun and cool project for any cat lover. It's perfect for keeping your cat busy, and it looks awesome too. If you want to create one for your feline friend, take inspiration from this tutorial.
20. Cat Exercise Wheel From Cardboard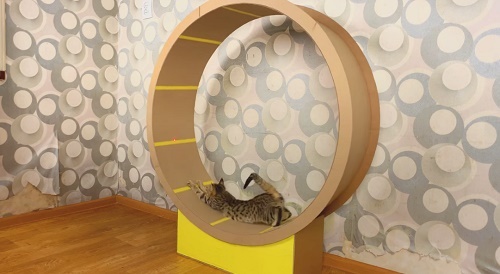 Are you looking for a cheap, sturdy, and fully functioning cat exercise wheel plan? Hop to this detailed audio-visual tutorial.
21. Cat Running Wheel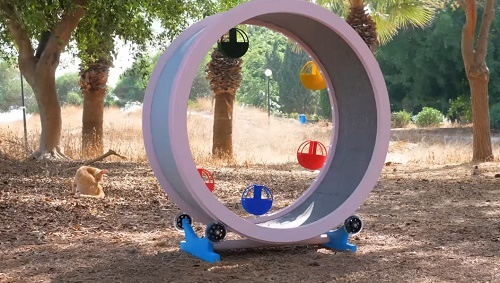 Equipped with LED light and small Ferris wheel cabins, this chic running wheel is an excellent adoptiversary gift for felines. Follow this video to construct this unique exercise wheel that's both practical and visually appealing.
22. Octagonal Cat Exercise Wheel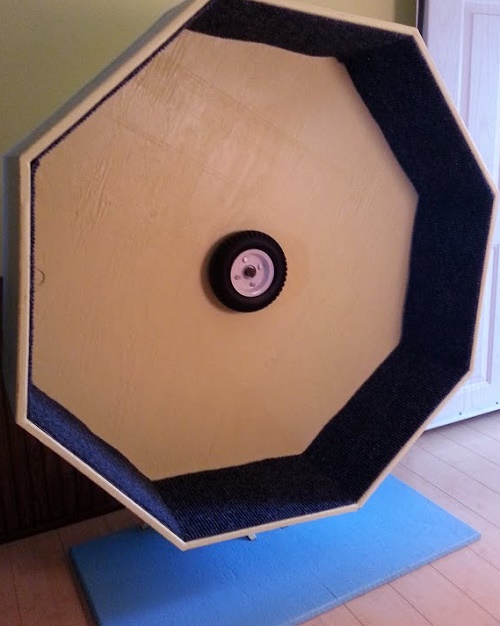 Watch this series to build a one-of-a-kind exercise haven that your feline friend will love to climb, run, and explore. It also amp up the look and feel of your living space.
---
Important Points to Remember
Remember some crucial points to ensure the wheel is safe and attractive for your cat:
Size: The cat wheel should be large enough for your cat to run on comfortably. Typically, a wheel with a diameter of around 48 inches is sufficient for most felines.
Stability: Ensure the wheel is stable and won't tip over while your furball is using it.
Materials: Avoid materials with sharp edges or corners that could harm your cat.
Comfort: Consider adding a rubber or non-slip surface on the wheel to protect your cat's paws.
Noise: Try to design the wheel in a way that minimizes noise. A noisy wheel could scare your cat away.
Open Design: An open design can be more attractive to cats as it doesn't make them feel trapped.
Cleanliness: Ensure the design allows for easy cleaning to stay appealing to your cat.
Supervision: Monitor your cat while they are using the wheel. This will help you spot any potential issues early on, such as the cat becoming scared or the wheel not functioning correctly.
Spacing: Ensure there's enough space around the wheel so your cat can easily get on and off.
Find the best cat hammock ideas here