Planning to create a personal space for your little feline friend? Get inspiration from these fantastic and creative Cat Room Ideas!
Like humans, cats also love to have their own space for playing and snoozing. If you want to make one for your feline, check out these amazing Cat Room Ideas!
Here are some home remedies to stop cats from pooping on carpet
---
Amazing Cat Room Ideas
1. Modern Cat Room Interior
Adorned with wallpaper, bright accents, a chandelier, mounted mice wall art, and a blue velvet couch, this modern cat room is perfect in every sense.
2. The Feline Kingdom
A kitty room with a couple of toys, a cat picture frame, paw prints, and mini cat bridges ensures happy meows. You can even add a bridge for your kitty to rest and swing a little.
3. Kitty-Sized Bedroom
Take inspiration from this kitty-sized bedroom design in which you can use a tiny drawer, mini night lamp, small planters, and a cat-sized bed.
4. Stylish Sphynx Sanctuary
A magnificent room design with utmost comfort, coziness, and bohemian touch makes it a true stylish sphynx sanctuary.
5. A Climbing Paradise
Convert your cat's room into a climbing paradise by mounting a honeycomb wall shelf and other pieces of furniture that your little climber adore for sure.
6. Jungle-themed Cat Playroom
A couple of cat trees and wall-mounted shelves with lots of greenery make a natural cat playroom. It's one of the amazing indoor cat room ideas.
7. Minimalist Cat Room Idea
Looking for a minimalistic yet cute and functional cat room design? Look no further, as this room features cat cubbies, ledges, cat steps, and an Eiffel Tower wall decal.
8. Kitty Parkour Paradise
A room filled with plenty of platforms and a mini-roped cat bridge is perfect for your perching and climbing feline friend. The accended shelves and bridges will provide a great jumping experience for your cat.
9. Kitty Teepee Bed!
If you're searching cat room design for a small space, this teepee bed fits in the smallest of spaces, and not to mention, looks super cute.
10. Cat Room With Wall-Mounted Playground
Featuring cat cubbies, a multi-level kitty hammock, and cat perch, this room is best for an adventurous cat.
11. A Group Cat Room Design
This maximalist room is specially designed for a group of cats, featuring brightly colored wall shelves, cat cubbies, mini houses, and kitty litter bins.
12. Pink-Hued Cat Room
Take inspiration from this everything-pink kitty room featuring cat ladders, a rotating carousel-shaped climbing frame, and a fluffy pink swing to entertain your little companion.
13. Another Less-Spacious Design Idea
A tiny staircase with two small houses and a wall-mounted bed is another excellent cat room design inspiration for less spacious homes.
14. Built-In Cat Bedroom
This unique cat room with a modern glass enclosure full of wooden perches and a floating hanging box looks fantastic. The wooden slats in this structure ensure proper ventilation.
15. Winter Wonderland Cat Room
Decorate your feline's room with white paint, a mini staircase, a tiny house, a cat tree, and a comfy little bed for a winter wonderland touch.
16. Budget Cat Room Design Idea
Wall mount some repurposed tires and crates to design a cat's room on a budget. It's one of the best indoor cat room ideas.
17. What About a Catio!

Let your kitty enjoy the outdoors in the vicinity of nature without any risk of predators by creating this catio. This idea is perfect for people having tiny houses.
18. Shelves, Shelves, And Shelves!
Take inspiration from this room in which wall-mounted, wooden box shelves act as a ladder and shelter, enabling your feline friend to move freely and take naps.
19. Multipurpose Cat Room
Outfitted with planks, cat trees, perches, a litter bin, and different accessories, this room is best for your feline's sleeping, feeding, and cleaning activities.
20. A Simple Feline Room
Copy this simple cat room design with amazing wall artwork, a small hammock, a litter bin, and a kitty-sized bed. It's one of the wonderful cat room ideas.
21. DIY Cat Climbing Tree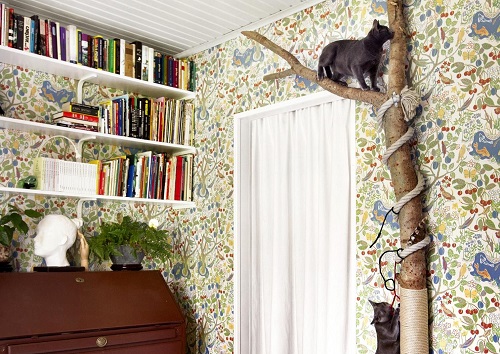 You only need a cat-climbing tree to convert any empty space into a fantastic cat playroom easily and inexpensively. Follow this article for more info.
22. Cactus and Hidden Cat Litter Box House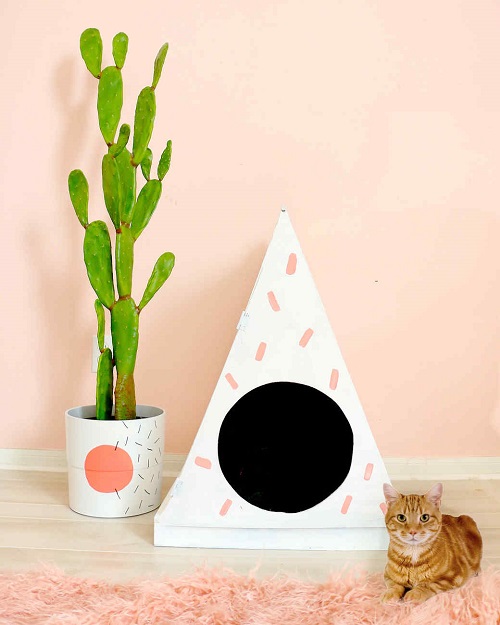 Here's another one of the great small cat room ideas featuring a cactus planter, a comfy rug, and a hidden litter box enclosure.
23. Tiny Cat Bedroom Idea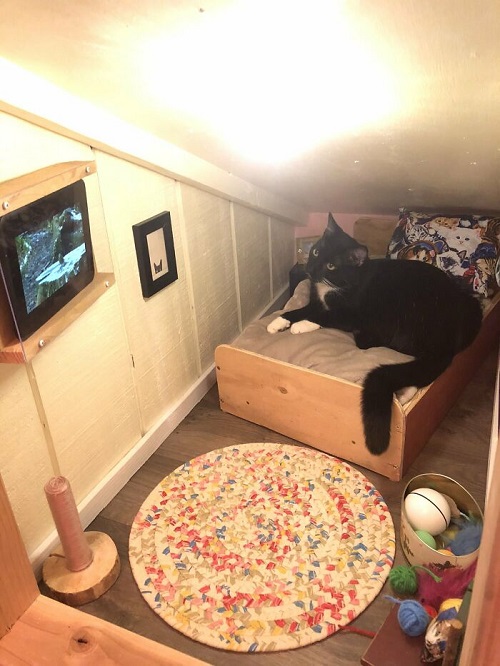 In this article, the cat parents create a tiny bedroom with a bed, toys, wall-hanging artwork, and a personal tv.
24. Stylish Farmhouse-Themed Cat Bedroom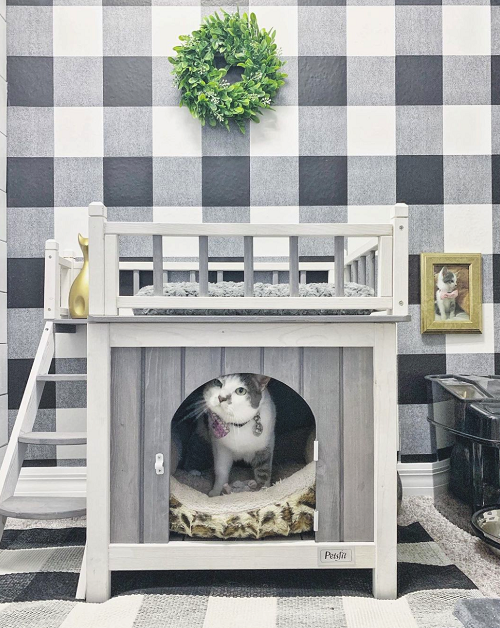 If you want to create a stylish personal bedroom for your furry friend with farmhouse vibes, this idea is for you.
25. Closet Turned Cat Room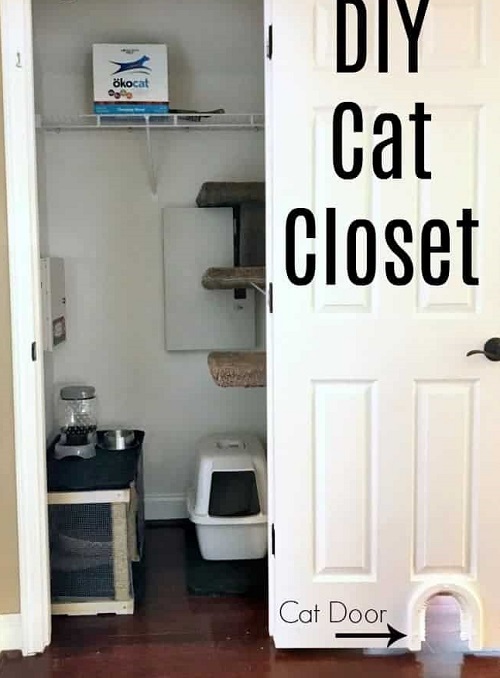 Do you have a spare closet? Then transform that space into a DIY cat room with a few modifications. Read the details here.
26. DIY Cat Hotel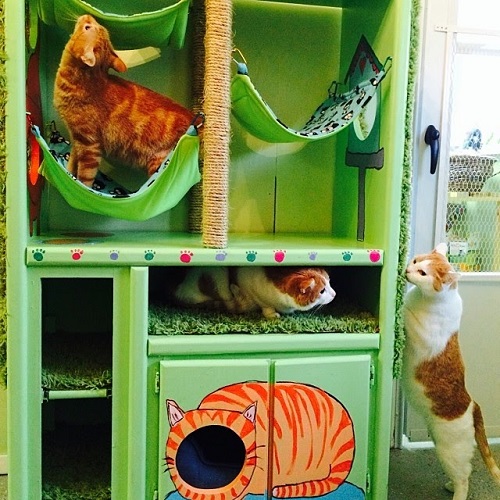 This DIY kitty hotel is perfect for those who can't afford to make a luxurious room for their furry friends. It's one of the fantastic cat room ideas.
Find out the best cardboard cat house ideas here