If you are looking for some DIY Chicken Dust Bath Ideas, head on to the article below, we have included the most feasible ones for you!
Unlike humans and other animals, chickens don't bathe in water. They roll in the dirt to keep themselves healthy and clean. If you don't know how to make a perfect dust bath, take inspiration from these cheap and easy DIY Chicken Dust Bath Ideas.
Have a look at some indoor dog house ideas here
---
DIY Chicken Dust Bath Ideas
1. Galvanized Tub Chicken Dust Bath DIY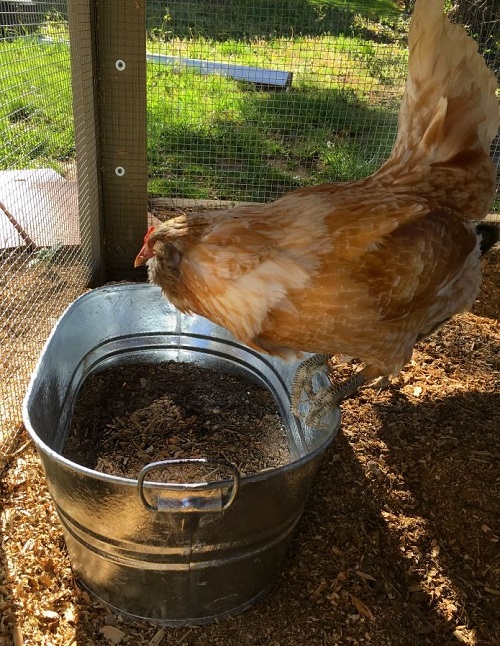 You only need a galvanized tub, organic garden soil, sand, and food-grade diatomaceous earth for this dust bath idea.
2. Mini-Dust Bath for Chicks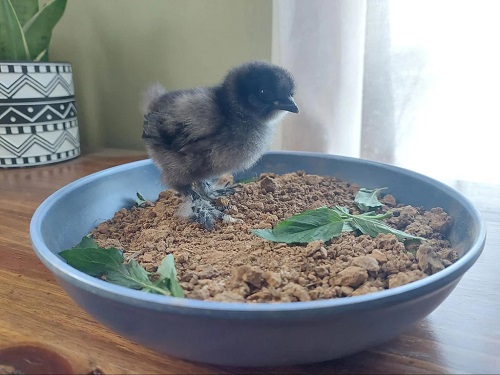 If you want to make a mini dust bath for your little chicks, this idea is perfect for you. The details are here.
3. Easy Cheap Dustbox
Make this dust bath out of a concrete mixing tub and other supplies to give your chickens a nice clean area to roll and rid themselves of lice or mites.
4. Litterbox Turned Dust Bath
Watch this video to find out how you can use a cat litter box as a no-mess dust bath for your lovely roasters.
5. Old Tire DIY Chicken Dust Bath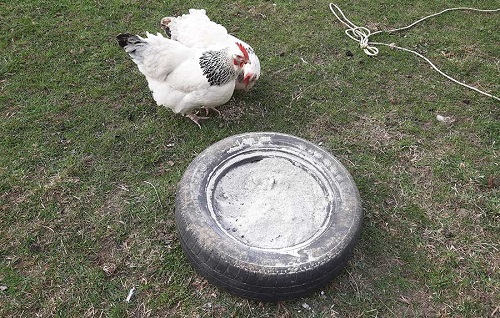 Transform an old tire into a hen bathing spot using this step-by-step tutorial. It's one of the best DIY chicken dust bath ideas on this list.
6. Plastic Tote Box Dust Bath Idea
Here's the detailed video guide to help you build a chicken dust box from a plastic tote and other supplies.
7. Wooden Logs Dust Bath With Umbrella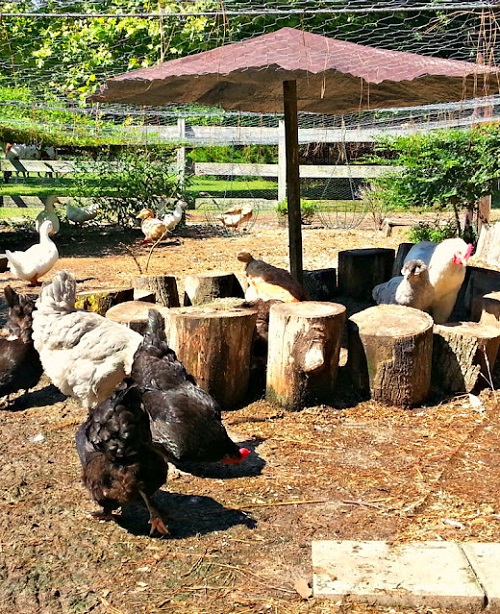 Made from wooden logs and equipped with an umbrella, this dust bath stays dry in inclement weather and provides nice shade to hens on sunny days. Read more here.
8. Old Apple Crate Chicken Dust Bath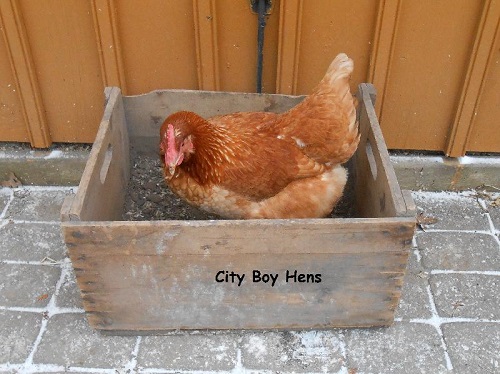 Do you have an old apple crate handy? If yes, reuse it as an affordable dust bathing station to keep your chickens smelling fresh. Read more here.
9. Kiddie Sandbox Turned Dust Bath DIY
Make the most of the unused kiddie sandbox by transforming it into a fully functional dust bath setup for your flock of chickens.
10. Wheelbarrow Dust Bath for Chickens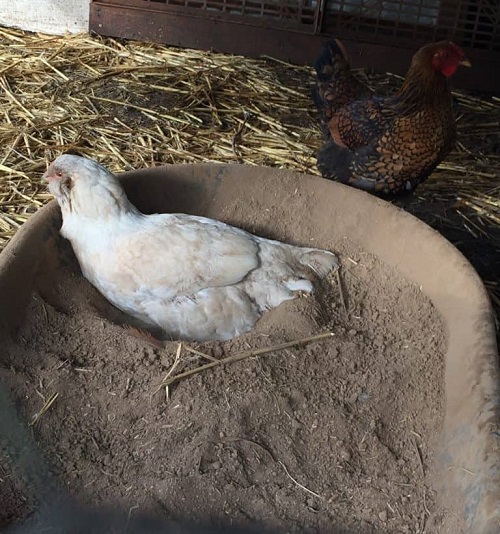 This tutorial shows how you can make something useful like a dust bath for your roasters using a broken wheelbarrow.
11. DIY Rain Barrel Chicken Dust Bath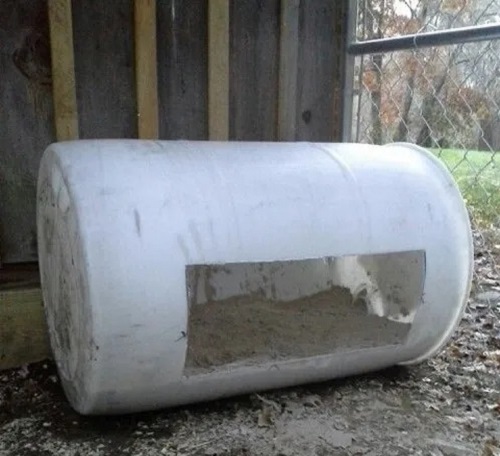 This dust box is a great way to re-purpose a leaking rain barrel and give it a new life in the chicken coop. Hop to this article for the tutorial.
12. Cinder Blocks Dust Bath Idea
Check out this video to build a dust bath and a compost bin combo. It only needs cinder blocks and iron sticks.
Here are some fantastic cinder block ideas for garden
13. Pine Wood Dust Bath for Chickens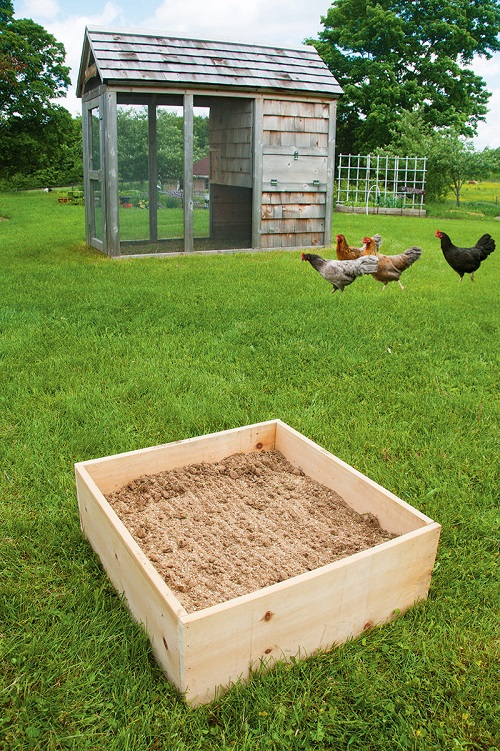 With woodworking skills, pine boards, and other supplies, you can create an excellent place for your hens to preen and enjoy. Read more here.
14. Easy In-Ground Chicken Dust Bath
Instead of using a wooden structure or any container, turn a small area of your backyard into a chicken bathing place with this tutorial.
15. Homemade Pallet Hen Dust Bath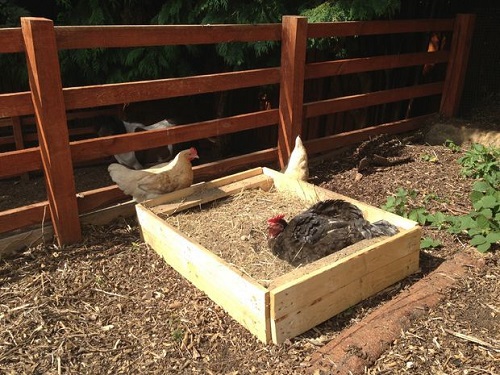 Visit the Instructables to turn unwanted pallets into a happy hen dust bath. It's a beginner-friendly and inexpensive project.
16. Fire Ring Chickens Bathing Station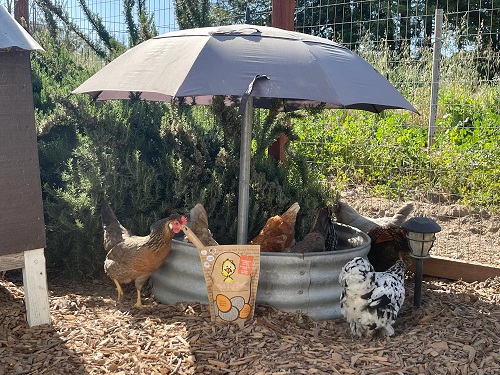 All you need are a fire ring, umbrella, potting soil or dirt, a metal pole, and this article to create this elegant bathing station for your feathery friends.
17. DIY Stones Dust Bath Idea
Make a circle using big stones and fill it with loose, dry dirt and wood ashes to complete the dust bath setup for your roasters.
18. Easy Cardbox Box Chicken Dust Bath
If you have a tight budget but still want to make a chicken sand bath, grab a cardboard box, organic garden soil, and sand. It's not a sturdy one but does the job quite well.
19. Dust Bath Made From Bricks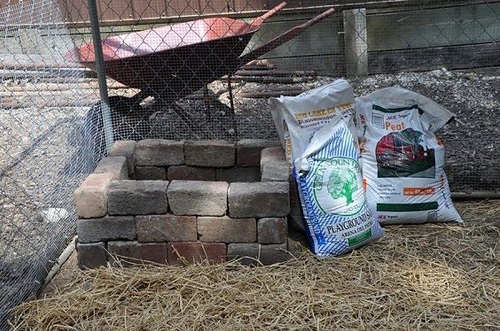 Arrange a couple of bricks on top of each other to make a square-shaped hens sand bath. It's one of the easiest DIY chicken dust bath ideas.
20. Wood and Rain Sheet Dust Bath
Build this easy-to-copy dust bath with round wooden logs, a rain cover sheet, dirt, and sand to show off your DIYing skills.
Find out the list of tree stump ideas for the garden here