Headbands can make your little princess look cute and at the same time increase the clutter. Make one of these DIY headband holder to store them in place.
1. DIY Hairbow Frame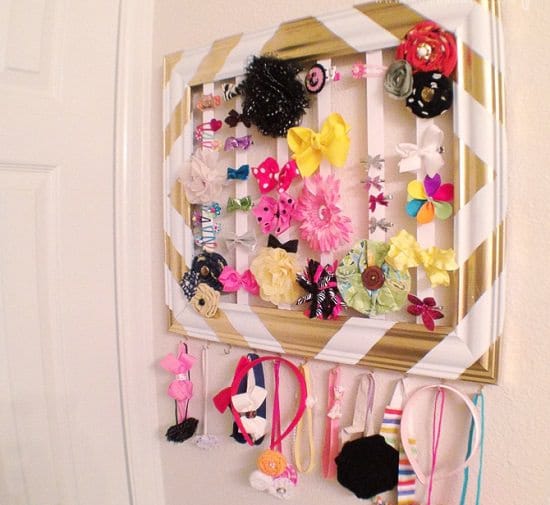 Recycle an old wooden frame with metallic paint and add hooks all over it to create a beautiful headband holder that looks just as good as the artwork. Here's the DIY.
2. Oatmeal Container Holder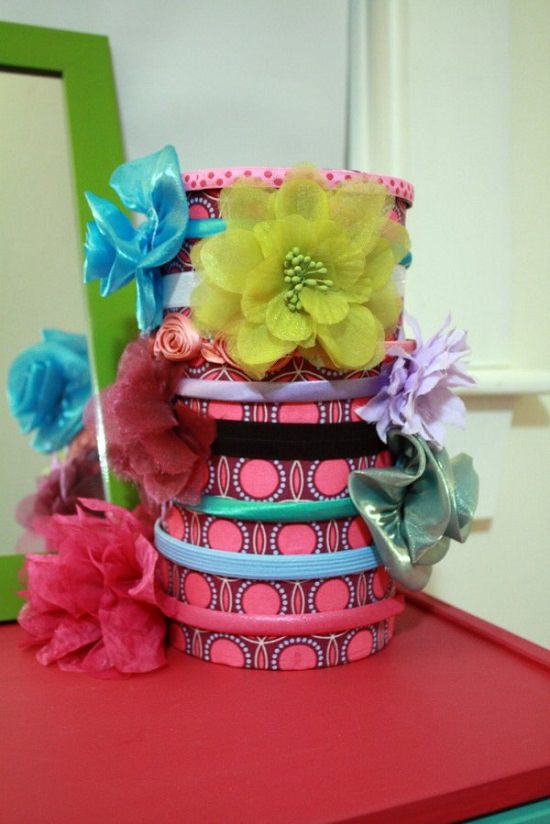 It's easy to get crafty with an oatmeal container when you have wrapping paper, ruffled flowers and ribbons handy. Your headbands will do the rest of the decorative work. Follow this DIY for instructions.
3. Headband Holder Stand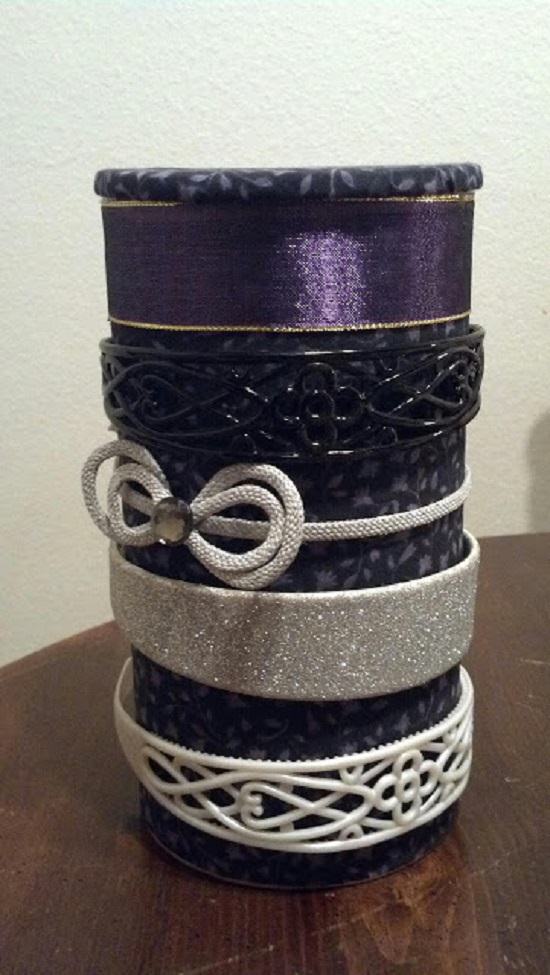 Decorated with glitter paper and embellishments, this repurposed cardboard cylinders offer hassle-free storage of your headbands-plus you can use the inside for keeping hair clips and binders. Here's the DIY.
4. Paper Doll Holder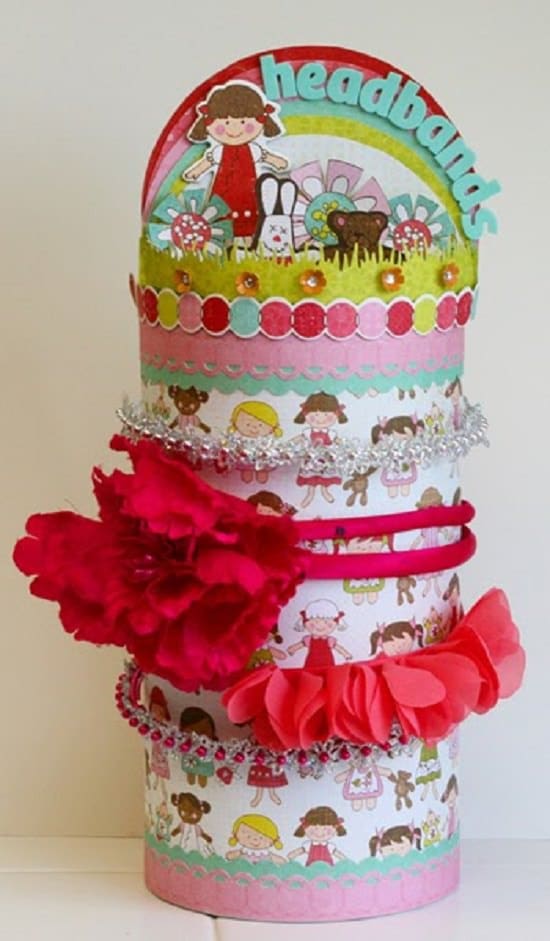 A headband holder can't get prettier than this- it's also a lovely way to encourage your kids into learning the basics of organizing their stuff. Follow this DIY.
5. Fabric-covered Headband Holder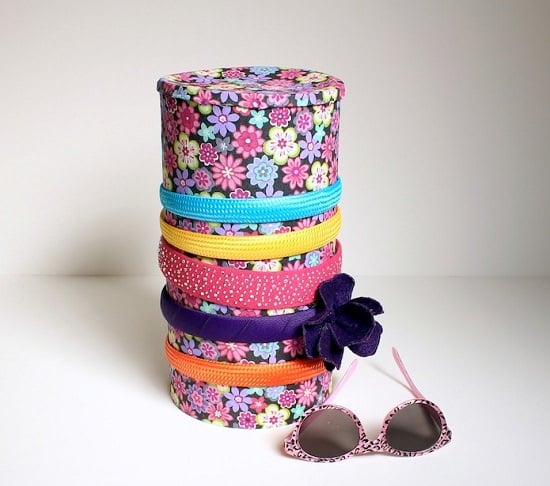 When drawer mess is too much to tame, dive into your recycling bin for an old oatmeal container and get started with this vertical storage DIY solution.
6. Cardboard Cylinder Container Holder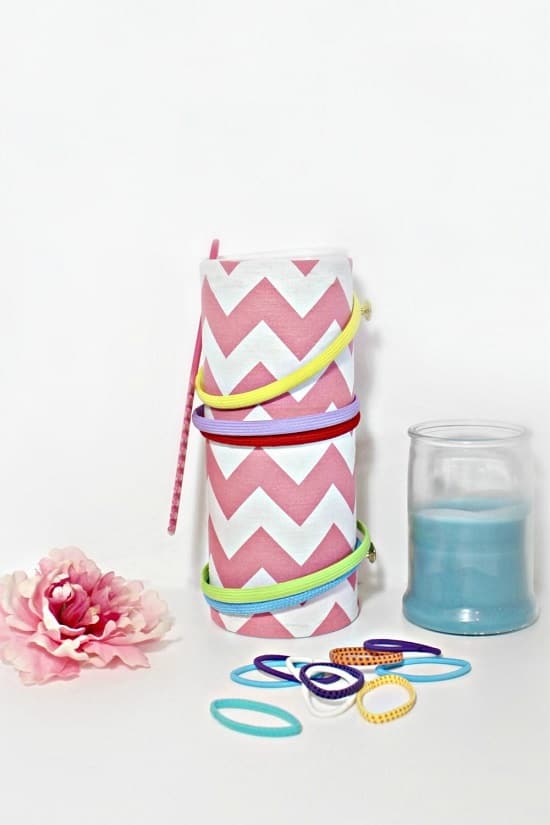 Get your little girl's innumerable hair accessories on display and out of the way with this beautiful storage-cum-holder that can be customized with ease to match the decor of her room. Here's the DIY.
7. Wood Base Plaque Headband Holder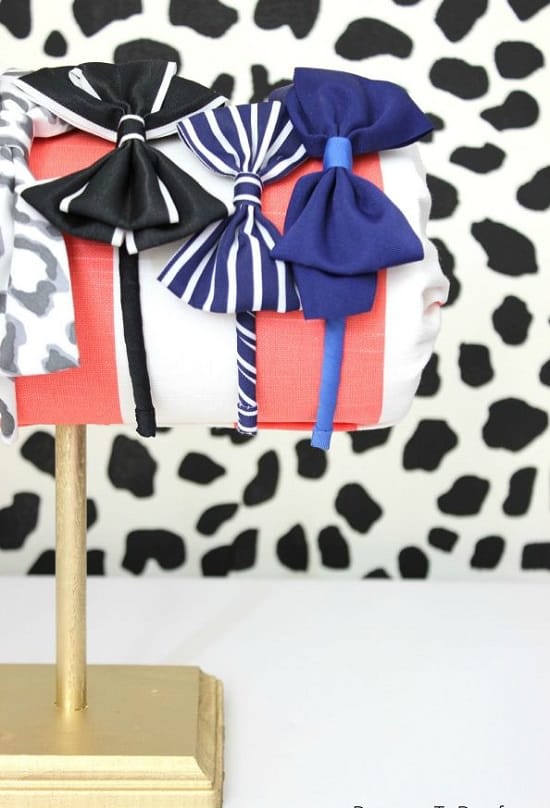 A towel roll disguised with decorative fabric is the real hero of this adorable headboard storage but what really catches the eye is the copper-toned wooden dowel held stable on a matching wooden plaque. Get the look with this DIY.
8. Beautiful Headband Holder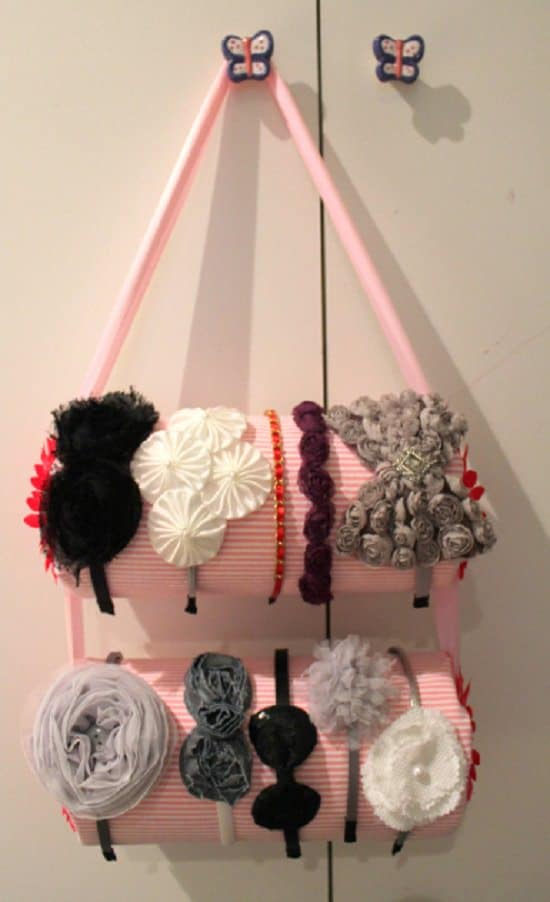 Pretty up paper towel rolls with fabric and hangs up two of them with matching ribbon for a cute headband holder that blends well with a princess bedroom. Here's the DIY.
9. Cup Hooks Hairbow Holder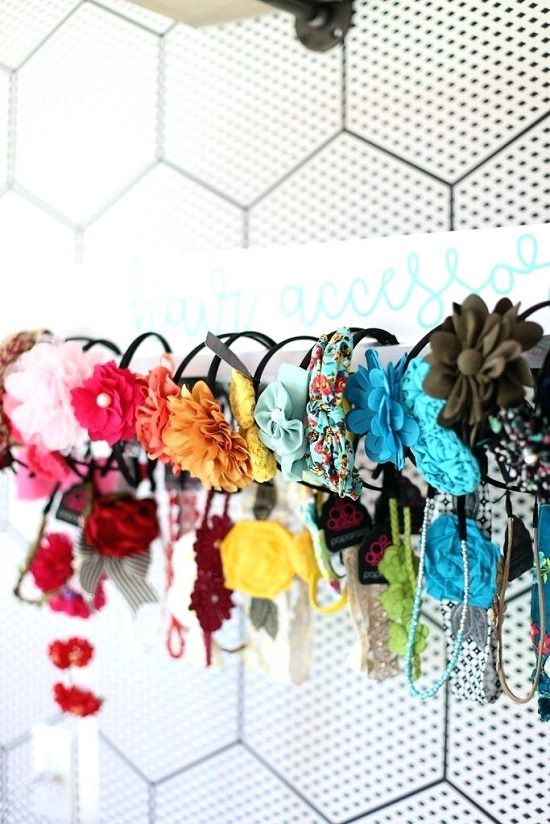 The concept of plugging cup hooks onto wooden trims means you have a one-stop storage solution for all kinds of hair accessories, right from hair clips to elastic headbands. Here's the DIY.
10. Washi Tape Wraps Holder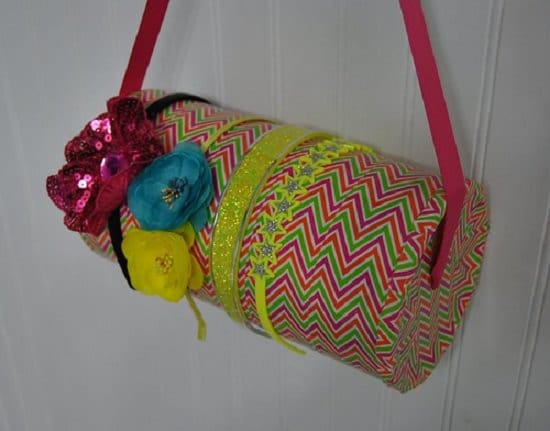 Take an empty can, cover it with wrapping paper and hang it by a ribbon on the closet door for a handy headband storage solution. Get stepwise instructions here.
11. Ribbon DIY Headband Holders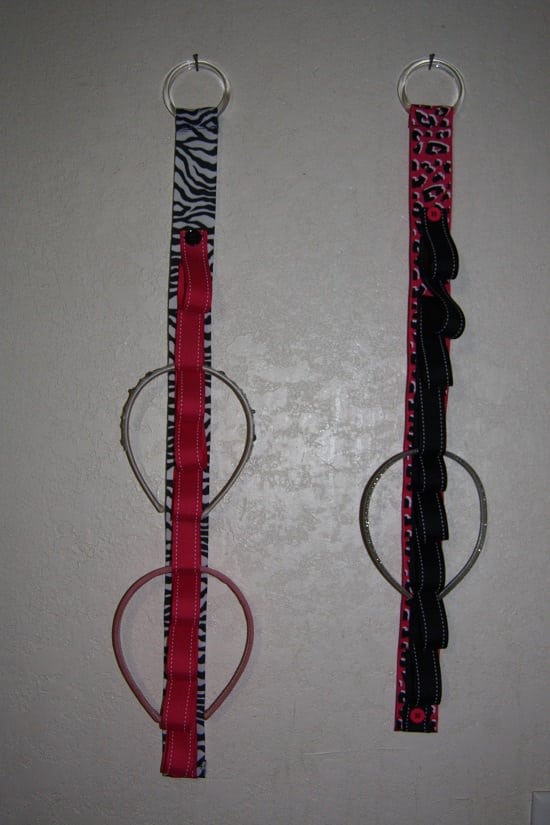 With a little help from your sewing machine, you can repurpose old shower curtain rings and a couple of ribbons to make neat little headband holders. Here's the DIY.
12. Polka Dot Headband Holder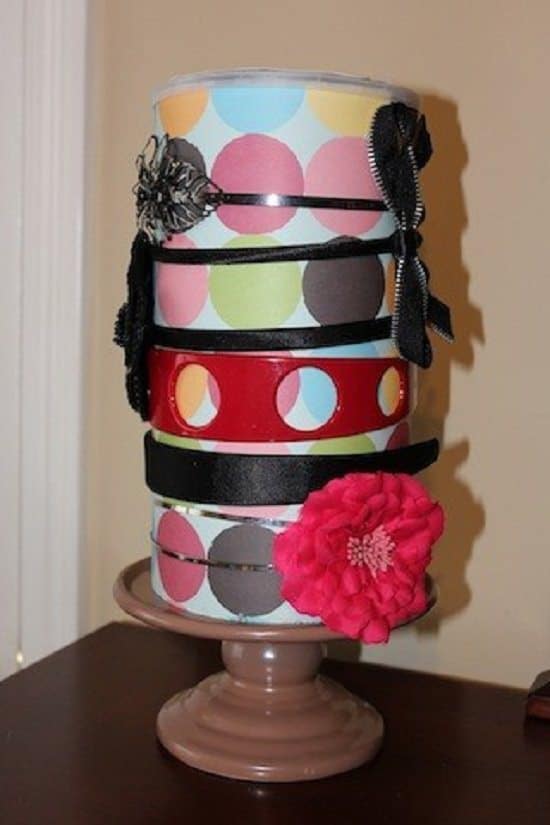 Instead of tossing a used oatmeal container in the trash, consider sprucing it up with decorative paper and attaching it to a pedestal for a beautiful storage accessory that looks freshly bought from the store. Here's the DIY.
13. DIY Headband Holder
Create bi-color hoops by knotting ribbons in an alternate fashion for a pretty storage solution for little girls' accessories.
14. Ultimate Storage for Hairbow
It's difficult to find a storage solution that actually has all your hair accessories in one place and is even wall-mounted for a quick grab-and-go, but this DIY has a nice hack to get you started.
15. Empty Toilet Paper Roll Holder
Arrange one toilet roll while using another one as the base and support both with a wooden board for the base. This simple yet practical design also has an ample window for customization.
16. Headband Holder Using Cardboard
Cardboard strips are a great canvas to hang your headboards from. Just deck it up with colored paper and some floral embellishments or satin ribbons for a pretty appeal. This DIY has all the details.
17. Only $1 Dollar Headband Holder
Styrofoam boards painted in a bright color and screwed to the wall offer compact storage for headbands that are pretty enough for display. Make your own with this DIY.
18. Super Cheap Headband Holders
This DIY shows you how to reduce kitchen clutter and closet clutter both, by transforming old cans into pretty storage holders for your exhaustive collection of headbands.
19. DIY Cloud Theme Holder
This DIYer used cloud-printed paper to wrap her can-turned-headband holder; you can, of course, choose any pattern of your like. Just make sure it goes with the pedestal below.
20. DIY Wooden Headband Holder
Screw uniformly-spaced clothespins on-wall-mounted wooden panels and voila! you have a space-saving solution for your never-ending collection of hairbands.
21. Holder Made From PVC Pipe
PVC pipes are fun and inexpensive headband holders and the best part is they need little to prep up for the job. Here's the DIY to get started.
22. DIY Infant Headband Holder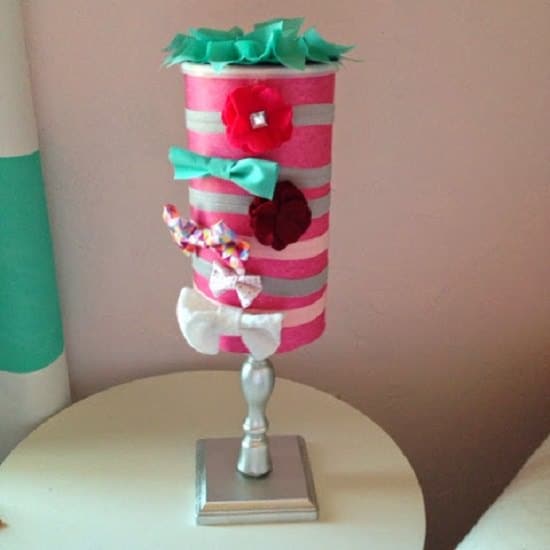 Put an old oatmeal canister to good use with this uber-cool DIY. Adding a ruffled flower on top and colorful scrapbook paper on the sides will help mask its humble appearance, making it a more worthy addition to your dresser.
23 Amazing Headband Holder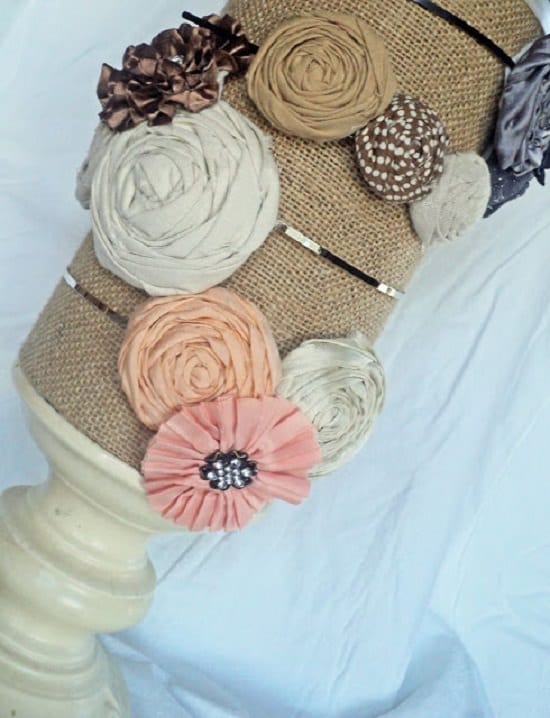 Prop an empty oatmeal container on a candle base and adhere to fancy paper or fabric all around the body for a refined look. The end result is a compact headband holder perfect for vanity storage. Here's the DIY.
24. Paper Towel Roll Headband Holder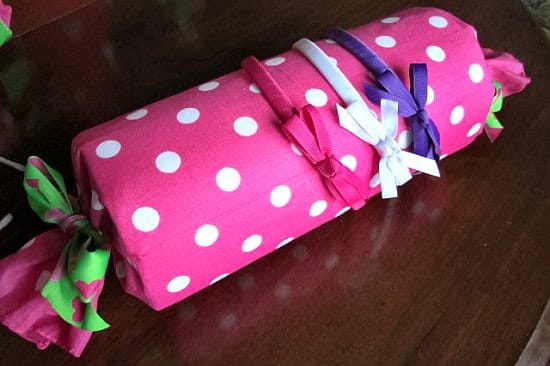 This portable and super cute headband holder can be made even by the tiny tots, as long as you have a roll of paper towels and some scrap fabric handy. Here's the DIY.
25. DIY Branch Headband Holder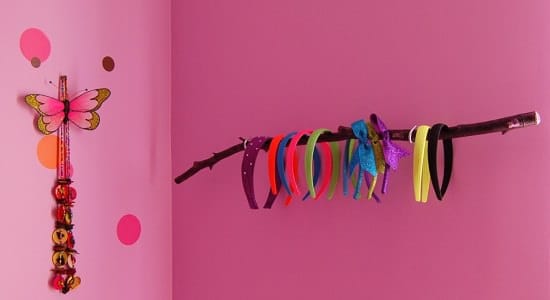 For an eccentric touch to the walls, try using a salvaged branch as a headband holder- it makes storage easy and its dark color complements beautifully with a colorful string of headbands. Here's the DIY.
26. Clothespins Headband Holder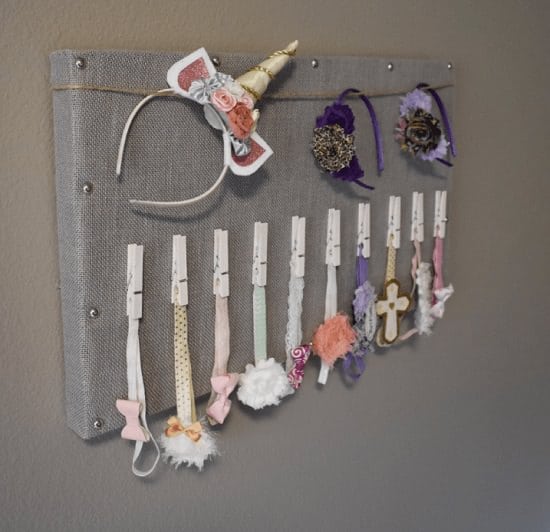 Convert a simple burlap frame into a neat display for your overflowing bows and headbands with the help of jute and clothespins. This DIY has the details.
27. DIY No-Sew Headband Holder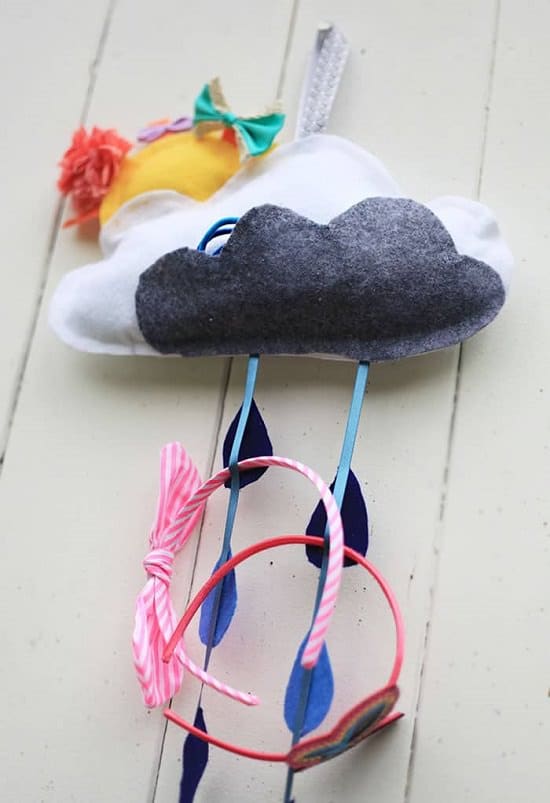 This no-sew DIY holder offers multiple storage options in a tiny design-just clip the bands on the raindrops, clips on the sunbeams and hair ties on the clouds and you're good to go.
28. DIY Canvas Bow and Headband Holder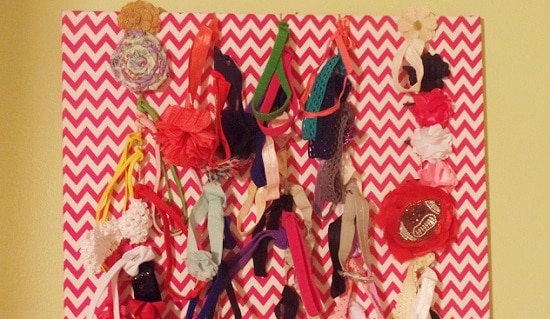 All you need is a canvas, twine and some pretty fabric for this no-fail DIY. After all, it would be a shame to keep your beautiful headbands stashed in a dark corner of your closet.
29. Crochet Headband Holder
A wall-mounted crochet headband holder is a nifty item to keep your little girl's head accessories neatly arranged. Plus you can get the kids to help out with the making process as well.
30. DIY Horseshoe Headband/Bow Holder
For a quirky twist on bedroom wall decor, create this horseshoe-shaped holder. Here, headbands are hung from twine connecting horseshoes and the whole arrangement is offered support from a wooden board.
31. Custom Wood Headband Holder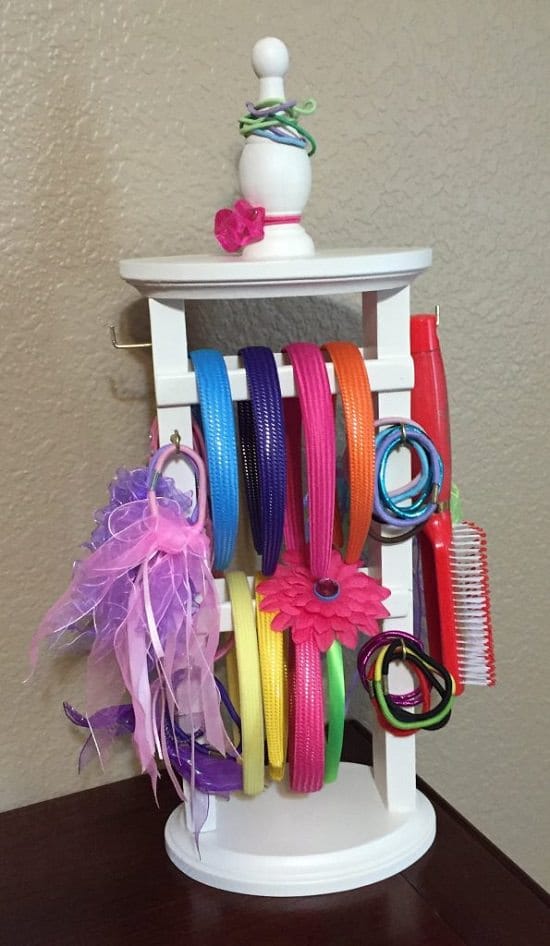 If you happen to have spare wooden trims, attach them to an oval board base and create this multi-tier structure to keep your headbands organized for quick usage. Here's the DIY.