Valentine is on the way! Why not express love and have lots of fun by embellishing your home with these adorable and money-saving DIY Valentine wreaths!
1. Yarn Wrapped Heart Wreath
Create an eye-catchy display by covering rings with variegated pink yarn to form a heart-shaped wreath. Read details here.
2. Heart Shaped Flower Wreath
This amazing wreath, made out of real or faux baby's breath, will look super adorable on a wall, mirror, and especially on a dark-colored door.
3. Tissue Paper Flower Wreath
Perfect as a front-door adornment for Valentine's day decor and a themed party, this DIY tissue paper flower wreath is simple and copies the look of a real flowering arrangement.
4. Embroidery Hoop Valentine's Wreath
This valentine, fill the air with romance and love by decking your door or wall with this lovely embroidery hoop wreath.
5. Heart Grapevine Wreath
Celebrate Valentine's Day by decorating your space with this heart-shaped grapevine wreath that uses real or faux grapevine, faux flowers, and a pretty pink ribbon.
6. Scrapbook Paper Wreath
Crafted with scrapbook paper and a few craft supplies, this lovely Valentine wreath adds festive cheer to your space. The DIY tutorial is here.
7. Paper Rosette Wreath
Make good use of your leftover Christmas wrap tissue paper and cardboard by imitating this pretty rosette wreath to praise Valentine's Day.
8. Recycled Chocolate Box Wreath
Cherish Valentine's day by transforming a vintage heart-shaped chocolate box into a memorable wreath, and the best part is that it completes in under 5 minutes.
9. DIY Eucalyptus Heart Wreath
This Valentine's day, get yourself surrounded by the beauty of nature with this DIY eucalyptus heart wreath.
10. Love Birds Wreath
Bring Valentine's day spirit to your home with this DIY wreath, made up of yarn, foam wreath form, pom poms, two small lovebird figurines, and a twig.
11. Sweetheart Valentine's Day Wreath
A jute twine ornamented with pearl stick pins and a mini sweetheart banner makes this wreath a special piece of decor for Valentine's day.
12. Dainty Flower Wreath
Looking for a no-fuss yet elegant Valentine's day decor? Look no further, as this minimalistic dainty flower wreath is perfect for draping over the fireplace.
13. DIY Cupid's Arrow Wreath
Ornamented with pink sequins, gold glittery feathers, and a paper medallion, this gorgeous cupid's arrow wreath will attract a lot of eyeballs.
14. Fabric Rag Wreath
Make your Valentine's day special and memorable by upcycling the unwanted fabric scraps into an intricate-looking wreath.
15. DIY Coffee Filter Wreath
A wreath made from the coffee filters and cardboard will be a sweet addition to Valentine's day decor. Read more here.
16. Monogram Wreath
Got bored of the usual heart-shaped wreaths? Try this unique monogram wreath that is in the shape of your initial.
17. Easy Framed Heart Wreath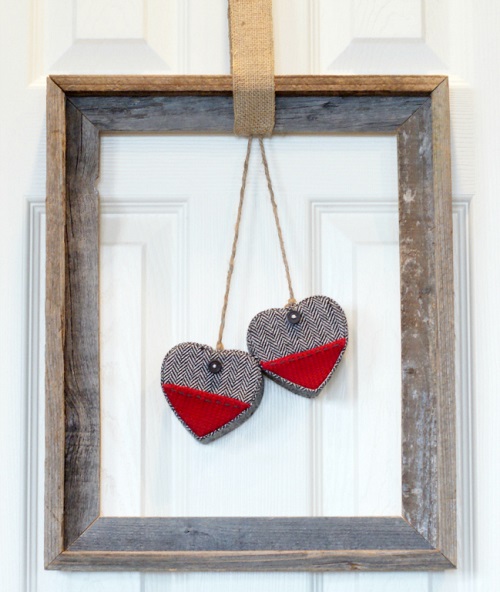 Upcycle an old picture frame into a decorative wreath by ornamenting it with Valentine-themed items.
18. DIY Pom-Pom Heart Wreath
Not a fan of traditional Valentine's Day wreaths? Get one step ahead and repurpose your Christmas pom-poms to make a heart-shaped wreath, which will work like a charm.
19. Hanging Flower Heart DIY
Make your Valentine's Day dinner intimate by hanging a large flower heart wreath above a breakfast nook table. It's an amazing and romantic way to surprise your partner with your love for them.
20. Burlap Wreath with Chalkboard Heart
Add an unconventional twist to your Valentine's day decor by using burlap to craft an adorable wreath and tied a chalkboard heart to complete the look.
21. Valentine's Heart Willow Wreath
Craft a decorative wreath straight out of scrapbook paper, punched hearts, ribbon, and willow wreath to add a whimsical, romantic, and fun touch to your space.
22. DIY Easy Valentine Wreath
This Valentine, surprise your partner with a country-style look with this minimal and easy-to-make wreath. You need a washi tape, a store-bought straw wreath, ribbon, and poofy hearts for this DIY.
23. Gold Sequin Valentine Wreath
If you're searching for a simple and quick but trendy Valentine decor, this gold sequin wreath might be for you. It's simple yet fantastic decor for any festive season.
24. Paper Straw Wreath
Grab a few hot pink candy-striped paper straws, glue, and a little foam board to make this festive swirl wreath in a jiffy. You can embellish it with little bows and hearts to give it a more love-season feel.
25. Quick Valentine's Day Wreath
Amp up the romantic ambiance by adorning your space with this super quick Valentine's day wreath that can be made in less than 15 minutes.
26. Ornamented Heart Wreath
Repurpose the spare Christmas bubbles into a Valentine wreath using this DIY without investing in serious crafting skills.
27. "XO" Wreaths
Celebrate Valentine's Day spirit by hanging XO wreaths on your front door for a cutesy look. Watch the video to learn more.
28. Hand Knit Heart Wreath
Those who love all things crochet will definitely adore and admire this beautiful Valentine's day decor idea.
29. Twig Heart Wreath
Make your front door look spectacular and earthy on this upcoming St. Valentine's Day by imitating this twig heart wreath decorative.
30. Wooden Heart Wreath
This unique and romantic wooden heart-shaped wreath is a super-economical way to deck up your front door or wall for this forthcoming love season.
31. $5 Valentine's Day Wreath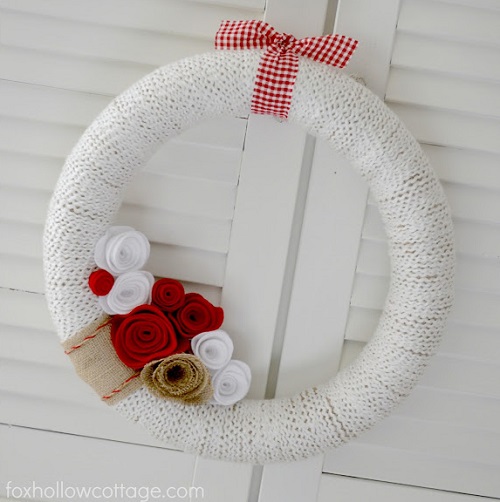 Fill your space with 14th February vibes by ornamenting it with this super-simple, cozy, and wintery-white $5 Valentine's day wreath.
32. Valentine's Day Swag Wreath
All you need is a metal wreath form, ribbons, chenille stems, a glue gun, and wire cutters to make this love-spreading Valentine's day swag wreath.
33. Argyle Heart Wreath
Adorned with red, white, and black felt hearts, this gorgeous, aqua-colored argyle heart wreath is an eye-pleasing decor.
34. 10-Minute DIY Succulent Valentine's Day Wreath
Instead of roses and ribbons, adorn your Valentine wreath with succulents for a natural touch. This is an excellent last-minute romantic decor.
35. Puffy Heart Wreath
A fun project to do with kids, this puffy heart wreath calls for a paper plate, glue, foam heart picks, red markers, and scissors.
36. Feather Wreath
Beautify your front door with this statement-making feather wreath that looks fluffy and uniquely amazing.
37. Tulle Wreath
This tulle wreath is relatively simple to put together. For this, cover tulle around a foam wreath, unravel the ends, attach hearts using hot glue, and you are done.
38. DIY Glass Beads Wreath
Perfect for both entryway and living room, this gorgeous wreath is made up of sparkling red glass beads. Hang it up with a ribbon for an added look.
39. Cupcake Liner Wreath
Add a nice contrast and texture to your Valentine-themed decor by making a unique wreath using cupcake liners!
40. Curled Grosgrain Ribbon Wreath
Jazz up your front door with this curly cute ribbon wreath that comes to life with minimal supplies and this quick tutorial.