Why buy when you can repurpose? Get inspired with these Dresser as TV Stand Ideas that are easy on the wallet and high on style!
Struggling with limited space but need a TV stand? These Dresser as TV Stand Ideas provide clever, space-saving solutions without sacrificing style or function. They add a personal touch to your living space and provide an economical solution for media storage needs.
Discover the Creative DIY TV Stand Ideas here
---
Dresser as a TV Stand Ideas
1. DIY Dresser to TV Stand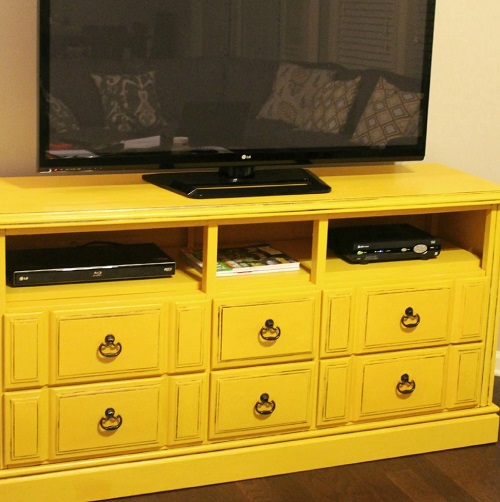 Follow this step-by-step tutorial to convert an old dresser into a chic, functioning TV stand with minimum supplies. This DIY project is cost-effective and enables you to organize your media essentials in one place. You will need a power sander, primer, wood filler, yellow paint, a flatboard, and creativity to complete the transformation.
2. $70 TV Stand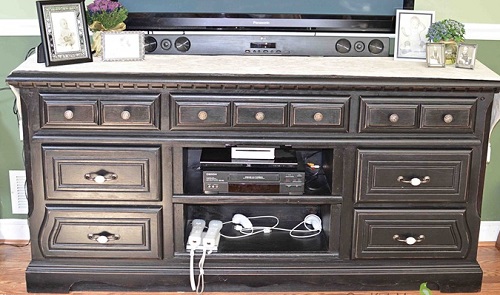 A $70 TV stand is the perfect solution if you're working on a budget. Grab an old dresser from the nearest thrift store or garage sale. You can create an appealing and practical TV stand with some light sanding and a fresh coat of paint. This budget-friendly hack is excellent for students or young professionals looking to maximize utility without compromising style.
3. White Painted TV Stand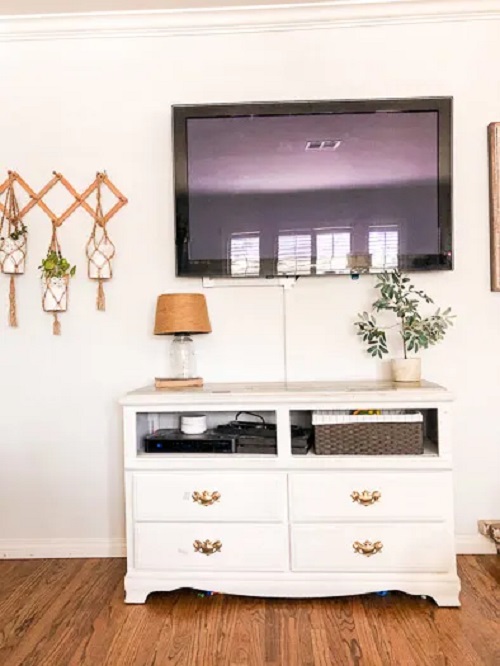 Revamp a vintage dresser into a chic TV stand with a fresh coat of white paint. This brightens your space while providing ample storage for remote controls and media devices. It updates the dresser's look and introduces a contemporary vibe. This approach is great for homes seeking a modern or minimalist aesthetic. Achieve a stylish yet organized living space with this transformation.
4. Ikea Tarva Dresser Turned TV Stand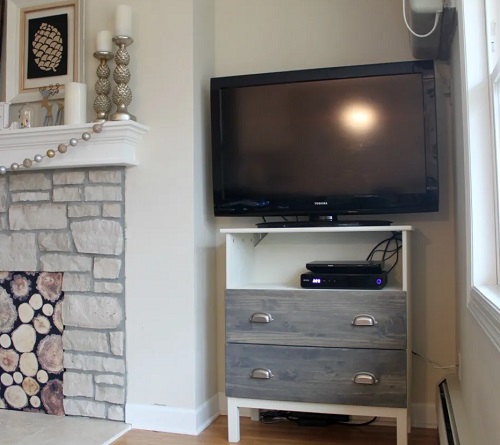 If you're a fan of minimalist design, then converting an Ikea Tarva dresser into a TV stand could be your go-to project. The Tarva series is known for its uncomplicated design and natural wood finish. You can easily adapt it to fit into various interior themes. The spacious drawers can store TV accessories or even your favorite board games for easy access during a family night.
5. Painted Bedroom Dresser TV Stand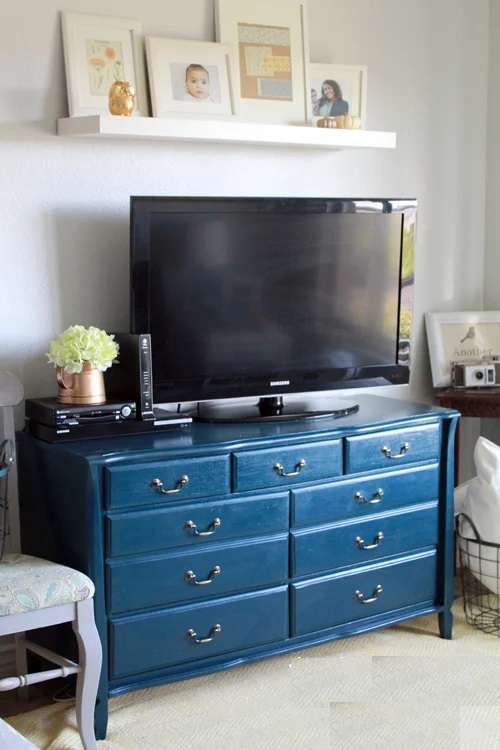 Turn a dresser into a TV stand with a few coats of navy blue paint. The deep, rich hue catches the eye and complements the existing room decor. This TV stand is versatile enough to complement both modern and traditional interiors. Its drawers provide optimal storage solutions for multimedia accessories, including remotes, cables, and gaming equipment. It not only houses the TV but also enhances the room's aesthetic. Get the details in this article.
6. Chalk Painted Dresser TV Stand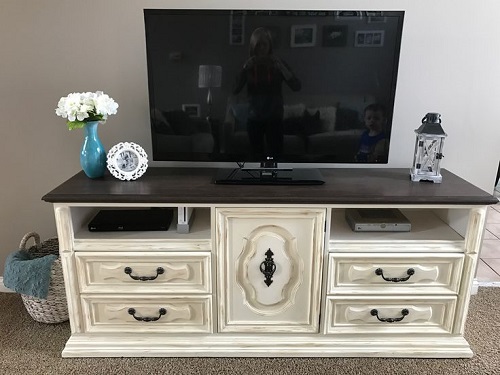 Revive an old wooden dresser with a simple coat of chalk paint. Opt for neutral tones like off-white to match any decor. This adds charm while working as an inexpensive TV stand solution. Chalk paint offers a matte finish that works well with various design themes. Whether aiming for a modern, farmhouse, or boho look, a chalk-painted dresser is a versatile centerpiece.
7. Upholstered Fabric Sides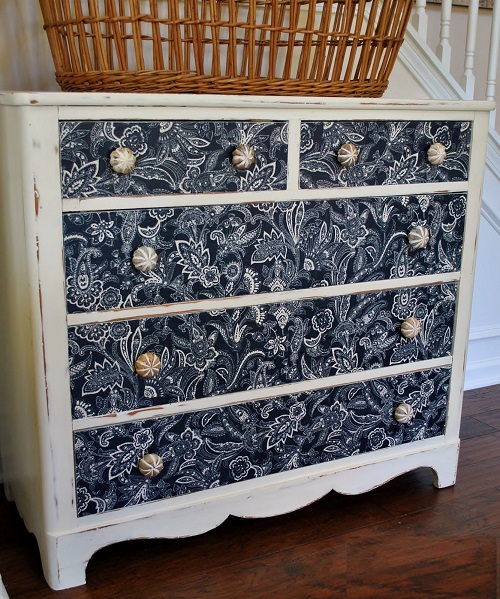 Upholstering the drawer fronts adds a luxurious touch. Plus, this approach lets you introduce texture and patterns into the room. Whether you choose a bold print or a subtle fabric, this custom touch makes your TV stand one of a kind. Besides aesthetics, the fabric adds a soft tactile experience, giving the piece a cozy feel.
8. TV Stand With Coastal Vibes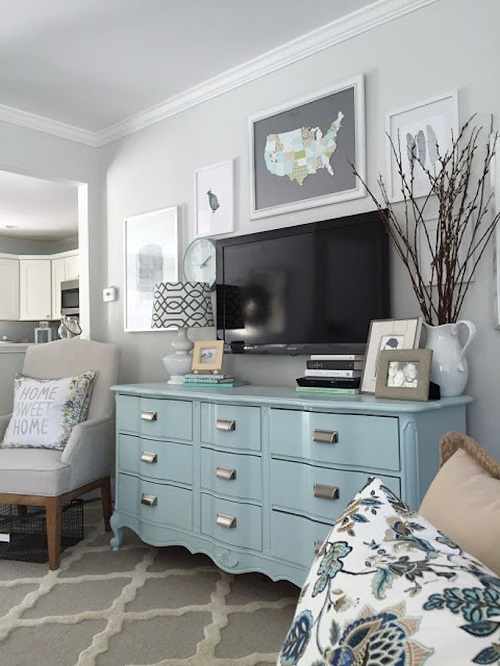 Give your space a coastal touch by turning a light blue or turquoise dresser into a TV stand. The soothing colors of light blue or turquoise add a serene atmosphere to the room. Complement this setting with beach-themed decorations or wicker baskets to complete the coastal-inspired aesthetic.
9. Repurpose Vintage Dresser
By repurposing a vintage dresser, you're not just getting a unique TV stand but preserving a piece of history. Search for antique drawer pulls or knobs to maintain the vintage feel. This setup gives a focal point and adds a layer of sophistication to your room. It's an excellent way to merge the old with the new.
10. Two Dressers Side-by-Side
Do you need a large TV stand or need additional storage? Placing two dressers side-by-side solves both problems. This arrangement gives more surface space to hold a large TV and other decor elements like plants or photo frames. Meanwhile, you gain double the drawer space for storing DVDs, games, and more. It's a practical yet stylish solution for bigger living spaces.
Read the Unbelievable Furniture Makeover Ideas here