Are you looking for some budget-friendly options to amp up your interiors? These Free Macrame Wall Hanging Patterns will have your heart!
If you want to liven up your dull space, make beautiful art pieces with these attractive Free Macrame Wall Hanging Patterns for the vintage bohemian charm.
Have a look at some fantastic macrame headboard ideas here
---
Free Macrame Wall Hanging Patterns
1. Macrame Diego Maradona Portrait Wall Hanging
Are you a soccer fan? Then you'll love this 'Diego Maradona' macrame portrait idea.
2. Copper Pipe Macrame Wall Hanging DIY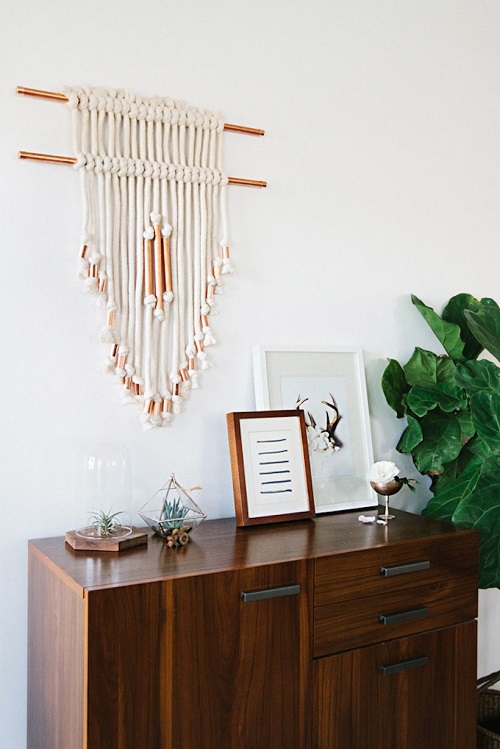 With the addition of a little copper bling, this detailed and textured macrame wall hanging is easy to make. The details are here.
3. Free Macrame Hat Hanger Pattern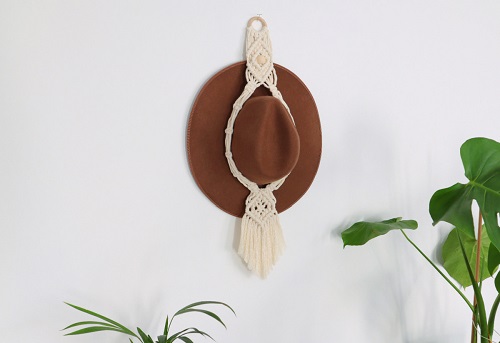 Use your macrame skill and a spare hat to recreate this stunning decor piece. It's one of the most amazing free macrame wall hanging patterns. The pattern is here.
4. Tree of Life Macrame Wall Hanging Pattern
Jazz up your monotonous living space wall by introducing this tree of life macrame wall decor.
5. DIY Macrame Plant Hanger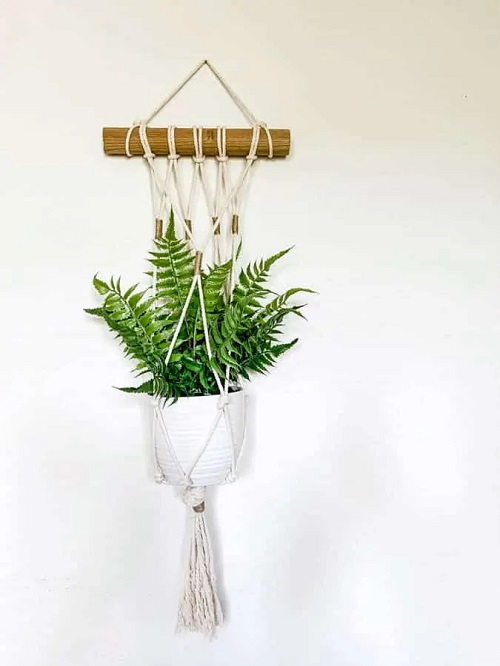 This trendy macrame plant hanger is the perfect way to showcase greenery with style. Follow this step-by-step tutorial.
6. Flower Macrame Wall Hanging
Show off your macrame skills and creativity by making this beautiful flower wall hanging.
7. DIY Silk Flower Macrame Wall Hanging Patterns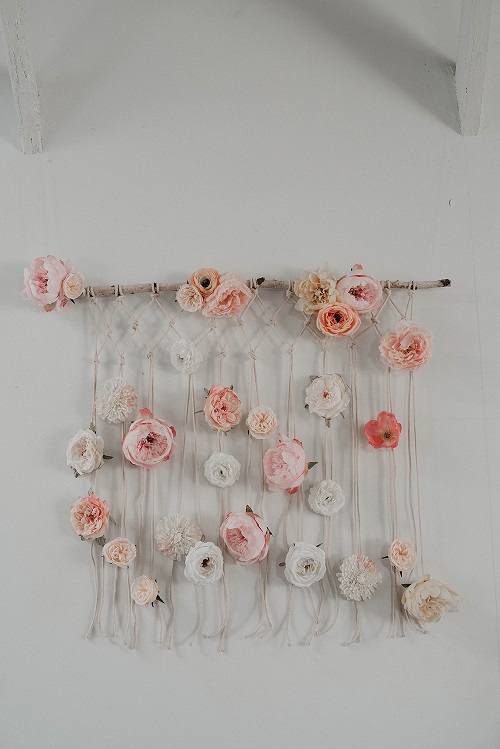 Decorated with silk flowers, this macrame wall decor is ideal for the bridal shower, home decor, or even kids' rooms and nurseries.
8. Macrame Owl with Berry Knots
Start your macrame DIY journey by crafting this quirky owl to beautify your empty wall.
9. DIY Fall Macrame Wall Decor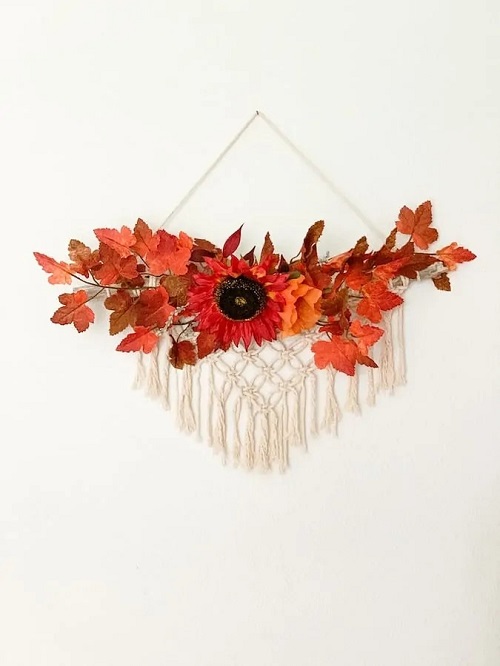 Add some fun boho style to your home or front door decor this fall with this easy DIY fall macrame wall hanging!
10. Macrame Dreamcatcher With Feathers
This cotton rope dreamcatcher with a decorative agate slice and feather trim makes for stylish home decor.
11. DIY Macrame Hoop Wall Hanging
All you need are ropes and different-sized hoops to make this eye-catching wall hanging.
12. DIY Macrame Headboard
Make this appealing intricately woven headboard and bring textile art to your bedroom decor.
13. Macrame Sequins and Weave Wall Hanging
Grab a wooden dowel, cotton cord, sequins, beads, and weaving cords to bring this chic beauty to life.
14. Macrame Heart Wall Hanging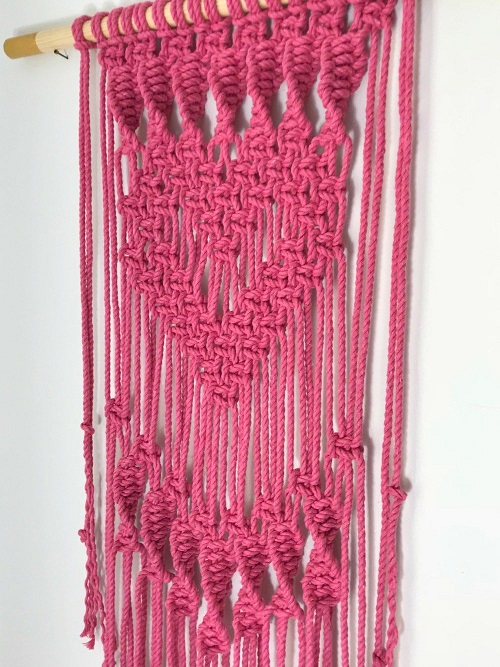 Add character and personality to your living space with this vibrant pink macrame heart decor. It's one of the most beautiful free macrame wall hanging patterns. The details are here.
15. Macrame Wall Hanging for Beginners
Add a splash of color to your walls with this fun macrame wall hanging display. You can use some beads for added interest.
16. Boho Macrame Wall Hanging with Greenery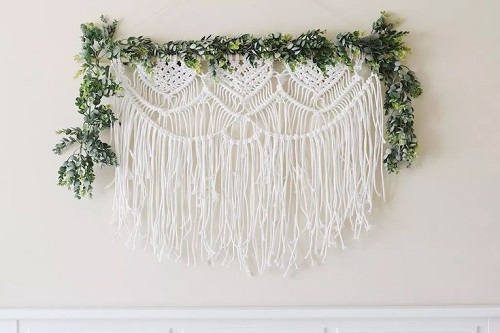 This boho macrame wall hanging gives an incomparable touch of cozy, neutral texture. The addition of greenery makes it more attractive. Read more here.
17. DIY Macrame Wall Hanging Leaf Pattern
This video tutorial teaching how to make a leaf-patterned macrame wall decor is a perfect treat to watch.
18. Christmas Macrame Star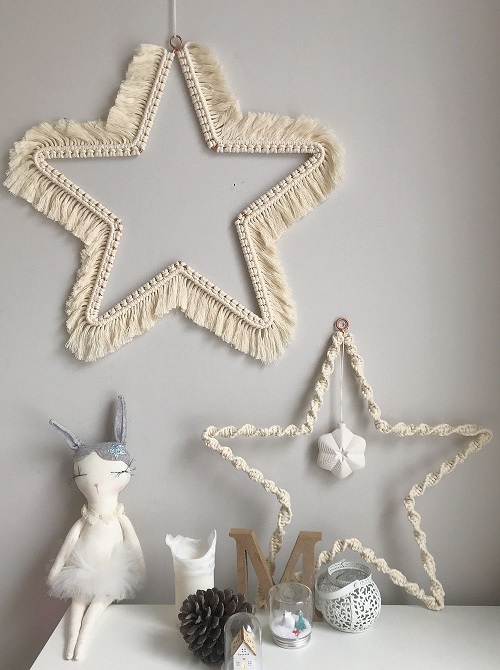 Give your Christmas decorations an extra edge with this fabulously fringed macrame star wall hanging. Read more here.
19. Mandala Wreath Macrame Pattern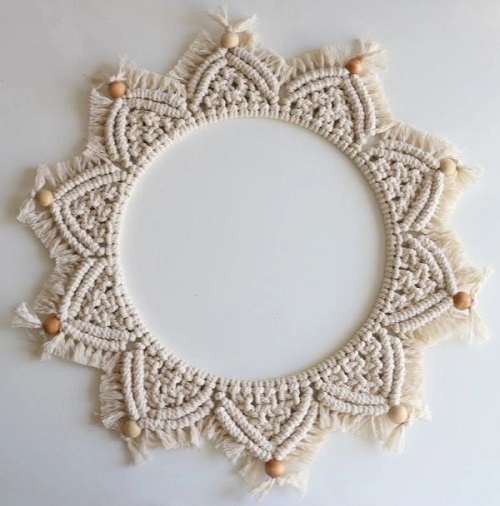 Either hang this classy mandala wreath on the wall or lay it flat on a table to elevate the look of your interior decor.
Find out some DIY Halloween wreath ideas here
20. Half Mandala Wall Hanging
Instead of a mandala wreath, if you want a half mandala wall hanging, this DIY video tutorial might be for you.
21. DIY Mini Macrame Wall Hanging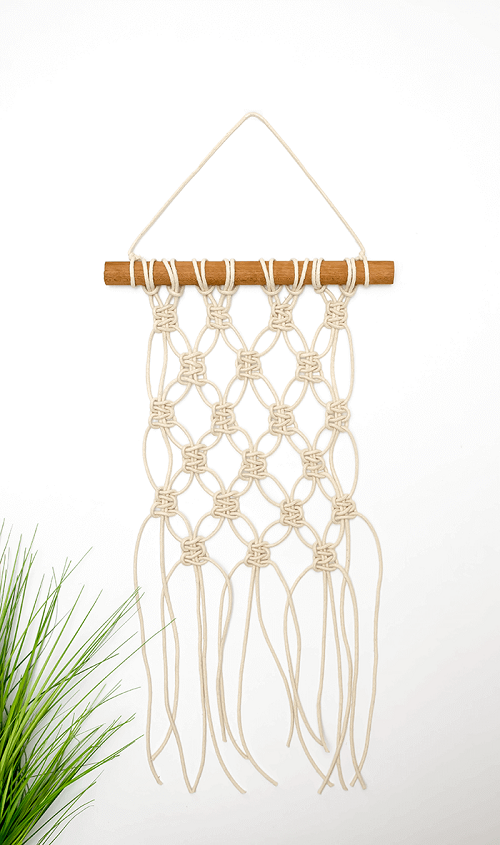 Have you ever wanted to try macrame only to be deterred by all those intricately detailed knots? Then you will love this tutorial. With just one knot, you can quickly create this beautiful diamond-shaped pattern in under an hour.
22. Holiday Inspired Macrame Wall Hanging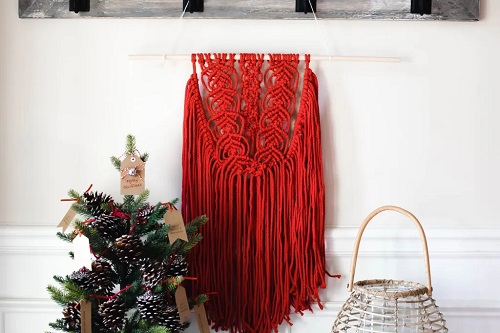 Looking for something special to craft for the Christmas season? This holiday-inspired macrame creation is the right choice.
23. Angel Wings Macrame Wall Hanging
Add these gorgeous macrame angel wings to your home decor for a timeless charm.
24. Free Macrame Wall Hanging Yarn Garland Patterns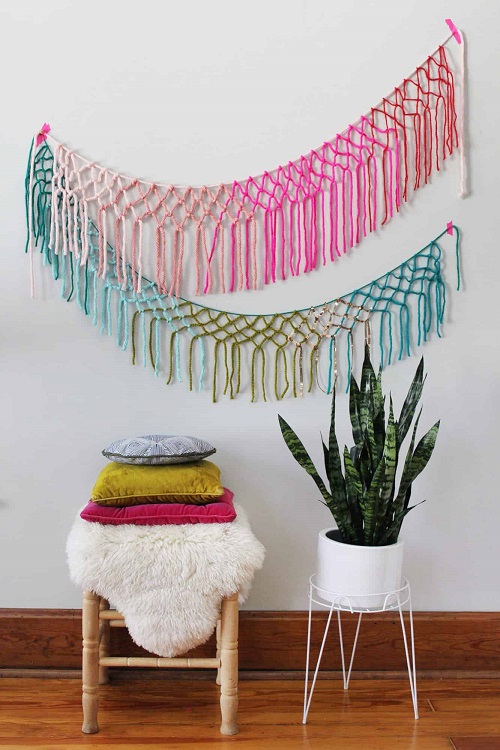 This macrame yarn garland is perfect as table backdrops for parties or weddings to add color and interest.
25. DIY Boho Macrame Mirror Wall Hanging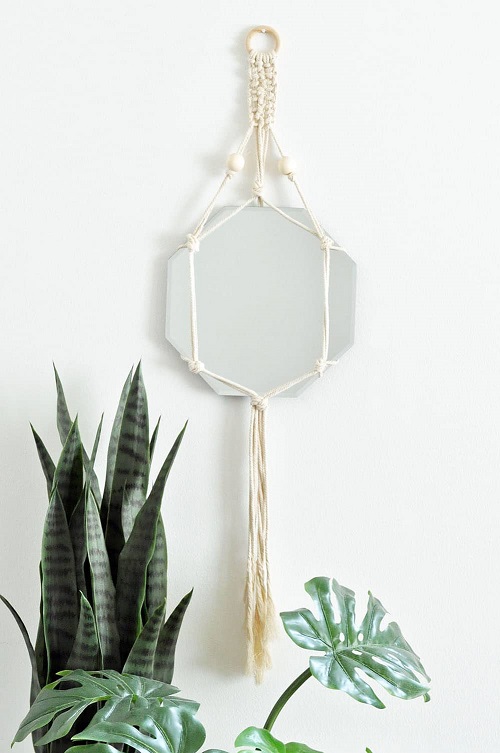 Challenge your inner DIYer to make this beginner-friendly and stylish boho macrame mirror holder.
26. Rosie Macrame Feather Pattern
This step-by-step tutorial shows how the fringe and feathers are all put together to create a beautiful work of art.
27. Heart Macrame Bunting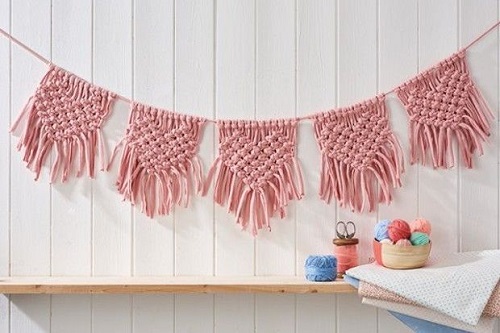 Take your macrame game to a new level by DIYing this heart macrame bunting. It's one of the best free macrame wall hanging patterns.
28. DIY Macrame Bat Wall Decor
Put your creative hat on and make this cute but not-so-spooky macrame bat wall decor.
29. Natural Wreath Macrame Pattern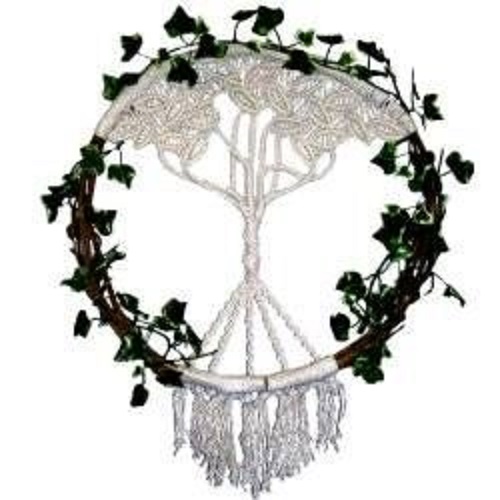 This macrame wreath features a tree with unique leaf-shaped designs made from double half hitches. Hop to this article to know more.
30. Ombre Macrame Wall Hanging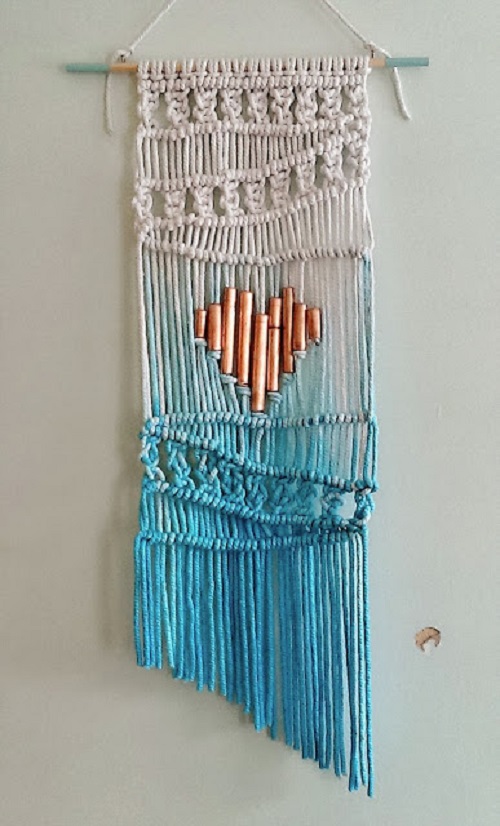 Prettified with a copper pipe heart, this ombre macrame decor brings a touch of hipness to your living space.
31. Soft Macramé Tapestry Woven Wall Decor
DIY this woven macrame tapestry wall hanging to get a captivating boho-chic look. It also makes for great gifts as well.
32. DIY Macrame Skeleton
Learn how to make a spooky hanging macrame skeleton in this step-by-step video tutorial.
33. Tree Branch Macrame Wall Hanging Pattern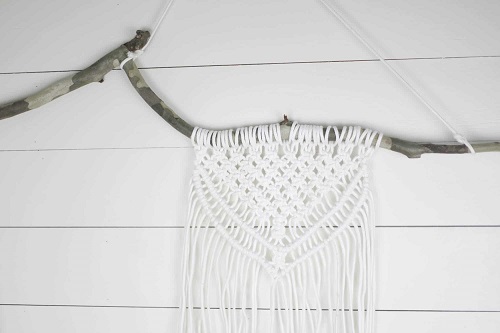 Make this macrame wall decor to get a mishmash of boho, vintage, and earthy vibes.
34. Knot Spiral Stitches Macrame Wall Hanging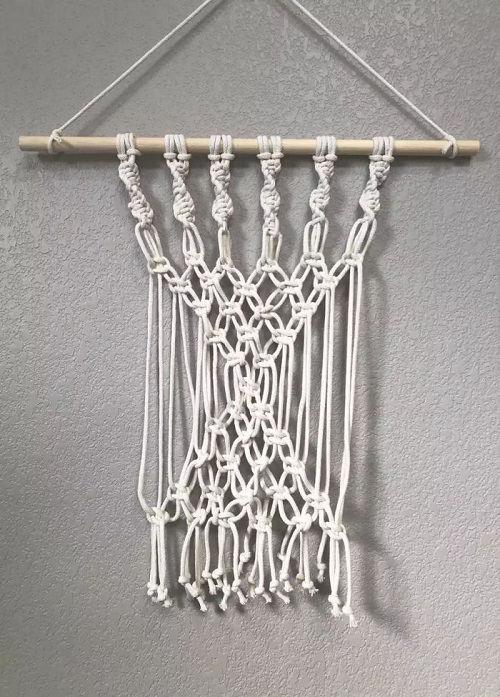 This free tutorial will help you create a trendy wall decor with lots of interesting patterns, such as spirals and triangles.
35. Dip Dyed Wall Hanging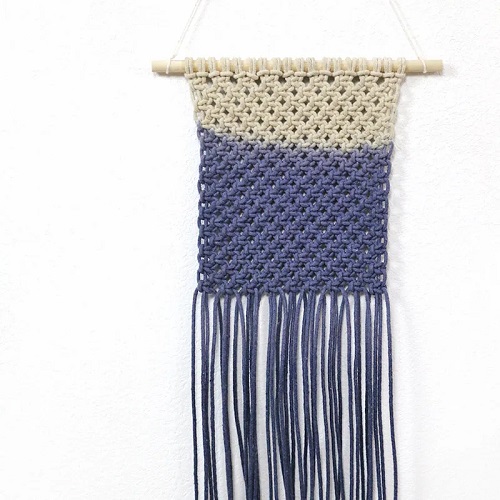 This pretty decor uses some simple knots and a fun dip-dye technique. It's one of the coolest DIY macrame wall hangings.
36. DIY Macramé Wall Hanging with Shelf
Equipped with a shelf, this Instagram-worthy macrame hanging is a great decorative for living spaces and office areas.
37. Cute Macrame Flower Wall Decor
With a bit of macrame knotting skills, creativity, and patience, you can easily craft this stunning flower wall hanger. It's one of the most creative free macrame wall hanging patterns.
38. DIY Macramé Diamond Mesh Pattern
Made with square knots and outlined with double half hitch knots, this diamond-patterned decor can be used as plant hangers or whatever you wish.
39. Mop Refills Macrame Wall Hanging Idea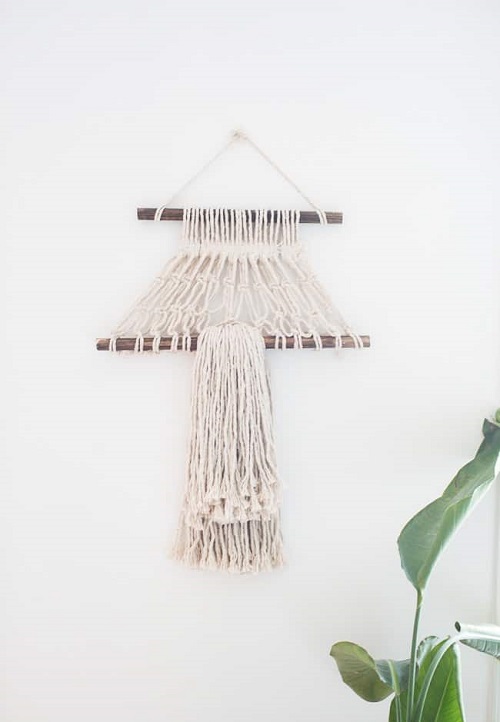 This macrame wall hanging is super easy to DIY and looks fantastic on the wall. Grab mop refills, dowels, and dark walnut stains for this project.
40. DIY Macrame Wall Hanging With Feathers And Trinkets
To add a dash of dreaminess to your home decor, craft this beautiful piece of art featuring feathers and trinkets. Read more here.
41. DIY Mini Wall Hanging with Fringe
Recreate this attractive mini fringe decor to jazz up your living place in an hour or two.
42. Macrame Flamingo Wall Hanging Idea
Once you get the hang on the larks head, vertical double half hitch, and double overhand knot, you can quickly DIY this fantastic flamingo wall display.
43. Free Macrame Angel Pattern
Run your imagination wild and make this fascinating angel with the macrame knotting technique.
44. Super Easy 30 Minutes Macrame Rainbow
You only need half an hour and some supplies to craft this easy rainbow macrame wall decor using square knots.
45. Patriotic Macrame Wall Hanging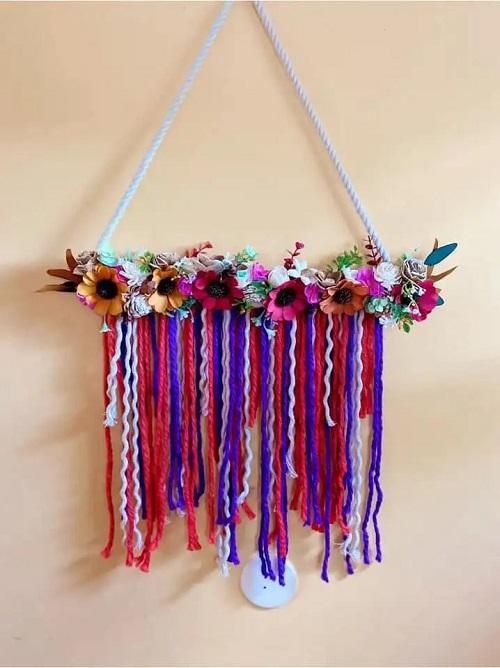 Here's the craft tutorial to make an elegant patriotic wall decor for the 4th of July or memorial day. You can swap out red, white, and blue for other colors to suit the season or your home decor.
46. DIY Macrame Cat Wall Decor
Make this macrame cat portrait to honor the memory of your deceased kitty. Not to mention, it's a budget-friendly project.
47. DIY Macrame Photo Hanger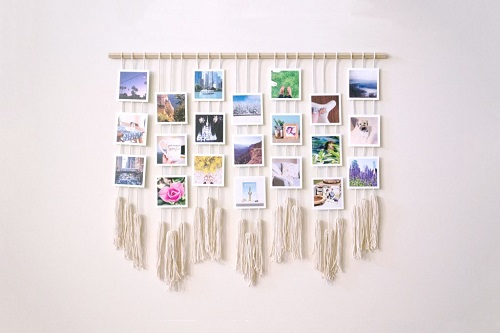 Another one of the best free macrame wall hanging patterns that give your bedroom space a personalized makeover. The details are here.
48. Crescent Moon Wall Hanging Dream Catcher
Craft this crescent moon dream catcher to bring positive vibes to your living area. Watch this video for the instructions.
49. Boho Macrame Wall Hanging with Crystal
Prettify your living room with this boho macrame decor featuring a crystal and wooden dowel. It's one of the most fantastic DIY macrame wall hangings.
50. Macrame Bunny DIY
Do you want to update your home decor on a budget? This interesting macrame bunny creation will do just that!
51. Butterfly Macramé Wall Hanging Pattern
Who doesn't love a macrame wall hanging butterfly! Learn how to DIY one with this detailed video tutorial.
52. FREE PEOPLE-inspired DIY Macrame Wall Hanging
Get crafty and create this statement-making wall decor with macrame. It's beginner-friendly and affordable too.
53. Rainbow Macrame Wall Hanging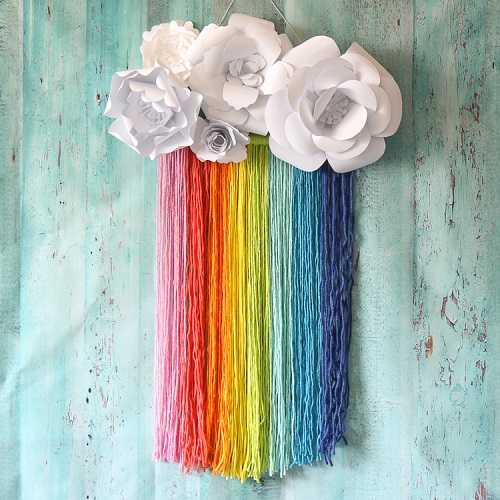 Rainbow-colored yarn and giant paper flowers are all you need to make this cheerful macrame wall hanging.
54. Brass Ring Macrame Dream Catcher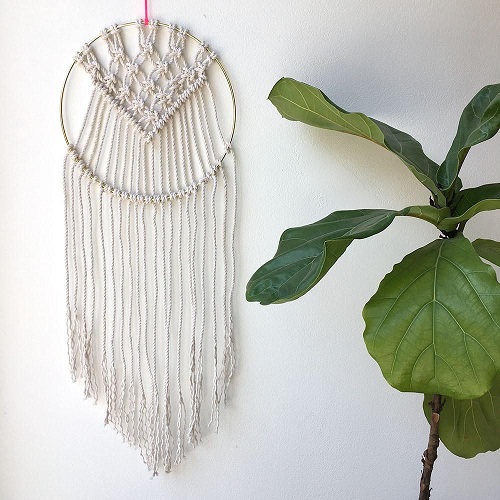 This macrame dreamcatcher made with brass rings adds a bit of bling to your decor with a dash of geometrics.
55. DIY Macrame Cactus Wall Hanging
How fun is this beginner-friendly macrame wall hanging! It even has prickles! Not to mention, it's one of the unique free macrame wall hanging patterns.