Hello friends! Today's post is a little different, so be warned! I'm venturing outdoors instead of staying inside. This feels very strange to me, so I hope you forgive the awkwardness that is this post….I just had to share this Front Entry Decorating for Fall Under $50!
We all have budgets, mine is always on the lower end. I decided to share with you my front entry decor that I was able to acquire under $50! To me, that's amazing…it seriously adds up. But here's the thing, if you keep your eyes open and do a few little DIY's you can really have a lovely outcome. Since this is our first year in our new home, I wanted to focus on making it feel inviting, both inside and out!
1. Keep your eyes peeled on sales: I know, this is obvious. But shop around!! If you see something you love one place, check out the other stores in your area (even the dollar store) for something similar in design. I was able to find a tall ceramic planter for $10 (regular $25). It's a great statement piece and I can use it for almost anything!

2. Pick a color theme: This year I wanted modern and simple, so I stuck with white and pops of copper! Spray paint can be your best friend as can thrift stores!!

3. Flowers go a long way: You know that mums are a poplular fall flower and they are cheap! For just $10, I was able to buy two bunches of them! PS. They last a long time!!

4. Have fun putting your design together: It's not rocket science and it's hard to go wrong! Think balance and unity. I simply started at the back and worked my way forward. Just like a choir, tall kids in the back and the short ones at the front (bad analogy?). Give each piece some breathing room so you can really see what you're looking at and it will come together in no time! Try to mix modern pieces with thrifted and vintage ones like these copper dishes!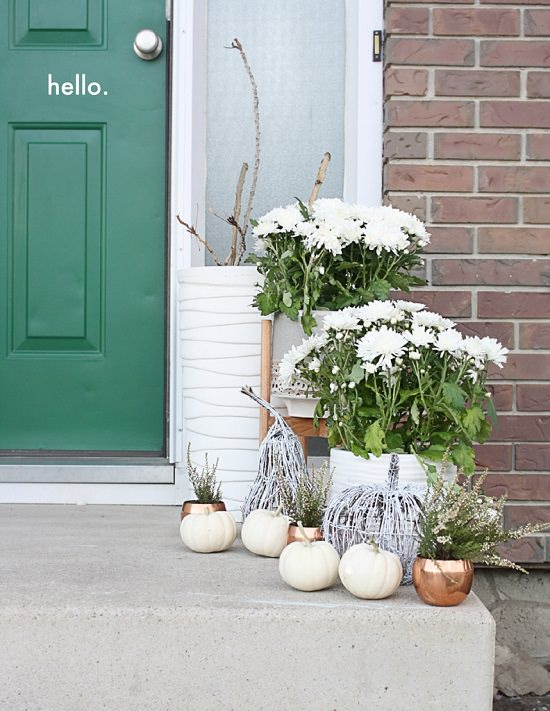 I didn't have to spend hundreds of dollars to get the look I wanted. I had so much fun putting this together and I know you will too!