Coffee filters are not only limited to your morning cup. Surprisingly there are some genius ways to use coffee filters that can simplify your daily life!
Genius Ways to Use Coffee Filter
1. Odor Fighting Sachet
Make your own odor-fighting sachet at home with a coffee filter to absorb any odor in and around your home. Pour 2-3 teaspoons of baking soda and your favorite aromatic dried herbs into a coffee filter. Secure it with a rubber band to form a pouch, and place it into the smelly space for a couple of hours.
2. Make Dryer Sheets
For a homemade dryer sheet, pour 1/2 cup of vinegar, 10-15 drops of lavender essential oil into a spray bottle. Now, spray the solution and dampen the coffee filters. Your homemade dryer sheets are ready to toss in the dryer.
3. Paper Towel Alternative
Ran out of paper towels? No worries, use coffee filters instead to clean kitchen spills and electronics screens. Coffee filters work better because, unlike paper towels, they don't leave any lint behind, and not to mention, they are inexpensive!
4. Spread Oil or Butter
Paper towels and napkins are not great tools to grease your frying pan as they fall apart easily. Consider using the reusable coffee filter. A coffee filter gives you a stronger grip and doesn't fall apart easily.
5. Use Coffee Filter As Tea Bag
Making your own tea bags sounds interesting and a nice project to do with your kids. Just take a coffee filter, 1-2 tsp of loose tea or dried herbs, and follow this easy-to-do DIY to make one for yourself.
6. Glass Cleaner
If you want a sparkling, streak-free shine on your window and door glass, coffee filters are your best bet. They are widely available, cheap, and tear-resistant. Spritz homemade or commercial glass cleaner on the problematic spot and wipe it off using a large-sized coffee filter.
7. Face Blotting Sheets
Stop cutting your budget for those expensive blotting sheets and try the readily available coffee filters to remove your face oil. You can become a little crafty by cutting the coffee filters into fourths to carry around in a tin or purse on the go.
8. Waxing Strips
Use a few rectangular strips of coffee filters to do your waxing business with ease and without wasting money on expensive waxing strips.
9. Nail Polish Remover
Need to remove nail polish but don't have cotton balls? Just take a coffee filter, dip it into a nail varnish remover, and remove your nail paint. It works the same as cotton balls.
10. Clean Your Specs
Along with the exceptional glass cleaning ability, the coffee filter is also an excellent specs cleaner. Next time, when you're wiping your specs, try a coffee filter instead of tissue or cloth. It ensures a lint-free specs surface.
11. Shoe Freshener
If you want to wear your smelly shoes one more time before cleaning, then a coffee filter can help you out. Pour 1-2 tsp of baking soda into a coffee filter and secure it properly using a rubber band. Leave the pouch into the stinky shoes for 2-3 hours. Baking soda will remove the foul odor of your shoes in no time.
12. Shine Your Shoes
A coffee filter can be a way to save money on your shoe brushes as it gives a sparkling shine to your shoes and boots. Absorbent and durable, coffee filters are an amazing tool to spread shoe polish on the boots.
13. Protect Stacked Plates
Delicate china crockery plates often get chipped even after handling them carefully. Protect them from nicks and scratches by placing a few coffee filters in between each dish or crockery.
14. Filters Wine
If a cork disintegrates and falls back into the wine bottle due to a botch, then a coffee filter is the last resort. Take a container and decant the wine via a coffee filter.
15. Craft Making
Making intriguing crafts out of the coffee filters is one of the genius ways to use them. Most importantly, your kids are going to adore these projects.
16. As a Non-medical Face Mask
In tough times like these, face masks have become essential in everyone's life. Surprisingly, this genius way to use a coffee filter can save you some bucks and give you a practical mask in no time. Details are here.
17. Prevent Microwave Messes
Safe microwave mess situations by covering your bowls, baking trays with coffee filters. This will prevent the food from splattering everywhere in the microwave.
18. Coffee Filters As Flower Pot Liners
Being a gardening enthusiast, you will be thrilled by knowing that coffee filters can make the plants' caring easy and less-messy. Lining a pot with a coffee filter prevents the flow of soil and water through the drainage hole. It benefits the plant by giving it more access to soil and less root-rot.
19. Cheesecloth Substitute
Don't have cheesecloth for cooking projects, use its better substitute – a coffee filter. This trick works like a charm for the making of cheese, tofu, and for thickening yogurt.
20. Line a Sieve
Straining stocks and cooking oil from a bare sieve is not a cinching task. Simply line a sieve/mesh strainer with a basket-style coffee filter to remove the solid remnants from stocks, cooking oil, and any other liquid. This genius way to use a coffee filter makes it a prominent kitchen staple.
21. Prevents Cast Iron Pans From Rusting
Cast iron pans are prone to rusting if a little bit of moisture or grease is left behind. Keep the rust at bay by using coffee filters. After cleaning them, line up the cast iron skillets with coffee filters to soak up the excess moisture, preventing rust from occurring.
22. An Instant Funnel
If you are in a dire need of a funnel but don't have one, DIY instantly with the versatile coffee filter. Take a cone style coffee filter, trim its end, and voila, your funnel is ready.
23. As a Snack Bowl
Not a big fan of cleaning dirty dishes, sub a coffee filter for eating popcorn or small snacks. The bowl-like shape of the flat-bottom coffee filter is perfect to put snacks on it. They also make for an excellent disposable and portable snack holder.
24. Corral Small Objects
Putting together IKEA furniture? Keeping their teeny tiny pieces of screws, nails, and bits from rolling across the floor is a quite cumbersome task. Handle these small objects by putting them in a coffee filter.
25. Dust TV And Cell Phone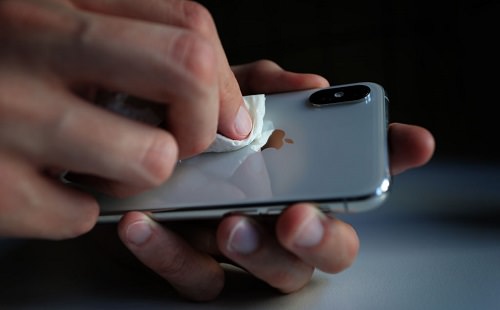 Just like coffee filters leave your windows and door glass gleaming with no lint behind, they do magic on your tv and cell phone screens too. Take a coffee filter and use it to wipe down dirt and dust.
26. Absorbs Excess Oil
French fries and bacon are deep-fried food items and therefore, contain an unhealthy amount of oil. But you can easily absorb the excess oil using a coffee filter. Line a dish with coffee filters and put your snacks over it to absorb the excess oil from them.
27. Dry Glassware
Water spots are a real annoyance, especially on the glassware. Restore the original shine of your glassware and eliminate the hard water stains with the multipurpose coffee filter. Wash the glassware and wipe it with a coffee filter and it should do the job.
28. For Gleaming Appliances & Faucets
Make your stainless steel kitchen appliances and faucets sparkling by scrubbing them with coffee filters. Scrub the faucet with detergent and scrub with the coffee filter afterward.
29. Goodie Bags
Transform the monotonous coffee filters into colorful, goodie bags and express your love by gifting them to your kids this festive season. Read more here.
30. Make an ExpoDisc
Expodisc is an amazing tool to adjust the white balance of your camera shots, but it's pricey. Worry not, make one for yourself with a coffee filter. Just follow this easy-to-do tutorial.
31. Makeup Remover
Don't waste your hard-earned money on makeup removing wipes. Instead, use cheap, readily available, and environment-friendly coffee filters. Dip them into a little bit of coconut oil and wipe your face. Not just this, coconut oil will provide additional benefits to your skin too!
32. Spice Up Soups
If your soup recipes call for spices that need to be removed before serving, then give a shot to coffee filters instead of fishing around the pot. Put the ingredients in a coffee filter, fold and tie it with a long thread, and put it into the soup. Simply pull the thread when you want to remove it.
33. Sprout Seeds
Coffee filters are the faster and easier way to germinate seeds without any seed trays, pots, or even soil. All you need is a few paper coffee filters, zip loc bags, and this DIY to take the first step towards planting.
34. Infuse Sun Tea
Brewing a sun tea is a chore, as you've to fish out to remove the ingredients' solid remains. Make this process hassle-free with a coffee filter. Put mint, berries, or lemons into the filter, tie it up like a teabag, and drop it down into the tea. Pull it out when you want to drink the beverage.
35. Prevent a Soggy Sandwich
A sandwich can become soggy due to the tomato fillings and other warm ingredients. Counter this issue by wrapping your sandwich in a coffee filter before putting it into a zipper bag or food wrap.
36. Rub Cooking Oil onto Pastries
Many pastry recipes call for brushing cooking oil on top of them before putting in the oven. In the absence of a kitchen brush, opt for a coffee filter to get the same result. Dip the filter into the oil, gently rub it on the pastries, and that's all.
37. Remove Corn Silks
Who doesn't love to eat corn? But one thing that everyone hates is their stubborn silks that don't come off easily from the cob. After boiling the corn, wipe it down with a coffee filter, and the silks will come right off.
38. Whiteboard And Blackboard Eraser
Coffee filters are a great tool to erase dry marker ink from the whiteboard. If you have a blackboard, damp the coffee filter to erase the chalk.
39. Line Cookie Jars
Line coffee filters at the bottom of your cookie jar before storing the cookies inside. It makes the jar cleanup less stressful and keeps it from filling up crumbs.
40. Filter Seeds From Juice
Don't let the seeds spoil your chilled juice, knock them out with a coffee filter. Put a filter over a glass or container and pour fresh juice slowly, so you don't have to spit out the seeds.
41. Wrap Christmas Ornaments
Keep your Christmas and other fragile ornaments in safe and stunning condition by wrapping them in coffee filters before storing them away.
42. Packing Material
Want to ship your fragile ornaments without any damage, then coffee filters are your best friend. It'll absorb the impact and keep your items safe. Shred many coffee filters, disperse them in a packing box, and store the fragile items accordingly.
43. Diffuse Camera Flash
Shooting with an undiffused flash makes deep shadows on the face, as a result, the picture becomes unpleasant. Soften the light of your camera flash by covering it with a coffee filter. Its porous surface lets the light pass through but with less intensity.
44. Makes Potty Cleaning Easy
Being a parent of a toddler, you have a lot of time-consuming chores that just cleaning the poop.  Save up your time and simplify potty cleaning with this helpful coffee filter trick. Set one or two coffee filters in the potty pot, so all you've to do is throw the filter into the diaper pail, easy peasy.
45. Weigh Food
As a fitness enthusiast, if you often weigh your food on a kitchen scale, dirty dishes are most likely. Try coffee filters to avoid washing chore and keep your scale clean.
46. Keep the Flies Away
While drinking your favorite beverage outside, be extra vigilant about the flies, as they roam around often. Keep your drink safe with the versatile coffee filters. Put a filter over the drink, which will prevent flies from drowning in your drink or tea.
47. Back Your Embroidery
No need to buy expensive stabilizers to back your embroidery, consider using coffee filters. They work exactly like the store-bought backings. Read more here.
48. Dog Poop Bags
If you've run out of poop bags, the best readily available rescue is a few coffee filters. These can be your cheapest and handy go-to pooper-scoopers.
49. Cupcake or Muffin Liners
Being a muffin and cupcake lover, if you are looking for a cheap alternative to liners, give a chance to coffee filters. This is one of the genius ways to use coffee filters in the kitchen.
50. Hold a Spoon
Placing a spoon or spatula down amidst stirring a dish will create a mess and dirty up your platform. Tackle this situation by putting the spoon or spatula over the coffee filter. This method also prevents the waste of giant paper towels.