To ditch super expensive and time-consuming spa treatments, stay tuned with this article to learn how to get a spa-like feel at home!
No one wants to leave their house, especially in the current situation where social distancing is necessary. But if you don't want to miss the relaxing and uplifting spa sessions either, then read this article to know how to get a spa-like feel at home.
Get Spa Like Feel at Home
Whether the reason for not going to a spa is your tight budget or the ongoing pandemic, we have listed some ways that'll help you create a spa-like ambiance at your home.
1. Light Up Candles

Aromatic candles play a major role in spa therapies because of their powerful soothing aroma and their ability to create a peaceful ambiance. Even the simplest arrangement will do the trick. To get a spa-like feel at home, burn some aromatherapy candles in your bedroom and/or bathroom.
2. Buy an Infrared Sauna Blanket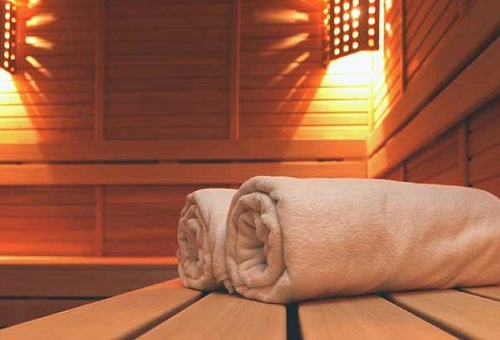 If installing a sauna at your home is not possible, don't spoil your mood because all you need is an infrared sauna blanket to mimic the actual sauna treatment. It uses infrared rays that make you sweat, thereby helps your body to release harmful toxins.
3. Wear Comfortable Clothes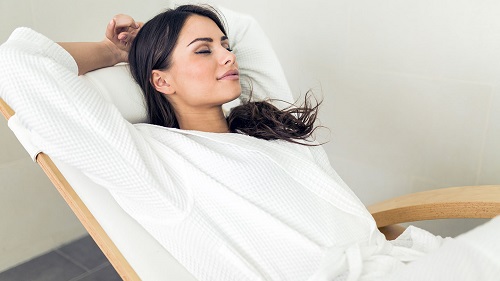 Along with other stuff, wearing comfortable clothes also plays a major role in creating a spa-like feel at home. It doesn't matter whether you carry loungewear or linen clothes, opt for fabrics that feel good on your skin and sets the mood. Plus, add white, fluffy towels to your bathroom arsenal, which are spa essentials.
4. A Bathtub Caddy

Designed to rest over the tub, a bath caddy is a much-needed addition to get a spa-like feel at home. It adds some serious spa vibes to the otherwise monotonous bathing space and keeps beverages, snacks, beauty products, tech devices, and a book in one place for a relaxing hot bubble bath.
5. Use Rose Water

Rosewater is a scented solution formulated with water and fresh rose corolla. It's used by spa experts as an aromatherapy agent to lift the mood and revitalize the skin. To mimic this much-needed experience spray rose water in your home or pour its few drops into the bathtub. The best part, you can make this flavored liquid quite easily.
6. Make Your Own Sound Bath

Despite its name, a sound bath is a form of meditation, in which a person lays down on a mat cross-legged, eyes closed, then a musician plays Tibetan singing bowl, chimes, harp, or shakers. According to this study, sound bathing lessens stress, fatigue, and depression. To take a sound bath at home, do a quick search on the internet, and you'll get a number of videos that'll help you out.
7. Indulge in Forest Bath

Along with the sound bath, forest bathing is also a popular spa treatment nowadays. Best for both physical and mental wellbeing, a forest bath means spending time in a forest environment. For in-home forest bathing, you don't have to walk in the woods, rather bring nature indoors and follow these helpful tips.
8. Bring in Natural Cleaning Products

Essential oils are a vital part of spa therapies, that's why to get a spa-like feel at home, diffuse your favorite essential oil regularly. But if volatile oils are costly for you, then use cleaning products infused with essential oils such as lemon & mint all-purpose cleaner, lavender laundry detergent, tea tree mint liquid hand soap, and many more. These products not only make your house smell good but also creates a neat and tidy space.
9. A Relaxing Spa-Worthy Bath

To get complete body relaxation after a long hectic day, everyone desires to get a relaxing bath at a spa. But if you want the spa-worthy bathing experience from the comfort of your home, follow these instructions carefully.
10. Set the Mood with Lighting and Music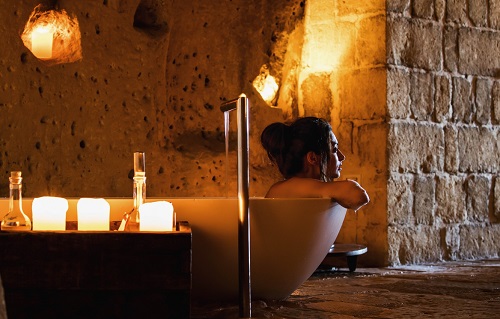 Instead of using bright and harsh lighting in your space, use dimmable lights to make your place cozy and inviting, like the spa. However, don't make the lights too faint to avoid a sleepy environment. Along with perfect lighting, adding soothing instrumental music or similar ones are also important to achieve a spa-like atmosphere.
11. Pamper Yourself

Last but not least, pampering, which is why everyone goes to the spa, right! If you want spa-like pampering at home, give special care and attention to yourself. For this, clean your face regularly with a gentle herbal cleanser and exfoliate the dead skin from your hands and legs with a scrub, followed by a quick moisturizing session.
DIY Shower Aromatherapy for Stress & Anxiety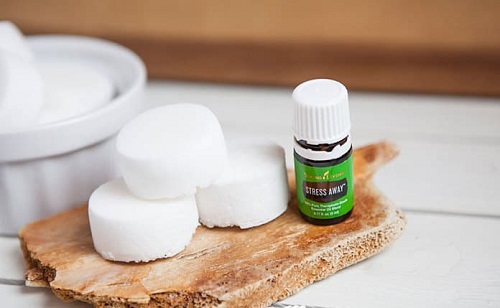 Aromatherapy can do wonders when you're stressed and anxious. But not everyone has the luxury to take costly spa-like aromatherapy sessions, no worries, we have got your back. As aromatherapy calls for a warm, soothing, and relaxing environment, you can easily create such a serene place by upgrading your shower with these DIY aromatherapy shower steamers to say goodbye to stress and anxiety.
Supplies
Two Cups of Baking Soda
1/4 Cup of Water
Essential Oils (Lavender and Frankincense)
Muffin Tin
Cupcake Liners
A Mixing Bowl
Small Spatula
Spoon
Directions
Combine baking soda and water into a bowl with a small spatula until all the ingredients are completely mixed without being soupy or runny.
Next, prep a muffin tin with cupcake liners and pour the prepared paste into the liners using a spoon evenly.
Once you're done, place the muffin tin into a microwave and bake at 350° F for 12-15 minutes.
After that, take out the discs from the tin and place them on a plate for a few minutes.
Next, remove the discs from the cupcake liners and pour 3-5 drops of lavender and frankincense essential oils into each disc.
Your shower steamers are ready! Store them in an airtight mason jar when not in use.
These DIY aromatherapy shower steamers last up to 3-4 weeks.
Notes
Guide your kids and pets to stay far away from the steamer tablets.
Pregnant and lactating women must avoid shower aromatherapy baths.
If you're allergic to certain essential oils, don't go with the above DIY shower aromatherapy recipe.
How to Use Shower Steamers?
Place a disc in the corner of your shower or bathtub to prevent contact with water as it will dissolve the aromatherapy shower steamer quickly. When you're ready to take a shower, sprinkle water on the tablet to release the scent of essential oil in the air to reduce stress and anxiety.
Conclusion
After reading this article, you'll easily make your home feel like a spa, thus avoid the risk of pandemic and save a few bucks on costly aromatherapy sessions and spa treatments as well. If you consider this article helpful, share it with your family and friends.