Don't know how to get rid of the malodor from your lovely carpet? Read this article to learn some Home Remedies to Get Smell Out of Carpet!

Before buying new carpeting or hiring a service professional, check these cheap yet effective Home Remedies to Get the Smell Out of the Carpet.
---
Why Does Your Carpet Smell Bad?
People owning carpets know how quickly and easily they get stained and smelly. Carpets smell funky due to various reasons, such as carpet age, mold, mildew, pet accidents, high humidity, cigarette smoke, liquid, and food spills. However, sometimes, it's hard to find out the exact cause.
---
Home Remedies to Get Smell Out of Carpet
1. Aromatic Essential Oils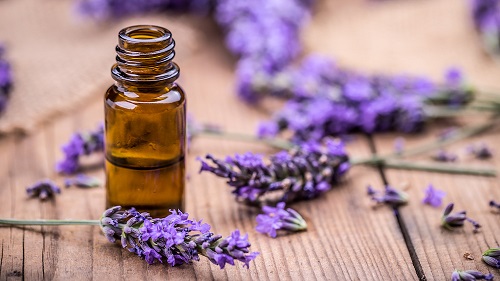 To remove your carpet's stench in an instant, pour 10-12 drops of lavender essential oil or other aromatic oil with 1/2 cup of water in a spray bottle. Spritz it on and around the carpet to make your carpet and house odor-free. However, this remedy only masks the smell, and once the solution starts dissipating, the funky odor re-emerges.
2. Kitty Litter

Specially designed to neutralize the offensive smell of cat urine, kitty litter contains odor-eliminating ingredients that provide a fresh-smelling carpet with ease. Its high absorbency draws out excess moisture from the carpet, the real culprit behind the annoying smell. For this, sprinkle clean kitty litter evenly all over the odorous carpet and wait overnight. Vacuum it up the next day.
3. Try Borax

According to this source, borax is a natural carpet deodorizer that curtails obnoxious odors pretty quickly. Make sure to clean the spot before beginning the carpet deodorizing process. For this hack, all you need is borax, vinegar, water, salt, gloves, and this instructive article.
4. Baking Soda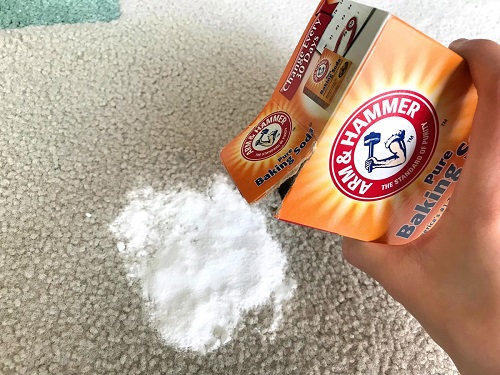 Baking soda is a proven, go-to deodorizer that neutralizes all kinds of malodors by absorbing them. Dust a generous amount of baking soda evenly on the problematic carpet and spread it using your fingers or a broom. Leave it for 4-5 hours, allowing the powder to do its work, and then run vacuum properly.
5. Used Coffee Grounds

Don't throw used coffee grounds, instead, use them to keep your carpet smelling fresh. Before using this hack, dry the used coffee grounds under the sun. Next, sprinkle a generous amount of used grounds over the carpet and leave it overnight. The next day, vacuum thoroughly. Never use coffee grounds on light-hued carpets, as they might leave stains.
6. Activated Charcoal

Activated charcoal takes out the carpet's annoying smell because of its highly porous structure. Grab loose granules of activated charcoal and prepare a few sachets using cheesecloth. After that, place them on the stinking carpet. Instead of making sachets, you can also scatter these loose granules all over the carpet and vacuum them afterward. However, be mindful that charcoal might leave a stain on the carpet.
7. White Vinegar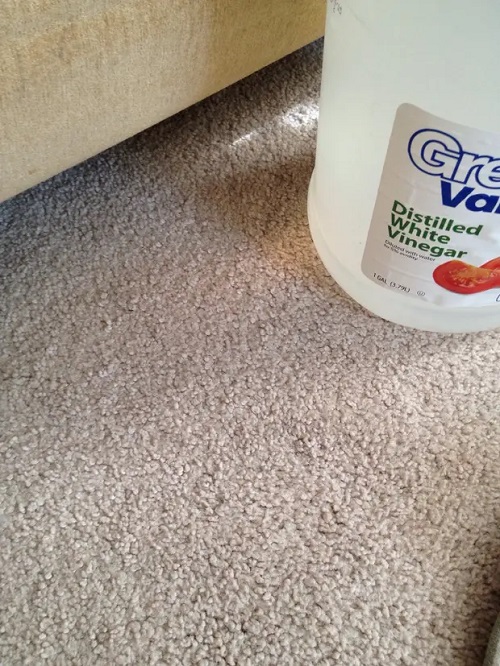 Neutralize the unpleasant odor with white vinegar. Make a concoction of equal amounts of water and white vinegar in a spray bottle. Spritz the mix on the smelly carpet area and wait for 2-3 minutes. Next, blot it using an absorbent cloth and let it air dry. Redo the remedy if needed.
---
Notes
Keep the pack of borax far away from the reach of children and pets as its ingestion is harmful to health.
Make sure your kids and pets don't go near the treated carpet section.
Always wear the best quality rubber or latex gloves, a mask, full-sleeved clothing, and goggles.
Before using the above method, check for color-fastness by saturating a small hidden section of carpet with the mentioned products.
---
How to Prevent Smelly Carpet?
Rather than wasting your time deodorizing the carpet every few weeks, try these tips to prevent the smell from settling in the first place.
Maintain a good ventilation system in the house. Install exhaust fans if necessary.
Vacuum and clean your carpet as well as the whole house to keep stinky odors at bay.
Spot-treat the carpet as soon you notice a spill or a pet accident.
Try carpet protectants to protect your carpets from spillages because no spills mean no odor.
Take the service of a professional once a year for a thorough carpet cleaning.
After reading this article, odorous carpet is not a dilemma anymore. Besides, if you don't know how to stop your feline friend from pooping on the carpet, this article is for you.
Learn some home remedies to stop cats from pooping on the carpet here