Try out these DIY Dog Feeding Station Ideas to help your fido enjoy his meals in more fun and comfort than ever before!
Are you looking for a featureful and aesthetically pleasing eating platform for your fido? Make one that suits your canine needs using these amazing DIY Dog Feeding Station Ideas. These projects are easy to make.
Here are some indoor dog house ideas
---
Dog Feeding Station Ideas
1. DIY Dog Bowl Chairs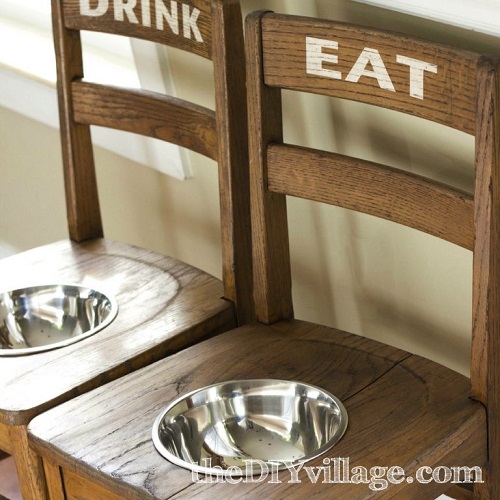 Instead of throwing old chairs, transform them into a fido feeding platform with this step-by-step article.
2. Vintage Coca-Cola Crate Turned Fido Food Station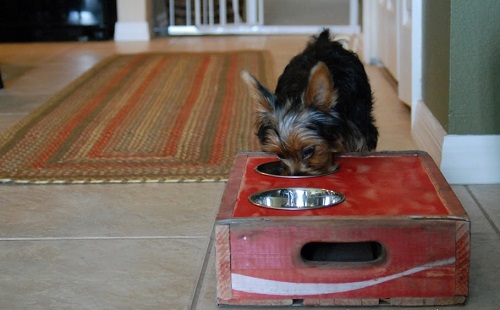 With plywood, a table saw, a drill, and other supplies, you can turn a vintage coca-cola crate into a dog food station in under 30 minutes.
3. $30 DIY Dog Food Station with Storage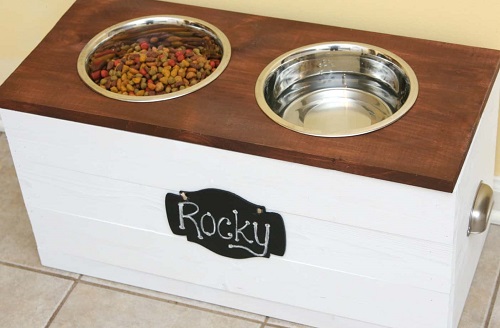 Go through this tutorial to build a wooden canine eating station with storage. This idea is easy and affordable too.
4. Pet Food Station DIY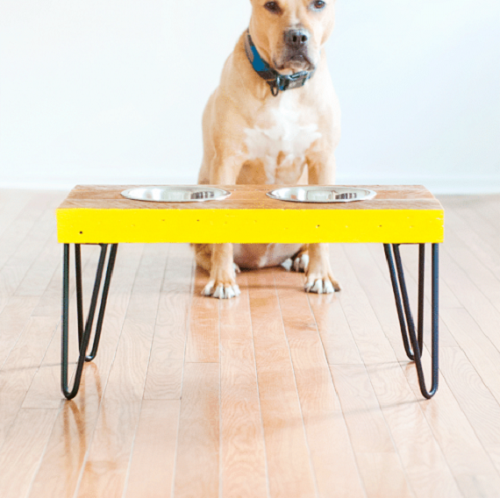 This DIY uses stud, hairpin legs, bowls, screws, and some tools to put together a pet feeder. The details are here.
5. Upcycled Ombre DIY Dog Feeder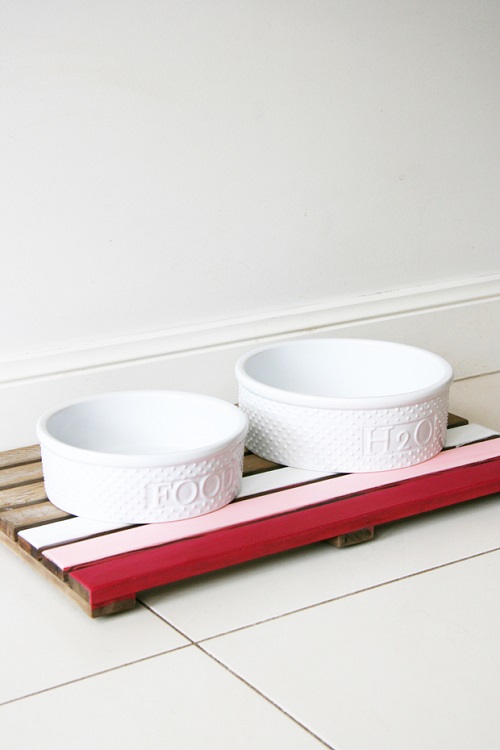 Gather an old duckboard, sandpaper, white paint, paintbrush, and paint (your favorite one) to assemble this ombre canine feeder.
6. Picnic Basket Turned Dog Food Station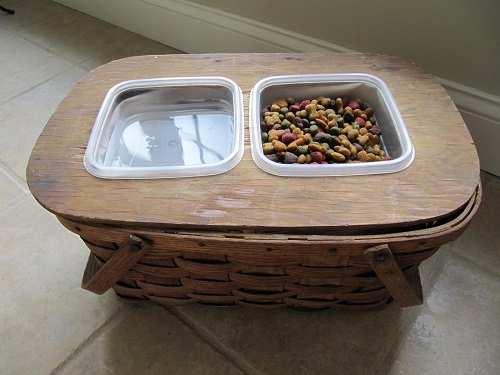 All you need are a picnic basket, plastic containers, a jig saw, and a drill to complete this project. It offers enough space to store pet food and other supplies.
7. Built-in Dog Bowls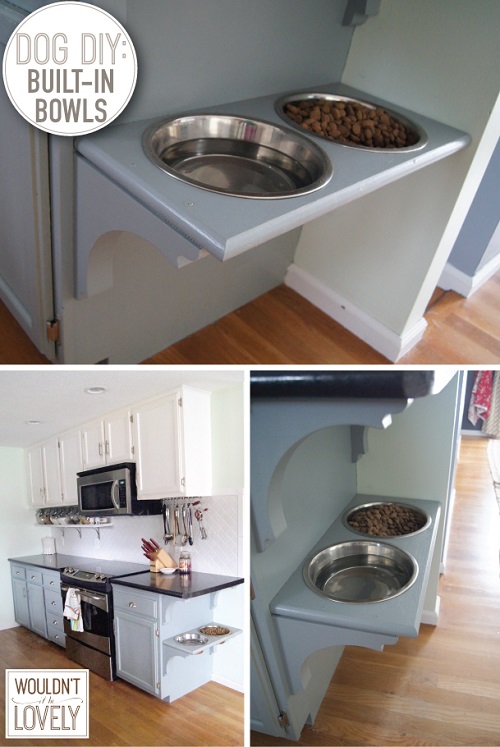 If you have a large breed canine, this hanging dog feeding shelf is for you. Get the instructions here.
8. DIY Elevated Dog Feeding Station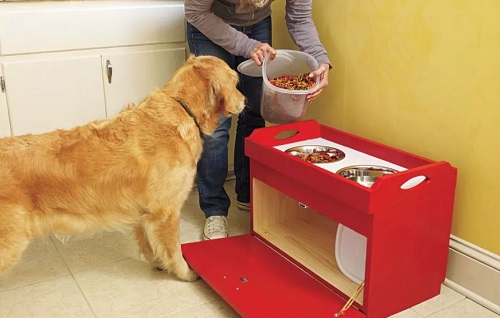 This elevated feeding platform will save your best friend's neck—and it's great for storage, too. Click here for the details.
9. Wood Pallet Hound Feeder DIY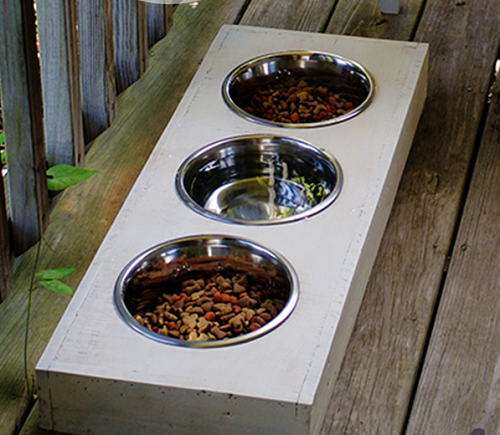 With necessary supplies and a little patience, anyone can easily build this reclaimed pallet wood dog feeder. The details are here.
10. Raised Dog Bowls from Vintage Suitcase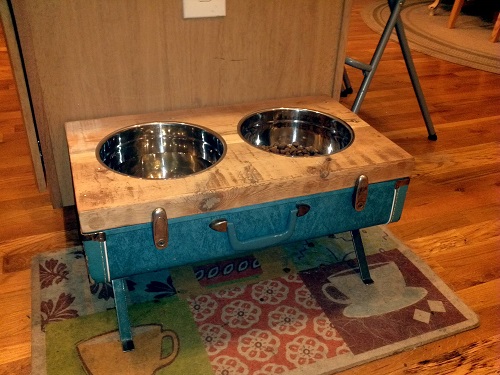 In this blog, the DIYer turned a vintage suitcase into a stylish feeding platform for the canine. It also makes an amazing conversation piece.
11. Upcycled Wine Crate Dog Bowl Station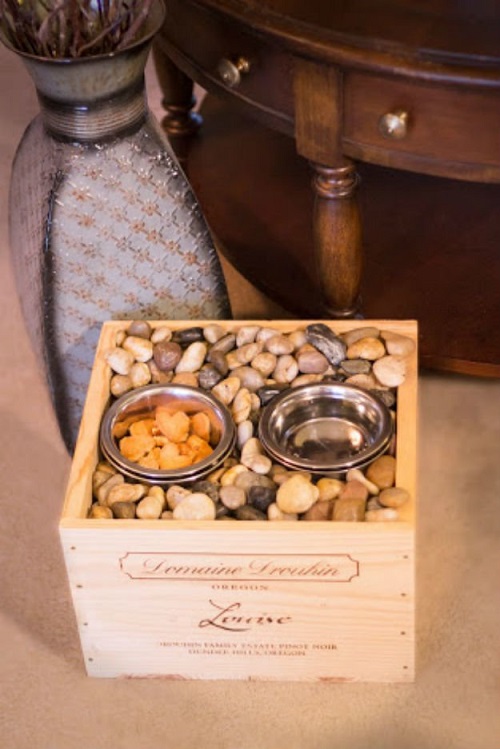 Create a timelessly elegant dog food station with this upcycled wine crate project. No power tools are needed for this idea.
12. DIY Corner Pet Food Station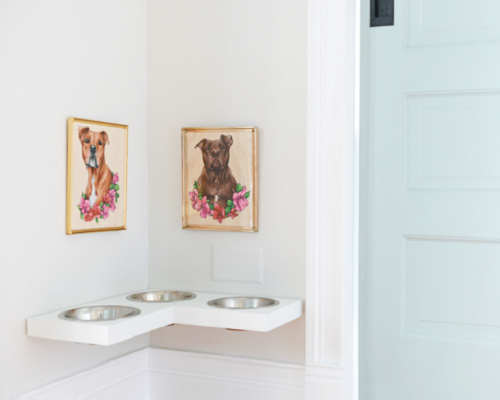 To copy this corner pet food station, you only need a small wedge of space, some materials, and tools.
13. Picket Fence Dog Bowl Station
This adoptiversary, gift your fido a special eating station made from old fence pickets. Click here for the detailed instructions.
14. Large Dog Food Station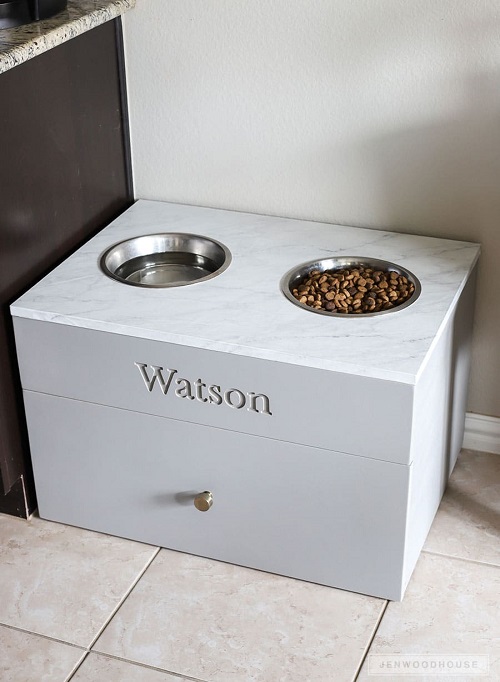 With a faux marble top, a personalized nameplate, and a drawer for food storage, this large canine feeding station has it all.
15. Industrial Dog Bowl Feeder Stand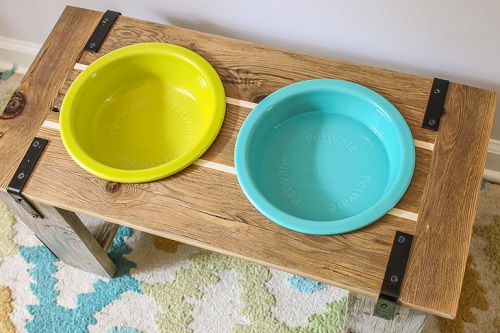 Filled with rustic industrial vibes, this doggy feeder stand is what you need to make this weekend. The details are here.
16. Plywood Dog Food Station DIY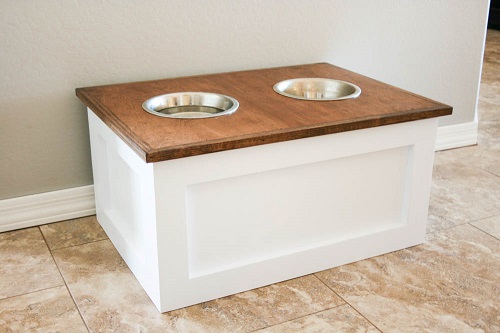 This elegant plywood fido feeder prevents messes, stores food, and is sure to complement any room of the house.
17. Kitchen Recycler Turned Dog Food Station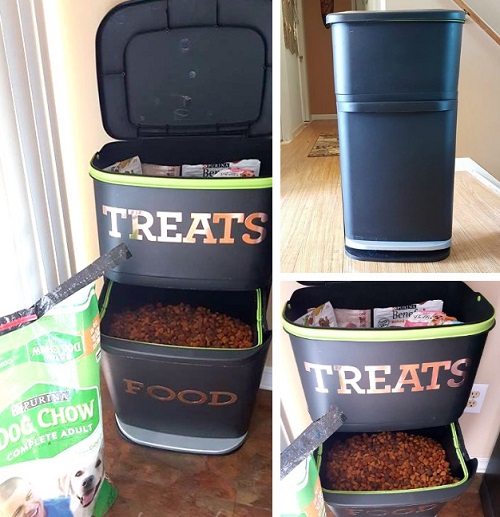 Learn how to modify a kitchen recycler into a canine eating station using this detailed article.
18. DIY Mid Century Dog Bowl Stand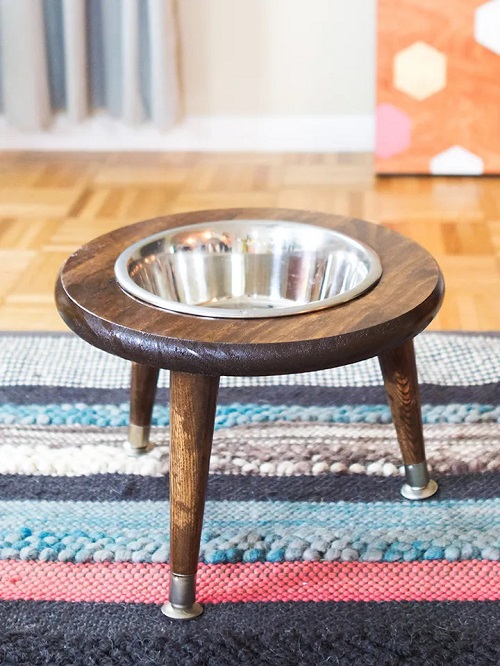 This attractive dog bowl stand with mid-century looks and delicious food is the perfect way to pamper your four-legged friend.
19. Pet Feeding Station from Old Dresser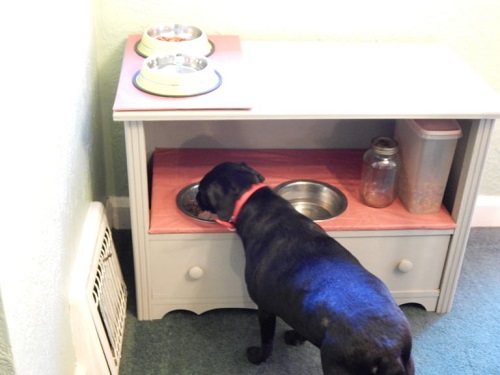 This tutorial teaches how to transform an old dresser into a pet feeding station with added storage.
20. Shabby Chic Dog Feeding Station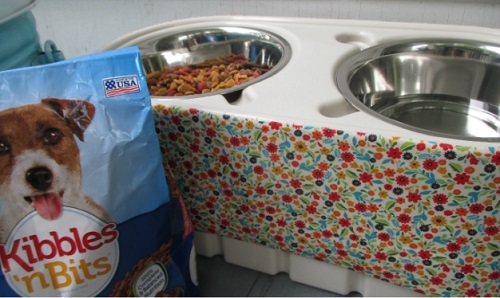 Do you want a cute feeding station for your pooch? Look no further and check out this tutorial.
21. Custom Dog Food Station Idea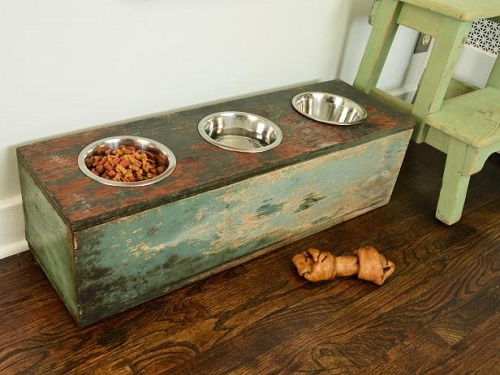 Old wooden crates, boxes, or stools can all be converted into a pet eating station that will also look great in your home.
22. DIY Hound Food And Water Feeder With Chalk Board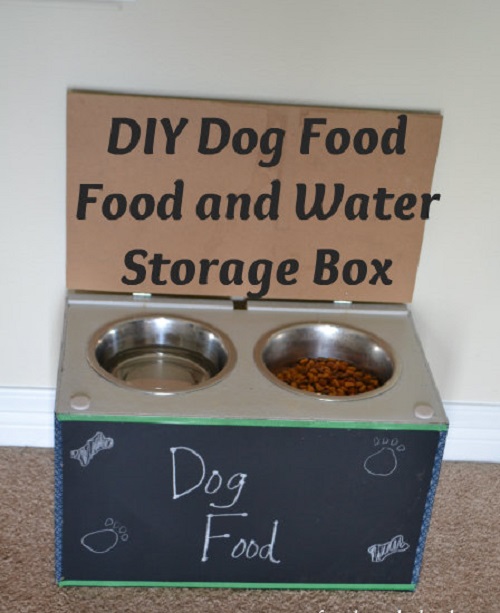 Show love towards your little furry friend by making this food and water feeder. Read the details here.
23. Rustic Elevated Canine Feeder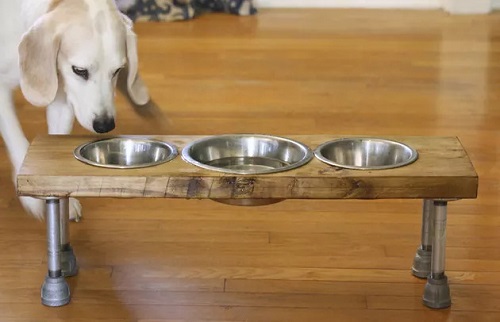 This elevated dog feeder will keep your pet's dish zone tidy, add a rustic industrial element to your home decor, and lets you create a functional solution for feeding multiple dogs.
24. Dog Feeding Station Plan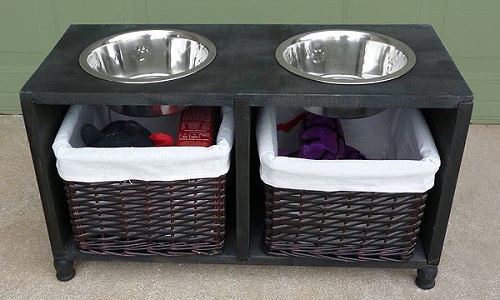 This project needs a cubby wood shelf, metal dog bowls with a lip, wooden candle holder cups, jigsaw, drill, screws, screwdriver, wood stain, and paintbrush.
Find out some stylish dog bow tie ideas here