Say goodbye to the chemical-filled hand sanitizers by reading this article on how to make natural and inexpensive homemade hand sanitizer gel!
To tackle the current pandemic, hand sanitizers with alcohol have become the need of the hour, and that's why their demand is skyrocketed. Due to this, both online and retail stores are facing shortages of hand sanitizers. But don't fret, you can DIY a homemade hand sanitizer gel using the below recipes that follow the CDC guideline of keeping the alcohol quantity to at least 60%.
Homemade Hand Sanitizer Gel
Now, when alcohol-based hand sanitizer is a vital tool to fight against the current crisis, people are more concerned about its ingredients' health effects. According to this reputed source, commercial hand sanitizers have 'Methanol,' a toxic ingredient harmful to human beings. That's why we have collected a couple of natural hand sanitizer recipes below that'll protect you from such harmful chemicals.
1# Aloe Vera Hand Sanitizer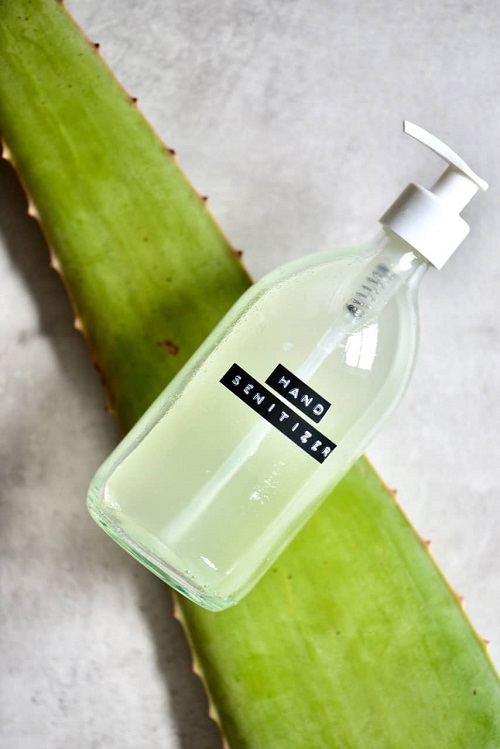 Loaded with the anti-microbial activity of aloe vera, this homemade hand sanitizer gel fights against a variety of germs, bacteria, and viruses.
Supplies
2 Parts of Isopropyl or Rubbing Alcohol (60–65% or more)
1 Part Pure Aloe Vera Gel
1 Tsp of Lemon Juice
Empty Dispenser Bottle
Small Funnel
A Container
Whisk
Knife
Directions
First, you have to extract fresh gel from aloe leaves, read this article to learn the procedure.
Now, combine 2 parts of Isopropyl or rubbing alcohol, 1 part of aloe vera gel, and 1 tsp of fresh lemon juice in a container using a whisk for a few seconds.
Once it's done, transfer the solution into an empty dispenser bottle with a funnel.
Voila! Your aloe vera hand sanitizer gel is ready.
2# Homemade Glycerine Hand Sanitizer Gel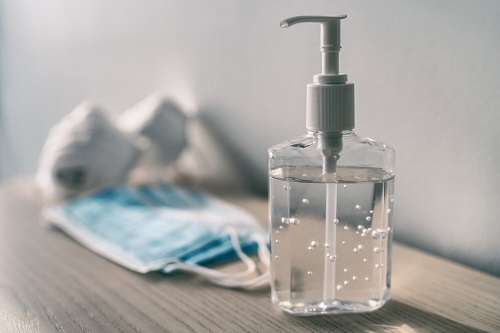 Don't have pure aloe vera gel handy, no worries, try this recipe, which is equally effective as the previous one.
Supplies
2 Parts Isopropyl Alcohol (60-65% or more)
1 Part Glycerine
15-20 Drops of Lavender Essential Oil
Empty Dispenser Bottle
Container
A Spoon
Funnel
Directions
Add Isopropyl alcohol, glycerine, and lavender essential oil in a container.
Next, stir the solution for a couple of minutes with a spoon.
Once you're done, empty the prepared gel into a clean dispenser bottle.
Shake the bottle well, and your hand sanitizer is ready to do the action.
Notes
Always wear hand gloves and full-sleeved clothing while making hand sanitizers at home.
Keep the sanitizer out of reach of young children and pets to avoid accidental ingestion.
After using the sanitizer, keep your hands away from heat sources as sanitizers can ignite once in contact with a heat source.
Clean your hands properly before making the sanitizer at home.
How to Properly Use Hand Sanitizer?
Knowing the right way to use a hand sanitizer is vital to eradicate germs, viruses, and bacteria completely. Here's the proper way to do so:
Take enough amount of alcohol-based hand sanitizer gel on the palm of your hand. A pea size is enough to clean germs from your hands. If you're using a commercial sanitizer, see the label for usage information.
Next, rub your hands together properly, covering your entire hand for up to a minute or until your hands become completely dry.
Use hand sanitizer frequently, especially after touching your face or any other surface.
Clean your visibly dirty hands with liquid soap instead of using hand sanitizer.
Conclusion
Hand sanitizer is all you need to combat all kinds of germs, viruses, and bacteria in your day-to-day life. However, washing hands with soap and water is more effective than using hand sanitizer. Therefore whenever it's possible, use soap and water for at least 20 seconds to clean your hands.